Who doesn't love pizza for breakfast? Especially the kind you don't have to feel guilty about for the rest of the day.
Breakfast Fruit Pizza
(Makes 8 servings)
1 1/4 cups all-purpose flour
3/4 cup natural bran flakes, crushed
1 teaspoon baking powder
2 tablespoons honey, divided
2/3 cup skim milk
1/4 cup canola or sunflower oil
1 (15-ounce) container part-skim milk ricotta cheese
1 teaspoon vanilla extract
2 cups sliced strawberries
2 medium oranges, peeled and sliced
2 kiwi fruit, pared and sliced
1/2 cup apricot jam, if desired
Preheat oven to 425 F. Combine flour, cereal, 1 tablespoon honey, and baking powder. Add milk and oil. Stir with fork until mixture forms ball. With greased fingers, press dough into 14-inch round pizza pan or 15 x 10-inch jelly roll pan sprayed with nonstick spray or greased lightly. Shape edge to form rim. Bake 20 minutes or until golden brown. Cool. Combine ricotta, remaining 1 tablespoon honey, and vanilla. Spread over crust. Arrange fruit over cheese mixture in any desired pattern. Heat apricot jam over low heat, stirring constantly until softened. Spoon over fruit to glaze.
Boost vitamins, antioxidants, and color by adding grapes, cherries, or seasonal berries.

Per serving: 1/8 pie
Calories: 337
Fat: 9.2 g
Cholesterol: 8 mg
Sodium: 163 mg
Carbohydrate: 51.5 g
Protein: 10.4 g


This recipe is from The Saturday Evening Post Antioxidant Cookbook by Cory SerVaas, M.D. © 1995 The Saturday Evening Post Society. All rights reserved.
The drive-in movie craze peaked in 1958. As twilight fell on those Summer evenings, over 5,000 outdoor screens were flickering to life in  fields from Maine to Monterey, attracting millions of movie-goers. Most of those theaters are now gone. A few remain. An even smaller number are still in operation.
Today, drive-in movies seem like the essence of American entertainment in the 1950s. However, they date back to the Great Depression. The first drive-in opened for business near Camden, New Jersey, 66 years ago this week (June 6).
Drive-ins proved popular enough to stay alive and inspire a few imitators. Over the next 16 years, hopeful businessmen built about 100 drive-ins in the United States. But outdoor movie theaters remained just another novelty trying to coax money out of the pockets of Depression America.
It was the postwar society, and its booming economy, that launched the rise of drive-in theaters — also called "ozoners" for their open-air atmosphere. Americans were at a loss to explain the explosive growth of drive-in theaters. As a Post writer observed in a 1950 article:
"Most conventional theater owners, who despise the ozoners and battle them at every turn, say the thing is a fad, that it's going too fast, and, anyway, the places are no more than parking lots for petters. Variety, the bible of show business, calls them "passion pits with pix." Needless to say, there are no figures on petting frequency in drive-ins, but I can offer the result of a one-man nonsnooping survey made by myself. I talked with dozens of exhibitors, and all firmly state that no more went on in the cars than in the rear seats of the conventional theaters.
"According to one drive-in manager, 'Sure, a fellow slips his arm around his girl in the drive-ins,' he said. 'The same as in the regular theaters or on a park bench. No more than that. And there's one thing you don't get in the drive-ins that you get inside. That's the guy on the prowl, the seat changer who molests lone women. There's none of that in the drive-ins.'
"But what disproves the [romantic reputation] more than anything else is the type of audience that fills the drive-ins today. It is by far a familiar audience, with a probable 75 percent of the cars containing children who, incidentally, are let in free by most drive-ins if they are under twelve. This is the main reason the ozoners have been so successful — their appeal to the family group. They are the answer to parents who want to take in the movies, but can't leave their children alone at home. No baby-sitters are needed. And the kids are no bother to anyone in the audience. There's no vaulting of theater seats, running up and down the aisles or drowning out the dialogue by yapping.
"The ozoners have struck a rich vein of new fans. Leading the list are the moderate-income families who bring the kids to save money on baby-sitters. Furthermore, they don't have to dress up, find a parking place, walk a few blocks to a ticket booth, and then stand in line. The drive-ins make it easy for them and for workers and farmers, who can come in their working clothes straight from the evening's chores, and for the aged and physically handicapped. They are a boon to the hard of hearing and to invalids, many of whom never saw a movie before the drive-ins. They draw fat men who have trouble wedging themselves between the arms of theater seats, and tall men sensitive about blocking off the screen from those behind. Add the teen-agers to these people, and you have a weekly attendance of about 7,000,000, an impressive share of the country's 60,000,000 weekly ticket buyers."
Another factor behind the wild success of drive-ins was the equally successful automobile industry. During World War II, America's auto production had been shut down. With the end of the war, Americans were eagerly looking forward to buying new cars. The first postwar year's figures were promising: nearly 70,000 cars were sold. The next year, though, sales shot up to 2,000,000. In 1955 Americans bought nearly 8 million automobiles.
They were not cheap, but they were affordable in the new economy, and gas was less than 20 cents per gallon. Moreover, the new automobiles were luxurious by the standards of most 1930s sedans. The front seat of your car was roomier and more comfortable than most theater seats, and more private.
Six years after this article appeared, the Post took another look at the still growing popularity of drive-ins.
"By 1956, Box Office, the trade magazine that styles itself 'the pulse of the motion-picture industry,' reported that there were more than 5,000 of the drive-in movies in the United States and Canada. Last year, when only a dozen or so new conventional theaters were opened in the entire country, 389 new drive-ins were launched at a cost of $79,880,000 according to the Box Office survey.
"As the older picture houses are abandoned, few are being replaced because it costs $500 per seat [in 1956 dollars] to replace them, and only half that much to provide space for the bring-your-own-seats of the drive-in movie patrons, who, incidentally, spend as much for food and soft drinks at the concession stand as they do for entrance tickets."
Drive-in owners developed new attractions to build their attendance numbers. They built children's play areas with swings, slides, and pony rides. Some built miniature railroads in which children could ride. More prosperous operations offered picnic grounds, swimming pools, and even a "monkey village."
"While the youngsters disport themselves as these elaborate plants, their parents can have a go at miniature golf courses and driving ranges or they can play shuffleboard, pitch horseshoes and dance before live bands … One chain … holds auctions before show time and invites patrons to bring in anything they want sold; another runs bingo games based on speedometer mileage, and a third has a charge-account system open to anyone with means of identification at the gate.
"Several Texas drive-ins … operate laundries as a side line. The housewife, who might otherwise be spending the evening at home with the washing machine, drops her washing at the gate as the family enters the drive-in, and picks it up freshly laundered as she leaves – for a small consideration, of course. Some drive-ins offer warmed milk for babies, and fresh diapers, if their infant patrons forget to bring along a spare pair of pants. Others maintain nurseries and playgrounds for small fry, driving ranges for bored dads, open-air dance floors for teen-agers."
As fads go, the drive-in went, though it lasted longer than anyone expected. Attendance declined gradually, and the number of theaters slowly began disappearing from the countryside in the 1960s. The automobile culture faded as America became weary of spending to much time inside a car. As the average American spent more time behind the wheel, driving to work or to stores, the joy of the open road was surpassed by the thrill of finding a good parking spot.
Several hundred drive-ins are still in operation, though, so it's not too late to enjoy the experience of watching the stars under the stars. In addition, several cities across the country present outdoor cinema during their summer festivals. And in Plymouth, Michigan, the vast parking lot outside the Compuware Sports Arena is turned into a drive-in with a hydraulically raised screen, a projector housed inside a truck, and the soundtrack broadcast to car radios.
You can find the drive-in closest to you online at driveinmovie.com and drive-ins.com.
"Doubtless God could have made a better berry, but doubtless God never did," William Allen Butler said of strawberries. As these luscious fruits of late spring now ripen in gardens in much of the country, here are some tips for getting a bountiful harvest.
Don't wait until strawberries turn dark red to pick them. Pick them when they are still about 25 percent white. In a day, they will turn red, and you won't be stuck with berries rotted on the vine should it rain and delay your harvesting. Take care not to bruise the berries when picking and always take the whole stem with the fruit.
Store ripe berries in the refrigerator. Wash and remove stems only right before using. Wet strawberries spoil quickly when chilled.
To keep birds and deer away, cover strawberries with tree netting.
Strawberry plants weaken with age and can fall prey to diseases. After the harvest, pull them out and destroy the oldest plants. Then, replace them with fresh plants in new soil.
To start new plants, bury 3-inch pots to soil grade level, and peg new strawberry runners to them using u-shaped bent wire.
For those who wish they were picking strawberries from their own backyard patch, here are some tips to get started:
For a family of four, plant one dozen June-bearing strawberry plants. Each plant will provide about one pint of berries per year.
When buying plants, look for spotless leaves and whitish roots, indicating vigor.
Plant in rich, acidic, well-drained soil. Mix in humus or aged manure.
Soak roots in water for several hours before planting. Overcast days are best to prevent plant stress.
Strawberries are particular. Plant so the crown is just above the soil. If too deep, the plant will rot, and if not deep enough, it will dry out.
Dig a hole a couple inches deeper than the roots. If roots are long, cut with scissors. Don't fold them up. Mound soil in the center of the hole. Place the plant on top and spread out the roots.
Feed strawberries using compost with a little blood meal with added hoof-and-horn meal.
Unlike other threats to health, skin cancer develops right before our eyes—or those of our friends and family. This year, the American Academy of Dermatology is urging everyone to screen themselves and the people they love for skin cancer, especially melanoma. (It's the deadliest form.) If caught early, 99 percent of the one million cases of skin cancer diagnosed each year are curable.
"People who check their skin regularly for any changes in existing moles or new moles are taking an important first step in detecting the early warning signs of skin cancer," dermatologist and president of the Academy David M. Pariser, MD, FAAD tells the Post. "Asking a partner to help monitor your skin for any changes or to assist in examining hard-to-reach areas can be very beneficial in spotting skin cancer."
Regular and thorough skin exams improve early detection and save lives. Melanoma grows slowly, and, given time, can spread through the body. It may occur anywhere on the skin and is most common on areas that are hard to see, such as the backs of men and legs of women.
When looking at a spot on the skin, use the ABCDE guide from the American Academy of Dermatology and report suspicious signs to a dermatologist right away.
| | |
| --- | --- |
| | Asymmetry: One half unlike the other half. |
| | Border: Irregular, scalloped, or poorly defined border. |
| | Color: Varied from one area to another; shades of tan and brown or black, sometimes white, red or blue. |
| | Diameter: While melanomas are usually greater than 6 mm (the size of a pencil eraser) when diagnosed, they can be smaller. |
| | Evolving: A mole or skin lesion that looks different from the rest or is changing in size, shape, or color. |
On the Horizon
Researchers are developing new ways to detect skin cancers earlier—and without cutting into the skin. One promising technology, called dermascopy, utilizes a hand-held light device to help doctors distinguish between melanoma and ordinary moles. Laser microscopy scans skin cells beneath the surface to help detect cancerous tissue.
Click here to download the Body Mole Map (PDF).
The young boy built a tree house in the oak
And climbed and lived there through
the summer hours.
In the early morning, with a favorite book,
He lay and read above the meadow flowers.
In the later morning with a knife and stick
He whittled arrows for his taut-curved bow;
Above his head the leafy boughs were thick;
He heard a warrior signal like a crow.
In early afternoon, a feathered scout,
Clutching his weapons in a slim brown hand,
He climbed the upper branches and peered out
Between the sun-washed leaves at hostile land.
Then up and down the massive tree he fought,
Slaying the enemy with dreadful cries.
But once his tattered shirt was snagged, and caught,
He leaned and looked into the golden skies.
And sang a quiet song; and then came down
Into his house and stretched out in the sun
And fell asleep, his bare knees scratched and brown,
His arrows scattered and his battle won.
Seems like the lady of the house (or yard) can't decide where the tree looks best. The cover from April 9, 1955, shows a weary laborer digging holes for a tree. That's one tree and several holes. (Oh, and note the truck in the driveway.)
George Hughes (1907-1990) began his career with the Post illustrating Guy Gilpatric's Glencannon stories and other seafaring fiction. A resident of Arlington, Vermont, he was a neighbor of such noted Post cover artists as Norman Rockwell, John Atherton, and Mead Schaeffer. Like Rockwell, Hughes believed in realist painting and insisted on working from actual settings. He spent an entire day learning how to properly place clothespins for his first Post cover of April 17, 1948, in which a mother hangs clothes as her son parades home, showing more dirt than the law should allow.
Hughes' favorite theme was unforgettable family situations with which Post readers could readily identify. Hughes, who had five children, could easily relate to scenes such as Coming Up Roses, where another too-busy Mom notices her toddler pulling up roses. A Post favorite shows a mom taking a nice cold glass of lemonade to the hardworking boy mowing the lawn. Is this the quintessential 1950s cover or what? Shades of June Cleaver.
The Fork in the Road cover (July 7, 1956) displays another familiar Hughes theme: a humorous slant on relationships. Even on a lovely summer drive, man and wife disagree on which way to go. Adults seeking peace and quiet also appear in Hughes' work, such as No Chance to be Alone, which portrays a couple enjoying a peaceful space at the beach—until a large, boisterous family discovers the same spot. In Sunday Visitors, Hughes captures a couple going back into the house to enjoy the Sunday paper after one group of after-church visitors leave … and another family comes up the walk. Sigh.
But what suggests summer better than the sight greeting the small bird watchers on the March 24, 1962 cover? No, not the bright red bird the guide is delighted to see, but over there, through the trees, on the other side of the water. Can it be? It is! The season's first ice cream truck!
What was the first racecar on a Saturday Evening Post cover? Would you believe October 23, 1909? An artist, known to us only as Fousey, created the intriguing cover complete with billowing smoke behind old "Number 6," no doubt doing a breakneck 60 miles an hour or more.
We know little about this illustrator; however, in honor of "The Greatest Spectacle in Racing," the Indianapolis 500, the Post is pleased to highlight another "auto" artist, Ivan Dimitri (1900-1968). Dimitri's May 29, 1937 Post cover illustrates a racecar driver preparing for the race with a sense of determination upon his face. The average speed at the Indy 500 in the year 1937 was 113 miles per hour, and auto racing was becoming a serious competition.
Born Levon West, the famous artist later changed his name to Ivan Dimitri for the purpose of distinguishing his artistic talents. West grew up in North Dakota but moved throughout the state because of his father's work as a congregational minister. After high school he taught for one year before enlisting in the United States Navy. He earned a scholarship to the University of Minnesota where he wished to enroll in art courses; however, his father pressed him to major in business administration. He earned his degree in 1924 and studied at the Art Students League the following year.
During the Depression of the 1930s, West was a "celebrated etcher," according to the Post, but found it difficult to "etch" out a living. "So I went into photography. I took a strange-sounding Russian name, pledged my friends to secrecy, gritted my teeth, and went to work," he said.
A strange thing happened. "In spite of my dislike for my new work, other people seemed to like it. At first I thought this was due to their bad taste. And then gradually I started to enjoy myself. I took my camera everywhere and snapped everything I saw. In two years I took over 20,000 pictures. In the meantime I was making a living."
West gained recognition through his etchings. The Spirit of St. Louis, which portrayed Charles Lindbergh's arrival in Paris, became one of his most famous. He also gained respect from his work as a photographer. Due to the high demand of his work, he felt the need to separate his two artistic fields, hence the name change. In 1959, Dimitri founded Photography in the Fine Arts under the "strange-sounding Russian name," as he put it.
Ivan Dimitri received the Theodore Roosevelt Rough Rider Award, the most prestige honor in 1962. He was the third person to be honored with this award. West was presented the award in its former form as an honorary Colonel in Theodore Roosevelt's Rough Rider regiment. But possibly his greatest accomplishment was in proving, as much to himself as to others, the artistry in the photograph and the artist in the photographer.
Emerging research on genes and viruses may someday lead to a cure for hypertension. Researchers hope that new discoveries will yield new ways of treating or even preventing high blood pressure, a condition that now affects about one in three American adults (approximately 72 million people).
An analysis of the genetic blueprints of more than 29,000 participants identifies a number of previously unknown gene variations that are associated with hypertension and its two components: elevated systolic blood pressure and diastolic blood pressure. The data were presented at the American Society of Hypertension scientific meeting and published in the journal Nature Genetics in May.
"This study provides important new insights into the biology of blood pressure regulation and, with continued research, may lead to the development of novel therapeutic approaches to combat hypertension and its complications," said Elizabeth G. Nabel, M.D., director of the National Health Lung Blood Institute, which provided funding for the study.
Blood pressure is regulated in part by one's genes, and hypertension runs in families. Previous attempts to identify genes associated with blood pressure, however, have met with limited success.
"Large scale genome-wide association studies are providing a number of important insights into identifying genes that play a role in diseases with major public health impact," explained Dr. Daniel Levy, first author of the study and director for the NHLBI's Framingham Heart Study and Center for Population Studies. "We have identified eight key genes, few of which would have been on anyone's short list of suspected blood pressure genes until now."
Data from the NIH study show that each gene variant raised systolic BP by about 1 mm Hg or diastolic blood pressure by 0.5 mg Hg. Having multiple variations boosted one's chances of hypertension and cardiovascular disease.
In other developments, a team of researchers led by Dr. Clyde Crumpacker of Beth Israel Deaconess Medical Center in Boston suggests that the ubiquitous cytomegalovirus is linked to high blood pressure, at least in mice. Dr. Crumpacker explained that their study suggests a chronic viral infection in the lining of blood vessels may trigger the body's production of substances that lead to high blood pressure. The worldwide percentage of adults with cytomegalovirus ranges from 60 to 99 percent. While cytomegalovirus has been implicated with renarrowing of the arteries in heart transplant patients, the mechanism was unknown.
Further investigation will determine whether antiviral drug therapy might be useful in treating people with hypertension.
A staple food of the Mediterranean countries, hummus makes a nutritious and satisfying snack food. Serve it as a dip or spread with vegetables, crackers, or pita bread. Your guests may not know how healthy it is, but you can bet they'll be coming back for more.
Madge's Hummus
(Makes 2 cups)
2 cups cooked garbanzos (chickpeas) or 1 can (15-ounce) of garbanzos
1/2 cup of the cooking liquid or liquid drained from the canned garbanzos
1/2 cup tahini (mashed sesame seeds)
3 cloves garlic, minced
1 tablespoon olive oil
2 teaspoons salt
1/4 cup fresh lemon juice
Start preparing hummus 24 hours before serving. Soak garbanzos overnight, then simmer 2 hours, until tender. Combine cooked garbanzos, cooking liquid, and tahini in blender and mix until smooth. Add other ingredients, blending until smooth. Add liquid if needed to bring consistency to that of mashed potatoes. Transfer to covered bowl and refrigerate 8 hours before serving.

This recipe is from The Saturday Evening Post Fiber & Bran Better Health Cookbook by Cory SerVaas, M.D., Charlotte Turgeon, and Fred Birmingham.
It's easier than you think to serve your own gourmet appetizer. Try this party staple at your next get-together.
Cheese Ball
(Makes 16 to 24 servings)
2 packages (8-ounce) cream cheese, softened
1/2 pound cheddar cheese, shredded
2 tablespoons chopped onion
1 tablespoon chopped green olives
2 teaspoons Worcestershire sauce
1 teaspoon lemon juice
1 teaspoon salt
Dash of cayenne pepper
Chopped pecans or almonds
Stuffed olives (garnish)
Combine cheeses in mixing bowl and stir until blended. Sprinkle chopped onion, chopped olives, and seasonings over cheese. Stir until combined. Using your hands, shape mixture into round ball. Spread chopped nuts on waxed paper and roll cheese ball over them until covered. Wrap cheese ball in waxed paper or plastic wrap and chill in refrigerator for 2 hours or longer. Garnish with olives and serve as appetizer or party snack with crackers or party rye bread.

This recipe is from The Saturday Evening Post Fiber & Bran Better Health Cookbook by Cory SerVaas, M.D., Charlotte Turgeon, and Fred Birmingham.
In a 1962 Post article, "Racing's Haunted Driver," champion racer Eddie Sachs described to writer Larry Merchant the thrill he felt as he lined with the other drivers at the Indianapolis 500: "This is the greatest moment of my life," Sachs says. "I'm all choked up. Everything I've ever wanted is here, right now. The Purdue University band plays Back Home Again in Indiana, and Tony Hulman, the Speedway owner, says over the loudspeaker, 'Gentleman, start your engines.' My eyes are so wet the first time around the track that I can't put my goggles on." (See full article below.)
The excitement is still there for the 33 racers and the hundreds of thousands of spectators who, on May 25th, will attend the 98 annual Indianapolis 500—the 69th consecutive running of this spring classic.
Any tradition honored for so long is bound to stir emotions. The Indy 500 is a particularly emotional event because it brings together high-risk sports, the latest technology, and continual fast action.
When the Post interviewed Eddie Sachs just weeks before the race, he was optimistic that he would finally achieve his lifetime dream of winning the 500. "The previous year (1961), after failing even to finish the race in seven previous attempts, Sachs came within a few breaths of realizing his ambition. He had a commanding lead in the 45th Indianapolis classic with only 10 miles left. But a tire was disintegrating under him. Respecting the percentages, Sachs stopped for a new tire. The change took 21 seconds. He lost by eight seconds to A. J. Foyt."
Eddie Sachs was as determined to win as ever, but he was reducing his vulnerability. "One of every three winners of the Indianapolis 500-mile auto race does not live to tell his grandchildren about it. Of the drivers who will be on the starting line Memorial Day weekend, one in eight are likely to be killed in action before next year's race. Death can come at any track to these men whose job it is to break speed limits. Many race drivers insulate their nerves against the peril by ignoring it, but not Edward Julius Sachs Jr., the most controversial figure on four wheels. 'In the long-run,' Sachs acknowledges, 'death is the odds-on favorite.'
"Eddie Sachs, who will be 35 this Sunday, hopes to defy the grim arithmetic of his trade by staying in competition until he wins the Indianapolis 500—and then retiring," reports the Post article. "In [his] younger, wilder days, Sachs raced as often as 200 times a season. This year—if he is frustrated at Indianapolis again—he will appear in only five major events and a handful of stock-car races. By driving only the best cars on the safest tracks in a select few events, Eddie Sachs has reduced the odds against him. But every race is a risk. The question is—since his retirement plans hinge upon his winning at Indianapolis—will Eddie be able to stop in time to beat those deadly percentages?"
Two years later, Eddie Sachs was killed in a multiple-car collision in the second lap of the race. The accident prompted the U.S. Auto Club to limit the amount of gasoline each car could hold, and also encouraged the racing teams to switch to fuels using methanol and ethanol. This shift toward new fuels is another example of how Indianapolis is a proving ground for automotive innovations. Over the years, drivers have introduced several competitive innovations, which have been become standard features of the world's cars: four-wheel brakes, independent suspension, high-mileage radial tires, fuel injection, and, of course, the rearview mirror.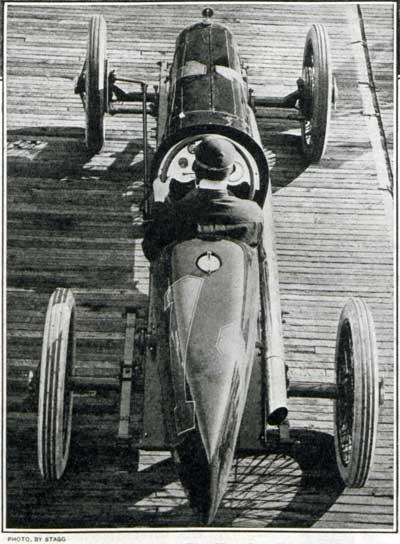 Like the family sedan, the Indy car has evolved from almost unrecognizable origins. In a 1926 Post article, "A View of Automobile Racing Through a Champion's Eyes," author William J. Sturm interviews Peter De Paolo, the 1925 A.A.A. title holder, who described how much the Indianapolis race had changed since its inception in 1911.
"Racing-car structure and racing practice are vastly different today from a few years back. One-man cars came into vogue at Indianapolis in 1923. It took a lot of the picturesqueness out of racing. The spectator no longer sees a mechanic sitting on the right of the driver, perhaps jerking vigorously at a pump to maintain the air pressure on the gasoline tank, or pumping oil into the crankcase of the car from the main reservoir, as was done in the old days.
"In those forgotten times the mechanic had a definite place in racing. It was his business to watch behind for the pursuing car. He gave the information to the driver at his side, who decided whether he should contest the passage of the pursuer or permit him to pass in peace. A long streamer or handkerchief was tied to the top of the racing helmet, its purpose being to furnish a cloth with which to wipe grime from goggles or face. When not being thus used it floated proudly behind and made a gallant display for the spectator."
Despite the absence of helmet streamers, hundreds of thousands of race fans are expected to crowd the speedway and sing along with Jim Nabors when the band plays Back Home Again in Indiana.
The race begins at 1:00 p.m. on May 24th. Racers will circle the 2.5-mile track counterclockwise for 200 laps. Since the average speed of the winner will probably be between 140 and 150 miles per hour, the race should last about three hours and 30 minutes.
Speaking of horsepower …
Earlier this month, we listed the names of the horses in the Kentucky Derby and invited you to pick the winner with no further information. (Who would have chosen Mine That Bird based on the name alone?) Following this tradition, we present the names of the 33 drivers in Sunday's race:
John Andretti, Marco Andretti, Stanton Barrett, Ryan Briscoe, Ed Carpenter, Helio Castroneves, Mike Conway, Scott Dixon, Robert Doornbos, Milka Duno, Sarah Fisher, Dario Franchitti, Davey Hamilton, Ryan Hunter-Reay, Tony Kanaan, Buddy Lazier, Alex Lloyd, Darren Manning, Raphael Matos, Vitor Meira, Mario Moraes, Hideki Mutoh, Danica Patrick, Nelson Philippe, Will Power, Graham Rahal, Tomas Scheckter, Oriol Servia, Scott Sharp, Alex Tagliani, Paul Tracy, E.J. Viso, Dan Wheldon, Justin Wilson
If you'd like to choose a favorite based on something more than a name, there's plenty of information on the drivers and the event at indy500.com.
The name says it all. This must-have appetizer and spread brings color to any occasion.
Easy Roasted Red Pepper Pesto
(Makes 1 cup)
2 jars (7-ounce) roasted red peppers
2-3 teaspoons chili powder
1/2 teaspoon garlic powder
1/2 teaspoon onion powder
1/2 teaspoon salt, if desired
In strainer, drain red peppers and pat dry. In food processor fitted with metal wing blade, combine peppers, chili powder, garlic and onion powders, and salt; process until smooth, about 15 seconds. Spoon into serving dish. Serve as a dip with sliced raw vegetables or spread on your favorite sandwich.

Per serving: 2 tablespoons
Calories: 19
Fat: 0.4 g
Cholesterol: 0 mg
Sodium: 148 mg
Carbohydrate: 3.2 g
Protein: 0.4 g

This week's featured recipe is from The Saturday Evening Post Antioxidant Cookbook by Cory SerVaas, M.D.
© 1995 The Saturday Evening Post Society. All rights reserved.
This protein-packed dip will spice up the vegetable platter with a dash of Indian flair.
Curry Dip
(Makes 1 1/2 cups)
1 medium tomato, peeled
1 1/2 teaspoon curry powder
1 green onion, sliced
1/4 cup watercress leaves
8 ounces low-fat cottage cheese
1/4 teaspoon salt
Cut tomato into quarters. Place all ingredients in blender. Process on high speed until thoroughly blended, about 30 seconds. Stop blender occasionally to scrape down sides as necessary. Serve as a dip with cold raw vegetables.
Per serving: 2-3 tablespoons Calories: 29 Fat: 0.4 g Cholesterol: 2 mg Sodium: 187 mg Carbohydrate: 2.2 g Protein: 6.1 g
Published in the May 27, 1939, issue, short story author Richard Howells Watkins wins over the crowd in his depiction of a cocky racecar driver, Sparrow Earle, who only has eyes for the Indianapolis bricks.
For most of the northern part of the United States, Memorial Day marks the date when tomatoes can be safely planted to avoid frost. Many intrepid tomato growers may already have picked out their plants and set them out. But it's not a bad idea to wait. If you buy plants early, keep them in a warm place and set them out in the sun a few hours per day. Don't plant tomatoes until the air temperature is at least 50 degrees F during the day and night. Use the extra time to prepare the soil just right to ensure your tomatoes, like army recruits, will be "all that they can be."
Planting Tips
Choose a spot that gets at least eight hours of sun a day.
Set plants out in early evening to reduce the stress and heat injury.
Option 1: Dig a hole the size of a basketball (but don't put a basketball in it). Instead, fill the hole with water the day before planting and let it soak in. Fill the hole halfway with compost and add a small amount of balanced fertilizer, i.e. 5-5-5.
Take off all but the top four or five leaves of the plant and bury it up to the lowest leaves. Then soak the soil, but try not to get water on the plant.
Option 2: Put down 5-5-5 fertilizer and till it in. Then dig a shallow trench. Remove all but the top leaves from the stem and lay the plant and root ball on its side in the trench. Bury it leaving just the top leaves showing. This way, the plant will absorb more nutrients, and the stem will absorb more heat, causing it to fruit earlier.
Stake or cage your plants early to avoid breaking off stems and leaves after the plants have grown.
Unless it has rained, water plants every 10 days, soaking soil to 6-10 inches deep.
When blossoms form, feed the plants with a high phosphorus (middle number) fertilizer such as 12-48-12 or 10-55-10.
If you want fewer, but larger tomatoes, prune your plants by pinching out the suckers, which are the leafy shoots that grow from the "V" between the leaves and the central trunk.
Visit your tomato plants frequently. They won't get lonely, but they may need your help to rid them of tomato worms or other pests should they appear.
Make your own pest repellent:
Put 6 cloves of garlic, half an onion, 1 tablespoon of cayenne pepper, and 1 tablespoon of Tabasco sauce in a blender with 1-2 cups of water. Blend until smooth. Mix with 1 tablespoon dishwasher liquid and 1 quart water. Let sit for a day, then strain into a spray bottle to spritz on your tomato plants. This will keep insects away and may help thwart rabbits and raccoons.
It's not a fiesta without the ultimate guacamole. Find the perfect balance of spice in this festive recipe.
Guacamole
(Makes 2 1/2 cups)
2 ripe avocados
2 tablespoons lime juice
2 teaspoons grated onion
1/2 teaspoon minced garlic
3/4 teaspoon salt
1/8 teaspoon chili powder
1/8 teaspoon cumin
Dash cayenne
1/3 cup finely chopped, peeled, seeded, ripe tomatoes
Peel avocados. Remove pit. Using fork, mash avocados with lime juice. Stir in remaining ingredients and serve with tortilla chips.

Per serving: 2 tablespoons
Calories: 18
Fat: 1.5 g
Cholesterol: 0 mg
Sodium: 43 mg
Carbohydrate: 0.8 g
Protein: 0.2 g


This recipe is from The Saturday Evening Post Antioxidant Cookbook by Cory SerVaas, M.D.
© 1995 The Saturday Evening Post Society. All rights reserved.