Due to a clerical error, the runners-up for the Mar/Apr 2011 Limerick Laughs contest will not be posted to the website. We apologize to those of you who submitted poems and were hoping to see them in print. In the future, we plan to post the top 10 limericks for each issue. Keep those submissions coming!
The Saturday Evening Post will award $100 to the author of the winning limerick for this picture.
Limericks must contain five lines. Entries will not be returned. Enter as many times as you wish.
The Mar/Apr 2011 Limerick Laughs winner will be announced in the Jul/Aug 2011 issue. Entries must be postmarked by April 4, 2011.
Send entries on a postcard to:
Limerick Laughs
The Saturday Evening Post
1100 Water way Blvd.
Indianapolis, IN 46202
We extend our congratulations and $100 to Rosemary Eigenberger, Sheboygan Falls, Wisconsin, for the Nov/Dec 2010 winning entry.
With amusement the kids watch this drama,
As the little girl clings to her mama.
But one little guy
Looks ready to cry;
Perhaps he's reliving the trauma.
Honorable Mentions
Played out in some classrooms each fall,
It's a scene that's unsettling for all:
When a toddler must part
From the love of her heart,
At her first teacher's beck and call.
—Howard Price, Wendell, North Carolina

While her students all watched with delight,
As the new girl put up a good fight,
The well-seasoned teacher
Knew just how to reach her,
So her mom could retreat and take flight.
—Mary Ann Pendleton, Waxhaw, North Carolina
If you love reading, you're living in the right century. The web offers you more copy than anyone could read in a lifetime, including free access to hundreds of newspapers and magazines. It also gives you access to whole libraries of rare books at gutenberg.org and Google Books. And since you live in the age of electronic books, you can buy new titles at less than half the price of hardcover. The e-book lets you carry your library in a slim, compact notebook, and purchase new titles online anywhere, at any time.
BUT, if you love books themselves, you may have chosen the wrong century to live in. The real-world, physical, walk-through-and-browse bookstore is disappearing from the American landscape. Independent bookshops have been quickly fading away, and now Borders Books, the national chain with 642 stores, has filed for Chapter 11 status. It will close about 200 stores this year and un-employ 6000 workers. If it can't clear its debts, publishers will have to absorb millions in losses, which may require them to cut back on the number of books they print this year.
The fate of Borders will make little difference to the people who are happy reading their novels on a Kindle, Nook, or iPad. But it will mean a great deal to devoted bibliophiles, who would prefer an afternoon in a good bookstore to a day at a theme park. For them, the online bookstore can never replace the pleasures of strolling down aisles of books, scanning new titles or picking up new releases that unexpectedly tickle their curiosity.
The peculiar lure of bookstores dates back to the 18th century, when printers began turning out books in quantities large enough for create a reading public. Bookstalls appeared in cities like Paris and London and drew a steady stream of old scholars, young students, doctors, ministers, and merchants who searched for hardbound treasures.
One of America's earliest booksellers, Leary's Book Store in Philadelphia, was a happy hunting ground for book lovers between 1850 and 1969. As Pete Martin described it in a 1949 Post article, "House of a Million Books," Leary's was the antithesis of the modern chain bookstore. It was old, dark, dusty, cluttered, and staffed by silent, reserved salespeople.
"Books that stay on the shelves too long are moved to stalls out on the sidewalk, where they are offered at twenty-five cents each or five books for a dollar. If they don't sell there, they are presently junked."

In Leary's nobody asks you anything, unless you yourself ask a question first.  Hung on the walls are placards that read:

To make you feel perfectly at ease in examining our immense stock, the employees are instructed not to offer assistance without being asked. This, we hope, will not be considered as inattention on our part. If you desire information, ask all the questions you want, without feeling under any obligation to purchase.

In theory, this means that if you felt like it you could visit Leary's every day of your life and read your way at least partly through the 106 departments into which the store divides its more than 900,000 books. Throughout all those years spent reading, no one would ask you to buy a single book.

To booklovers, it comes close to being an American institution… Leary's has been run for 113 years on the principle of not selling the customer. Businessmen may prove with charts and graphs that you can't do business that way. But it's been done that way at Leary's ever since the elder Oliver Wendell Holmes was a youth just a few years out of Harvard.

This notion is so thoroughly inculcated on Leary's salesmen that a few years ago one of them carried it to its ultimate conclusion. He stopped speaking to his customers altogether, even when they spoke to him, and had to be retired to pasture.
If there is such a thing as poetic justice, he is being allowed to browse there without interruption.
Leary's "laissez faire" sales policy proved to be  just what serious bibliophiles wanted. Generations of book lovers became deeply attached to the old store on Philadelphia's South 9th Street.
[Novelist Christopher] Morley pays Leary's this tribute: "It would be as impossible for any bibliophile to pass this secondhand bookstore as for a woman to go by a wedding party without trying to see the bride."  Morley also remarked that he would rather see one of the nation's historic shrines demolished by fire than to be told one morning as he donned his bathrobe that Leary's was no more.

Stories are current in Philadelphia about exciting book finds made at Leary's. The most persistent of these has to do with the Leary's customer who was supposed to have found a first edition of Stephen Crane's Maggie: A Girl of the Streets, for ten cents and afterward sold it for $5000. Leary's has no way of knowing whether this story is even partly true. It does know that the peak price brought by a Maggie was about $2000. But even if true, no one at Leary's would feel regret at having been so outsmarted.

Mrs. William S. Stuart, president of the Leary Stuart Corporation, remembers a valuable early edition of Robert Louis Stevenson that was picked up by a customer on the fifty-cent table. She also recalls that a book written by one of the signers of the Declaration of Independence and presented by him to George Washington—the book bore both Washington's autograph and that of the signer—was found in Leary's in a basket of books previously thought to be junk.
When Leary's closed in 1968, several valuable items were discovered in the process of emptying the store. One of them was a first printing of the Declaration of Independence, which was sold for $400,000.
Learys is still fondly remembered by former customers, as you can see at books-rare.blogspot.com/2006/07/this-is-picture-learys-old-book-store.html.
Will anyone remember Amazon.com so warmly 40 years after it closes?
Tom Selleck
We recently came across a cache of Lucian Lupinski paintings. Who was Lucian Lupinski? Lucian was an artist-in-residence who worked at the Post from 1973 through the late 1980's. In the 1980's, the Post often featured a current celebrity, politician or other notable on the cover and Lucian was great at painting portraits. It was a kismet-kind of combination. After trying to explain who Larry Hagman and Julio Iglesias were to the intern (with sudden inspiration, I declared: "Enrique's dad!"), while going through the artwork, I was delighted to find the intern knew knew Tom Selleck. She exclaimed, "he was on Friends!" Yes, he was, but I feel sorry for any woman who doesn't remember the twinkle in the eye of Magnum, P.I. Yes, ladies, the original painting is to swoon over. We will see that many of our 80's celebrities are still active, including Selleck, who is currently starring as head of a family with a history of police service, and as police chief on the CBS series Blue Bloods.
Bill Cosby
Happily, every generation knows Cos. The April 1986 issue of the Post declared that Bill Cosby arrived just in time to save the television sitcom. That is not an overstatement. "Cosby has rescued TV's degenerating comedy situation by cleaning p the act and going back to the basics of love and laughter in family life," the article noted. Who was ever so fun to watch with kids?
Elvis
Naturally, the young intern knew this one. Although he died in 1977, Elvis was on the cover in 1985 for a story called, "Legends That Will Not Die". Boy, is that an understatement. Cheesy outfit or not, the legend of Elvis continues, twenty-six years after this cover. The legends in the article? Besides Elvis, James Dean, Marilyn Monroe, Babe Ruth and John Wayne. As legends that won't die, those are good ones.
Vanna White
"Great painting of Vanna White," my young cohort exclaimed. Okay, totally unfair, Vanna. Anyone would recognize you because you haven't changed a bit since 1987. Still looking stunning in her gowns, still the great smile, still turning those letters after all these years. How many of us can claim we've been in the same job since 1982?
Elizabeth Taylor
Some "celebrities" even I had forgotten, but some will always be recognized by young and old (or, uh, middle-aged) alike. Artist Lupinski's gorgeous, brown-eyed Clint Eastwood didn't make the cover. There was a story on this mayor of Carmel, California in September 1987, but the cover was another Lupinski portrait: Elizabeth Taylor. Medically oriented in those years, the Post was big on the fight against AIDS, and Ms. Taylor was a dazzling spokesperson for that cause. Well, fine, I'll just keep Clint all to myself.
Diane Sawyer
I was also pleased the intern instantly recognized Diane Sawyer. I think the Selleck and Sawyer paintings were Lupinski's best. "Look how beautiful she is here!" I said, hoisting the original painting. "She's still beautiful," the intern replied simply. You know, I think there may be hope for this younger generation yet.
Congratulations to Steve George! "Dear Dog" was one of this year's finalists for the Dog Writers Association of America awards. In light of that honor, we're rerunning the article — which happens to be one of our  favorites.
.
Years ago, I read a pet-care book about ways to bond with your dog or cat. One of the tips—so ridiculous—was to write a letter to your pet, telling all the things you like about him (or her). I remember thinking, Are you kidding? Write a letter to my dog? But here I am, writing to you, so what do I know?
Here's what I know: That lump on your snout is almost certainly cancer. And unless it comes off soon, it'll spread to your throat and lungs, and that'll be that. That's what the vet said 36 hours ago as she handed me an estimate for the cost of the operation. And when I saw the total, I made a face. My initial reaction, dear Dog, was not for you or your health. My initial reaction was: Are you kidding? I spent less on my first car.
If that sounds heartless, you have to remember that I was raised by people who were not sentimental about pets. My mother wasn't allowed to have them. My father, meanwhile, grew up dirt-poor on a hardscrabble farm where one of the tenets of life apparently was: Don't get friendly with the animals; you never know when you might have to eat one.
This may explain why they didn't name any livestock, or even the pets. As a boy, Dad had two dogs and the closest things they had to names were That Dumb Dog and The Other One. And when That Dumb Dog had hip trouble and The Other One went deaf and blind at a young age, there was no going to the vet for surgery or lab tests. There was only a walk in the forest with Dad and a .22 pistol—a walk from which Dad always returned alone.
Luckily for you, Dog, we have a different relationship. I brought you home because your old family abandoned you, left you in a fenced-in yard with no food, water, or shade in the middle of summer. When my kids heard about this, they came to me with big, dewy eyes and made eternal promises to feed and walk you and clean up after you. And then my little girl dropped the A-bomb, clasping my hand in hers and begging in a trembling voice, "Please, Daddy, please save that doggy."
By that point, you were already a guest of the local animal hospital, where you not only recovered from your neglect, but also charmed the staff with every bat of your big doggy eyes and your tendency to lick everyone and everything. To this day, when I bring you in for a checkup, someone yells "Guess who's here!" and out they all come, oohing and ahhing with a drippy enthusiasm typically reserved for new puppies, not 50 pounds of dog stuffed into a 40-pound body. Suddenly, it's the third reel of a Disney movie in there, and you're the lovable mutt that traveled cross-country to foil the bumbling crooks and save the orphan child who fell down the well.
So as I looked over the estimate, I tried to ignore the pleading eyes of the hospital staff. Instead, I thought of an incident that occurred not too long after you came to live with us.
My little girl and I were taking you for a walk. You were ignoring us, intent on sniffing and cocking your leg on everything. We had walked into an unfamiliar neighborhood that day, so I didn't know that we were nearing the home of The Jerk who lets his Mean Dog run free. And I didn't see the Mean Dog until he was closing on my 3-year-old daughter.
She was looking at ladybugs on the sidewalk and never saw this huge, slavering dog charging at her. And before I could complete one step towards her, I felt the leash rip free from my hand, and you were already there, standing rigid as a statue between my daughter and the Mean Dog. Gone was the fat, dopey mutt, charmer of the animal hospital staff. Your ears were flat against your head, your back bristled like a bear's, barking in this sharp, no-screwing-around yap I'd never heard before.
Then I came running up, the Mean Dog was outnumbered, and he ran to his backyard. You sniffed my daughter all over, gave her a sloppy kiss, then made an enormous, um, deposit, right there on the lawn.
It could have gone so many ways. That dog could have bitten my little girl, chased her into the busy street, or scared her into some kind of anxiety disorder. Even a heartless miser could see how, in a single moment, you saved me far more (in therapy bills alone!) than it will cost to have a little lump taken off your snout. But it's not about money, is it?
In the years since you came to live with us, you have enriched my family's life by an order too high to calculate, a fact that dawned on me after our encounter that day. Talk about a scene from a Disney movie! My daughter was giddy, her little arm around your big neck, telling me what a Good Doggy you were. And that was only the beginning.
Although friendly to women and kids, you bark and carry on mercilessly when any man enters the house, taking care to give a pointed sniff at a foot, a jacket sleeve, or the seat of his pants. Your message is clear: "That's what I'm going for, buddy. Step out of line and you'll see."
And whenever I can't sleep and stare out the window and worry about the future, you come over and lean slightly into me, like we're sitting on a bus that just went into a curve, just enough contact to remind me you're there. A little thing, but if it weren't in my life, I would miss it terribly.
So it was all of two seconds after looking at the vet's estimate that I scheduled your surgery, which was this morning. The vet was apologetic about the cost of the operation. "It's OK," I told her. "Anyway, it's no skin off my nose."
Then I looked down at you, thinking about your future, doing what I can to preserve it, which is my job. And there you were doing yours: surrounded by the adoring hospital staff, but still taking a moment to give me a smile and a wag of your tail.
I hope you're well, Dog. We took a walk in a dark forest today, and I returned alone. But I swear, I'll be back to bring you home.
Love, The Man
P.S. The lump turned out to be totally benign. My dog is alive and well and fatter than ever. Wish I could say the same for my wallet.
Instead of dreading the pain of your next shot of numbing medicine, ask "Would you warm it up first, please?"
Warming local anesthetics before injecting them significantly reduces the pain of the injection, according to new research published online in Annals of Emergency Medicine.
"Warming an injection is a cost-free step that emergency physicians can take to reduce pain from a shot," said lead study author Dr. Anna Taddio of the University of Toronto in Canada.  "Patients often dread the sight of a needle, but doing something as simple as warming the injection to body temperature can make a painful part of an emergency department visit more tolerable."
Researchers reviewed 18 studies involving 831 patients. Warming injections prior to administering them consistently produced a "clinically meaningful reduction in pain" regardless of how the shot was administered and whether a small or large amount was injected.
In the study, injections were warmed with water baths, incubators, fluid warmers, baby food warmers, a warming tray, and a syringe warmer.  Anecdotal reports suggest that some emergency physicians warm injections in their hands prior to administering them.
"Future research should examine the effects of warming local anesthetics for dental procedures and for procedures specifically involving children," said Dr. Taddio.  "This is an area where a small change may make a big difference for a patient."
Try this orzo on for a sizable side. Brought to you from The Saturday Evening Post Health Cookbook for Family and Friends.
Orzo Gratin
Makes 10 to 12 servings
1 pound orzo
8 cloves garlic
1 cup light cream
1 cup low-sodium chicken broth
1 cup freshly grated Parmesan cheese
1 cup mushrooms
1 cup minced parsley
pepper, to taste
6 tablespoons dry whole-wheat breadcrumbs
2 tablespoons butter or margarine
Preheat oven to 325 F.
Boil orzo and unpeeled garlin in large pot for 10 mintues or until pasta is just tender. Drain and rinse with cold water. Remove the garlic, peel and chop. Place in mixing bowl. Stir in light cream. Add orzo, broth, 1/2 cup Parmesan, mushrooms, and 1/2 cup parsley. Season with pepper and mix. Spoon into lightly oiled baking dish. Mix breadcrumbs and remaining cheese. Sprinkle evenly over orzo. Dot with butter or margarine. Bake for 1 hour and 15 minutes.
Brought to you from The Saturday Evening Post Health Cookbook for Family and Friends. For available cookbooks, click here.
The "five-and-ten store" officially departed the American landscape in 1997. That year, the F. W. Woolworth Company ended 118 years in the discount retail business.
In fact, the five-and-dime store had already passed away forty years earlier. As the Post reported it,
"The five-and-ten, as an American institution, came to a quiet end on November 13, 1935. The occasion was a meeting of the board of directors of the F. W. Woolworth Co. The action they took was designed to engineer the company into merchandising more profitably than the price-restricted field of five-and-ten."

On that fateful day, the board passed the following resolution:

'Resolved that the selling-price limit of twenty cents on merchandise be discontinued.'
It may surprise many Americans who grew up at five-and-ten stores that the store name wasn't just meant to connote inexpensive merchandise. It was the store's rigid pricing policy: a nickel or dime would buy any item in the store.
It's just as surprising that the store could keep its shelves stocked only with 5¢ and 10¢ items for 55 years.
By the 1930s, though, the store had bowed to inflation by allowing 20¢ as the top price they could charge. Even this adjustment proved too restrictive. So Woolworth abandoned the five-and-dime policy. It proved a fortunate, if regretted, move. The Woolworth chain continued to prosper. As late as 1979, Woolworth, with its subsidiary Woolco, operated 800 stores, making it the largest department store chain in the world.
There was little indication of this future greatness when Frank Woolworth opened his Great Five Cent Store in Utica, New York. The idea had already proved itself in Michigan and western New York, where merchants had sold mass-produced, low-cost household goods in "nickel stores."
In its 1940 series entitled "Dime Store," the Post recorded the inventory at Frank Woolworth's store when it opened on February 22, 1879. It included—
Toy dustpans. Tin pepper boxes. Drinking cups. Gravy strainers. Tin scoops. Purses. Biscuit cutters. Flour dredges. Schoolbook straps. Egg whips. Apple corers. Fire shovels. Boot blacking. Animal-shaped soap. Animal-shaped Cake Cutters. Candlesticks. Ladles. ABC plates [plates with the alphabet inscribed around the rim]. Scalloped pie plates. Baseballs. Cast-iron [cooking pot] cover lifters. Tack hammers. Writing books.  Pencil charms.  Shaving Lather brushes.  Tin spoons. Police whistles. Pie plates. Red jewelry. Napkins, handkerchiefs, thread, and novelties.
On the evening before his scheduled opening, there was a knock at his store door. A woman was peering through the glass.

"The store isn't open, madam."

"I know what I want. I've read your circulars. I want a five-cent fire shovel."

She was the first customer, and he served her without premonition of the vast tide of humanity which was to follow her.
Frank was young enough to see his Five Cent Stores become a nationwide chain. Thirty-four years after opening his first store, he moved into his office in the new Woolworth Building in New York City— the tallest building in the world (until surpassed by the Chrysler Building in 1930.)
One of the secrets for his success, Woolworth believed, was the attraction of five-cent and, eventually, ten-cent pricing.
Right after the Fourth of July in 1890, Woolworth complained: "One of the stores wrote me they sold firecrackers for 3 cents and some of the large ones at 15 cents per bunch, and, in my opinion, was all wrong, as it is getting off the idea of strictly 5 and 10 cents business— Stick to the original idea."
Candy sales were particularly important to Woolworth's success.
"I don't pretend to know much about the candy business, but, in my opinion, if you want to make a big success of candy, put it in brass trays and put it up near the door, so that people can be reminded of it as they are passing out and take some home to the children. "
Woolworth believed that candy, alone, would pay the rent on each store.
Another reason for Woolworth's success was a model that still works: importing goods from foreign markets with cheap labor. In the 1880s, this was Europe. On a buying trip in Germany, Woolworth noted,
It is no longer a mystery to me how they make dolls and toys so cheap, for most of it is done by women and children at their homes anywhere within 20 miles of this place. Some of the women in America think they have got hard work to do, but it is far different than the poor women here, that work night and day on toys, and strap them onto their backs, and go 10 or 20 miles through the mud with 75 pounds on their backs, to sell them. The usual price they get for a good 10-cent doll is about 3 cents each here, and they are obliged to buy the hair, shirts and other materials, to put them together, and they probably get about 1 cent each for the labor they put on them.

The streets here are filled with women with baskets on their backs filled with dolls and toys, and they walk in the middle of the street when the mud is ankle deep, in preference to the clean sidewalk. We saw a poor little girl that could not have been over four years old with a basket strapped on her back larger than herself, and Mr. Hunt asked her where she lived and she told us a place about five miles from here, and she came alone. We gave her some money and she looked at it as if she never saw any of it before. It is an ordinary thing here to see a dog and a woman hitched together or cows and women drawing a heavy load of goods.
While the "five-and-dime" store has gone, the principle is still very much alive. The nickel and dime of 1935, in today's market, has the purchasing power of 75¢ and $1.50, which keeps hundreds of  Everything-Costs-A-Dollar stores in operation.
As a national symbol, the White House doesn't have quite the popularity of the Statue of Liberty or the US Capitol Building. But if you consider its history, it might be better qualified to symbolize the country than either structure.
For instance, the White House is the only building of our national government to become a casualty in war. In 1814, advancing British troops burned the structure to a shell. The interior was completely rebuilt, and though reconstruction began immediately, the Executive Mansion was uninhabitable for three years.
The White House has also reflected cultural and political changes by assuming the character of each presidency. Its furnishings and function changed continually from the time of its first resident, John Adams, with each leaving its mark. Most presidents added something to the Executive Mansion. Many made changes to the architecture and decor—usually without considering the tastes of their predecessors. As a result, the White House became a patchwork of small projects that ignored the overall structure, which was slowly crumbling.
By the time Truman became president, the decay could no longer be ignored. As the White House Museum describes it, "Floors no longer merely creaked; they swayed. The president's bathtub was sinking into the floor. A leg of Margaret's piano broke through the floor in what is today the Private Dining Room. Engineers did a thorough examination and found plaster in a corner of the East Room sagging as much as 18 inches. Wooden beams had been weakened by cutting and drilling for plumbing and wiring over 150 years, and the addition of the steel roof and full third floor in 1927 added weight the building could no longer handle. They declared the whole house to be in imminent danger of collapse."
Over the next three years, the interior of the White House was removed and completely replaced, and President Truman and his family lived across the street. The result was a sound, durable structure that basically reproduced the original White House. But as a 1962 Post article noted,
all the mellow feeling of the old house gave way to a stark atmosphere of solidity. As one Washington columnist observed, "The White House is safe, all right, but it has completely lost its charm. That restoration took the heart out of the building. When those floors creaked, you knew Lincoln had been walking there before you. Now it has no more appeal than the Pentagon."

This was the problem that Jacqueline Kennedy faced when she moved into the great mansion almost three years ago… she was shocked by its collection of paintings.  Only a few old portraits had survived the whimsical tastes of incoming families; yet even these, Mrs. Kennedy found, were for the most part badly painted or copied from missing originals. To improve the White House collection—not only portraits but other types of painting as well—she searched for the… the best American painters, and added only a few works by foreign artists.

Her [goal] was to furnish the While House with works of art that earlier Presidents might have liked. To attract some of the best art available, she persuaded Congress to grant the White House "museum status," under the administration of the National Park System—thus making any donations tax-deductible. [Now]people from all over the country have sent everything from paintings to chamber pots, from wallpaper to silverware.

"Like any President's wife, I'm here for only a brief time," she has said. "And before everything slips away, before every link with the past is gone, I want to do this."
Jackie Kennedy's project was still in progress in 1962 when she took CBS correspondent Charles Collingwood on a televised tour through the White House. The program, which aired on February 14, gave many Americans their first glimpse inside this national landmark. By careful acquisition, Mrs. Kennedy restored a sense of "executive presence" and historical continuity to the White House.
However, her work shouldn't overshadow the accomplishment of the Truman reconstruction, for this was an ambitious—even audacious project, as these photos from the Truman Library show:


This reconstruction was fueled America's faith in the power of restoration. When America saw its Executive Mansion was collapsing, and that limited repairs could no longer save it, its government took drastic action. We dared to clean-out, overhaul, replace, modernize, and reinforce an invaluable piece of American history. We reduced the White House to a shell, confident that we could build a stronger, better version that would carry our past into the future. There are not many buildings that can better symbolize American history.
"In sure and certain hope of the resurrection to eternal life through our Lord Jesus Christ, we commend to Almighty God our brother David Grant …"
David Grant awoke to the military chaplain giving him Last Rites.
"And we commit his body to the ground;
earth to earth;
ashes to ashes, dust to dust.
The Lord bless him and keep—"
David's hand shot out and grabbed the chaplain's arm, freezing his words in place. He seemed caught between breaths before gently easing free of David's grasp.
"Doctor!" the chaplain called out.
David's vision cleared to the sight of an army field hospital layered with narrow cots, most of which were empty. Afghanistan, that's where I am, he thought, his memory slowly sharpening. A pair of doctors were hovering over him now, clearly surprised he was still alive.
With good reason.
He'd been riding in a Humvee when the ambush outside of Mozul began with a series of IEDs exploding in the path of the supply convoy. David's armored Humvee was reduced to a flaming husk of shrapnel and steel in a single flash, a dream-like quality rendered onto the scene by the concussion that had dazed him. Sounds registered in fits and starts; guns firing, men screaming, cries for help. He felt powerful arms dragging him from the Humvee's carcass, his legs dragging like discarded sacks across the scorched pavement.
The arms laid David behind the cover of a sand berm just off the rubble-strewn road, left to listen to desperate orders struggling to rise over the heavy rat-tat-tat of machine gun fire. There were thuds and grunts and screams before his battle buddies' fire grew thin and sporadic, then moaning and whimpering. David's M-16 was long lost, but he managed to draw his sidearm, whatever was left of his legs inside his fatigues gone numb now. He ratcheted the slide back to chamber a round, wanting to crawl out and save what buddies he could, add his own bullets to the fight while they awaited reinforcements and close air support. But his body refused to obey, refused to budge, and all he could do was prop his shoulders as straight as he could and wait for the Taliban to round the berm before he felt himself drifting off.
David awoke briefly in the medical evac chopper and then again while he was being stretchered into the field hospital. He remembered the surgeons working on his legs, no sense of feeling from the pelvis down then and still none now with the shapes of thick bandages and splints visible beneath the bed sheets.
"Even if he lives, he'll never walk again."
Words from the past or present, he couldn't be sure with his brain feeling all cottony. He heard voices, but the lips of the doctors and nurses suddenly surrounding his bed weren't moving. A penlight shined in his eyes, blood pressure cuff wrapped around his arm. David heard the air being pumped in, the cuff tightening followed by the hiss of the air releasing. Then a morphine-induced fog overcame him, the world switching from video to still shots before darkness claimed him once more.
The fog brought his battle buddies back to life, returned him to the convoy before the IEDs ruptured steel and savaged flesh. He was screaming a warning to stop, that an ambush lay in wait ahead. But no one could hear him, as if he was the dead one and the rest of them were still alive.
The fog cleared next in a specially fitted cargo plane bound for Landstuhl Medical Center in Landstuhl, Germany, on a seven-hour flight into Ramstein Air Force Base. David knew this was the procedure for vets wounded in the Afghan field. But he wasn't prepared for the sight of his own reflection in the ambulance's window glass. His hair had grown out in wavy patches with the brittle texture of straw. He was unshaven and gazing briefly into his own eyes, left with the sense of an out-of-body experience in which he was gazing at someone he barely recognized.
Once at Landstuhl he was confronted at last with the enormity of his wounds. The field surgeons had saved his legs by affixing steel rods to the bones. The result left his left leg a full three inches shorter than his right, and the patchwork of scars and seared flesh kept him from looking down. The good news, the doctors told him, was that he had feeling and good blood supply.
They didn't say anything about walking again.
"You stick with me, I'll fix you up good as new," his physical therapist, a big African-American man named Barney promised. He reminded David of one of his battle buddies left in pieces on the side of the road outside of Mozul.
They began his therapy with the simplest of motions, nothing more than learning how to bend his legs and flex his feet as the bones healed, fusing to the steel rods that would be with him forever. Even that brought on a pain greater than any David could imagine, though he resisted the painkillers now because he dreaded the return of the fog, and the pain, if nothing else, reminded him he was alive.
So what?
He'd broken up with his girlfriend just before shipping out. An orphan, David had been raised in the state's care by a succession of kind enough foster parents who processed kids like a factory assembly line. No one missed him. No one was asking. No one cared about the reflection of the man who barely resembled his old form. Barney told him the first goal was to get him well enough to move to the Medical Transient Detachment houses on the Landstuhl campus as an outpatient. The second goal was to get him home.
Neither seemed anywhere near in reach.
Then a woman who called herself Captain Jane told him about a USO program for wounded vets that matched soldiers like David up with e-mail pen pals just to have someone to exchange messages. The pen pals were culled from volunteers, the toughest cases given to the most caring and compassionate. David's pen pal was named Iris, and he read her first e-mail with his legs propped up on a wheelchair's extension:
Dear David:

I'm so sad for the tragedy you have suffered in service to our wonderful country. I say this even though my own husband was lost to a different war. The Lord was merciful with him, and he didn't suffer, although I would've given anything for him to have lived in any condition so I could have provided for him. With him gone, I've made it my mission to help those like you who've been given the chance he wasn't. I've spent many hours volunteering at the local Veteran's Hospital, and have witnessed firsthand the pain and frustration you're experiencing. I hope you will take solace in the fact that you have been granted the opportunity men like my husband were not. I know your prognosis is dire, and prospects for recovery slim, but in spite of my own mourning which never ends, I have never stopped believing in miracles. And since my beloved husband was lost to me, I have made it my mission to see these miracles visited on others. I feel in his loss I have gained an appreciation for the value of life and I will be by your side, figuratively anyway, through the long hours of therapy and recovery you are about to endure. Even if you don't have it in you to reply, know that there will be an e-mail from me waiting every day.

Iris
David was about to log off, but then hit REPLY instead and began to type.
Dear Iris:

I'm so sorry for your loss. I guess wars are all the same. I don't know how much they've told you about my injuries, but I'll be lucky to ever get out of a wheelchair. The best I can hope for, they tell me, is to walk with those steel crutches. But what bothers me the most is the fact that I was the only one in my platoon to survive. There should be something heroic about that, but the truth is I lived because the Taliban never found me behind the berm where my friends dragged me before going to their deaths. Maybe they were the lucky ones. Maybe I'd have been better off if I was still with them now.

David
He hesitated before hitting SEND but then the mouse clicked under his hand and the message was gone, whisked on its way.
Strangely, the next day's physical therapy session had him running Iris' words through his head, contemplating the men like him living their lives out in Vet's hospitals like the one she visited near her home. He didn't realize he'd finally put some weight on his legs, arms holding fast to the wooden rails on either side of him, until he caught Barney grinning ear to ear.
"Don't know what's gotten into you today, champ, but I sure do like it."
The next day David was back at the computer at the same time, a new message from Iris waiting in his inbox.
David:

You know, if my husband had been lucky enough to live, I imagine he'd feel the very same way you do. That was a different war, a different time, and there is no more shame in that now than there was then. I work in a library, and there is nothing I enjoy more than watching children read, losing themselves so much in the story that time, and the world around them itself, ceases to exist. If he had lived, I would've told my husband to surrender to the world of the child, to lose his pain in the wonder of a different and far off place. It's your body that's broken, but it's your mind that needs a rest from the worry over that. Since you lived, I say that now to you and know that the words come from someone who has come to know a different kind of pain, that of emptiness, the side of the bed that lies empty next to me no different from a lost limb. I can't go on right now. I must stop.

Iris
Today David didn't reply right away. Instead he read Iris' words over and over again, memorizing them until Barney's powerful hands closed on the back of his wheelchair.
"Ready, champ?"
And ready he was, recapturing Iris' poignant e-mail in his head to distract him from the session that proved even more agonizing than the last. Barney had warned him about that, said that with progress, as his muscles and bones learned to work again, came not less pain but more. David had thought he was ready for it, only nobody could be ready for this. By the end of the session, he was soaked in sweat and so exhausted that he actually forgot he'd made two lengths the distance of the rails without stopping and had managed to turn on his own for the first time.
The next day there was no e-mail waiting from Iris, so David decided to pound out the reply he'd avoided the day before.
Iris:

You must think me a coward for not having the guts to reply to your message yesterday. The truth is I didn't know what to say. I've become so lost in my own pain that I'm unable to feel much sympathy. But I guess your pain must be as bad as mine. People say you have to move on, start over. You have managed to do that spiritually as I must physically. I find no solace or relief in watching the wounded like myself making strides I can only dream of. The truth is I wish they would suffer as much as I do, I wish everyone would suffer as much as I do. What is it they say, that misery loves company? The truth is I don't find myself worthy of your support and would understand totally if you choose not to write me again.

David
But write again she did. David had been staring at the screen for fifteen unbroken minutes when his inbox icon flashed. He moved the mouse and clicked.
David:

If I bear you any ill will it is only for thinking I would ever abandon you. I often lie awake at night thinking of my husband dying alone with no one to comfort him and feel racked by guilt that I abandoned him. So I would never abandon anyone else in need. Today a woman came into the library and stayed until closing. I noticed she had trouble getting around and when I asked if I could help, she told me she's going blind and wanted to read as much and as often as she could before her sight is stolen for good. Her words made me cry. My husband never had the chance to value those moments but you do and if you don't take advantage of them, then his loss was for naught.
The message ended there, Iris having sent it without adding her name. He still had a few minutes before Barney came to fetch him, so David typed WHERE DO YOU LIVE? and hit send.
ST. LOUIS, came her simple response. LOVE THE CARDINALS, JUST LIKE MY HUSBAND. WE WERE HIGH SCHOOL SWEETHEARTS.
HOW OLD WAS HE?
OH, NOT MUCH OLDER THAN YOU WHEN HE DIED, I SUSPECT.
I'M TWENTY-FIVE.
HE WAS TWENTY-FOUR.
WHAT ABOUT YOU?
I WAS TWENTY-FOUR, TOO.
I MEANT NOW.
David's inbox icon remained motionless. He was still staring at it when Barney came to get him.
He could think of nothing besides Iris. She was with him when he woke up and when he went to bed. Time that had crawled through his therapy sessions before sped up to the point where pain and exhaustion abated in a haze not unlike the one induced by morphine, except his mind was clear enough to realize each day brought more improvement to his legs, improvement he'd been told would never come. Barney pushed and pushed and when that was done, he pushed some more.
"Know what, champ?" he said after one session, grinning. "I think you might just walk out of here."
Turned out his right leg made faster progress than his left, so walk he did, on standard wooden crutches to a room in one of the Medical Transient Detachment houses that lacked the smell of alcohol and cleaning solvent that so dominated the hospital itself. The staff wore those scents like a rumpled suit, and he came to equate them with the pain that otherwise dominated his life.
David asked Iris to recommend books for him and recognized almost none of them once the USO somehow tracked the titles down. There were novels like East of Eden by John Steinbeck, The Good Earth by Pearl Buck, and For Whom the Bell Tolls by Hemingway. There was Angela's Ashes, The Bell Jar by Sylvia Plath, and a book about a young girl called Next to Normal. There was To Kill a Mockingbird, which he remembered but never really understood. All books about dealing with adversity David devoured more than read, practically memorizing some passages and then trading thoughts with Iris on them until the point where such exchanges came to dominate their e-mails. The characters became his inspi-ration, and he lost himself in their plights to the point where, however briefly, he forgot his own while drifting off to sleep in his MTD house room. And suddenly his sessions with Barney felt less laborious, the pain still there but tucked away in the same place where David kept the stories Iris had sent him. Then the most momentous day yet came, and he felt one with his new heroes:
Iris:

I stood up on my own today for the first time. I thought you'd like to see a picture.

David
He'd already downloaded the picture one of nurses had taken while Barney stood by in the physical therapy center just in case, and attached it to the message before sending. Iris' reply was even simpler.
David:
I'm so proud of you.
Love, Iris
There it was; she'd finally said what David had been feeling. Fingers trembling over the keyboard, he steeled himself to reply.
Iris:
Could I have a picture of you? It would mean so much to me.
Love, David
But no reply came that day or the next.
Undeterred, David wheeled himself up to Captain Jane from the USO when he spotted her in the hallway.
"I'd like to know more about my e-mail pal."
"I can tell you her name," Captain Jane said, forcing a smile.
"I know that already."
"And it's all I know. Such things are handled elsewhere. I don't even know where she's from."
"St. Louis," said David. "She's a Cardinal fan."
David's mind continued to obsess through the therapy sessions that grew even more arduous as he continued to improve against all expectation. It got to teams of doctors, and nurses at the Landstuhl Medical Center would gather in awe to witness Barney put David through his rigors. They'd watch and shake their heads, whispering to each other and jotting notes down on their clipboards. Finally the wooden crutches were a memory, replaced by steel canes that made him feel truly functional again.
In his free time, David would go to the computer room in search of the Iris beyond the inbox. He never again asked for a picture, and the subject didn't resurface. Instead, they resumed their exchange on books, his progress, her day at the library, always signing off with "love," the word David kept coming back to when unable to lift his eyes from the screen. Meanwhile, he began researching libraries in the St. Louis area, searching for one that had an employee named Iris. Finding such personal information defied his best efforts, so he scoured the libraries' individual Web sites for pictures that might identify Iris in a photo caption. When he found photos, but no captions, he began to fixate over trying to guess which of the women she might be, never to any satisfactory result.
"Well, champ," Barney said to him one day, "looks like my prophecy's gonna come true."
David looked down at his legs now covered in gym pants and absent the awful swelling and lumps. "I'm gonna walk out of here," he realized.
"Bound for the Intrepid Center for Heroes in San Antonio where they'll finish the job we started. Best in the world at this," Barney said, winking. "Second only to me."
With the time of his departure looming closer, David summoned the courage to craft the e-mail he'd been compos-ing in his mind for weeks now.
Dear Iris:

The miracle has come to pass. In a week's time, I'm shipping out on my own two feet I couldn't even feel when I first checked in here. I'm headed for a rehab hospital in San Antonio, but I asked them to route my ticket through St. Louis. Please tell me we can meet so I can thank you in person for all you've done. I never could have come this far without you, and—okay, I'll say it—I love you. More than I've ever loved anyone. Even though we've never met or spoken and I don't even know how old you are or what you look like. Please tell me you'll meet me. Please tell me you'll allow me to buy you dinner.

Love, David
David felt himself tense, fearing no response would come. But Iris' reply came within moments.
David:

I have come to love you as well, more than anyone since my husband. But you owe me nothing, and if we were to meet in person, we risk losing the wonderful bond we have formed. If I turn out to be beautiful, how could I ever know your love and devotion for me was not based on that? And if I'm not, how could I know your love was not based on obligation? I beg you to leave our love at this, as it will remain for all time, so neither of us need feel any disappointment or regret that might otherwise result. I could never live with that and trust you wouldn't want to either.

Love, Iris
Iris:

I don't care about appearance. I'm the last man in the world who should, based on what I looked like when I came in here. It is I who beg you for this meeting. If it is to be only one, fine. But perhaps it will be for a lifetime. If your answer is no, I will understand and you need not even reply. That will be answer in itself.

Love, David
But Iris did reply. Immediately.
David:

Very well. But here are my conditions so both of us can go on with our lives without forcing something that is forced upon us. E-mail me your flight information, and I will meet you in the terminal. You will know me by a red jade pendant I'll be wearing around my neck. It was my mother's and her mother's before her. That way, if you don't like what you see, if you're disappointed by my age or looks, you need not approach and both of us can go on with our lives without reservation or regret. The choice will be yours. Just look for the woman wearing the jade pendant.

Love, Iris
David could barely restrain his excitement. For the first time in longer than he could remember, he had something to look forward to, his life filled with meaning and purpose and hope. The army booked him on a commercial flight home, and he agonized over the stopovers and plane changes, fearing he might arrive late to find Iris and her red jade pendant nowhere to be found in St. Louis' Lambert Airport. He'd e-mailed her his itinerary but heard nothing back. Perhaps this had been her way of letting him down easy. Perhaps there would be no woman wearing a jade pendant waiting for him in the terminal.
He couldn't walk fast, but he could walk well enough with nary a limp now. Standing was actually just as hard, and he'd conditioned himself to lean on something for support whenever forced to stand for more than a minute.
And that's what he was doing, single tote bag slung over his shoulder, inside the airport terminal after his flight into St. Louis had arrived right on time. Shoulders propped up against a wall next to an airport bookshop with clear view of all those approaching. He caught a glimpse of himself in a nearby glass wall, comparing it to the one he recalled from the ambulance that had brought him to Landstuhl. His hair was trimmed neat and short, his face clean-shaven and unmarred by scabs and stitches. As for his eyes, well, they looked filled with life again, bright and hopeful.
Seconds past, then minutes, with no sign of a woman wearing a red jade pendant. Just harried travelers rushing to get to this place or that, everyone hurrying.
Finally he spotted a blond woman approaching, a few years his senior and ravishingly beautiful. Seeing his uniform, she cast him a respectful, even flirtatious smile when she neared, and David felt his breath bottleneck in his throat. Could this be her, could this be Iris? Then she drew close enough for him to see her white blouse clearly, no pendant dangling from her neck. David was tempted to follow her anyway, but quickly reminded himself of his true purpose even though the woman held her gaze on him until the bustle of the terminal swallowed her.
Instead David waited and watched to no avail. The terminal crowd thinned and amidst it he spotted an older woman coming his way, spine slightly hunched from age and arthritis. Her gait was slow and uneven, her hair bright silver and thinning at the top. And, as she drew closer, the bright terminal lighting revealed a red jade pendant clinging to her wool sweater.
David steadied himself with a deep breath and, feeling no sense of disappointment whatsoever, pushed himself from the wall, angling his feet to intercept the old woman.
"Excuse me, Iris," he said, smiling with warm hand laid upon her shoulder. Stopping was hard for him and the terminal's slick tile made it even harder. "I'm David Grant, and I'm so glad you've kept our dinner date."
But the old woman looked at him strangely. "Young man," she said, her voice soft and scratchy, "I don't have a clue who you are or what's going on. But a few minutes ago a beautiful young woman with blond hair gave me this pendant and told me if a young gentleman stopped me, I was to say she'd see you for dinner at the restaurant at the end of the terminal."
David felt his world wobble, legs suddenly even more unsteady as his eyes cheated into the distance where the real Iris was waiting for him.
"Oh," the old woman resumed, looping the jade pendant from her neck and handing it him, "you'd better give this back to the young lady when you see her."
To get to the farm where we once lived, you pass rolling pastures and cornfields with thickets of forests in between. A good school bus ride away from Carbondale, Illinois, off Boskydell Road, the old homestead lay at the end of a gravel side-road, which, in the 1960s, was still covered in 'clinkers,' the slag from coal stoves, a residue of the technology that once thrived in this area.
That was then, when the famous freelance photographer Declan Haun came to photograph our family for the Saturday Evening Post's special "Love in America" issue, Dec. 1966/January 1967. He pictured our mother taking us for horsie rides in the paddock, feeding us eggs n' ham breakfasts on the porch, and hoisting us up trees. We lived in a big Victorian farmhouse with a barn, horses, sheep and dogs. With its wrap-around porch, and its fields and forests, it couldn't have been a more idyllic playground for the six of us kids, toddlers to teenagers, in our big happy family.
This is now, more than forty years later, and we're a much bigger family, having tripled to 18, not counting our parents, in-laws, or dozens of cousins. We've sprawled far from the winding road, past shadowed woods and sunlit fields, where we once cantered our horses and learned to ride in fox hunts.
Like many American families, we're scattered across the country– in our case, from Illinois to Washington State, to Florida, to Georgia, to Massachusetts, to Louisiana. The face of our families, and the love we express, has itself also spun off in many directions from the tight-knit nuclear family, and the Roman Catholic traditions in which we were raised. Instead of raising many children, as our parents did, and as their brothers and sisters did (six, mushrooming to a blended family of 10 on one side; three on the other), our families are much smaller. Two of us are raising families with one child. Our extended clan of siblings now includes one same-sex union with a marriage certificate from British Columbia, two bicultural families with Catholic and Jewish traditions, and one family with a biracial adopted child. For two of us siblings, the "children" in the family have fur and whiskers.
Reunions do happen, and have happened often more than once a year for significant birthdays, but they are so hard to make happen sometimes, they almost have to occur like spontaneous combustion in response to an emergency, like when our mother fell and broke her hip and it required all hands on deck. We're so spread out across America that it's difficult to even schedule toll-free conference calls between all the time zones, soccer practices, and basketball games of various kids, and timetables of busy parents and their aunts and uncles on various coasts.
Forty years later, despite the many obstacles of time and geographic space, we somehow find a way to get together, still united by our love for each other and by common artistic and creative pursuits threaded through our lives.
As a family, we're still in constant touch. We try to share our talents, whether it's suggesting fundraising proposals, story ideas, leads on public arts commissions or new client and marketing possibilities. Among us, we represent many different professions and walks of life, but we continue to carry on our parents' love of art, music and literature.
Venture through the gate to our old farm, down the dirt driveway to the big white Victorian farmhouse where we once lived, and you'll find ghosts of Christmas past, and old memories. But where the path once ended is where the journey begins anew, where the six kids are now raising a new generation, of children, students, readers, writers, and artists, and 21st century "love families."
Signpainter by Norman Rockwell

"The story of my life is really the story of my pictures and how I made them," Norman Rockwell frequently said. "In one way or another, everything I have seen or done has gone into my pictures." Read the story behind Rockwell's Signpainter here.
Secret Valentine by Harry Hintermeister
Sometimes it's best to remain a secret valentine. Case in point: when you're sending a valentine to a special boy and he's sending valentines to every girl in town! The little girl's face is priceless – she doesn't know whether to cry or jump up and strangle him. This is from our then-sister magazine, The Country Gentleman from 1938.
Valentine Card by Ethyl Franklin Betts
One of our earliest Valentine's Day covers shows a lady shopping for a card in 1904.This cover was done by an artist named Ethel Franklin Betts. Is the gentleman behind the shopper wishing the card was for him? Betts was a student of the illustrious (in every sense of the word) Howard Pyle, and did mostly illustrations for children's books. Luckily for us, she also did four Saturday Evening Post covers.
First Valentine by Richard Sargent
More than fifty years later, this lad is picking out just the right card for someone special. Cover artist Dick Sargent did 47 covers in the 1950s and early '60s. This is a typical slice-of-life example, with a boy clearly not wanting to be seen doing what he's doing. Let's hope his buddies don't catch him while he's at it – poor kid will never hear the end of it. (We used this illustration for our January/February 2013 Limerick Laughs Contest. Read the winning limericks here.)
Giant Valentine by Tom Webb
The things we do for love. Tom Webb is another mostly forgotten artist, but he did six Post covers. This one is from 1937. One wonders about the lady's reaction.
Couple in Heart by Bradshaw Crandall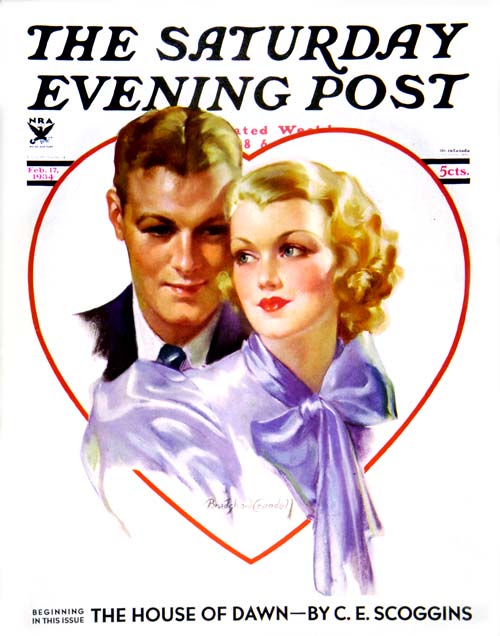 Artist Crandall did nine Post covers of pretty girls or handsome couples. I love the thirties hairstyles and fashions here. Crandall was known for painting romantic ladies…along with pin-ups too risqué for the likes of The Saturday Evening Post.
Chasing Cupid by J.C. Leyendecker
When it came to romance in the 19th and early 20th century, men did all the pursuing. A "loophole" was Leap Year, when ladies were supposedly permitted to propose to a man. So watch out, Cupid! This lady (I'll kindly refrain from calling her a spinster) is on a mission. This crazy 1908 cover was by J.C. Leyendecker.
One evening last week I was dreaming over a drawer full of old love letters, fancy rhinestone garters, and similar trophies of the chase when I turned up a fading snapshot depicting two coxcombs of the vintage of 1922. Against the unlovely façade of the Brown University chapel, the photographer had immortalized my roommate and myself in an attitude recalling Damon and Pythias. We both wore green Norfolk jackets and Tattersall waistcoats, clenched class pipes trimmed with numerals in our teeth, and generally suggested a couple of cynical, fatigued rips who knew a hawk from a handsaw. I was suddenly suffused with a warm, boozy emotion and the sensation that a tennis ball bad lodged in my larynx. Tears the size of Malaga grapes welled down my seamed cheeks; across the years I heard again the trumpet passage from When Day is Done and the Mound City Blue Blowers in Hindustan. Automatically, I reached for my hip, half expecting to find the curved and monogrammed flask filled with gin at body beat.
Trembling with emotion, I sought out my consort, a statuesque creature compounded of fire and ice. She was in the scullery, where she was compounding some fire and ice in a glass. I informed her I was arranging a reunion with old Jim Budlong, to whom I referred with a sob as the salt of the earth and a perfect crackajack. The prospect of listening to us exhume our student pranks, while she discussed dress patterns with a total stranger, naturally electrified her. Ducking the oncoming coffee grinder with the grace of a born athlete, I sauntered negligently to the phone and called the old crackajack.
On the appointed eve, the napery was flawless and my eyes outshone the silver service as I busily shook up Martinis with imported vermouth and opened a box of choicest Havanas. The dinner had hardly smoldered to a crisp before the old crackajack entered. Beyond acquiring a set of false teeth, a paunch and a slight facial paralysis, he had not changed a whit. His wife, a vinegary soubrette with rimless bifocals, straggled in, ten paces behind. The two ladies exchanged a limp handshake and sat down, eying each other venomously. With a hearty chuckle that sounded like a man strangling on a piece of bread, I whisked out the cocktails. It developed that our guests did not indulge, though Mrs. Budlong explained that if people wanted to make a pig of themselves, that was their own business. There was a short silence lasting twelve minutes during which the Czarina and I made pigs of ourselves.
When the pressure reached forty pounds to the square inch, I could stand it no longer.
"Hiya, old sock!" I roared out abruptly, pounding my classmate between the shoulder blades.
"Hiya, old keed!" he roared back, pounding my shoulder blades. This exhausted the subject and the four of us studied our palms minutely. At length, Mrs. Budlong leaned over and informed my wife, with sweet satisfaction, that her slip was showing.
"I know it," replied the latter through her teeth. "That's the way I like it. I think it's more provocative, don't you?" The Budlongs exchanged a glance indicating that their hostess was a blend of Messalina and Little Egypt.
"How long have you two been married?" demanded Mrs. Budlong, with the crisp distaste of a social worker.
"Why, we're not married!" my dream girl answered sunnily. "I thought you knew. He bought me down in Buenos Aires as a plaything. He's got a wife and three children up in Haverstraw."
As the maid kicked open the door to announce that the soup was on, a hush reminiscent of the Eden Musée greeted her. All we needed was a licensed mortician tiptoeing around placing pennies on our eyelids. Dinner was a carnival of gaiety; Mrs. Budlong spent it furtively wiping the spoons to guard against infection, and her husband kept consulting his watch like a conductor on the Rock Island road. The boiled beef set his tongue wagging, however, and he made a little talk on steam turbines lasting into the crêpes Suzette. In desperation, I began harking back to youthful didos under the elms.
"Remember the time we hoisted the dean's cow up on the roof of the chem lab?" I giggled.
"Ho-ho, that was the cat's cuff links! " he chortled, turning excitedly to my wife. "Did be ever tell you about that one?"
"He did," snarled milady, "and I still say that if you could only put it up in tablets, you'd have the biggest thing since the discovery of chloroform."
At this juncture a world-famed surgeon named Al, who runs a small place on Third Avenue, telephoned that my grandfather was sinking fast at the Misericordia Hospital and was not expected to live through the floor show. We made a date with the Budlongs to take potluck in East Orange next Thursday, and sped like the wind to the bedside, but it was too late. Grandpa was deader than a mackerel—and that goes for a certain dinner date next Thursday, brother.
Rockwell loved flirts. He must have, because he painted enough of them. Our flirtatious folks span the decades from 1917 to 1960 – an incredible forty-three years of chronicling people giving other people the eye. Happy Valentine's Day, Norman!
In Fellowship Lies Friendship
The name of this painting is the motto of the University Club of New York: "In Fellowship Lies Friendship". The gentlemen inside the club seem less interested in the fellowship within than the "friendship" outside the window. If you look closely, you'll see in the lower left-hand of the cover a distinguished gentleman with his ever-present pipe walking alongside his real-life daughter-in-law. Mr. Rockwell, we presume. Like Alfred Hitchcock in his films, the artist sometimes made a cameo appearance in his own paintings.
The Window Washer
What a fun cover! As in the last cover, rather than average folks, Rockwell seems to have suddenly discovered lovely young ladies. "Without shapely young ladies to admire," Rockwell said, "the only thing left to look at would be flowers and trees." Well, a guy can paint only so many flowers and trees. The handsome young window washer is brazenly winking at the pretty secretary, and Mr. Boss Man is, thankfully, oblivious. Actually, the artist originally "had a very prim girl looking shocked, but the idea of youth calling to youth worked out more effectively." We agree. Like the previous cover, this one is from 1960.
After School
Having to write "Knowledge is Power" a hundred times on the blackboard for some misdeed, the detainee is gleaning a little unintended knowledge. This is important because the life of the unmarried schoolmistress in 1917 would have been closely guarded, and any hint of scandal costly. But catch the look in her eyes. Even the child can tell she's a goner!
Serenade
Rockwell liked his models in well-worn attire, but this couple was allowed to pose in their Sunday best. The Bard of Avon watches the action, while rather irreverently being used as a hat rack. Note the lighting from a nearby, but unseen lamppost. This cover is from 1928. Perhaps he is singing that year's popular, "I Want to Be Loved by You". She seems to be giving it some serious thought.
The Flirts
What happens when a couple of guys driving a truck stop at a stoplight beside a beautiful blonde in a convertible? Love at first sight, of course. She loves me…not. She isn't giving them the time of day. Note how Rockwell did the masthead and the fact that this is the first cover where he didn't sign his name – just his initials. This is from 1941.
Milkmaid
Oh, my, was flirting allowed in colonial times? Well, when a handsome young lad meets a pretty milkmaid on a bridge, perhaps there was a toll kiss in order to proceed. As we've stated before, Rockwell loved costumes and painting them. Note the girl tip-toeing for her kiss. This is from 1931.
Questions on Saturday Evening Post covers can be directed to Diana at [email protected] or by commenting below. We love your feedback!
First of all, it's not a "lie detector." The proper name is "polygraph"—Greek for "many pictures." Its inventors never claimed it could detect lies, just gives multiple pictures of emotional reactions, particularly the rise in pulse, blood pressure, perspiration, and breathing that accompanies lying.
In 1948, when it was still a new concept, Alva Johnston wrote a three-part series on the polygraph and Leonarde Keeler, one of its chief developers. He noted that Keeler and other scientists
don't like the name "lie detector." The detection of lies is incidental; primarily, the machine measures emotion. The emotion which it usually registers is fear—fear of exposure and punishment. But the term "lie detector" is here to stay.
And to confirm that last statement, Johnston titled his series, "The Magic of the Lie Detector." Keeler would have been disappointed by that choice of words. (He must have winced at "magic.") He knew the limits of his device. But he also knew the polygraph could help in criminal investigations because of the popular misconception that the polygraph could, indeed, recognize any lie.
The most striking thing about the detector is the way that it induces confessions. The majority of suspects and of lying witnesses seem to think that the only logical thing to do is to confess when the detector trips them up. According to the figures of the Chicago Police Detection Laboratory, 75 per cent of those registering deception on the machine confess later.
The polygraph is far from accurate. Personal reactions between suspects vary widely. Any conclusion by an examiner involves subjective interpretation. But even with its limited reliability, the polygraph gave researchers enough information to indicate Americans were less honest than generally assumed. As early as 1931, Keeler was shocked to see how widespread theft and deception was among bank employees. He had been asked to administer polygraph tests to 54 staff members at a bank where $1600 had gone missing.
To his astonishment, twelve of them gave guilty reactions. Nine of them confessed. Horrified, the bank president fire all twelve.

He then sent all candidates for the vacancies to be tested on the lie detector. At this point Keeler got a second and worse shock. Sixty-two per cent of the applicants were found to have stolen from previous employers.

Thousands of employees and applicants have been examined on the lie detector since that time. The average of 62 per cent of dishonesty remains fairly constant for groups in a position to take small sums without great immediate danger of being caught. The percentage is higher in chain stores, where small items can be pilfered without much risk. General lie-detector experiences indicate that a considerable majority of the population will commit petty thefts when the opportunities are frequent and tempting.
That discouraging 62% was probably accurate, and has stayed fairly constant. In 2010, the National Retail Foundation reported that store and small businesses annually lose $33 billion in theft —60% committed by employees. The U.S. Chamber of Commerce claims 75% of employees steal from work, most of them repeatedly.
Back in the 1930s and '40s, before hidden cameras and electronic inventory control, businesses had only a few defenses against employee crime. They repeatedly hired Keeler to tell them how honest their employees were. Again and again, Keeler found petty pilfering, cheating, and deception. But when he tested employees at a summer resort in Northern Michigan, he was startled to find complete honesty among one profession.
It wasn't the bartenders.
The machine indicated that eleven of the twelve bartenders were guilty of irregularities. They confessed. They had pocketed money that should have gone into the cash register, had short-changed customers and had smuggled out occasional flasks for their own use.
It wasn't the waiters or cleaning crew.
other employees confessed [to having] stolen from bedrooms, cheated guests, tapped tills and raided hotel supplies.
The island of honesty was found among the gamblers who ran the card and dice tables in the hotel's casino.
All the gamblers ran 100-per-cent records of honesty. The boss gambler explained the matter to Keeler. Honesty was a part of the technical equipment… The professional staff had to put on their consciences every night, as actors put on their make-up. This particular joint did not cater to the sucker trade. Its customers were sophisticated, big-money players. If there was any cheating going on, they were sure to discover it. The staff couldn't afford to be anything but scrupulously upright, since a single piece of crookedness might ruin the establishment. They couldn't get along without honesty, no matter how much they hated it.
The number of cheats may be disheartening—at least for the 40% of American employees who never lie or steal. But there is one last discovery that Keeler made in his examinations that offer a slim piece of encouragement.
The lie detector acts as a mechanical conscience. A man who has been tripped up by it knows that he can be tripped up again if he makes another false move.

Getting caught on the lie detector is a sort of moral vaccination, a shot of integrity in the arm. Sir William Osler said that nothing promoted, longevity so much as the early discovery of a trace of organic disease. In the same way, nothing seems to promote honesty so much as the early discovery of a trace of larceny.

In one large retail chain which lost $1,400,000 a year through employee thefts Keeler discovered that 76 per cent of the personnel had been taking property of the company. On re-examination a year later, only 3 per cent of the thieves were found to have repeated. This did not mean, according to Keeler, that the other 97 per cent had got religion or been morally revolutionized, but that they could not bear the humiliation of being detected.
So maybe, with enough detection, there's still hope for dishonest workers.
Post script: I found this detail from Johnston's article interesting, if true:
Women usually put up a much better fight against the lie detector than men. They lie more skillfully and stick to a lie with greater resolution. As Keeler analyzes his experiences, it is not that a woman is naturally more dishonest than a man, but that, as a rule, she is a more determined character.
Millions of Americans with hissing, whooshing, or ringing ears may find relief with daily supplements of pine bark extract, according to research published in the peer-reviewed journal, Panminerva Medica.
Findings by the Italian research team report that taking 150 mg of brand name Pycnogenol once day for 4 weeks relieved ear noise, or tinnitus, better than taking 100 mg of the extract or none at all. No side effects were observed.
People with tinnitus perceive sounds that don't actually exist, a problem that science suggests is linked to poor circulation to the inner ear. Earlier research shows that Pycnogenol (pik NahJ en al)contains substances that might improve blood flow and stimulate the immune system.
"Impaired blood flow to the ear is a common cause for tinnitus, a disturbing and very debilitating condition that can considerably impact overall health and quality of life," said Dr. Gianni Belcaro, a lead researcher on the study with his team from Chieti-Pescara University. "With few options available for treatment, this study gave us the opportunity to explore a natural solution to tinnitis symptoms and its causes."
No two individuals describe tinnitus in exactly the same way. Using fans or a "white noise" machine helps mask the often progressive problem that can interfere with sleep, concentration, and mood.
Some sufferers report success with a daily 200 mg dose of gingko biloba, another nonprescription and widely available product sold online and in retail stores. But it doesn't work for everyone.