The Studebaker brand began in February 1852 with wagons and carriages and continued through 1966.
Studebaker Car Ad March 26, 1910
This 1910 ad is the first Studebaker ad we could find in The Saturday Evening Post. The Studebaker brothers opened a blacksmith shop in South Bend, Indiana on February 16, 1852. The California Gold Rush proved to be a boom for this wagon business, as was a contract to supply Union army wagons (who knew there were "Studebakers" in the Civil War?). It was a natural transition to the motor coach, if that new-fangled horseless carriage fad can be called natural. From wagons and buggies to classy and classic vehicles with motors, Studebaker history reflects a century of transportation change.
Studebaker Car Ad July 5, 1919
By the time this ad appeared in July of 1919, the five Studebaker brothers had all passed away. Production of vehicles such as this seven-passenger "Big Six" was overseen in part by sons and sons-in-law. Car ads were already appealing to the ladies, as we can see a group of women here about to take the Big Six on an excursion. It was priced at $1,985.
Studebaker Car Ad May 28, 1927
This beautiful 1927 ad is for a Studebaker Commandeer, the "Greatest post-war engineering achievement." This handsome model boasted nickel-plated bumpers and something called "no-draft ventilating windshield (exclusively Studebaker)." Dig the "full-size balloon tires". Modern features such gasoline gauge on dash, interior dome light and automatic windshield cleaner show that the horseless carriage had come a long way.
Studebaker Car Ad June 29, 1934
This 1934 ad is a work of art in itself. Notice the price has declined dramatically – starting at $685. These "lowest priced Studebakers in history" are the result of the economic Depression and refined manufacturing methods. No more building one car at a time. Even the lowest-priced cars were a tough sell in that economy, but by 1933 Studebaker was back in the black and expanding dealerships.
Studebaker Car Ad October 10, 1936
The low-price years continue with this 1937 model. Boasting the "winged victory radiator grilles" and capacious trunks, these classics start at $665.
Studebaker Truck Ad August 10, 1946
Studebaker didn't only produce cars, but that workingman's friend, the truck. And the vehicles were not only built in South Bend (where there remains a Studebaker museum today), but in plants in Detroit and Canada
Studebaker CG Car Ad September 1948
We found this bright red "Studebaker Commander Starlight Coupe" in the September 1948 issue of Country Gentleman magazine, a sister publication at the time. This "respected North Dakota grain grower" is showing off his 900-acre farm and declaring he is "mighty proud of his farm and his new Studebaker".
Alas, by the 1950's, Studebaker's star was fading, in spite of merging with the more financially sound Packard. But stay tuned, folks, we have some beautiful Packard ads to show you next time.
In the November 1962 Post writer Arthur W. Baum relates that Studebaker "now makes fewer automobiles than an other of the five major U.S. firms, little more than one in every 100 of the industry's total of 6,000,000. In the last half-dozen years Studebaker has enjoyed only one substantially profitable year. The company concedes that about one-quarter of the country has no Studebaker dealers." The slick new "Avanti" notwithstanding, they were not making the dent in a market dominated by the Chevrolet Corvette and Ford Thunderbird. By the end of 1963, the South Bend plant, which had begun 111 years previously as a blacksmith shop forging metal parts for wagons. In 1966, the remaining plant in Ontario closed.
A Web exclusive from The Saturday Evening Post's article "Deep Secrets," Mar/Apr 2011. Click here to subscribe.
North Americans have a rich bounty of shipwrecks along the reefs and shoals of the continent. Here is a sampler of easily accessible dives.
Florida Keys Shipwreck Heritage Trail
Florida Keys Shipwreck Heritage Trail. Divers and snorkelers can explore nine wrecks from Key Largo to Key West, lying in 20 to 140 feet of water. Many dote on the oldest wreck, the San Pedro, a member of the 1733 Spanish treasure fleet. It's off Islamorada's Indian Key in just 18 feet of water. Dives are usually less than $100 including gear. 800-352-5397; fla-keys.com.
James Bond, Thuderball, Plane Wreck
The famous James Bond wreck is in Nassau, Bahamas. Divers can see two wrecks used in Thunderball and Never Say Never Again, an old World War II landing craft, decorated with fire coral, sponges, and sea fans, and the steel skeleton of a Vulcan bomber aircraft. Dives are usually less than $150 including gear. 242-302-2000; bahamas.com.
The Royal Mail Steamer Rhone Shipwreck
The Royal Mail Steamer Rhone is the grand dive of the British Virgin Islands, off Salt Island. The ship, which went down in an 1867 hurricane, lies on a reef in 20 to 80 feet of water. It's now encrusted with corals and sponges, and world-famous from its starring role in the film The Deep, with Jacqueline Bisset. Dives are generally less than $150 including gear. 800-835-8530; b-v-i.com.
Barbados' Carlisle Bay Shipwrecks
Barbados' Carlisle Bay is clogged with at least four wrecks, all close to shore. The Berwind is an easy dive, a French tug sunk in 1919, now in about 25 feet of water. Blowfish, trumpet fish, and lizard fish make the wreck home. 800-221-9831; barbados.org.
Besides the Herman H. Hettler, Smith Moore, and The Manhattan, many other wrecks lie off Au Sable Reef in Pictured Rock National Lakeshore, Lake Superior. Shipwreck Tours of Munising leads dive charters out to two wrecks, at $75 per person for a two-tank dive. Landlubbers can glide above three turn-of-the-century wooden ships, the Bermuda, the Hettler, and a mystery wreck as yet unidentified, in the company's glass-bottom boat for $30, $12 for children 12 and younger. 906-387-5456; shipwrecktours.com.
Stay Dry in the Museums
For those who don't like to get their feet wet, here are some great rescued wrecks and artifacts around the world.
Florida Keys History of Diving Museum in Islamorada covers every inch of dive history, from the heavy lead boots to the shiny metal helmets of early diving. Take a snapshot of the earliest underwater cameras. The museum is open daily 10 a.m. to 5 p.m. Ticket price is $12 per adult, $11 per seniors, $6 per child 5-12 and free for children younger than 5. 305-664-9737; divingmuseum.org.
Mel Fisher Maritime Museum, Key West, holds one of the world's great Spanish sunken treasures raised to the surface. For more than 15 years, Fisher, his family and his team searched for the Spanish galleons Atocha and Santa Margarita, royal treasure ships that went down in a hurricane in 1622 en route from Cuba to Spain. They found millions in emeralds, coins and gold bars, on display in Key West. The museum is open daily 8:30 a.m.-5 p.m. Mon.-Fri., 9:30 a.m.-5 p.m. weekends and holidays. Ticket price is $12 per adult; $10.50 per student, and $6 per child. 305-294-2633; melfisher.org.
Bermuda Underwater Exploration Institute covers the waterfront from the island's pink sand to the bottom of the ocean floor. This is the place to try on scuba gear and take a simulated dive in a Nautilus X2 submersible—and survive an attack by a giant squid. Science is fun in this museum, which also has a Shipwreck Gallery, with centuries of recovered artifacts, and a Treasure Room with Spanish gold and pirate booty. The museum is open daily except Christmas, 9 a.m.- 5 p.m. Mon.-Fri., 10 a.m.-5 p.m. weekends. Ticket price is $12.50 per adult, $10 per senior, $6 per child 6-17, and free for children younger than 5. 441-292-7219; buei.org.
Mary Rose, King Henry VIII's favorite warship, is awaiting her new $59 million museum in 2012 in Portsmouth, England. In the meantime, scores of artifacts brought up from the wreck are on display at the Portsmouth Historic Dockyard. See what Tudor tankards looked like, and the tools that the ship's barber/physician used on the crew. The Mary Rose, built between 1509 and 1511, served proudly in King Henry's wars, and was on her way out of Portsmouth harbor in 1545 to fight the French once again when she sank. Not until 1966 did scuba diver Alexander McKee locate the wreck in near-zero visibility. The hull was raised in 1982, and has been undergoing hydration preservation ever since. Portsmouth Historic Dockyard is open 10 a.m. daily except Dec. 24, 25 and 26; from April-October, last tickets to the attractions are sold at 4.30 p.m. and the Dockyard gates are closed at 6 p.m. From November-March, last tickets to the attractions are sold at 4 p.m. and the Dockyard gates are closed at 5.30 p.m. Ticket price for all six Dockyard attractions is $31 per adult, $26 per senior, and $22 per student and child 5-15. 44-023- 9272-8060; maryrose.org
The Vasa Museum in Stockholm is Scandinavia's most-visited, a vast space that spotlights the world's only surviving 17th-century ship. King Gustav II Adolf commissioned the mighty warship, which was launched in 1627. On her maiden voyage in Stockholm harbor, the Vasa heeled over and sank. In 1956, divers raised the foremast; they brought the bulk of the ship to the surface in 1961. "Face to Face" is one of the museum's most moving exhibits, with personae created from the wreck's 15 unidentified skeletons telling their stories from Aug. 10, 1628, the day the Vasa sank. The museum is open daily 10 a.m. to 5 p.m., until 8 p.m. on select Wednesdays. Ticket price is $16 per adult, free for children 18 and younger. 46-8-519 548 00; vasamuseet.se/en.
Diver Betsa Marsh has explored shipwrecks from the Great Lakes and Caribbean to Polynesia and Micronesia.
Originally published in the Post on May 22, 1920.
A strong factor in the popularity of the Ouija board as a do­mestic utensil is the prevalence of Ouija­ board agencies throughout the coun­try. No shopping round is necessary; you can buy one any­where, from a notion counter to a used-car emporium. Its pur­chase used to involve much secret diplo­macy. You had to worm the manufac­turer's address from some obscure acquaintance who was rumored to go in for all that sort of thing, and then you had to send to some vague place in the West, whence your Ouija board came to you, f. o. b., in a plain wrapper. Now there is not the slightest hitch—you can pick one up anywhere on the way home. Our own corner drug store has been celebrat­ing Ouija Week for the past month or so, and I understand that the boards are going like hot cakes—after all, you can't better the old similes. They certainly make a taste­ful window display, combined, as they are, with garlands of rubber bath hose, with notes of color introduced by a few hot-water bags here and there. I imag­ine that the exhibit was arranged by the same person who thinks up names for the drinks served at the soda fountain.
What a simple matter this thing of com­municating with the spirits has turned out to be, since the Ouija board made its entrance into the great American family life. There is practically nothing to it-anybody can do it in the privacy of his own room. Look at the results that the members of our little circle have been getting, for instance, since we took up the Ouija board in a really thorough way. And we never had a les­son in our lives, any of us. It has been a rough season, locally, for the professional ­medium trade; I doubt, if the profession­als have even made expenses, since we learned that we could do it ourselves.
Home spirit communication has com­pletely revolutionized our local social life. I often wonder what we should ever do with our evenings if it weren't for the spirits. Since they have taken to dropping in for an informal chat over the Ouija board we never lack a lively parlor game for one and all-metaphysical, yet clean.
And then just look at the money we save on amusement taxes! You know how it is yourself; the minute you leave home to make an evening of it, it runs right into expense. What with the cost of theater tickets, cabaret food and taxicab charter—good night, as the saying goes. Even such wholesome community activ­ities as inter-apart­ment poker games, wives welcome, come under the head of outgo sooner or later. Of course this is a relatively free country, and no one has a better right than you to your own opin­ion of the Ouija board as a medium of com­munication with the next world; but con­sidering it solely as a means of after-dinner entertainment you must concede that the price is right, any­way.
Where would our little circle be of an evening if the spirits had not grown so clubby? Sitting round, that's where we would be, trying to figure out if the William Hart picture round at the Elite Motion-Picture Palace was the same one that they showed the week before over at the Bijou Temple of Film Art. Since we got our Ouija board I have so completely lost touch with the movies that Theda Bara may have got religion, for all I know about it.
Artist Eugene Iverd (1893-1936) came to light in the golden age of illustration that embraced the likes of J.C. Leyendecker and Norman Rockwell. He mostly painted children, and his Saturday Evening Post covers are a treat to be savored.
Daydreaming accordionist – March 13, 1926
In 1926 a young Eugene Iverd wrote an ecstatic letter to his mother. "I can't wait another moment. I must tell you the good news." He had sent 4 paintings to The Saturday Evening Post and they were interested! Mr. Martin, a managing editor, even visited the artist personally. This daydreaming young man serenading his movie idols was the first Iverd Post cover.
Boy Botanist – August 27, 1932 – Eugene Iverd
Letter to Mom, continued: "P.S. Oh! Yes! I must tell you this. (Mr. Martin) said Chief Editor Mr. Lorimer said, 'Who is this man Iverd? Why haven't we seen some of his work before?'" This beautiful 1932 cover with wonderful colors is a prime example of what Post editors discovered in this artist. This budding entomologist is collecting, studying and noting every find. In his short life (he died at age 43), Iverd did numerous magazine covers, 29 of them for the Post. The one below has similar pastel tones.
Boy and Dog in Nature – June 11, 1932 – Eugene Iverd
These two covers would go beautifully together, framed and hung in a special place. This one has a timeless Rockwellian feel. Growing up in Waseca, Minnesota, Iverd "showed incredibly early talent and drew constantly and on anything," his granddaughter, Lyn Farquhar, told us in a 2001 e-mail. "He drew many pictures on the blank pages of hymnals n the Lutheran Church attended by the family. Many of these later became treasured keepsakes by town citizens. His artistry was supported by his mother but frowned upon by his father."
Snow Shoveler – January, 3 1931- Eugene Iverd
An industrious young man (and little furry helper) is ringing doorbells to turn a snowfall into a financial opportunity. It's from 1931, but it could be a drawing of last winter. Some things never change.
Lighting the Pumpkin – November 3, 1934 – Eugene Iverd
1934 was a pivotal year for the Great Depression. Unemployment was still high, but we seemed to be turning a corner. FDR was the American president and the political rumblings in Europe were much scarier than a creepy jack-o-lantern. This colorful scene of two trick-or-treaters is a Halloween favorite. I love the use of color against the background of dark houses with twinkling lights.
Children on swing – June 22, 1935 – Eugene Iverd
Iverd was an art teacher in Erie, Pennsylvania, so he knew something about children. This fun cover from 1935 was one of his last. Sadly, he died in 1936 of pneumonia. "Antibiotics, which could easily have saved him," wrote his granddaughter, "were not available until the following year." He was only able to spend three years as a full-time artist, "yet he published over 60 magazine covers, and over 150 advertisements, story illustrations, calendars, lithographs," wrote Ms. Farquhar. "His productivity still astounds me."
Since its publication 400 years ago this year, the King James Bible has become the most frequently quoted version of the Old and New Testament among English speaking people. Its style has become so widely accepted that many Christians have come to view other translations as flawed or even sacrilegious.
There are several reasons why Protestant Christians still rely on a translation made four centuries ago. There is tradition and familiarity. But there is also the power of the English language used in this work.
By good luck, or by the grace of God, King James commissioned this translation at a time when the expressive power of English was undergoing an incredible growth. As a 1951 Post article noted, the King's translators proved highly creative in setting the biblical language of Aramaic and Greek into
the haunting phrases [that have] imprinted so deeply on the thoughts and imagery of all English-speaking people: "apple of his eye," "powers that be," "widow's mite," "filthy lucre," "as a lamb to the slaughter," "pearls before swine," "worthy of his hire," "broken reed," "birds of the air," "loaves and fishes," "army with banners," "clear as crystal," "thorn in the flesh," "still small voice," "salt of the earth" —these are only a few.
The King's goal was to produce a skilled, consistent, and rigorously edited version of scriptures (an earlier English translation of the Old Testament had included the commandment, "Thou shalt commit adultery.") In the process, though, his scholars created a masterwork  that influenced all writers of English for centuries. The power of its message, set to its best advantage amid the imagery and cadence of deathless poetry, could reach out beyond the faithful to touch agnostics and non-believers.
Abraham Lincoln is a good example. He openly challenged the teachings of the Christian faith as a young man. He firmly refused offers to pray with others. He purposely eliminated the word "God" from his speeches, preferring the ambiguous term, "Maker." And he professed no faith in any life after death. Yet as the Post article, "How Well Do You Know the Bible?" notes, Lincoln might have been—
the President who read the Bible most in office was Lincoln; the White House guards used to find him, before he had had breakfast in the morning, turning the pages of his Bible in the small room he used for a library.

He had read the whole Bible and memorized long pas­sages from it. Its words and phrases came frequently and effectively from his lips in speeches, political de­bates, and even casual conversation. Once, at a Cabinet meeting where his advisers were discussing the new green­back dollar bills that were issued during the Civil War, the question came up of what official slogan to print on them.

"In God we trust," was suggested, but Lincoln had a more whimsical idea. "If you are going to put a legend on the greenbacks," he said, "I would suggest that of Peter: 'Silver and gold have I none; but such as I have give I thee,"' quoting Acts iii. 6 verbatim.

Lincoln's two greatest utterances, the Gettysburg Address and the Second Inaugural, are filled with the rich word poetry of the King James Version, and we have the almost unanimous word of his biographers that he found the Bible his principal solace at a time when the nation he headed was undergoing its most terrible internal trials. In the summer of 1864, when he was living in a cottage at the Soldiers' Home on the outskirts of Washington, a friend named Joshua. Speed entered his room unexpectedly and found the President sitting near the window, read­ing his Bible by the light of failing day.

"I am glad to see you so profitably engaged," remarked Speed, with a touch of lightness. .

"Yes," said Lincoln. "I am profit­ably engaged."

"Well," said Speed, "if you have recovered from your skepticism I am sorry to say I have not."

The tall President rose from his chair, placed his hand on his friend's shoulder, and looked him earnestly in the eye. "You are wrong, Speed," he said. "Take all of this book upon rea­son that you can, and the balance on faith, and you will live and die a hap­pier and better man."
It probably killed the old "studio system" in Hollywood. The Taylor-Burton version of "Cleopatra," originally budgeted for $2 million, wound up costing Twentieth Century Fox $44. The studio spent two-and-a-half years producing the film, which featured lavish sets, full-scale barges, an army of "extras," and 65 costume changes for its star, Elizabeth Taylor.
The result was an extravaganza that clocked in at six hours in the director's cut. The studio cut the film down to four hours for the premier and three hours for theatres, which still proved a little too long for public taste, even with all the big-name stars and the gaudy staging. "Cleopatra" may have been 1963's top grossing film, but it only recovered half of the studio's expenses that year. Twentieth Century Fox was brought dangerously close to financial collapse that it couldn't breath easily until 1965 when it was saved by the highly popular "Sound of Music."
If the movie was less successful as a theatrical release, it was a stunning triumph as a tabloid sensation. The romance that sprang up between Taylor and co-star Richard Burton made "Cleopatra" the object of continual attention from the media. Writing about his work in producing the movie, Walter Wanger said "I have been told by responsible journalists there was more world interest in Cleopatra… than in any other news event of 1962"—a considerable claim in the year of the Cuban missile crisis.
Several actresses had been suggested to play the title, including Dorothy Dandridge, Joanne Woodward, Joan Collins, Marilyn Monroe, Kim Novak, Audrey Hepburn, Sophia Loren, and Susan Hayward.
But Wanger wrote that Taylor had been his only choice since the project began. And the studio's faith in her was so great, it continued to sink millions into a picture that probably would have been cancelled if it had another leading lady.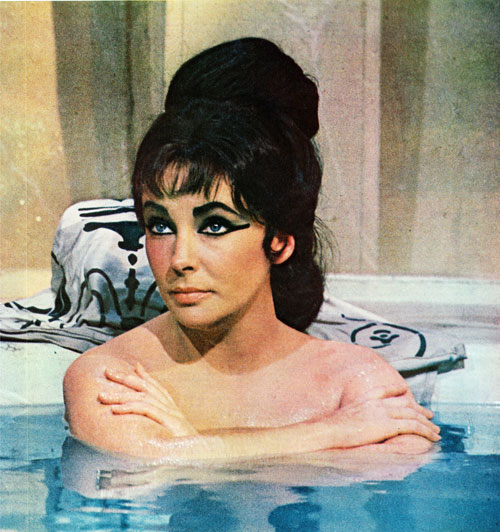 See also:
Remembering Elizabeth Taylor
Elizabeth Taylor: AIDS Activist
By the time Elizabeth Taylor made her last appearance in the Post, she was no longer known just for her screen roles—or her myriad marriages. She'd founded AmfAR, the American Foundation for AIDS Research. It was this role that, many say, truly fulfilled her. In 1987, she spoke directly to the Post's Holly G. Miller about her activism.
Post: What prompted your interests and efforts on behalf of AIDS?

Taylor: First, I became aware of the fact that there was a new and very serious disease that was destroying many young people in the arts community at the very prime of their lives. Second, I had a strong sense of compassion for these people for whom literally nothing could be done. And finally, I was outraged that nothing was happening, that no one seemed to care—and then I realized that if I didn't  become involved, I had no one to blame but myself.
In addition to becoming personally involved, she engaged President Reagan in the battle against AIDS, and made sure that, in the final years of his presidency, HIV remained on his agenda. In doing so, she brought the formerly shunned disease into America's mainstream political discussion.
Post: If you could bring one message to the American people about AIDS, what would it be?

Taylor: We are in this together! As President Reagan has said, "AIDS affects all of us"—as he said, "AIDS calls for urgency, not panic—compassion, not blame—understanding, not ignorance."

Post: How have you gone about your fund-raising efforts?

Taylor: By talking about the importance of this issue, by reaching out to encourage the involvement of friends, by challenging our leaders and others to be involved, by setting up the American Foundation for AIDS Research, and by personal appeals and appearances on behalf of this issue.
Over the course of her 70-year career, Taylor entertained us, dazzled us, and, in the end, did her best to take care of us.
See also: Elizabeth Taylor, Leading Lady of the Sixties
Donate to AmfAR today at www.amfar.org.
When Elizabeth Taylor wrote about her early career in "The Role I Liked Best…" (The Saturday Evening Post, September 24, 1949), she was just 17 years old, but had already starred in 12 motion pictures.
I literally grew into my favorite role—the part of Velvet in the picture National Velvet. I started to qualify for it as a small child by learning to love horses, and began riding at the age of three. When I was four, my godfather gave me a field horse, and soon I started jumping and steeplechasing. Later, I read Enid Bagnold's novel, "National Velvet," and began to dream of playing Velvet in a movie.

So when I reached a relatively ripe thirteen and heard tbat M-G-M planned to produce a picture based on this story, I went to Producer Pan Berman and told him bow much I wanted the role.

"But you're too small and frail," he said.

"I'll grow," I promised.

Afterward mother wondered why I had said tbat. "You know you haven't grown a quarter inch in three years," she pointed out.

"It wasn't necessary then," I said. "Now it is." Until then, I had eaten like a bird. But after making that promise I started packing away steaks and chops like a lumberjack. In three months I grew about three inches and gained weight besides. Maybe Nature poked a helpful hand into my build-up program, but I like to think I did it all myself. Anyway, I got my favorite role—and King Charles.

King Charles was supposed to be a mean horse, and only his owner and his trainer were allowed to ride him. But I managed to win his trust by visiting him day after day. Then I persuaded the studio to buy him for the picture, and finally King Charles was presented to me as a birthday present.
By the time another 17 years had passed, she had left such ingenue roles far behind her to win the 1967 Academy Award for Best Actress playing the bitter, destructive Martha of "Who's Afraid of Virginia Woolf."
Next: Taylor's Most Passionate Role, as an AIDS Activist
The Packard automobile was a work of art—as were some of its ads.
Packard Car Ad – April 25, 1903

The first Packard ad in The Saturday Evening Post appears to be from April 25, 1903. J. W. Packard, his brother and a partner founded the company in Warren, Ohio in 1900. Cars were built one at a time in these years of automotive infancy. In fact, Packard partner, G.L. Weiss had been a major investor in the Winton Motor Carriage Company and owned Winton #4. (Imagine having a car with the serial number "4"). Five Model A Packards were built in that first year of 1900. To show what the 1900 Model A could do, partner G.L. Weiss and Packard made a highly touted test: they drove it from Cleveland to Buffalo in 13 ½ hours. Of course, the under 200-mile journey would take a little over three hours now, but this was still the horse and buggy era, with very few paved roads. As a promotion for the new car, the feat was a success.
Packard Car Ad – September 18, 1926

This gorgeous ad from 1926 suggests the grace and agility of a thoroughbred. A 1932 ad had an oriental scene at the top to show how Packard was supreme in over sixty countries. In Shanghai, "Packard cars outnumber—by more than two to one—all other makes of comparable price combined". Automobile ads were becoming a work of art themselves. As were the autos.
Packard Car Ad – March 17, 1928

Packard ads of this era liked to tell us a story from history – in this case, the ancient forging of the 105-foot high bronze statue of Helios in 280 B.C., and then show how they carry on the grand tradition. "In one of the world's most modern foundries Packard precision parts first take form under scientific control. Every detail of temperature and the blending and pouring of metals into the intricate moulds is carefully checked." However it was created, the resulting convertible is a thing of beauty. Prices in this 1928 ad range from $2,275 to $4,550 with "individual custom models from $5,200 to $8,970, at Detroit".
Packard Car Ad – March 25, 1939

"Three American Faces You Know at a Glance" this ad confidently touts. "A 1939 Packard presents to the world one of the proudest and most distinguished faces that ever graced a motor car." This was the new Packard Six. Remember: "When you drive a Packard, the whole world knows it's a Packard". Gotta love that grill.
Packard Car Ad – July 7, 1941

By the 40's, the car was more streamlined in style, like this Packard Clipper from 1941. This 4-door sedan would set you back $1,375. This featured "fade-away fenders", front fenders that "fade" into the center of the car. "It's beautiful—and permits increased body width with no increase in overall car width", the ad noted.
Packard Car Ad – Wizard of Ah's

By 1948, the proud Packard was even sleeker. Love the copy: "Designed by the Wizard of "Ah's!" Cars are getting smarter: "Press a button and the top lowers or raises. Another button moves the front seat forward or backward! And ALL four windows have magic push-button control!" If you were looking for more of a family car, no doubt you were more inclined to the "Station Sedan" at the bottom of the page. "All steel, finished in Northern Birch".
The Packard is still "with us" not only through these old ads but through a number of Packard clubs around the world today.
The Beatles – photo by John Zimmerman
Photographer John Zimmerman was one of the best. His lens caught famous politicians and newsmakers, and even strange new groups from Britain. But this 1964 photo of the Fab Four is a classic. The cover promised "a probing analysis of their incredible power to evoke frenzied emotions among the young." Yeah, Yeah, Yeah. What do you expect from stuffy old editors who worked Eight Days a Week? To simplify: the Beatles just made us feel Glad All Over. Okay, I'll stop now.
Sonny and Cher – photo by Jerry Schatzberg
Another classic! Cher is looking hot and Sonny is looking, well, not the least bit Republican. Always up-to-date on the latest lingo, the editors informed us that Sonny and Cher were "what's happening, baby". Cher was known for her mod fashions, but here's a description of Sonny backstage at the Hollywood Palladium: "Although the musicians were wearing tuxedos, Sonny had on a yellow turtleneck sweater, a white, double-breasted pirates' jacket with wide lapels, epaulets and yellow puffs for buttons. His trousers were white, tight, and ornamented with a wide, silver-buckled, brown-leather belt, and black boots completed the outfit." You can't get more hip than that. That description, by the way, was from the author of the article, Peter Bogdanovich.
Roger Miller – photo by Maurie Rosen
It wasn't just rock and roll. There was a "big boom in country music". Anybody over fifty remembers the "King of the Road". From "Engine Engine No. 9" to wishing you had a "Do Wacka Do" (okay, you had to be there), Roger Miller was big time. What is country music? "It's soul in a rhinestone suit", the article said, "honesty with amplifiers, a new 'uptown' sound that city folks like—and it's back in the big time again." Remember "A White Sport Coat" by Marty Robbins? The Carter Family? Sonny James? This was "that new sound from Nashville". But no one could do "You Can't Roller Skate in a Buffalo Herd" like Roger Miller.
The Mamas and the Papas – photo by Dan Wynn
"Monday, Monday," "Calfornia Dreamin'," "I Saw Her Again" – the hits just kept coming for the Mamas and the Papas, proving they weren't just hippies – they were hippies with talent. But they were on the wild side. A guy in one audience stood up and shouted, "Cass, Cass, I love you." Cass "peered into the audience from the footlights. 'Dynamite! Where are you staying?'" The article by William Kloman stated that once "the Mamas and the Papas instigated a riot, mainly to test their theory that it could be done scientifically. John got a black eye for his efforts, and they have since tried to keep their audiences under control." Mama Cass (whose voice on "Dream a Little Dream of Me" I will always remember) died of a heart attack in 1974, John passed away in 2001 and Denny in 2007. Happily, lovely Michelle is still with us.

Frank and Nancy Sinatra – Supremes photo
"It has been 15 years now since rock 'n roll was laughed off as just another fad," the Alfred G. Aronowitz article states. "Frank Sinatra called it 'the martial music of every sideburned deliquent on the face of the earth.' The police in Atlanta, Ga., ruled that teen-agers couldn't dance to it without written parental consent. Roman Catholic leaders in Boston called for a boycott of it, to be enforced by a censor. And the head of the White Citizens Coucil in Alabama saw it as part of a Negro plot to 'mongrelize America.'" Welcome to the 60's, folks. The diversity in music was a sign of the jumbled times: Herb Alpert, The Supremes, The Byrds, Simon and Garfunkel, Petula Clark. 27-year-old Nancy Sinatra, "has already collected three gold singles, which is two more than Frank Sinatra ever got in his entire 26-year career." And then Frank and his little girl have a smash love duet, "Something Stupid." Something Crazy was going on.

Bob Dylan – photo by Elliott Landy
Okay, I confess: once, hearing a guy on a radio program dedicate a Bob Dylan song to our troops, my response was "haven't they suffered enough?" Not a fan of the voice – sorry. This 1968 article covered "the royal family" of pop. From Hendrix to Buck Owens, Joplin to Merle Haggard, B.B. King to the Beach Boys. And oh yes, the Stones, Simon & Garfunkel and Johnny Cash. Then, "Enter the King, Bob Dylan". Author Alfred G. Aronowitz makes Dylan's lyrics sound almost biblical, "….the mysterious Ballad of Frankie Lee and Judas Priest" he says, is "a parable of friendship and temptation." And "the moral of one of his songs, he recites, is that no man should be where he does not belong, that each man should help his neighbor, that no one should envy his neighbor's lot." But I can't argue about the unending beauty of "Blowin' in the Wind," which became something of a civil rights anthem. Indeed, how many roads must a man walk down…
The news from the Tōhoku earthquake and tsunami in Japan showed us incredible images: waves engulfing entire farms, ships rolling into parking lots, cars washing down the street like dead leaves, and uprooted houses ambling through the streets. But the truly incredible is yet to come, for the insurance companies are beginning to assess the damage.
The earliest estimate put the cost near $35 billion, but that figure proved premature. Damage from aftershocks and the nuclear-plant explosion is continuing to add to the total costs for reconstruction.
A second estimate of damages, released a few days ago, has raised the estimate to $170 billion. To put that cost in perspective, imagine twice the damage caused by Hurricane Katrina ($80 billion.)
The U.S. has rarely experienced earthquakes on the scale seen by Japan. Our one, truly disastrous quake in a modern city came in 1906. On April 18, a force 8.0 quake (one-tenth the size of the Japanese quake) hit San Francisco, leveling most of the city and starting fires from ruptured gas lines. Roughly 80% of the city was destroyed and half the city's residents left homeless. Yet many San Franciscans responded to this adversity with determination and ingenuity.
I came across a good illustration of this spirit in a 1947 Post article about A. P. Giannini, founder of the Bank of America. In that April morning in 1906, the 36-year-old president of the city's "Bank of Italy"—
found himself flung out of bed, and the whole house, the floor and the earth underneath heaving and shaking. He calmed his excited family, dressed quickly and hurried off by the commuters' train to San Francisco, sixteen miles up the peninsula. The train finally halted several miles south of the city, over which a great pall of smoke already hung, and A. P. loped along the last few miles, passing processions of panic-stricken refugees. But when he arrived at his bank a little after eight A.M., he found it open for business as usual. The cashier, by habit, had drawn the bank's $300,000 in gold, and notes and securities worth over $1,000,000 more, from the vaults of the Crocker Bank, where they were stored every night.

"The fire that was spreading all over the downtown section," Giannini relates, "was only three blocks away, I figured we had about an hour to get out." At once he commandeered two produce wagons from his old commission house and ordered his clerks to load them up with the bank's pouches of gold, its valuable papers, records, and its one type-writer. These were covered over with the contents of a dozen crates of oranges and vegetables that served as camouflage.

All that night the little Bank of Italy convoy plodded southward, on the alert for bandits. It was dawn when they reached the Giannini home in San Mateo and buried the bank's treasure in its garden. Without sleeping, A.P. hurried back to San Francisco, to find most of the downtown business and residential quarter, some 25,000 buildings, leveled, and the fire still spreading.
The morning after the quake, the leading businessmen of San Francisco met outside town. Many were in despair. Several bankers suggested they declare a six-month moratorium, Giannini spoke up:
Large swaths of San Francisco were laid in ruin. At least 3,000 people were killed in the quake.Library of Congress

"If you keep your banks closed until November, you might as well never open them, for there will be no city left. The time for doing business is right now. We must help. I propose, when I leave this meeting, to start business immediately."

That day he had a desk set out on the pier in his old commission-house district, all in ruins, and had a clerk there accepting deposits and honoring checks for their customers, the people who were shipping in vitally needed foodstuffs as always. A cardboard sign on a stick showed the Bank of Italy was open for business, though its till carried a quota of only $10,000 cash, dug up each morning from the garden in San Mateo.

Giannini offered credit liberally to people who wanted to rebuild homes or business properties.He opened a Calamity Day Book for the customers who borrowed money in that time of disaster. All of them, he says, repaid him; many flourished again, and formed a loyal regiment of depositors and stockholders that soon grew into legions.
No doubt, in the months ahead, we will read similar stories about the endurance and sacrifice of the Japanese people who are facing these incredibly hard times.
If it's hard to imagine the power that could destroy a city so thoroughly, try imagining the power of the human spirit that will overcome and rebuild the land.
Check out this easy way to scramble up breakfast and give new meaning to egg muffins.This recipe is an excellent source of protein, choline, and a good source of vitamin A, vitamin D, and calcium.
Lighter Option – Recipe can be made with reduced-fat cheese, if desired.
Easy Frittata Muffins
Courtesy of American Egg Board
Serves 6
Ingredients
6 eggs
1/2 cup milk
1/4 tsp. salt
1/8 tsp. pepper
1cup shredded Cheddar cheese (4 oz.)
3/4 cup chopped zucchini
1/4 cup chopped red bell pepper
2 Tbsp. chopped red onion
Heat oven to 350 F. Beat eggs, milk, salt and pepper in medium bowl until blended. Add cheese, zucchini, bell pepper and onion; mix well. Spoon evenly into 12 greased muffin cups, about 1/4 cup each.
Bake until just set, 20 to 22 minutes. Cool on rack 5 minutes. Remove from cups; serve warm.
Per serving:
calories: 164
total fat: 11 g (saturated fat: 6 g)
polyunsaturated fat: 1 g
monounsaturated fat: 4 g
cholesterol: 207 mg
sodium: 296 mg
carbohydrate: 3 g
dietary fiber: 0 g
protein: 12 g
Vitamin A: 722.9 IU
Vitamin D: 55.5 IU
folate: 35.1 mcg
calcium: 192.1 mg
iron: 1.1 mg
choline: 134.0 mg
Originally published in the Post on May 22, 1920.
Any day, now, I expect to read in the paper that Sir Oliver Lodge, or somebody else who keeps right in touch with all the old crowd, has received a message from the Great Beyond announcing that the spirits have walked out for a forty-four-hour week, with time and a half for overtime, and government control of Ouija boards. And it would be no more than fair, when you come right down to it; something ought to be done to remedy the present working conditions among the spirits. Since this wave of spiritualism has broken over the country it has got so that a spirit doesn't have a minute to himself. The entire working force has to come trooping back to earth every night to put in a hard night's labor knocking on walls, ringing bells, playing banjos, pushing planchettes round, and performing such parlor specialties. The spirits have not had a quiet evening at home for months. The Great Beyond must look as deserted as an English lecture platform.
No spirit could object to coming back now and then in the way of business, so to speak, through a professional medium. That sort of thing is more or less expected; it's all in an eternity, as you might say. But the entrance of all these amateurs into the industry has been really too much. It is the Ouija-board trade in particular that is so trying. Now that every family has installed its own private Ouija board and expects immediate service on it at any hour of the day or night, the sting has been put into death. It's enough to wear a poor spirit to a shadow, that's what it is.
The Age of the Ouija Board
OF COURSE there may not be any particular connection, but nation-wide spiritual ism seems to have come in like a lion at just about the time that nation-wide alcoholism was going out like a lamb. The séance room has practi­cally become the poor man's club. After all, people have to do something with their evenings; and it can always be argued on the side of the substitute pastime that it does not cut into the next morning, anyway. There was a time when Ouija board operating was looked upon only as an occupation for highly unmarried elderly ladies of pronounced religious tendencies; prohibition was regarded in much the same light, if you remember. And now the Ouija board has replaced the corkscrew as the national emblem. Times surely do change, as I overheard someone saying only yesterday.
It has certainly been a great little fiscal year for stockholders in Ouija a­board plants. A census to show the distribution of Ouija boards would prove that they average at least one to a family. There is every reason for their popularity as a family in­stitution; their initial cost can soon be scraped to­gether, their upkeep amounts to practically nothing, they take up little space, and. anybody can run them. They are the Flivvers among psychical appliances. No home can conscientiously feel that it is supplied with all mod­ern conveniences, lacking one; there is even some talk, I hear, of featuring built-in Ouija boards in the more luxurious of the proposed new apartment houses.
Have you driven a Dort lately? Gone "zoom, zoom" in a Stearns? Seen the U.S.A in your Jeffery? These pre-1920 car ads are a treat – and I'll bet there are some you never heard of.
Stearns Car Ad – August 27, 1910

Just how many people can you fit in a Stearns? This beautiful ad from 1910 declared "The Stearns is a Car for Every Purpose". Priced at $3,200 to $4,600 it was suitable for every purpose the wealthy had. The F. B. Stearns Company was out of Cleveland, Ohio.
Rauch & Lang Car Ad – 1910

It is encouraging that this car is "safe for women and children" (we hate losing those along the way). This is an electric car from 1910 and, don't worry, the ad assures us "it will go as far on one charge as you will ever care to ride in a day". And please note: "Any woman can run the car safely." The Rauch & Long Carriage Company was also out of Cleveland.
Cole 8 Car Ad – June 5, 1915

This eight-cylinder beauty retailed at $1,785 according to this 1915 ad. How they got all eight charming young ladies in the vehicle is not clear, but there they all are, setting up a lovely picnic. Advertisers were targeting the female audience already. Cole Motor Car Company was out of Indianapolis.
National Car Ad – January 1, 1918

Also out of Indianapolis was National Motor Car & Vehicle Corp. I love the wording of the first paragraph of this ad: "There is in the new twelve-cylinder National Touring Sedan (convertible) a multiplicity of virtues which may well excite admiration". They don't write ad copy like that anymore. Touting the "staunchness" of an "airplane type motor" and showing a woman pointing to the sky tells us that planes were quite the rage in 1918.
Jeffery Car Ad – March 4, 1916

Admit it, you've never heard of a Jeffery Sedan and here it was "the car which popularized year-round motoring". Who knew? The ad notes, "Just as in 1915 few bought a car that was not self-starting, so in 1916 few will buy a car without an enclosed body of the Sedan type. Both are matters of motoring convenience and luxury which become indispensable as soon as they have become known." I must indeed admit that I am completely spoiled for an enclosed car with no crank to start it up. The Thomas B. Jeffery Company was out of Kenosha, Wisconsin.
Hupmobile Car Ad – August 24, 1918

This is an ad that really shows you what was going on in the world. It is 1918 and soldiers are driving this Hupmobile onto an airstrip. Biplanes are everywhere. Although Hupmobile is obviously trying to sell automobiles, the line at the top loyally states: "By far the most patriotic thing you can do with your earnings now is to invest the in War Savings Stamps." Hupmobiles were manufactured in Detroit.
Dort Car Ad – January 5, 1918

1918 was wartime and car dealers were patriotic. "Thou shalt not waste! It is the modern commandment born of the great worldwide struggle to preserve liberty and perpetuate democracy!" Professional men and the ever-present soldier are checking out this Dort, "built for service without waste". Dort Motor Car Company was out of Flint, Michigan.
Windy, rainy, dreary days and then…a new bloom! And let us not forget St. Patrick.
Shamrock Chapeau – Charles Kaiser
It is 1943 and you need ration coupons to buy everything from gasoline to sugar to clothing. Aye, and this foolish lass spent her clothing coupons for a Kelly green hat for St. Pat's Day? Well, the way she looks in shamrocks and green…perhaps she wasn't so silly after all. Artist Charles Kaiser painted five Post covers in 1942 and 1943. This is one of the prettiest ever.
First Crocus – Norman Rockwell
The official title is "First Crocus" but I call this cover, "Hey, Honey!" I am just as goofy and thrilled each year when I see that first bloom peeking through the cold ground. Rockwell worked on this cover in the dead of winter, and it was a challenge indeed to find a crocus. The artist called greenhouse after greenhouse to no avail. He finally had one shipped from a swanky New York florist that specialized in out-of-season blooms. The tiny pot of crocus cost a tidy bundle, but Norman was a stickler for detail.
Young Woman in Wind
Readers have asked if we know who the artist models were on Post covers. The answer is, almost never. But this young lady with the enviably long, thick, wavy hair showed up on several covers by artist W.H. Coffin. This time, she's holding on to her hat in the March wind. If you have questions on Post covers or Post artists, e-mail me at: [email protected] or leave a comment below.
Wind Blowing Man's Umbrella Inside-Out
A classic cover from March 1911 shows what the March winds can really do. Guess what, mister? A whole century later umbrellas still do this!
St. Paddy Cake for Policemen
The Irish cop may be a stereotype, but the boys in the 17th Precinct will love this! If this charming lady wants to bake a cake for our editorial department, we'll all gladly claim we're Irish, too. Come to think of it, on March 17th we ARE all Irish. Reprints of Post covers are available at curtispublishing.com and, as always, we enjoy reader comments.
Next year, the U.S. Mint will issue four new presidential $1 coins for three men. Grover Cleveland will appear on two of the coins because he won non-consecutive elections in 1885 and 1893.
Maybe the distinction of appearing on two separate coins will make President 22 and 24 a little more memorable. He's already known among historians as one our most honest presidents. He was the only president to be married in the White House. He was an avid hunter and fisher, and he wrote for the Saturday Evening Post—distinction enough for anyone.
In 1901, the Post printed his "Defense of Fishermen," in which Cleveland rose to protect the honor of the American angler. Critics, he claimed, were unjustly accusing fishermen (there is no mention of fishing women) of  "certain shortcomings and faults": laziness, profanity, and dishonesty.
What sense is there in the charge of laziness sometimes made against true fishermen? Laziness has no place in the constitution of a man who starts at sunrise and tramps all day with only a sandwich to eat, floundering through bushes and briers and stumbling over rocks or wading streams in pursuit of elusive trout. Neither can a fisherman who, with rod in hand, sits in a boat or on a bank all day be called lazy—provided he attends to his fishing and is physically and mentally alert at his occupation.
What about all that swearing and rough language? Oh, the President replies, you mean
the sudden ejaculations, outwardly resembling profanity, which are occasionally wrung from fishermen in trying crises and moments of soul-straining unkindness by Fate.
I like that "outwardly resembling."
Fishing imposes a self-restraint and patient forbearance upon its advanced devotees which tend to prevent sudden outbursts of feeling. It must be admitted, however, that when the largest trout of the day winds the leader about a snag and escapes after a long struggle, or when a large salmon or bass, suddenly, by an unexpected and vicious leap, frees himself from the hook, the fisherman's code of morals will not condemn the holder of the straightened rod if he impulsively, but with all the gentility at his command [italics added], exclaims: " Damn that fish!"
It is probably better not to speak at all; but if strong words are to be used perhaps these will serve as well as any that can do justice to the occasion.
And then, of course, there's the matter of… well, lying to put it bluntly.
It must, of course, be admitted that large stories of fishing adventure are sometimes told by fishermen—and why should this not be so? There is no sphere of human activity so full of strange and wonderful incidents as theirs. Fish are constantly doing the most mysterious and startling things; and no one has yet been wise enough to explain their ways or account for their conduct.
The best fishermen do not attempt it; they move and strive in the atmosphere of mystery and uncertainty. In these circumstances fishermen necessarily see and do wonderful things.
If non-fishers can't assimilate the recital of these wonders, it is because their believing apparatus has not been properly regulated and stimulated.
Take, for example, those incredible stories of "the one that got away"—that one enormous fish that somehow, miraculously, elude the angler. What of it? Cleveland would reply.
It is perfectly plain that large fish are more apt to escape than small ones. Their weight and activity, combined with the increased trickiness and resourcefulness of age and experience, greatly increase their ability to tear out the hook, or expose a fatal weakness in hook, leader, line or rod.
In many cases the encounter with a large fish causes such excitement, and such distraction or perversion of judgment, as leads the fisherman to do the wrong thing at the critical instant—thus contributing to an escape.
Beyond these presumptions, we have the deliberate and simple story of the fisherman himself, giving with the utmost sincerity all the details of his misfortune, and indicating the length of the fish he has lost, or giving in pounds his exact weight. Now why should this statement he discredited?
I think the ex-president is having fun with us. Hard to say. Certainly he is being serious when he writes—
the real worth and genuineness of the human heart are measured by its readiness to submit to the influences of Nature, and to appreciate the goodness of the Supreme Power.In this domain those who fish are led to a quiet but distinct recognition of a power greater than man's, and a goodness far above human standards.
Amid such surroundings, no true fisherman can fail to receive impressions which so elevate the soul and soften the heart as to make him a better man.
Cleveland's conclusion: Fishing is good for the soul and good for the country.
The President wrote this article for the Post in 1901.

In these sad and ominous days of mad fortune-chasing, every patriotic, thoughtful citizen, whether he fishes or not, should lament that we have not among our countrymen more fishermen.