To celebrate the start of another baseball season, we're offering several galleries of vintage baseball-themed ads.
Our first gallery offers early advertisements for baseball equipment and uniforms.
The Ingersoll store in New York was founded by Robert J. Ingersoll, who got his start selling watches, which included the popular $1.00 watch. Note that the uniform comes in three grades of quality, and that the catcher's mitt at 50 cents is "serviceable," but the $1.00 model is "a beauty."
It seems improbable that boys would make good jewelry salesmen, but the Standard Jewelry company was betting they'd be desperate enough to sell 36 pieces of "art jewelry" to get a uniform. Despite the low, 10-cent price, the advertiser assured the boys these jewelry pieces were "no trash."
Even The Saturday Evening Post got into the uniform-premium game. During the first half of the 20th century, baseball equipment was a popular prize for boys and girls who sold the Post door-to-door. (We still hear from former Post-boys and Post-girls who got their start in business by selling our magazine long ago.)
A.J. Reach was one of the first people paid to play baseball professionally. In addition to holding a position with the Philadelphia Athletic Baseball Club, he ran a tobacco shop and hand-stitched baseballs. By the late 1800s, his company also began manufacturing baseball gloves. Reach became so prosperous that, upon his retirement, he started his own ball club, the Philadelphia Phillies.
The Draper & Maynard Company started as glove manufacturers. But in the late 1890s, a player on the Providence Grays broke two fingers in a baseball game. He fashioned a protective glove for his hand using a model developed for teamsters. From that start, the company launched a famous line of sporting goods.
The promise that a D&M baseball would last nine innings "without ripping or losing its shape" says something about the quality of baseballs in those days.
Wilson Sporting Goods began as a company that used slaughterhouse byproducts to make tennis-racket strings and baseball shoes. When Thomas E. Wilson took over the company in 1915, he branched into the baseball uniform business before expanding into making equipment for nearly every other sport.
Major-league umpires have it easy today. They're allowed to wear lightweight, casual shirts and pants. In the old days, they had to wear a dark blue serge suit, complete with coat and hat (in addition to a mask and chest protector), in the summer sun. The Middishade Clothing Factory was making suits until 1986, long after umpires began wearing a more reasonable uniform.
When U.S. Rubber introduced a line of rubber-soled athletic shoes in 1916, it intended to call them Peds (Latin for "foot"). Fortunately, that name was already in use, so the company decided on Keds. This ad is a good illustration of how much has changed in running shoes. It also shows how much has changed in promotional contests for kids. What sporting-goods company today would promote an essay-writing contest? And give 50 wire-haired fox terriers as prizes?
Long before there was a National Park Service, Americans were travelling to the parks on horseback and in stagecoaches. But at the turn of the century, the railroads began building spur lines to the parks and lodges for park guests. And they started advertising their park routes to Post readers. The ads ran well into the 1950s, when families preferred to reach the parks in the family car.
The old rail lines dropped passenger service long ago, but their routes to the parks are now served by Amtrak, which provides transportation to 237 of the National Park Service's properties.
When it was established in 1872, Yellowstone Park was accessible only by horseback or carriage. Consequently, the park had only 1,000 visitors a year. By 1902, the Union Pacific Railroad had started passenger service to the park, carrying travelers from the Idaho Falls station to the park entrance in a stagecoach. Shortly before this ad appeared, however, it had opened passenger service on a line from St. Anthony, Idaho, to the park's west entrance.
The Great Northern Railway Company, created in 1889, grew across the Great Plains from St. Paul into North Dakota, Montana, Idaho, and Washington. When the railway recognized the appeal of Glacier National Park, it built stations at the park's west and east entrances, its rail line crossing the continental divide. It also built Glacier Park Lodge, which is shown in the background of this ad.
The Milwaukee Road was proud of its electric locomotive service when it was introduced in 1919. They staged public demonstration to show that its Class EP-2 electric engine could out-pull steam locomotives. This electric engine pulled the Olympian, the company's passenger train that ran from Chicago to Seattle, stopping at Rainier National Park.
The North Coast Limited operated between Chicago and Seattle from 1900 to 1971. When this ad appeared, the Limited was making its 2,331-mile run in 63 hours — incredibly fast for that time. The Northern Pacific had also just upgraded the passenger cars, adding barber and valet service, separate bath and showers for men and women, and even radios on board!
The Santa Fe first built a spur line from Williams, Arizona, to the Grand Canyon in 1901. In 1905, it completed construction of the famous El Tovar Hotel, operated by the Fred Harvey Company. It was located right on the South Rim of the Canyon, just 300 feet from the railroad station.
The Utah Parks Company, run by the Union Pacific Railway, managed several inns and lodges in Cedar City, Utah. From there, rail passengers would be driven by bus to Zion National Park, Bryce Canyon, the North Rim of the Grand Canyon, and other sites.
Starting business as a sewing-machine manufacturer, the White Company began making vehicles in 1900 and continued until 1980. The company developed its buses specifically to provide passenger service through the national parks. They were unique for their canvas tops, which could be rolled back for sightseeing in good weather. Today, 43 White buses are still providing transportation at Glacier and Yellowstone, as well as Gettysburg National Battlefield.
Greyhound Lines began in 1914, when an out-of-work car salesman offered rides to miners who wanted to hit the saloons in Alice, Minnesota. Within four years, his company had grown into a profitable 18-bus company. By the year of this ad, the company had combined 100 different bus lines and was offering service over 40,000 miles. Travelers often chose to take the bus because it was cheaper than the train.
It would have been an intrepid motorist who drove the family to the parks back in the 1910s­. The western roads were often unpaved and filled with debris. Blowouts were a frequent, time-consuming annoyance to passengers. By the late 1920s, though, tires had become smaller and wider. The new profile made riding more comfortable. And reinforcements by cord fiber in the rubber made them more durable.
By 1938, federal programs like the CCC and WPA had expanded and improved the country's highway system. For Americans fortunate enough to afford the car and gas (10 cents a gallon), the national parks were never more accessible.
The Old Faithful Inn, shown in this Coke ad, was built in 1905 and was operated by the Northern Pacific Railroad. Today, the park takes measures to keep bears and tourists far apart. Visitors are strictly warned against feeding bears — or giving them soft drinks.
"If the people of the United States want their Grand Canyon to remain as it is, they had better keep an eye on it," Bernard DeVoto warned in a 1950 Post article. "Most people who have seen the Grand Canyon consider it our supreme natural spectacle. What would it look like if the Colorado River at the bottom of the gorge, the river that carved the gorge, were to be made a dry streambed?"
Read those words today, and your first thought might go to climate change, remembering the California drought headlines or a photo of the bleached river basin you saw on your smartphone at breakfast. But in 1950, DeVoto was protesting the Bureau of Reclamation's Colorado River Project.
The Pulitzer Prize–winning historian was among the first to bring national opposition to the project's three major dam proposals — Bridge Canyon, Echo Park, and Glen Canyon. Echo Park was the most controversial as it would cover most of Dinosaur National Monument, and in the end, only Glen Canyon Dam was built, but its benefits are still debated to this day.
The following is an excerpt from DeVoto's 1950 article.
Shall We Let Them Ruin Our National Parks?

By Bernard DeVoto
Originally published on July 22, 1950

Click here to read the entire article "Shall We Let Them Ruin Our National Parks?" by Benard DeVoto from the pages of The Saturday Evening Post, July 22, 1950.

Do you want these wild splendors kept intact for your kids to see? Then watch out for the Army Engineers and the Bureau of Reclamation — because right where the scenery is, that's where they want to build dams.

No one has asked the American people whether they want their sovereign rights, and those of their descendants, in their own publicly reserved beauty spots wiped out. Thirty-two million of them visited the National Parks in 1949. More will visit them this year. The attendance will keep on increasing as long as they are worth visiting, but a good many of them will not be worth visiting if engineers are let loose on them.

Most people who have seen the Grand Canyon consider it our supreme natural spectacle. What would it look like if the Colorado River at the bottom of the gorge, the river that carved the gorge, were to be made a dry streambed?

After the Green River flows out of Wyoming to cross parts of Northwestern Colorado and Northeastern Utah, it roars and riots through a series of deep, narrow canyons, one of which is named Lodore. If a dam were to transform the tempestuous Green in Lodore Canyon into a lake 500 feet deep, would you drive 2,000 miles to sail a dinghy there?

These and other areas of unmatched beauty or sublimity, which were made National Parks or National Monuments so that they could be preserved untouched forever, are in danger of being ruined by engineering projects. Should we let them be ruined?

The National Park Service is a bureau of the Department of the Interior, where, in appropriations, it is overshadowed by the Bureau of Reclamation, which builds dams. Though the Park Service has other duties, its primary job is to administer the National Parks and Monuments. The act of Congress which created it directed it "to conserve the scenery and the natural and historic objects and the wildlife therein, and to provide for the enjoyment of the same in such manner and by such means as will leave them unimpaired for the enjoyment of future generations."

The legally enacted policy cannot be misconstrued: the parks and monuments are to be preserved as they are naturally, without defacement. It has been maintained so far, though not without hard effort. Because some of these areas contain valuable minerals, timber, water resources, and water power, there have been many attempts to get the law changed so that they could be exploited. These attempts, which would ruin the parks if they succeeded, have heretofore usually been made by private groups intent on getting hold of public resources for their own profit.

In the last few years, however, a curious development has brought the National Park System under attack by two public agencies. Each of them has about a third of a billion dollars of public funds to spend every year, and so can exert incomparably more pressure than any corporation that ever cast a covetous eye on the wilderness beauties which were set aside for posterity to enjoy. One of these agencies is the Bureau of Reclamation, the other the Corps of (Army) Engineers. Their campaign of attrition raises fundamental questions about our grandchildren's heritage of wilderness scenery. It also involves serious issues in regard to the power of Federal agencies to subvert public policy. How the campaign works and what hinges on it can be clearly seen in the current effort of the Bureau of Reclamation to get authorization, which is now not legally possible, to make over Lodore Canyon in Colorado.

The canyon was named and first traversed by the adventurous one-armed geologist, John Wesley Powell, on his exploration of the Green and Colorado rivers. It was on June 8, 1869, that he took his boats into this deep and narrow gorge. Confined between sandstone walls that are alternately overhanging and set back in terraces, the Green here becomes an unimaginably violent chaos of rapids, falls, whirlpools, sucks, and chutes. This 20-mile stretch is one of the most hazardous — and most spectacular — parts of the so-far-untamed Green River.

Here Is One of Our Great Scenic Areas

Before entering Lodore Canyon, the Green flows tranquilly through a mountain meadow called Brown's Park. At the lower end of the canyon it emerges into another beautiful, high-walled valley which Powell named Echo Park. Massive rock formations rise from the floor of Echo Park, and here the Yampa River flows into the Green from the east, having just emerged from a narrow, twisting canyon wholly unlike Lodore, but equally overpowering. The Green then flows westward through two more canyons. The setting of these four canyons is a landscape of brilliantly colored, fantastically eroded mesas, buttes, mountains, gulches, and high basins. A panorama of fantasy, overwhelming to the imagination, this high rock desert has certain resemblances to the Bryce Canyon and Zion Canyon country and to Cedar Breaks, all in Utah, and to the setbacks and vistas of the Grand Canyon, which is in Arizona. But as each of these tremendous spectacles is, it is unique, of its own individual character and quality. It is one of the great scenic areas of the United States.

In 1938, Lodore Canyon, Yampa Canyon, Echo Park, the two subsidiary canyons and their rock-desert setting — 327 square miles all told — were made a National Monument and transferred from the public domain to the National Park System. If the area had been called, say, Green River National Monument, its nature and importance would have been self-evident in the name. But a National Monument already existed at its western edge, a small tract of 80 acres which had been set aside to protect the greatest known deposit of Mesozoic fossils, especially dinosaurs. The new reservation was added to this and the whole received the name of the original small part, Dinosaur National Monument. As a result, during the effort to keep a magnificent scenic wilderness from being defaced, many people have supposed that only the quarry where dinosaur fossils are excavated is at stake, though, as a matter of fact, the quarry has never been endangered.

When the monument was established, most of Brown's Park was left outside the boundaries. This exclusion was made because, years earlier, the Reclamation Service — now the Bureau of Reclamation — had declared Brown's Park a possible site for a reclamation project — that is, for a reservoir from which water could be pumped to irrigate a small area in Eastern Utah. The Bureau of Reclamation has by now abandoned whatever intention it may have had of so using Brown's Park. But it has undertaken to construct a hydroelectric-power development in Dinosaur National Monument. Both the laws which govern power projects and those which protect the National Park System forbid the construction of power dams in National Parks and National Monuments. There are, however, various ways of skinning a cat if you are good with a skinning knife. No one has ever said that the Bureau of Reclamation isn't.

In 1943, the First Assistant Secretary of the Interior made a "reclamation withdrawal" covering most of Dinosaur National Monument — that is, he officially declared it an area which could be used for reclamation projects. The "withdrawal" was almost certainly unauthorizable and therefore of no force. Furthermore, it was so smothered in administrative routine that, though it would destroy the monument, the National Park Service did not learn of it when it was made. On the basis of this questionable and semicovert withdrawal for reclamation — for irrigation — the bureau then began to plan a power development, which is prohibited. It proposed to build two dams with attendant power plants, one at Echo Park, the other at Split Mountain, farther down Green River. The estimated cost of the project is $207 million.

The National Park Service first heard of the project as a daydream of the Bureau of Reclamation in connection with a vast plan for the transformation of the West called the Colorado River Project. The Green River is, of course, part of the Colorado River system. It was, so to speak, a theoretical, just possible expedient to be tentatively considered in case equivalent results could be secured nowhere else in the Colorado River basin — and to be considered then only after exhaustive study and only after consultation with the National Park Service.

In spite of this understanding, and without consulting the Park Service or obtaining clearance from the Secretary of the Interior, the bureau laid the Dinosaur Monument project before the bodies that administer the interstate agreement which apportions water from the Colorado River. In February of this year those bodies recommended the immediate construction of Echo Park Dam. This would require legislation from Congress to authorize construction that is now prohibited in the monument — and the heat was on. Especially, the heat was on the Secretary of the Interior, one of whose duties is to protect the public interests — your interests — in the National Park System. The Western bloc worked smoothly. When Secretary Chapman ordered a public hearing, four Western senators and five Western congressmen appeared to add their testimony to that of embattled mayors and chambers of commerce that the nation would be well served by the abandonment of the policy which has protected the National Parks.

They Say It's Necessary for Irrigation

The hearing disclosed that not only heat had been generated but much fog, or smoke screen, as well. The Echo Park and Split Mountain project is solely a power development, but it received much support it otherwise might not have got because it has been represented in the West, where irrigation is a sacred word, as an irrigation project. Again, the people of Utah have come, or have been led, to believe that water which the state has been allotted from the Colorado can be got to a still theoretical and prodigiously expensive reclamation project in Central Utah only from the reservoirs which the Bureau of Reclamation has planned in Dinosaur Monument. Actually, the bureau's own plans show that this water is to be taken from another project, farther up Green River and outside the monument. Utah and neighboring states have come, or have been led, to believe that these dams are indispensable for storage water allotted them from the Colorado. Actually, the bureau plans to provide most of this storage at another dam far to the south of the monument, and the rest of it — if any more is needed for the allocations — could be provided at other sites outside the monument.

Finally, Utah believes that the sites of these dams are the only ones where power for its still-theoretical project could be generated, whereas there are many feasible sites outside Dinosaur Monument. And at the public hearing, Gen. U.S. Grant III, himself an engineer, showed that the use of one of these other sites would reduce the cost of the project by a third. Nevertheless, the various appeals mentioned above have been blended to make a really formidable confusion.

No Western state would receive any benefit from the construction of these dams inside the monument that could not be insured by alternative construction outside it. What about the people of the United States as a whole, whose property the monument is? On behalf of sectional and even local interests, the general public will have to pay the nonrecoverable cost, always a large fraction of the total cost, of a $207 million project. In return it will suffer the permanent ruin of an area of great natural beauty.

For it will be permanently ruined. If you cut down a forest, Nature will probably grow another one in the course of a few centuries, but if you change a river, a mountain or a canyon, you can never change it back again. The downriver dam in Dinosaur Monument would defile the mountain-park country along and below it and substitute a placid reservoir for the turbulent river above it. The other one, Echo Park Dam, would back water so far that throughout the whole extent of Lodore Canyon the Green River, the tempestuous, pulse-stirring river of John Wesley Powell, would become a mere millpond. The same would happen to Yampa Canyon.

Throughout both canyons the deep artificial lakes would engulf magnificent scenery, would reduce by from a fifth to a third the height of the precipitous walls, and would fearfully degrade the great vistas. Echo Park and its magnificent rock formations would be submerged. Dinosaur National Monument as a scenic spectacle would cease to exist.

A specious argument which has been used in connection with this assault on Dinosaur Monument is also a steadily increasing danger to other parts of the National Park System. We long ago passed the point where reclaimed Western land could repay the cost of the projects that reclaimed it, as it was originally intended to do. If it costs several hundred dollars an acre to make land worth $50 an acre, the rest of the cost must be charged to something besides reclamation. If the project includes the production of electricity, the sale of power will take care of part of the remainder. If it includes flood protection — and, nowadays, try to find any dam on any babbling brook that is not supposed to — whatever fraction of the remainder can be allocated to flood control can be written off altogether, since the whole country benefits from reduction of flood losses. But honest cost accounting ends right there; no additional economic justification can be found. Hence the Bureau of Reclamation has begun to publicize a shimmering but carefully unanalyzed value which it calls "recreation."

If the bureau can successfully allege that its projects create facilities for recreation, then it can charge to them as much of the uneconomic cost as it is able to get away with. Nobody doubts that the American people need facilities for recreation and will need more of them as our population increases. But what kind, where, at what cost, and who shall pay for them? Should we write off $10 million of the cost of an irrigation project because it will provide bass fishing for one North Dakota county? Should Philadelphia and Birmingham be taxed to provide sailboating for Las Vegas?

If it is able to force the Echo Park project through, the Bureau of Reclamation will build some fine highways along the reservoirs. Anyone who travels the 2,000 miles from New York City — or 1,200 from Galveston or 1,000 from Seattle — will no doubt enjoy driving along those roads. He can also do still-water fishing where, before the bureau took benevolent thought of him, he could do only white-water fishing, and he can go boating or sailing on the reservoirs that have obliterated the scenery.

But the New Yorker can go motoring along the Palisades, boating in Central Park, sailing at Larchmont and fishing at many places within an hour of George Washington Bridge. No one will ever drive 2,000 miles to row a boat; no one will ever seek recreation in a National Park except the kind for which the "pleasuring ground" was created — the unique experience of awe and wonder that an untouched wilderness spectacle provides. The only reason why anyone would ever go to Dinosaur National Monument is to see what the Bureau of Reclamation proposes to destroy.

But keeping informed about such attacks on the National Parks is extremely difficult. These plans may be vital for the future of the West, and the future of the West is vitally important to the United States. But the people have no adequate idea of how sound the plans may be, how far some of them may fail, how much money may be wasted. Engineers of unimpeachable professional standing have asserted that large parts of them are mistakenly conceived or even potentially disastrous. But the public has no chance to judge.

It is, in fact, almost impossible to bring effective criticism to bear on the projects of these two agencies. As far as the individual citizen is concerned, the data are kept secret. They are not publicized outside the West and only the favorable ones are publicized there. By the time a project is laid before Congress it has already been decided upon, the local interests have been organized and the Western senators and representatives — one of the most powerful blocs in Congress — have been lined up. Within the West there is severe infighting for the allocation of projects, but when it comes to getting projects to be allocated, there are neither state nor party lines: there is only a solid West. The Bureau of Reclamation and the Army Engineers have a vested institutional interest in the West, the interest not only of continuing to function but of expanding and growing more powerful. They have vast sums of money to spend. Their preliminary planners, field agents, and entire official hierarchy readily lay down the shovel and the hoe, and pick up the microphone at any hint that their plans may be interfered with or even inquired into. Both are able to summon to their support an organized political pressure that only nationwide public opinion could defeat.

That is the larger picture into which the assault on the National Parks fits. Unquestionably, the national interest requires the parks and monuments to be preserved unmarred, as they were intended to be.

No emergency serious enough to justify invading the National Park System arose during either World War. No emergency is in sight now. But with as much time for planning as might be required, with promising and perhaps better alternatives only cursorily investigated, the Bureau of Reclamation is able to threaten Dinosaur National Monument with destruction. And probably the bureau's hand was not idle in a California agitation that has succeeded in introducing into Congress a bill to investigate all the possible power sites in Kings Canyon National Park. This park preserves the most magnificent mountain country in California outside Yosemite Park. Its boundaries were drawn so as to exclude areas which ought to have been included, but which were left out precisely because they were valuable power sites. The Engineers threaten Mammoth Cave with a dam which even Kentucky does not want. They threaten Glacier Park with a dam which they formally agreed not to build.

If any of these attempts should succeed, the law which protects the parks will be circumvented and there will be no protecting any of them from similar impairment thereafter. The parks do not belong to any bureau, any group of planners or engineers, any state or section. They belong to all of us. Do we want them? Will our grandchildren want them?
Norman Lear sums up his incredible life and career this way in the preface to his book Even This I Get To Experience: "In my 90-plus years I've lived a multitude of lives. In the course of all these lives, I had a front-row seat at the birth of television; wrote, produced, created, or developed more than a hundred shows."
More than just an entertainer, Lear is a man with a deep and abiding concern for the future of America. He counts among his many notable accomplishments his founding of the advocacy organization People For the American Way, and that he purchased a rare original copy of the Declaration of Independence so that he could tour it across the U.S. for people to be reminded of the history of the country he so loves.
Lear attributes his outspokenness to growing up during the years of the Depression in a family that "lived at the top of its lungs and the end of its nerves. They cared about everything and I mean everything," he says. From humble origins, Lear would go on to make a fortune. At the height of his success, he had nine shows on the air at the same time, with a total audience of 120 million. Along the way, Lear experienced his share of personal setbacks. But he says his gratitude at the simple miracle of being alive has always carried him through difficult times. With a smile and a tug on his signature white hat, he explains, "No matter what I went through, I was always learning. Every day I think to myself, Even this I get to experience."
Jeanne Wolf: You're a great storyteller. When did you know that you had that gift?
Norman Lear: I probably knew it later in life than you would imagine. It started with just a lot of hard work, first in publicity and including, believe it or not, a business making little ashtrays that fastened to the lip of a saucer for a cup. It was a totally worthless invention that for some strange reason sold well one Christmas. What changed things is that I finally got a break writing comedy sketches for shows like Martin and Lewis.
JW: Then you came up with All in the Family, which was not that easy to get on the air. What gave you the courage to stick with it when other people were telling you, "We can't put this on TV"?
NL: It didn't seem to me to take all that much courage. I just wanted to make people laugh. I wanted to bring the audience to their knees emotionally through laughter. We dealt with serious subjects, but I saw that there was humor in everything.
JW: Not everyone appreciated your message at the time.
NL: Some people started saying, "If you want to send a message, use Western Union. Stop using television." At the time, the average sitcom was about something like "the roast is ruined and the boss is coming to dinner." There were hundreds of hours of programming where there was no Vietnam War, no racial problems, no economic problems. Everybody was happy and cheerful. In its own way, that's a strong point of view. We were simply going in a different direction.
JW: What guided you as you put together one hugely popular series after another?
NL: I always felt that what makes me laugh is going to make you laugh. And what makes me care or cry is going to make you care or cry. I don't have anything else in the world to go on. I express feelings. And that's what I think I need from my Congress and what America needs from its leaders. What are you really feeling here? Don't give us the B.S.
"When I crossed over into my 90s, suddenly I was getting a standing ovation just for standing straight. … It wasn't the same at 88."
JW: What would you say is at the root of your deep concern for your country?
NL: My generation was in love with America. When I was a kid, every school had civics classes. We learned early on about our Declaration of Independence, our Bill of Rights, the First Amendment. And so we had a reason to be in love with the core values of this country. And we accomplished a lot. But the fact that we did a good job didn't make America God's chosen, although we started to believe it. The promises from our forefathers haven't been delivered yet. We haven't made good on all these promises. It's time we paid attention to making good on them.
JW: When did you first begin to develop sensitivity to racism and bigotry?
NL: I remember I was fooling around with this little crystal radio and I came across a broadcast from Father Coughlin, a vicious, anti-Semitic, anti–Native American, anti-FDR, rogue priest who was preaching hate. It was the first time I realized that there were people out there who didn't like me because I was born to Jewish parents. And that was startling. But I was taking civics classes and I was being taught that, wait a minute, in my country, that's un-American. You do not tell people they're bad Christians or good Christians or bad Americans or good Americans depending on a religion. That was a sustaining moment for me.
JW: So did you let your beliefs be known at a young age? Did you take a public stand on that when you were growing up?
NL: In high school, I entered the American Legion Oratorical Contest. My subject was "The Constitution and Me," and I talked about how, because I was a member of a minority, my appreciation for the guarantees of the Constitution and the Bill of Rights were probably a little keener because I needed them more. I won that competition and got a scholarship to college, which I otherwise never could have afforded.
JW: Racial dissension, fear of people different from us is still alive and well. The rhetoric is hateful and harsh. Does that scare you?
NL: It doesn't scare me because it's the human condition. What scares me is the time it takes for people to react. Basically, this country on the one hand adores what it stands for; on the other hand, it doesn't want to deliver on what it stands for. So, there isn't enough conversation about this. And there isn't enough leadership moving us in the direction of that conversation.
JW: Clearly, you're a fighter for what you believe in. You also fought many battles with the networks over what was acceptable in prime time. Do some incidents still stick out in your mind?
NL: I'm thinking of an episode of All in the Family. Archie and Edith are married 25 years, it's a Sunday and they're in church. The kids decide to surprise them with a brunch for their 25th wedding anniversary. So we find Mike and Gloria alone in the house. Mike realizes his parents won't be back for a little while, and they go upstairs to the bedroom to have a little fun. A few minutes later, Archie comes back early because he hated the sermon and he hated the minister. Mike and Gloria come running down the stairs buttoning up their clothes. Archie says, "11:10 on a Sunday morning?" The network censor wanted that line out. Why? Because it pointed out to the audience exactly what had happened. So we had a confrontation, and I told them if they cut it, I wouldn't be there the next day. An hour before the show aired, I still wasn't sure they had left it in. But I didn't think I was courageous. I was just resisting silliness. I thought, Archie can't say that line? That's silly.
JW: You've said that of all the characters you created, the closest one to you is Maude.
NL: I thought of her as reflexively liberal as Archie was reflexively conservative. When Maude said things, she didn't take full responsibility for getting the facts she needed to back up what she said. That's a pretty good description of me. I make no bones about it. I'm proud to be a liberal, but I'm not proud that I don't know enough details to make my case more strongly.
JW: As you get older, people seem to treat you with even more respect, and they want to tap into your wisdom.
NL: When I was 88 or 89, people were sweet and perhaps deferential. But when I crossed over into my 90s, suddenly I was getting a standing ovation just for standing straight. I'd take a few steps and it was overwhelming. I was also considered wise — "Mr. Lear, what do you think about …?" It wasn't the same at 88.
JW: Can you sum up any of the wisdom that you have to share?
NL: I'm thrown by the word wisdom. My bumper sticker reads, "Just another version of you." And maybe that's the lesson of my life — the thing I would most wish to be understood, from anything I've said. It means that, as a human being, I'm inherently capable of the worst behavior that we see in any other human being on the globe, and I'm capable of some of the best. We are each of us as human beings capable of the best and the worst. That's why we are versions of each other. It's hard to be a human being. In life, the harder the competition, the more we pay for it with energy, with effort, with money. The harder the game, the more we give to it, the more we care about it. So the wonder is, in this game of life, which is so bloody hard, why don't we experience it with more pleasure?
JW: Are you speaking of yourself? Look at the things you've done. You've attacked life with passion.
NL: I did find enthusiasm and passion, but there was a good deal of fear early on. I wasn't born to understand this. I grew to understand it.
JW: What gets you through your day?
NL: Tomorrow. I believe in two small and important words in the English language — over and next. When something is over, it's over. When I fall asleep, that day is concluded. I'm on to coffee, the taste of tomorrow morning's coffee. And I think that if you see a connection between over and next, that's what is meant by living in the moment. At the risk of sounding sanctimonious, I really do see it that way. Living this moment is what we have. You don't know about the next.
On with the show! Lear today is producing an update of One Day at a Time for Netflix, but with a Cuban-American matriarch. He's also shopping around a comedic series, Guess Who Died?, about life in a retirement community. Below: Some of his greatest hits.
Confessions of a Republican
From the "the more things change, the more they stay the same" department comes this video. It has been making the rounds the past couple of weeks, and whatever your opinion of Donald Trump is, it's rather fascinating. If you replace the name Goldwater with Trump, you can see similarities to some of the criticisms Trump is getting in 2016:
By the way, the actor is William Bogert, who has been in many movies and TV shows and is still acting. He was picked for the Lyndon Johnson spot partly because he really was a Republican.
Wait … That's David Letterman?!
Have you been wondering what David Letterman has been up to since he retired last year? Apparently, he's been training for the annual Andrew Weil Lookalike Contest. Here he is photographed while out for a run on vacation:
Never retire. https://t.co/bzveJIuYTU pic.twitter.com/8jDdqGgwRM

— Esquire (@esquire) March 23, 2016
RIP Garry Shandling, Joe Garagiola, Ken Howard, and Peter Brown
Garry Shandling died suddenly on Thursday. The comedian and writer called 911 himself from his home but collapsed during the phone call. He was found by paramedics but later died at a Los Angeles hospital.
It's hard to overestimate how much of an impact the late night talk show satire The Larry Sanders Show had on television. It was one of the early must-see shows on premium cable and set the tone for other shows and movies that skewered what happened behind the scenes of a television series. Before Larry Sanders, he starred in the Fox comedy series It's Garry Shandling's Show, which, like The Larry Sanders Show, was ahead of its time. As an actor, Shandling appeared in Iron Man 2 and Captain America: The Winter Soldier, Town & Country, The X-Files, Caroline in the City, and other movies and shows, and at the start of his career wrote for Sanford and Son and Welcome Back, Kotter. He was 66.
Just a few months ago, Shandling was a guest on Jerry Seinfeld's Comedians in Cars Getting Coffee, in an episode eerily titled "It's Great That Garry Shandling Is Still Alive."
Well, I feel bad now. Just one week after I wondered why BUZZR had included Joe Garagiola and not John Daly in its new brackets game, word comes that Garagiola has passed away.
He had an incredible career, if you think about it. A baseball player on several major league teams; a sportscaster; a co-host on The Today Show; guest host for Johnny Carson on The Tonight Show; a panelist on shows like What's My Line?, To Tell The Truth, and Match Game; host of his own game show, He Said, She Said; author of three books, and supporter of many charities and causes. Garagiola passed away Wednesday in Scottsdale, Arizona, at the age of 90. A great life.
Ken Howard also passed away this week. You might remember him as the coach on The White Shadow, as the crazy cable company owner on 30 Rock, and from many other roles. Howard was also the current president of the Screen Actors Guild-AFTRA. He was 71.
Peter Brown was probably best known as the star of the 1960s western TV series Laredo and Lawman, but it's amazing how many other TV shows and movies he was in, including The Alfred Hitchcock Hour, Magnum, P.I., Wings, Charlie's Angels, and JAG. He also had regular roles on most of the soap operas over the years, including The Young and the Restless, Days of Our Lives, The Bold and the Beautiful, One Life To Live, and Generations. Brown passed away in Phoenix at the age of 80.
Kraft Mac and Cheese: New Formula, New Spokesman
Speaking of former late-night talk show hosts, I have a confession to make: I liked Craig Kilborn's stint as host of The Daily Show more than Jon Stewart's. Well, maybe not more, but certainly just as much. Kilborn has always been derided as the show's host, with most critics falling all over themselves to praise Stewart. But they hosted very different shows. Stewart skewered politics and the media, while Kilborn's show was more of a straight comedy/talk show. Both shows were funny in their own way, and I really liked Kilborn's take. I still wish he hadn't left CBS's The Late, Late Show.
I also like Kraft Mac and Cheese, and now the two have finally come together. If you've been wondering what Kilborn has been up to the past several years (he really has kept himself out of the public eye), he's the new spokesman for the boxed pasta, which has gotten a recipe makeover to take out preservatives and dyes. Let's hope it tastes the same even if it doesn't look the same. Here's the new commercial:
Obama's Trip Reminds Me …
This week, President Obama made the first trip to Cuba by a sitting U.S. president since President Coolidge in 1928. He spoke to the Cuban people in Havana and even went to a baseball game (which was seen as a bad move after the terror attacks in Brussels). But it got me thinking: Havana is a really great movie!
That's the 1990 Sydney Pollack film with Robert Redford as a gambler who falls in love with the wife of a revolutionary in late 1950s Cuba. It has always been, well, dumped on as a film that's boring and overlong and tries to be Casablanca but isn't. It was even insulted in an episode of Seinfeld! I don't get any of those criticisms, because it's an incredibly well-acted, engrossing, and beautifully filmed drama. Go stream it — or better yet, buy it because it's pretty cheap now — and tell me I'm wrong.
What's Underneath the CBS Broadcast Center?
Mo Rocca guest-hosted CBS Sunday Morning last weekend and did a fantastic job. (Charles Osgood is out for a while after having surgery.) In one segment, he took a tour of the CBS Broadcast Center, the massive New York City studio where the show originates. It's almost like its own city. There's also an interesting world beneath the broadcast center that most of the public hasn't seen until now. And because the show seems to like helping me with the topics I pick for this column, there's even a section on the aforementioned 1964 Presidential election:
Superman v. Batman v. Superman v. Batman v. Superman v. …
Over at The New Republic, Will Leitch and Tim Grierson rank all of the various Superman and Batman movies, in celebration — if that's the word for a movie a lot of critics hate — of the release of Superman v. Batman: Dawn of Justice. (That v. should really be a vs.; we're not talking about a court case here.)
It's a fine list, and I mostly agree. I'd put the first Superman a little higher and probably wouldn't put The Dark Knight at number one, but those are minor quibbles. I also like the love for Batman Returns, which I think is an underrated movie. Christopher Walken is great in it, and the movie is like an off-kilter superhero noir.
The Case of the Time-Traveling Twins
If I had an identical twin, I think I would have played a lot of tricks on my family. I mean, what's the point of looking exactly like someone else if you're not going to irritate people?
This improv group decided to play a prank on some people, a very public one. They went on a subway and decided to pretend that they were visited by their future selves, who tried to stop their past selves from raising money to build a time machine in the first place. It's a great idea. I don't know if the acting is good enough for the other people on the subway to actually believe them (plus it's, you know, time travel), but you can tell they're very amused.
It's probably the greatest thing that has ever happened to these people while riding the New York City subway.
National Make Your Own Holiday Day
There's a holiday for everything, and I mean everything. National Fluffernutter Day? That's October 8. National Flip a Coin Day? That's June 1. And if you like to play the saxophone, set aside November 6. That's National Saxophone Day.
Tomorrow is National Make Up Your Own Holiday Day. It's the day you can make up your own special day and celebrate it every single year. So many holidays are already taken, so you have to be a little creative.
With that in mind, I hereby declare that March 26 is now Read An Issue of The Saturday Evening Post While Drinking a Glass of Wine Day. Take a picture of yourself doing it and post it on Facebook or Twitter.
On an unrelated note, tomorrow is also National Spinach Day.
Upcoming Events and Anniversaries​
Worst aviation accident in history (March 27, 1977)
It was a runway crash between two Boeing 747s at the Los Rodeos Airport on Tenerife in the Canary Islands in which 583 people were killed.
Julius and Ethel Rosenberg convicted (March 29, 1951)
The couple was convicted of spying and sentenced to death.
Eiffel Tower opens (March 31, 1889)
I bet you've always wondered what do your bones have in common with the famous Paris landmark?
President Lyndon Johnson announces he won't seek re-election (March 31, 1968)
Johnson remarks about not running for a second term came at the end of a speech about the status of the Vietnam War.
April Fools' Day (April 1)
​To celebrate, you can browse this gallery of Norman Rockwell April Fools' Day covers for The Saturday Evening Post​. Or you can just torment your family and friends with a prank. And if you're a twin, try the time travel prank above.

Because Jeredean Hoestler was the only one working the floor of Yours, Mine, Flowers — Darryl was in his office, busy doing "paper work" — she saw the boy enter. He looked to be somewhere in his teens and a little on the hefty side. What people called "well-fed." He slumped, making it difficult to tell just how tall he was, and besides a brief wave in her direction as he passed by the cash register, his hands remained in the big front pocket of his sweatshirt. She eyed him all down the gardenia aisle, up another, until he stopped at the glass coolers housing the bouquets of assorted roses, irises, and lilies. He opened the cooler door, selecting an arrangement, which shook in his hands. When he returned it, there was such precision, care, like he'd been holding something fragile, like a baby, but hadn't trusted himself until he could return it to safety. She went over to him, placing her hand lightly on his shoulder.
"Can I help you, sir?" she said, affecting the same flirtatious drawl she gave to men twice and three times his age. She'd found the cadence relaxed them, gave them the impression she was the kind of person they could open up to.
He turned to face her, brushing his bangs away. There was a little baby fat on his cheeks, and his eyes were green. He wore the same shaggy hairstyle that boys had had when Jeredean was in school. "It's for my — girlfriend," he said. His voice was deeper than she'd have thought, but sonorous. "It's … it's our first Valentine's."
"Well, isn't that just so sweet!" she could hear in her voice that same patronizing tone generations of women in her family had used whenever she'd said or done anything the least bit grown up. She hated that tone, but now that she had started in with it, she found it impossible to stop. "That's just so sweet. You're just too much. Coming so early and all." It was the last week of January, and while some men had done their shopping, they were the catches. Most men were like her Tony, who might remember to pick something up day of, if that. The boy was something, destined to be a catch for certain. And it occurred to her now that he had exuded this new, young romance ever since he'd entered the store. That must have been what drew her attention to him, for few things touched her quite like teenage love.
If more customers had been in the shop, she'd have had to move it along, tell him if he had any questions just ask. Fortunately, he was the only one in the store, and Darryl would just have to tear himself away from whatever it was he was doing if the phone rang. This deserved her attention; he needed her expertise. She wanted to ask how long they'd been together (less than a year, considering his nerves), if this was their first holiday together (without a doubt), had they said the L word yet (wasn't that what this gift was really about?), but thought better of it. Her hand remained on his shoulder — how long had it been there? — she squeezed it before hiding her hand behind her back. "Do you know what you're looking for?" she said.
"Honest truth, no," he said. "But, can I tell you something?"
"Well of course you can, hon! Of course you can." That annoying tone once more.
He stuck his hand out to her. "Forgive my manners," he said. "I'm Rich. Rich Phelps, of the Anderson Place Phelps."
"Jeredean Hoestler. From Goodlettsville. Pleased to meet you, Rich Phelps."
"Well Mrs. Hoestler —"
"Jeredean, please call me Jeredean."
He nodded his head. "Well Jeredean, the truth is I aim to marry her one day, this much I know. People think it's foolish to talk like that, us being young and whatnot, but I know it's so."
She moved her hand to her mouth. Her heart felt so full. What a boy! What a sweet boy! If only more men believed in that kind of commitment. It'd taken Tony years to get there, and here this boy already possessed it. "That's not foolishness." She dropped her voice and moved closer to him. Their bodies almost touched. "It's knowing what you want, is all."
"Exactly," Rich said, squaring his shoulders. "That's exactly it."
"And I'm sure she feels the same way."
"You think? Well that's the thing — that's why I'm here, I guess."
She was on the verge of some secret, and how she responded mattered. She cleared her throat. "She's got doubts?"
"I don't know. Maybe. Thing is, she's gotten accepted at this school, small place, way up in Ohio. If I were to drive straight from this parking lot there, it'd be" — he eyed the clock; it was five minutes after 3 — "midnight by the time I pulled up. See what I mean."
"And you aren't going there." Of course he wasn't, what a stupid question to ask.
His natural highlights shone underneath the fluorescent bulbs. He cleared his throat. "No ma'am," he said. "I was fortunate enough to be born and raised here, the most beautiful place on Earth. My roots are here. I could never bring myself to leave it."
She'd heard similar sentiments from men throughout town. Even Tony said something like it whenever she mentioned moving west, starting over. What was so special about here? What was so special about these dilapidated farms that were transforming into ugly cookie-cutter subdivisions?
"Don't get me wrong, Jeredean. Ohio, that's pretty far, but not that far." He spoke with such earnestness, as though they'd always known each other, and it surprised her how comfortable she felt around him. "Back in the day, people went years without seeing each other, you know, during wars and whatnot."
"Where there is real love, there's no such thing as distance," she said. She'd heard that somewhere before; it was the kind of line that had stuck with her.
"That's right. That's so right. I know that, but Haley doesn't seem to."
"Haley," she said.
"That's her, that's my lady," he pulled out a photo from his wallet, a glossy portrait. She wore a yellow sundress, and her face was mid-smile: tan with brown hair framing her cheeks, brown eyes, perfect teeth, so captivating — nothing like any Haley that Jeredean had met before. That kernel of envy, like she'd felt so often all those years ago in school whenever she saw Tony talking to other girls, burned in her stomach. The girl was beautiful, would have been in any time period. "Anyways, what's something that says, 'We are forever, baby,' but, you know, doesn't sound so cheesy?"
"Well first off, if such a handsome man were to say that to me, I'd be swept off my feet. That's the truth. Certainly wouldn't think it was cheesy. But let's see."
She moved him from the coolers, up and down the aisles, pointing to various clusters of generic flowers, and mumbling the negatives for each (these would fade too soon; they never kept as long as they should; these were way overpriced). Through this, she invented reasons to brush up against him, selecting arrangements that required her to reach across his body. He radiated a warmth, a certainty. If she touched him enough, perhaps, like pollen, a little would rub off and move into her. It was an unassuming charm he possessed, for he wasn't the model of male attractiveness. In fact, he might easily be perceived as shabby, but there was something that drew her to him. He cared — maybe that's all that mattered. He really cared, and he was sincere.
She didn't like any of the flowers. "They're all so boring," she whispered to him, giggling, and led them to the potted plants section. These were a little pricier, what wives with money bought for living rooms or their husbands' offices. Then her eyes fell on it. On them.
The cactus had been in the shop so long she couldn't recall a time before it. It must have arrived sometime during the Southwest fad that went through town, three or four spring seasons ago, and had remained in the same spot on the floor ever since. It's order price, so much higher than most things in the store, had discouraged Darryl from cutting his losses and getting rid of it. The small pods, each slightly longer than her hand, remained trimmed and presentable (she'd seen to it herself, without even being asked). Still nothing. The main issue stemmed from the fact that some people mistook it for being ugly — each gangly pod covered in wart-like welts. Even Darryl called it "our herpes plant," but Jeredean had always had an affinity for misunderstood things. It was the only plant in the store that was unique. The only thing that felt real.
"Now this may be a little unconventional," she said, bending down to scoot it farther into the light. "But I can't think of anything with more character. It's my favorite plant here. Has the prettiest name, too."
"What is it?"
"Opuntia subviolatea. Doesn't that just sound so interesting?" If she ever had a daughter (if she could ever convince Tony on the kids thing), that would be her name. She almost told Rich this, but reconsidered.
There was a long pause. Rich sucked in his lower lip, and proceeded to chew on it — his thinking face, something she imagined he'd done as a child and would continue to do as an older man, weighing decisions as important as this. "Well," he said, "That sure is something, Jeredean."
"You don't like it?"
"It's not that, I do. I think it's — it's got character, just like you said." He squatted down on the floor and poked at one of the welts. "Just, well, I guess I'm thinking maybe she wouldn't is all."
He wavered on the verge of refusal, and her pulse thumped fast in her neck. Then it came to her. "Listen, Rich. You want a gift that tells her all those sweet things you've told me, right?" She pointed to the tallest pod. "Well this is it. This is the gift."
And before he could offer any response, she continued.
"Just hear me out, real quick. You'll see what I'm getting at if you do." She squatted down next to him. "All right, now yours and Haley's love, well, it's something wonderful, something beautiful. You two have watered it with time, with dates, with" — Rich began to blush — "You know. Now she's going away, far away, where that water won't be. To a land dried out of love.
"Then there's this plant. Where does it live? A desert! See, it's used to those kinds of climates. A cactus requires small amounts of nourishment, just a little bit of water in order to survive long droughts. Do you see what I'm trying to say, Rich?" Her mouth had gone dry. He smelled like that shampoo from Walmart. He smelled like green apples. When had she ever talked like this?
She turned her face up toward his and found herself lost in the greenness of his eyes. Water formed around the whites. Not tears, but what men in town referred to as showing emotion. "That's so right, Jeredean. We can be like this, here. We can survive those, those love droughts."
She touched his shoulder again, feeling that warmth, and longed to fold herself into him. Instead, she stooped to pick up the cactus. He touched her hand, his fingers, like vines, wrapped around hers until they were almost intertwined. "Please, Jeredean," he said. "Allow me."
It cost more than he'd planned on spending, a good deal more — she could tell this from the red blossoming of his face — so before he could say anything about the price, she'd put her employee discount number in and taken an additional 20 percent off that price. She also brought up a new stoneware planter and transferred the cactus into it. "We'll say there's a crack in it," she said, winking. "It was meant to be shown like this." And it did look beautiful, the gray and green complementing one another.
As they walked out, they continued talking. She didn't know, or care, what was said. It was the cadence of his voice that made her giddy, made her feel 18 again. She helped secure the cactus in the passenger seat of his Toyota pickup. Tony had driven a model just like it when the truck first came out over 20 years ago. She could remember them driving through the country, listening to cassettes of Confederate Railroad, Alan Jackson, old duets of Johnny Cash and June Carter, their hands having to touch some part of the other's skin. That touch. He wouldn't have been born then, Rich. Haley neither. Now here they were, full of that same passion she and Tony had had. Full of it, and thinking nothing of it, or maybe that wasn't true. Maybe that had only been her.
A silence came over them that hadn't been there in the store. Something, anything, had to be said. As long as they talked, she might still feel that warmth, still might receive it. She thought about asking some more about Ohio, but how much was there she cared to know? She'd never go there anyway. The wind picked up, cutting through her blouse. She wished for Rich's sweatshirt, or that he would offer her his passenger seat. Maybe she could cradle the cactus in her lap while they listened to the radio. He coughed a few times, shuffling his feet.
"Do you have anymore questions?" Jeredean asked. "Happy to answer them."
"No," he said. He seemed to search for something along the horizon. "Can't say as I do."
"What about some information," she said, "You'll need to know how to care for it."
"Oh, you have a packet or something that says what to do?"
They didn't. She usually told people to water daily, or whenever leaves got a little brown around the edges. "Well, not a packet, exactly, but I can write it all down for you real quick."
"Oh, well that's all right. I don't want to trouble you. Besides I really need to be getting on." He moved his hand through his hair before sticking it out to her. She took it. It felt oily, wilted in her palm. "Thanks again, Jeredean."
"Well, if you do end up having any questions about it, please come back, any day. I work every day during the week."
He smiled, and in one movement, he'd hopped into the truck. From the time he started the truck's engine until long after he disappeared down the road, she continued to wave.
***
Jeredean stood in the empty circle where the plant had been. Cobwebs and dust occupied the crevices the cactus had hidden. She pictured it in the passenger seat of Rich's truck, in some foreign room 500 miles away. How strange that a cactus should travel farther than she. Then she thought of Rich, but had problems recalling precisely what he looked like. His face had already morphed, mixing with a thousand other acquaintances. She felt a longing still, but not for the boy. That had been foolish. No, it was for the plant. The cactus. Every morning at work, for as long as she could remember, she'd visited it, tended to whatever it needed. All of the time spent pruning and watering it, singing to it, like her grandmother had taught her. She'd never had something that relied on her, something that depended on her. Now it was gone, and what did she have to nurture?
If only a little Opuntia would come into her life. Tony would see the necessity of a new place, a new start for the family. He'd be so sweet: holding it in his arms, picking the little nettles off its face, rubbing the skin smooth and caressing the little floral blooms with his thumbs. They would place its crib at the foot of the bed, and at night, listening for its breathing, Tony would swallow her up, wrapping himself around her, and whisper, "Our love is being watered, Jeredean. Our love is being watered."
When she came up front, Darryl stood at the counter, inspecting the receipt. It was against policy to offer discounts during the holidays, so she prepared her defense. It would end in a reprimand, probably, perhaps a warning if she said the right thing. But she was tired and didn't want it dragged out any longer than necessary.
Not looking up, Darryl placed the receipt in the register. "I don't know how you managed to get rid of that monstrosity," he said, "But thank God you did."
One of Frances Tipton Hunter's earliest memories is of herself at age 3 drawing over her grandmother's wallpaper. Losing her mother at the age of 6, Hunter and her brother moved to Williamsport, Pennsylvania, to live with an aunt and uncle. Education was an important part of Hunter's artistic life; she attended the Philadelphia Museum School of Industrial Arts and the Philadelphia Academy of the Fine Arts, graduating from both institutes with honors. While still a student, Hunter began to illustrate children's fashions for department stores. The success allowed Hunter to move to New York where she continued her illustration career.
Along with her work in the Post, Hunter illustrated fashion catalogs and advertisements for children's clothing as well as illustrating for other publications including Collier's, Good Housekeeping, and Ladies' Home Journal. Her subjects were most often children with cherubic features. Hunter tried to capture the happiness and innocence of youth, inspired by memories with her mother. Hunter's work made her one of the most well-known artists of the 20th century, with paper dolls and picture books of her work being sold. With a style similar to Norman Rockwell, Hunter captured the ideal American childhood. Along with her18 covers for The Saturday Evening Post, Hunter's drawings were nationally recognized from the 1920s to the 1950s.
In her first Post cover, Hunter put her best foot forward with this adorable couple. Hunter never had children of her own, so used her work to create adorable flashes of childhood innocence.
Post editors came up with this cover idea of a boy not wanting new long-johns, and Hunter loved it. For inspiration, Hunter waited in a department store waiting for the right mother/son pair to sketch.
This young man wasted no time taking over his sister's playhouse. With the dolls strewn across the ground, a Keep Out sign on the door, and his toy gun loaded, he will defend his new headquarters.
This little girl is trying to impress her mother; her blonde curls match the woman's in the chair. But her hands give away her nerves as they flap by her sides.
A quick glance may give the impression of an angelic children's choir. Closer inspection will reveal a black eye and a bandaged head and fingers on the two boys up front.
Most kids grow about 2 inches each year, so this mother likely has a lot of work ahead of her.
In this cover, Hunter depicted adolescence. You can see the math problems the young man should be paying attention to floating in the background.
While the adults behind these kids concern themselves with more important matters, these kids don't care. Their mission is simply to enjoy a ride on the trolley.
In 2009, documentary filmmaker Ken Burns produced a six-episode tribute, The National Parks: America's Best Idea, with Dayton Duncan. Despite being filmed at some of nature's most spectacular locales — from Acadia to Yosemite, Yellowstone to the Grand Canyon, the Everglades of Florida to the Gates of the Arctic in Alaska — it is primarily a story of people: those who devoted themselves to saving a precious portion of the land they loved. At its heart, says Burns, the project is a story about the meaning of democracy.
We had the opportunity to interview Burns at the time of the film's release. Following is a selection of Burns' comments from that conversation:
The night before: "I didn't sleep well the night before we started filming, and as I lay awake, I remembered a moment when I was 6 years old and my mother was dying of cancer. My father was absent in every sense of the word. But there was this day he took me to his house after school. He woke me up in the middle of the night and we drove to Shenandoah National Park at the top of Skyline Drive in the Blue Ridge mountains. That was the first and only road trip I ever took with him, and that was my first visit to a national park. Dad died while we were filming for this series in Yosemite."
Land for all to share: "For the first time in all of human history, land was set aside for everyone; not for kings or noblemen or the rich but for everyone. This is a story of how people from every conceivable background — rich and poor; famous and unknown; soldiers and scientists; natives and newcomers; idealists, artists, and entrepreneurs — struggled against those forces of development, those inquisitive and extractive forces that are always with us, that want to dam a river, that want to cut down a stand of trees, that want to mine a canyon. The national parks are the fruit of that desire to save some glimpse, some portion of the primeval existence, so that we would be able to remind ourselves how lucky we were to fall upon this beautiful Garden of Eden of a continent."
A good problem: "The parks today get 275-million-plus visitations. After The Civil War [Burns' acclaimed 1990 series] aired, visits increased dramatically at Gettysburg. The superintendent and I were walking toward the visitors' center and he stooped down, picked up a candy wrapper, waved it in my face and said, 'It's all your fault.' I hope that every park superintendent will be angry at us for drawing new visitors, even if there are traffic jams in Yellowstone, Yosemite, and the Grand Canyon. That's a good problem to have. The worst thing is when nobody is coming. When nobody cares. The parks need every generation coming back and remembering how wonderful they are."
Unspoiled places: "I'll always remember the unexpected emotion I felt seeing our country at its best in unspoiled places. Looking at a river and not seeing a dam, walking through a stand of timber and not thinking about board feet, standing in a canyon and not caring about how much mineral wealth could be extracted. But there's another part of that feeling. When you're standing on the rim of the Grand Canyon looking down and seeing the Colorado River flow through rock that's 1.7 billion years old, it matters very much who is holding your hand. Who you've made that trip with just as I did to Shenandoah National Park so many years ago. Could there be a better reason for saving these beautiful places?"
I was driving past our town park the Saturday before Easter last year and noticed a swarm of adults scattering thousands of plastic eggs around the park in preparation for an Easter egg hunt. The eggs were in plain sight, consistent with the current thinking that no child should be expected to work up a sweat. The children were lined up behind a rope, the smallest in front, to get first crack at the eggs, applying a standard of fairness that exists nowhere in the world that I know of. I'm as progressive as they come, but if we give this social tinkering its head, we'll soon be breaking the legs of the faster children to slow them down.
When I was a kid, the town kept its nose out of the Easter egg business. The day before Easter, my mother went to Johnston's IGA and bought three dozen eggs, vinegar, and food coloring. While she was boiling the eggs, we poured hot water, vinegar, and food coloring in coffee cups, spread the Saturday morning Indianapolis Star on the kitchen table, and dipped the eggs in the cups. If we were feeling especially creative, we might dip the skinny end of one egg in one color and the fat end in another color. Occasionally, we took leave of our senses entirely and left a band of undyed white around the middle.
The eggs were in plain sight, consistent with the current thinking that no child should be expected to work up a sweat.
My oldest brother, Glenn, hid the eggs in roof gutters 30 feet above the ground, buried in the center of thorn bushes, beneath foundation stones, in hornets' nests and rattlesnake dens, anyplace at all that could result in our death or disfigurement while retrieving them. It took us weeks to find them, and some we never did discover until they worked their way to the Earth's surface the next winter, heaved up by the frost like boulders. Sometimes, years later, we would hit an egg with the lawn mower, a puff of white would shoot out the side, and a sulfuric odor would hang in a cloud over the yard for days.
The tally was always lopsided, with one of us finding way more eggs than the other four of us — usually Glenn, since he had hidden them in the first place. Complaining was useless, since our parents wouldn't have done anything about it except to tell us to stop complaining. It would never have occurred to them to place the eggs in plain sight, or to take us by the hand and guide us from egg to egg, or to urge the bigger children to leave some eggs for the smaller children. On the upside, cheating was permitted, and we happily stole from one another to even the score, celebrating the resurrection of Jesus with larceny and deceit.
The one benefit of not finding eggs was not having to eat them. The days following Easter were spent choking down eggs, the yolks clumping in our throats like mud. Then plastic eggs, filled with chocolate and jellybeans, were invented, which was a promising development, though it never took hold at our house. In later years, my mother weakened and bought us each a chocolate bunny. I'm using the word chocolate in the loosest sense. More accurately, they were made of a waxy substance that resembled chocolate, not unlike Ex-Lax and producing much the same effect.
People who keep track of such things report that Easter is the fifth-highest-spending holiday in America, between Valentine's Day and Father's Day. It would have lapped Valentine's Day some time ago, except my parents stopped buying chocolate bunnies for us when we moved from home. But then, life is one disappointment after another, which the kids in our town will never learn if we keep coddling them.
Indiana Jones Has Fallen and He Can't Get Up
Did you know that Harrison Ford is only a year younger than Bernie Sanders? Keep that in mind when you imagine him in another Indiana Jones film (Ford, not Bernie Sanders). A fifth film in the series was announced this week, with both Ford and director Steven Spielberg ready to give it another go. It will be released in 2019, when Ford will be 77. If he's not the guy cracking the whip and jumping from jeeps, maybe there will be a younger guy, and Ford can be to him what Sean Connery was to Ford in the third movie (though I'm sure a lot of fans don't want that younger guy to be Shia LaBeouf).
Of course, Twitter had fun with the announcement and came up with some possible titles for the movie, including Indiana Jones and the Keys He Left Somewhere, Indiana Jones and the Golden Corral Dinner at 4:30, and Indiana Jones and the Temple of Prunes. But this is probably my favorite:
Raiders of the Lost AARP

— jeremy scahill (@jeremyscahill) March 15, 2016
Teens vs. Windows 95
Not to sound old, but … kids these days.
This video from The Fine Brothers — part of a series where they show kids and teens old technology — has a group of teens that are shown an old desktop computer running Windows 95. Their reactions are what you might expect, everything from commenting on how old the system looks to how hard it is to find the power button.
It was amusing, but then I thought … wait a second.
I don't know why something is automatically "unknown" to someone simply based on age. I can understand someone younger hating something because it's different from what they're used to, but it would be great if they were flexible and curious enough to understand what the tech is and what era it comes from. I mean, look at some of the reactions they have:
"If you go somewhere and they don't have Wi-Fi, that's the worst thing that can ever happen to you."
"Everything looks so dull and ancient."
"I have no clue what year this is from, but I feel like this is from before I was born."
"Windows 95 … as in 1995?"
"It's prehistoric!"
Sure, maybe they haven't used the system before, but to be this confused? I think it's part of the attitude that younger people have today — and excuse me if I go into full-on old-crank mode for a moment — where they don't know about or care about anything that happened before they were born. It reminds me of what happened a few years ago on the 100th anniversary of the Titanic sinking. Teens and young adults commented at the time, after watching the movie Titanic, that they didn't know it was based on a real event! How is it possible for someone 16 or 18 or 21 years old not to know that, no matter what era they were born in? To people of a certain age now, Full House is old and retro, and they wouldn't know Lyndon Johnson or Abbott and Costello or All in the Family if you mentioned them. Black-and-white movies make them antsy and bored, and anything that was used before they were born is automatically "worse."
And I don't think that teens have been like this in every era. I mean, when I was 18 years old, in 1983, I knew who The Andrews Sisters were, even if they were popular 40 years before.
Thankfully, one kid says, "Those who know technology should know something beyond the current. They need to know part of the past." That makes me feel a little better. But if these kids actually think a desktop computer running Windows 95 is ancient, their heads would explode if they saw the first Mac or a rotary phone attached to a wall.
Is Richard Simmons OK?
Health and fitness guru Richard Simmons hasn't been in the limelight lately, and that might be a problem.
The New York Daily News published a rather startling investigative report about Simmons, saying he could be trapped in his own home and held hostage by his maid and other people who work for him. The article even interviews close friends of Simmons who have been denied contact with him and who are worried about his health and safety.
In a phone interview on Monday, Simmons told Today that he was fine and not being held hostage. Now, you might think, sure, that's exactly what someone being held hostage would say! But maybe we should take his word for it and just leave him alone?
Of course, this very same phone interview concerns those friends even more because they say he doesn't seem like himself and that something's going on.
But if there is something going on, don't worry: It's Donald Trump to the rescue!
Where No Interesting Man Has Gone Before
I don't usually write about beer commercials, but when I do, it's often about the Most Interesting Man in the World ads that Dos Equis has been running the past several years. All that is about to change, though, because the company has decided to end the series of commercials and move in a different direction. The MIMITW, played by actor Jonathan Goldsmith, is going out in a spectacular way in one final ad in which he blasts off into outer space:
Goldsmith, by the way, did a lot more than the Dos Equis ads. He's been an actor in TV and movies since the early 1960s, sometimes billed as Jonathan Lippe.
It's the 75th Anniversary of TV Game Shows!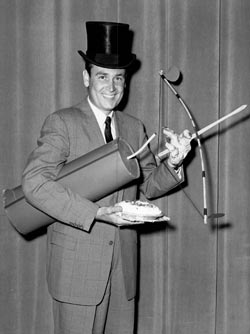 I'm the biggest fan of the game show channel BUZZR — if you can fall in love with a TV network, I'm in love with this one — but recently I've become a little disappointed with them. More on that in a minute.
2016 marks the 75th anniversary of the television game show. The first game show on broadcast television, which debuted in 1941, was Truth or Consequences, which aired on WNBT on July 1. (Another show, Spelling Bee, aired in 1938, but not on commercial TV.) One of the ways that BUZZR is celebrating is by creating this 2016 BUZZR Bracket, where they pit 16 of the greatest game show hosts against each other in a March Madness–type contest. It kicks off on March 22, and the final will be held April 3.
I was going to say how this was such a great, fun idea — and it is! — but then I noticed something. One of the greatest game show hosts in the history of television isn't even in the mix! John Daly, the fantastic host of What's My Line? for 17 years, is missing (as are To Tell The Truth host Bud Collyer and I've Got A Secret's Garry Moore). How does that happen, especially when your channel runs these older shows and they're a major part of your schedule? Yet they find space in the bracket for Joe Garagiola?!? This needs to be fixed before the contest starts! (For the record, my finalists would be Daly and Bill Cullen.)
Speaking of those three shows, I really hope BUZZR starts running different episodes. They're stuck on the same single seasons of the shows that they've been running for months and months, and while they're entertaining, I've seen each one approximately 27 times. I hope they actually own later seasons and start running them soon.
Today is National Oatmeal Cookie Day
January was National Oatmeal Month, and back then, I pointed you to Norman Rockwell's Oatmeal Cookie recipe. And now here's National Oatmeal Cookie Day, so I'll point you to some more recipes, including these cherry oatmeal cookies, these oatmeal cream cookies, and these black and white oatmeal cookies I made several years ago that everyone seemed to like.
You can also make these apple oatmeal squares. They aren't technically cookies, but I won't tell anyone if you won't.
Upcoming Events and Anniversaries
Spring begins (March 20)
Take a look at some of the great springtime covers The Saturday Evening Post has had over the years.
Alcatraz closes (March 21, 1963)
It was a military prison during the Civil War and became a federal penitentiary in 1934. It's no longer a prison, but you can take a tour.
"Who Shot J.R.?" episode of Dallas airs (March 21, 1980)
Season-ending cliffhangers are common now, but back in 1980, they were a rare thing. This episode, titled "A House Divided," shocked viewers and had them guessing all summer long. Fans had to wait until November to find out who the culprit was!
Louis L'Amour born (March 22, 1908)
The author, known as "America's Storyteller" for his many western novels and stories, was born in Jamestown, North Dakota.
Patrick Henry's "Liberty or Death" speech (March 23, 1775)
Here's the full text of Henry's famous speech.
The Triangle Shirtwaist Fire in New York City (March 25, 1911)
A dropped match caused the deaths of 146 workers at the Manhattan clothing company. The disaster led to new work-safety laws and labor laws.

There are knocks and knocks. A knock on the head is no joke. The brain is a delicate thing, or why would the soul be lodged in the brain? Why not in the liver or, if you pardon me, the gut? You can see the soul in the eyes. The eyes are little windows for the soul to look out of.
We had a chimney sweep in town, nicknamed Black Yash. All chimney sweeps are black — what else can they be? — but Yash looked as though he had been born black. His hair was spiky and black as pitch. His eyes were black, and his skin could never be washed free of soot. Only his teeth were white. His father had been the town's chimney sweep, and Yash inherited the job. He was already a full-grown man, but he wasn't married and lived with his old mother, Maciechowa.
He came to us once a month, barefoot, and every step would leave a black mark on the floor. My mother, may she rest in peace, would run to meet him and let him come no further. He was paid by the town, but the women would hand him a groschen or a slice of bread after he had done his work. That was the custom. Children were terrified of him, although he never harmed anyone. And while he was the chimney sweep, the chimneys never caught fire. On Sundays, like all gentiles, he would wash up and go to church with his mother. But washed, he seemed even blacker than before; maybe that's why he had never found a wife.
One Monday — I remember it as yesterday — Feitel the water carrier came in and told us that Yash had fallen off Tevye Boruch's roof. Tevye Boruch owned a two-story house in the market square. Everybody felt sorry for the chimney sweep. Yash had always clambered over the roofs as nimbly as a cat, but if a man is fated to suffer a misfortune, it cannot be avoided. And it had to be the tallest building in town, too. Feitel said that Yash had struck his head, but had not broken any limbs. Someone had taken him home. He lived on the outskirts of town, near the woods, in a ramshackle hut.
For a while nobody heard of Yash. But what did a chimney sweep matter? If he could no longer work, the town would hire someone else. Then one day Feitel came again, with two pails of water on his yoke, and said to my mother, "Feige Braine, did you hear the news? Yash the chimney sweep has turned into a mind reader." My mother laughed and spat. "What sort of a joke is that?" she asked. "It's no joke, Feige Braine," he said, "it's no joke at all. He is lying on his cot with a bandaged head and guessing everybody's secrets." "Have you gone crazy?" my mother scolded. Soon the whole town was talking about it. The knock on Yash's head had loosened some screw in his brain, and he became a seer.
We had a teacher in town, Nochem Mecheles, and he called Yash a diviner. Who had ever heard of such a thing? If a knock on the head could make a man a seer, there would have been hundreds of them in every town. But people had gone there and witnessed it with their own eyes. A man would take a fistful of coins from his pocket and ask, "Yash, what have I got in my hand?" And Yash would say, "So many three-groschen coins, so many fours, sixes, kopecks." The coins would be counted, and everything was right to the last groschen. Another man would ask, "What did I do last week at this time in Lublin?" And Yash would say that he had gone to a tavern with two other men. He described them as if they were standing before him.
When the doctor and the town authorities heard the story, they came running. Maciechowa's hovel was tiny, and so low that the visitors' hats touched the ceiling. They started questioning him, and he had all the answers. The priest became alarmed; the peasants had begun to say that Yash was a saint. A little more, and they would have started taking him around on pilgrimages, like an icon. But the doctor said he was not to be moved. Besides, no one had ever seen Yash in church except on Sundays.
Well, there he was lying on his pallet, talking like an ordinary fellow — eating, drinking, playing with the dog his mother kept. But he knew everything: what people had in their breast pockets and in their trouser pockets; where this one had hidden his money; how much that one had squandered on drink the day before yesterday.
When his mother saw the rush of visitors, she began to charge an admission price of a kopeck per head. She got it, too. The doctor wrote a letter to Lublin. The mayor of the town sent in a — what do you call it, now? — a report, and highly placed personages came down from Zamosc and Lublin. The governor himself was said to have sent a deputy. The mayor became frightened and ordered all the streets cleaned up. The marketplace was swept so clean that not a stick or a straw remained on the ground. The town hall was hastily whitewashed. And all because of whom? Yash the chimney sweep. The house of Gitel the innkeeper was in an uproar — who had ever dreamed of such important guests?
The entire company set off to see Yash in his hut. They questioned him, and the things he said struck fear into the hearts of the officials. Who knows what such people can be guilty of? They all took bribes, and he told them so. What does a chimney sweep understand? The most important visitor — I forget his name — insisted that Yash was crazy and should be sent to an asylum. But our doctor argued that the patient could not travel, it would kill him.
It was rumored that the doctor and the governor's deputy had strong words, and it had almost come to blows. But our doctor was an official himself; he was the county doctor, and he sat on the draft board. He was a hard man — nobody could ever buy him off, so he had no fear of Yash's second sight. Anyway, the doctor won out.
But afterward the deputy reported that Yash was crazy, and he must have complained against the doctor, because he was soon transferred to another district.
In the meantime, Yash's head healed and he went back to sweeping chimneys. But he kept his strange powers. He would come into a house for his groschen, and the women would ask him, "Yash, what's there, in the left-hand drawer?" or, "What do I have in my fist?" or, "What did I eat yesterday at supper?" And he would tell everything. They asked him, "Yash, how do you know such things?" He'd shrug his shoulders: "I just know. It comes from the knock on the head." And he would point to his temple. He could have been taken to the big cities and people would have bought tickets to see him, but who thought of bothering with such things?
There were several thieves in town. They stole laundry from attics, and whatever else they could lay their hands on. Now they could no longer steal. The victim would come to Yash, and he would tell him the name of the thief and the place where the goods were hidden. The peasants in nearby villages learned about Yash, and whenever a horse was stolen, the owner came to him to find out where it was. Several thieves were already in jail. The thieves had an eye on him and warned openly that he was a marked man. But Yash knew all their plans beforehand. They came to beat him up one night, but he had hidden himself in a neighbor's barn. They would throw stones at him, but he would jump aside or duck even before the stone came flying.
People mislaid things — money, jewelry — and Yash always told them where they were. He didn't even stop to think. If a child got lost, the mother ran to Yash, and he would lead her to her child. The thieves began to say that he had stolen the child himself, but nobody believed them. He was not even paid for his advice.
His mother demanded money, but he himself was a half-wit. He never rightly knew the value of a coin.
We had a rabbi in town, Reb Arele. He had come from a big city. On the Great Sabbath before Passover he preached in the synagogue. And what did he talk about? Yash the chimney sweep. The unbelievers, he said, deny that Moses was a prophet. They say that everything must be according to reason. Yet how does Yash the chimney sweep know that Itte Chaye the bagel baker has dropped her wedding ring into the well? And if Yash the chimney sweep can know hidden things, how can anyone doubt the powers of the saints? There were some heretics in our town, but even they had no answer.
In the meantime, news about Yash had reached Warsaw and other places.
The newspapers wrote about him. And a commission was sent down from Warsaw. The mayor again sent out the town crier to order the yards and houses cleaned up. The marketplace was swept again till it was spick-and-span. After Sukkoth, the rains began. We had only one paved street — the church street. Boards and logs were laid out everywhere so that the gentry from Warsaw would not have to wade through mud. Gitel the innkeeper prepared pallets and bedding. The whole town was agog. Yash was the only one who made nothing of it. He went his rounds and swept the chimneys as usual. He did not even have sense enough to be afraid of the Warsaw officials.
Now listen to this: A day before the commission arrived, there was a snowfall and a sudden frost. On the previous night, sparks and even tongues of flame had been seen flying from Chaim the baker's chimney. Chaim was worried that a fire might break out and sent for Yash the chimney sweep. Yash came with his whisk and swept the chimney. A baker's oven burns for many hours, and a lot of soot settles in the chimney. As Yash was climbing down, he slipped and fell again. Again he struck his head, but not as hard as the first time. There wasn't even any blood. He picked himself up and went home.
My dear friends, the next day, when the commission arrived and began to question Yash, he did not know anything. The first knock had opened something up, and the second knock closed it. The gentry asked how much money they had, what they had done yesterday, what they had eaten a week ago at the same time, but Yash only grinned like a fool and answered, "I don't know."
The officials were furious. They scolded the police chief and the new doctor. They demanded to know why they had been brought all that way to see this nitwit, this bumpkin who was nothing but an ordinary chimney sweep. The police chief and the others swore that Yash had known everything only a day or two before, but the visitors would not listen. Somebody told them that Yash had fallen off a roof and banged his head again, but you know how people are: They believe only what they see. The police chief came over to Yash and started banging him on the head with his fist. Maybe the screw would fly loose again. But once the little door in the brain is shut, it stays shut.
The commission returned to Warsaw and denied the story from beginning to end. Yash went on sweeping chimneys for another year or two. Then an epidemic broke out in town, and he died.
The brain is full of all sorts of little doors and chambers. Sometimes a knock on the head upsets the whole business. Still, all of it has to do with the soul. Without the soul, the head would be no wiser than the foot.
The last stretch of sky is much too wide, full of turkey vultures and hot air balloons. Under it, we're on our way to the Lourdes of the Southwest: El Santuario de Chimayó, a pilgrimage center tucked in a nearly blank spot of the New Mexican map, north of Santa Fe, southwest of Taos.
The most devout walk the last miles through the high desert, dragging huge crosses with them, each gasping breath bringing in the scent of sage and creosote.
As many as 40,000 people over Easter weekend, and nearly 300,000 people over the course of a year come this far into the middle of nowhere because dirt taken from a pit inside the church cures anything. Anything at all. People put sprinkles of it on their tongues to cure hearts and bowels; women stand by the edge of the pit, rub dirt on their arms, their knees, the heads of small children. Whatever needs fixed.
It's taken us two days to get here, driving up from the Arizona desert through a high pass that would have shown seven ranges of mountains had only snow not been falling like a scrim. We've spent much of our time in the car trying to decide when a pilgrimage begins. Less than a minute after I picked up my friend James and we left his house, we started arguing about it. Is it when you leave home? Is it when you join a known trail? Is it when some scent in the air lets you know you're doing something different than normal life?
James is fresh out of law school, having learned from my mistakes. We'd met years ago, right about the time I finished my master's degree in religious studies. James, then headed for divinity school, opted out. "I can take being disillusioned with the law," he told me, "but not with God."
James is on this trip with me because he probably believes. I'm on the trip with him because I wish I believed. But at least pilgrimage is where I understand a certain sense movement allowing for the awesome, in the grand, old meaning of the world.
Were we already on pilgrimage when we stopped at Holbrook's Wigwam Motel, on a ghost stretch of Route 66? Here at the edge of the Navajo Reservation, we snapped pictures of the concrete teepees — not wigwams at all, but either way, nothing like the traditional Navajo hogan, a kind of igloo made of mud and logs — and I told James about the puppy my ex-wife and I had rescued from right across the street, years ago. Rufus had been abandoned a couple days after Christmas, and until we found him a home with a good boy, all he wanted to do was sit under my chair and play tug of war. That's the lesson of a dog that we all need to learn: wag your tail at life, and life will wag back. A dog's pilgrimage is as simple as getting up and celebrating what the world smells like today.
People, though, are a little tougher and need better guidelines, so for many of the devout, the Easter pilgrimage to Chimayó officially begins near the Santa Fe Opera House, where the police barricades start. For the next 30 miles, a quarter of the road is blocked off behind an orange plastic fence, making room for the walking faithful.
We want to stop and talk to them but think it's wrong to interrupt. Their minds are elsewhere. Some groups look cheerful, like it's a church picnic; others are somber, concentrating on each step. They're dressed somewhere between good Sunday clothes and the kind of stuff you buy at REI to go hiking.
Nearly 300,000 over the course of a year come this far into the middle of nowhere because dirt taken from a pit inside the church cures anything.
We drive right past them, and as the desert gives way to a river-bottom oasis, quite suddenly we're there.
Pilgrimage is as old as the world. The Bible is full of pilgrimages, in both the Old and New Testaments. In Islam, of course, there's the pilgrimage to Mecca, which all able faithful are required to perform once in their lives.
I've stood, surrounded by monkeys, in a spot where the Buddha preached. I've walked hundreds of miles in the back country of Japan, following the footsteps of Kobo Daishi, ninth-century saint and all-around good guy. At Santiago de Compostela, in northern Spain, where James the Apostle is said to be buried, there's a marble pillar all the faithful touch in thanks for a safe journey. So many people have put their hands there over the centuries that when I did the same, my hand sank half an inch deep in the worn-away stone.
And El Santuario de Chimayó breathes the same kind of power. The church sits in a small, adobe-walled courtyard, up a slight hill from an outdoor worship area underneath cottonwoods with hundreds of crosses made of twigs and grass stuck into the bark. Hundreds more are twined and woven into the chain-link fence that keeps a braying donkey away from a few graves half climbed by thick weeds.
The church itself looks like only one thin room, with reredos — small but marvelously decorated and colored altars — to the left and right where the apse would be in something larger. Mud-colored sun filters in through smudged windows, falls on images of San Gabriel holding his sword, San Rafael with a fish.
But after our eyes get used to the light, we notice a low doorway to the left of the altar; it opens to another, even thinner room, hung with prayer beads and retablo and crutches. A man leads his child around, stopping at paintings of cures, shrines the size of Barbie suitcases. "Hands together," he tells his son, clasping his own tattoo-covered hands — anywhere else, I'd think they were gang tattoos, but here they seem quite different.
Pilgrimage as an art form, that great impulse to let your mind follow your feet, never really took hold in the United States — we are too much a product of Protestantism, which did away with pilgrimage — but here it is, and all its beauty requires nothing but attention. I can't help but stand here and think we are missing something large and wonderful simply because we forget to look.
Pilgrimage is an expression of gratitude, and for myself, it's been a long time since I've been this happy, this grateful, to be somewhere.
So many people come here, giving thanks over Easter, that signs everywhere ask you not to light candles. Even the flagstones would go up in the flames of devotion.
The church has only one more room, hardly bigger than a shower stall. We have to bend over double to get through that doorway. Inside, the room is almost empty, except for a shallow pit a foot or so across.
And that's why we're all here. It's where the dirt is. The object of the pilgrimage.
El Santuario de Chimayó isn't particularly old. It was built by communal labor in 1816, villagers getting together to make this chapel, patting down three-foot-thick adobe walls. The church was founded when a man named Bernardo Abeyta, who was walking penance in the hills, saw a bright light coming from a hole. He ran down to the spot, started digging, and discovered a crucifix of Our Lord of Esquipulas.
But the site had long been a popular place of healing for the Isleta Pueblo natives, who'd spent a few thousand years in the area. They knew that this tiny river valley was a place where the earth itself was curative. The very planet belched out smoke, fire, hot water here, from a pit called Tsimajopokwi. But when the twin gods of war killed the guardian of the pit, the springs dried up.
The locals made the best of a bad situation; the pit still cured. People came from hundreds of miles to rub its sand on their bodies, and so when, in the early 1700s, the Catholics moved in, it didn't seem that strange for them to do the same thing.
Today, the priest, wearing blue pants to match the sky and a clean white shirt, smiles at us, makes sure we don't need anything translated — a little puzzling, since even if we are the only Anglo faces, everybody is still speaking English — and then gets back to his business. More of us than can fit into the church are scooping up bits of dirt, so he's setting up for Mass under the cottonwoods.
At the fount, people are filling gallon jugs with holy water.
The dirt is sandy and cool. I imagine the altar boys, noticing the pit getting low, carrying a shovel and whistling while they walk past the donkey to get more dirt from the stream banks. On Good Friday, there must be a bucket brigade passing more in. Each time the dirt gets refilled, the priest offers special blessings, as if the pit were some kind of giant battery charger of the sacred, spreading itself out into grains of sand.
Ladies scoop the dirt into envelopes, Tupperware, special containers sold under a dizzying selection of rosaries (and those forbidden candles) at the nearby gift shop. Once they have their dirt, they smile shyly at each other, adjust their shawls, and say a final prayer, their mission complete. They're set until next year, when it will be time to make the journey all over again.
Pilgrimage is an expression of gratitude, and for myself, it's been a long time since I've been this happy, this grateful, to be somewhere.
I envy them, deeply. They have what they need, whereas I find myself, yet again, not able to make that leap, to find myself where they are.
We get our dirt, packing it in tiny bottles. Months later, it will still be on my desk, and if I pop the container open, I'll catch the aroma of a perfect day in a perfect place.
I may never bring myself to use it. As much as I try, I'm simply not that open to the world yet.
We step out of the church into the wide-open, impossibly huge blue sky, and despite all the roadblocks I put up in front of myself, I feel like Rufus the dog must have: how glorious, glorious the world smells right at this moment.
James and I never were able to figure out when a pilgrimage officially starts, and as we walk back toward the car, crossing a stream so small my shoes alone are almost enough to bridge it, he asks me, "When's a pilgrimage over?" as if the 15 years I've spent researching the subject means I have any kind of answer. He should know me better than that.
The priest flips the wrong switch on the PA system, blasting enough noise to shake leaves off the cottonwoods, rustle the grass crosses. He looks up apologetically, turns the electronics over to his assistant.
After a minute, the donkey starts his own sermon again, and I figure that's a good enough answer to James' question.
Ellen Pyle is proof that illustrating can be like riding a bicycle. A student at the Drexel Institute in Philadelphia, one of the top art schools in the country, she studied with famed illustrator Howard Pyle. There she also met her teacher's brother, Walter Pyle, who would later become her husband.
Showing promise even as a first-year student in 1895, Pyle published her first of many illustrations. She went on to find success illustrating children's books and magazine articles, but in 1905 chose to give up her career to focus on motherhood. Reflecting on this in a 1928 Post interview, she said, "Probably people vary a great deal, but I found that when there was a young baby in the family … it was not practical for me to spend all day in the studio. One or the other had to take second place."
But when her husband Walter died in 1919, Pyle needed to support her four children and so turned back to art. The Saturday Evening Post was the first magazine to accept her work, and by the end of her career, she had illustrated a total of 40 Post covers. Her children and neighbors often modeled for her paintings that portray traditional American life.
"The girl I am most interested in painting is the unaffected natural American type," Pyle said in her 1928 interview with the Post, "the girl that likes to coast and skate in winter, who often goes without her hat, and who gets a thrill out of tramping over country roads in the fall." This girl definitely fits the bill.
This cover is a great example of Pyle's use of brilliant color and loose, broad brushstroke-style.
Art certainly ran in the Pyle family. Ellen Pyle's daughter Katie modeled for this cover, and her two oldest children, Walter Jr. and Ellen, became artists themselves, and her youngest, Caroline, married into the Wyeth family of artists.
The grays surrounding this pair shadow the scene but the bright colors of the fruits and vegetables in the basket offer promise of a warm home-cooked meal.
The most interesting thing about this cover isn't the woman driving a convertible in the snow, but the child who's glancing back at us wondering the exact same thing.
Reprinted on the Post in 2007, this cover prompted reader Sara Chatzidakis to write us with some background on the image. It turned out the little Post girls were Chatzidakis' mother and aunt, who modeled the scene for their neighbor, Ellen Pyle.
One of Pyle's covers of everyday life, it's the details that make this piece stand out. You can see the disappointment on the man's face as he looks back at the tire after reading the sign "5 Miles to Mac's Garage." Looking at those diagonal lines going across the page, this will be one wet trip.
Pyle tried to hide her signature in her paintings, making them the same color as the work itself so they blended into the background. Her signature here appears in the right-hand corner and matches the grass.
Many Americans think of our national parks as places to go and see the sights, but there are so many things you can do in there, as well. Here are just a few of the fun excursions you can enjoy in our national parks:
HUNT on a trail back through time at Dinosaur National Monument, you can search for fossils (no, you don't get to keep them).
SOAK at Hot Springs National Park.
RIDE on horseback at Gettysburg National Military Park. See the battlefield the way the cavalry did.
GLIDE through a river of grass at Everglades National Park.
ROLL on a train to Grand Canyon National Park. Arrive in style like the earliest tourists did.
MUSH on a dogsled in Denali National Park.
Thanks for playing Rockwell March! The U.S. saw Norman Rockwell's art on The Saturday Evening Post cover for the first time on May 20, 1916 — almost 100 years ago. To celebrate the upcoming anniversary, we shared 32 of his iconic illustrations on our Rockwell bracket — and asked you to vote for your favorite.
We gathered votes from Facebook, Pinterest, and our website. It was a tough, five-week-long battle, and in the end, Rockwell's Freedom from Want came out on top! To see the winner close up, just click on the bracket below or scroll down to view each Rockwell contender individually.

Click the numbers below to view the Rockwell contenders up close:
RIP Nancy Reagan, George Martin, and Bud Collins
So much has already been said about former First Lady Nancy Reagan, who died earlier this week at the age of 94, that I'm not going to repeat it. But Reagan did appear in the pages of The Saturday Evening Post many times over the years, including on the cover of our October 1985 issue. You can also view a gallery of photos from our 2004 memorial to Ronald Reagan.
I didn't know that CNN's Anderson Cooper was such a good friend of Nancy Reagan's, as was his mother, Gloria Vanderbilt.
Producer George Martin was dubbed "The Fifth Beatle" because his work contributed to the sound and to the success of The Fab Four as much as what John, Paul, George, and Ringo did. Martin passed away Tuesday at the age of 90. The Beatles appeared on the cover of The Saturday Evening Post in 1964 — one of the greatest pictures of the group I've ever seen — and SEP Archives Director Jeff Nilsson writes about why The Beatles weren't just a passing fad, even if early critics did hate them.
Other than the players themselves, there was no better ambassador to tennis than Bud Collins. Actually, strike that. Even if you count players, Collins was still the biggest promoter of the sport. He didn't just cover tennis, it was a part of who he was. Known for the bow ties and wildly colorful pants he would often wear, Collins wrote about tennis for The Boston Globe starting in 1963, wrote Bud Collins' Tennis Encyclopedia, was a member of the teams that covered tennis for NBC and ESPN for many years, and was inducted into the International Tennis Hall of Fame in 1994. In 2015, the press center at the U.S. Open Tennis Center in Flushing Meadow, New York, was renamed the Bud Collins U.S. Open Media Center in his honor.
Collins passed away at his home in Massachusetts last Friday. He was 86.
There was another death this week, but you might not recognize the name. It was Ray Tomlinson, the man credited with inventing e-mail back in 1971 when he was working on the ARPANET, which later became the system we now know as the Internet. When asked why he chose the @ symbol for e-mails, Tomlinson simply said it "just makes sense." It makes sense for Twitter, too, as that same symbol is part of everyone's Twitter handle.
And while we're talking about e-mail, can we all agree that it's e-mail and not email? It stands for electronic mail, and that dash needs to be there, doesn't it?
[Editor's note: SEP house style calls for the use of the unhyphenated email that Mr. Sassone dislikes. It is only begrudgingly that we allow Mr. Sassone this aberration from house style.]
Carbohydrates: The New Cigarettes?
Every day we hear about some food or drink that isn't good for us. This week we found out that the thing that's making us unhealthy is … well, most of the foods we eat.
For the past several years, we've been told that eating too many carbs — from pasta, rice, pretzels, potatoes, white flour, and sugar — can be as bad for us as foods high in fat and calories. But here's a new twist: Those same foods might even be so bad for us they can give us lung cancer. According to studies at the University of Texas MD Anderson Cancer Center, a diet of foods high in the glycemic index can trigger higher levels of blood sugar and insulin, which then increases the level of insulin-like growth factors. Studies on different groups showed that the people who ate a diet of high GI foods had a 49% increase in the possibility of developing lung cancer. This is all just a scientific way of saying that if you eat a lot of white bread, you're going to die.
Okay, that's an exaggeration. But it wouldn't hurt you to eat a carrot once in a while.
Dancing with the Stars Cast Announced
I'm not a reality TV show fan, and I don't like to write about them often, but since Dancing with the Stars is more of a fun, celebrity-oriented reality competition show — and no one is eating bugs or throwing chairs at one another — I can make an exception. And as a bonus, this season's cast has a connection to the presidential election!
The new cast includes former Facts of Life star Kim Fields; football players Doug Flutie, Antonio Brown, and Von Miller; Fuller House star Jodie Sweetin; The O.C.'s Mischa Barton; deaf America's Next Top Model winner Nyle DiMarco; Wanya Morris from Boyz II Men; Fox News's Geraldo Rivera; mixed martial artist Paige VanZant; and Good Morning America meteorologist Ginger Zee.
Oh, that election connection? Marla Maples will compete, too. She was married to Donald Trump from 1993 to 1999. I'm sure that having her on the show during this election year is a total coincidence.
If Our Bodies Could Talk
If our bodies could talk, they'd probably say, "Stop eating a lot of carbs and eat a carrot once in a while!" Of course, our bodies can't talk, but Dr. James Hamblin can talk for them. He's the host of one of the very best video series on the web right now, titled (you guessed it) If Our Bodies Could Talk, over at The Atlantic.
Hamblin covers a lot of ground, from the very serious (like a quest to find the cure for serious diseases) to more fun (yet still helpful) segments on how some companies let you work remotely via robot double, how to cure a hangover, how to cook a real chicken nugget, and why you should never tell someone how old they look. And as you might have noticed from the videos, that segment has special significance for Hamblin.
And The New Host of America's Test Kitchen Is …
Last year, we told you that Christopher Kimball, host of the PBS cooking shows America's Test Kitchen and Cook's Country, couldn't come to an agreement with the new people in charge and would be leaving the shows after their 2016 seasons (and the cooking magazines, though he will continue to do the weekly radio show). Now comes word that the new hosts have been named for America's Test Kitchen, and regular viewers will recognize them. Cooks Julia Collin Davison and Bridget Lancaster will now take over as co-hosts.
This is a smart idea. Kimball is loved by fans, and a completely brand new host probably wouldn't have been greeted too kindly. It will be good to see familiar faces at the helm. A new host for Cook's Country hasn't been named yet.
What's White, Has 8 Arms, and is Currently Freaking Out Scientists?
There's an old piece of wisdom that says we know more about outer space than we do about what's going on deep in the ocean. I don't know how that can possibly be true, but I think about that every time I read a story where scientists have found a bizarre new creature in the water.
This small octopus, probably a new species, was found at 4,290 meters in the Hawaiian Archipelago. It has only one row of suckers, the body is different from most octopuses, and it has such a white, ghostly look to it that it has been nicknamed "Casper."
National Potato Chip Day
Sure, you could just buy a bag of Lay's to celebrate this Monday, but can't we do a lot better than that? How about making your own rippled potato chips? Or how about these potato chip–crusted chicken tenders?
And if you insist on just ripping open a bag of chips, the least you could do is take the time to make a dip, like the classic Lipton onion dip that's been around for decades and remains one of best.
Upcoming Events and Anniversaries
U.S. Army creates K-9 Corps (March 13, 1942)
The National Police Dog Foundation helps to educate the public about police dogs and helps with the training and purchase of dogs.
FBI launches 10 Most Wanted List (March 14, 1950)
The list started in 1949 after a conversation between FBI Director J. Edgar Hoover and International News Service Editor-In-Chief William Kinsey led to an article about the "toughest guys" the FBI was trying to capture at the time.
Beware the Ides of March! (March 15)
What exactly are "The Ides of March" and why should we fear them?
March Madness begins (March 15)
If you're obsessed with the annual NCAA basketball tourney, here's a complete schedule of which games will be played where.
St. Patrick's Day (March 17)
You can celebrate the day by making Rachel Allen's Irish Apple Cake or making this clever shamrock bookmark.