Saturday Evening Post: Can you tell us more about what inspired you to paint the image that appears on the September/October 2019 cover of The Saturday Evening Post?
Moline: This painting was originally commissioned for tapestry art, but I decided to go ahead and create an image that I could also sell for prints and as a stock image. So I basically went to town, put myself into the scene and tried to imagine what the look and the feel of that kind of day would be. The painting had to tell the story and transport the viewer there too.
Post: You describe your style as "a surreal look with an often folksy twist." Many of your illustrations pay homage to or are reminiscent of Grant Wood. I would describe them as "Grant Wood on acid." What attracts you to that style of illustration?
Moline: I have heard my artwork described like that before. I'd like to think that I take Regionalism imagery and that folksy style and amplify the colors to make my artwork have a more contemporary feel. What attracted to me to this style is hard to say. I suppose first I always enjoyed painting landscapes from an early age and often they were of rural subject matter of places I'd been and farms I visited. When I first saw Grant Wood's work I felt a connection maybe because they felt familiar and maybe because I always wanted to be in his paintings. I eventually bought a Grant Wood art book, studied it a lot, and decided I wanted to try to paint like that myself. So I did and eventually it has become what you see today.
Post: Who else are you inspired by?
Moline: There are other Regionalist artists' work I also really love. Marvin Cone's sensual landscapes of that same area in Iowa are spectacular. The color and movement in John Steuart Curry and Thomas Hart Benton's work I always find inspirational. Other non-Regionalist artists that stand out are the whimsy, detail, and subject matter of Charles Wysocki paintings. Some of my early favorites were the surrealist Artists Henri Rousseau, René Magritte and Salvador Dalí and the romantic look and thermal colors palette of Maxfield Parrish. I of course enjoy a wide range of artists going back to other centuries as well. While on my honeymoon back in 1980 I saw Botticelli's large scale paintings and was in total awe. Recently while in Italy I saw again the work of Pinturicchio and his mythological scenes and detail in Sienna's Duomo; I could have looked at that artwork all day long. Of course there are plenty of other artists to draw inspiration from including many peers but the above stand out in the top tier.
Post: What media do you typically work in?
Moline: My traditional style is I paint on illustration board. I generally do an acrylic airbrushed underpainting then go in with fine tiny acrylic brushes to finesse the art and add detail and texture.
Post: How did you get started in your illustration career?
Moline: I pretty much decided to freelance right out of my college years at The Minneapolis College of Art & Design. I was lucky to start out when I did. There was a lot of local work and I was able to get a representative early on. In the '90's after I had established a more consistent style and fine-tuned my skills, I then looked for a national representative and broadened my field.
Post: How is painting for yourself different from painting for a client?
Moline: I do enjoy both. I love the challenge of working with a client and the problem solving involved, whether it be a book or magazine cover, an editorial, a poster, map, or product design. I always love seeing the end result when a client is involved because I am working with other creatives and my work gets to be woven into a bigger picture. I also don't mind a deadline; of course the longer ones are more welcome. When I work on a painting for myself it's hard to know when to stop, and that can be a problem. Also when I have a set client there is incentive to get the artwork done because I get paid sooner. So that's a big motivation as trite as that might sound. Of course painting for myself I only have myself to please and I can experiment and not have a client expecting that specific look they are after based on seeing previous work.
Post: What is your favorite thing about being an artist?
Moline: Honestly being my own boss and working out of my home and not dealing with a commute is the best. Working with so many wonderful creative people I've met along the way and that there is always a challenge and rarely a dull moment. Being an artist has made me grateful that I have a way to express myself and that it has allowed me to expand my imagination. Hopefully through my work I can move others emotionally and intellectually and to be able to share some of my inner world and imagination.
Post: What's the most fun thing you've painted?
Moline: That's a hard one to pick over the 40 years of painting. So I'll give you a few that achieved a few levels of satisfaction. The Farmer's Market Stamp project stands out…I loved the art director and I had a luxurious long deadline. It was first thought that I'd be doing some of my signature landscapes, but in the end I was painting every kind of fruit, vegetable, food, and plant you might find at a neighborhood farmer's market. It was definitely a job that evolved over time, but I enjoyed the whole process and it also included a trip for the unveiling ceremony in Washington, D.C.
As far as landscape art goes I was lucky to work with HOK architects/engineering in the early '90's and did some big projects with them. The second was mural art for the new John Deere Pavilion in Moline, Illinois. The actual painting is a bit of a blur — the deadline was pretty fast considering the amount of painting involved, but the end results still please me to this day. I also fondly look back at an ongoing series I did for a high profile marketing group out in Hollywood called the Ant Farm. I created a group of ant characters for them that were pretty busy and active doing fun things mostly taking place out in L.A. Again, the clients were great to work with, too.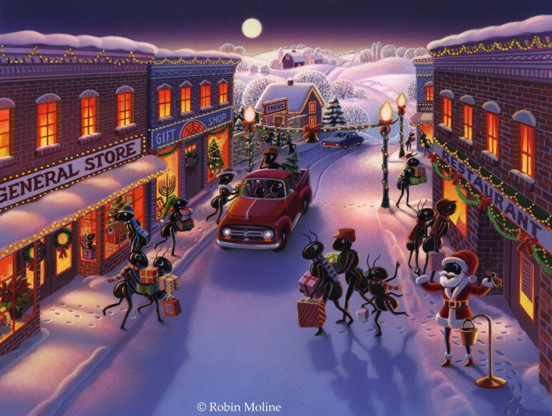 Post: What advice would you give to aspiring artists?
Moline: Patience and practice above all. You are not going to know your full potential, hidden talents, or fine tune your artwork right away. That takes time. Your artwork, as life itself, is an evolving process…and a gradual unveiling of yourself and your story. Don't be afraid to experiment with different mediums and subject matter. You will make mistakes and you might disappoint those you work with now and then but you will learn from that. Don't fear those periods of time when you don't feel an ounce of creativity surfacing. When that happens, it will take time to observe and reflect and do whatever else you are being pulled toward…travel, read, relax and pick it up again when you are reenergized and the creative tap starts flowing again. Whatever you do don't compare your work to others… if you are enjoying what it is you do and are growing as an artist, that is number one. Also accept that not everyone is going to like your art. Some will be critical, but if you love your work and you find a niche and even a few people love what you do as well, then you've made it. At that point smile and pat yourself on the back!
Post: Is there anything else you'd like Saturday Evening Post readers to know about your work?
Moline: Looking back on my career, a day that tickled me the most was when I was Googling some of Grant Wood's work, my image came up and someone had mistaken it as his. Just last year I was asked to do a show down at the American Gothic House in Eldon, Iowa. That was another highlight of my career — to be standing in front of that house that had been parodied endlessly, and that my work that was on display inside was inspired by my favorite muse. I've told numerous people before that in fun I like to call myself Robin Wood. I think it has a nice ring.
To find out more about Robin and her work, visit robin-moline.pixels.com/.
Featured image: Robin Moline / SEPS.
Become a Saturday Evening Post member and enjoy unlimited access. Subscribe now