Sun, salt, sand…what's not to love? Here are some of our favorite beachside covers.
Three Little Girls at Beach
Sarah Stilwell-Weber
August 25, 1917
Rainy Day at Beach Rental
Stevan Dohanos
July 31, 1948
Alabama
This lonely, wet house surrounded by raindrops and telephone poles would fit right in at Ft. Morgan Beach, Alabama, the narrowest strip of land with nothing but sand, sea grass, and a handful of houses.
Business at the Beach
James Williamson
January 23, 1960
Baby at the Beach
Austin Briggs
July 23, 1949
First Day at the Beach
George Hughes
August 11, 1956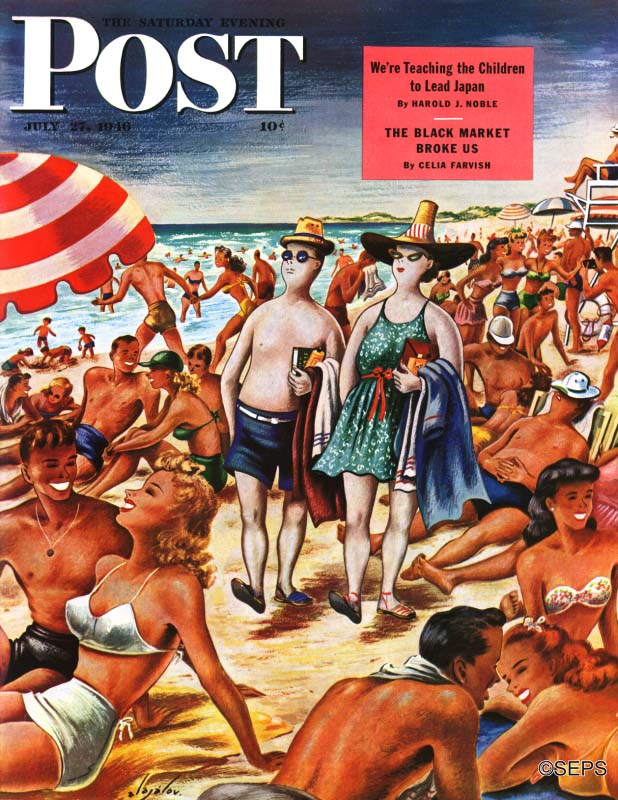 Palefaces at the Beach
Constantin Alajalov
July 27, 1946
Couples at the Beach
George Hughes
August 2, 1952
Beach Bonfire
Mead Schaeffer
September 16, 1950
Broken Beach Chair
John Hyde Phillips
August 12, 1939
Card Game at the Beach
Alex Ross
August 28, 1943
King of the Beach
J.C. Leyendecker
September 3, 1932
Woman on beach
Mills Thompson
August 18, 1900