It's summer! That means it's time for ice cream, swimming pools, and the classic family vacation. So pack your bags and let's go!
Rainy Day at Beach Rental
Stevan Dohanos
July 31, 1948
Alabama
This lonely, wet house surrounded by raindrops and telephone poles would fit right in at Ft. Morgan Beach, Alabama, the narrowest strip of land with nothing but sand, sea grass, and a handful of houses.
Beach Parking Lot
James Williamson
August 1, 1959
Boarding the Dog
Earl Mayan
August 24, 1957
Missed Exit
George Hughes
June 15, 1957
Lookout Point
Richard Sargent
July 18, 1953
Tennessee
Papa has been steering the bus for three days toward Point Lookout, and, having finally made it, is he not justified in decrying the little ones' disinterest in lookouting? On the other hand, for three days the kids have been peering at interminable scenery; so now that the car has quit jiggling and reading is possible, what is more dutiful than rejoicing in the new hooks that papa bought them to read? Of course, modern readers may long for the days when children were glued to books and not phones.
Inflating Beach Toy
Stevan Dohanos
August 20, 1949
Fork in the Road
George Hughes
July 7, 1956
Outing or Coming and Going
Norman Rockwell
August 30, 1947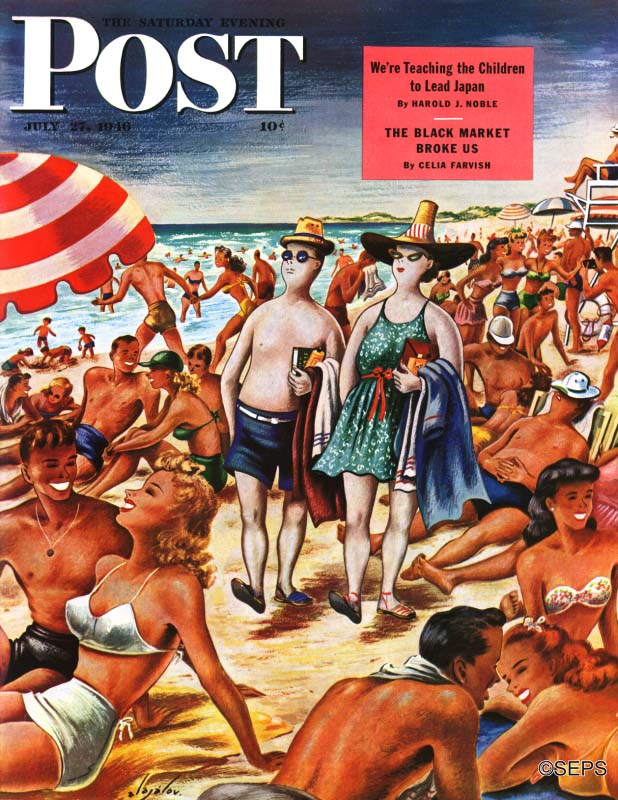 Palefaces at the Beach
Constantin Alajalov
July 27, 1946
Home from Vacation
John Falter
August 23, 1952
Hiking in Mountains
John Clymer
May 31, 1952
Airplane Trip or First Flight
Norman Rockwell
June 4, 1938
Retired Couple at Beach
J.C. Leyendecker
February 20, 1937
Home from Vacation
Norman Rockwell
September 13, 1930