You never realize how much you love your favorite candy until they stop making it. Like a dirty trick, these treats disappeared.
Seven Up Bars
The seven milk chocolate squares that made up this mid-century candy bar each contained a different filling. The anticipation of biting into a pillow of coconut, butterscotch caramel, buttercream, fudge, mint, cherry cream, or orange jelly was the thrill of the Seven Up Bar, manufactured by Pearson's from the 1930s to 1979. It's gone for good, but the Sky Bar could be an apt alternative, with four chocolate squares containing caramel, vanilla, peanut, and fudge fillings. This popular bar from the '70s almost met its own demise last year when Necco broke up, but a small manufacturer in Massachusetts bought the brand and plans to start selling Sky Bars later this year.
Beech-Nut Gum
Beech-Nut strictly makes baby food now, but they used to be in the ham, marmalade, mustard, and chewing gum businesses. Beech-Nut gum was popular in the mid-century (and their peppermint flavor was "the pep-pep-peppiest one"). You can't find it — officially — anymore, unless you want to pay $37.49 for a decades-old pack on eBay. Richardson Brands, however, owns and produces Beechies, the Chiclets-like candy-coated gum Beech-Nut made years ago.
Baffle Bar
Manufactured from around the 1920s to the '70s, the Baffle Bar was a bit of a mystery "with all the tang of the great outdoors" and "zest that was born of a mountain wind," hinting at its California origin. Inside its chocolate coating were walnuts, fudge, and some sort of jelly. Early ads suggested that hostesses slice a bar into pieces and arrange it on a plate for their next party. Finding an alternative to the Baffle Bar these days is a head-scratcher (though we welcome suggestions). The next best things might be U-No and Abba-Zaba bars, the still-produced candies out of Baffle's original Oakland company, Cardinet.
Danish Ribbons
Danish Ribbons — or Delfa Rolls — were an imported strawberry licorice treat that candy lovers might remember seeing on shelves in the '60s. For years, the only alternative has been strawberry Broadway Rolls, but the company Iconic Candy has been working for years on a proper return of the Danish Ribbon. They plan to release it later this year.
Clark's Teaberry Gum
Candy enthusiasts online have reported seeing Teaberry gum at specialty stores (even in the last year), but all other signs are pointing toward the wildly popular gum's extinction. Although it became famous in the '60s with the "Teaberry shuffle" commercials featuring Herb Alpert & the Tijuana Brass, the gum had been around since the turn of the century. If you're on the hunt for nostalgic gum, though, you might be able to get your fix with Beemans, Black Jack, and Clove gums, all of which are still produced.
Fat Emma
Pendergast Candy Company, of Minneapolis, used too much egg white in its nougat recipe in the early 1900s and accidentally invented the Fat Emma bar, the first to used fluffy nougat and so-named because of its girth. Soon after, Frank Mars whipped up some of his own "Minnesota nougat" for the Milky Way and 3 Musketeers bars. Though Fat Emma is long-gone, Mars's copycat bars are still Halloween favorites.
Squirrel Nut-Zippers
When Necco's brands were picked over after the company's closure last year, the poor Squirrel Nut-Zipper didn't find a new manufacturing home. Named after a prohibition-era cocktail and originally produced by Squirrel Brand Company, the nutty-vanilla caramels were a penny candy akin to BB Bats and Tootsie Rolls. No other candy is quite the same, but the blogger Look What Mom Found made their own recipe for Squirrel Nut-Zippers that might be as good as the original.
Vegetable Sandwich Bar
During the "golden age" of candy bars (1920s and '30s), regional candy producers around the country experimented with various ingredients and marketing strategies. Some of them went too far. The Vegetable Sandwich bar contained dehydrated vegetables covered with chocolate. Its wrapper displayed peas, carrots, celery, and cabbage along with the promise, "Will Not Constipate." Candy taglines may have improved over the century, but the prevalence of meal replacement chocolate bars has grown. Maybe the veggie candy bar was ahead of its time.
Chiclets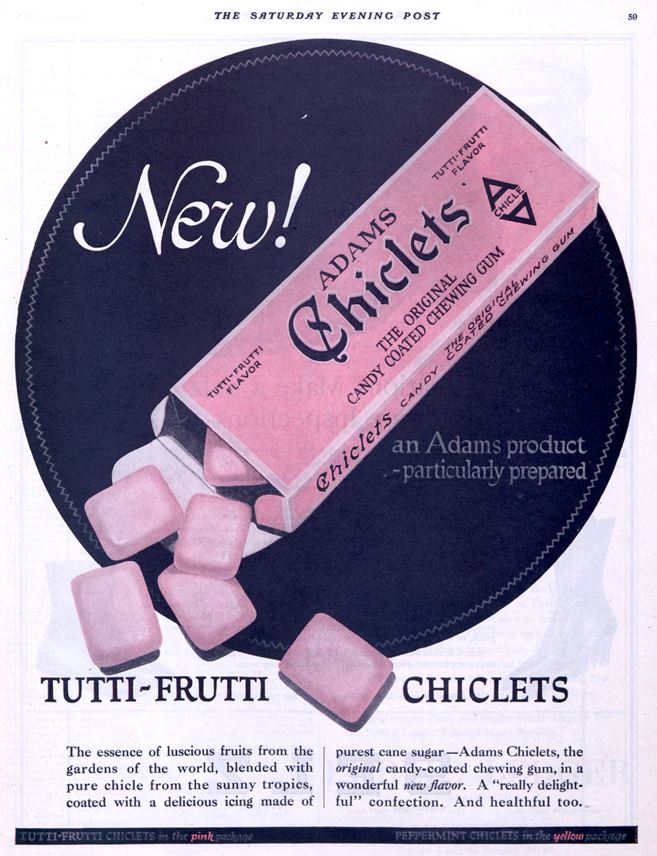 Candy-coated gum from Frank H. Fleer & Co. (and later the American Chicle Company), called Chiclets, can be found in advertisements from The Saturday Evening Post going back to 1906. Chiclets were originally made with chicle, a natural gum found in several tropical American trees. The iconic candies were made right up until 2016, but only sad imitations of the brand can be found anymore. The aforementioned Beechies are a great alternative for candy-coated gum that's stood the test of time.
Nut Tootsie Rolls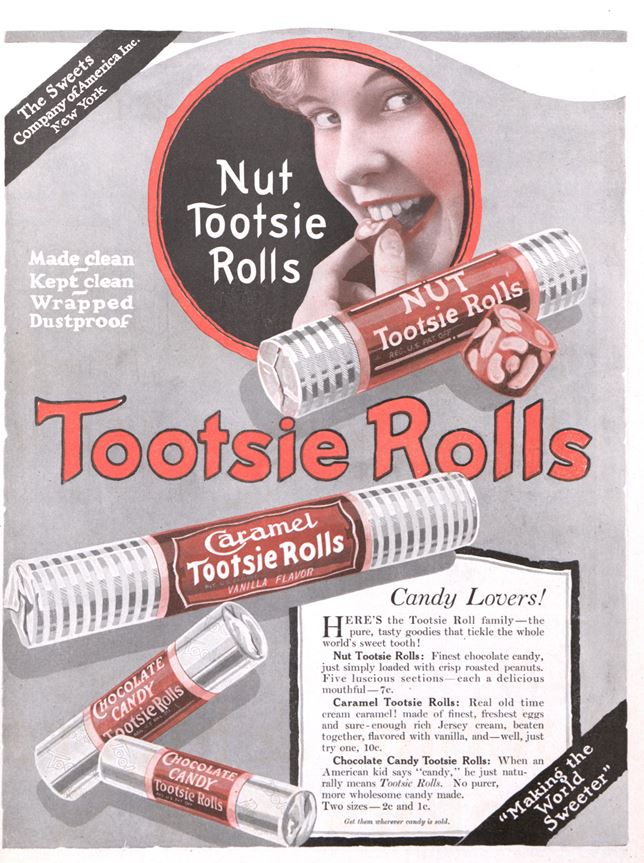 Anyone who's been to a parade has been bombarded with flying Tootsie Rolls, but did you know they used to put peanuts in them? (The Sweets Company of America, that is.) Along with Caramel Tootsie Rolls, Nut Tootsie Rolls were a short-lived product in the teens and 1920s that were "made clean — kept clean — wrapped dustproof." They're lost to history, leaving behind only billboards and print advertisements as records of their nutty existence. If you're dying to know what they were like, you could always roll the regular ones in some crushed roasted peanuts to get a taste of history.
Mary Jane
These peanut butter-molasses penny candies were originally made in Boston in a home once occupied by Paul Revere (years after he made his midnight ride). The red and yellow wrappers featuring a young girl were the iconic branding for Mary Janes for the 100 years they were made. Another Necco casualty, the candies are no more, but Bit-O-Honey, a similar chew but with almond bits and honey, could fill the Mary Jane-shaped hole in a candy lover's heart.
It's November 1, and I'm feeling a little down today, just a little off. It's not a huge thing, and I'm not like, depressed, or anything, but I just feel like a person who missed a party he wasn't planning to go to anyway, but still felt sorry he missed it.
Yesterday was Halloween, and I bought a bunch of candy for the little freeloaders who normally swarm on such an occasion. The candy is untouched. No one showed. No spaced out babies dolled up with wings or a kitty suit; no avaricious 6 year olds in home-made dragon outfits; no pop-culturally relevant Manafort impersonators in jailbird stripes; not even a single over-the-age, trick-or-treating teen who just wants the candy and has made only the barest attempt to impersonate a costume-wearer – maybe a drawn-on mustache or a scarf over the head.
I miss all those moochers. In some ways, I also feel a bit responsible – as though I accidentally put out a negative stay-away vibe that blocked our house from the internal sensors that kids (and their parents) use to direct them to the most generous candy-distro houses. Of course, the real reason is that I live in a 50 plus community. Kids don't live here! Duh! But outsiders could still come in though, right?
So what do you do with a bunch of candy that you don't want. Or, rather, that you do want, but no really you don't. I took it back to the market.
That made me feel lousy all over again. Here was this store that had put on a massive display of candy, even discounting some of it, for the big national holiday that is Halloween. And here was this consumer, me, returning it a day late after its value had plummeted. I had violated the store's trust, is what it felt like. Took their candy out on loan for the possibility of a rapacious attack by young costumed candi-vores. Then brought it back for a full refund.
The young woman at the service desk did not seem at all hostile at my taking advantage of the store's liberal return policy. "No one came," I said sheepishly as I dumped my bags of unopened "snack size" munchables on the counter.
"No one came to my house either," she said, and she told me she lives across the street from a school. I idly wondered if it was possible trick or treating didn't take place this year? But of course it did. It was everywhere.
I got a text from my friend Larry in Indianapolis with a picture of his front yard all gussied up, awaiting the rampaging hordes. I got pictures of my grandchildren out on the town. My grandson Sam, who is ten, started out as Trump, and ended up as a New Jersey Devil (get it?). My granddaughter Sarah, 13, was a shadow hunter based on a book series.
So, the party was held everywhere else but here it seems. Around here, it was just another day.