"Get Washboard Abs!"
This cartoon illustrating the generation gap is a favorite of mine. It makes me think: Of course gramps wouldn't know the word "abs." And what kid these days would know what a washboard was?
After graduating from Tucson High School, Roy attended The Billy Hon Cartoon School in Los Angeles. (Now you know—there IS such a thing as cartoon school.) He took a Greyhound bus from Tucson: "I was on my way to become a magazine cartoonist and nothing was going to stop me." Roy sold his first cartoon to a farm trade journal for four dollars.
"That was a very interesting cell phone conversation. Thanks for sharing it with me."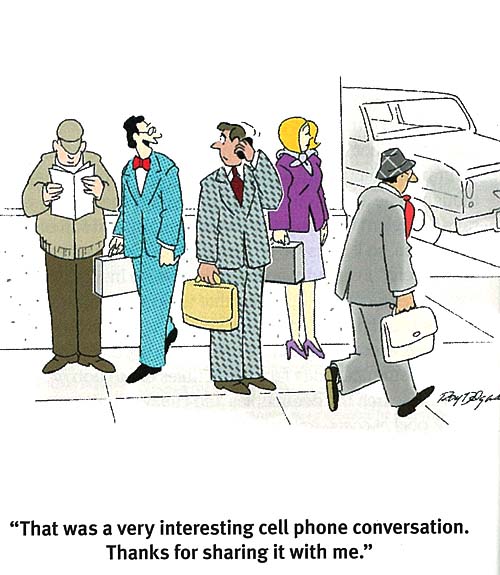 A reader recently commented that a good cartoonist shows just what you are thinking. This is a prime example of just that.
"Warning. Reading all this information about the medicine may cause drowsiness."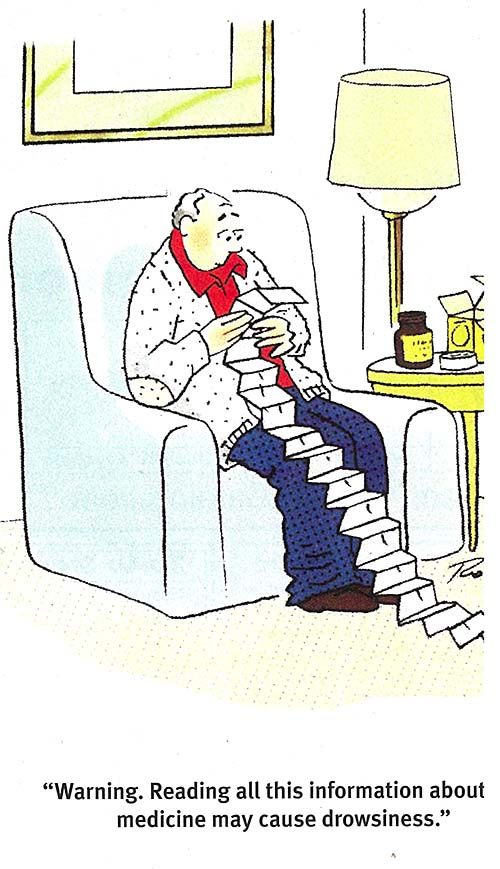 Here's a side effect not mentioned in the data. This is one of three Roy Delgado cartoons in the latest issue of The Saturday Evening Post, a feat that has to be the envy of the many cartoonists who would kill for just one. Product details these days—TDMI (too darned much information).
"I've just accessed your school records. You have a lot of nerve complaining about my grades."
Kids today—too smart (even if their grades don't reflect it). This is another great example of generational differences.
"Look, if this is to be an amicable divorce, one of you will have to back down and take custody of the children."
Love the custody battle twist in this one!
"This one comes with its own garage sale sign."
Good point—why doesn't exercise equipment just come with garage sale signs? In addition to frequent appearances in The Saturday Evening Post, Delgado's work has appeared in The Wall Street Journal, Reader's Digest, Good Housekeeping, and many, many other publications.
"Your R.S.V.P. for the Turkeyfest just came in."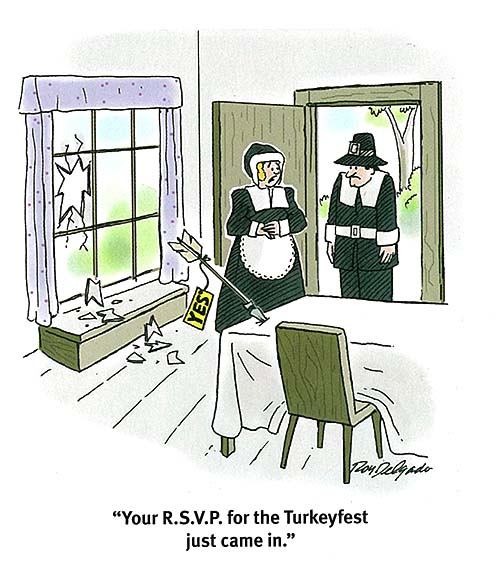 That's one way to return an R.S.V.P.! Roy is drawing cartoons full time (luckily for us) in his mountaintop home and studio with his lovely wife and three cats. Continue reading The Saturday Evening Post for some of the country's best cartoonists.