Even with the best-planned vacations, it seems like there's never enough time to do it all. And when time is tight, squeezing in everything on your wish list feels even more impossible. Quick trips may not be ideal, but if you're willing to relax and enjoy them for what they are, they can offer a fun-filled peek into a new-to-you destination, especially when it comes to exploring cities like Montreal. Here are our picks for getting the most out of a whirlwind tour in this classic Quebec city.
Go for a Spin & Turn Heads
A bike-friendly city, you'd be amazed by how much Montreal ground you can cover on two wheels. Spade & Palacio runs a number of bike tours designed to give riders a local perspective into the French-speaking city of more than 4 million. (Don't worry, English is commonly spoken as well.) The Beyond the Bike Lanes tour highlights the city's rich collection of street art, taking time to stop and explain the history and stories behind the colorful murals.
It also introduces visitors to neighborhoods and charming residential areas they might not discover on their own, as well as hotspots like Montréal's Gay Village. The canopy of multi-colored balls that come together to create a unique rainbow flag atop the neighborhood's main drag is smile inducing. During summer months the artery is pedestrian only, so you'll have to get off and walk your bikes, but that's just fine because it gives more time to soak in the festive surroundings.
Be prepared to turn heads as you roll through town. The bikes used by Spade & Palacio come from a local bike shop that recycles old bike frames. To add just the right finishing touch, they're painted hot pink, making it next to impossible not to get noticed.
Go to New Heights
You may not have time to visit all of the city's iconic landmarks, but you can still see many of them with one scenic trip to the Observatorie Place Ville Marie. Set on the 46th floor, you can get the lay of the land from high above Montreal. Keep your eyes peeled for sights like the Saint Lawrence River, Old Montreal, and the Olympic Stadium.
Go to Church
It's not what you think. Not even close.
On select afternoons and evenings, the Notre-Dame Basilica (built between 1824 and 1829) hosts Aura, a light and sound show. Projected throughout the Basilica, colorful lasers and lighting combine with the church's Gothic Revival architecture to create visual effects set to a music soundtrack performed by more than 30 musicians, and 20 choir singers. The Basilica's organ is also featured. Show goers are encouraged to walk around the uniquely lit Basilica before grabbing a seat in a pew for the main multimedia performance. Plan on about 45 minutes total.
Go to Sleep, Eventually
Fairmont The Queen Elizabeth reopened its doors in July 2017 after a major one-year $105-million ($140 CAD) renovation. Set in downtown Montreal, the hotel boasts 950 guestrooms, a fitness center with indoor pool, and an assortment of bars and eateries.
If you're in the mood to splurge, you can stay in the John Lennon and Yoko Ono Suite. It's the room where the iconic couple held their "bed-in" protest, and where the song "Give Peace a Chance" was recorded. Rates start range from $1,686 ($2,249 CAD) to $1,807 ($2,409 CAD) a night.
Sunshine, warm water, and a glimpse at the colorful life teeming below the surface of the sea often add up to a vacation highlight. Safety is always at the top of parents' minds, so choosing snorkel spots that are fun and comfortable for kids takes priority. Here are five snorkeling spots where you can make a splash with the kids — and don't forget your underwater camera!
1. Black Rock, (Pu'u Keka'a) Maui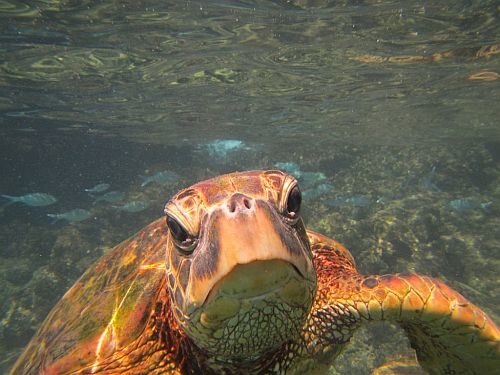 Snorkeling doesn't get much easier than Maui's Black Rock. Green sea turtles, known as Honu in Hawaiian, are regulars off this popular stretch of Ka'anapali Beach. Getting some quality bonding time is as easy as dropping your towel in the white sand, popping on snorkel gear, and walking into the water. Gentle waves make observing turtles easy. When kids (or parents) get tired, a spot to rest and warm up is just a few flutter kicks away on the sand.
2. Kealakekua Bay State Historical Park, Island of Hawaii
Located on the Big Island, Kealakekua Bay State Historical Park is where British explorer Captain James Cook landed in 1779 (and died about a year later; a white obelisk near the shore memorializes his death). Crystal clear water makes it easy to catch sight of multi-colored fish, coral of every shape and size, and spiny sea urchins. It's also not uncommon to see spinner dolphins swimming in the bay. Families will want to make the trip by boat, with a tour provider, as it's a long hike to the water, with a 1300 foot elevation gain on the way back.
3. Stingray City, Grand Cayman
Arguably one of the most popular ways to spend a day in the Cayman Islands, Stingray City is one of those spots you need to see to believe. Along with plenty of boats and people, you'll be able to see numerous stingrays swimming in the sandbars long before you actually make it in the water. Once wet, expect to feel a bit of fear and excitement the first time a stingray bumps up against you. These friendly rays have grown accustomed to their visiting fans, as well as the food that comes with arriving tour boats. Water is typically shallow enough for most school-age kids to stand, and watching stingrays glide through the water with seemingly little effort is a highlight.
4. Gibbs Cay, Grand Turk
Grand Turk has its own version of Stingray City, and it comes with the perk of being along the shoreline of an uninhabited island. Gibbs Cay is located about a mile off the eastern coast of Grand Turk, and is a popular stop for snorkeling tours. Rays, hoping guides come with plenty of fish and squid to share, appear whenever a boat arrives. Because of its beachside location, Gibbs Cay is ideal for kids or parents who might be apprehensive about taking the plunge with a large group of rays. Being steps from soft sand makes it easy to get in and out of the water as comfort allows.
5. King's Bay, Crystal River, Florida
Unlike other snorkel experiences, when you swim with manatees, they seem to be just as taken with you as you are with them. During the winter season, the Crystal River National Wildlife Refuge is believed to be home to North America's largest herd of wild manatees. Located on Florida's Gulf Coast about an hour and a half to the north of Tampa, it's the only spot in the United States where people are allowed to swim with manatees. Unlike traditional snorkeling, you don't wear fins. Manatees aren't known for speed, and sudden movements can scare off even the most curious of the bunch, so the less you move, the more likely you'll make a new friend.
Regardless of where you snorkel with your family, always keep safety in mind, avoid any actions that might disturb animals, and enjoy from a responsible distance.
From swimming with turtles in Hawaii, to riding a camel in Cabo, to howling with wolves in Canada, animal adventures have a knack for bringing out a family's wild side. Whether you make a splash, or stay warm and dry, kids and critters have a way of creating vacation magic. Read on for inspiration on where to take off next. But wherever you go, don't forget your camera.
1.    Snorkel with Turtles in Maui, Hawaii
Spending some quality time with turtles is as easy as dropping your towel on the sand at Ka'anapali Beach and walking right into the water at Maui's Pu'u Keka'a, or Black Rock. Green sea turtles, known as Honu in Hawaiian, are regulars here, making it a favorite snorkeling spot.
2. Watch Humpback Whales in Maui, Hawaii
December through May, Ka'anapali Beach is also a favorite spot for watching the thousands of humpback whales that spend their winter vacation in the waters surrounding Maui. Trilogy whale watching catamarans load directly from the beach, and tours last about two hours. Knowledgeable naturalists are on board for every tour and happy to answer questions about the whales and their habitat.
3. Behold the Birds on Bonaventure Island, Quebec, Canada
More than 200,000 birds have an affection for nesting on the scenic island, but it's the northern gannet colony, totaling more than 100,000, that dominates. Bonaventure Island is a summer destination. Getting there requires a quick ferry ride from Percé and a three-mile (roundtrip) family-friendly hike.
4. Swim with Manatees in Crystal River, Florida
The Crystal River National Wildlife Refuge is the winter home for what's believed to be North America's largest herd of wild manatees. Less than a 90-minute drive north of Tampa, it's the only place in the United States where visitors are allowed to swim with the so-called sea cows. Actually, it's more like floating than swimming. The less you move, the move likely curious manatees are to come close and say hello.
5. Watch Beluga Whales in Tadoussac, Quebec, Canada
Beluga whales live year round in the St. Lawrence Estuary. Whale watching boats are plentiful May through October, but since belugas are bright white and tend to move in groups, they also tend to be easy to spot from Tadoussac's easily accessible half-mile walking trail, Pointe-de-l'Islet.
6. Ride Camels in Cabo San Lucas, Mexico
It's just like horseback riding, except you stroll through the sand in the company of a camel. Some of the dozen-plus camels on the Outback and Camel Safari are rescues. Tequila tasting and tortilla making lessons happen after folks hop down from saddled humps.
7. Peek at Polar Bears in Churchill, Canada
Home to what's said to be the only polar bear jail in the world, Churchill, Manitoba has a population of 900 to 1,000 polar bears. Fall is typically the best time of year to spot the great white bears. Frontiers North Adventures organizes family-friendly itineraries that include Tundra Buggy® rides (think a vehicle that's a cross between a school bus and a monster truck) in the Churchill Wildlife Management Area, a stretch of accessible arctic known for its polar bear population.
8. Hold a Seahorse in Kona, Hawaii
Take a break from the beach to visit Ocean Rider Seahorse Farm. Set on a three-acre oceanfront farm, families can see baby seahorses, pregnant papa seahorses, and get the chance to hold a seahorse, all while learning about conservation and preservation. Tours run Monday through Friday and last about 90 minutes. Reservations are highly recommended.
9. Howl with Wolves in Girardville, Quebec, Canada
Get cozy in a cabin at Aventuraid, a wildlife observation center in Canada's Quebec province. Fenced enclosures ranging from two-and-a-half to five acres are home to three packs of semi-wild arctic and grey wolves. An overnight stay isn't a must—families can watch the wolves from secure trails—but propping up pillows to watch wolves after dark is worth breaking all the bedtime rules.
10. Admire Monk Seals in Kauai, Hawaii
Just about everyone enjoys stretching out on warm sand for a snooze, Hawaiian monk seals included. Monk seals haul out onto beaches all around Kauai to rest. Absolutely stop to admire the endangered mammals if you're lucky enough to cross sandy paths, but keep your distance. If volunteers haven't roped off the area surrounding a seal on the beach, stay at least 150 feet away so they can catch up on their beauty sleep.
It's about that time again. Time for the boys of summer to get back to work. Half of all Major League clubs—that's 15 teams—pack their bags and head to the Phoenix, Arizona area for spring training. Stadium hopping couldn't be easier thanks to the close proximity of the numerous ball parks. Scottsdale alone is home three teams: the San Francisco Giants, Colorado Rockies and Arizona Diamondbacks.
In addition to the obvious hundreds of games, spring training offers baseball fans a seemingly endless number of perks including cheap seats, access to favorite players, and sunny skies, just to name a few. But in between home runs and seventh inning stretches, the Arizona desert is full of surprises, and I'm not talking about the kind you find in a box of Cracker Jacks. Fans can fly high in a hot air balloon, kayak with wild horses, or come face to face with a fire breathing dragon. It's the kind of adventures vacations are made of; the kind of adventures that might even have baseball fans thinking about skipping a game or two.
Up, Up and Away
It's easy to get carried away and forget about the first pitch when you're soaring across the Sonoran Desert. Hot air balloon rides typically rise up with the sun, so you have to roll out of bed in the dark, but it's worth the early wake-up call. (Select times of year, afternoon/sunset flights are available.) Hot Air Expeditions has been flying in Arizona for more than 25 years. Take-off and landing sites vary depending on wind conditions, but the views are always exhilarating.
Whether you're a first-time flier or ballooning pro, don't forget to wear comfortable clothes and shoes. Layers are best. The temperature above should be about the same as the temperature on the ground, but be sure to bring along a hat. The hot air used to keep balloons afloat can make your head feel toasty warm as well. Once back on solid ground, fliers enjoy a sit-down gourmet breakfast in the desert complete with mimosas.
Wild and Refreshingly Wet
When you think of the desert, water isn't typically part of the picture that comes to mind, but the Lower Salt River is a spot you'll want to seek out and dip your toes into. Most stretches are only a few feet deep, and gentle conditions make it a place you'll want to kayak or go paddle boarding again and again.
"The experience is different every time you are out there," says Annemarie Kruse, Director of Marketing for Arizona Outback Adventures. "The water flow varies. The wildlife varies."
The cast of amazing characters that call the Lower Salt River home includes beavers, river otters, and bald eagles, but it's the wild horses that seem to make the most lasting impressions. (They even have their own Facebook page.) Some believe the wild horses are descendants of Iberian horses originally brought to the area by Spanish explorers in the 1500s. Regardless of where their origins lie, a 2017 census estimated more than 400 mustangs make their home along the entirety of the Salt River.
Mother Nature is never a sure bet, but if you're lucky you'll catch sight of a few grazing along the river's edge as you float by. Arizona Outback Adventures runs half-day guided kayaking and stand up paddle board tours. They provide all the necessary gear, including water, snacks, and dry bags.
Arizona's Artsy Side
Taliesin West was the winter home and school of architect Frank Lloyd Wright. It was built by Wright and his apprentices in the 1930s, but constantly evolved until his death in 1959. A home, studio, and architecture school, tours of the National Historic Landmark are offered daily. Reservations are strongly recommended to avoid disappointment. If you can make it work with your schedule, the night tour comes with the strong possibility of an amazing sunset and a glimpse of a fire breathing dragon…sculpture.
You'll feel the heat when visiting nearby Cosanti too, as you watch artisans at the foundry create wind bells out of liquid bronze, heated to more than two thousand degrees. Cosanti is the home and studio of late architect and craftsman Paolo Soleri. The former Wright student was known for creating many things, including wind bells.
What time was that game again?
We are pleased to bring you this new column by writer Dana Rebmann, filled with travel tips, fun destinations, and beautiful videos and photo galleries of places you'll be longing to visit!
There's something to love about every season in wine country. Thanks to the harvest frenzy, fall may be the most popular time to visit, but the winter season has its perks. Crowds thin, and cool, clear days still often require sunglasses. Grapevines and the people who tend tirelessly to them, take a much-needed rest. Life slows down, wine makers can be found behind the bar pouring, rates at luxury hotspots drop, and sought-after reservations at Michelin starred restaurants can be easier to come by.
After October's devastating firestorm, there were whispers it was best to stay away, but that couldn't be farther from the truth. Wine country is open for business and welcoming visitors with open arms and smiles like never before. There's no denying the damage was severe; residential areas, particularly in Sonoma County, were hit hard. But areas popular with visitors were virtually untouched. And as snippets from a recent hot air balloon flight with Napa Valley Balloons shows, wine country is stunning as ever, even in winter.