Originally published April 29, 1961
"How much do you really drink?" Post interviewer Pete Martin asked.
"About one-tenth as much as I pretend to. I used to really knock the hookers of sauce back, but I gave that up some time ago. Take a typical day here in Vegas. I get up at 11:30 every morning. By 12:30, I'm out on the first tee with three guys I play around with. I'm through about 15 minutes to four. Then I come in and have a sandwich and a bottle of beer. I'd be at the blackjack table and play until about 5:00.
"All that time I'd have nothing to drink except that one beer. Then I go to the health club. A guy gives me a massage, and I say, 'Wake me at 7:30.' He wakes me. I put on my clothes while I'm having four cups of black coffee and sugar, no cream. About 8:15 I'm in the casino playing a little more blackjack. I play until 8:30. Then I walk into the dining room, they announce my name, I get up on the stage, and I invariably overhear somebody at a ringside table say, 'Look at his eyes! You can see how drunk he is.'"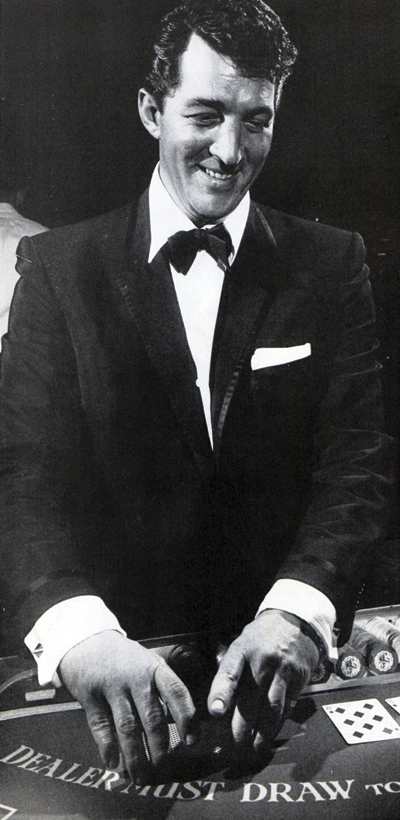 I looked at his eyes. They did sort of droop at the corners.
He went on, "I'll have a slug of a liquid in an Old Fashioned glass that looks like scotch right in front of everybody, but it's really apple juice. Then, in the middle of my act, I have a real drink. When I'm through with the act, I go someplace and eat some good Italian food. I have a little wine with that meal, then I get back on stage for the second show. When that's over, I have three or four or five drinks and maybe a sleeping pill. So that's your alcoholic for you."
"All right," I said, "but you're a legendary drinker to the public."
"I'm responsible for that," he said, "because I've joked about it so much on the stage. I don't want to disillusion people, but it's been years since anyone has seen me really stoned. I don't want to throw bouquets at myself either, but I'm 43, and I couldn't look as young as I do and play as much golf as I do if I drank and cavorted as much as the public thinks."
This article is featured in the January/February 2019 issue of The Saturday Evening Post. Subscribe to the magazine for more art, inspiring stories, fiction, humor, and features from our archives.