2018 Rock & Roll Hall of Fame Inductees
Of course, I mean the year 2018. It would be really weird if the Rock & Roll Hall of Fame inducted that many musicians in a single year.
The inductees this time around are Dire Straits, The Moody Blues, The Cars, Bon Jovi, Nina Simone, and Sister Rosetta Tharpe. All fine choices, I guess (don't get me started on Bon Jovi), but it means that a lot of people didn't make it again this year (musicians are eligible 25 years after the release of their first commercial recording), including Depeche Mode, Judas Priest, Eurythmics, the Zombies, Janet Jackson, Devo, New Order, Iron Maiden, Roxy Music, the Cure, Tina Turner, and the Smiths.
I would also add Marshall Crenshaw to that list. I don't know if he'll ever be nominated but he deserves to be there.
Stink, Stank, Stunk!
This is a great story. It involves a five-year-old boy from Jackson, Mississippi, who called 911. Why did he call? Because he was upset that the Grinch was going to steal Christmas.
The father got on the phone to assure the 911 operator that there was no problem. The police went to the house to check on things anyway, and the boy showed them a YouTube clip of the Grinch and what he had planned. The police assured him that they weren't going to let the green guy steal anything, and to prove it, they invited the boy to the police station two nights later so he could actually lock up the Grinch in a cell.
Of course, now the family has to make sure the boy doesn't watch The Grinch Who Stole Christmas again, or he may think the Grinch escaped. Or at least let him watch it until the end, when his heart grows bigger as he learns the true meaning of the holiday and gives all the gifts back.
It's the Most Wonderful, Annoying Words of the Year
Every December, magazines, newspapers, and websites release their best-and-worst lists for the year. The best and worst movies, the best and worst albums, the best and worst political stories of the year. It's a year-end tradition we look forward to as much as stuffing and the first snow.
I don't know if this counts as a "best" or a "worst" — maybe it's the best of the worst — but the list of the most annoying words of 2017 has been released by Marist College. For the ninth year in a row, Americans have declared the word whatever the "winner."
Other annoying words and phrases of the year include fake news; literally; you know what I mean; ya know, right; and huge. Actually, I would add the words actually, like, irregardless, basically, selfie, hashtag, and viral.
Maybe Marist should declare that whatever can no longer be named an annoying word of the year. It's won way too many years. It's the Modern Family of annoying words and should take itself out of consideration.
New Raymond Chandler
Raymond Chandler is one of my favorite writers, so when I heard that there was a newly discovered short story about to be published, I was more excited than a salad in a paper towel factory (I have no idea what that even means, that's how excited I am). The story is in the current issue of The Strand, and it's titled "It's All Right — He Only Died."
From that title, you might be expecting a two-fisted Philip Marlowe detective tale, but it's actually about … the U.S. healthcare system? That's right, Chandler was thinking about that way back in the 1950s (he died in 1959). Luckily, in the six decades since the story was written, we've completely solved any problems we may have had with healthcare.
Last-Minute Gift Idea
Did you know that Christmas is this Monday? That means you only have this weekend to buy the rest of your gifts, unless you're one of those people who goes to CVS on Christmas morning and grabs a box of chocolate or whatever perfume is on sale.
May I suggest something that can be enjoyed the entire year, something that's like getting a new Christmas gift every other month? A subscription to The Saturday Evening Post! Right now you can get an entire year (six issues) for a savings of up to 49 percent. With that subscription, you also get discounts on car rentals, travel, entertainment, even insurance! It's a great deal and a great magazine (and I'd say that even if I didn't work here).
RIP Keely Smith
Keely Smith was an acclaimed singer known for her partnership with husband and bandleader Louis Prima. She is remembered for such songs as "I Wish You Love," "That Old Black Magic," and "I've Got You Under My Skin." She died Saturday at the age of 89.
Here's her version of "I'll Be Home for Christmas."
The Best and the Worst
Best: My favorite things this week haven't even happened yet. They're on TV tonight. CBS is continuing its annual tradition of showing back-to-back classic episodes of I Love Lucy and The Dick Van Dyke Show. It all starts at 8 p.m.
Worst: This also involves CBS's airing of I Love Lucy and The Dick Van Dyke Show. As I mentioned just four seconds ago, it's great that they air these episodes every Christmas. But do they have to be colorized? And do they have to be the edited versions of the episodes? That's a travesty (the latter more than the former). These shows were both originally on CBS, so I don't know why they have to show edited versions. And as for colorizing them, that was interesting the first time as a little historical pop culture curio, but colorizing TV shows and movies rarely works (the colorized Miracle on 34th Street I watched the other night looked awful). Really, viewers can handle black and white.
This Week in History
Wright Brothers Take Off (December 17, 1903)
Here's an interview the Post did with Orville Wright in 1928 on the 25th anniversary of the historic flight.
A Christmas Carol Published (December 19, 1843)
The classic Charles Dickens novella has been filmed a gazillion times and the basic plot has been used in countless stories and TV shows. The first film made from the story was a 1901 short silent film titled Scrooge, or, Marley's Ghost.
If you really enjoy the story, you could start a collection of various editions. This guy did, and he's up to 1,000 of them.
This Week in Saturday Evening Post History: Centering the Christmas Tree (December 22, 1951)
Remember I told you a couple of weeks ago that I like artificial Christmas trees because they don't shed like real trees? Look at this cover by Stevan Dohanos. Just look at it! Pine needles all over the place.
Christmas Recipes
I was listening to "The Christmas Song" the other day — I've already heard it 100 times this month — and realized that it's been 30 years since I've had chestnuts roasting on an open fire. Actually, I've never had chestnuts roasting on an open fire. My mom used to boil them.
But it did get me thinking about the foods that are mentioned in Christmas songs, so I thought I'd list some recipes for you to make this holiday season. Here are five vintage and delicious recipes for chestnuts, and if you enjoy "We Wish You a Merry Christmas," here's a recipe for figgy pudding. Brenda Lee sang about pumpkin pie in "Rockin' Around the Christmas Tree," and if you're a "Grandma Got Run Over by a Reindeer" fan, here's an eggnog recipe from Alton Brown (please note that it includes bourbon). And don't forget, it's a marshmallow world that we live in.
Merry Christmas!
Next Week's Holidays and Events
Boxing Day (December 26)
The holiday started in Britain in the 1830s as a day to honor "post-men, errand-boys, and servants of various kinds."
National Fruitcake Day (December 27)
Also known as "The Day Everyone Throws Away the Fruitcake They Got for Christmas" Day.
It was a week where we saw the spin stop for Bill O'Reilly and an asteroid spinning way too close to the Earth for comfort. Here are some other things that happened this week …
Student Gets in Trouble for … Writing Her Name?
There are many ways you can get in trouble while sitting in a classroom. You could be talking, chewing gum, not paying attention, things like that. Oh, apparently you can also get in trouble for practicing the dying art of writing your name in cursive.
That's what appears to have happened to a 7-year-old girl in Kansas. Her mom's friend posted a picture on Facebook that shows a test the girl took in school, complete with a reprimand in red ink to the student, saying "Stop writing your name in cursive. You have had several warnings."
I'd love to hear how this rule came about or if it's just a rule in this particular teacher's class. Have all schools in this area abandoned the teaching of cursive writing and demand that students write in all block letters or type their name on a keyboard? Maybe the teacher is younger and never learned cursive writing and doesn't like reading it? I'm half-kidding with that last explanation, but I'm also half-serious.
The Facebook poster says that the teacher may have been upset because other students in the class haven't learned how to write in cursive yet. Though that's an odd thing to be worried about. It's not like the student wrote the entire paper in cursive, it's just her name (and it's legible).
The teacher hasn't responded to this publicly yet. Stay tuned.
Dick Van Dyke on Screen Violence and What It's Doing to Our Kids
I remember being around 21 years old when Tipper Gore wanted to put warning labels and ratings on everything. As a young guy working at a music magazine and singing in bands, I just shook my head at what she and others wanted to do with free speech. I saw it as overreach and needless and maybe even dangerous. Now over 30 years later, I see myself siding more and more with her.
And Dick Van Dyke! Of course, he's the star of my favorite TV show of all time, so I'm probably going to agree with what he says a lot anyway. But in this interview with The Guardian, Van Dyke shares the view I now have. He's horrified by the violence in movies and video games, and he hates how kids "idolize it as a romantic way of life." He's terrified that it's only going to get worse, and he worries about what his grandkids and future generations will have to face. He also says that if Walt Disney were around today, he would be speaking out against it too.
By the way, Van Dyke is still going strong at 91. He's had recent roles on The Middle and the Night at the Museum movies and will make an appearance in next year's Mary Poppins Returns (not as Bert but as Mr. Dawes).
RIP Clifton James, Allan Holdsworth, Joan See, Bud Wiser, Trish Vradenburg, Emma Morano
Clifton James was a veteran actor who appeared in many films, including Cool Hand Luke, Experiment in Terror, and Silver Streak, but he will be remembered most for his appearances as southern sheriff J.W. Pepper in two Roger Moore James Bond films, Live and Let Die and The Man with the Golden Gun. He also appeared in TV shows like The Phil Silvers Show, Gunsmoke, Route 66, Dallas, and Murder, She Wrote. He served in World War II and received two Purple Hearts, a Silver Star, and a Bronze Star. James died Saturday at the age of 96.
Allan Holdsworth was a progressive rock guitar god who played in bands like UK, Soft Machine, and Gong. He also played with Stanley Clarke and Bill Bruford and released several solo albums. He died Sunday at the age of 70. Holdsworth's family set up a GoFundMe page to help pay for funeral costs but closed it down after only three days because donations quickly exceeded what they were expecting, which is really nice to see.
You probably won't know the name Joan See, but you saw her in more than 300 TV commercials over the years, for every product imaginable. She also started an acting school in 1979 to help other actors get jobs in commercials and other TV shows and films. She passed away earlier this month at the age of 83.
Bernard "Bud" Wiser was a writer on several shows, including All in the Family, Rhoda, Growing Pains, The New Lassie, and Brooklyn Bridge, as well as a producer on One Day at a Time, Who's the Boss?, and The New Lassie. He died Sunday at the age of 87.
Trish Vradenburg was a TV writer too, penning scripts for such shows as Designing Women, Kate & Allie, Family Ties, and Everything's Relative. She died Monday at the age of 70.
Emma Morano lived in Italy and was the oldest person in the world. She died Saturday at the age of 117, which means she was born in 1899!
New Jackie Robinson Statue
Seventy years after Jackie Robinson broke the color barrier in Major League Baseball, the Los Angeles Dodgers unveiled a new statue of the baseball legend. It's a well-designed statue, showing Robinson sliding as he steals home. The statue was unveiled last Saturday, when every player wore Robinson's number 42 for the day.
Robinson had better luck in statues than some other sports figures have had recently. At least they fixed Lucy.
95 Years of The Velveteen Rabbit
There's an episode of Friends where Chandler falls in love with Joey's girlfriend Kathy. Chandler buys her a first-edition copy of The Velveteen Rabbit because it was her favorite book as a child, but he decides to give it to Joey so he can give it to her. Kathy knows it came from Chandler, though, because when Joey gives it to her he says, "I got you this because I know you like rabbits and I know you like cheese."
I have to admit I've never read The Velveteen Rabbit. It's one of those classic books that just didn't cross my path when I was a kid. But to celebrate its 95th anniversary, I (and you!) can read it for free at the Internet Archive.
This Week in History
Walter Cronkite Becomes CBS News Anchor (April 16, 1962)
The iconic newsman joined CBS in 1950, and 55 years ago this week, he succeeded Douglas Edwards as the anchor of The CBS Evening News. He remained in the chair until 1981, when Dan Rather took over.
James Doolittle's Raid on Tokyo (April 18, 1942)
There's only one man still alive from the group that bombed Japan on that raid, Richard Cole, and he attended the 75th anniversary celebration this week.
This Week in SEP History: "Date with the Television" (April 21, 1956)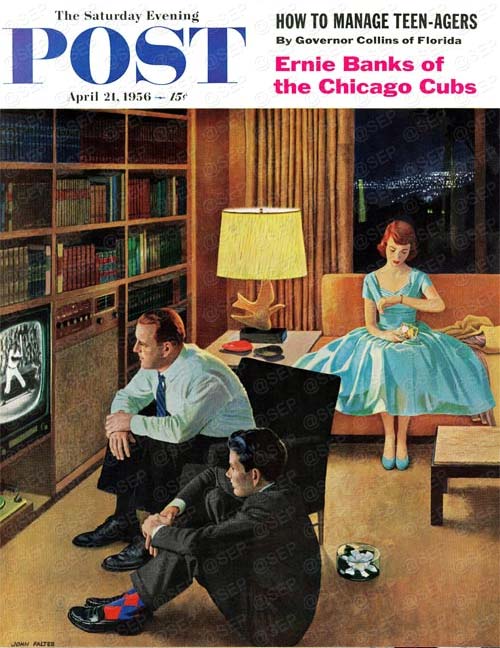 This John Falter cover rings true to me. Well, except for the "having a date" part. But I spent several years as a kid and teen sitting on the living room floor watching the big Magnavox television we had.
Earth Day
Tomorrow is Earth Day, and I was surfing the web looking for recipes that might reflect what the day is all about. I found this slideshow at Bon Appétit that includes 23 green recipes. At first I thought they were recipes that would have organic ingredients or were from local farms, but it's actually a list of foods that are, well, green. The list includes this Ligurian Pesto with Spaghetti, this Three Pea Chicken Salad, and a drink called The Green Machine, which includes Granny Smith apples, cucumbers, spinach, and fresh mint.
Thankfully, there's no kale in there. Kale is soooo 2016.
Next Week's Holidays and Events
Take Our Daughters and Sons to Work Day (April 27)
This used to be just "Take Your Daughters to Work Day," but several years ago, it was expanded to include boys. But I've always wondered: what if you work from home?
Babe Ruth Day (April 27)
As this piece from our special collector's edition Baseball: The Glory Years shows, the Sultan of Swat had a compassionate side too.
Arbor Day (April 28)
The official site of the National Arbor Day Foundation has info on what you can do to celebrate the importance of trees.
RIP Mary Tyler Moore, Butch Trucks, and Mike Connors
The girl who could turn the world on with her smile has passed away, and a big part of pop culture is gone too.
Mary Tyler Moore, famous for playing Laura Petrie on The Dick Van Dyke Show and Mary Richards on The Mary Tyler Moore Show, died Wednesday at the age of 80. She had been dealing with many health problems for decades, including type 1 diabetes and brain surgery in 2011.
Moore also earned an Oscar nomination for her role in Ordinary People and had a memorable role in the comedy Flirting with Disaster. She also appeared in movies like Thoroughly Modern Millie, the Elvis Presley movie Change of Habit, and TV shows like the miniseries Lincoln, 77 Sunset Strip, The George Burns Show, Hawaiian Eye, Frasier, Hot in Cleveland, and other shows where she was the lead, including Mary, The Mary Tyler Moore Hour, Annie McGuire, and New York News. Only her legs were seen in the '50s series Richard Diamond, Private Eye, where she played David Janssen's secretary. She won seven Emmy Awards and graced the November 19, 1966, cover of The Saturday Evening Post.
Her production company, named MTM Enterprises and famous for its mewing kitten logo, was responsible for shows like Rhoda, The Bob Newhart Show, Lou Grant, Remington Steele, Hill Street Blues, St. Elsewhere, WKRP in Cincinnati, and many others. She got her start playing Happy Hotpoint in commercials that ran during The Adventures of Ozzie & Harriet.
Many costars and friends are paying tribute to Moore, including Van Dyke, Carl Reiner, Rose Marie, Ed Asner, Cloris Leachman, Larry Mathews (who played little Ritchie Petrie on The Dick Van Dyke Show), CBS chairman Les Moonves, and many others. Fans are also gathering at many of the Minneapolis locations seen in the opening of The Mary Tyler Moore Show.
Butch Trucks was the co-founder of and drummer (along with Jai Johanny Johanson) for The Allman Brothers. He played on such classic songs as "Ramblin' Man," "Whipping Post," "Trouble No More," and "One Way Out." He passed away Tuesday at the age of 69. He was inducted into the Rock and Roll Hall of Fame as part of The Allman Brothers in 1995.
Trucks was part of a big musical family. His son Vaylor plays guitar for The Yeti Trio. His nephew Derek Trucks played guitar with The Allman Brothers and also plays with The Tedeschi Trucks Band. And Derek's brother Duane plays drums for the bands Widespread Panic and Hard Working Americans.
Actor Mike Connors, who passed away Thursday from leukemia at the age of 91, was best known as Joe Mannix on Mannix, the detective drama that ran on CBS from 1968 to 1975. He also appeared in a number of movies, including The Ten Commandments, Sudden Fear, Five Guns West, Day the World Ended, and in TV shows like Tightrope, Gunsmoke, The Untouchables, M Squad, the miniseries War and Remembrance, and Murder, She Wrote. He also portrayed the Mannix character on Here's Lucy and Diagnosis: Murder and in the 2003 comedy film Nobody Knows Anything. His last role was a 2007 episode of Two and a Half Men.
His real name was Kreker Ohanian, and early in his career he went as "Touch" Connors.
The Last Jedi
That's the title of the next Star Wars movie. Actually, the official title is Star Wars: The Last Jedi. I don't want to face the wrath of hardcore Star Wars fans by getting it wrong. Those Trekkies can be unforgiving.
But what does the title mean? Does it mean that Luke Skywalker is that Jedi and he's going to die? Does it mean that he'll die and then Rey will be the last Jedi? Is Rey related to Luke? Does it actually refer to Kylo Ren? Does it refer to a character we haven't even seen yet? Can I ask anymore questions in this paragraph?
As The Telegraph explains, the term "the last Jedi" was used to describe Luke in the opening crawl in The Force Awakens, so it's a pretty good bet it refers to him. Unless it doesn't!
Star Wars: The Last Jedi will hit theaters in December. I'd get in line right now.
It's official. STAR WARS: THE LAST JEDI is the next chapter of the Skywalker saga. This December. #TheLastJedi https://t.co/ySkVwQcMTP pic.twitter.com/eHrPgbsRJq

— Star Wars (@starwars) January 23, 2017
And the Nominees Are …
I don't want to rehash all of the news this week about the Oscars. You can see all the nominations here and read about the 14 nominations La-La Land received, which ties the record set by Titanic and All About Eve, here. It's more fun to talk about the snubs!
A lot of people thought that Martin Scorsese would get a Best Director nomination for Silence, but neither he nor the film were nominated. Clint Eastwood (Sully) and Denzel Washington (Fences) didn't get director nominations either (and some are upset that the Academy instead gave controversial Mel Gibson a nomination for directing Hacksaw Ridge), though Washington did get a Best Actor nomination. Taraji P. Henson wasn't nominated for her role as real-life NASA computer scientist Katherine Johnson in Hidden Figures, though her co-star Octavia Spencer got a Best Supporting Actress nomination. Many people thought that Annette Bening would get a nomination for 20th Century Women, but maybe that movie is getting lost in all of the award talk. Even Tom Hanks wasn't nominated this year. Isn't that against the law?
I haven't yet seen any of the movies nominated, but I'm going to make a bold Oscar prediction anyway. He's going to be really messy while Felix is going to be really neat.
The Real Story behind McDonald's
Last April I posted the trailer for The Founder, the movie released last week that stars Michael Keaton as Ray Kroc, the man who made McDonald's into an international fast food powerhouse. But the title is sort of a nudge-nudge, wink-wink joke, because, as this story from this week's CBS Sunday Morning explains, Kroc wasn't really "the founder."
By the way, Keaton didn't get an Oscar nomination either.
How Are You Doing with Your New Year's Resolutions?
We're almost a full month into 2017. Given up yet?
According to a 2015 poll, 60 percent of people who make resolutions give up on them by the time February rolls around.
Maybe we should start our resolutions in December instead of January, so we won't have that "new year" pressure and feel like we have to get better and get better quickly. But that wouldn't work either. You can't resolve to save money or get in shape at Christmas, when you have to buy new phones for the kids and you're eating 19 pieces of pumpkin pie.
I can't say that I'm eating healthier so far this year (I had nachos for dinner the other night), but I'm actually sticking to a couple of other resolutions I made. Yeah, I'm shocked too.
This Week in History
Elizabeth Blackwell becomes first woman M.D. in the U.S. (January 23, 1849)
The British-born Blackwell was also the first woman on the U.K. Medical Register.
Sir Winston Churchill dies (January 24, 1965)
A lot was made recently of the fact that a bust of the former British prime minister was returned to the White House when President Trump took office. Here's the real story.
This Week in Saturday Evening Post History: "Former Figure" (January 26, 1957)
Here's the cover for the January 26, 1957, issue of The Saturday Evening Post. It's by Amos Sewell, and it's called Former Figure. This woman seems to be remembering when she could fit into a dress that could fit on that dress form. Maybe she couldn't stick to her New Year's resolution either.
Today Is National Chocolate Cake Day
As Rob explains to Laura in the "Lady and the Babysitter" episode of The Dick Van Dyke Show, chocolate cake is milk cake. You can't eat it with coffee or grape juice. So make sure you have some milk handy while you make this One Bowl Chocolate Cake, this Perfectly Chocolate Chocolate Cake from Hershey, or this Childhood Chocolate Cake from Alex Guarnaschelli.
And if chocolate cake doesn't fit into those New Year's resolution plans mentioned above, but you still really, really want to eat chocolate cake, try this recipe for Chickpea Chocolate Cake. Sure, it still has chocolate chips and sugar and frosting, but it's gluten-free and made with chickpeas, so you can at least convince yourself that it's a little healthier.
Next Week's Holidays and Events
American Heart Month begins (February 1)
February is American Heart Month. And while we should think about our health every month of the year, we have to start somewhere, so it's a good time to concentrate on our cholesterol numbers, our sodium intake, our stress levels, and having a healthy heart in general.
Groundhog Day (February 2)​
You really can't trust that little critter to give an accurate reading of how many more weeks of winter we have left, or anything else, according to this investigative report from the January 31, 1948, issue of The Saturday Evening Post.
Ohhhhhh Rob! (In Color)
I'm not usually a fan of the colorization of movies and TV shows. I believe they should all be shown in their original, glorious black and white. But CBS has been doing something the past few Christmases that I think is fun: They've been colorizing episodes of I Love Lucy. They're not replacements for the original black-and-white episodes, but they are interesting little curios that make you see the show in a different light.
The episodes always get great ratings, too, which is probably one of the reasons CBS is doing the same thing with The Dick Van Dyke Show. I've seen color photos from the set, but this will be the first time that entire episodes from the classic sitcom will be shown in color. The two classic episodes will be "That's My Boy," where Rob thinks that he and Laura have brought the wrong baby home from the hospital, and "Coast to Coast Big Mouth," where Laura accidentally tells a national TV audience that her husband's boss is really bald.
Sometimes the colors on these things seem really off, but creator Carl Reiner oversaw the colorization process, and that gives me hope. The special airs on December 11 at 8 p.m.
If You've Been Waiting for Digital Clothing, You're in Luck
Our clothing is now going to be connected to the web. While I applaud the use of this technology to, say, create overalls that prevent utility workers from being electrocuted, I know that it's also going to be used in more ridiculous ways. The technology was showcased last week at the General Electric's Mind + Machines conference, part of the "internet of things" we've heard so much about, where everything we have will be connected to each other, from our televisions and computers to our refrigerators and lightbulbs.
Someday soon we'll be able to update our Facebook status via our Wi-Fi-enabled shoelaces. And we'll post to our friends, "Hey, I'm updating my Facebook status via my Wi-Fi-enabled shoelaces!
RIP Florence Henderson and Sharon Jones
When I was a kid, my sister and I used to go down to the corner store on Friday nights and get a giant bag filled with candy and other snacks to eat while watching The Brady Bunch and The Partridge Family. It's one of my favorite childhood memories, so it's sad to hear that the woman who played Carol Brady, Florence Henderson, has died at the age of 82.
You are in my heart forever Florence💕 pic.twitter.com/PABCuPubA2

— Maureen McCormick (@MoMcCormick7) November 25, 2016
Besides the iconic role on that sitcom (and it's many spinoffs and TV movies), Henderson was a singer and appeared in starring roles on Broadway, including the original Fanny. She appeared in shows like The Love Boat, Fantasy Island, 30 Rock, Ally McBeal, Murder, She Wrote, I Spy, and…well, too many others to list. She had her own talk shows, was a "Today Girl" on The Today Show in the 60's (doing weather and some news), co-hosted Later Today in 1999-2000, and appeared on many game shows and in tons of commercials. She hosted a couple of cooking shows as well, including Country Cooking and later Who's Cooking with Florence Henderson, and was a contestant on Dancing with the Stars.
***
You may know the song "100 Days, 100 Nights" from its use in a FitBit commercial last year. The singer of that song, Sharon Jones of Sharon Jones and the Dap Kings, passed away from pancreatic cancer last Friday at the age of 60. She also suffered two strokes earlier this month.
Jones was the subject of a 2016 documentary titled Miss Sharon Jones.
Believe It or Not, Marilyn Monroe's Dress Sells for $4.8M
Lots of old celebrity clothing in the news lately. A few weeks ago we told you about the restoration of Dorothy's shoes from The Wizard of Oz, and this week we saw the auction of a famous dress worn by a sex symbol while she sang "Happy Birthday" to the president.
The crystal-embossed dress that Marilyn Monroe wore when she serenaded President Kennedy at his 45th birthday party in 1962 sold for a record $4.8 million this week at an auction in Los Angeles, the highest amount for a dress at auction. The buyer? Ripley's Believe It or Not. It will be shown at their Odditorium museums during a worldwide tour.
By the way, this dress is the old-fashioned, nondigital kind.
This Week in History
President John F. Kennedy Killed (November 22, 1963)
CBS's Walter Cronkite broke into As The World Turns to give viewers the news that Kennedy had been shot in Dallas:
President Franklin Pierce Born (November 23, 1804)
2016 wasn't the only year we heard insults and crude language during a presidential campaign.
Howard Carter Enters King Tut's Tomb (November 26, 1922)
Was there a curse that plagued Carter and others who opened the tomb?
National Cake Day
There are many food arguments: tea vs. coffee, McDonald's vs. Burger King, chicken vs. fish, Coke vs. Pepsi, and of course cake vs. pie. It's a battle for the ages. Cooks from CNN and The New York Times debated it a few years ago, and it was even discussed by several celebrities during the Mark Twain Prize for Humor ceremonies. For the record, Jon Hamm is a pie man, while Tina Fey doesn't even understand why it's a debate because cake is clearly superior.
I don't know where I stand. If you'd asked me a couple weeks ago, I would have said cake. If you ask me this week, I'll say pie because Thanksgiving and Christmas are all about pie. But since tomorrow is National Cake Day, how about making this Black & Blue Berry Cake, this Irish Apple Cake, or this Peach Johnnycake.
By sheer coincidence, "Peach Johnnycake" was the name I used when I was an exotic dancer.
Next Week's Holidays and Events
Stockbridge's "Main Street at Christmas" Norman Rockwell Celebration (December 2–4)
The Massachusetts town has lights and decorations and a concert to celebrate the iconic "Home For Christmas" painting Norman Rockwell created for McCall's.
Advent begins (December 3)
Advent is "a time of expectant waiting and preparation for the celebration of the Nativity of Jesus at Christmas." It's also a time to eat a lot of chocolate.
Goodbye Donald, Hello Arnold
Earlier this year Donald Trump and NBC parted ways (he's running for president, if you haven't turned on your television the past two months. So they needed a new host for The Celebrity Apprentice. Would it be someone like Mark Cuban or Richard Branson? Nope, they went with the ex-governor of California, Arnold Schwarzenegger.
They might need a new tagline to replace Trump's "You're fired." Conan O'Brien has a few suggestions:
Too bad Carly Fiorina is busy. She would have been great.

Supercalifragilisticexpialatrocious
Eventually, Hollywood will remake/reboot/sequel-ize every single movie and TV show that has ever been made. The latest is Mary Poppins. Disney has announced that they're making a sequel to the beloved movie, which will take place 20 years after the original. It will be directed by Rob Marshall, who directed Chicago.
This is where I would put in the obligatory "I wish Hollywood would stop doing this!" line, but at this point it's too late. Everything is up for grabs. A screenwriter is even thinking about doing a new version of Columbo.

RIP, Dickie Moore
Last week we got the news that Our Gang actress Jean Darling had passed away. Now comes word that fellow Our Gang actor Dickie Moore has passed away. He was 89.
Besides the 1930s comedy shorts, he also appeared in many movies, including Out of the Past, where he played Robert Mitchum's mute employee at the gas station; Miss Annie Rooney, where he gave Shirley Temple her first on-screen kiss; and films like Oliver Twist, Sergeant York, and The Bride Wore Red. Moore served in World War II and left the movie business in the early 1950s and eventually opened up his own PR firm, Dick Moore & Associates. He had been married to actress Jane Powell since 1988.

I Now Pronounce You…
In some places, fake weddings are really popular.
I don't mean fake weddings as in whatever the heck happened with Kim Kardashian and basketball player Kris Humphries a few years ago, I'm talking about weddings that are actually fake. The Atlantic has a piece about marriages in Argentina that aren't really marriages at all. They're parties where fake grooms and brides and others get together to party. Guests pay between $43 and $65 for tickets, and that includes a video of the event and "some drama." So it sounds like a reality show you pay to attend. I can't imagine that this won't be popular in the U.S. at some point.
Recent statistics show that 50 percent of all fake marriages end in fake divorce.

New Fall Books
Finally, fall is in our sights. Soon the rancid heat and humidity will be replaced with crisp, cool air, pumpkin-spice everything, and new TV shows. And books! Books are released throughout the year, of course, but fall seems to be when a lot of the eagerly awaited books are released. Here are seven that sound like fun:
September Is National Breakfast Month
I have not eaten breakfast in years. Sure, I'll have tea in the morning and throughout the day (oh so many, many cups of tea throughout the day), but I never, ever actually have any breakfast. They say it's the most important meal of the day, but I've heard that line for so long who knows if it's actually true or just one of those medical wives' tales.
But if you do eat breakfast, it's National Breakfast Month. RecipeGirl has a great breakfast section on her site (actually, the entire site is great), and you might want to try some Pumpkin Spice Muffins or an Onion, Bacon, and Spinach Fritatta, or the Two-Ingredient Pancakes.
As we mentioned last week, McDonald's will start to serve breakfast all day long on October 6. They should have bumped it up a month.

Upcoming Events and Anniversaries
Tolkien Week (September 20-26)
And September 22 is Hobbit Day, the birthday of both Bilbo and Frodo Baggins! The Saturday Evening Post Archives Director Jeff Nilsson on the concerns parents had when The Hobbit became popular in the 1960s.
Billie Jean King beats Bobby Riggs (September 20, 1973)
There were actually three Battle of the Sexes tennis matches. One had Riggs against Margaret Court (which he won) and a later match against King (which he lost). The third was played between Jimmy Connors and Martina Navratilova.
H. G. Wells born (September 21, 1866)
ABC has announced that they're making a TV series based on the sci-fi film Time After Time, about writer H.G. Wells battling Jack the Ripper through time.
Neptune discovered (September 23, 1846)
Who should get credit for discovering the eighth planet?
William Faulkner born (September 25, 1897)
The Southern writer published 22 short stories in the Post and was recipient of both the Nobel Prize in Literature and a Pulitzer Prize.
First televised presidential debate (September 26, 1960)
The common wisdom is that people who watched the debate on television thought John F. Kennedy won (Richard Nixon sweated a lot) and those who listened to it on the radio thought Nixon won.
Dee Dee Wood, 87, is the genius behind the dance numbers in Mary Poppins as well as The Sound of Music and Chitty Chitty Bang Bang, plus countless television specials, not to mention Michael Jackson's Super Bowl halftime show and the 1984 opening and closing Olympic ceremonies. The dancer-turned-choreographer worked with a cavalcade of superstars ranging from Dick Van Dyke and Julie Andrews to Bing Crosby, Robin Williams, Dolly Parton, Tina Turner, and the list goes on.
The Saturday Evening Post: How did you get your first break as a dancer?
Dee Dee Wood: In my 20s, I auditioned for renowned Broadway stage choreographer Michael Kidd. This was for the original 1950 Broadway production of Guys and Dolls. I completely blew the audition. I had never danced before in high heels, and I wasn't used to it, but I wanted that job and I was determined to get it. I waited outside the audition studio for three hours while all these other talented people went in and out. When Michael finally came out, I asked him why I didn't get it, and he told me to go home and practice dancing in heels and come back and try again. I did and I got it. It was the beginning of a great working relationship and friendship. He asked me to be his assistant in 1959's Li'l Abner. Then I played the lead in the movie version.
SEP: Which is your favorite of all the movies you worked on or danced in?
DW: Mary Poppins, hands down. It was like working with family. Walt Disney was like a grandfather, who was brilliant. And everybody else was like brothers and sisters. Then of course working with Dick Van Dyke, Julie Andrews, and all those talented dancers made it so special. And I got to play a penguin! I was the fourth penguin in the "Penguin Dance." We filmed dancers performing the steps before animators drew them. That's actually my voice screaming "Wee!" as the penguins turn around during the number, because every time I would make that turn in rehearsal I would yell out. But meeting the great Walt Disney was the best part. I still remember one day back in 1963 when we were filming Poppins, we saw Walt just sitting on the curb on the street outside his office, just like a regular guy. So then he calls us over, very excited, and points to a Mickey Mouse watch on his wrist and says, "I just got this in the company store, isn't it great? And I even got it at half off because I work here!"
SEP: Who was your favorite actor to work with? And what was your oddest experience working with a star?
DW: My favorite is Dick Van Dyke by far. I met him when I was asked to teach this then-unknown comic actor a few steps for an upcoming appearance on The Jack Benny Program. He told me he couldn't dance because he never had a lesson, but he was such a natural. His angular movements and that cartoon-like quality gave us so much to work with. As for the oddest, that would have to be when I staged the Super Bowl show with 500 dancers and with Michael Jackson as the main act. Michael was so worried about security; he had three impersonators walking around the stadium so you never knew who the real Michael was. At one point, I had lunch with two of him! They were so good it was hard to tell which one was real, but once you spoke to them it was obvious they were just hard-working actors trying to do a job.