While broadcast television continues to hold on, streaming and differentiated viewing grows its audience with each passing year. One stark comparison can be drawn from the Nielsen broadcast ratings numbers from the week of March 14, 2022; the top show, 60 Minutes, pulled in just over nine million viewers. By contrast, Euphoria is pulling in over 16 million watchers combined from HBO and the HBO Max platform. As streaming continues its ascent, the battle for the top of the heap has become more intense, with major platforms making significant moves to cement their place in a rapidly shifting landscape.
Netflix remains at the top of the biggest streamers with an audience that's nearly 222 million viewers. The remainder of the top services in America are Prime Video, Disney+, HBO Max, YouTube Premium, Hulu, Paramount+, Peacock, ESPN+, Apple TV+, Discovery+, Crunchyroll, Funimation, BET+, and Shudder. Nearly all of them have made news in the past few months with everything from new features to new additions that have people talking. Here are a few highlights.
Stranger Things 4 trailer (Uploaded to YouTube by Netflix)
Netflix: While continuing to perform at a high level with outsized hits like The Adam Project, Netflix continues to fall back on complaining about password sharing among customers. Despite being the clear leader in subscriptions worldwide, there has rarely been a four-quarter frame in which Netflix doesn't discuss a new initiative to stop the shares. Most recently, the service announced that it was going to start charging accounts extra for passwords being used outside the household. However, that program is currently only going into effect in Peru, Costa Rica, and Chile. Right now, the top-tier Netflix subscription allows up to four screens to be in use; many users argue that it shouldn't matter if all four screens are in the same house, particularly if one of those screens is being used by a child away at school. Such a change could actually upset the balance of subscriptions in the U.S., which is obviously a situation that the biggest kid on the playground wants to avoid.
The Streaming Home of Marvel ad (Uploaded to YouTube by Disney Plus)
Disney+: The House of Mouse just introduced new parental controls that allow for parents to create kids' accounts that prevent them from watching some of the more mature fare on the service. This is instigated by the arrival of the six Marvel shows that had previously existed as Netflix offerings (Daredevil, Jessica Jones, Luke Cage, Iron Fist, The Defenders, The Punisher) and Agents of S.H.I.E.L.D., which ran for seven seasons on ABC. That influx of material added a whopping 184 episodes of new content to the streamer in one day. The parental controls also popped up, in what is certainly no coincidence, in time for the new Marvel series, Moon Knight; while the show is rated TV-14, some early viewers and advance reviewers have noted that the show's intensity takes it very close to the line of mature fare.
Euphoria Season One teaser (Uploaded to YouTube by euphoria)
HBO Max and Discovery+: The biggest news on both of these fronts is that they're about to merge. Though the two services were already part of the same company, it was announced on March 14 that shareholders have approved a merger of HBO Max and Discovery+. There is not yet a set date for switchover, nor is there an exact monthly price quote, although there will be different tiers with and without ads. The merger puts HBO Max's vast library in one place with Discovery's large well of content, which includes shows from popular channels like Food Network, Lifetime, OWN, HGTV, History, and the Magnolia Network.
Crunchyroll welcomes Funimation and Wakanim (Uploaded to YouTube by Crunchyroll Collection)
Crunchyroll: The extremely popular anime streaming service is battling rumors of a change that isn't actually happening. Word had been going around that the streamer was going to dispense with free-with-ads programming. That's actually a misinterpretation; Crunchyroll is moving simulcast episodes (that is, brand-new episodes that debut in the U.S. and Japan at the same time which were running on the free-with-ads tier one week after their debuts) behind their pay structure, but free-with-ads series will still be running. Crunchyroll has a rather unique position in the Streaming Wars; while it has around five million paid streaming subscribers, it has over 120 million registered users that take advantage of free-with-ads use. That puts it below the marquee services for paid viewers, but among the most-watched overall. And that will only get bigger as Crunchyroll is now bringing aboard a huge influx of content from Funimation (creators of the insanely popular DragonBall franchise) and Wakanim.
Star Trek: Strange New Worlds teaser trailer (Uploaded to YouTube by Paramount Plus)
Paramount+: To this point, Paramount+ has thrived by being the home of multiple new Star Trek series. With Discovery, Picard, Lower Decks, Prodigy, and the forthcoming Strange New Worlds (which arrives May 5), the service has a lock on that extremely loyal audience. However, they are maximizing efforts with new shows (Halo) and a barrage of reboots and spin-offs, including another Yellowstone series, original movies spun-out from S.E.A.L. Team and Teen Wolf, and revivals of Frasier and Beavis and Butt-Head. At right around $5, it's a must-have for Trek fans, and a bargain for others with its growing film library (which includes The Godfather trilogy and more).
If there's one thing that's certain about our streaming future, it's that nothing is certain. In the past few years, there's been a veritable explosion of options. While some were DOA (like Quibi), some have grown beyond their introductory form into something of greater potential, like the evolution of CBS All Access into Paramount+. The consolidation of HBO Max and Discovery+ is no real surprise, as it gives owners a mammoth base. At this point, it seems that the titans (Netflix, Prime Video, Disney+, HBO) will continue to sit at the top of the mountain, but diversity of content and healthy services with a targeted audience (like horror streamer Shudder) mean that there is plenty of room for other entries.  As the Streaming Wars continue, some forces are going to take more ground, but it's apparent that smaller established entries will find a place to survive.
The Post has been covering the Streaming Wars for some time now. In the past several months, a number of new developments have taken hold. These include services embracing a new kind of Video-On-Demand (VOD) model, some new service launches, and several layers of content reshuffling. HBO Max, Peacock, and Quibi all launched with various problems, while CBS All Access seems headed for a merger with a larger platform. And then there's The Mandalorian, which barnstormed social media with breakout character "The Child" (aka "Baby Yoda") on its way to a jaw-dropping 15 Emmy nominations. But what about stalwarts like Netflix? And how does the Age of COVID-19 change the shape of what's to come? Here's your war report.
Lockdown on Demand: When theaters closed across the country with the onset of the COVID-19 pandemic, studios scrambled to change dates and look at alternative delivery formats. One victory was found at the drive-in; the built-in social distancing that comes with watching a film from your car allowed some new releases to filter out, some old favorites to come roaring back, and for some small films to generate (for them) big numbers. One of the first movies that was slated for a big theatrical release, but shifted to a VOD delivery, was Trolls World Tour. The sequel to the hit 2016 animated musical became available for digital rental on April 10 (which was the same day that it debuted in a limited number of theaters), but at a steeper rental price point that would be more akin to taking a family of four to the movies. The film made a startling $40 million off of rentals in its opening weekend. IndieWire estimated in August that it's made around $150 million in rentals through the life of its release. Other studios have followed suit with select releases. Bill & Ted Face the Music from United Artists bowed in select theaters and for a $19.99 rental across a number of services. In just four days, it was Fandango's top title for all of August.
However, it looks like Disney+ is in line to have lightning strike twice. The first major mouse move was to bring the filmed version of Hamilton to the service months before it was scheduled to arrive in theaters. The July 3 release spurred a quarter of a million new Disney+ subscriptions that weekend, and Variety reported that roughly 37 percent of all the app's subscribers watched the musical in its first month. The second big release shuffled to the platform was the live-action remake of Mulan, which debuted September 4. Early indications are that Mulan's performance may easily surpass Hamilton's, with one major catch; Hamilton was simply an addition to the platform, whereas you presently have to pay $29.99 to get Mulan. With Disney+ passing 60 million subscribers in August, it would only take 8 percent of subscribers ordering Mulan for the film to clear nearly $150 million. That would be a major victory for the company, and it would make it much more feasible for other delayed blockbusters (like Black Widow) to make a profitable simultaneous home and theater debut.
New Launch Woes: Even as the traditional HBO channel is garnering attention and praise for its new series, Lovecraft Country, the rollout of the new HBO/AT&T/WarnerMedia app HBO Max has been something of a headache. When HBO Max landed in May, it wasn't available through Roku or Amazon/Fire devices . . . and it still isn't; the problem is that those two options represent approximately 70 percent of the streaming player market in the U.S., and they're locked in a dispute with HBO Max over fees. Additionally, roughly 20 million people who subscribed to HBO, and who would have gotten HBO Max rolled in with their sub, simply didn't activate the service when it started, meaning that HBO Max only had about 4 million official users by the end of June. There was also confusion when HBO's other apps (HBO Go and HBO Now) went away and were replaced with, simply, an app called HBO. That app offers the programming that Now did, including current series, but doesn't have access to the Max exclusive series or the wider content libraries (like the Criterion Collection) that were rolled into Max. Confusing content deals haven't helped; while the Harry Potter franchise and various DC Comics-based films were heavily advertised for the launch, pre-existing deals with other services meant that many of the DC movies vanished in the first week, and the app lost the Potter films in August. The struggling DC Universe app will have its content rolled into HBO Max, but questions linger about whether its extremely popular digital DC Comics library will make the transition or go elsewhere.
The NBCUniversal app Peacock kicked off for Xfinity users in April; it landed on other platforms in July and worked up to 10 million viewers by the end of that month. It has a free tier that accesses 15,000 hours of content; the pay levels unlock about 5,000 more. With NBC Sports deals for soccer and content with third-party providers like ViacomCBS and Paramount Pictures on the way, Peacock is putting together a big library, and is looking to Parks and Recreation (arriving in October) and The Office (arriving in January 2021) to boost subs. However, it has one big problem in common with HBO Max: you won't find it on Roku or Amazon. Peacock also had some of its big launch-day draws, like the Fast & Furious franchise, The Matrix, and Shrek already vanish. New content has taken a hit due to the COVID-19 shutdowns. In the face of these issues, which users have complained about readily on social media, there has also been praise for a "channels" feature that runs clips and content around different themes. The Today All Day channel gathers The Today Show segments, and other channels are devoted to Saturday Night Live and other themes.
Quibi is a mobile streaming platform that launched with free trials in April with an eye toward shorter programming. The 10-minute episodes are referred to as "quick bites" (a phrase that was truncated into the service's name). While a number of high-profile companies invested in the service and stars like Anna Kendrick and Kiefer Sutherland dot the programming, the download numbers for the app crashed after the first month of operation. The company cut staff in June amid reports that its 2 million subscribers fell well under a proposed 7.4 million user goal. The Verge reported in July that the conversion rate from free initial user to paid subscriber was a poor 8 percent.
A Viacom Mind-Meld: CBS All Access has put together a base of around four million subscribers. The service has bet big on Star Trek so far, with three active series (Discovery, Picard, and Lower Decks) and two coming (Strange New Worlds and Section 3). One much anticipated show is the upcoming adaptation of Stephen King's The Stand, which launches in December. Like Apple TV+, CBS All Access has been actively gathering other content; parent company ViacomCBS looks to merge All Access with programming from its other brands (MTV, BET, Nickelodeon, Comedy Central, etc.) with the notion of competing with the bigger services.
Update: Early on Tuesday morning, September 15, one day after this story originally posted, ViacomCBS announced that CBS All Access will be rebranded in early 2021. Under the new name Paramount+, the service will roll in CBS All Access programming with the other brand verticals mentioned above for a larger, more competitive service.
Apple in the Middle: Apple TV+ is doing all right. The streamer already renewed most of its original drama and comedy series and the service claimed 18 Emmy nominations, including nods for The Morning Show, Defending Jacob, and Beastie Boys Story. While Apple had intended for the service to focus on original content, it went into acquisition mode in the middle of the year after COVID-19 shut down original productions. The app actively bought films like Tom Hanks's Greyhound and Will Smith's upcoming Emancipation to bolster content offerings. Apple also has a robust development slate for series and films spread across the next few years; it has the potential to develop into destination viewing for unique programming over the long term.
The Big Kids on the Block: Netflix, Amazon's Prime Video, and Hulu remain the big dogs in the yard, with Disney+ joining the pack. Prime Video is available to Amazon Prime's 150 million subscribers around the world, though about 26 million actively use it. Hulu has 35 million paid, with over 3 million of those opting for Hulu+Live TV to replace cable service. Disney+ passed 60 million in their first year, stomping their initial estimate that it would take until 2024 to get 60 to 90 million subscribers. Netflix remains the numbers champ, with 193 million paid users.
Each of those services continues to offer strong performances in various areas. Prime's The Boys has been a breakout critical and commercial hit, and anticipation is high for the forthcoming Lord of the Rings series. Hulu had a big quarantine hit with original film Palm Springs, a strong development slate, and offers returning water-cooler programs like The Handmaid's Tale. Netflix is, of course, Netflix, and wields enormous programming influence; the primary viewer complaint about the service is the impression that many series don't get past three "seasons" or that they appear very quick to cancel shows that might grow with more time. Nevertheless, Netflix cuts a dominant figure, especially with the success of films like Extraction, break-out series like The Witcher, and their ongoing live-comedy specials.
As for Disney+, its first year has seen a subscription base that exceeded expectations, 19 Emmy nominations, and a legitimate pop culture phenomenon in the form of The Child, the inhumanly cute "Baby Yoda" that co-stars in The Mandalorian. That Star Wars spin-off accounted for 15 nominations, including an unexpected nod for Best Drama. The service also had the good fortune to have The Mandalorian season two filming completed before the pandemic; editing and effects continued remotely, which will allow the next set of episodes to debut in October as scheduled. Additionally, the much-anticipated Marvel Cinematic Universe installment The Falcon and The Winter Soldier is still expected to debut this fall after an initial delay from the COVID shutdown. All of that is, of course, on top of one of the most powerful libraries in entertainment, which includes the Marvel and Star Wars brands, the Pixar films, Disney animated classics, and National Geographic, in addition to acquisitions like Beyoncé's video album Black is King.
| Service Name | Price Per Month | Program Highlights |
| --- | --- | --- |
| Amazon Prime Video | $8.99 standalone; $12.99 w/full Prime | The Boys, The Expanse, The Marvelous Mrs. Maisel |
| AppleTV+ | $4.99 | The Morning Show, For All Mankind, Servant |
| CBS All Access | $5.99 | Star Trek: Discovery, Star Trek: Picard, ST: Lower Decks |
| Disney+ | $7; $12.99 bundled with basic Hulu & ESPN+ | The Mandalorian; The Imagineereing Story |
| HBO Max | $14.99; $143.88 for 1-year deal available | Raised by Wolves; Doom Patrol |
| Hulu | $5.99 basic; $54.99 +Live TV; ad-free tiers also available | The Handmaid's Tale; Castle Rock; Shrill, Letterkenny |
| Netflix | $8.99 basic; $12.99 standard; $15.99 Premium | The Umbrella Acadmey; Cobra Kai; Lucifer; Away |
The streaming landscape has become a crowded, constantly shifting place. It's possible for multiple large outlets to co-exist; even with the pervasiveness of Netflix, it's obvious that several other companies have very healthy options. The big question is how many of these services will thrive in the long term. At some point, every household will hit saturation on the number of services that they actually use, or can afford. Until then, the various entrants will continue to jockey for position in a race that is much more a marathon than a sprint.
Featured image: Ivan Marc / Shutterstock
Does streaming TV have a future? That's the question we asked last September in reference to what some observers had perceived as a streaming bubble. With the proliferation of streaming services and each household only having so much to spend, it seems likely that the bubble would eventually burst, leaving some services to survive while others go by the wayside. At the time, much of the speculation rested on what Disney was going to do. With their acquisition of Fox complete, Disney finally made the official announcement on April 12 of a date, price, and programming for Disney+. And it's going to be huge. Now that Disney has revealed their killer app (and, quite likely, app killer for a more than a few services), how does this change the picture? And how do more recent additions like DC Universe, the Criterion Channel, and more forthcoming from the likes of Warner Brothers, impact an already volatile system? We look at some of the new permutations emerging in the constantly changing streaming landscape, and make some guesses as to what many consumers might choose — including what might be right for you.
The extended trailer for the DC Universe series, Doom Patrol. (Uploaded to YouTube by DC)
DC Universe: DC Universe, which launched in September is doing . . . okay. The continuation of the much-loved Young Justice animated series, whichwas one of their more anticipated launch titles, received strong reviews and word-of-mouth. But the reaction to the other big launch title, Titans, was more mixed. Numbers in January seemed a bit sluggish, or at least not where the service needs to be. However, the recently added Doom Patrol series is enjoying both critical and fan support, and eagerly awaited debuts like Swamp Thing and Stargirl are coming soon (or maybe not; breaking news on April 17 indicated that production on Swamp Thing was being shut down three episodes early) . Those titles may boost DC Universe's long-term viability, but right now, it's working had to assert itself. At $7.99 a month (or a $74.99 annual deal), it's not a terrible expense, but it needs to continually add content to demonstrate value in the face of its competition.
The Criterion Channel: Following the demise of FilmStruck, Criterion moved their library of remastered classic and important films to its own streaming service. Over 1,500 films and documentaries can be found for a $10.99 monthly subscription (a free 14-day trial is available). If you're a real fan of cinema, this is a gold mine. David Lynch's Eraserhead, The Elephant Man, and Mulholland Drive are all here, as is Twin Peaks: Fire Walk with Me. A metric ton of Akira Kurosawa is present, and featured categories include Women Filmmakers (featuring artists like Jane Campion and the late Chantal Akerman), and Essential Art House (with the likes of 8-1/2, The Rules of the Game, An Angel at My Table, and The Seventh Seal). As of this writing, the service has only been available for a week, so its overall numbers are unknown; however, it did generate a fair amount of excitement on social media, so it's possible that it could be a sleeper hit.
Hulu: Hulu's gone through some changes lately, partially related to Disney's acquisition of Fox. Previously, Hulu ownership was shared by Disney, Fox, Comcast (through NBCUniversal), and AT&T (through WarnerMedia). AT&T sold its 10 percent back to Hulu on April 15, likely to pay down debt and prepare for their own new streaming offerings. Prior to the sale, that Disney (combined with Fox's portion) owned 60 percent of Hulu, while Comcast had 30 percent. It's unknown at this time how the remaining 10 percent will be split, although Disney did previously approach AT&T separately about buying out their stake. While Hulu says that they'll still run WarnerMedia properties, it's likely that more of those programs will go to whatever the new WarnerMedia services will be. For their part, Disney, as part of the official Disney+ announcement last week, indicated that more of their mature programming and non-franchise items directed at adults would likely go to Hulu (like the in-development Howard the Duck animated series) as opposed to Disney+. Comcast, on the other hand, is expected to announce a service of their own in 2020; it's unknown at present if they'll sell the rest of Hulu to Disney, or simply maintain their present partnership.
Netflix: Netflix took a stock hit after last week's Disney+ announcement, losing a little over five percent in the two trading days after the unveiling. A pending earnings report could even that out. Aside from that, things aren't dire for Netflix at the moment. The recent first season of The Umbrella Academy did huge numbers for them, and they have heavy hitters like the third season of Stranger Things and the final season of Orange Is the New Black on deck. Something that will have long-term consequences is the ceding of Marvel properties back to Disney (and Disney+); Netflix has shed (or will shed) its six original Marvel series, and the MCU films will no longer join the service after their theatrical runs. That's the same story for Star Wars films and series, as well as Disney and Pixar products, too. Granted, there's a huge entertainment world that isn't owned by The Mouse, but the reality of this particular cultural moment is that The Mouse is overachieving at the box office. When you can share in that, it helps your brand; when you can't, it doesn't.
AppleTV+: One wildcard in all of this is AppleTV+, a new service targeted for fall launch through the AppleTV app. It's boasting a pretty big roster of talent. Names as big as Oprah, Steven Spielberg, J.J. Abrams, Ron Howard, Sofia Coppola, M. Night Shyamalan, Jennifer Aniston, Reese Witherspoon, and Octavia Spencer all have projects forthcoming. The programming slate includes a revival of Spielberg's Amazing Stories, Aniston and Witherspoon's The Morning Show (which also stars Steve Carell), dystopian drama See (starring Jason Momoa), science fiction drama for All Mankind (from Ronald D. Moore of the acclaimed Battlestar Galactica reboot), and many others. On the kids' side, the service has deals in place for Peanuts properties and new content from The Children's Television Workshop. As of this writing, the price hasn't been confirmed. The full roster of programs in development is substantial, and it might only take one or two solid hits with critics and early adopters to drive the service. Still, the lack of price information or even a specific date ("autumn" seems to be the refrain) takes a little of the wind out of it when you stack it up to Disney+.
Disney+: This much is true: Disney is aiming high with the new service. Set for a November launch, Disney+ will arrive at a $6.99 per month (or $69.99 per year) price point, which definitely undercuts the monthly prices for the three Netflix tiers (they range from $9 to $16 per month). The content library looks to be enormous, as they draw from verticals that include Disney Animation, Pixar, Lucasfilm (that's Star Wars), Marvel, National Geographic, and Fox. In the presentation on April 11, they suggested that their first year target for the service would be more than 25 new episodic series, more than 10 original movies and specials, over 7,500 past television episodes (including all 30 seasons of The Simpsons), over 400 films from the library, and more than 100 recent films. They have an even more impressive "Year Five" target, which ups the number of television episodes to 10,000 while growing each of the other areas as well.
The content that has generated the most interest and excitement thus far would be the various Marvel and Star Wars offerings. In addition to an animated series based on the fan-favorite What If? comic, Marvel will be producing live-action limited series featuring talent reprising their roles from the uber-popular Marvel Cinematic Universe, including Hawkeye (starring Jeremy Renner), Loki (starring Tom Hiddleston), Falcon & Winter Soldier (starring Anthony Mackie and Sebastian Stan), and WandaVision (starring Elizabeth Olsen and Paul Bettany). On the Star Wars side, the beloved The Clone Wars animated series will get a continuation, and director Jon Favreau will helm a new live-action series called The Mandalorian, which has been described as "Clint Eastwood in space." Actors Diego Luna and Alan Tudyk will also reprise their Rogue One: A Star Wars Story characters for another live-action series. These announcements brought an incredible amount of buzz to social media, with a first look at The Mandalorian drawing high praise; for their part, the various Marvel shows kicked up major interest because of Marvel Studios president Kevin Feige's assertion that the "episodes will intersect with the movies in a big way. It's a totally new form of storytelling that we get to play with and explore."
On the back of the announcements, Disney's stock shot up 9.5 percent, which was the best single stock day for Disney since May 2009. CNBC called the forthcoming service a "value winner" in a family viewing context, particularly in comparison to Netflix. Disney CEO Bob Iger made it clear that the low price of the service was designed to attract an audience of millions; he also outlined that the broad strokes of their strategy focus on the widest audiences of kids (Disney+), sports fans (ESPN+, which launched in 2018 and already has over two million subscribers), and adults (Hulu) that they can muster.
If there's a possible downside to the Disney+ announcement, it's that there's a general lack of specifics about the disposition of the vast amount of Fox properties that they just acquired. Are the Aliens films going to Hulu? What about the literally hundreds of films and other franchises that can now be accessed? It may be too early to tell, but that information might actually increase their potential subscriber base. And while the $6.99 launch price is great, one wonders how long Disney will be able to keep the cost that low. Increases seem inevitable, especially when you consider competition and shareholders. A deluge of customers might keep costs low, but it seems that an ambitious slate of content offerings will need to deliver consistently to put a pin in the monthly rate.
| | | |
| --- | --- | --- |
| SERVICE NAME | PRICE | PROGRAM HIGHLIGHTS |
| Amazon Prime Video | $13/month with Prime; $9 video only | The Expanse, The Man in the High Castle |
| AppleTV+ | Not yet available | Amazing Stories, See, Oprah's new jam |
| CBS All Access | $6/month with ads; $10 ad-free | Star Trek: Discovery, pending Patrick Stewart Star Trek series |
| The Criterion Collection | $11/month or $100 annually | Films by Lynch, Kurosawa, Bergman, and more |
| DC Universe | $7.99/month or $74.99 annually | Young Justice: Outsiders, Titans |
| Disney+ | $6.99/month or $69.99 annually | The Mandalorian, assorted Marvel Cinematic Universe shows |
| ESPN+ | $5/month or $50 annually for basic | Full MLB.TV and NHL Hockey seasons for an extra $25/month |
| HBO Now | $15/month | Game of Thrones, Westworld, Big Little Lies |
| Hulu | $6/month with ads; $12 ad-free | The Handmaid's Tale, Marvel's Runaways, Veronica Mars reboot |
| Netflix | $9/$13/$16/month for different features | Stranger Things, Orange is the New Black, The Umbrella Academy |
This chart shows a few of the bigger services, their current price points, and some featured offerings.
What's Next?: WarnerMedia continues to work on a slate of streaming offerings, of which DC Universe is only a small part. Comcast is aiming their service for 2020. Amazon Prime continues to be a player, as they add new programs and acquisitions like the critically acclaimed The Expanse. The net result of all this is fairly clear: there's not room in the average family budget for every service. Observers note that when push comes to shove, families will likely stick with what is the best value and what has the most offerings for the whole family. That sounds exactly like the target for Disney+. If that service does emerge to become the premiere streamer, with Hulu and Netflix and others vying for second place, what happens to the middle and lower-tier streaming outlets? Like with anything involving television, we're just going to have to watch and see.
Featured image: Shutterstock
Every piece of art starts somewhere. Inspiration can be easily found in original thought, personal experiences, or in older works. It's not a surprise that a large percentage of films (more than 55% as recently as 2015) began as books and fewer still began as poems. When you have a studio with as long and varied a history as Disney, you're bound to discover that ideas occasionally come from very unlikely places and with some startling plot developments. With this week's release of Christopher Robin, itself a new twist on an old series based on books, we look at a few of the more surprising story changes that it took to get some of your favorite Disney films on the screen.
Dumbo Started as a Toy and Book Concept
Dumbo began life as toy and book combo, a prototype called a Roll-A-Book where one would scroll up and down to read the pages. The story was by Helen Aberson with art by Harold Pearl. The marketing department brought the piece to Walt Disney; he skipped the device and went right to the story, buying the rights. Disney's story department made some changes, including switching out Dumbo's bird companion for Timothy Mouse. The movie also grew as it went; originally intended to be a short, it expanded as Disney realized its potential. He wasn't wrong; released in 1940, Dumbo turned out to be the studio's biggest box office hit of that decade.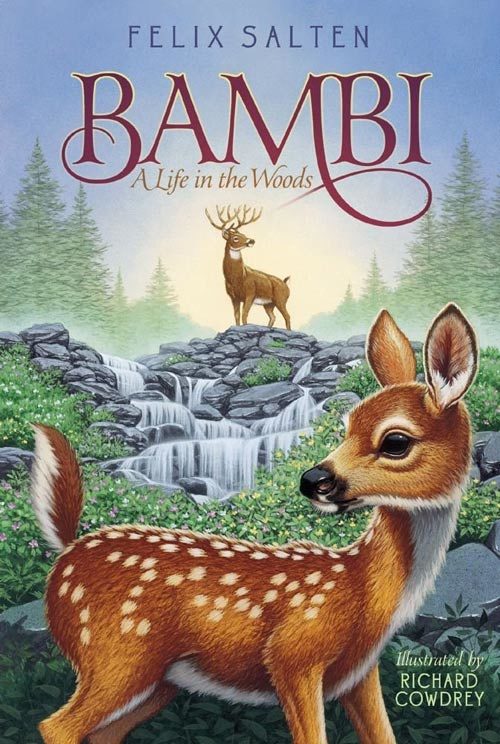 Bambi Gets Shot
Two years after Dumbo, Disney released their adaptation of Felix Salten's novel, Bambi: A Life in the Woods. The Austrian novel published in 1923 and was widely praised, especially for the current of environmentalism that runs through it. The book also has a larger cast of deer and some heavier themes. While Bambi's mother meets her familiar fate, Novel Bambi also has a cousin named Gobo that dies. In a way, his death is even more tragic, as he was captured and raised by people for a time, only to die when he approaches a hunter under the misconception that humans were now safe. Bambi himself takes a bullet at one point, but survives after being rescued by his father, the Old Prince. On a different note, the book was banned in Nazi Germany under the belief that the relationship between man and deer was an allegory for the treatment of Jews (Salten was Jewish). Max Schuster of Simon & Schuster published the book in the United States and later helped Salten escape Germany; furthermore, he introduced the author to Disney, facilitating the adaptation.
Pinocchio Died by Hanging
Carlo Collodi wrote The Adventures of Pinocchio in Italy in serial form in 1881 and 1882, then published the collection as a book in 1883. Pinocchio was a real jerk. He starts kicking Geppetto before the old man is even done carving him. Soon after, a talking cricket tries to warn Pinocchio about bad behavior, but the animated puppet kills it with a hammer (to be fair, that was an accident). The wooden miscreant goes on to commit several other misdeeds before the Cat and the Fox hang him at the end of the fifteenth chapter. Collodi's editor talked him into changing the ending, and the writer would compose 20 further chapters, including the puppet's resurrection by the Fairy with Turquoise Hair, and his eventual transformation into a real boy. When Disney picked up the rights, a wide variety of changes were made to soften the tale. Nevertheless, The Adventures of Pinocchio, bad behavior and all, remains the most translated Italian novel.
101 Dalmatians Met Aliens
Dodie Smith's 1956 novel The Hundred and One Dalmatians (or The Great Dog Robbery) would seem fairly familiar in most respects. You have Cruella de Vil, you have the same basic plot, and you have other animals, including a sheepdog, involved in the rescue. The biggest divergence is that there are four adult dogs; Pongo and Missis are the parents of the first 15 stolen puppies, and Prince and Perdita are the parents of a number of other missing puppies. For simplicity's sake, the film script composited the two dog couples and changed human owner Roger from an accountant to a songwriter. That's all basic adaptation stuff. What makes the origin here so notable is the reason that Disney never adapted the sequel; frankly, it's weird. Named The Starlight Barking, the novel deals with humanity being placed under slumber by Sirius, Lord of the Dog Star, an alien canine that has come to warn the animal population that they need to escape Earth before nuclear war begins. We are not kidding. Put into the role of spokesdog, Pongo decides that the dogs should remain with their humans on Earth. Having typed that, we kind of want to see that now.
Hey, Why Don't We Start with the Second Book?
1985's The Black Cauldron is frequently considered a low point for the animation studio. Intensely disliked by fans of the source novels and a box office loser for the studio, it generally gets praise only for the score by Elmer Bernstein and its early successful use of computer-generated graphics in some scenes. Part of the story problem hinges on the fact that the film is the adaptation of the second book in a much-loved series, The Chronicles of Prydain by Lloyd Alexander. By all accounts, development was a mess from acquisition of the film rights on up until release, with numerous directors, designers, and animators entering and exiting the project, characters being constantly redesigned, and whole chunks of story being excised. One of the animators who had his designs tossed out was Tim Burton. What remains is a blending of the plot of the first two novels in the series with many important characters and villains omitted, while the characters that remained were largely rendered as more child-like and, well, goofy. The Horned King, an amalgam of two novel villains, stands out as a great design, as do the zombie-like Cauldron-born, but the clashing tones just make it more susceptible to criticism.
Fantasia Got Bigger Than Goethe
Fantasia is now regarded as one of Disney's finest achievements. In the '40s, it was considered a box office flop. That's ironic considered it came into being as an attempt to save a budget. Previously, the "Sorcerer's Apprentice" segment was intended to be a short, an adaptation of the poem by Johann Wolfgang von Goethe, the author of Faust. As work commenced, the budget kept getting bigger, despite conductor Leopold Stokowski volunteering to work for nothing, owing to his enthusiasm for the project. As costs ballooned, Walt Disney envisioned animating a whole concert, rather than one piece, and marketing it as an experimental venture marrying the best of classical music with the best of animation. And while the initial release struggled to make money in 1941, in part due to World War II cutting off distribution in Europe, the film's reputation has grown and the budget earned back many times over from re-releases, soundtrack sales, and the ongoing marketing of merchandise based on Mickey's Sorcerer's Apprentice appearance.
Lady, Meet Tramp
Joe Grant, one of Disney's story developers, originally suggested a story based on his own Springer Spaniel named Lady; Lady, it seems, acted jealous around the new baby at home. Walt liked the idea in general, but not the original treatments for it. In 1945, Walt read a story in Cosmopolitan called "Happy Dan the Cynical Dog" and realized that Ward Greene's story of a wisecracking mutt could work with Grant's Lady. Walt bought the "Happy" rights from Greene. The combined story would go through a number of revisions over the years; in fact, Grant left Disney in 1949, six years before the movie would be released. In a clever tie-in, Disney hired Greene to write the novelization of the film.
Big Hero 6 Comes from the X-Men Universe
Disney's Big Hero 6 opened to critical acclaim and huge box office in 2014, earning over $650 million worldwide and capturing the Academy Award for Best Animated Feature. What a lot of people don't know is that Big Hero 6 is an obscure Marvel super-hero team created by the Man of Action writer collective that got their start in an issue of Alpha Flight. Alpha Flight is Marvel's team of Canadian super-heroes, originally introduced in X-Men #120 in 1979. In a 1998 issue of Alpha Flight, the characters team up with a group of Japanese heroes to stop a threat in Japan. In addition to new characters GoGo Tomago, Honey Lemon, Baymax, and Hiro Takachiho, the roster includes former X-Men member Sunfire and his cousin, the sometime-hero/sometime-X-Men-antagonist Silver Samurai. They soon spun off into their own mini-series as well as team-ups with other heroes, like Spider-Man. After Disney acquired Marvel in 2009, they began to actively develop a number of properties, including Big Hero 6. With Sunfire and Silver Samurai falling under Fox's license to use the X-Men characters, the Disney film would opt to use two other Big Hero 6 allies/members from the comics in their place: Wasabi No Ginger and Fred (aka Fredzilla). The rest is animation and Oscar history.
Seventy-five years ago this month, Walt Disney released his first full-length animated movie, Snow White and the Seven Dwarfs, to rave reviews.
Snow White was an unqualified success. According to a 1956 Post article profiling Disney from the perspective of his eldest daughter, Diane Disney Miller, the film earned $8 million its first time around the world, which enabled Disney to build a large studio to make even more ambitious movies like Fantasia and Pinocchio.
Today, Snow White ranks among the top 10 highest-grossing films, which makes it hard to see why it was so risky to create in 1937. But, even before anyone had seen it, Hollywood was calling it "Disney's Folly."
Had he known what it would take, Disney might never have attempted it. Walt and his brother Roy believed they could produce the animated feature for half a million dollars, but by the time of completion, they were more than 450 percent over budget.
He realized he'd exhaust his own money before he could complete the film. But before a bank would give him a loan, Disney would have to show someone the incomplete project.
So one afternoon, Joseph Rosenberg of Bank of America sat down in a projection room and watched the rough cuts of Snow White. Disney would show him snippets of animation, then flip through pages of pencil drawings while frantically trying to convey how beautiful it would look in final production. Rosenberg said nothing more than "Yes" and "Uh-huh."
When they were done, Rosenberg rose from his chair, stretched, and made small talk with Disney. He walked toward his car, chatting about everything but the picture. Meanwhile, Disney was telling himself, Boy, this is bad. After climbing into his car, though, Rosenberg turned to Disney and said, "Good-bye. That thing is going to make a hatful of money," and drove off.
With this additional financing, Disney and 570 artists continued drawing and hand-painting the movie's 1.5 million animation cels. On December 21, 1937, the movie premiered at the Carthay Circle Theater, one of the famous movie palaces of Hollywood's golden age, to an audience with every big-name star in Hollywood. Everyone agreed that Disney had done—if not the impossible—the highly improbable: he had enticed an adult audience into sitting through a 90-minute cartoon about a fairy tale. And they were completely charmed. A famous columnist, known for his skepticism, was seen with tears in his eyes. The movie was the happiest event since the end of the World War I. Within a week, Disney and his dwarfs were on the cover of Time magazine.
But Disney's long road to success took more than imagination. It also took nerve.

To read more about how Disney took the biggest chance in his career and who was there to back him, see the original 1956 Post profile, "My Dad, Walt Disney" by Diane Disney Miller, as told to Pete Martin.