There is something majestic about the electric green glow of the baseball diamond at night, the rush of the cool evening air and the moon bowing its silver face over the stadium rafters. Night games help fans escape the worries of work and life, and The Saturday Evening Post's artists were there to capture the glory of those first illuminated games that transformed the pastime of baseball.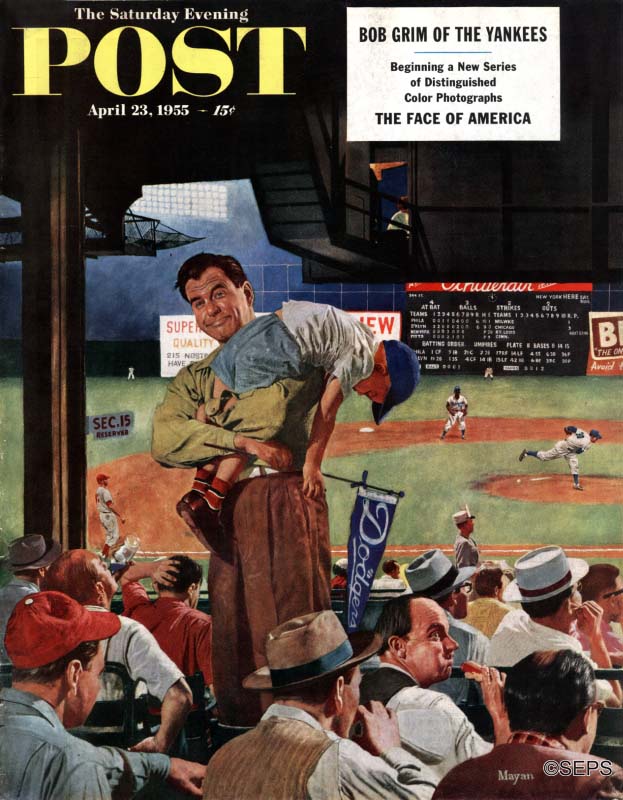 The first-ever professional baseball game played under "permanent lights" took place May 2, 1930, when a Des Moines, Iowa, team hosted Wichita for a Western League game. The game drew 12,000 people at a time when the team typically attracted a couple hundred fans per game. Those first "nighters" debuted in an era when a tiny fraction of American farms had electricity; lighted games in small towns helped struggling teams survive during the Depression; they allowed farmers, factory workers, teachers, civil servants, and policemen to attend games after an exhausting work day when the entire country was trying to rebuild the economy.
On the evening of May 24, 1935, the Cincinnati Reds were scheduled to face the Philadelphia Phillies in Major League Baseball's first night game, played under lights installed by the City at Crosley Field in Cincinnati. Initially, some baseball executives frowned on the prospect of America's best baseball being played under artificial lights. In Washington, President Franklin Delano Roosevelt punched a button from his desk firing more than one million watts of electricity to bathe the field in light. Ford Frick, President of the National League, threw out the first pitch of the game before 20,422 fans who munched on hot dogs and popcorn and watched the Reds beat the Phillies 2-1.
Today, more than 80 percent of all Major League Baseball games are played after the sun goes down.
Memories of those games are fresh in the minds of Big Leaguers who came up in the '40s and '50s. Philadelphia Phillies' pitcher Robert "Bob" Miller, age 92, is a U.S. Army veteran and one of two surviving members of the "Whiz Kids," the young team that unexpectedly made it to the 1950 World Series against the New York Yankees. Thinking back to those nighters, Bob says the lights were pretty darn good. "You could see a pitch … catch a fly ball." But when the sun went down in cities like San Francisco and Philadelphia, it got cold pretty fast, and he would put on an overcoat. The schedules changed too. Bob recalls, "The team ate dinner around 2. After the game we may have had a beer or two. Then it was midnight and I loved every minute of it. After all, I was in the Big Leagues and how can you not like that!"
Feature image: The first Major League night game , in Cincinnati, Ohio. (GE)