I have lots of friends who work in the medical field and are exhausted by the extra burden they're shouldering in these virulent times. Most of the things I do as a pastor are now discouraged — meeting people face to face, visiting hospitals and nursing homes, tending to the sick and shut-in. Electronic interaction is helpful, but it lacks the spiritual and emotional quality of holding someone's hand. Still, it's better than nothing, and I've found other ways to pass the time, chief among them wondering if I have the coronavirus and how soon I'll die.
Being a hypochondriac, I have something of a talent for hysteria and regularly (several times a day) remind my wife how tenuous is my grasp on life. Every tickle in the throat, every bead of sweat, every pant for breath is a portent of my agonizing and imminent end. I've been a hypochondriac since early childhood, when I discovered the best way to get my parents' attention was to feign death. I missed an entire month of fifth grade after convincing them I had leprosy, which I had learned about in Sunday school. It turns out that weakness, vision problems, and peripheral numbness are easy to fake. After the first week of acting, I convinced myself I actually had leprosy and sat around for three weeks waiting for my nose to rot off.
I have something of a talent for hysteria and regularly remind my wife how tenuous is my grasp on life.
It's odd that the best month of my childhood was when I had leprosy. Mr. Evanoff, my teacher, had my classmates make me get-well cards. Jerry Sipes, who hadn't liked me since I'd reported him to the teacher for peeing on the bathroom floor, wrote in his card that he hoped I died, and Patty Worely, whose dad was a minister, urged me to accept the Lord so I wouldn't go to hell. She mentioned she was praying for me every day, which I'm certain ended up saving me from the leprosy I quite possibly had. My Grandma Norma sent me a letter with $10 in it, and my dad bought me a box of stale Hostess cupcakes from the Hostess Bakery Outlet in Terre Haute. Twelve cupcakes all to myself, which I think gave me diabetes, so now I'm just waiting for my legs to rot off.
The good thing about hypochondria is its tendency to fill all your waking hours, making other hobbies unnecessary. There isn't a day that passes that I don't wonder about the ailments my body is harboring — consumption, dropsy, palsy, and swine flu. I've had them all, probably. I fall asleep each night, praying I'll make it to morning but doubting I will. Unable to sleep (a sure indication of hyperthyroidism), I climb out of bed, walk down the hall to my office, and jot down some notes to my wife regarding my funeral. There are a few people I don't care for (Jerry Sipes, for instance), who I know don't care for me, and I don't want them showing up pretending they liked me. We hypochondriacs can't stand hypocrisy.
I've given years of thought to my funeral. Who'll give the eulogy? Which songs will be sung? What will they eat at my funeral dinner? What clothes will I wear? Do I go with a suit, wanting to leave a favorable last impression, or should I wear blue jeans and a flannel shirt, reminding my family and friends I was a man of the people? Now with the coronavirus and social distancing, no one will likely attend my funeral, and there goes my chance to watch people's faces when they see me in the casket and realize I really was sick all these years.
Philip Gulley is a Quaker pastor and author of 22 books, including the Harmony and Hope series featuring Sam Gardner.
This article is featured in the September/October 2020 issue of The Saturday Evening Post. Subscribe to the magazine for more art, inspiring stories, fiction, humor, and features from our archives.
Featured image: Shutterstock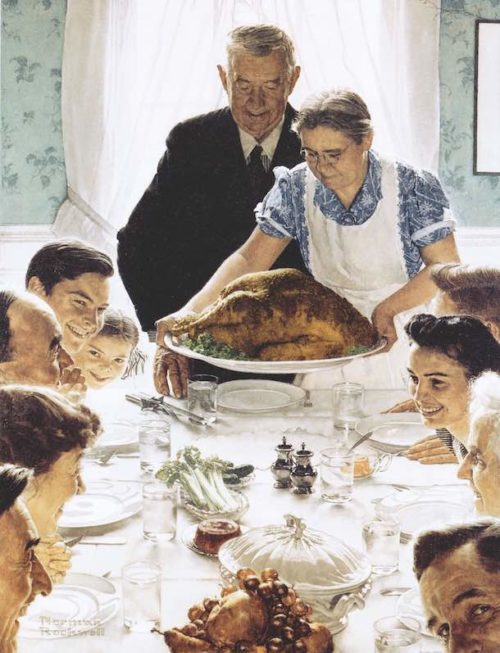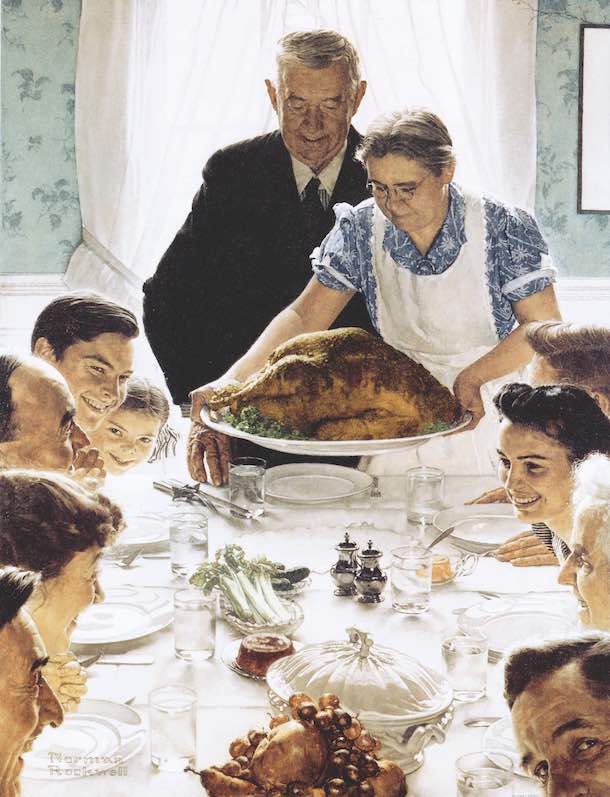 In 1943, the Post commissioned four writers to craft an essay to accompany each of Norman Rockwell's Four Freedoms paintings, which had quickly come to represent America's moral imperative during World War II. You can read the other three essays here.
Freedom from Want
Originally published March 6, 1943
If you want to know what we are, look upon the farms or upon the hard pavements of the city. You usually see us working or waiting for work, and you think you know us, but our outward guise is more deceptive than our history.
Our history has many strands of fear and hope, that snarl and converge at several points in time and space. We clear the forest and the mountains of the land. We cross the river and the wind. We harness wild beast and living steel. We celebrate labor, wisdom, peace of the soul.
When our crops are burned or plowed under, we are angry and confused. Sometimes we ask if this is the real America. Sometimes we watch our long shadows and doubt the future. But we have learned to emulate our ideals from these trials. We know there were men who came and stayed to build America. We know they came because there is something in America that they needed, and which needed them.
We march on, though sometimes strange moods fill our children. Our march toward security and peace is the march of freedom — the freedom that we should like to become a living part of. It is the dignity of the individual to live in a society of free men, where the spirit of understanding and belief exist; of understanding that all men are equal; that all men, whatever their color, race, religion or estate, should be given equal opportunity to serve themselves and each other according to their needs and abilities.
But we are not really free unless we use what we produce. So long as the fruit of our labor is denied us, so long will want manifest itself in a world of slaves. It is only when we have plenty to eat — plenty of everything — that we begin to understand what freedom means. To us, freedom is not an intangible thing. When we have enough to eat, then we are healthy enough to enjoy what we eat. Then we have the time and ability to read and think and discuss things. Then we are not merely living but also becoming a creative part of life. It is only then that we become a growing part of democracy.
We do not take democracy for granted. We feel it grow in our working together — many millions of us working toward a common purpose. If it took us several decades of sacrifices to arrive at this faith, it is because it took us that long to know what part of America is ours.
Our faith has been shaken many times, and now it is put to question. Our faith is a living thing, and it can be crippled or chained. It can be killed by denying us enough food or clothing, by blasting away our personalities and keeping us in constant fear. Unless we are properly prepared, the powers of darkness will have good reason to catch us unaware and trample our lives.
The totalitarian nations hate democracy. They hate us because we ask for a definite guaranty of freedom of religion, freedom of expression, and freedom from fear and want. Our challenge to tyranny is the depth of our faith in a democracy worth defending. Although they spread lies about us, the way of life we cherish is not dead. The American Dream is only hidden away, and it will push its way up and grow again.
We have moved down the years steadily toward the practice of democracy. We become animate in the growth of Kansas wheat or in the ring of Mississippi rain. We tremble in the strong winds of the Great Lakes. We cut timbers in Oregon just as the wild flowers blossom in Maine. We are multitudes in Pennsylvania mines, in Alaskan canneries. We are millions from Puget Sound to Florida. In violent factories, crowded tenements, teeming cities. Our numbers increase as the war revolves into years and increases hunger, disease, death, and fear.
But sometimes we wonder if we are really a part of America. We recognize the mainsprings of American democracy in our right to form unions and bargain through them collectively, our opportunity to sell our products at reasonable prices, and the privilege of our children to attend schools where they learn the truth about the world in which they live. We also recognize the forces which have been trying to falsify American history — the forces which drive many Americans to a corner of compromise with those who would distort the ideals of men that died for freedom.
Sometimes we walk across the land looking for something to hold on to. We cannot believe that the resources of this country are exhausted. Even when we see our children suffer humiliations, we cannot believe that America has no more place for us. We realize that what is wrong is not in our system of government, but in the ideals which were blasted away by a materialistic age. We know that we can truly find and identify ourselves with a living tradition if we walk proudly in familiar streets. It is a great honor to walk on the American earth.
If you want to know what we are, look at the men reading books, searching in the dark pages of history for the lost word, the key to the mystery of living peace. We are factory hands, field hands, mill hands, searching, building, and molding structures. We are doctors, scientists, chemists, discovering and eliminating disease, hunger, and antagonism. We are soldiers, Navy men, citizens, guarding the imperishable dream of our fathers to live in freedom. We are the living dream of dead men. We are the living spirit of free men.
Everywhere we are on the march, passing through darkness into a sphere of economic peace. When we have the freedom to think and discuss things without fear, when peace and security are assured, when the futures of our children are ensured — then we have resurrected and cultivated the early beginnings of democracy. And America lives and becomes a growing part of our aspirations again.
We have been marching for the last 150 years. We sacrifice our individual liberties, and sometimes we fail and suffer. Sometimes we divide into separate groups and our methods conflict, though we all aim at one common goal. The significant thing is that we march on without turning back. What we want is peace, not violence. We know that we thrive and prosper only in peace.
We are bleeding where clubs are smashing heads, where bayonets are gleaming. We are fighting where the bullet is crashing upon armorless citizens, where the tear gas is choking unprotected children. Under the lynch trees, amidst hysterical mobs. Where the prisoner is beaten to confess a crime he did not commit. Where the honest man is hanged because he told the truth.
We are the sufferers who suffer for natural love of man for another man, who commemorate the humanities of every man. We are the creators of abundance.
We are the desires of anonymous men. We are the subways of suffering, the well of dignities. We are the living testament of a flowering race.
But our march to freedom is not complete unless want is annihilated. The America we hope to see is not merely a physical but also a spiritual and an intellectual world. We are the mirror of what America is. If America wants us to be living and free, then we must be living and free. If we fail, then America fails.
What do we want? We want complete security and peace. We want to share the promises and fruits of American life. We want to be free from fear and hunger.
If you want to know what we are — we are marching!
In 1943, the Post commissioned four writers to craft an essay to accompany each of Norman Rockwell's Four Freedoms paintings, which had quickly come to represent America's moral imperative during World War II. You can read the other three essays here.
Freedom from Fear
Originally published on March 13, 1943
What do we mean when we say "freedom from fear"? It isn't just a formula or a set of words. It's a look in the eyes and a feeling in the heart and a thing to be won against odds. It goes to the roots of life — to a man and a woman and their children and the home they can make and keep.
Fear has walked at man's heels through many ages — fear of wild beasts and wilder nature, fear of the inexplicable gods of thunder and lightning, fear of his neighbor man.
He saw his rooftree burned with fire from heaven — and did not know why. He saw his children die of plague — and did not know why. He saw them starve, he saw them made slaves. It happened — he did not know why. Those things had always happened.
Then he set himself to find out — first one thing, then another. Slowly, through centuries, he fought his battle with fear. And wise men and teachers arose to help him in the battle.
His children and he did not have to die of plague. His children and he did not have to make human sacrifices to appease the wrath of inexplicable gods. His children and he did not have to kill the stranger just because he was a stranger. His children and he did not have to be slaves. And the shape of Fear grew less.
No one man did this by himself. It took many men and women, over many years. It took saints and martyrs and prophets — and the common people. It started with the first fire in the first cave — the fire that scared away the beasts of the night. It will not end with the conquest of far planets.
Since our nation began, men and women have come here for just that freedom — freedom from the fear that lies at the heart of every unjust law, of every tyrannical exercise of power by one man over another man. They came from every stock — the men who had seen the face of tyranny, the men who wanted room to breathe and a chance to be men. And the cranks and the starry-eyed came, too, to build Zion and New Harmony and Americanopolis and the states and cities that perished before they lived — the valuable cranks who push the world ahead an inch. And a lot of it never happened, but we did make a free nation.
"How are you ever going to live out there, stranger?"
"We'll live on weevily wheat and the free air." If they had the free air, they'd put up with the weevily wheat.
So, in our corner of the world, and for most of our people, we got rid of certain fears. We got rid of them, we got used to being rid of them. It took struggle and fighting and a lot of working things out. But 130 million people lived at peace with one another and ran their own government. And because they were free from fear, they were able to live better, by and large and on the whole, than any 130 million people had lived before. Because fear may drive a burdened man for a mile, but it is only freedom that makes his load light for the long carry.
And meanwhile around us the world grew smaller and smaller. If you looked at it on the school maps, yes, it looked like the same big world with a big, safe corner for us. But all the time invention and mechanical skill were making it smaller and smaller. When the Wright brothers made their first flights at Kittyhawk, the world shrank. With those first flights, the world began to come together, and distant nations to jostle their neighbor nations.
Now, again in our time, we know Fear — armed Fear, droning through the sky. It's a different sound from the war whoop and the shot in the lonesome clearing, and yet it is much the same for all of us. It is quiet in the house tonight and the children are asleep. But innocence, good will, distance, peaceable intent, will not keep those children safe from the fear in the sky. No one man can keep his house safe in a shrunken world. No one man can make his own clearing and say "This is mine. Keep out." And yet, if the world is to go on, if man is to survive and prosper, the house of man must be kept safe.
So, what do we mean by "freedom from fear"?
We do not mean freedom from responsibility — freedom from struggle and toil, from hardship and danger. We do not intend to breed a race wrapped in cotton wool, too delicate to stand rough weather. In any world of man that we can imagine, fear and the conquest of fear must play a part.
But we have the chance, if we have the brains and the courage, to destroy the worst fears that harry man today — the fear of starving to death, the fear of being a slave, the fear of being stamped into the dust because he is one kind of man and not another, the fear of unprovoked attack and ghastly death for himself and for his children because of the greed and power of willful and evil men and deluded nations.
It will not be easy to destroy those fears. No one man can do it alone. No one nation can do it alone. It must be all men.
It is not enough to say, "Here, in our country, we are strong. Let the rest of the world sink or swim. We can take care of ourselves." That may have been true at one time, but it is no longer true. We are not an island in space, but a continent in the world. While the air is the air, a bomb can kill your children and mine. Fear and ignorance a thousand miles away may spread pestilence in our own town. A war between nations on the other side of the globe may endanger all we love and cherish.
War, famine, disease are no longer local problems or even national problems. They are problems that concern the whole world and every man. That is a hard lesson to learn, and yet, for our own survival, we must learn it.
A hundred and sixty-odd years ago, we, as a nation, asserted that all men were created equal, that all men were entitled to life, liberty, and the pursuit of happiness. Those were large assertions, but we have tried to live up to them. We have not always succeeded; we have often failed. But our will and desire as a nation have been to live up to them.
Now, in concert with other free nations, we say that those children you see and other children like them all over the world shall grow to manhood and womanhood free from fear. We say that neither their minds nor their bodies shall be cramped or distorted or broken by tyranny and oppression. We say they shall have a chance, and an equal chance, to grow and develop and lead the lives they choose to lead, not lives mapped out for them by a master. And we say that freedom for ourselves involves freedom for others — that it is a universal right, neither lightly given by providence nor to be maintained by words alone, but by acts and deeds and living.
We who are alive today did not make our free institutions. We got them from the men of the past, and we hold them in trust for the future. Should we put ease and selfishness above them, that trust will fail and we shall lose all, not a portion or a degree of liberty, but all that has been built for us and all that we hope to build. Real peace will not be won with one victory. It can be won only by long determination, firm resolve, and a wish to share and work with other men, no matter what their race or creed or condition. And yet, we do have the choice. We can have freedom from fear.
Here is a house, a woman, a man, their children. They are not free from life and the obligations of life. But they can be free from fear. All over the world, they can be free from fear. And we know they are not yet free.