One of Frances Tipton Hunter's earliest memories is of herself at age 3 drawing over her grandmother's wallpaper. Losing her mother at the age of 6, Hunter and her brother moved to Williamsport, Pennsylvania, to live with an aunt and uncle. Education was an important part of Hunter's artistic life; she attended the Philadelphia Museum School of Industrial Arts and the Philadelphia Academy of the Fine Arts, graduating from both institutes with honors. While still a student, Hunter began to illustrate children's fashions for department stores. The success allowed Hunter to move to New York where she continued her illustration career.
Along with her work in the Post, Hunter illustrated fashion catalogs and advertisements for children's clothing as well as illustrating for other publications including Collier's, Good Housekeeping, and Ladies' Home Journal. Her subjects were most often children with cherubic features. Hunter tried to capture the happiness and innocence of youth, inspired by memories with her mother. Hunter's work made her one of the most well-known artists of the 20th century, with paper dolls and picture books of her work being sold. With a style similar to Norman Rockwell, Hunter captured the ideal American childhood. Along with her18 covers for The Saturday Evening Post, Hunter's drawings were nationally recognized from the 1920s to the 1950s.
In her first Post cover, Hunter put her best foot forward with this adorable couple. Hunter never had children of her own, so used her work to create adorable flashes of childhood innocence.
Post editors came up with this cover idea of a boy not wanting new long-johns, and Hunter loved it. For inspiration, Hunter waited in a department store waiting for the right mother/son pair to sketch.
This young man wasted no time taking over his sister's playhouse. With the dolls strewn across the ground, a Keep Out sign on the door, and his toy gun loaded, he will defend his new headquarters.
This little girl is trying to impress her mother; her blonde curls match the woman's in the chair. But her hands give away her nerves as they flap by her sides.
A quick glance may give the impression of an angelic children's choir. Closer inspection will reveal a black eye and a bandaged head and fingers on the two boys up front.
Most kids grow about 2 inches each year, so this mother likely has a lot of work ahead of her.
In this cover, Hunter depicted adolescence. You can see the math problems the young man should be paying attention to floating in the background.
While the adults behind these kids concern themselves with more important matters, these kids don't care. Their mission is simply to enjoy a ride on the trolley.
Born in Howard, Pennsylvania, in 1896, Frances Tipton Hunter's early years began in quiet, rural America. At the age of six, she suffered the tragedy of losing a parent, her mother. At this young age, she moved to Williamsport, Pennsylvania, to live with her aunt and uncle. Hunter longed to remember the happiness of her earliest childhood memories, and this remained a constant theme throughout her life's work.
Hunter began developing her abilities at Williamsport High School. After graduating in 1914, she moved to Philadelphia to further her career in art and illustration. She attended many art schools and institutions, including the Philadelphia Museum of Industrial Discipline, The Pennsylvania Academy of Fine Arts, and the Fleisher Art Memorial, and graduated from each institution with honors. At the end of her studies in Philadelphia, she received an art scholarship that allowed her to move to New York City. There she began her career illustrating fashion for department-store children's clothing lines.
Covers by Frances Tipton Hunter
Hunter quickly rose to fame and recognition in the art world, becoming one of the most prominent female illustrators of the 20th century. Her early work captured depictions of children and pets, popular subjects of the 1920s and '30s. Prior to her first commission for The Saturday Evening Post, Hunter's work lined the covers and pages of magazines and periodicals such as Women's Home Companion, Collier's, Liberty, Good Housekeeping, and Ladies' Home Journal.
A wide variety of her work was published as advertisements, puzzles, paper dolls, and calendar art. Her paper dolls, featured in Frances Tipton Hunter's Paper Dolls and The Frances Tipton Hunter Picture Book, grew into a popular series later taken up by the Whitman Publishing Company of Racine, Wisconsin.
Her first Post cover, No Money for Her Soda, published on June 6, 1936, was a phenomenal success. It depicted a toddler couple on a date and out of cash. The image of adult life reflected in an innocent childhood scene secured more commissions for Hunter throughout the following decade.
Much like Norman Rockwell, Hunter preferred depicting an idealized American childhood filled with innocence. Bright eyes, pale skin, and plump, rosy cheeks are typical of her painted children playing games. In all, Hunter completed 18 covers for The Saturday Evening Post from the mid-1930s to the 1940s. As with many artists and illustrators of that era, her work on the cover of the Post brought her national fame.
The June 6, 1936 cover of The Saturday Evening Post,"No Money For Her Soda," shows two kids who've spent the day with each other, and a boy who doesn't have two pennies left to rub together. Even in this embarrassing moment the artist's use of small children in a setting for adults, while using a bright color palette, manages to keep the scene innocent and playful.
Frances Tipton Hunter's first cover for The Saturday Evening Post does a wonderful job arranging tokens of the day's activities around the counter. The remnants of the day rest under the boy's arm, on the floor, and even held between his teeth, including a ticket stub, a gift-wrapped box, an empty soda glass, and a bag of ballpark peanuts. Just in case we need further evidence of the boy's financial predicament (and we don't really), the boy's pockets are turned inside out.
Much like the works of Norman Rockwell, Frances Tipton Hunter painted innocent boys and girls living idealized American childhoods, complete with this idyllic failure of financial preparation. Your heart aches as what looks to be a fun-filled day comes to a stalled, awkward end—the partially deflated balloon representing the increasingly poor prospects of their future together.
Painted at the height of the Great Depression, the picture of a young spendthrift on a badly planned date automatically raises broader questions. Though the work depicts children, could this catastrophic date, complete with reckless money management, have hit a little too close to home for a struggling 1930s America?
The two children sit upon adult-sized, vertical barstools (feet dangling), staged symmetrically opposite one another to draw the viewer's attention to the compositional "H" frame's center. The horizontal line of the bar cuts across the image, drawing the eye in to navigate the story's narrative, a pocket-searching hand and the counter's empty glass.
Further dissecting the work's structural composition, Hunter's set design and palette interact with the overall story to tone down the seriousness of the subject matter. The lighter hues–pinks, peaches, blues, beige, and white all work to soften the severity of the situation. Hunter even changed the Post font color to a fun, light-hearted pink.
The white backdrop of the cover's negative space pulls the scene forward dimensionally from the rest of the cover, creating depth layered from the barstools to the bar, to the back wall of the soda shop. The entire scene steps out from the cutoff nameplate of The Saturday Evening Post as an entrée into their moment.
This momentary glimpse into a child's hardship brings both a smile and a reminder to keep track of one's finances.
Remember turning in pop bottles for change? How about having a few cents for candy and taking forever to decide? These Post covers remind us how much shopping has changed.
Lunchtime at the Grocery by Albert W. Hampson
The grocery cart was only a 3-year-old invention when this 1940 Post cover was painted. Invented in 1937, the "double basket" didn't immediately catch on. People were used to carrying a woven basket, but to some women the cart seemed a bit much. Older people were afraid they'd appear feeble and men wanted to appear manly, as if handling a few groceries were no big deal. The inventor of the cart, Sylvan Goldman, finally hired models of all ages and both sexes to use the carts while shopping. It caught on enough by 1940, that a Saturday Evening Post cover featured the now ubiquitous baskets on wheels.
Thoughtful Shopper by Norman Rockwell
Before the days of the shopping cart, grocers went around the store fetching items according to your list. According to Norman Rockwell's 1924 cover, sometimes they had to do so much more. The gentleman in this painting was J. L. Malone, who appeared in at least one other Rockwell cover. The artist appreciated Malone's reading voice and the model sometimes read aloud for hours while Rockwell worked on an illustration such as this. The usual fare? Classic Dickens.
Penny Candy by Frances Tipton Hunter
No one promised the grocer an exciting career. Even the dog has fallen asleep while the children try to decide which candy to get. In 1939, a penny was a lot to a little kid. For more covers by Frances Tipton Hunter — guaranteed sweeter than penny candy — see The Art of Frances Tipton Hunter.
Grocery Line by Stevan Dohanos
As sure as you just want to pay a bite to eat and get on with your day, a slow-moving line looms ahead. Artist Stevan Dohanos had everything he needed in this painting except for just the right guy to portray the stalled shopper. To heck with it; the artist just went ahead with his summer vacation in Martha's Vineyard. There he spotted a fellow vacationer in shorts and a fishing hat, yelled, "Hey, wait!" and proceeded to explain his Saturday Evening Post cover predicament. Sure, I'll pose, the stranger said, and headed home to put on his city clothes. The man, H.R. Knickerbocker, was already known as an illustrious war correspondent, but now he was immortalized on a Post cover. The shopping carts are unique, quite different from the below cover from three years later.
More Money, Honey by George Hughes
This 1951 cover with the sleek metal cart looks more like today's groceries, except perhaps for the milk bottles and the gentleman's fedora. Oh, and the fact that she's using a strange thing called cash rather than a credit or debit card.
Babies and Bananas by Stevan Dohanos
This is not an example of how a grocery store operates these days, but this 1952 cover is a fine example of why artist Stevan Dohanos is a Post favorite. Dohanos had done some farm scene murals for the grocery store and decided to use the actual grocer in a painting destined for The Saturday Evening Post. The artist just happened to have a cute baby to use for the cover — his own little tyke, Tony.
"Here Boy!"
Now, where is that dog? A reader recently requested information about cover artist Frances Tipton Hunter (1896-1957). Hunter's career spanned the 1920s through 1950s, and like many female artists of that time, she frequently focused on children and pets.
"Girl and Boy at Soda Fountain"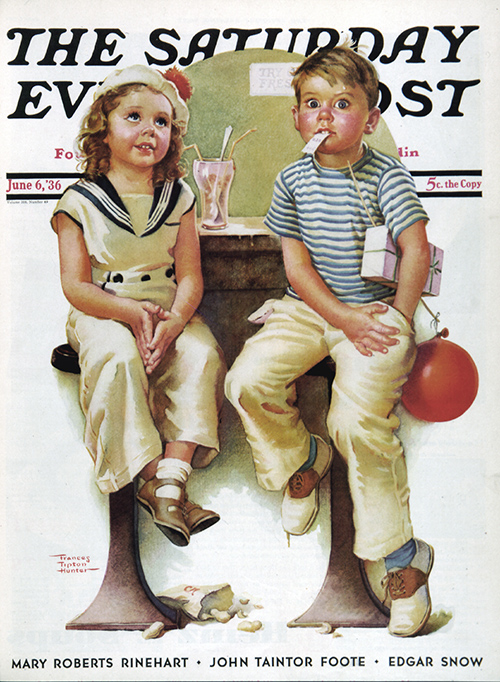 This was Hunter's first cover for The Saturday Evening Post. The expression on the little boy's face when he realizes he forgot (or lost) his money makes this a favorite of mine. Hunter's artistic talent revealed itself during her high school years. She graduated with honors from the Philadelphia Museum of Industrial Arts and did the same at The Pennsylvania Academy of Fine Arts and the Fleisher Art Memorial. She moved from Pennsylvania to New York where she illustrated children's fashions for department stores.
"Boys in Principal's Office"
In 1936, like today, when little boys get in fights, a trip to the principal's office is in order. I love the anxious expression on the blond boy's face. In the 1920s Hunter created a series of paper dolls for Ladies Home Journal that became so popular that a compendium of her doll artwork was later published. She also illustrated for Collier's, Women's Home Companion, and Good Housekeeping as well as being known for her work in advertisements, puzzles, and calendar art.
"Boy and Girl at Candy Counter"
Oh, gracious, this takes me back! I can remember having a few pennies to spend on candy and taking forever to make the momentous decision. Hunter was said to imitate Rockwell in her idealized visions of children. Perhaps this is because she never had children of her own.
"Little Boy and Winter Underwear"
The life of an artist! Post editors suggested this idea for a cover, and the artist liked it. She wanted to sketch it from real life, so she found a spot in a Philadelphia department store and waited. "Well, she waited and waited," editors wrote in this 1937 issue. "Little girls came in, with large mothers, and stolid, big boys with small mothers, but not a small boy in the lot. Hours passed, with Miss Hunter waiting patiently in her corner. Finally, when all seemed lost, in came the pair you see on the cover of this issue. Miss Hunter sat bolt upright, all eyes, sketch pad ready. She wanted the expression on the youngster's face, particularly. And then came the big moment—the small fry glowered and muttered: mother held the despicable woolies. Miss Hunter poised her pencil.
"'Turn around, Richard,' said mother, 'and I'll measure these against your back.'" Sigh. Somehow our dedicated artist caught the perfect expression and the cover came out great.
"Girl and Boy on School Steps"
Hunter painted big kids, too. In this 1940 cover, the young lady is concentrating on teaching her classmate the math formulas and he is concentrating on … well, I think you can guess. When Frances Tipton passed away in 1957, she left her artwork to be divided between the James V. Brown Library and the Lycoming County Historical Museum, both in Williamsport, Pennsylvania.
"Kids Riding Trolley"
This 1940 cover of a boy and girl was another of eighteen covers Hunter did for the Post. For others, see the Curtis Publishing website.
What does any of this have to do with Ogden Nash? Just this: I found an illustration by Frances Tipton Hunter for a poem called "Remembrance of Tings to Come" published by Nash in the August 29, 1936 issue of the Post. Here is a link to that poem, with Miss Hunter's illustration:
Boyfriend's Baby Pictures by George Hughes
1953 Post editors speculated that the girl might be thinking, "Oh my gosh, if Bill and I got married, would we have funny-looking babies like that?" Aw, come on guys – she's thinking he was sooo cute! I think this is payback for the way Bill behaved at the grocery when he was little (cover below).
Sack Full of Trouble by Richard Sargent
The redheaded Indian in the grocery bag has that look – what my folks used to call "pure orneriness". Mom looks like she's been through the wringer today with Big Chief Billy and his bow and arrow. But be careful, junior; Mom always has ammo of her own – remember the photo album.
Kitchen Haircut by Harold Anderson
In 1933 you didn't take your kid to the mall (what mall?) for a haircut. It was a mom duty. My memories are of Mom haircuts and home perms in the 1960's. I didn't say they were good memories. Moms may not often be good stylists, but they got the job done.
Removing the Splinter by George Alsop
Going barefoot is fun – until you get a splinter. We went clear back to 1917 for this one from The Country Gentleman magazine, a sister publication to the Post for many decades.
New Woolies by Frances Tipton Hunter
Shopping is not Billy's strong suit – it's a good thing it is Mom's. Artist Frances Tipton Hunter did eighteen Saturday Evening Post covers, each cuter than the next.
Spirit of Education by Norman Rockwell
You would think we'd be grateful Mother buys us warm underwear and sews our costume for the school pageant. But, noooo. All we care about is having to wear a dumb ol' sheet and our friends snickering at us. Hopefully, Norman Rockwell's lad will get into the spirit.
Did any of these classic covers provoke a memory? Share your comments below. And have a Happy Mother's Day!
Okay, supposedly little boys don't like little girls. They why do they go to so much trouble to impress them? With Valentine's Day approaching, these Post covers show how to win a girl's heart – or not.
Making Faces by Frances Tipton Hunter
Oddly enough, these adorable little girls seem charmed by the goofy face the boy is making. Hint #1 guys: ladies adore a sense of humor. Artist Frances Tipton Hunter did eighteen Post covers, mostly of kids so darn cute you want to pinch their little cheeks. If you haven't had your quota of cute for the week, look this artist up at curtispublishing.com.
Hockey Waits, Tying Skates by Alan Foster
Okay, now I get it: boys just act like they hate girls because their friends will razz them otherwise. At least that was the case in 1927. That's the price this young man is paying for being the gentleman and helping milady tie her skates. Second hint, fellows: ignore the guys and just go for it. Many of artist Alan Foster's nearly thirty covers look a great deal like Rockwell's.
She's My Girl! by J.C. Leyendecker
She's my girl! Barely past the toddler stage, this young lady is already breaking hearts. This tip must be to fight for what you want, but couldn't they both just walk her to school? This is from 1935 by J.C. Leyendecker.
Schoolboy Crush by Charles A. MacLellan
Next hint: don't put your heart out there too soon. If you can't read it, his chalkboard says "I Love You". We dug clear back to 1914 for this cover by artist Charles A. MacLellan. Personally, Red, I think you're too nice for a snooty girl like her, anyway. MacLellan is another artist I've often mistaken for Rockwell.
No Money for her Soda by Frances Tipton Hunter
Two tips here, gentlemen: DO take her out and show her a good time, like treating her to an ice cream soda. However, DO NOT forget your money. I never know whether to laugh or cry at the look on the boy's face as he digs in his pocket. This was another cover by Frances Tipton Hunter that I can never resist.
Little Spooners by Norman Rockwell
Leave it to Norman Rockwell to give guys the best tip of all: do romance the lady. A fine example of that is this mutual admiration of the sunset. The poor little pup would rather go fishing, but a man has to have his priorities. This is a Rockwell classic from 1926.
Questions about Saturday Evening Post covers? E-mail: [email protected] or leave a comment below.
If you think Dad has been neglected, you haven't looked at our great collection of Saturday Evening Post covers.
Soldier and Daughter by K.R. Wireman – December 14, 1918
#1 – The Grateful Dad:Dad was often a prominent feature, like this WWI soldier coming home to his daughter. It's a rarely-seen remembrance of this era from a great artist little known today: K.R. Wireman.

Dad at Bat by Alan Foster – June 1, 1929
#2 – The Sportsman: This is one of those covers that resembles the style of Norman Rockwell, but it was by artist Alan Foster. Dad must have just come from the office, according to his clothing, but he's game for the game. Good batter stance, Pop.

Tea for Grandpa by C. Gager Phillips – February 18, 1933
#3 – The Good Sport: If tea is served in a doll-sized teacup, then by golly, dad (or granddad) will do his best to drink it. If it's the 1930s, you can bet the little girl will have a Shirley Temple-type hairstyle. This beautiful cover is from February 1933 and was by little-known artist C. Gager Phillips.

Report Card by Frances Tipton Hunter – March 25, 1939
#4 – The Intimidator: If your report card was not up to snuff, you would hear about it. It's 1939 and somebody may be about to lose his radio privileges. Even the dog is concerned. We just hope the news in the evening paper isn't that bad. Artist Frances Tipton Hunter did a number of Post covers featuring adorable children. For more of these, go to: http://www.curtispublishing.com/artists/Hunter.shtml

Bike Riding Lesson by George Hughes – June 12, 1954
#5 – The Teacher: Remember all the things Dad taught you. This 1954 cover shows a kid having a great time on his bike. But Pops seems a little panicky about the stopping part. Oh, just wait, Dad. In a few years you'll be teaching him to drive a car.

Happy Father's Day by Howard Scott – June 19, 1943
#6 – The Deserving Dad: And which dad isn't deserving of special recognition? We think getting that cake into and out of the lunchbox in perfect condition displayed a bit of artistic license, but the sentiment is spot on. If you can't read "Pop's" button even after clicking for a close-up, it is his ID badge to show he works at Plant 46.

Questions about a Saturday Evening Post cover? We'd love to hear from you. E-mail [email protected] or [email protected]
Are you ready for the passionate kiss appearing on the cover of the Post in … are you ready … 1907? The beautiful painting by Frank X. Leyendecker (brother of renowned artist J.C. Leyendecker) shows a beautifully dressed couple at the piano, carried away by the music, one supposes.
Covers from both world wars often depicted heartbreaking scenes of kissing a lover goodbye, but there was a twist to artist John Newton Howitt's October 19, 1940, cover. The sailor is just about to kiss the pretty girl in his arms, when oops! Her purse opens, and  a loving photo of a soldier springs into view. Perhaps she has a military beau in every port? Or maybe it's her brother … yeah, that's it.
Not everyone approved of this kissing stuff. Robert Robinson was a cover artist in the early 1900s who was gifted at painting what we gently refer to as "old geezers." This particular old salt sees the shadows of a kissing couple, one of whom is probably his little girl. The young man might want to hurry his "good night" along.
We not only approve, we simply cannot resist this 1938 Post cover by Frances Tipton Hunter. The little girl (who bears a resemblance to Shirley Temple) decides the best way to celebrate her friend's birthday is with a smooch. We can't quite tell if the birthday boy likes or dislikes the "gift," but the boy witnessing the scene is sure getting a kick out of it.
We end with a unique winter scene from 1962 by an artist named James Williamson. An industrious wife is clearing the driveway of snow, and hubby shows his appreciation as he leaves for the office. If you look carefully, you'll discover a witness to this lip action as well. A tiny squirrel perched atop the snowy fence by the mailbox is wondering what the heck these humans are up to now.
Gallery