Long before most of us were old enough to know what a horse was (let alone a mint julep), Post ladies were dazzling us with their chapeaus.
This pretty lady was quite a standout in 1908, with a hat large enough to serve as shade for three. This one must have required several hatpins to secure.
Harrison Fisher was an artist who graced many Post covers with lovely ladies. This hat requires a profile view for best effect. One wonders what poor bird(s) suffered for this work of art. Well, they say beauty has its price.
There are dozens of Post "hat ladies" to choose form, but we couldn't resist this gorgeous paisley turban. This was also painted by artist Harrison Fisher. We love the color reproduction for 1910.
Let's hope that fancy motor car doesn't get up too much speed! Somewhere between glamorous and…well, crazy, these hats make a fashion statement…of some kind. Luckily there was still room in the car for the dog.
Artist Harrison Fisher must have done some serious hat shopping. In "Coffee and Conversation" from 1912, this lady's headgear is bound to turn some heads. We kind of see Lady Gaga going for this one.
Thank goodness for Derby Ladies! Where else can we drool over these beautiful hats these days? Such as this simply elegant cover from 1928.
It's Derby Day! Make sure to bring your binoculars so you can watch your favorite pony round the track.
Descriptions courtesy of Diana Denny.
As you can see from these covers dating back to 1900, America has always celebrated educational milestones with great pride. We've always known that our grads would go on to do amazing things!
This cover of President Cleveland and two college graduates was Frank X. Leyendecker's first cover for the Saturday Evening Post.
The most important work of the early Post period was made up of the elegant paintings of Harrison Fisher. He frequently painted covers that simply presented a lovely woman. Occasionally a prop, like the diploma in this 1902 cover, implied a narrative, but the essential subject remained the woman herself.
This later Harrison Fisher cover shows a couple reading together. Couples doing something romantic was another common theme in Fisher's covers. Since painting women was his specialty, the woman graduate still remains the focus of this cover.
This Rockwell cover shows a young student trying to remember his graduation speech. By the look on his face, he doesn't hear the helpful hints or laughter coming from behind him.
This J.C. Leyendecker cover shows a college graduate ready to take on the world. Strong male figures were a trademark of many of Leyendecker's Post covers.
This is one of more than 30 covers E.M. Jackson created in the 1920s. While Jackson was mostly known for his paintings of romantic women, he occasionally created a cover focused on a man, like this graduate dressed as a Roman, giving his commencement speech.
This is Edmund Davenport's third and final cover for the Saturday Evening Post. The clouds behind this graduate make this cover unique and complex compared to Davenport's other two covers, which have more simple backgrounds.
In this Rockwell cover a professor hands a young boy his diploma and praises his hard work. It's assumed that he's the first in his class based on the large stack of diplomas behind him and the medals on his jacket.
This cover was done by one of the Post's most prolific female artists, Ellen Pyle. Her early Post covers were simple portraits of women. Later on, her work became more detailed and many of her covers have the subject in front of a large, colored circle in the background, just like these graduates on her 1927 cover.
This McClelland Barclay cover of a military school graduate and his girl is similar to nearly every other Barclay Post cover. Barclay became well known for his ability to paint strikingly beautiful women in a rather simple setting using bold colors. Barclay painted a total of five Saturday Evening Post covers, and all but one depicts a vibrant couple with an empty background.  
Steve Dohanos' two sons, Peter and Paul, were in an Eastern boys' school when he took the family car up to help them move home. A passenger car, he learned, is no proper vehicle for such a job. The artist made his sketches on the Yale campus, but rearranged things to suit his purposes. The boy is George Ritter, of Westport, Connecticut, no Yale man. The artist didn't use a Yale man, on the remarkable theory that none would like to cut class.
Once, years ago, a young scholar arose at commencement time to deliver an oration on the Panama Canal, found he had forgotten his entire speech, and started ad-libbing out of the general mass of data he had acquired in the classroom. Everybody vowed it was a grand speech, except his elocution teacher, who nearly had a stroke trying to locate him on her prompting manuscript.
Now that this young man is going forth from the halls of learning, maybe he is lying there thinking about how his generation soon will he the guardians of civilization, and of what a glorious challenge this is to the youth of today. Or maybe he is asleep. For as Dick Sargent muses with his brush: any guy who manages to finish commencement certainly has forty thousand winks coming.
Symbolic of a host of graduating Americans, they have an air of quiet confidence, suggesting that as they help mold the future of this cantankerous old world they may be able to make it behave a little better than in the past. Artist George Hughes worked on this cover at Williams College, where everybody did everything possible to make his stay agreeable—well, short of giving him a degree.
Artist Norman Rockwell sketched a couple of undaunted graduates (see below); but then, reflecting on the awfulness of today's newspaper headlines, he created the bewildered chap on the cover. This one is musing. Boy. aren't things really screwed up? What to do, I wouldn't know. But one thing you can bet on: I'll give it the old college try. Rockwell says, "I like his feet. They look as if he's standing on eggs."
Artist Thornton Utz's scene is Smith College, in Northampton, Massachusetts, where in 1960, Congressman Chester Bowles delivered the commencement address. The congressman's daughter Sarah was among the 500 young ladies receiving bachelor degrees.
This holiday season, we bring you 33 portraits of women from the pages of the Post, from 1920s beauties to 1950s fashion plates, all wishing you season's greetings and winter cheer!
Sneaking away while the house is asleep, this couple stashes away their Christmas gifts.
Lavish parties and formal garb say sophistication, but this couple whisks each other away to steal a kiss under the mistletoe.
The warm candlelight from the tree makes this Christmas beauty radiant.
They may be celebrating the holidays miles apart, he's still the focal point of her celebration.
This woman hopes for kisses from Christmases future.
Arms overflowing with parcels and holly, she can't remember if she bought the pipes for Grandpa Joe. 
This merry maid has boughs of holly to spare.
Cheeks chilled to rosy red, there is no better way to enjoy the snow than a stroll with your two best friends. 

This festive flapper is cozy indoors while the snow piles up outside.
This hostess awaits her guests on a wintry evening.
Late nights in the winter are perfect for ice-skating…and maybe something more.
This elegant lady puts the finishing touches on the mistletoe.
There's no better way to get into the holiday spirit than hanging garland with the one you love.
There is no time like the holidays for romance.
This holiday lady is eyeing the next victim of a playful pelting.
For some, snuggling up next to hearth and enjoying the solitude is a far better way to spend the holidays.
With a microphone and her sultry voice, she performs a stunning rendition of "Christmas Time."
Who said kids get to have all the fun?
She's almost late to her own party!
Holiday romance takes the chill out of the coldest nights.
A quiet moment before the whirlwind.
She recounts her encounter with her admirer at the park.
When he asked his best friend to join him for dinner he never expected to be the third wheel on his own date.
With fresh snow covering the ground, sleigh rides make the perfect escape from the festivities.
Poinsettia pinned and hair curled, this winter wonder catches the eye of all the guys.
This winter-clad socialite prepares to thrash any who threaten her fashion.
She sails with grace across the ice.
Out of all of the gifts she received, her favorite was the rose.
The best way to enjoy a fresh snowfall is with someone who can hold you close.
Waiting for someone under the mistletoe.
She coaxes him over for a midnight dance.
The letter in her hand doesn't stave off this mistletoe kiss.
This postwoman is delivering season's greetings in spite of the snowfall.
Harrison Fisher was known as "Father of a Thousand Girls" for his paintings of beautiful women. He was also the father of over eighty covers for The Saturday Evening Post.
Harrison Fisher (1875-1934) was the son and grandson of artists, and by the time he was six, his father was teaching him about art.
Fisher became a newspaper illustrator while he was still in his teenage years. In the days before photography was commonplace, newspapers depicted current events and stories in black and white sketches. Soon, however, it was clear that paintings of beautiful women were his forté and he found his ladies described as successors to the Gibson Girls.
Much like the Gibson Girls, the Fisher Girls were the epitome of the All-American beauty with hourglass figures, delicate facial features and rich, lustrous hair. If you could see any of this beyond those hats, that is.
Being a Fisher model was the hot job. Fisher's models ran in high society circles, motoring with millionaires and staying at luxury mansions. But one model was especially interesting.
Her name was Dorothy Gibson. Her story begins with a brief career as a vaudeville singer and dancer before she became Harrison Fisher's favorite model. She was also a survivor from the Titanic.
It is said that publisher William Randolph, with his newspapers and magazines like Cosmopolitan, tried to keep Fisher so busy he couldn't work for other publications.
Indeed, Fisher illustrated most Cosmopolitan covers–nearly 300–between 1913 and his death in 1934. It was Cosmo that gave him the nickname "Father of a Thousand Girls."
In fact, Fisher was reported in some sources to have had an exclusive contract with Cosmopolitan magazine, which is either inaccurate, or the artist found a way around it, as he did over 80 covers for The Saturday Evening Post between 1900 and 1915.
As a prop or a story device, of humble wood or elaborately patterned, artists have furnished their paintings with interesting chairs.
Coles Phillips' Glamor
This gorgeous cover from 1923 was by artist Coles Phillips, a friend of Norman Rockwell's. Phillips was also an illustrator for Life magazine, and his lithe ladies also adorned about 10 Post covers. Here, he found an exquisite backdrop for his lovely model.
Harrison Fisher's Angle
Years ago, I fell in love with an antique corner chair similar to this one. Alas, it was out of my price range. I'll just have to be content admiring this one from a 1909 Post cover. Artist Harrison Fisher did many covers of beautiful ladies, but this one is from a particularly interesting angle.
Gene Pelham's New Chair
Where there's a chair, there's a woman deciding where best to place it. For the sake of the deliveryman, let's hope she decides soon. This is from 1942 by an artist named Gene Pelham.
Norman Rockwell's Interior Design
The master of the house is viewing the situation with trepidation. Can't a guy read his paper and smoke his pipe in peace without some female wanting to change things? This 1940 cover is modern and pretty—a very "un-Rockwellian" Norman Rockwell.
John Falter's Humorous Twist
Beware of trying out chairs in antique stores! "After years of observing ancient chairs tremble and sway and utter squeaks of alarm," noted the editors, "we're relieved to see one of them (with somebody else in it) go ahead and decompose." Well, that's not a very noble sentiment, is it? One wonders if the shop has a sign posted that says, "If You Break It, You Buy It."
Norman Rockwell's Relaxed Fit
So many features argue against this 1925 cover being by Norman Rockwell—but it is. Rockwell liked faces with "character" over pretty models, but he seems to have chosen beauty in this case. The artist kept a supply of well-worn clothing and scuffed shoes for his models, but this lady is nicely attired. And Rockwell was also known to scrounge around town for the scruffiest looking mutts for a painting rather than this uncharacteristically well-cared-for cutie. So maybe it's not a group of ragged urchins getting into mischief—at least the lovely wing chair is authentic and makes for a delightful cover!
Woman With Basketball by Carol Aus
Dr. James Naismith is credited with inventing basketball in 1891, and apparently it didn't take long for the ladies to try their hand at the sport. A Norwegian artist named Carol Aus (1868-1934), about whom little is known, painted this young player for a 1909 Post cover.
Woman Playing Tennis by George Brehm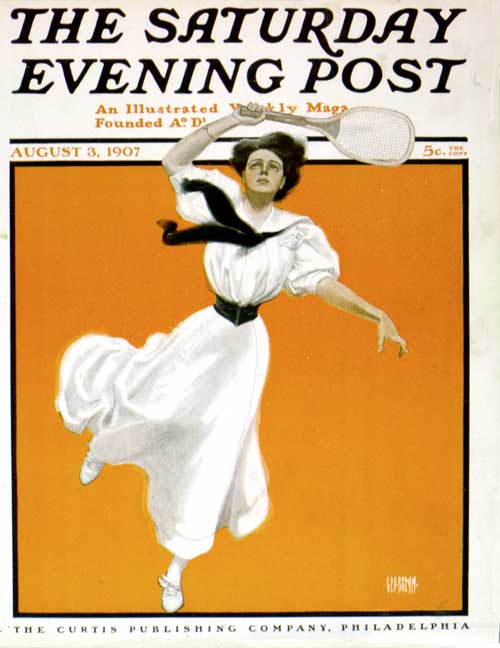 We have plenty of cover art showing a pretty lady posing with a tennis racket or other sports equipment, but an action shot like this tennis player makes a person wonder how the artist did it. A person might also wonder how the lady was so active in a long skirt. This is from 1907.
Lady Fishing by Harrison Fisher
We have dozens of covers depicting the art of fishing, the first of which was Grover Cleveland fishing in 1901. The second, in 1902, was of a lady reeling one in! Harrison Fisher was a big name in Post covers, doing nearly 80 between 1900 and 1915.
The Finals and Alice Gray by Pete Fountain
We have numerous depictions of the great game of golf, also. This is one of the earliest, from 1903. Maybe they couldn't vote, but women could certainly golf…and fish, hunt, play tennis, basketball and baseball.
Woman Archer by J.J. Gould
This is another action painting. Early Post artist J.J. Gould went for verisimilitude in this one from 1907. The lady looks like she knows what she's doing.
Woman on Horseback by Philip R. Goodwin
Hundreds of covers depict a lady reading, holding flowers or a fan, or simply looking lovely in a beautiful gown. This 1906 cover shows many of the fair sex were made of sterner stuff.
So many covers featured a boy and his dog. A while back, we did a feature on Rockwell dogs and recently we even showed ladies and their dogs. Well, enough I say! Equal time for cats!
Gathering Wood by John Clymer
Ah, the deep, cold Minnesota winter as painted by wonderful landscape artist John Clymer. If you're wondering what the large, egg-shaped structures in the background are, as I was, they are snow-covered bales of hay. The face of the boy we can see is still enjoying the winter and the dog seems content. But notice the felines at the bottom heading in. Where there's firewood, there must be a fire to cozy up to. Cats are my kind of people.
Seated Woman with Big Cat in Her Lap by Harrison Fisher
Here's a beauty from 1908. Artist Harrison Fisher did over eighty Saturday Evening Post covers of lovely ladies, and this one has a bonus gorgeous feline. We showed you many Harrison Fisher ladies in stunning hats in our April cover piece, "Kentucky Derby Fashion Tips". He was so well known for his paintings of beautiful ladies that they were known as the Harrison Fisher girls, and yes, reprints are available at curtispublishing.com.
Passing the Blame by K.R. Wireman
I couldn't resist showing this Country Gentleman cover once more. CG was a sister publication to the Post for many, many decades. This little tot by artist K.R. Wireman has learned early to pass the buck. Well, a case could be made that the cat is black from knocking over the coal bucket, but we think the evidence points elsewhere.
Kitty Cooldown by Parker Cushman
On a hot day, kitty needs a turn in front of the fan, too. This adorable cover was by an artist named Parker Cushman in 1916. I can find very little about his artist, but he did three cute covers of children for the Post.
Cat Fight by Charles Livingston Bull
The greatest cat lovers will admit that they aren't always adorable. Charles Livingston Bull was a great wildlife painter, and it doesn't get much wilder than two felines going at each other. I can hear the howls now!
Cat Guards Bowl of Milk by Robert L. Dickey
Give 'em heck, kitty! No matter how adorable the dogs may be, this feisty kitten from 1926 is not sharing her bowl of milk. Cats are the original divas. Artist Robert L. Dickey was known for his animal paintings, particularly horses. He did six other covers for the Post, all of dogs. He certainly nailed this kitty's attitude.
Girl and Three Cats by Sarah Stilwell-Weber
We've shown many Sarah Stilwell-Weber covers, but this is a nearly-forgotten one from 1910. This young lady has her hands full of cute. Stilwell-Weber was a popular artist of children and did sixty-five covers for the Post and Country Gentleman magazines between 1904-1925 (yes, each more adorable than the next).
We've seen many Post covers with a man and his beloved hunting dog, or a boy and his furry best buddy. And from Wolfhounds to tiny laptops, Saturday Evening Post artists showed us how a dog, not diamonds, is a girl's best friend.
Woman and Wolfhound by W.H. Coffin
This is no lap dog. The wolfhound and pretty lady were painted by artist W.H. Coffin. Born in Charleston, South Carolina in 1878, Coffin did over thirty Post covers between 1913 and 1931, each one of an attractive woman. His portraits were sometimes stark, but as he progressed he added props for contrast and interest: a spray of flowers, a feathered fan, a dog big enough to rip your throat out…okay, just kidding about the last part. He's a beautiful animal.
Lady with Riding Crop and Dog by Harrison Fisher
Clearly, in the early twentieth century, charming ladies were a popular cover subject for Saturday Evening Post artists. Harrison Fisher did an amazing eighty-eight covers, frequently of ladies in fabulous hats. This one is from 1909. I can't decide: is the hat or the dog cuter?
Tipping the Scales by Joseph Farrelly
Okay, so a dog isn't always a woman's best friend! Next time, she'll learn to get a smaller dog. This cute cover from 1923 is the only one we have by this artist, but at least one Post staffer thinks it would make a great framed print for the bathroom. One needs humor by the bathroom scales.
Woman Resting After the Shoot by Edward Penfield
Where there was a hunting cover, and there were many, there was a dog. And sometimes the hunter was female. This lovely autumn cover from a 1917 Country Gentleman magazine (a sister publication) was by artist Edward Penfield. His Country Gent and Post covers at the turn of the century were of varied subjects: horses and horseless carriages, Presidents Teddy Roosevelt and Grover Cleveland…and the occasional pretty lady.
Girl Scout by J.C. Leyendecker
The girl scouts started out in 1912 with eighteen members in Savannah, Georgia and today boasts over three million members. It was enough of an entity by 1924 to capture the attention of renowned Post cover artist J.C. Leyendecker. This young lady is practicing her first aid skills and her furry friend is being, well, a good scout.
Woman and Small Dog by Clarence Underwood
Clarence Underwood illustrated Post covers between 1903 and 1926 – over forty in all. This one is a lovely study in black and white, with a small red feather for contrast. And yes, you can get reprints of thousands of beautiful, humorous and interesting Post (and Country Gentleman) covers at www.curtispublishing.com. If you're looking for a particular cover or want to see a certain cover subject in a future Featured Artists column, contact me at: [email protected].