A Most Beautiful Thing
⭐ ⭐ ⭐ ⭐
Run Time: 1 hour 35 minutes
Narrator: Common
Director: Mary Mazzio
Now streaming on XFinity VOD; on Peacock September 1; on Amazon Prime October 14.
The best documentaries lull you into thinking they're taking you for a nice float on a lazy stream — then abruptly suck you into a chasm of Class 5 rapids that have you holding on for dear life.
That's the kind of ride we get in director Mary Mazzio's new film, which starts out as the inspiring tale of America's first all-African-American public high school rowing team — but has much more on its mind than warm feelies.
It's the 1990s on the West Side of Chicago, where gang violence is tearing apart the student body of Manley High School. Enter a white Chicago businessman named Ken Alpart, who naively convinces administrators that what the school really needs is a rowing team. He puts a sleek crew shell on display in the cafeteria, offers free pizza to anyone who signs up — and waits to see who comes through the door.
What he gets is a random collection of rival gang members, kids barely holding onto their lives, much less their grades. We meet them in the present day: Grown men, now nearly 40, scarred by their harrowing youths. Foremost among them is Arshay Cooper, who recalls for us his daily adventure walking five blocks to school — and having to wear his baseball cap a different way each block, so as not to get jumped by the local street gang.
The guys laugh as they recall their first time sitting in the low, easily-tipped boat — terrified they might end up in the water.
Some were ready to quit before they got started until, as Cooper recalls, he asked them, "How can you deal with gunshots all day long in your neighborhood and you're scared to sit in a boat?"
From here the narrative seems to be going just as we've hoped: On the water, the guys find a peace they've never known before. The former sworn enemies become a team. They enter their first competition, fail miserably, but learn from their mistakes. Finally, at the biggest race of the year, they not only earn the respect of other rowers, but they are celebrated by the entire city of Chicago.
It's an engaging, feel-good story that seems tailor made for a Hollywood remake — you could probably do the casting yourself.
But something seems a little off here: We're barely halfway through the film's run time, and the kids are already graduating from high school. They say farewell to their rowing adventure. Everyone goes their separate ways.
Now what?
It is now 2018, and the old teammates have just learned that an assistant coach from their high school days has suddenly died. They gather for the funeral, and Cooper hatches an audacious plan: Why not have a reunion row? It doesn't take long for everyone to get on board with the idea.
It's a decision that makes the second half of A Most Beautiful Thing even more inspiring than the first. For one thing, virtually none of the guys is anywhere near rowing shape. For another, it goes without saying none of the kids went on to Ivy League rowing glory; they returned to the 'hood where the familiar litany of misfortune awaited many of them: drugs, crime, poverty, and imprisonment. Skillfully and respectfully, Mazzio unfolds each man's history, exploring the inner city dynamics that stacked the deck against them from the start (she cites a study that reports children from neighborhoods like these suffer higher rates of PTSD than combat soldiers).
Still, after a rocky start, the old teammates rediscover their rhythm. Cooper — who wrote the book on which this film is based, is a sought-after motivational speaker and has become something of a legend in the rowing community — even enlists Olympic rowing coach Mike Teti to whip them into shape.
But Cooper has more than a rowing reunion in mind. Recalling how the sport brought gang rivals together, he hatches an outrageous notion: Why not invite four members of the Chicago Police Department to row with them?
Now, Mazzio has just spent the last hour or so illustrating the tortured relationship between the cops and the 'hood. At this very moment, one of the guys is wearing an ankle bracelet after a run-in with the law. But they trust Cooper and reluctantly agree, leading to some of the most remarkable scenes of awkwardly effective bridge building you'll ever see.
Finally, the team decides to enter one last official race, returning to the waters where they found high school glory. By now we're beyond worrying about whether they'll win or lose. We're all friends here.
It's hard to imagine a more stormy sea than the one this country is navigating right now, but the inspiring men from Manley High School have a couple of lessons for us all: First, don't assume that everyone who's not on your side is your enemy. And second, it's possible to find common cause with just about anyone, even if you have to keep them at oar's length.
Featured image: Richard Schultz/50 Eggs Films
Be Kind, Save Money, and Wear Sunscreen
It's that time of year when young people are graduating from high school and college. It's also the time of year for commencement speeches and general advice for those graduates before they go off to summer jobs, a new city, or the career they've chosen.
We've all read (or at least heard about) the classic essay by Chicago Tribune writer Mary Schmich that is often attributed to either Kurt Vonnegut or director Baz Luhrmann (it doesn't help that the essay at the paper's site doesn't have Schmich's name on it at all). She gives some great advice: wear sunscreen, keep in touch with friends and family no matter where you live, do not read beauty magazines, remember the compliments you receive, and forget the insults. That's all great advice no matter what age you are.
But there are other pieces of advice that young people would be smart to heed. Gretchen Rubin, author of The Happiness Project, has 12 rules she tries to follow, which include being polite and fair and not letting the perfect be the enemy of the good. Frances Bridges at Forbes says that things are going to get harder before they get better, and you should always be smart about your money; and writer George Saunders suggests that, no matter what you do in life, err in the direction of kindness.
I would add to that a few I've learned. One is that good credit is more important than love (you'll find love, but you don't want to start out by messing up your credit); working is usually better than not working; and if you meet people who tell you that your high school or college years will be the best years of your life, don't listen to them, because that's just depressing.
Also: If you ever find yourself on The Price Is Right, never bid one dollar unless you're the last bidder. The person after you will just bid two dollars and you'll look like an idiot.
Zsa Zsa
One person's ugly is another person's cute, but I think that even people who tend to lean toward the latter have to admit that this dog is pretty darn the former.
Zsa Zsa, a 9-year-old English bulldog from Minnesota with questionable facial and body features, won the annual World's Ugliest Dog contest last week. She and her owners won $1,500 for capturing first prize.
I think it's the mouth, those teeth, and that darn giant tongue that's always hanging out.
Something You Don't Know About Superman
Shortly after reading Troy Brownfield's great piece on the 80th anniversary of Superman, I came across an interesting little factoid on how kryptonite entered the Man of Steel's world.
The voice of Superman on the Adventures of Superman radio show was Bud Collyer, whom you may also know as the host of To Tell the Truth (the '60s version, not the current monstrosity on ABC). The writers came up with kryptonite, which paralyzes Superman, so Collyer could have some time off from the show. Since all Superman would be doing that week was moaning and groaning, they just got another actor to make those sounds.
It's funny how something that is so closely associated with Superman actually made its first appearance on the radio show and not in the comic book.
The Words We Always Misspell
My friend Ken Levine has a fun post at his site about the words he always misspells (a word that itself is one I'm sure a lot of people misspell). We all go through this, even if we're good spellers in general. There are just some words that get us every time. For Ken, it's privilege, jeopardy, and pigeon.
I once lost a grade school spelling bee on Massachusetts. I spelled it correctly, but forgot to say "capital M," and my English teacher wouldn't give it to me. Still bugs me 40 years later. Thanks a lot, Mr. Pike.
Three words I always misspell are miniscule, pasttime, and reccommend. See?!
RIP Harlan Ellison, Charles Krauthammer, Donald Hall, Richard Harrison, Dan Ingram, Deanna Lund, and Koko
Harlan Ellison was a highly influential and opinionated writer and editor who changed the world of science fiction, fantasy, and pop culture in general over the past six decades. He wrote thousands of short stories, novels, novellas, essays and columns. He also wrote for several TV shows including Star Trek (the classic episode "City on the Edge of Forever"), The Outer Limits, The Man From U.N.C.L.E., the 1980's reboot of The Twilight Zone, and Babylon 5, as well as the movie A Boy and His Dog. Ellison died yesterday at the age of 84.
Here's Ellison's official site, where you can read what fans and friends are saying in the forum.
Dr. Charles Krauthammer started out in the field of psychiatry after graduating from Harvard Medical School but found a second career as a conservative writer and pundit. He got his start as a speechwriter for Walter Mondale and also wrote for places like The Washington Post and The New Republic, and was a commentator on Fox News. His terrific book of essays, Things That Matter, sold over a million copies. Krauthammer had been paralyzed since a college diving accident, but he actually succumbed to cancer last week at the age of 68.
Donald Hall was a poet and essayist who was U.S. poet laureate from 2006 to 2007. He died last Saturday at the age of 89.
Richard Harrison was "The Old Man" on the popular History Channel series Pawn Stars. He died Monday at the age of 77.
Dan Ingram was a veteran New York disc jockey. Some people even call him the best disc jockey of all time. He started at small radio stations in the late '50s and went on to work at such places as WABC, WKTU, and WCBS. He died Sunday at the age of 83.
Deanna Lund was an actress probably best known as Valerie on the sci-fi television series Land of the Giants. She died last Friday at the age of 81.
My two favorite stories of Koko the gorilla who learned sign language? She once destroyed a sink, and when her handlers came into the room to find out what had happened, Koko signed to them that the cat had done it. And there was the time that Mr. Rogers visited Koko and she took off his shoes, because that's what he always did on his TV show. Koko died last week at the age of 46.
Quote of the Week
"Man, summer is going to suck."
—Meet the Press host Chuck Todd, on the upcoming political battle to replace retiring Supreme Court Justice Anthony Kennedy
This Week in History
First TV Western, Hopalong Cassidy, Premieres (June 24, 1949)
It's hard to believe now, but at one point, westerns were the most popular genre of TV show, with a staggering 26 shows on the air in 1959. At first the Hopalong Cassidy series was just edited versions of the films, but NBC later created original episodes. William Boyd played the cowboy and became so popular that it led to a theme park, magazine covers, and endless merchandising.
George Orwell Born (June 25, 1903)
Here's what the Post had to say about Orwell's classic novel 1984 in 1972.
This Week in Saturday Evening Post History: Row, We're Out of Gas (June 27, 1959)
I've been on a boat exactly one time in my life, about 35 years ago — a boat a lot like the one featured in this Amos Sewell cover. And I think I had as much fun as the family in this boat seems to be having. We didn't run out of gas, I'm just not a boat guy.
July 4 Recipes
At Christmas we see a lot of red-and-green-oriented recipes, and on Halloween it's orange and black. For the Fourth of July the colors are obviously red, white, and blue. Sometimes you can tell the recipe creators are really stretching things to make ordinary foods with those colors, but I think I found a few that look pretty fantastic.
How about these Firecracker Strawberries, which are first soaked in vodka and then decorated with marshmallow (that's the white) and sprinkles (for the blue)? Or how about Ina Garten's Flag Cake, which looks like it might take a while to decorate but is rather impressive? If you're looking for something savory rather than sweet, how about this Red, White, and Blue Potato Salad? The blue color is actually purple potatoes, but we won't tell anyone if you don't.
It's odd when a holiday lands smack in the middle of the week, but maybe that will give you an excuse to take Thursday and Friday off, too.
Next Week's Holidays and Events
World UFO Day (July 2)
It's on July 2 to mark the day that a spacecraft (supposedly) crashed in Roswell, New Mexico, in 1947. You can go to the World UFO Day site to become an official ambassador, or you can just watch Earth vs. the Flying Saucers again.
Wimbledon Begins (July 2)
The top seeds for the tournament at the All England Lawn Tennis and Croquet Club are Roger Federer and Simona Halep. They've also given Serena Williams, whose ranking dropped considerably after missing a year to have a baby, the 25th seed.
By the way, you don't have to call it the All England Lawn Tennis and Croquet Club. But make sure you say Wimbledon and not Wimbleton.
​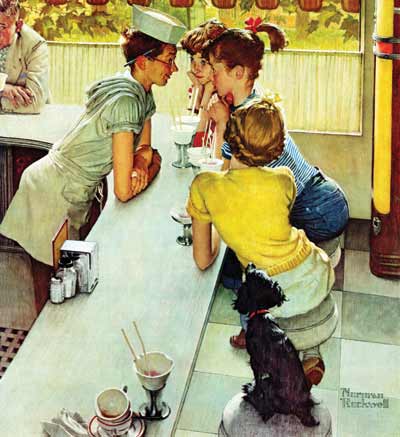 The teenager is one of the more unusual inventions of the 20th century. Humans have been turning 13 for tens of thousands of years, but only recently did it occur to anybody that this was a special thing, or that the bridge between childhood and adulthood deserved its own name. The term teen-ager dates back to the early 1900s, but the word didn't stick. Even until World War II, there are hardly any instances of teenagers in the popular press.
In 1953, J. Edgar Hoover warned of "an appalling increase in the number of crimes that will be committed by teenagers in the years ahead."
In the last few decades, however, the national media has nurtured a growing obsession with teenagers, in the sort of way that is neither lewd nor, perhaps, fully healthy. The press exhaustively tracks the apps young people use, the music they listen to, and the brands they follow. In the last few years, the fastest-growing large companies have been software and technology firms whose first adopters are often young people who know their way around a computer, smartphone, or virtual reality app. If most ancient cultures were gerontocratic, ruled by the old, modern culture is fully teenocratic, governed by the tastes of young people, with old fogies forever playing catch-up.
The teenager emerged in the middle of the 20th century thanks to the confluence of three trends in education, economics, and technology. High schools gave young people a place to build a separate culture outside the watchful eye of family. Rapid growth gave them income, either earned or taken from their parents. Cars (and, later, another mobile technology)
gave them independence.
1. The rise of compulsory education
As the U.S. economy shifted from a more localized agrarian society to a mass-production machine, families relocated closer to cities, and — at least initially — many sent their children to work in the factories. This triggered a countermovement to prevent kids from being forced to toil in mills.
The solution: compulsory public education for kids. Between 1920 and 1936, the share of teenagers in high school more than doubled, from about 30 percent to more than 60 percent. As young people spent more time in school, they developed their own customs in an environment away from work and family, where they could enforce their own social rules. It is impossible to imagine American teenage culture in a world where every 16-year-old boy is working jowl-to-jowl with his father on an assembly line.
2. The postwar economic boom
A serious commercial interest in teenagers didn't begin in earnest until after World War II. To entice marketers, teenagers needed money, and that money would come from two principal sources: the labor force and parents. The 1950s saw one of the great periods of economic expansion in American history. With full employment came rising wages for unionized adults and older teenage workers.
Modern culture is fully teenocratic, governed by the tastes of young people, with old fogies forever playing catch-up.
Meanwhile, parents gradually had fewer children and spent more per child, as befits any scarce and valuable investment. Birth rates declined across the advanced world in the second half of the 20th century due to both the rise of female education and the legalization of the pill. Since the 1970s, the richest 20 percent of U.S. households have more than doubled their spending on childhood "enrichment," such as summer camps, sports, and tutors. As the modern marriage has come to revolve around children, young people emerged as the chief financial officers of family spending.
3. The invention of the car
It might be a horrifying consideration for today's singles, but a first date once meant an introductory chat in the living room with a girl's parents. This might have been followed by a deliciously awkward family dinner.
But cars emancipated romance from the stilted small talk of the family parlor. Just about everything a modern single person considers to be a "date" was made possible, or permissible, by the invention and normalization of car-driven romance. The fear that young men and fast cars were upending romantic norms was widespread. The chorus of the 1909 Irving Berlin song "Keep Away from the Fellow Who Owns an Automobile" is instructive:
Keep away from the fellow who owns an automobile
He'll take you far in his motor car
Too darn far from your Pa and Ma
If his 40 horsepower goes 60 miles an hour say
Goodbye forever, goodbye forever
If you think Tinder and dating apps are destroying romance today, you would have hated cars in the 1900s. Cars didn't just hasten a historical shift from teenage codependence to independence. They fed the growth of a high school subculture. When buses could drive students farther from their homes, one-room schoolhouses gave way to large buildings filled with teeming hordes of adolescents and their hormones.
The fall of the farming economy and the rise of mandatory education combined to create a teenage culture that Americans viewed with deep anxiety. Fears of "juvenile delinquency" were bicoastal, inspiring Hollywood films, such as Rebel without a Cause and Blackboard Jungle, and galvanizing Washington subcommittees on the terrible problem of teens.
These forces conspired to unleash an abundance of leisure time, a temporal vacuum that teenagers filled with experimentation. "The abolition of child labor and the lengthening span of formal education have given us a huge leisure class of the young, with animal energies never absorbed by tasks of production," wrote one New York Times critic in 1957. Even in the early years of their classification, teenagers were regarded as cultural nomads. Rather than settle into the established rituals of American society, they were roving vagabonds seeking out new frontiers of tastes and behavior.
Kids These Days!
Hand-wringing about American youth is nothing new.
The problem with teens is that, well, they're just a pain in the you-know-what and always have been. With all those wild hormones surging, and little of the self-control that a mature person naturally possesses, they're bound to cause trouble, as these 20th-century excerpts from our pages reveal.
We Made It Too Easy for Them
What could have happened 40 years ago that took the stamina out of the men and women who were to become the parents of these amorphous youths whose accent of conscious superiority indicates so clearly immature minds? We ourselves had lived as pioneers, abstemiously, obediently, with few pleasures, and under hardships that produced strength of character. The idea was to give our children more happiness and a better chance. We have made it so easy for them that too many of them have become unfilial and egotistical.
But these young people are of the same stock that wrought a civilization out of a wilderness. The recent panic sent some of them to work, and what sends all of them to earning their bread will not be a panic — however it looks on the ticker — but a national blessing.
—"Parents and Children, Yesterday and Today" by Corra Harris, May 28, 1932
Lost Generation
The 5 million kids who were between 10 and 13 years old when the Japanese attacked Pearl Harbor six years ago are a lost generation and are rapidly becoming America's major sociological problem. Everywhere on applications the classification "Check here if a veteran" haunts them.
Because they were born too late to fight, the feeling of not belonging has created a serious morale problem for the lost generation. Accustomed during the war to his own spending money and a feeling of social independence, the young nonveteran today finds himself literally an outcast.
The need for some kind of immediate action is pressing. The lost generation asks only for the chance to belong.
—"Our 'Lost Generation' Wants to Belong" by Arnold L. Horelick, August 2, 1947
Rush to Judgment
"Boys will be boys," we used say, when the neighborhood kids jumped on the back end of the streetcar and pulled the trolley off its overhead wire. We said it again when they broke out with a black eye after a fight behind the barn. Now all the neighborhood kids are juvenile delinquents, whether they belong to the switchblade set under the Brooklyn Bridge or to the baseball team that plays in the Smiths' empty lot at the corner of Elm and Pine. … Granted, juvenile delinquency — especially in our cities — is a serious problem, but why continually drag in that dispiriting phrase every time a teenage activity is mentioned?
—"You'd Think It Was Unconstitutional to Be a Teenager" by Carol Spicer, September 20, 1958
Teen Spirit
"Our youths now love luxury. They have bad manners, contempt for authority, disrespect for older people. Children nowadays are tyrants. They no longer rise when their elders enter the room. They contradict their parents, chatter before company, gobble their food, and tyrannize their teachers."
This remark sounds like the beginning of a letter to a metropolitan newspaper or the lament of an old-fashioned parent of the 20th century. In fact, it was made by Socrates in the fifth century B.C.
Are these comments any more valid now than they were in Socrates' time? I am inclined to think not. What the young person of today needs above all else is peace — peace with himself. Most of them, left alone, come to some sort of armistice with themselves sooner or later, but one is never sure that hostilities are over. This sort of peace involves recognition; and it is our job as teachers and parents to see that this recognition comes in a way which will lead to happiness in the future.
—"Why Do They Misbehave?" by Edward T. Hall, September 10, 1960
In 1953, J. Edgar Hoover published an FBI report warning that "the nation can expect an appalling increase in the number of crimes that will be committed by teenagers in the years ahead." The message reverberated in Congress, where President Dwight Eisenhower used his 1955 State of the Union to call for a federal legislation to "assist the states in dealing with this nationwide problem." Fredric Wertham's international bestseller Seduction of the Innocent relied on sketchy forensics and hysterical prissiness to argue that comic books were a cause of juvenile delinquency. On the one hand, Wertham's consideration for art's influence on young people is noble in the abstract. But his specific recommendations were priggish in the extreme; he complained, for example, that Superman was a fascist and Wonder Woman turned women into lesbians. He called comic books "short courses in murder, mayhem, robbery, rape, cannibalism, carnage, necrophilia, sex, sadism, masochism, and virtually every other form of crime, degeneracy, bestiality, and horror."
As soon as teenagers were invented, they were feared. Many social critics made no distinction between the young car-jacking thieves and the comic readers. To an old worrywart, they were all feral gypsy sprites.
The last 60 years have made teenagers separate. But are they really so different? Or are teens just like adults — but with less money, fewer responsibilities, and no mortgage?
There is some evidence that, as many parents quietly suspect, teenagers are chemically distinct from the rest of humanity. They suffer uniquely from loosely connected frontal lobes, the decision center of the brain, and an enlarged nucleus accumbens, the pleasure center. So where adults tend to see the downsides of risky behavior in high definition, teenagers see the potential rewards as if projected onto an IMAX screen with surround sound. The result is sadly predictable: Teens take more risks and suffer more accidents. Americans between 15 and 19 have a mortality rate that's about three times higher than those ages 5 to 14.
For Laurence Steinberg, a career investigating the teenage mind started with a common observation that is self-evident to parents, teachers, or anybody with even the faintest memories of high school: Teenagers often act dumber around other teenagers. ­Steinberg, a psychologist at Temple University, put people of various ages in a simulated driving game with streets and stoplights. Adults drove the same, whether or not they had an audience. But teenagers took twice as many "chances" — like running a yellow light — when their friends were watching. Teenagers are exquisitely sensitive to the influence of their peers. The precise definition of coolness may change over time, from cigarettes to Snaps, but the deep, animal need to possess it does not.
But what is coolness, anyway? In sociology, it is sometimes defined as a positive rebellion. It means breaking away from an illegitimate mainstream in a legitimate way. That might sound like a fussy definition. But it has its uses. My high school had a dress code, and when you're 14 years old, violating a repressive clothing regime is a beautifully obvious way to signal to other kids that you're noncompliant. But not always. What about sagging your slacks at a school memorial for war heroes? Or proudly untucking your shirt at a funeral for the school's favorite teacher? The same group of people can consider an outfit cool or deeply disrespectful, depending on how legitimate people view the norm that it's violating.
At the end of the 20th century, many teens gravitated to logos. The long economic expansion from the 1980s and the 1990s gave them the means to spend lavishly on clothing emblems. A fashion hit like Ralph Lauren was based not only on the quality of the garment, but also on the logo's talismanic power in high school ­hallways.
In recent years, the smartphone screen displaced the embroidered logo as the focal point of teen identity. It was once sufficient to look good in a high school hallway, but today, Snapchat, Facebook, and Instagram are all high school hallways, where young people perform and see performances, judge and are judged. Many decades after another mobile device, the car, helped to invent the teenager, the iPhone and its ilk offered new, nimble instruments of self-expression, symbols of independence, and better ways to hook up.
And so, in half a century, teenagers went from being a newfangled classification of awkward youth to an existential threat to American security to a valuable consumer demographic and a worthy topic of research. Teenagers are the market's neophiles, the group most likely to accept a new musical sound, a new clothing fashion, or a new technology trend. For adults, especially those with power and money, the rules are what keep you safe. When you're young, every rule is illegitimate until proven otherwise. It is precisely because they have so little to lose from the way things are that young people will continue to be the inexhaustible motor of culture.
From Hit Makers by Derek Thompson, published by Penguin Press, an imprint of Penguin Publishing Group, a division of Penguin Random House LLC. Copyright 2017 by Derek Thompson. 
Derek Thompson is a senior editor at The Atlantic magazine, where he writes about economics and the media and is a regular contributor to NPR's Here and Now.
This article is featured in the January/February 2018 issue of The Saturday Evening Post. Subscribe to the magazine for more art, inspiring stories, fiction, humor, and features from our archives.
For more about Gay Haubner's life in the North Country, read the other chapters in her serialized memoir. This is the last chapter in the series.
Michael Vlasdic's mother, the German professor, was always obliging; that summer, she taught a full load of classes, leaving Michael's house delightfully parent-free for hours and hours. I loved Michael. I never wanted to leave his arms. To be with him, I had spent the past six months fretting over my personal monthly calendar — is it safe to have sex this day? The day after? After every "safe" day I was convinced I was pregnant and doomed right up until my trusty body proved otherwise.
Now the 60s made a further encroachment in Duluth: Planned Parenthood came to town. Until then, the only doctor I knew was my pediatrician, Dr. Bergman, who had seen me in my white Carters undies and examined me for pinworm.
The girl grapevine went into full swing. "I heard if you're sixteen you can get birth control at Planned Parenthood and they don't tell your parents," said a wide-eyed Wendi Carlson. I was one of their first customers. I was so desperate to have as much sex as possible with Michael, to be free of the tyranny of the menstrual cycle, that I turned up at their downtown office and bravely asked to see a doctor. I was ushered into the exam room of a very nice woman doctor, another thing I had only seen on TV. I cringed through my first pelvic exam, even though the nice doctor complimented me on my "textbook cervix." When my legs were back together and on the ground, the doctor handed me a prescription that read "To regulate flow" and told me to come back in a year.
I had drugs and Michael and his empty house and no more worries about being knocked up. It was a fun summer. I tried to be mindful of the time on my work day when I had to punch in at The Bellows at four to make sure that those idiots who showed up for a steak dinner at five would have a fresh crisp salad. But we were insatiable. One afternoon, as I felt Michael poking me in the leg, ready for a third bout, I raised my kiss-swollen face up off the bed and saw to my horror that it was a quarter to four. Michael was pulling me down; of course he didn't understand why I had to be at The Bellows on time. Unlike everyone else I knew, Michael did not have a summer job. He refused on principle to work for the man. "Who cares if you're a few minutes late?" he grumbled. "It's not like you're doing anything important."
The real German, I was determined to keep the salads running on time. I threw on my clothes, not bothering to wash. Michael grudgingly offered to walk me the ten minutes down to The Bellows. Walk? I need to go at a quick trot to get there on time.
I was two blocks away from the restaurant, waiting at the corner to cross the busy-for-Duluth Superior Street. Traffic finally slowed as a bus pulled up and stopped. I started to dash across the street, certain Michael was beside me. But he had seen the car behind the bus veer left to go around it. I did not. I felt a bang and landed on the hood of a cab, looking into the horrified face of the driver. The next thing I knew I was on the ground and Michael was standing over me, red-faced and sobbing, as the bus driver and the cab driver both shot out of their vehicles. I assured everyone I was fine, and got up to continue on to work. No one was going to let that happen; I was guided over to the curb by several hands and forced to sit. Soon an ambulance showed up, and even though I was still protesting — who would make the salads and defrost the shrimp? — I was loaded inside. Before they shut me in, I called over Michael, who bent over me for my last words, which were to call The Bellows and explain that I had been hit by a car.
At St. Luke's Hospital I was X-rayed and palpitated and asked if I knew the name of the president and what day of the week it was. I did, and nothing was broken; when my father showed up (who had called him?) they were ready to release me. I pulled my jeans on over the yellow and purple bruise that covered my left leg from knee to hip, pushed myself off the examination table and fell over. I could not put any weight on that leg.
My father drove me home in silence, then helped me onto the living room couch, the first time he been in the house since the day he left. He stayed until my mother finally bustled in, furious at having been summoned home by some stupid kid thing, and even angrier that my dad got to act the part of the responsible parent. As soon as he was gone, she lit in to me: how in the world does anyone get hit by a car? Couldn't I see it coming? She was also suspicious of where I had been all that afternoon; it was July, I was not doing homework at Michael's house.
In a few days I had recovered enough to lean against the big stainless steel sink at The Bellows, peeling shrimp and cracking oysters; and to figure out ways to make love on Michael's narrow bed without his weight, however slight, on my injured thigh. Michael kissed the bruises, fading into less corpse-like shades, and told me how sorry he was, how he had just been about to warn me when I went teacups over kettles on the hood of the taxi. He did not feel badly enough to go out and look for a job himself; I kept working and kept spending my paycheck on drugs.
Summer ended and that golden age of youth, senior year, started. Saturdays were still reserved for Michael and acid, but every Friday I was with my friends in the White Delight, cruising up and down Duluth, in search of where the action was. Our senior year parties became wilder, more abandoned, with more booze, more drugs, and dozens of kids in various stages of intoxication. We huddled around house-sized bonfires on the lake shore, tossing empties into the flames and laughing hysterically at nothing. We smashed into the Anderson's basement; the crescendo of "Stairway to Heaven," still new to our ears, made conversation impossible and unnecessary.
There were a few casualties. Betsy James had a fight with her boyfriend, and took off on his motorcycle; he found her a block away pinned under it, with a broken leg and a large patch of her skin left on the asphalt. Craig Whiteman, one of East's few greasers, polished off a six-pack of Grain Belt at a party and accepted a dare to break into old lady Congdon's mansion. No one knew that Dorothy Congdon was a champion skeet shooter who slept with a loaded shotgun beside her.
My band of sisters grew closer together as high school graduation neared. We had forged a sacred bond, at a time when our hearts and souls were soft and malleable, and our feelings strong and blood hot. Our friendship was built on years sharing our teenage loves and disappointments, laughing, drinking, sometimes crying, and always caring deeply. We knew that college and jobs, new lovers and new friends, would soon disrupt the centrifugal force that kept us together, though we vowed not to let that happen.
Michael and I also believed with the fervor of a religion that we were destined to be forever together, the fever dream of first love. But while I had despaired every time my period was half a day late, Michael romanticized the possibility of us having a baby. He longed for an addition to his tiny two-person family and got all misty-eyed listening to Crosby, Stills, and Young's "Our House." We shared a dream of a small apartment in Minneapolis, filled with sex and drugs, college textbooks and cats, where we would fall asleep in each others' arms, but my dream definitely did not include a baby.
While my heart was sworn to Michael, the rest of me was stirring with other desires. Being safely on the Pill turned a key in my mind, which opened up a new world of sexual possibilities. Emily Dickinson wrote "There is no frigate like a book, To take us miles away," and for years books had been my only escape from my stolid small town life and boring middle-class family. I could get lost again and again in the exploits of Bilbo Baggins and Gandalf, Arthur and Merlin, Dorothy and Alice, and all those other plucky young heroines. Then I discovered that drugs could shanghai my mind, transport me to different realms. Now I realized that there was another vehicle that could take me away on adventures: my own body.
I started looking at other boys with a hungry curiosity. What would it be like having sex with them? How would they smell, how would they touch me? Would the sex be better or just different? And maybe just different would be exciting enough. According to Time magazine, which still made its weekly appearance in our mailbox, the sexual revolution was in full swing. I was a willing recruit to any revolt. Even my own mother, still pretty at thirty-seven and post-divorce slim, had seduced a former stalwart of the Catholic Church and father of six, and was busy trying to get him to dump his wife and marry her.
The culture, my body and mind, and the nice people at Planned Parenthood were all encouraging me to expand my sexual horizons; the only reason not to was that Michael, my sensitive, moody lover, would be hurt. So I never told him about the others. I was callow and callous, and from a distance of many years, I can see that I was not the adventuress I thought I was — just an asshole.
There was Jonathan, who had been making me laugh since seventh grade advanced math. He was a behind-the-scenes stagehand for all our aspirational high school plays, painting flats, adjusting the lights, and cracking up everyone in earshot. The plays our high school put on were ancient chestnuts, chosen for their ability not to offend anyone: starting with "My Three Angels" (misspelled on every poster as "My Three Angles"), about a trio of fugitives from Devil's Island, through "You Can't Take It With You," with its cast of thousands.
That play provided my one chance for glory on the stage. I had been trying out in vain for a part in one of East's plays since I was a sophomore. Our creepy drama teacher Mr. Canfeld had given every single leading role for the past three years to milquetoast Grace Myers; rumor had it that she let him feel her up. On my ninth audition for him, Mr. Canfeld felt sorry for me, ignored my lack of acting ability, and cast me as Olga, the White Russian countess, who shows up in the final act to deliver her three lines. After our second and closing performance, cast and crew gathered in somebody's parent-less house for one of the epic theater parties. Drunk and high, Jonathan and I were talking, then giggling like lunatics, then kissing. We locked ourselves in a bathroom so we could take some of our clothes off. As I had hoped, it was different and it was fun, like taking a roller coaster ride together. Miraculously, Jonathan and I became better friends.
One sub-zero Saturday night, Michael Vlasdic and Needle both sick with the flu, Roger and I ended up alone, driving aimlessly around Duluth in search of a party. Sitting next to him on the front seat, like boyfriend and girlfriend, I realized I liked his craggy profile and scooted over a little closer, feeling a pleasurable tingling. When Roger put his arm around me, a bolt shot through my body to where his hand rested on my shoulder; we both felt the electricity through our winter woolens. Without saying a word, Roger steered for Skyline Drive, the favorite parking place for Duluth teens. We stretched out as much as we could in the back seat and committed our double betrayal, he of his friend, me of my soulmate. When we were done, we felt a bit bad and swore it could never happen again. But it did, and it was furtive and secret and thrilling.
I had always had a little crush on handsome, sleepy-eyed Jack France, who showed up occasionally at Open Mind meetings to read his angsty poetry. He was like me, a flitter among groups, a smart athlete who got high. Now I side-eyed him in Mr. Burrows' class, where he sat alone in the back, gazing out the window. I wondered what it would be like to kiss him.
I found out on a yellow Bluebird bus making its bumpy way back from Telemark, Wisconsin, after a day of spring skiing. Nancy Erman had organized a school ski trip, one of the last hurrahs of our senior year. We skied stripped down to sweaters and blue jeans, luxuriating in the sunshine that was almost warm. There was such joy in the day, in our forever young bodies that we sent hurling recklessly down the slopes, again and again, until the lifts slowed and stopped and it was time to go home. Jack and I had skied together that day, and it didn't take much wrangling on my part to end up sitting next to him on the tot-sized school bus seat. Jack shook out a package of Lucky Strikes from his pocket and lit a cigarette. Then we kissed. I thought I was the world's best, most experienced seventeen-year-old kisser; I was knocked for a loop. Jack's kisses shrunk the entire world down to the two of us, nothing but slightly chapped lips and gentle exploring tongues and the taste and smell of tobacco which reminded me of fall's burning leaves. On the bus, in parkas and long johns and snow-soaked Levi's, there was nothing more we could do than kiss, and the kisses were everything.
Jack and I never went any further. For years, every time we ran into each other, Jack and I would end up in dark corners where we shared those deep soulful kisses, sometimes for hours, until he took off one autumn on a solo cross-country bike trip to Seattle, where he leapt off the George Washington Memorial Bridge.
Being with Jonathan, Roger, and Jack was fun, it was sex with no agenda, no strings attached. It wasn't about love, or negotiating a relationship, or even about my desperate desire to be thought of as pretty and sexy and cool.
I was beginning to regret the plans that Michael and I had made, that we'd go off together to the University of Minnesota in Minneapolis and live happily ever after. I was going to spend my first year in a dorm; he would stay with a friend of his mother's who had offered him almost free rent and board. Eventually we would find an apartment and move in together. In the pleasant mist of these daydreams, I didn't think about how we would pay the rent; his mother had no money, I knew neither of my parents would subsidize my living in sin, and Michael had never shown the slightest desire to find a job. I had left the salad and the shrimp at The Bellows behind; my vast restaurant experience got me hired as a waitress at The Flamette, where despite my dropping a full glass pitcher of maple syrup my first day and my inability to carry more than two plates at a time, I was making enough to buy drugs and squirrel away some spending money for college.
East High had no guidance counselors to talk to about universities; the only adult who had spoken to me about college was my grandmother, who offered to pay my tuition if I went to St. Scholastica, a Catholic woman's school right there in Duluth. No thank you.
I filled out the application for the University of Minnesota, wrote the essay, tore out and filled in a check for $15 from my mother's checkbook (she had finally gotten her own bank account), and sent the package off to Minneapolis, never doubting that I would get in and never considering applying to any other schools. The housing catalog that came with my acceptance letter featured a brand new, co-ed dorm, the only dorm that allowed 24-hour visitation from the opposite sex — as long as you had your parents' permission. I checked the box for Middlebrook Hall on my housing form, forged my mom's name on the permission slip, and fell into a fantasy of unlimited sex with unlimited college boys, with an occasional guest appearance by Michael Vlasdic.
For once the reality matched the daydream. My perky, adorable, All-American college roommate, Nancy Lowe, went back to her suburban home every weekend to work at the local pizza place and have sex with her own boyfriend, leaving me a wonderfully empty dorm room for entertaining. I was sandwiched between boys; at Middlebrook Hall the sexes alternated floors. My new friend Liz Hepper, who I had met in her dorm room closet, where she was chugging a bottle of Southern Comfort, introduced me to a herd of funny, smart boys from her hometown of Rochester, including a pharmacy major who had very good drugs. There were so many boys in my dorm, and they were all so interesting and cute. And out on the huge campus there were 20,000 more, surrounding me in class, eating dinner in the cafeteria, napping or reading or throwing Frisbees on the still-green campus lawns.
Despite all our plans, despite my absent roommate and the 24-hour visitation, despite how much I thought I looked forward to the first time I could sleep with him, entwined and spooned and inhaling his sweet spicy scent, Michael and I never spent a single night in my skinny dorm bed.
Before the first week of college was out, I called Michael and broke up with him, in the worst way possible, over the phone.
There was another important phone call that first month of my freshman year. My mother called to tell me that she was moving to Colorado Springs. She did not tell me that she was moving in pursuit of the ex-Catholic father of six, who had finally left his wife; he had also left Duluth to live on a small ranch in Colorado. I was instructed to come back home that weekend to box up anything I did not want sold or thrown out; my mother and sisters were downsizing from a six-bedroom stately home to a two-bedroom apartment.
I wandered through 101 Hawthorne, most of the rooms already empty of furniture. Almost everything was gone from my old bedroom, where I had spent so many nights tripping, transfixed by the golden glow from the streetlight streaming through the trees. A few summer clothes hung in my closet; I put them in my suitcase, looking forward to catching some boy's eye in my cute Indian-print sundress in the spring.
I went back down to the TV room, where our bookshelves were, and where two large cardboard boxes sat gaping. "Put what you want to keep in one," said my mother. I pulled from the shelves the books that had been my youthful frigates: Alice's Adventures, the Tennile drawings only slightly defaced from Crayolas wielded by my sister Lani. The Wizard of Oz. The Lion, the Witch, and the Wardrobe. The Fairy Tales of Hans Christian Anderson, minus "The Little Mermaid" and "The Little Match Girl." I opened up the books Michael had given me, The Hobbit and The Lord of the Rings trilogy, each frontispiece signed "I love you" illustrated by his round smiling face. My heart gave a small twist as I stowed them in the moving box. Next came the never-paid-for plays of William Shakespeare, three heavy tomes, The Histories barely cracked. I added The Guide to Minnesota Fauna and Flora, which had been handed to me by the outdoorsy old lesbian who had dragged me around Duluth's fields and woods. Here was Angelique and the Sultan, with steamy seduction scenes on every page, never returned to Kathy O'Dell. A ragged paperback sci-fi novel, The Blind Spot, that I had read three times in a row, on that trip to Mexico, lacking any other English-language reading material that was not dental-related. And of course the fruit of my junior year with Mr. Burrows, the two volumes of American history and literature, typed out night after night, with my name printed on the spine in gilt letters.
I sealed my cherished books up in a moving box and told my mother that was all I wanted shipped to Colorado. That Christmas break, in my mom's ticky-tacky Colorado Springs apartment, I sat in the living room, hemmed in by our old furniture: the mahogany dining table for six, the gold and cream French Provincial sofa and matching end tables, and the immense cabinet TV. I opened a cardboard box identified as "Gay's Books" in black marker. It contained stained Junior League cookbooks, several years of Reader's Digest Condensed Books, a collection of Harold Robbins paperbacks, a single addendum to the World Book, dated 1960, and a battered Webster's dictionary. My childhood was gone.
Hugh Delehanty is a best-selling author whose latest work, Eleven Rings: The Soul of Success, written with Phil Jackson, debuted in June at number one on The New York Times bestseller list. This essay originally appeared in a slightly different form in Our Boston: Writers Celebrate the City They Love, a new collection of stories by John Updike, Susan Orlean, Leigh Montville, and others. The publisher, (Houghton Mifflin Harcourt) is donating $5 for every book purchased to The One Fund to help the victims of the Boston Marathon bombing.


It was supposed to be our most excellent adventure. My best friend, Glenn, and I–both eleven years old at the time–had talked our parents into letting us go into Boston on our own to see the movie West Side Story, which had just opened downtown. We lived in South Weymouth, a quiet, Norman Rockwell-esque village on the South Shore, then one of the safest towns in America, according to Reader's Digest. The actor Hal Holbrook, who once lived near my house, said that the primary reason he was able to recreate the character of Mark Twain so well was that he grew up in a world that was remarkably similar to Twain's hometown, Hannibal, Missouri.
Glenn was a quirky guy. It was no surprise that he later became a biology professor. He was always conducting whacky experiments. Once he carved his name into his arm with a razor blade to see what would happen. (He stopped, thankfully, after the letter L.) Then he almost blinded himself trying to examine the spots on the sun–with binoculars! His nuttiest stunt, however, was firing his brand new BB gun at a hall where a bunch of World War II vets were gathered. I must admit it was fun watching dozens of pot-bellied ex-soldiers, in parade uniforms, running out the door and scurrying for their cars as if they were under attack by a division of Nazis. But the next day the police showed up at Glenn's house and confiscated his gun.
Glenn and I arrived early at the movie theatre in Boston so we decided to head for the red-light district known as the Combat Zone nearby to see if we could catch a glimpse of the go-go dancers. But while we were ogling the posters in one of the porn houses, three thugs from South Boston sidled up to us and asked where we were from. They seemed friendly enough, but as we moved down the street away from the crowds, they strong-armed us and asked for money. When I told them we didn't have any, the scariest of the three pressed his body against mine and said, "What's in your pockets, Weymouth?"
Luckily I had purchased a pair of trick dice at a joke store down the street. When I pulled the dice out, our assailants were so transfixed by them that Glenn and I were able to slip away down a back alley.
As we ran away, Glenn suddenly flashed a switchblade out of his pocket and said, "I should have used this on them."
"What's that?" I asked, appalled.
"It's the knife my grandmother gave me for protection before I left home."
"Are you nuts? Those guys would've killed us."
* * *
This wasn't the exactly the Boston I'd expected to find when our family moved to the area a few years earlier. The image my father painted for my brothers and me was that of a refined "city on the hill," the epitome of culture and higher learning that also coincidentally had some of the best sports teams in the country. What intrigued Dad most about Boston, however, was its vibrant Irish culture. For a man who had the intense pride–and nagging inferiority complex–of many second-generation Irish-Americans, Boston was a place he could call home. Unlike his native New Haven, which had a broad mix of ethnic groups, Boston had a disproportionally large Irish-American population and a long tradition of charismatic politicians with names like Fitzgerald, Curley, and Kennedy. We had moved to Boston from Hamden, a small suburb of New Haven, because Dad had been offered a good executive job in the post office. Nothing short of returning to the old sod in County Claire could have made him happier.
My mom had a good feeling about the Boston area as well, but for a different reason. Her father, who was of Scottish descent, had grown up in Thomaston, Maine, and we had ancestors who had emigrated to Massachusetts from Cheshire, England, in the 1630s. Mom was intrigued with the idea of deepening her Yankee roots in the Land of the Bean and the Cod. In fact, she was so obsessed that during our first year in South Weymouth, we visited Plymouth Rock and the Mayflower no fewer than twenty-five times. What fascinated her about the Puritans was not their charming fashion sense or their love affair with the turkey, but their strong tradition of moral rectitude. Mom felt like a Pilgrim at heart. That's why she became a second-grade teacher: so she to get students young and fill their heads with her Puritanical views of right and wrong before the dark forces of mass culture and raging hormones put them on the road to perdition.
As for me, I wasn't so sure. I loved Hamden and I didn't want to leave. It was my little corner of paradise. Behind our house there was a sprawling, mostly empty cemetery that my friends and I transformed into our private playground. In one section we built a regulation baseball diamond complete with white-line base paths and a makeshift outfield fence. In another section, marked by rolling hills and newly planted spruce trees, we played war games in Army-Navy store camouflage uniforms.
The day we left for Boston I was so upset I jumped out of the car, ran around the house screaming, and wrapped my arms around a tree in the front yard, swearing never to move. Eventually my mother talked me back into the car. But I was bereft for days.
Massachusetts seemed like a foreign country to me. Everybody spoke in a funny accent and used the word "wicked" to describe everything from food to music to pretty girls. And the pizza tasted like glop compared to New Haven's divine Neapolitan-style pizza.
The main thing I couldn't understand was why everybody deified Ted Williams and the hapless Red Sox so much. To my eye, Williams was a mean-spirited prima donna more interested in fine-tuning his batting average than winning games. He was a far cry from my hero, Jackie Robinson, who just two years earlier had led my team, the Brooklyn Dodgers, to its first World Series win.
It wasn't until I was in high school and got a chance to explore the city beyond the confines of Fenway Park and the Combat Zone that I began to understand why Oliver Wendell Holmes had dubbed Boston "the hub of the universe." My guide was my 10th grade English teacher, Miss Toomey, who, for reasons that escaped me, had made it her life mission to turn me into a writer.