I am a nerd, no doubt about it — messing around with computers since I was young, the go-to person in my family when you've got a computer problem – that's me. One of the things that comes with being a nerd is having crates and boxes full of cables and equipment. Unfortunately, I don't always manage to save the manual.
That doesn't mean I have to throw anything away. If I've got some old hardware that's causing me confusion, I can usually find the missing instructions using Google. And if that doesn't work, there are several free resources that'll hook me up with old manuals.
Manuals for Everybody
Finding missing manuals online isn't just for computer nerds. It's for pretty much everything. Cooking stuff, gardening equipment, power tools, even musical instruments — if it had a manual at one point, you've got a good chance of finding it online. Let me show you how.
A Word of Warning: Before you go looking for a manual, check to see if the product you want to get a manual for is listed on the Consumer Product Safety Commission's Recall List. This searchable list has product recalls going back to 1973, so if you've got a recalled item, there's a good chance it will be on this list. And recalls aren't just for electronics or power equipment — things like bicycles and even dog leashes get recalled too!
Also, just because a product has a manual available online, do not assume that it's safe to use! Always check the recall database.
Using Google to Find Manuals
When searching for manuals in a general search engine, your best bet is to use the company name, model of the item as specifically as you can get, and the word manual. Let me grab some old hardware out of a crate to use an example. Here we go, a bit of hardware that says NETGEAR on the front. That's just a brand name and it's not enough. We want what's on the back:
You're looking for the model number and name of the item, in this case Universal WiFi Internet Adapter, WNCE2001. (If you ever find print on a computer electronics device too hard to read — it can really be tiny sometimes — take a picture of the item with your phone and then zoom in on it that way. No need to strain your eyeballs.) I'm going to do a search for NETGEAR Universal WiFi Internet Adapter, WNCE2001 manual on Google. And it pops right up.
The nice thing about searching Google for manuals is that you also get links to video tutorials when they're available. But sometimes you won't get any results at all, or the page has disappeared, or the results are wrong. What then? It's time to use a specialty Web site.
Manuals Online
When you first open the Manuals Online website, you might be tempted to just jump into the search engine. Don't give in. See that box in the upper left that reads Categories? Keep scrolling down so you can browse instead of search.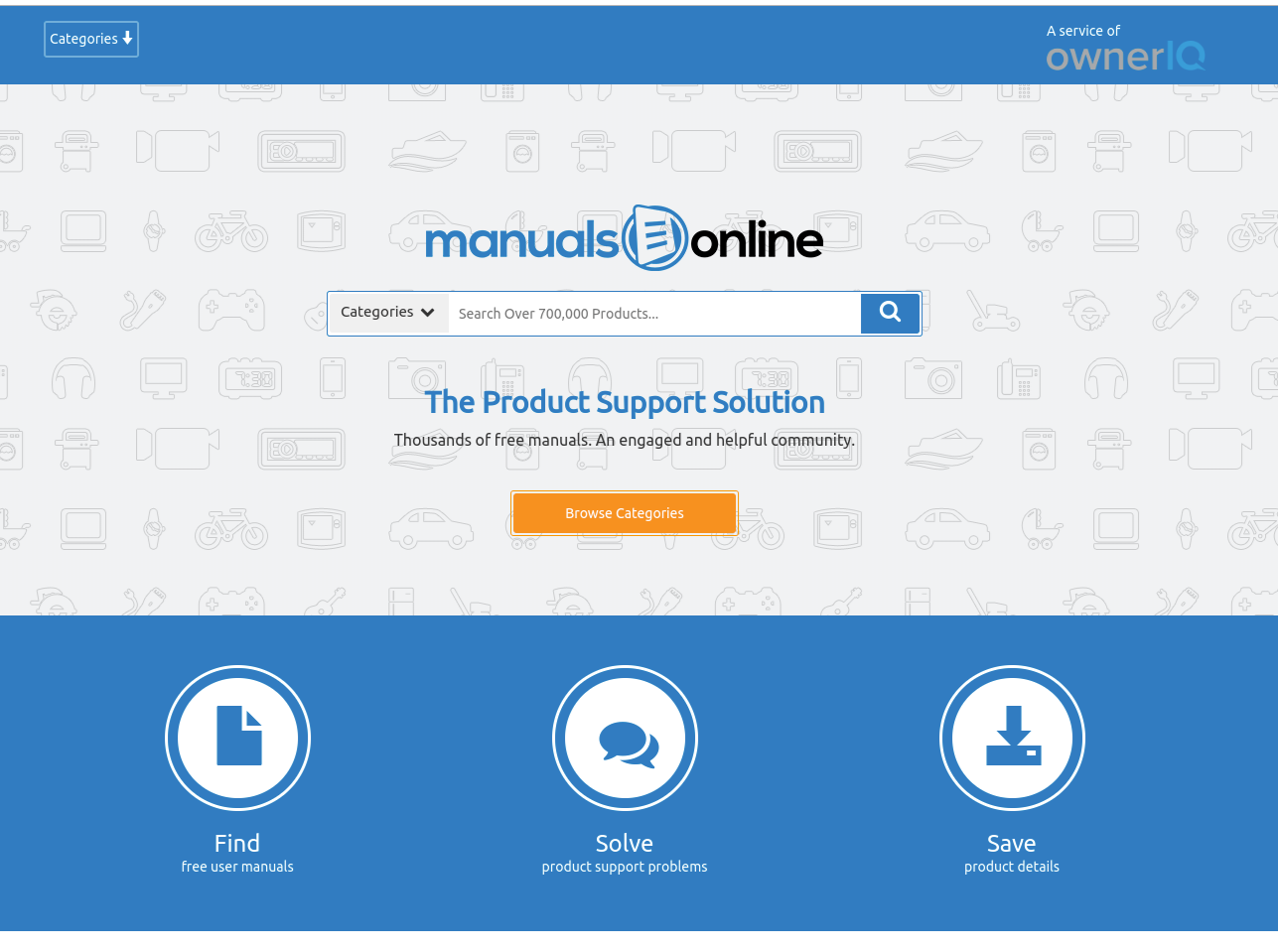 Categories range from Baby Care to Video Games, with subcategories for each (baby toys, handheld systems, etc.) I've got a Lasko space heater on my desk so I clicked on the Household Appliance category and the Electric Heater category. Devices are listed alphabetically by company, so skipping to the L's takes me right to the Lasko category.
There are two links here, one for support — which looks like an online support forum and for Lasko products was not busy at all — and one for prices, which appear to be Amazon links. But you're here for the manuals, so just click on Lasko Electric Heater Manuals. And there they are, a list of manuals for over five dozen Lasko electric heater products. But despite the fact that there are over five dozen manuals there, my Lasko product is not included. (Good old Lasko 5424, with an emphasis on the "old.") I'll pretend for a moment I have a Lasko 5429. Clicking on that item takes me to some thumbnail images of the manual and a scaled-down version to read through, but I'm more interested in the Open as PDF link. Click on that to read the manual in your browser, or right-click on the link to save the manual to your desktop as a PDF to read later, print out, or email to somebody.
There are plenty of manuals on this site but I can't find one for my Lasko. Time to try somewhere else.
ManualsLib
ManualsLib also starts off with a search engine, but instead of having categories below that it lists companies. It has over 77,000 companies listed! Lasko is not a major company so it's not on the front page of companies. I know the model number of the heater I'm looking for, so I'll just search Lasko 5424.
Wow, I don't even get a list of search results. Instead I am taken right to the manual page. And I like this page a lot — in addition to the manual itself, there are quick links to share and/or bookmark the information. There are a couple of hoops you have to jump through, but you can download a PDF of the manual as well. If you're a member of the site (which is free) you can also add items to your "collections" if you're building a library of manuals.
I'm impressed with how quickly this site loads and how many tools are packed into the page for the manual, but that's not going to help you if it doesn't have your manual. There are still a couple more places for you to try.
SafeManuals
The first thing I notice about SafeManuals is that the English is a little off. I dosome poking around and I think this site is from Estonia (an Estonian legal term, Osaühing, is used in the site's FAQ). But as long as the site has manuals, I don't care where it originates.
The front page of SafeManuals has a search box and lists product brands instead of product categories on the front page. It also has lists of the most popular manuals and the most recently-added manuals. (The site encourages you to upload manuals if you have them.) According to the stats on the front page, SafeManuals has 880,000 manuals across 6,000 different brands.
I do a search for my Lasko 5424 and find the manual almost instantly. The manual is embedded on the page, but you can also download a PDF version.
The page also has a place for you to send a question via the form and a place for comments. I look at the most popular manuals and even they only have a comment or two. Probably not the place for you if you're looking for online discussion.
Within the three sites I've mentioned here you'll find hundreds of thousands if not millions of manuals. If you still can't find what you're looking for, there's one more free resource for you to check. The only thing is it's not a manuals site. Well… not just a manuals site.
Internet Archive
Do you know about the Internet Archive? It was started in 1996 with the intention of archiving Web pages via a mechanism called The Wayback Machine. It soon expanded to archiving a number of other things, including books, magazines, video — and manuals! The Internet Archive has had its own manuals collection since 2012.
You may notice from the screenshot that this collection is much, much smaller than the dedicated manual sites we looked at earlier in this article. But I love browsing it because it's organized by category, and the categories are so out of the mainstream.
There's a category for vending machines. Arcade machines. Tractors. Firearms. Radio Shack devices. And there are several categories for various types of music synthesizers. Lasko is probably too pedestrian for this archive — I find only one manual, and that is for a fan. But if you need a manual for something a little off the beaten path — especially vintage electronics — give this collection a try.
Manuals are readable online, but the Internet Archive also makes them available in formats that go way beyond a simple PDF. You can download in Kindle format, or EPUB, or even plain text.
Just because you've got a device without a manual doesn't mean you need to throw it away. There are plenty of places on the Internet that can help you find its instructions — just be sure to first check that it hasn't been recalled!
Featured image: Cover by Stevan Dohanos from the January 14, 1956 issue of The Saturday Evening Post