It was a week where we saw the spin stop for Bill O'Reilly and an asteroid spinning way too close to the Earth for comfort. Here are some other things that happened this week …
Student Gets in Trouble for … Writing Her Name?
There are many ways you can get in trouble while sitting in a classroom. You could be talking, chewing gum, not paying attention, things like that. Oh, apparently you can also get in trouble for practicing the dying art of writing your name in cursive.
That's what appears to have happened to a 7-year-old girl in Kansas. Her mom's friend posted a picture on Facebook that shows a test the girl took in school, complete with a reprimand in red ink to the student, saying "Stop writing your name in cursive. You have had several warnings."
I'd love to hear how this rule came about or if it's just a rule in this particular teacher's class. Have all schools in this area abandoned the teaching of cursive writing and demand that students write in all block letters or type their name on a keyboard? Maybe the teacher is younger and never learned cursive writing and doesn't like reading it? I'm half-kidding with that last explanation, but I'm also half-serious.
The Facebook poster says that the teacher may have been upset because other students in the class haven't learned how to write in cursive yet. Though that's an odd thing to be worried about. It's not like the student wrote the entire paper in cursive, it's just her name (and it's legible).
The teacher hasn't responded to this publicly yet. Stay tuned.
Dick Van Dyke on Screen Violence and What It's Doing to Our Kids
I remember being around 21 years old when Tipper Gore wanted to put warning labels and ratings on everything. As a young guy working at a music magazine and singing in bands, I just shook my head at what she and others wanted to do with free speech. I saw it as overreach and needless and maybe even dangerous. Now over 30 years later, I see myself siding more and more with her.
And Dick Van Dyke! Of course, he's the star of my favorite TV show of all time, so I'm probably going to agree with what he says a lot anyway. But in this interview with The Guardian, Van Dyke shares the view I now have. He's horrified by the violence in movies and video games, and he hates how kids "idolize it as a romantic way of life." He's terrified that it's only going to get worse, and he worries about what his grandkids and future generations will have to face. He also says that if Walt Disney were around today, he would be speaking out against it too.
By the way, Van Dyke is still going strong at 91. He's had recent roles on The Middle and the Night at the Museum movies and will make an appearance in next year's Mary Poppins Returns (not as Bert but as Mr. Dawes).
RIP Clifton James, Allan Holdsworth, Joan See, Bud Wiser, Trish Vradenburg, Emma Morano
Clifton James was a veteran actor who appeared in many films, including Cool Hand Luke, Experiment in Terror, and Silver Streak, but he will be remembered most for his appearances as southern sheriff J.W. Pepper in two Roger Moore James Bond films, Live and Let Die and The Man with the Golden Gun. He also appeared in TV shows like The Phil Silvers Show, Gunsmoke, Route 66, Dallas, and Murder, She Wrote. He served in World War II and received two Purple Hearts, a Silver Star, and a Bronze Star. James died Saturday at the age of 96.
Allan Holdsworth was a progressive rock guitar god who played in bands like UK, Soft Machine, and Gong. He also played with Stanley Clarke and Bill Bruford and released several solo albums. He died Sunday at the age of 70. Holdsworth's family set up a GoFundMe page to help pay for funeral costs but closed it down after only three days because donations quickly exceeded what they were expecting, which is really nice to see.
You probably won't know the name Joan See, but you saw her in more than 300 TV commercials over the years, for every product imaginable. She also started an acting school in 1979 to help other actors get jobs in commercials and other TV shows and films. She passed away earlier this month at the age of 83.
Bernard "Bud" Wiser was a writer on several shows, including All in the Family, Rhoda, Growing Pains, The New Lassie, and Brooklyn Bridge, as well as a producer on One Day at a Time, Who's the Boss?, and The New Lassie. He died Sunday at the age of 87.
Trish Vradenburg was a TV writer too, penning scripts for such shows as Designing Women, Kate & Allie, Family Ties, and Everything's Relative. She died Monday at the age of 70.
Emma Morano lived in Italy and was the oldest person in the world. She died Saturday at the age of 117, which means she was born in 1899!
New Jackie Robinson Statue
Seventy years after Jackie Robinson broke the color barrier in Major League Baseball, the Los Angeles Dodgers unveiled a new statue of the baseball legend. It's a well-designed statue, showing Robinson sliding as he steals home. The statue was unveiled last Saturday, when every player wore Robinson's number 42 for the day.
Robinson had better luck in statues than some other sports figures have had recently. At least they fixed Lucy.
95 Years of The Velveteen Rabbit
There's an episode of Friends where Chandler falls in love with Joey's girlfriend Kathy. Chandler buys her a first-edition copy of The Velveteen Rabbit because it was her favorite book as a child, but he decides to give it to Joey so he can give it to her. Kathy knows it came from Chandler, though, because when Joey gives it to her he says, "I got you this because I know you like rabbits and I know you like cheese."
I have to admit I've never read The Velveteen Rabbit. It's one of those classic books that just didn't cross my path when I was a kid. But to celebrate its 95th anniversary, I (and you!) can read it for free at the Internet Archive.
This Week in History
Walter Cronkite Becomes CBS News Anchor (April 16, 1962)
The iconic newsman joined CBS in 1950, and 55 years ago this week, he succeeded Douglas Edwards as the anchor of The CBS Evening News. He remained in the chair until 1981, when Dan Rather took over.
James Doolittle's Raid on Tokyo (April 18, 1942)
There's only one man still alive from the group that bombed Japan on that raid, Richard Cole, and he attended the 75th anniversary celebration this week.
This Week in SEP History: "Date with the Television" (April 21, 1956)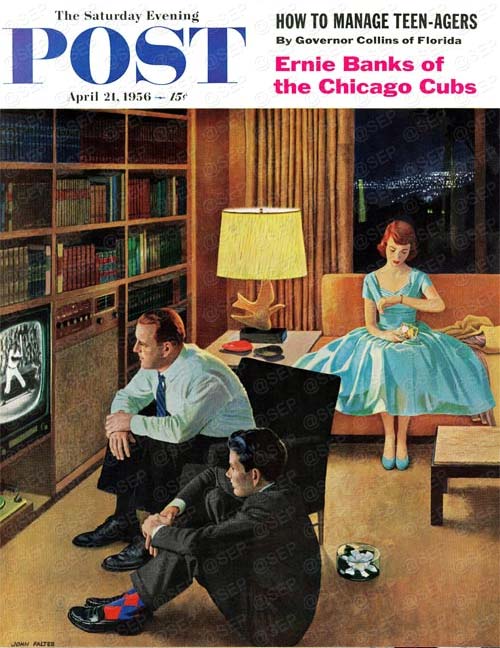 This John Falter cover rings true to me. Well, except for the "having a date" part. But I spent several years as a kid and teen sitting on the living room floor watching the big Magnavox television we had.
Earth Day
Tomorrow is Earth Day, and I was surfing the web looking for recipes that might reflect what the day is all about. I found this slideshow at Bon Appétit that includes 23 green recipes. At first I thought they were recipes that would have organic ingredients or were from local farms, but it's actually a list of foods that are, well, green. The list includes this Ligurian Pesto with Spaghetti, this Three Pea Chicken Salad, and a drink called The Green Machine, which includes Granny Smith apples, cucumbers, spinach, and fresh mint.
Thankfully, there's no kale in there. Kale is soooo 2016.
Next Week's Holidays and Events
Take Our Daughters and Sons to Work Day (April 27)
This used to be just "Take Your Daughters to Work Day," but several years ago, it was expanded to include boys. But I've always wondered: what if you work from home?
Babe Ruth Day (April 27)
As this piece from our special collector's edition Baseball: The Glory Years shows, the Sultan of Swat had a compassionate side too.
Arbor Day (April 28)
The official site of the National Arbor Day Foundation has info on what you can do to celebrate the importance of trees.