Read all of art critic David Apatoff's columns here.
There's no stopping a born artist.
Artist Sarah Goodridge grew up in a small colonial village where she had no pencil or paper but learned to draw by scratching pictures with a pin on birch bark. Polish artist Edward Galinski, held prisoner in a Nazi concentration camp, continued to draw by scratching images on the plaster walls of his cell. The young artist Austin Briggs lacked art supplies but improvised by drawing on window shades he removed from condemned buildings.
But few artists could match the story of illustrator James Bingham (1917-1971) who, as a young boy, drew on his family's toilet paper. Bingham's son recalled the family legend: "When Dad's family got together they all used to complain about having black bottoms… Dad used to go to the bathroom and draw on the toilet paper then roll it back up!"
It's true that Bingham lived to make pictures.
He grew up in Pennsylvania, the son of an architect. Starting at the age of three, he spent all his spare time drawing and painting. He did the artwork for his school yearbook all four years of high school.
When he graduated, he was already and experienced artist. Bingham spent two short semesters at art school before the school offered him a job as an instructor. Instead, Bingham moved to New York to start a career as an illustrator.
He had just begun when World War II interrupted. Not one to let a little thing like a world war get in the way of his drawing, Bingham joined the Navy where he worked on propaganda pictures for the war effort, including caricatures of Hitler and Hirohito.
After the war, Bingham made up for lost time, reportedly taking only 11 days of vacation in nine years. When friends suggested that he take some time off to develop a hobby, he said that if he had a hobby it would be to "paint."
With this work ethic, Bingham became one of the most prolific illustrators of the 1940s and '50s. For The Saturday Evening Post he illustrated the highly popular Perry Mason and Tugboat Annie series as well as many other story illustrations.
He also worked for other magazines such as Argosy, Good Housekeeping, and Esquire. He illustrated Pearl Buck's novel, Pavilion of Women.
At the same time he was illustrating fiction, he was a hugely popular commercial illustrator for many of America's largest commercial accounts. U.S. Steel, Nieman Marcus, Maxwell House Coffee, Gulf Oil, Cannon Towels, Caterpillar Tractor, Philadelphia Whiskey, Alcoa Steamship Company, and Champion Spark Plugs were among the many corporations that called upon his talents.
One of the advantages of working nonstop was that Bingham developed the skills necessary to portray any subject from any angle, in any lighting, using any perspective. He became a "utility infielder" of illustration. Art directors knew he could be relied upon to do a good job on a tight deadline, whether the subject was a shadowy noir detective scene or aerospace machinery.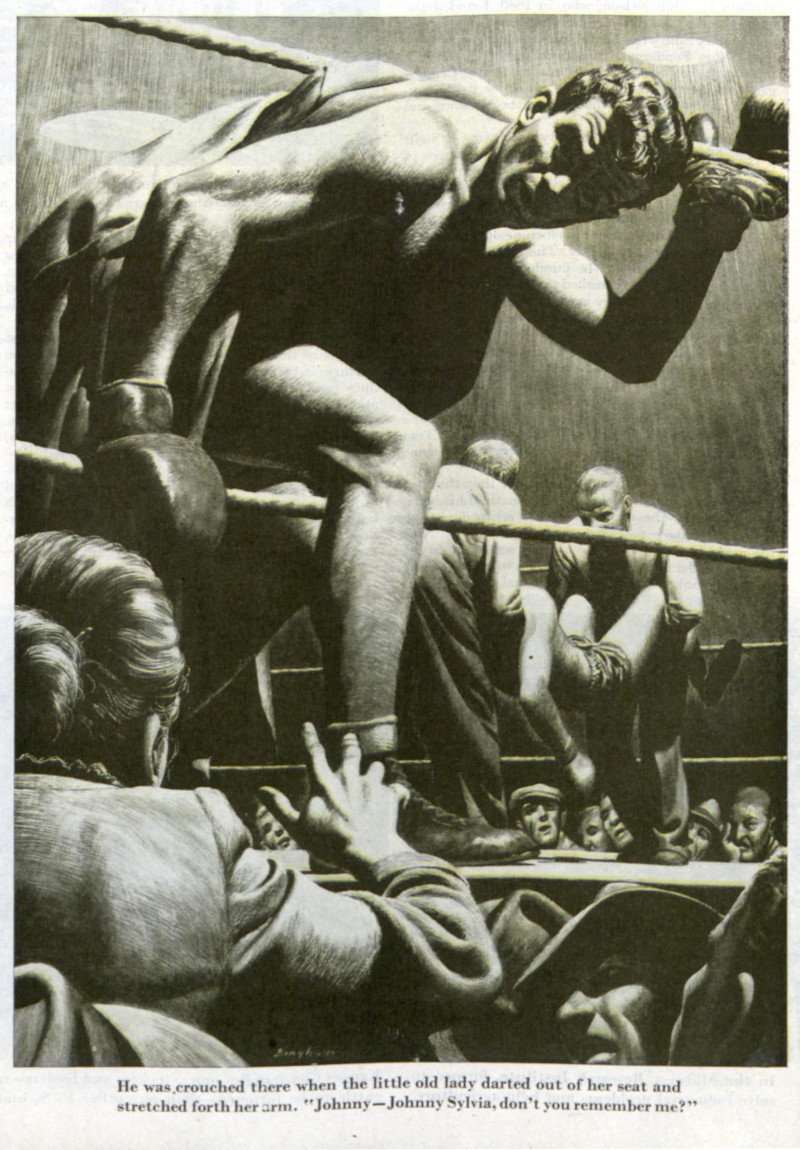 Bingham could be trusted to make the picture work, whether the budget allowed for only two colors or permitted full color.
In the 1950s, Bingham moved to Florida where he continued to draw and paint nonstop. He worked on illustration assignments he obtained through his agent in New York, but he also branched out into a second career doing architectural drawings. His son recalled, "For a while I think Dad did just about every high rise ever envisioned for south Florida."
When we study Bingham's pictures, it's easy to see what made him so attractive to such a diverse group of clients. He was not a flashy stylist who inserted his opinions into each picture or showed off his technique. Readers never had to struggle with his interpretations. Instead, he had a very clean approach, depicting his subjects with a simplified realism that proved very appealing to readers. There were no warts or moles in the world that Bingham painted.
I've written in this column about other illustrators for the Post whose style was readily recognizable, such as J.C. Leyendecker or Norman Rockwell. But there is also a role in art for an objective visual reporter like Bingham who could simplify a picture to its essence.
Like a dedicated artist, Bingham died in the middle of a painting. He was working in his studio on an illustration for Chris Craft when he had a stroke, and passed away shortly thereafter. In hindsight, we'd have to say he succeeded in doing what he cared about most: using his time to make as many pictures as he possibly could.
Featured image: James Bingham / ©SEPS