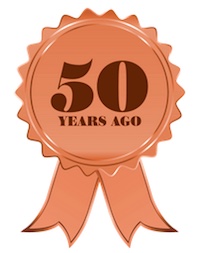 When it came to the future, people had a lot to be excited about in 1967. New trends in the arts and in technology — particularly computers — promised to make life more rewarding and interesting.
A lot of those changes would be on display in Montreal when Expo 67 opened during the Summer of Love.
When Post reporter Anne Chamberlain visited in mid-winter, Expo 67 was just starting to rise from an island in the St. Lawrence Seaway. Every day, trucks hauled more dirt onto the island to build the 1,000-acre park where 60 countries would eventually create their exhibits.
Post readers got a preview of the strange new buildings in the April 22, 1967, issue of the Post. In "Expo 67: The Big Blast Up North," Chamberlain told of the massive effort required to build the next world exposition. The telephone system alone, for example, required 5,300 phones be installed along with 55,000 miles of new wire and cable.
Fortunately, computers helped to direct the construction. Even before spring temperatures had thawed the Expo grounds for heavy construction, programmers had fed 250,000 IBM cards into computers and generated 192 miles of reports.
Construction proceeded even though the Exposition was expected to lose money. Backers hoped to recoup the losses by commercializing the Expo buildings afterward. In fact, Expo 67 proved to be the most successful World's Fair of the 20th century, losing only $210 million.
Before it closed in October, it had welcomed 50 million visitors — not a bad turnout for a country whose entire population was only 20 million.
In August, Anne Chamberlain returned to Montreal and then reported her experiences as an Expo 67 visitor in our August 26, 1967, issue. One of the first things to impress her was the use of computers. One actually helped her find a hotel room — after a long wait.
The other, at the IBM exhibit, gave mathematics lessons to visitors. ("GOOD," said the machine, "YOU HAVE JUST COMMUNICATED WITH THE COMPUTER.")
She was even more impressed by the lines. At the U.S. exhibit, she had to wait in line 70 minutes to enter. The Russian exhibit's line was much shorter, and there were many vacant chairs inside. Visitors were willing to read posters about Soviet fertilizer production and thoughts on Lenin while they gratefully rested their feet. A much longer line led to the Cuban exhibit. There, visitors might stand in line for two-and-a-half hours to eat at the Cuban restaurant.
The mother of all lines, she concluded, was for the Czech exhibit, where the line stretched back so far that visitors who joined the line didn't even know what they were waiting for.
A World's Fair has been held every few years since 1851, when the first of these events took place in London's Crystal Palace. Except for a wartime halt between 1940 and 1949, there has never been more than a six-year gap between these events. The next World's Fair opens June 10, 2017, in Kazakhstan. Its theme will be "Future Energy," and it hopes to encourage conversation about finding safe, sustainable energy for all while reducing carbon dioxide emissions. In spite of America's ongoing internal debates on this topic, the U.S. will be represented.
Featured image: The 1967 Montreal Expo (Laurent Bélanger, Wikimedia Commons via  Creative Commons Attribution-Share Alike 3.0 Unported license)