For a generation of readers, N.C. Wyeth's pictures were as well known as the books they illustrated: Treasure Island, Last of the Mohicans, and Robinson Crusoe. Learn how this illustrator of swashbuckling pirates, the Wild West, and Maine fishing life got his big break and went on to found America's greatest art dynasty.
See all Post Artists Videos.
Featured Image: Smokey Face by N.C. Wyeth (Brigham Young University Museum of Art)
Harrison Fisher (1877 –1934) was an American illustrator. Both his father and his grandfather were artists. As you might be able to tell from this cover, Fisher was considered a successor to Charles Dana Gibson, famous for his Gibson Girls.
Oliver Kemp (1887-1934) painted 11 covers for the Post.  He made yearly trips to the Rocky Mountains and was fond of painting scenes of western America. His Post covers all depicted rugged men hunting, fishing, and canoeing, often with a pipe between their teeth.
Newell Convers Wyeth (1882 –1945), was probably best known for his illustrations of Scribner's classics, particularly Treasure Island. He spent part of his twenties out West, learning about cowboy and Native American culture.  Wyeth painted his first cover for the Post when he was only 20; he was 25 when he completed "Indian Fishing." N.C. Wyeth is the father of painter Andrew Wyeth.
J.C. Leyendecker was the most prolific cover illustrator for the Post, painting 323 covers. (Rockwell stopped at 322 out of respect for Leyendecker.) It was Leyendecker who popularized the images of a fat, jolly Santa and the New Year's baby.  While Leyendecker's depictions of men were usually handsome and strapping, many of his children appeared emaciated and sickly, and often had bodies that were disproportionately smaller than their heads.
[From the editors of the March 31, 1945 issue] Probably no Post cover has ever been more popular than Norman Rockwell's first April Fool cover. In this week's cover, Mr. Rockwell is trying to fool you again, and he probably will succeed. Watch out for the blue lobster. As a matter of fact, we don't think this one is quite fair, and we're going to tell you that there is such a thing as a blue lobster. According to Charles Mohr, of the Academy of Natural Sciences in Philadelphia, the blue lobster is a rarity, but every once in a while one of them turns up in Maine waters, and it is completely blue. John Atherton, whose covers are well known to Post readers and who is a neighbor of Mr. Rockwell's in Arlington, Vermont, once made a peculiar face while he was talking to Mr. Rockwell, and Norman remembered it and used Mr. Atherton with this particular expression as a model for this cover. There are at least fifty mistakes. See how many you can find and compare your findings with those listed on page 80.
[From the editors of the March 31, 1949 issue] On the long fishing pier at Santa Monica, California, tourists from all over the United States stand packed together like sardines while they try to catch fish. They are so grimly intent on their work or play or whatever it is that when a baited minnow smacks the water in all that silence, it makes quite a startling splash. Many of the fishermen go through their routine calmly and expertly; occasionally a greenhorn flies into a tizzy, yelps for the landing net and hauls in a dwarf flounder or something else depressing. The kids have a swell time fussing with starfish or reading a wet comic page which was wrapped around a wad of bait. Artist John Falter was non-committal about whether he caught anything—besides a Post cover.
[From the editors of the May 19, 1951 issue] Those flies driving the man and the fish crazy are a variety known to fishermen as Green Drake. We don't know what the fish call them. Just before this picture was painted, the man was calmly trying to feed the trout another variety of fly and they were calmly ignoring his hospitality. Suddenly, a countless family of Green Drake "nymphs," which previously had risen to the surface of the water to hatch, discovered that they had wings, and decided to zoom into the wild blue yonder. Mead Schaeffer's angler is trying to affix an artificial Green Drake to his line before the trout are so full of real Drakes that they sink to the bottom for a nap. Fishermen who experience such crises say that the general confusion is hard to imagine.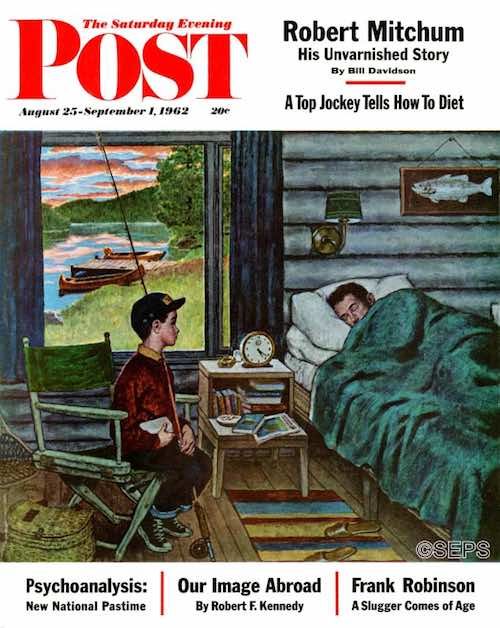 [From the editors of the August 25, 1962 issue] Forty more minutes to go, broods Amos Sewell's thwarted young angler, and then Dad will waste still more time washing up and eating and dawdling over his coffee. From the look of this somnolent scene, it is clear that no fish will be disturbed until at least seven o'clock, and then, as any youngster knows, the fish will be settling for a siesta. Why, wonders the young sprat, can't fathers coordinate their sleeping habits with those of fish?
Art, American-style
In 1900, frustrated with formal art instruction, renowned illustrator Howard Pyle opened his own art school in the Brandywine Valley. Rather than teach technique, he encouraged students to capture a moment and bring it to life. His teachings would influence such greats as Maxfield Parrish and Norman Rockwell.
The Wyeth Family
Pyle accepted only the most promising students. One of his most well-known was N.C. Wyeth, who enrolled in 1902 and who shared Pyle's fascination with the landscape and history of America. Wyeth soon became a celebrity in his own right, painting several of the greatest early covers for the Post and, later, for The Country Gentleman. His work is known for its vibrant color and frequent high drama.
N.C. Wyeth's son Andrew, too, was inspired by the realism of the Brandywine School. But unlike his father, Andrew was a reserved and subtle artist who restricted himself to a limited color palette. Although he frequently painted landscapes like the one below, he described himself as an abstractionist.
A Woman's Place
In Pyle's time, a career as an artist was not generally considered suitable for women. In a bold  challenge to the art establishment, Pyle admitted as many women as men to his school. Several of his alumnae would become quite successful, including Sarah Stilwell-Weber and Katherine R. Wireman, both of whom contributed regularly to the Post.
Down to the Sea
Anton Otto Fischer came to Brandywine after serving as a deckhand for three years. Under Pyle, he learned to apply his nautical experience to vivid seascapes like the one below.
Frank E. Schoonover's early work was influenced by Pyle's paintings of knights and pirates, but he soon developed his own style. He is remembered today for scenes of action and romance, frequently set in the wilderness.
Classic Post covers from Brandywine artists and many others are collected in the special collector's edition Reflections of America.
The Post Blazes a Trail
In the early part of the 20th century, The Saturday Evening Post commissioned numerous illustrations that collectively helped define the American West for the rest of the country. One of the best known of these artists is N.C. Wyeth, appreciated for his wonderful sense of color and light as well as for being an authority on Western culture.
Romantic Vision
A full generation of Americans owe their impression of the soulful, spiritual Native American to artists like Remington Schuyler and W.H.D. Koerner. Interestingly both artists lived, studied, and worked in the east, developing a fascination with Western culture and lore from afar, before making Western art a primary focus.
Riders
As a young man, artist Frank Hoffman settled on a working ranch in Taos, New Mexico, using his own horses and other animals as models for his paintings.
John Clymer painted more than 80 covers for the Post, many of them with Western themes. He's known for his painstaking research and for the rich historic and geographic detail of his work.
George Washington was a favorite subject of artists like J.C Leyendecker, N.C. Wyeth, and Stevan Dohanos. In all, the first president of the United States has appeared on the cover of The Saturday Evening Post 10 times.
Washington Crossing the Delaware
Washington Crossing the Delaware
Stevan Dohanos
February 24, 1951
It is daunting to consider the work realist painter Stevan Dohanos put into this painting. Reproducing images of over a dozen students (and their teacher) with meticulous detail should have been artistic challenge enough, but duplicating Emanuel Leutze's famous 1850 painting is mind-boggling.
Much has been criticized about Leutze's Washington Crossing the Delaware: "The crossing was at night (not daytime)"; "That particular version of the flag came later"; and "Washington was only in his 40s and not the elderly man we see here"; to name a few. While the historical inconsistencies are worth noting, the huge 21-by-12-foot painting of that 1776 Christmas night is still a magnificent accomplishment and a tribute to a critical turning point in American history. The painting today is part of the collection of the Metropolitan Museum of Art in New York City.
From 1942 to 1958 Dohanos painted 123 Post covers, which can be viewed in our online gallery or at art.com.


First Farmer of the Land
First Farmer of the Land
N.C. Wyeth
Country Gentleman
February 1946
N.C. Wyeth was described in a 2011 Post article by Edgar Allen Beem as "a larger-than-life figure, a swashbuckler of a man whose dramatic illustrations fired the imaginations of generations of readers." This portrait of Washington was Wyeth's last work. Country Gentleman editors noted in 1946, "He was working on it at the time of his tragic death at a grade [train] crossing last fall. It is, therefore, an unfinished work. We preferred to have you see it this way than let some lesser artist finish it."
Wyeth, who had used George Washington as a subject several times, was a natural choice to illustrate the article about the farming habits of the former president. "Mr. Wyeth did exhaustive research on Washington's farming operations so that this picture might be accurate in every detail," editors noted. Those details clearly include the depiction of slave labor, a factor not addressed in the article, which concentrates on the minutiae of crops and agriculture. According to the article, Washington was so thorough in his farming procedures that he was determined to find out how many seeds of various cereals were in a pound in order to calculate how many pounds to sew per acre. He carefully counted 8,925 barley seeds per pound; 71,000 seeds of red clover; and 298,000 of timothy (this was before the days of grain estimates.)


George Washington and W.W.I Soldiers
George Washington and W.W.I Soldiers
J.C. Leyendecker
June 30,1917
Five of J.C. Leyendecker's 322 Post covers were portraits of George Washington. His July 1927 cover (George Washington on Horseback) shows a magnificent Washington on horseback in full command of the Revolutionary forces.
This 1917 cover shows the general astride his horse for a latter-day conflict. The United States was involved in World War I and for the Fourth of July holiday, Leyendecker evoked the spirit of the Revolutionary War hero to guide modern-day soldiers through the latest conflict. It was a stirring patriotic scene at yet another critical time in U.S. history.
From Hollywood actors to the weather-hardened real thing, cowboys have graced their fair share of Saturday Evening Post covers.
"Cowboy and Setting Sun" by N.C. Wyeth
Great American artist N.C. Wyeth (1882-1945) was a realist, as this 1907 cover shows. His first commission was to paint a cover for The Saturday Evening Post in 1903, a heady success for the tender age of twenty-one. The Post then commissioned him to illustrate a Western story, and Howard Pyle, under whom he studied, encouraged his venture West to study the real thing. Already very much the outdoorsman, Wyeth worked as a cowboy and ranch hand, obtaining much more than a fancy art school education.
"Gary Cooper as the Texan" by Norman Rockwell
Twenty-five years or so later, an artist named Rockwell made his own trip out west, to a land called Hollywood. The artist thought it would be ironic to show a big, strapping "cowboy" getting his face made up. Hollywood was excited to have one of its stars appear on a Saturday Evening Post cover by the likes of Norman Rockwell, and the illustrator could have his pick. He selected a winner in handsome Gary Cooper. "He posed for me in Hollywood for three days and worked as conscientiously as any model I ever had," Rockwell wrote. "Everyone at the set was crazy about him and I could see why."
"Playing Cowboy" by Amos Sewell
From 1951, this youngster on the bucking two-wheeled bronco is determined to lasso that ornery, good-for-nothing fence post. Artist Amos Sewell did 45 Post covers from 1949-1962, mostly of kids being kids.
"Woman on Horse in Mountains" by W.H.D. Koerner
We'll call this 1928 cover "Romance of the Cowgirl." W.H.D. Koerner (1878-1938) was one of the great artists of the American West. Although he lived on the east coast, he made many trips to scenic Western sites like Yellowstone and the Big Horn Mountains of Wyoming. He illustrated many stories of Western fiction that appeared in the Post and Country Gentleman magazines.
"Tom Mix" by Rolf Armstrong
For most of us, Tom Mix (1880-1940) was before our time, but he set the standard for movie and TV cowboys to come. Starring in over 300 movies (mostly silent films), he is described as our "first Western megastar." The films were more showmanship than authentic, but Americans became hooked on the romance of the West.
"Herding Horses" by John Clymer
"How nice it is to be a Western horse and seldom come to a fence or the inside of a barn door," reflected Post editors of this 1952 Wyoming scene. With the help of his pigtailed daughter behind him, this rancher moves a herd of horses across the river. The dog is assisting as well, even though we can only see his head barely above the water. Artist John Clymer (1907-1989) turned many American landscapes into beautiful Post covers.
"Cowboy Asleep in Beauty Salon" by Kurt Ard
Well, partner, this cowboy's had a long day ropin', shootin' and riding the range. By the time he got to this here fixin'-up place, he was plumb tuckered out. This adorable 1961 cowboy is by artist Kurt Ard.
For more Western art, see "Native American Covers."
With a lineup of artists such as Fredric Remington, N.C. Wyeth, W.H.D. Koerner and, of course, our beloved J.C. Leyendecker, our history of Western art is second to none. We're proud to show the art of the Native American.
Indian Fishing – N.C. Wyeth
A Post cover by N.C. Wyeth from 1908 is eloquent in its solitary contentment. There is something uplifting about the young Native American in this peaceful, yet all-important pastime. Wyeth's (1822-1945) first commission as an illustrator, we're proud to say, was of a bucking bronco for a Post cover of February 1903. Wyeth's cover art for the Post and sister publication, Country Gentleman magazine, ran the gamut from cowboys to rugged lumberjacks to a colorful Santa Claus.
Indian Chief on Horseback – Charles Hargens
Rich with color, the "Indian Chief on Horseback" that appeared on the August 22, 1936 cover was by an artist named Charles Hargens. This is such a stately example of the Native American, I was surprised to find that Hargens' covers also ran the gamut: from a skiing scene in 1939 to a rather comic small-town sheriff running from snowballs in 1921.
Indians on Horseback – Paul Strayer
An equally stunning example is "Indians on Horseback" from a 1929 Country Gentlemen. It's a great example of action, from the flying hair to the dust under the horses' hooves. I was sorry to find that this is the only artwork we can claim by Paul Strayer, but it is a beauty.
Indian on Horseback – Frederic Remington
In 1901 the technique for cover color was as yet rather unsophisticated, but this example of an Indian on horseback was by renowned Western artist Frederic Remington. Remington (1861-1909) reminds me of Teddy Roosevelt. Like Teddy, he was born in New York, but lived for the rugged Western life, and was the kind of man who hunted grizzlies. This is our only Frederic Remington cover.
Indian Guide – Remington Schuyler
Remington was the first name of artist Remington Schuyler, and a 1922 cover called "Indian Guide" is, we assume, meant to be ironic. The Native American in full headdress consulting a map of "Indian Trails"? Ironic or not, this beautifully attired Indian is a treat.
Indian Sunset – J.C. Leyendecker
There is something about the sun setting in the West. We couldn't decide on which of these two sunsets to show, so we're doing both. "Indian Sunset" by J.C. Leyendecker is from 1923 and an unusual example of Leyendecker's over 300 Saturday Evening Post covers.
Painted Pony – W.H.D. Koerner
The beautiful "Painted Pony" by W.H.D. Koerner is from 1931. Koerner (1878-1938) was known as the "America Artist of the West," and understandably so. He did five Saturday Evening Post covers. Like Wyeth, he studied under Howard Pyle.