Winter Nights
It's snowing hard as I type this, flakes the size of quarters, the wind making the trees across the street sway. We're supposed to get an inch or two an hour, and then it's going to turn really cold tonight. I love it.
I've been seeing a lot of travel commercials lately, the ones where they show people shoveling or covering up their face as they walk through the snow and then show scenes of bathing-suit-clad people running on beaches and jumping into pools and enjoying cocktails with little umbrellas in them as the sun goes down at some warm locale. I find that all depressing. New Englanders, you want to live some place where it's warm all the time? Fine, move to Miami or San Diego or Austin and leave the people who actually don't like the summer alone with our winter.
I'm not a mailman or construction worker or pizza delivery guy, so I don't really care if icicles form. I've got my love to keep me warm (and by "love" I mean a comforter, a TV set, and hot chocolate). It helps that I work from home, of course, but believe me there are downsides to that. But I love the winter weather, especially winter nights, and tonight's plan involves pasta, some wine, a pine-scented candle, and a good movie. That's after I shovel, of course.
Let me know in the comments if you're a summer person or a winter person. And don't say you love spring or fall. That's just wishy-washy cheating.
Food for Thought
Here are three food-related headlines from the past week. Two of them are real, and one I made up. Guess which one.
Doritos to Make Lady-Friendly Chips That Don't Crunch as Much
McDonald's French Fries Might Cure Baldness
Disneyland Is Now Selling Alcohol-Infused Donuts
Okay, I lied. They're all real.
The Disney donuts are for adults and are being sold at a rooftop bar, and McDonald's fries probably aren't going to give you Matthew McConaughey-level hair (sorry, fellow bald-headed men). What I really want to talk about are the "Lady Doritos."
In a recent podcast interview, PepsiCo's CEO Indra Nooyi said that the company was going to launch a line of snacks "designed and packaged differently" for women. She says that women don't like to crunch on things too loudly in public and don't like to lick their fingers after eating Doritos.
Of course, social media lit up after news of the new product got out, and now the company says that it's not happening after all. I don't know if they shelved the idea because of the backlash or if they weren't serious in the first place (I'm going with the former), but I for one am glad it's not going to happen. Not only is it insulting to women and their eating habits, but Doritos that crunch less are just stale Doritos.
My favorite take on this is from Steak-Umms. This is pretty snarky for the official Twitter account of a steak-related sandwich product:
I thought about pitching a new line of Lady Steak-Umms just for women but then I remembered I'm not an idiot

— Steak-Umm (@steak_umm) February 6, 2018
Play Ball! (Faster!)
Last year, right about this time, I told you about big changes Major League Baseball was thinking of bringing to the summer game. Now comes confirmation that the changes are indeed coming, and you might want to start watching soccer.
The Associated Press has obtained an MLB report that outlines the new ideas, which include starting a runner on second base at the start of the 11th inning of an All-Star game and in the 10th inning of spring training games, and setting time limits for batters.
I guess it's comforting that the league isn't going to make these changes to regular season games, though I would assume that if these changes are successful and popular, they'll give serious thought to doing it in all games. But baseball doesn't need these changes. It's supposed to be a long, slow sport, one you watch on a lazy, warm summer night. What's next, two strikes instead of three? Six innings? Maybe the batters can wear heavy boots so they can't run fast and will get thrown out quicker?
Oh God, I just gave them more ideas.
Book 'Em, Danno
How do you place books on your shelves?
This may sound like an odd, unnecessary question. After all, how many ways are there to put books on a shelf? You stand them up with the spine facing you, and the bigger books you might lie flat. Apparently there is a third way! And, well, it's insane.
The Wall Street Journal reports that many people store their books on the shelves with the spines faced inward, which means the pages are facing out and it's just a sea of white and cream. You can't tell which book is which because the titles and authors are hidden.
In what world does this make sense? It's even worse than those people who stack their books on the floor in some stylish pyramid or monument-like pile. At least with that you can still tell what the books are.
This seems like the design choice of people who have a lot of books but don't read that much.
RIP John Mahoney, Dennis Edwards, Mickey Jones, and Ann Gillis
John Mahoney is known to TV viewers as Frasier and Niles' ex-cop dad on Frasier, but he was also an acclaimed stage actor and appeared in dozens of movies, including Say Anything, Moonstruck, Eight Men Out, The Hudsucker Proxy, and Tin Men. He died Sunday at the age of 77.
Here's a nice post on Mahoney from writer Ken Levine, who worked with Mahoney on Frasier and Cheers.
Dennis Edwards replaced David Ruffian as lead singer of The Temptations in the late '60s and sang some of their most famous songs, including "Papa Was a Rolling Stone," "Ball of Confusion," and "I Can't Get Next to You." He died last Friday at the age of 74.
Mickey Jones was a veteran character actor who appeared in dozens of movies and TV shows, including Home Improvement and Justified. He died Wednesday at the age of 76.
Ann Gillis was an actress you saw in such movies as The Adventures of Tom Sawyer, Little Orphan Annie, Beau Geste, Abbott and Costello's The Time of Their Lives, and 2001: A Space Odyssey. She died last week at the age of 90.
The Best and the Worst
The best: As a bit of a space geek, I'd have to say the best news of the week has to be the launch of the SpaceX Falcon Heavy rocket. I'm not sure what's more impressive, that it was the most powerful rocket launched from the U.S. in decades, the fact that the two rocket boosters came back to Earth and landed upright (!), or the fact that there's now a car flying around our sun.
The worst: The worst news comes from Best Buy, which is going to stop selling compact discs on July 1. I don't know why this is a "worst" because I have to admit that, while I do still buy a lot of CDs, I buy them online and not at Best Buy, which means I'm part of the problem. In related news, Target is making demands to suppliers, which is probably the first step to those stores getting rid of CDs too.
This Week in History
The Day the Music Died (February 3, 1959)
You know that Buddy Holly, Richie Valens, and J.P. "The Big Bopper" Richardson (along with the pilot) died in a plane crash on the way to a concert, but did you know that Waylon Jennings was almost on the plane? He swapped places with Richardson and took a bus to the next concert venue.
Another famous star got his start because of the crash. Fifteen-year-old Bobby Vee and his band filled in at the concert Holly and the others were supposed to play.
The Blizzard of '78 (February 5–8, 1978)
Despite what I said above, I realize there are limits to how much winter you can enjoy. That limit is called "The Blizzard of '78." There have been storms that have dumped more snow and caused more flooding since that blizzard, but it remains a special storm in history. It was the perfect combination of snow, wind, flooding, and general disruption that doesn't happen that often. I was 12 when it hit and was out of school for an entire week. There was so much snow we couldn't get out of our house. We had to run and jump over the wall at the front of the yard. Cars got stuck and were abandoned on Route 128, the major highway in Massachusetts, and there was a ton of coastal damage to homes.

This Week in Saturday Evening Post History: Norman Rockwell Born (February 3, 1874)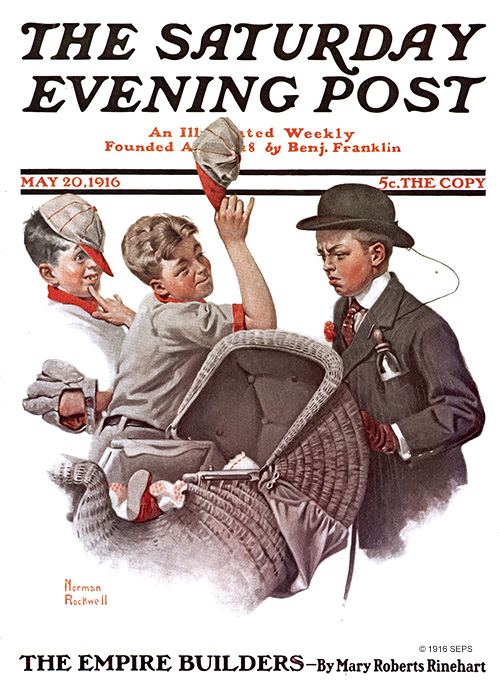 The man we call America's Artist was born in New York City. He's the person most associated with the Post and the artist responsible for arguably some of the most famous artwork in American history, including Runaway and Four Freedoms. His first Post cover, The Baby Carriage, appeared on the May 20, 1916, issue — and then again 100 years later.
Here's a nice remembrance of Rockwell from his granddaughter Abigail.
National Pizza Pie Day
I have good news and bad news. The bad news first: You missed Shape Up with Pickles Week, which was the first week of February. I won't try to define what that is. I really don't want to know. Instead, I'll give you the good news: Today is National Pizza Pie Day.
You're probably used to picking up the phone (excuse me, going online or to an app) to order takeout pizza, or maybe you're a frozen pizza type of person. That's all well and good, but how about taking the time to make your own one day of the year? Here are three recipes from chef Curtis Stone: a Mozzarella, Cherry Tomatoes, and Pesto Pie; a Tomato-Kalamata Olive Pizza; and some Grilled Flatbreads with Garlic-Rosemary Oil.
Pizza's good on a cold winter night, too.
Next Week's Holidays and Events
Mardi Gras (February 13)
I knew it was also known as "Fat Tuesday" and "Shrove Tuesday," but I didn't realize it was also called "Pancake Tuesday."
Valentine's Day (February 14)
This is the day when loving couples buy each other flowers and candy, go out to dinner, and reaffirm their love for one another. If you're single, it's just Wednesday.