Apple just announced its brand new iPad, and it's an absolutely gorgeous piece of computing power. It's got a stunningly brilliant printed-paper-quality 2084 x 1536 display. It's got a powerful new 5-megapixel camera, with auto focus and white balance control. It's even got blazingly fast 4G that you can use as a wireless hotspot, if you're willing to pay for it. But is it the right tablet for you?
Maybe, maybe not. Before you shell out $499 — or more — for a new tablet, consider whether your new piece of tech is a need … or simply a want.
Why you want to upgrade to the new iPad:
Because the new iPad is darned cool. There's no way around it: Apple products define cool. You look at those holding iPads on the commuter rail with envy. Your friends — at least your technologically-minded friends — have one. Your kids are going to put it on their holiday shopping list. It's trendy in a way that no other tablet can hope to match. If staying on top of trends is important to you, then the new iPad is going to be a hands-down must-have gadget.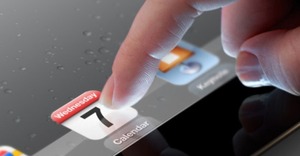 Because you didn't buy the iPad 2. If you skipped the iPad 2, this might be a phenomenal time to grab the new iPad. After all, the iPad 2 added a slew of features to the already-awesome original iPad, such as a front-facing camera and a better processor. Since the new iPad adds a whole bunch of features to what you already missed out on, it represents a massive technological leap over what you already own. Faster processor. Better resolution. Better camera. And 4G LTE for faster internet on the go — it's all pretty hard to beat.
It's hard to get better. The new iPad has a lot of undeniably cool features, like better-than-HD resolution, a powerful camera, and 4G wireless. These features are so cool, in fact, that it's hard to imagine the iPad 4 being significantly better on either of these fronts. After all, if your eyes can't tell the difference, why increase the resolution? Is there any point to putting a better-than-5-megapixel camera in an iPad? And 5G wireless internet is years away — something we'll likely be enjoying for the first time on our iPad 9s or possibly even iPad 12s.
Of course, that's not to say there aren't some avenues where an iPad 4 can better this latest iteration, namely in processor and battery life. But if you keep putting off your purchases by saying "the next one is bound to be better," you'll likely never buy another piece of tech in your life.
Why you don't want to upgrade to the new iPad:
Money is a factor. Clocking in at $499 on the low end, a brand new iPad isn't within everyone's budget. And to get the most out of your iPad, you're probably going to need to shell out a few hundred extra to get the 4G wireless. That's the bad news. The good news, of course, is that the presence of the new iPad makes the iPad 2 cheaper — both new ($399 from Apple) and used. And if you really want to save some green, check out our selection of the 8 best tablets currently on the market.

You just don't need a tablet. There's no denying that iPads are cool. They're Star Trek-level tech in the palm of your hand. But do you really need one? Probably not — there's really nothing you can do on an iPad that you can't already do on an iPhone or a home computer.
You prefer a smaller option. The new iPad clocks in at 9.7″, just like its predecessor. Plus, it's slightly bulkier than the iPad 2. That's still small, sure, but if you're all about portability, the far cheaper Kindle Fire and Nook Tablet both have a real advantage. Besides, it's rumored that we'll be getting a smaller, more portable iPad later this year. It may be worth sitting on your hands … for now.
You're going to do most your computing at home. One of the most compelling features of the new iPad is the higher-speed 4G LTE internet connection that's usable as a wireless hotspot. It's really the only must-have new feature — most of the rest merely represents upgrades over what's already there. If you're planning on spending most of your time with your new iPad via a WiFi connection, then you don't really need 4G.
Any piece of brand new Apple technology is hard to resist, and we're going to have a lot of trouble holding on to our purse strings over the new iPad, even if it is easier than ever to sell our iPad 2s. Still, before you get out that credit card, it's worth considering that if the existing features of the iPad 2 make you happy, you'll probably be better off saving up your money for the fourth-generation iPad. After all, it's only about a year away.

This story originall appeared on Tecca. More from Tecca:
New iPad: Your complete guide to Apple's newest tablet
Review: The new Apple iPad puts its best face forward