Winter's Not Done Yet
I just looked out my window and it's a wet, gray, early March day. I didn't mean for that to rhyme; I just wanted to describe what it looks like outside my window.
I'm actually now in "spring mode," ready to wear lighter clothing and put the shovels away, but winter isn't finished with us quite yet. We just had a nor'easter that gave us a ton of rain and winds and damage to coastal homes, and tonight and tomorrow we're supposed to get hit with another storm. This time more snow will be involved, anywhere between 1 and 12 inches, depending on where you live.
This is what I find funny about weather forecasts now: they have so much information that, in a way, they're less accurate. A typical snowstorm forecast will go something like this:
"The European computer model says we're going to get hammered by this storm, with over a foot of snow. The American model says we're going to get only an inch or two. Then this third model says that we're going to be somewhere in the middle, maybe four to six inches. We're still collecting data, but that's our best guess right now. Back to you, Ed."
That's a great forecast. I could have told you the same thing sitting on my couch in my sweatpants. But they used the word computer and showed a lot of Doppler radar images, so I guess we better pay attention to it.
People … People Who Need Cloned Dogs
I love dogs more than I love some people I know, but I'm not sure I could ever do this. Barbra Streisand cloned her dog. She wrote about it for The New York Times.
Streisand had her dog Samantha for 14 years, and just before the dog died, the vet scraped the inside of her cheek to get her DNA. The singer has a friend who did the same thing with his dog, and she wanted to try it to see if it would work. And it certainly did. It produced five puppies, three of which she kept and two she gave away.
It's a little too sci-fi for me. I have this vision of an army of cloned little dogs taking over the planet. But I'm happy that Streisand is happy.
By the way, for the title of this section, I almost went with "Send in the Clones."
Chiweenie
Every year I like to point out new words that are added to the various print and online dictionaries, even if sometimes they aren't words at all. The Merriam-Webster Dictionary is my favorite. I just bought a brand new one because my old one vanished somehow, and it's perfect timing, because this past week they announced some words that were added to the classic tome. And when I say "some" words, I mean 850.
Some of the new words and phrases include wordie (a lover of words), chiweenie (a cross between a Chihuahua and a dachshund, even if they're not cloned), hate-watch (where you watch a movie or TV show even though you know it's bad), and dumpster fire (which is defined as "a disastrous event," though I've seen it used to mean a series of disastrous events, or just an overall definition of how things are going).
They're also now including mansplain, but to be honest, I'm a little afraid to tell you what that is.
Mister Rogers' Neighborhood at 50
To celebrate the 50th anniversary of Mister Rogers' Neighborhood, PBS is airing a special this week titled It's You I Like. It focuses on what Fred Rogers and the show meant to various people, including John Lithgow, Whoopi Goldberg, and Yo-Yo Ma. It's hosted by Michael Keaton, who got his start in pictures as a crew member on the show. Here's a preview:
The Razzies
Everyone knew who was going to win the Best This and That at the Oscars this year — the results were fairly predictable — but who won the awards for the Worst of the Year? The Golden Raspberry Awards, or Razzies, are held the day before the Oscars every year, and this year's list of "winners" includes Tom Cruise for Worst Actor (The Mummy) and Tyler Perry for Worst Actress (Boo 2! A Madea Halloween), and The Emoji Movie was named The Worst Movie of the Year. Other people who won Razzies include Mel Gibson and Kim Basinger.
Oddly, the winners didn't show up to accept their awards.
RIP Roger Bannister and David Ogden Stiers
Roger Bannister was the first person to break the four-minute mile, which he did on May 6, 1954. He later had a career as a neurologist. He died Saturday at the age of 88.
David Ogden Stiers was an actor best known for his role as Major Charles Emerson Winchester on M*A*S*H and for voice work in many animated films. He died Saturday at the age of 75.
Quote of the Week
"Now there are so many young people, and all my old friends are dead. They have either drunk themselves to death or they have naturally popped off the vine."
—actor Christopher Plummer, on how the Oscars have changed
The Best and the Worst
Best: I'm cheating a little because this isn't from this week, but I didn't see it until this week, so it still counts, right? It's a letter that New Yorker writer Alexander Woollcott sent to Ira Gershwin, and is now posted at Argosy Books in New York City. My favorite part is where he manages to tell Gershwin that he hopes he fries in hell, but still signs it "affectionately."
Letter from Alexander Woollcott to Ira Gershwin, on display outside the Argosy Bookstore, New York. pic.twitter.com/wmtC2LGeP9

— southpaw (@nycsouthpaw) February 20, 2018
Worst: Just one last thing about the Oscars. Every year they have an "In Memoriam" segment, aka the "What People Are They Going to Leave Out This Year?" segment. Sure, it's hard to pare down hundreds of people into a few dozen, but they're making a decision about who to include and who not to include. This year they left out John Mahoney, Tobe Hooper, Powers Boothe, Dorothy Malone (who actually won an Oscar!), Adam West, John Gavin, Dina Merrill, Michael Parks, Jean Porter, Richard Anderson, Anne Jeffreys, and Michael Nyqvist, among many others — but they included people like a hairstylist and a public relations guy. I'm sure they were lovely people, but don't tell me you don't have time to include Rose Marie, a woman who was in the movies and television for 90 years, if you are going to include people movie fans have never heard of before.
This Week in History
Alexander Graham Bell Born (March 3, 1847)
The man who invented the telephone in 1876 would often greet people with a "Whoo-hoo!" when talking to them on the phone. Today, he'd probably just text an emoji. Here's a Post piece from 1900 on how to use the telephone, and here's Ron Carlson's essay on why he wants the landline to stick around forever.
Barbie Introduced (March 9, 1959)
Next year will mark the 60th anniversary of everyone's favorite doll. This month, Mattel is releasing new dolls to honor Amelia Earhart, Frida Kahlo, and other inspiring women.
This Week in Saturday Evening Post History: Freedom from Want (March 6, 1943)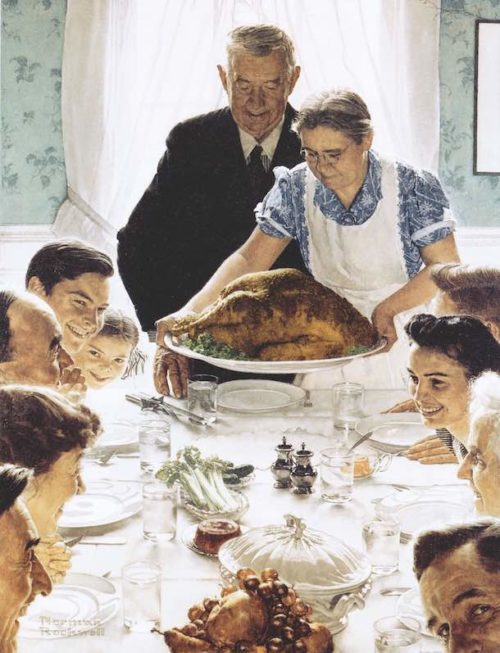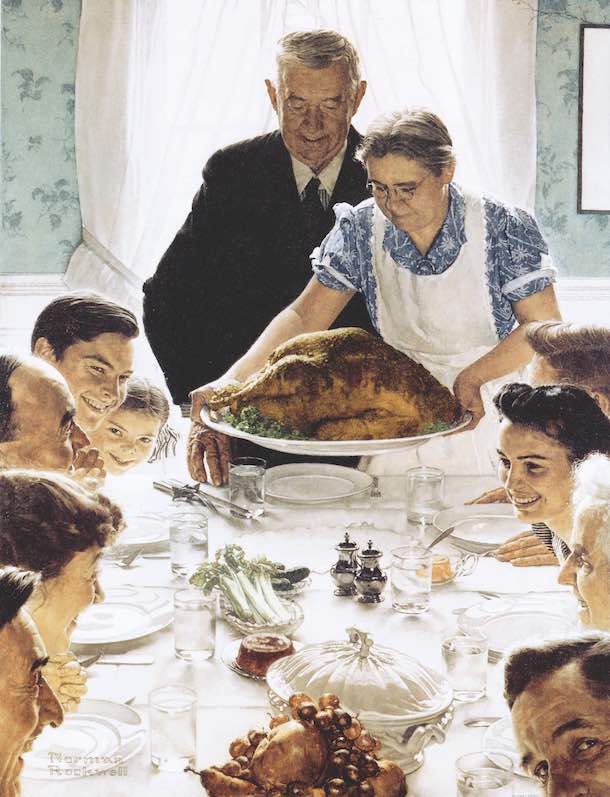 The Post asked four writers to craft essays to accompany Norman Rockwell's Four Freedoms paintings. Poet Carlos Bulosan contributed the essay for Freedom from Want.
The painting has to be one of the most parodied in history, with everyone from The Simpsons, superheroes, and the cast of Modern Family replacing the original family.
March Is National Celery Month
I think we can all agree there isn't a more exciting food than celery! It's light green! It's mostly water! It doesn't have a lot of flavor! Did I mention it's mostly water?!
Okay, no matter how many exclamation points I use, I can't get you pumped up for celery, but I happen to really love it (and not just with peanut butter spread on it). Here's a recipe for Easy Homemade Chicken Salad from Genius Kitchen, which sounds good, though I think they might be overdoing it with the mustard, green peppers, and hard-boiled eggs. Here's a simpler recipe from the same site.
I've noticed a lot of recipes include water chestnuts, but I wouldn't go that route either. I do like white pepper in mine and maybe even some grapes. Yes, grapes.
Next Week's Holidays and Events
Daylight Saving Time begins (March 11)
I hear there are people who like it when it stays light until 8 or 9 p.m. I'm not one of those people, but I know they exist. Set your clocks an hour ahead before you go to bed.
National Girl Scout Day (March 12)
How can you celebrate the day if you're not a Girl Scout yourself? By purchasing some cookies, of course. I like the Samoas, which apparently are now called Caramel deLites.
Hey, Has Anybody Seen Shakespeare's Skull?
This sounds like the plot of a Syfy TV movie — where a stolen skull seeks revenge on those who took it and tries to reunite with the rest of the body — but it really appears that playwright William Shakespeare's noggin is missing!
According to archaeologists and a radar scan, the skull isn't where it should be, 400 years after the Bard died and was buried in the Church of the Holy Trinity in Stratford-upon-Avon, England. It seems some sort of vandalism occurred at some point, and now the skull is missing.
The whole history of the grave is rather odd. It's not even marked with his name, there was a rumor that the skull was buried at another church several miles away (it wasn't), and news of the missing skull was actually already published 137 years ago in an 1879 issue of Argosy. Findings of this investigation were part of a new TV special that aired on Channel 4 in Britain last weekend.
If Syfy does make a movie, they can call it Skullnado.
Before Google, People Asked Librarians Things
A few weeks ago, I was watching Desk Set, the 1957 Spencer Tracy/Katherine Hepburn movie in which Tracy plays an efficiency expert hired by a TV network to replace the fact-checkers in the network's research department. People call the fact-checkers on the phone, and they go to their books to find out the answers for them. It seems quaint in this age of Google, when every piece of information (or misinformation) you could ever want is just a few clicks away, but this is how people used to find out things. You either called someone or looked it up in a book.
I thought of that movie after seeing this tweet from former New Yorker writer Nancy Franklin, a bunch of questions that people typed or wrote up and submitted to librarians at the New York Public Library so they could look up the answer:
@elizmcracken "@ValaAfshar: Before @google, people would ask librarians questions. —New York Public Library (@nypl) pic.twitter.com/IJBh5yXm1i"

— Nancy Franklin (@nancyfranklin) March 27, 2016
The Telegraph has a lot more examples of questions curious library-goers had years ago for the New York Public Library. Is there a book that dramatizes bedbugs? Why are there so many squirrels in 18th-century paintings? Who kisses first, a house guest or the host? What time does a bluebird sing?
Like Nicholas Carr, I sometimes wonder if having a resource like Google and the Web is hurting our memories and our brains in general.
RIP Patty Duke, Earl Hamner Jr., and Jim Harrison


Patty Duke is probably best known to fans of a certain age for her role as identical cousins Cathy and Patty Lane on the sitcom The Patty Duke Show. But before that she won a Best Supporting Oscar at 16 for her role as Helen Keller in The Miracle Worker. She appeared in dozens of TV shows and movies since the mid-1950s, most recently in Glee, Liv & Maddie, and the 2017 movie Power of the Air. Off-screen she was a big supporter of charities and an advocate for mental health. Duke passed away Tuesday at the age of 69. Her son actor Sean Astin broke the news.
MeTV started running a promo in January for The Patty Duke Show featuring Duke and co-star William Schallert. Yup, he's still acting at age 93:

Earl Hamner Jr. was probably best known as the creator of The Waltons (did you know he was also the narrator of the series?), but he had a long, varied career in film, TV, and books. Besides The Waltons, Hamner wrote for The Twilight Zone, Falcon Crest, Gentle Ben, The Invaders, and many other shows. He also wrote the screenplays for the 1973 version of Charlotte's Web, Where The Lillies Bloom, Spencer's Mountain, and the TV movie Heidi, which we've mentioned here before. He also wrote several novels and nonfiction books. Hamner died at the age of 92 in Los Angeles.
I could write a lot about Jim Harrison, author of Legends of the Fall and many other novels, stories, and poems. He passed away last Saturday in Arizona at the age of 78, but I think this tweet from writer Walter Kirn sums it up quite nicely:
Goodbye #JimHarrison, deep old American Druid of the woods. You were a poet beast & story singer, roaring, incorrigible, yet snow drop clear

— walter kirn (@walterkirn) March 27, 2016
Three New Books Worth the Read
Wind Sprints, by Joseph Epstein. Epstein is one of the great essayists, and this is his latest collection. It' contains shorter works from the past 20 years, focusing on everything from aging and pop culture and technology to politics and sports and everything in between. Basically it's about life, and a fine read. (Wind Sprints will be released on April 7.)
Approval Junkie, by Faith Salie. This is the CBS Sunday Morning contributor's collection of essays on "her lifelong quest for approval." Her segments on the show are quite good, and this promises to be a fun read. (Approval Junkie will be released on April 19.)
Slow Burn, by Ace Atkins. This is the next book in the Spenser series created by the late Robert B. Parker. Atkins, whose other books include the Quinn Colson series and the Nick Travers books, took over for Parker in 2012. It's his fifth Spenser book, and fans won't be disappointed with his take on the Boston private investigator. (Slow Burn will be released on May 3.)
Catch The Catch
Sometimes a TV show catches you off guard. You've seen the commercials for it, but it's not getting a lot of buzz. And besides, you're behind on 27 other shows. I almost decided not to watch ABC's The Catch (I still have two seasons of Agent Carter to watch), and that would have been a big mistake.
The Catch stars Mireille Enos (from The Killing) and Peter Krause (from Sports Night and Six Feet Under). It's hard to explain the plot without giving away the many twists and other pleasures of the show, but let's just say it's about a private investigation firm trying to find a notorious thief they've nicknamed Mr. X. It's really well done and entertaining, with good-looking stars and a lot of style. It's a breath of fresh air in a TV landscape filled with superheroes, serial killers, and zombies.
It reminds me of a cross between The Thomas Crown Affair and Eyes, the terrific Tim Daly show that also aired on ABC in 2005 but was canceled after only a handful of episodes.
The Catch airs on Thursdays at 10 p.m. Eastern time, and you can watch the episodes you missed at the ABC site.
National Peanut Butter and Jelly Day
In January, I showed you how to make the perfect peanut butter and jelly sandwich, but tomorrow there's an entire day devoted to it. I can't really give you that many recipes for a peanut butter and jelly sandwich — beyond trying different styles of peanut butter or flavors of jelly — so I thought I'd do a little digging to find out how it was invented.
Believe it or not, we have actor Humphrey Bogart to thank for the sandwich. While having lunch at Fox Films (later 20th Century Fox) in 1930, where he was filming Up the River with the aforementioned Spencer Tracy, Bogart realized that the studio commissary was out of ketchup, which is what he usually had with his peanut butter in a sandwich. Bogart tried mustard, mashed potatoes, even tomatoes, but nothing tasted right. He noticed the jelly that was sitting on a tray of condiments, left over from breakfast, and decided to give it a shot. He loved it and told other people about it, and it quickly caught on. The rest, as they say, is history.
And if you believe that story, please note what day today is.
Upcoming Events and Anniversaries
Jesse James killed (April 3, 1882)
Here's a nice remembrance of someone depicted on a 1948 John Falter cover of The Saturday Evening Post as a boy, playing in the same area where people like Jesse James and the Pony Express riders once traveled.
President Truman signs the Marshall Plan (April 3, 1948)
Also called the European Recovery Program, the Marshall Plan gave $13 billion in aid to help Europe rebuild after World War II.
Washington Irving born (April 3, 1783)
Irving's story The Devil and Tom Walker was the inspiration for Stephen Vincent Benét's short story The Devil and Daniel Webster, which first appeared in The Saturday Evening Post in October 1936.
First female mayor elected (April 4, 1887)
Her name was Susanna M. Salter, and she was the mayor of Argonia, Kansas, in 1887 and '88.
President William Henry Harrison dies (April 4, 1841)
Harrison spoke for more than three hours at his rainy, cold inauguration and died of pneumonia a month later.
The Church of Jesus Christ of Latter-day Saints established (April 6, 1830)
The Supreme Court ruled 49 years later that America's civil rights laws trumped the Mormon Church's polygamy practice.
Civil Rights Act of 1866 enacted (April 9, 1866)
The bill that granted all citizens the same rights regardless of color, even if they were former slaves, was passed by Congress over the veto of President Johnson.

Goodbye Donald, Hello Arnold
Earlier this year Donald Trump and NBC parted ways (he's running for president, if you haven't turned on your television the past two months. So they needed a new host for The Celebrity Apprentice. Would it be someone like Mark Cuban or Richard Branson? Nope, they went with the ex-governor of California, Arnold Schwarzenegger.
They might need a new tagline to replace Trump's "You're fired." Conan O'Brien has a few suggestions:
Too bad Carly Fiorina is busy. She would have been great.

Supercalifragilisticexpialatrocious
Eventually, Hollywood will remake/reboot/sequel-ize every single movie and TV show that has ever been made. The latest is Mary Poppins. Disney has announced that they're making a sequel to the beloved movie, which will take place 20 years after the original. It will be directed by Rob Marshall, who directed Chicago.
This is where I would put in the obligatory "I wish Hollywood would stop doing this!" line, but at this point it's too late. Everything is up for grabs. A screenwriter is even thinking about doing a new version of Columbo.

RIP, Dickie Moore
Last week we got the news that Our Gang actress Jean Darling had passed away. Now comes word that fellow Our Gang actor Dickie Moore has passed away. He was 89.
Besides the 1930s comedy shorts, he also appeared in many movies, including Out of the Past, where he played Robert Mitchum's mute employee at the gas station; Miss Annie Rooney, where he gave Shirley Temple her first on-screen kiss; and films like Oliver Twist, Sergeant York, and The Bride Wore Red. Moore served in World War II and left the movie business in the early 1950s and eventually opened up his own PR firm, Dick Moore & Associates. He had been married to actress Jane Powell since 1988.

I Now Pronounce You…
In some places, fake weddings are really popular.
I don't mean fake weddings as in whatever the heck happened with Kim Kardashian and basketball player Kris Humphries a few years ago, I'm talking about weddings that are actually fake. The Atlantic has a piece about marriages in Argentina that aren't really marriages at all. They're parties where fake grooms and brides and others get together to party. Guests pay between $43 and $65 for tickets, and that includes a video of the event and "some drama." So it sounds like a reality show you pay to attend. I can't imagine that this won't be popular in the U.S. at some point.
Recent statistics show that 50 percent of all fake marriages end in fake divorce.

New Fall Books
Finally, fall is in our sights. Soon the rancid heat and humidity will be replaced with crisp, cool air, pumpkin-spice everything, and new TV shows. And books! Books are released throughout the year, of course, but fall seems to be when a lot of the eagerly awaited books are released. Here are seven that sound like fun:
September Is National Breakfast Month
I have not eaten breakfast in years. Sure, I'll have tea in the morning and throughout the day (oh so many, many cups of tea throughout the day), but I never, ever actually have any breakfast. They say it's the most important meal of the day, but I've heard that line for so long who knows if it's actually true or just one of those medical wives' tales.
But if you do eat breakfast, it's National Breakfast Month. RecipeGirl has a great breakfast section on her site (actually, the entire site is great), and you might want to try some Pumpkin Spice Muffins or an Onion, Bacon, and Spinach Fritatta, or the Two-Ingredient Pancakes.
As we mentioned last week, McDonald's will start to serve breakfast all day long on October 6. They should have bumped it up a month.

Upcoming Events and Anniversaries
Tolkien Week (September 20-26)
And September 22 is Hobbit Day, the birthday of both Bilbo and Frodo Baggins! The Saturday Evening Post Archives Director Jeff Nilsson on the concerns parents had when The Hobbit became popular in the 1960s.
Billie Jean King beats Bobby Riggs (September 20, 1973)
There were actually three Battle of the Sexes tennis matches. One had Riggs against Margaret Court (which he won) and a later match against King (which he lost). The third was played between Jimmy Connors and Martina Navratilova.
H. G. Wells born (September 21, 1866)
ABC has announced that they're making a TV series based on the sci-fi film Time After Time, about writer H.G. Wells battling Jack the Ripper through time.
Neptune discovered (September 23, 1846)
Who should get credit for discovering the eighth planet?
William Faulkner born (September 25, 1897)
The Southern writer published 22 short stories in the Post and was recipient of both the Nobel Prize in Literature and a Pulitzer Prize.
First televised presidential debate (September 26, 1960)
The common wisdom is that people who watched the debate on television thought John F. Kennedy won (Richard Nixon sweated a lot) and those who listened to it on the radio thought Nixon won.