In 1948, the Chicago Cubs were having a bad season. Their long string of losses provided Norman Rockwell an opportunity to contrast a visiting team's dejection with the raucous elation of home-team fans of the then-Boston Braves.
Several Cubs good-naturedly agreed to model for him. Rockwell captured them early on May 23 in Boston before the start of a doubleheader. From left to right, they are pitcher Bob Rush, manager Charley Grimm, and, behind the batboy, catcher Al Walker and alternate pitcher Johnny Schmitz.
Later, as the stands started to fill, Rockwell stood in the infield and pointed out people he wanted for models. These fans were invited to sit in a box over the dugout and pose. All were happy to be part of the painting. Rockwell would ask each one to mimic his expression of delight or scorn, but some fans just couldn't project the right intensity. Others found it easy to portray raucous delight and loud derision, like the girl delightedly razzing the Cubs at left. She was the daughter of the Braves' coach. The woman gripping her hands delightedly over the batboy's right shoulder was the wife of the Braves' pitcher. And to add one more screaming face to the frame, Rockwell put himself in the upper left. When he was finished photographing the faces he wanted to use in the illustration, the game began. And life imitated art, for that day the Chicago Cubs lost both games.
This article appears in the November/December 2018 issue of The Saturday Evening Post. Subscribe to the magazine for more art, inspiring stories, fiction, humor, and features from our archives.
The Sting of Spring
Mother Nature and assorted meteorologists have been toying with us this spring, throwing in 49-degree days along with the 70-degree ones. But we've turned a corner. The warm weather is here. There's no turning back now.
I killed a giant bee in my apartment recently. The first appearance of an insect in the spring is always a bit disorienting. I heard the buzzing sound, but it was so loud I thought it was coming from construction equipment down the street. Then I saw it fly by my television and flap around the window. At first I didn't know what to attack it with. A shoe would have been cumbersome in the window, and I didn't want to use my copy of The Saturday Evening Post. So I used the next most logical thing: the 1951 Loretta Young film noir Cause for Alarm! Hey, I panicked and didn't want the bee to get away! For some reason I own two copies of it and decided to sacrifice one to squash the bee (in my defense, it is considered a B-movie).
I'm usually a curmudgeon when it comes to warm weather. I start complaining about the temperatures on Memorial Day and I don't stop until after Labor Day. But this year, I've decided to embrace it. I'll wear shorts and drink cold drinks and watch tennis until the better weather comes along. If you can't beat 'em, join 'em. Just make sure you have plenty of extra DVDs on hand to kill the bugs.
Want, Worship, Speech, Fear
Starting today, the New York Historical Society will host an exhibition of Norman Rockwell's Four Freedoms paintings, in a celebration of Rockwell, Franklin D. Roosevelt, and America. The "Rockwell, Roosevelt & the Four Freedoms" exhibition will last until September 2 and will then go on tour to several other locations around the world, including The Henry Ford in Dearborn, Michigan, The Textile Museum in Washington, D.C., the Mémorial de Caen in Normandy, France, and the Norman Rockwell Museum in Stockbridge, Massachusetts.
To celebrate the tour, Turner Classic Movies had a marathon of movies inspired by Four Freedoms this week, hosted by Ben Mankiewicz. It included an interview with Harvey J. Kaye, author of The Fight for the Four Freedoms: What Made FDR and the Greatest Generation Truly Great. The films Mankiewicz and Kaye discussed included The Grapes of Wrath, Casablanca, Deadline U.S.A., and two short films from 1945: The Cummington Story and The House I Live In, with Frank Sinatra.
Guitar Hero
A guitar that Bob Dylan played on his first electric tour — and later strummed by Robbie Robertson — sold at auction this week for $490,000.
It should be noted, however, that this isn't the guitar Dylan played at the 1965 Newport Folk Festival, the one that caused an uproar because some fans just couldn't believe he had gone electric. That concert is one of the many topics in this 1968 Post profile of Dylan by Alfred Aronowitz.
Shirley
I love going through the Post archives to see who wrote for the magazine over the years. It's an impressive list, and it includes Shirley Jackson, probably best known for her short story that's taught in every high school English class, "The Lottery." In the March 27, 1965, issue we published Jackson's short story "The Bus." She died just five months later.
This week it was announced that the Mad Men and Handmaid's Tale star Elisabeth Moss will play Jackson in a new movie based on Susan Scarf Merrell's novel Shirley. It's about a couple who move in with Jackson and her husband and wish they hadn't.
Can You Name a Book?
Speaking of books, can you name one? If someone stopped you on the street and asked you to name a book — any book at all — could you do it? Of course you could! But these people interviewed on Jimmy Kimmel Live! had a lot more trouble.
RIP Philip Roth, Joseph Campanella, Clint Walker, Richard Goodwin, Robert Indiana, Jimmy Nickerson, and Patricia Morison
Philip Roth was one of the great writers of the 20th century, known for such novels as American Pastoral, Portnoy's Complaint, Goodbye, Columbus, and many others. He died Tuesday at the age of 85.
Here's a funny remembrance of meeting Roth from Billions creator Brian Koppelman.
Joseph Campanella was a veteran actor who appeared in dozens of TV shows and movies. He died last week at the age of 92.
Clint Walker starred in the popular western series Cheyenne from 1955 to 1962 and appeared in many other shows and movies. He died Monday at the age of 90.
Richard Goodwin was a speechwriter and adviser to Presidents John F. Kennedy and Lyndon Johnson. He also wrote several books and was married to historian and author Doris Kearns Goodwin. He was a member of the House subcommittee that investigated rigged game shows in the late '50s and was portrayed by Rob Morrow in the 1994 movie Quiz Show. He died Sunday at the age of 86.
Robert Indiana was an artist probably best known for his "LOVE" series of images in the 1960s. He died Saturday at the age of 89.
Jimmy Nickerson was a stuntman and actor who appeared in tons of classic movies and TV shows. He died earlier this month at the age of 68.
Patricia Morison was the original star of the Cole Porter musical Kiss Me, Kate in 1948 and went on to appear in many other stage productions and movies, including The Song of Bernadette, Song of the Thin Man, and the last Basil Rathbone Sherlock Holmes film, Dressed to Kill. She even appeared in an episode of Cheers. Morison died Sunday at the age of 103.
Quote of the Week
Not really a quote, it's a headline, but it's important news:
This Hawaii volcano sounds incredible. Via https://t.co/fVUSBNywwF pic.twitter.com/vxAQiRZNHx

— Tom Chivers (@TomChivers) May 18, 2018
This Week in History
Charles Lindbergh Takes Off (May 20, 1927)
Two months after the aviator made the first solo flight across the Atlantic, the Post honored Lindbergh with this Norman Rockwell cover.
Johnny Carson's Last Tonight Show (May 22, 1992)
Carson was host of the NBC late night show for 30 years. Jay Leno took over the following Monday and didn't thank Carson at all, a decision he called the biggest mistake of his career.
This Week in Saturday Evening Post History: First Norman Rockwell Cover (May 20, 1916)
Rockwell's first cover was titled Boy with Baby Carriage. He also did the first full-color cover for the Post, The Old Sign Painter, in 1926.
French Food
The French Open tennis tournament starts Monday. There's a big controversy this year because Serena Williams won't be seeded due to the time she took off to have a baby. She was ranked number one when she left the tour and now she's ranked 453, which means she'll have to play the top players earlier. I think the moral to this story is "kids ruin everything."
But let's talk about French food. Here's a classic recipe for Coq Au Vin from Bon Appétit and one for French Onion Soup Au Gratin. And because you can never have enough recipes with "au" in the name, here's a recipe for Potatoes Au Gratin.
You can eat while watching the French Open coverage on NBC and the Tennis Channel, even if you will have to do it in the morning because of the time zone difference. But maybe it's time Coq Au Vin became a breakfast staple.
Next Week's Holidays and Events
Memorial Day (May 28)
Here's Pamela Krol on what the day means and why it's important to always remember.
Scripps National Spelling Bee (May 29)
You can watch all the preliminaries on ESPN3 starting at 9:15 a.m. and then the finals May 31 on ESPN2 starting at 10 a.m.
Last year's winning word was marocain, which is a word I'll probably never use, but it is an anagram of macaroni.
The weather may be dreary, but these rainy day covers will make you feel cheery!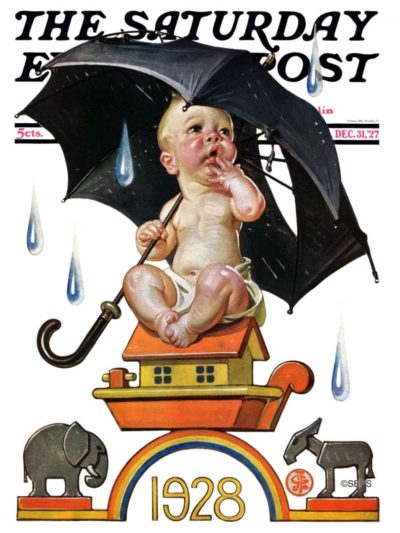 Artist J. C. Leyendecker was well known for his Baby New Year illustrations that graced many Post covers from the 1910s through the 1940s. Our 1928 baby awaits the possible repeal of Prohibition, symbolized by "wet" weather.
The subjects in this illustration were likely artist Ellen Pyle's own children; they served as the models in more than 20 of her Post covers.
[From the editors of the April 14, 1945 issue] Norman Rockwell suggested the idea to Atherton. The hatrack is in the hall of the Community House at Arlington, Vermont. Neighbors contributed the hats, coats and galoshes seen in the painting.
[From the editors of the July 17, 1945 issue] We imagine it is hard for anyone who has never sat on a Pacific spit kit of an island for months on end, contemplating the shapely curves of a can of tinned-pork products for emotional release, to understand Stevan Dohanos' cover. After such soul-gnawing, a flickering, one-dimensional pin-up girl enlarged many times on an improvised screen must have the pulling power a naked electric-light bulb has for a moth. Most South Pacific movies are now first-run, sometimes world premieres; but when "Wilson" was shown on Okinawa before an audience just back from the front lines, there were eight air-raid interruptions, and the show assumed a three-and-a-half-hour Gone With the Wind proportion. Perhaps the reason why Dohanos' G.I.'s are willing to sit in the rain is that their bucket seats are really magic carpets taking them home to Main Street for an hour or two.
[From the editors of the August 31, 1946 issue] The man who has determined to go fishing, Constantin Alajalov observed when he was in Florida, will go fishing until he catches a fish, in spite of bad weather. Alajalov determined to paint this truth. There were a few things on which he needed to refresh his recollection, but to do this, he needed only to go out in a boat on a similar day. We don't know how long the average determined fisherman has to wait for a sunny day. We do know how long Alajalov had to wait to catch a rainy one. One fair day followed another. He waited three weeks.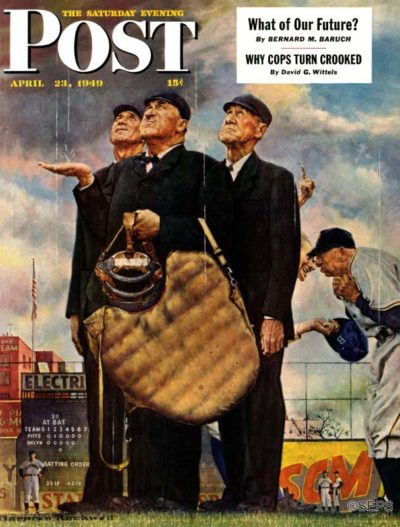 [From the editors of the April 23, 1949 issue] This week's Norman Rockwell cover depicts Ebbets Field, the home of the Brooklyn Dodgers. Here, the Dodgers are trailing the Pittsburgh Pirates 1-0 in the sixth inning. If the arbiters—left to right, Harry Goetz, Beans Reardon and Lou Jorda—call the game because of rain, the score will stand as is, and Pittsburgh will win. This irks the Brooklynites, who dislike having other teams win. In the picture, Clyde Sukeforth, a Brooklyn coach, could well be saying, "You may be all wet, but it ain't raining a drop!" The huddled
Pittsburgher—Bill Meyer, Pirate manager—is doubtless retorting, "For the love of Abner Doubleday, how can we play ball in this cloudburst?"
[From the editors of the May 22, 1954 issue] Rather than be depressed by Mr. Dohanos' soggy scene, note how the deluge has improved the situation. Any birthday party is fun, even if nothing more happens than the duly expected games, grub and slight fights between incompatible little boys. But to arrange for the routine confusion to be stepped up into the joyous chaos of a garden party dispersed by a cloudburst, that's a charming innovation indeed. And how delightful it is to throw a party in or into a garage, where tools and other weapons are available for favors as well as paper hats, where joy can he so much more unconfined than in an ordinary living-room hullabaloo. Even that pony thinks, Bless the rain—no more work. Fortunately, there isn't space here for what mother thinks.
[From the editors of the October 5, 1957 issue] Women can be such a handicap sometimes—"Aw, ma, halfbacks don't wear rubbers. Next thing, you'll want me to make touchdowns with my poncho on. Next thing, you'll want me to run the end with an umbrella." To which mother replies, "James, football men obey the quarterback's signals or get benched. The bench is home. Now then, four, eleven, forty-four, hip—on rubbers!" Well, the maxim says that mothers know best, and if James catches cold by getting wet everywhere except his feet, let's switch to the maxim that only Monday-morning quarterbacks think of everything. This might have been some action picture if Dick Sargent hadn't rung in mother; yet let's settle for the maxim that when it comes to painting, painters know best.
[From the editors of the March 22, 1958 issue] Of course, the children haven't been frightened by Papa's snoring, but by the awful sounds of Nature on an electrical rampage. So mother will gather them in her arms and love away their fear—mustn't it be wonderful to be a mother? If that lightning is bedeviling a far-north state, it should signify the breaking up of a winter which certainly needed breaking up; and yet not long ago some northern areas had thunderstorms followed by the blankety-blankest descent of snow for thirty-something years. Let's leave forecasting to the weatherman, who is welcome to it. Coby Whitmore's man of the house, buried there in the bed, must be the deepest sleeper this side of the proverbial log. How does mother get him up mornings—rap on his head with the book?
[From the editors of the May 25, 1958 issue] This wet cover had its origin in a drought. When crops withered in the Eastern states last summer, the Rev. Benjamin Axleroad, seen there at the door of St. Mark's Episcopal Church in Bridgewater, Conn., included in his prayers a plea for precipitation. And one Sunday, just as his service ended, down came the rain, exit drought. Weeks later artist Melbourne Brindle, a St. Mark's vestryman, puzzled some of the congregation by posing them at the church and refusing to tell them what it was all about—surprise, folks, you're in the Post! Comments on the cover scene: (l) artistic license helped keep that grass green during the drought; (2) if any of the parishioners were out on a golf course during the deluge, how remorseful they must have been that they weren't in church.
[From the editors of the July 8, 1961 issue] How do you like that? On Saturday afternoon—prime time at any golf club—comes the deluge. Well, that's par for the course, we suppose, and the course in this Ben Prins cover belongs to The Dunes Club of Myrtle Beach, South Carolina. That wave in the background is a fringe of the Atlantic Ocean, not the crest of an oncoming flood. The three-wheeled vehicle under the umbrella is what is known as a caddy car, and its occupants are either fair-weather athletes scurrying toward the indoor recreation of the nineteenth hole, or spirited souls bent on challenging their fellow duffers to a game of motorized water polo. At any rate they're not slowing down at the putting green. The weather being what it is, they're probably less concerned about sinking putts than about sinking, period.
It was a brush with destiny. A young artist named Norman Rockwell had a dream: to do a Saturday Evening Post cover. To this end, he showed a painting of a lovely ballerina to his buddy, Clyde Forsythe. His friend's reaction: "C-R-U-D! Terrible. Awful. Hopeless." Apparently, Forsythe was not one to mince words. Then Forsythe picked up one of the illustrations Rockwell had done for Boys' Life magazine. "Do that," he said. Do what you're best at—kids."
Following his friend's suggestion, Rockwell was over the moon when "Baby Carriage" appeared as his first Post cover in 1916. He was twenty-two. It was the beginning of a beautiful friendship that lasted a remarkable 47 years and over 300 covers.
Celebrating Norman's 84th birthday in 1978, The Saturday Evening Post collected a variety of quotes from celebrities:
"A Norman Rockwell painting makes you feel happy and warm." – Bob Hope
"When I was a boy, I used to deliver The Saturday Evening Post in our neighborhood on Long Island. With what joy and excitement I opened the bundles of magazines and studied each new Norman Rockwell cover. I'm so glad that the Post is honoring him on his 84th birthday and I would like to add my personal message to him, "Happy Birthday, Mr. Rockwell, all the way from the Aloha State." – Jack Lord
"Norman Rockwell is timeless and without a doubt, universal. His warmth and humanity cover you like a winter quilt. Norman Rockwell celebrates life, and it is a wonderful feeling to help celebrate his." – Henry Winkler
In 1978 a "new Post cover artist," Gene Boyer, wished Norman Rockwell happy birthday in his own special way with this portrait.
"For his openness, his goodness and honesty and intelligence, the world thanks him and wishes him a great birthday. He is a great man. And would be embarrassed to be so called." – Ronald Reagan
"Norman Rockwell is, I think, the most thoroughly American artist of all. Historians a thousand years from now will be able to learn a great deal of what life was like in the United States in the 20th century from studying the warm, human impressions by an artist who obviously loved his subjects." – Steve Allen
"Norman Rockwell's name has become synonymous with a whole age of innocence in America, and his great paintings evoke in all of us a nostalgia for a simpler and happier time." – Walter Cronkite
"Norman Rockwell has always had a way of staying in touch with the feelings and hearts of the American people. In this time of constant hunting by the news fraternity for the provocative, the thoughts and moods and illustrations of Norman are most welcome and refreshing." – John Wayne
"Norman Rockwell is America's greatest, and I wish my home was full of everything he ever painted. Love, Lucy." – Lucille Ball
"Some of us grew up thinking that Uncle Sam's real name was Norman Rockwell; I still do." – Paul Harvey
At right, Norman Rockwell works on a portrait of Egyptian President Nasser, which appeared as a Post cover on May 25, 1963. It was his last Post cover. He passed away in November 1978.
It's a classic Norman Rockwell cover from 1919. The boys are careening downhill on a sled, having a great ol' time. But look at the dog's face. Sheer terror!
Now, we could swear it was the same dog on a 1923 Country Gentleman cover by a prominent artist named J.F. Kernan. Did Rockwell lend Kernan the dog? If so, the mutt had taken to sledding in the intervening years. This one is going for the gusto!
Really, people should ask Fido if he wants to go for a sleigh ride. On a 1930 cover by artist Alan Foster, the boy and grandpa are having a great time, but the pooch is nearly as terrified as the Rockwell dog above. We wonder if grandpa made it all the way down the hill with his still lit pipe.
Sledding by sunset are the folks on the 1948 cover by artist John Falter. Reluctant to give up a great winter's day, the kids are still at it. And yes, one little white pooch is still sledding (in a little girl's arms).
The snowfall is so deep on artist John Clymer's January 1954 cover that dad is up on the roof clearing it off. Junior, on the other hand, is enjoying the white bounty, taking the dog for a sled ride. This pace a dog can handle.
Our earliest sledding cover? This beauty from November 1900. The snow created a social event, with people trudging uphill greeting sledders going downhill. And, yep, there is a pooch in the center of the action, having a ball in the snow.