Norman Rockwell Painting to Be Sold
What would you do with an extra $10-15 million?
That's how much the National Press Club expects to get when they sell the Norman Rockwell painting "Norman Rockwell Visits a Country Editor". Rockwell painted the picture for the May 25, 1946, issue of The Saturday Evening Post. Rockwell gave the original painting to the club in the early '60s, but the board of directors discovered that the painting's value had increased so much that it no longer made sense for them to hold on to it, due to insurance and security costs. They want to sell it to pay for various programs they have.
For the past year the painting was on loan to the Norman Rockwell Museum in Stockbridge, Massachusetts. It's now at Christie's, where it will be auctioned off on November 19.
ABC Family Is Now … Freeform?
It's not uncommon for some cable channels to change their name. TV Guide Network became Pop; Discovery Health became OWN (the Oprah Winfrey Network); HDNet became AXS; and SOAPnet became, of all things, Disney Junior. But at least those names made sense. I'm not sure about this one.
ABC Family, which airs shows like The Fosters and Pretty Little Liars, is changing its name to Freeform. But it actually isn't the first name change for the channel. It started in the late '70s as CBN (the Christian Broadcasting Network), then it became The Family Channel, then Fox Family Channel, and then ABC Family in 2001. The new name launches in January.
But I'm not really sure what Freeform is even supposed to mean. The channel says they're doing it to attract younger viewers, because I guess younger people like … free- form jazz? Yup, that's what I hear all the kids like these days, Snapchat and free-form jazz. They probably could have named it Pickles, and it would have made as much sense. But #Freeform makes for a snappy hashtag.
Tom Hanks Finds Student I.D.
Is there any limit to how nice Tom Hanks can be? (Answer: No.)
The Bridge of Spies star found the I.D. of a Fordham University student in Central Park. Now, a lot of people would have just left it there or given it to someone else to worry about, but Hanks himself tweeted a picture of the I.D. and gave the student, Lauren, a heads up that he had it:
Lauren! I found your Student ID in the park. If you still need it my office will get to you. Hanx. pic.twitter.com/Ee9kK4V4qf

— Tom Hanks (@tomhanks) October 6, 2015
The senior has been talking to many media outlets, including CBS and E! Online and revealed that she doesn't even have a Twitter account. But one of her teacher's saw it and showed it to her. According to E!, Lauren has contacted Hanks via his Facebook page but hasn't heard back yet. She has already spent $20 on a new I.D. but hopes to get her money back when she gets the old one from Hanks (or as he signs his tweets, "Hanx"). Let's hope she actually gets to meet him and also gets an autograph and picture taken with him.
Everything Old Is New Again
You know you're getting old when they start remaking TV shows that were on when you were an adult.
We already know that Full House is coming back (as Fuller House on Netflix) and Boy Meets World became Disney's Girl Meets World and a new X-Files will hit Fox in January, but now we're going to have a new version of the '80s action show MacGyver too. The director of the pilot is going to be James Wan, who helmed Furious 7 and was trying to get a big-screen MacGyver made for years. Henry Winkler, who co-produced the original will also be on hand for this one. Since it's CBS I'm sure it will have to follow a certain formula, so expect MacGyver to be paired with a sexy female partner and they banter back and forth. Also, there will be forensics involved. Let's hope that Richard Dean Anderson gets at least a cameo in the new series. Maybe he can be the dad to a new MacGyver like John Wesley Shipp plays dad to a new Flash.
If that's not enough nostalgia for you, 20th Century Fox is doing a reboot of The A-Team; CBS is updating Nancy Drew (this time she's an NYC cop!); and Fox is doing a series based on Lethal Weapon, which makes sense because, well, every action show on TV seems to be a version of Lethal Weapon. ABC is doing a TV version of the John Candy movie Uncle Buck, which already had a short-lived TV version in 1990 with Kevin Meany. So I guess this is a reboot of a remake (though I'm sure they hope you don't remember that first TV version).
If they're taking requests for shows that should come back, may I suggest Sports Night?
Hey, What Happened to the Mary Tyler Moore Statue?
Back in April we told you about the odd Lucille Ball statue that was scaring people because it looked more like a character from The Walking Dead than America's favorite comedienne. Now comes word that TV Land's statue for another sitcom icon has been removed.
The statue of Mary Tyler Moore that was standing at the Nicollet Mall in Minneapolis since being created by TV Land back in 2001 is in storage. It shows Mary in her famous "throwing her hat in the air" pose from the opening credits of The Mary Tyler Moore Show. But it has been in storage since construction began at the mall earlier this year, and so far there are no plans to bring it back once construction is completed. TV Land doesn't want to move it to another location and the network says it's going to stay in an undisclosed storage facility until the mall is finished in 2017. But the mall is going to have its own design and artwork and there might not be a place for it.
I don't understand why the city and TV Land can't find a place for the statue of someone who is probably the most famous citizen to ever live (fictionally) in that city, but if they can't find a place I'll happily take it off their hands. It would look great next to my television.
Today Is National Moldy Cheese Day

A day to celebrate moldy cheese? Why not National Stale Potato Chips Day or National Stuff You Left in the Back of the Fridge and Now You Don't Know What It Is Day? Actually, mold is an important part of some cheeses, especially cheese like blue cheese, so it's not as crazy as it sounds (here are recipes for Stuffed Celery and Festive Fall Salad, both of which include blue cheese).
But the name. The name is what gets me. Couldn't we just call it National Cheese Day?
No, because that's June 4. Not to be confused with National Cheese Lovers' Day, which is January 20. Got all that?
Upcoming Events and Anniversaries
Columbus Day (October 12)
The Pledge of Allegiance was first recited on Columbus Day in 1892. Read about how the pledge has changed, and the story of its author.
Thanksgiving Canada (October 12)
In the U.S. it falls on the fourth Thursday in November (thanks to FDR), but for our neighbors to the north, turkey day is always the second Monday in October.
Nikita Khrushchev's speech at the U.N. (October 12, 1960)
Read about the 50th anniversary of the Cuban Missile Crisis — includes a link to 1962 article from the Post covering the Cold War as it happened.
President Dwight D. Eisenhower born (October 14, 1890)
You've always wanted Eisenhower's recipe for barbecue sauce, right? Here it is.
Chuck Yeager breaks sound barrier (October 14, 1947)
The retired brigadier general and pilot (nicknamed "the fastest man alive") is 92 and has an official website.
P.G. Wodehouse born (October 15, 1881)
I've always wanted to read more of this celebrated British author. This Random House site dedicated to Wodehouse is a good place to start.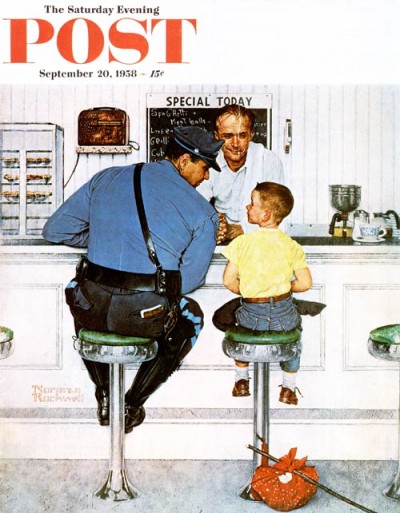 We bid a sad farewell to a model for one of Norman Rockwell's most iconic covers, "The Runaway" from 1958. Dick Clemens, the real police officer who was delighted when Rockwell asked him to pose for the painting, died Monday at the age of 83.
The popular cover shows a boy running away from home, as boys sometimes do. The contrast between the large policeman and the small boy is poignant. Rather than briskly hauling the runaway home, the officer respects the lad's dignity with a bite at the diner and a chat first. In a 1976 issue of the Post, Clemens talks about modeling for Rockwell:
Being a model for Norman Rockwell has given me a sincere sense of pride. People have come up and told me they have seen copies of the cover. A copy now hangs in the State Police Academy in Framingham, Massachusetts. I also have a reproduction of the original.

I knew Norman Rockwell casually, as a fellow townsperson. For a short period of time we lived on the same street, two doors apart. Mr. Rockwell was aware I was a state police officer. He called me and asked if I would pose for him.

The Runaway happens to be my favorite Norman Rockwell painting. I also had the pleasure to pose for him on a second occasion. He did a Christmas card for the Massachusetts State Police, which depicts a facial view of myself. This is my favorite, next to The Runaway. His art is timeless. It has proven to be pleasing to people of all ages.

I am now chief of plant protection and security officer for the distribution and transformer department of the General Electric Company in Pittsfield, Massachusetts. I am married and have two teenage daughters. My children are very proud of the painting. They have also given prints as gifts.

I had not seen the Locke boy (the young man in The Runaway) from the time that we first posed (1958) until 1971. He and I spent a semester studying logic at Berkshire Community College in Pittsfield.
What budding artist hasn't felt the terror of exposing his or her work to the world at large? This painting depicts a young artist, canvas in hand, fleeing a rural rainstorm. But as is often the case with a Norman Rockwell painting, there's a story behind the canvas.
As it happens, Rockwell was vacationing in the hamlet of Louisville Landing, New York. While out for a stroll, he noticed his neighbor's granddaughter Elizabeth painting a landscape of the surrounding farm. Rockwell walked over to take a look, but when Elizabeth saw him coming she recognized the famous illustrator in his trademark white bellbottom pants and holding his signature pipe. The chance encounter with celebrity was too much for the young woman, who fled in embarrassment rather than have her labors exposed—and possibly critiqued. She picked up her artwork and supplies and "high-tailed it out of there," as she would say years later.
Rockwell was sorry about frightening her, but a conversation with her father about his shy, artistically inclined daughter cleared the air. The conversation also afforded Rockwell an opportunity to ask permission to paint Elizabeth for a Post cover.
Although bashful, Elizabeth knew how impressed her friends would be seeing her on the cover of the most popular magazine in the country. So, overcoming her hesitation, she agreed to meet with Rockwell.
The next day Elizabeth stood nervously in front of Rockwell's cottage. Suddenly he opened the door, startling the faint-hearted girl who once again turned and bolted from his front yard. The painting of the painter was not to be!
Disappointed, Rockwell never forgot about the touching scene. Ten years later in southern California his vision finally came to fruition when he painted his new fiancée's neighbor and cousin, Rosemary, as the shy artist from Louisville Landing running with a painting of her grandfather's field.
This story is dedicated to Elizabeth, the original inspiration for "Wet Paint," the cover shown here. She very graciously shared her memories of Rockwell with me a couple of decades ago. Elizabeth passed away in July of 2010 at the age of 101.
It was a brush with destiny. A young artist named Norman Rockwell had a dream: to do a Saturday Evening Post cover. To this end, he showed a painting of a lovely ballerina to his buddy, Clyde Forsythe. His friend's reaction: "C-R-U-D! Terrible. Awful. Hopeless." Apparently, Forsythe was not one to mince words. Then Forsythe picked up one of the illustrations Rockwell had done for Boys' Life magazine. "Do that," he said. Do what you're best at—kids."
Following his friend's suggestion, Rockwell was over the moon when "Baby Carriage" appeared as his first Post cover in 1916. He was twenty-two. It was the beginning of a beautiful friendship that lasted a remarkable 47 years and over 300 covers.
Celebrating Norman's 84th birthday in 1978, The Saturday Evening Post collected a variety of quotes from celebrities:
"A Norman Rockwell painting makes you feel happy and warm." – Bob Hope
"When I was a boy, I used to deliver The Saturday Evening Post in our neighborhood on Long Island. With what joy and excitement I opened the bundles of magazines and studied each new Norman Rockwell cover. I'm so glad that the Post is honoring him on his 84th birthday and I would like to add my personal message to him, "Happy Birthday, Mr. Rockwell, all the way from the Aloha State." – Jack Lord
"Norman Rockwell is timeless and without a doubt, universal. His warmth and humanity cover you like a winter quilt. Norman Rockwell celebrates life, and it is a wonderful feeling to help celebrate his." – Henry Winkler
In 1978 a "new Post cover artist," Gene Boyer, wished Norman Rockwell happy birthday in his own special way with this portrait.
"For his openness, his goodness and honesty and intelligence, the world thanks him and wishes him a great birthday. He is a great man. And would be embarrassed to be so called." – Ronald Reagan
"Norman Rockwell is, I think, the most thoroughly American artist of all. Historians a thousand years from now will be able to learn a great deal of what life was like in the United States in the 20th century from studying the warm, human impressions by an artist who obviously loved his subjects." – Steve Allen
"Norman Rockwell's name has become synonymous with a whole age of innocence in America, and his great paintings evoke in all of us a nostalgia for a simpler and happier time." – Walter Cronkite
"Norman Rockwell has always had a way of staying in touch with the feelings and hearts of the American people. In this time of constant hunting by the news fraternity for the provocative, the thoughts and moods and illustrations of Norman are most welcome and refreshing." – John Wayne
"Norman Rockwell is America's greatest, and I wish my home was full of everything he ever painted. Love, Lucy." – Lucille Ball
"Some of us grew up thinking that Uncle Sam's real name was Norman Rockwell; I still do." – Paul Harvey
At right, Norman Rockwell works on a portrait of Egyptian President Nasser, which appeared as a Post cover on May 25, 1963. It was his last Post cover. He passed away in November 1978.