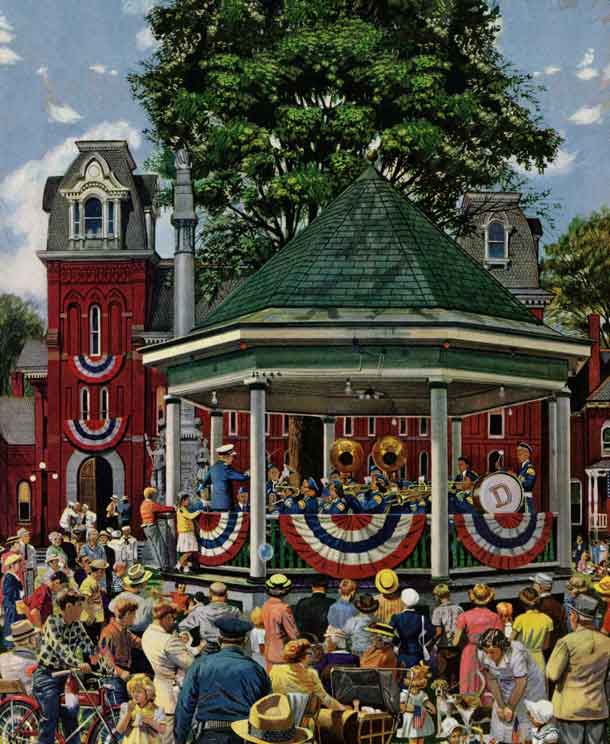 The Saturday Evening Post has celebrated many American Independence Days with beautiful covers that set the country's mood for the red–white–and–blue doused holiday.
On past covers, our artists chose a variety of ways to show how Americans have gathered for the 4th of July.
The day brings out bands, orchestras, and symphonies to dust off the sheet music and play familiar American tunes.
Stevan Dohanos' Patriotic Band Concert from July 7, 1951, shows a community square filled for the day's brass fanfare.
The lofted gazebo allows attendees a good listening spot from all around the town center. Cities and small towns alike still have parades, ceremonies, concerts, and picnics they offer free of charge.
Our July 5, 1952 cover, Family Portrait on the Fourth by John Falter makes a picture of the fourth of July day itself.
He incorporates the house and unremarkable-yet-presumably-American landscape to create a portrait of celebration in the rural, maybe even more 'traditional' parts of the country.
The blue sky, red house, and white porch all enhance the colors of the flag in front of which this family gathers to have their picture taken.
And last but not least, what would Independence Day be without the spectacle of independence night? Ben Prins' Fireworks from July 4, 1953 marks the holiday's end with celebratory bombs bursting in air, as we pay homage to those who have fought and died for our country.
If you look closely, you'll notice that the color scheme of the sparks form a choreographed red, white, and blue flag.
The holiday can be a sticky, humid afternoon of grill smoke and supply errands. But at the end of the gatherings, the family portraits, and the concerts, we settle in for the evening spectacle.
Many families will prepare s'mores over a fire, and await booming fireworks that signal the end of yet another American Independence Day.