—This article was published in The Saturday Evening Post on December 1, 1900
"The love of beauty," wrote Emerson, "is mainly the love of measure or proportion. The person who screams or uses the superlative degree or converses with heat, puts whole drawing-rooms to flight."
"The thing which impresses me most in my own country is the constant use of the superlative degree," said a woman, recently returning from a long sojourn abroad. "I did not notice it in Great Britain nor on the Continent, but here I hear about the highest building, the best-selling novel, the paper with the largest circulation, the most eloquent preacher, the youngest college graduate, the oldest inhabitant, the fastest horse, and the most palatial yacht, till I feel like asking if there are no degrees but the superlative. The steamship which brought me over had to break the record for speed."
"If I could find a place where people are simply good or bad, young or old, rich or poor, I would gladly spend my days there!"
I have been staying for a few days in the town where I was born and bred, and there I found the superlative degree rampant. The people voted a Morris chair to the most popular Sunday school superintendent, a ring to the prettiest girl, and a dictionary to the most popular school teacher. Perhaps by this time they are giving a silver cup to the child who has eaten the most food.
Recently I met a young man who had been the speaker in the legislature of a Western state. He was introduced to me as the youngest ex-speaker in the United States. I felt like asking what I was expected to do about it. I had never seen any work on etiquette telling one how to acknowledge an introduction to the youngest ex-speaker in the United States.
Within the last few months we have seen portraits of the youngest college president in the country. A friend told me that she had been looking up the history of the kindergarten in this country, and she had discovered that at least three women had been the first to import it from Germany.
Riding home on the train, I remarked to a friend, "If I could find a place where people are simply good or bad, young or old, rich or poor, I would gladly spend my days there!" But just at that moment, my friend put her hands over her ears, as a vendor came through the car shouting: "Blank's chocolates are the best. Take no others."
This article is featured in the May/June 2020 issue of The Saturday Evening Post. Subscribe to the magazine for more art, inspiring stories, fiction, humor, and features from our archives.
Featured image: Shutterstock
Every generation has its own slang. When I was growing up, we went from hippie slang like groovy to disco slang like boogie and then everything went pastel in the '80s and we were constantly getting grossed out the door. Like, bag your face.
The generation of the Internet also has its own slang, and it seems like there's more of it every day. Some of it you can infer ("realness," "basic,") some of it is still getting argued over ("woke") and some of it will be completely bewildering without help ("milkshake duck").
Offering a column that guarantees you'll understand your kids or grandkids is probably a reach. But I will provide some resources for learning more about current slang — and how it can help you in your web search! We'll also take a look at memes, little slices of culture or responses to current events that are often image-based.
Slang / Language
Let me offer some comforting bad news: you can't keep up. There's too much Internet culture erupting from all corners of the web to keep a handle on it. Someone might invent a new word in a Twitch stream. Someone else might create a song on Twitter that suddenly everyone is using. The comforting part is that we're all in the same boat. So if you come across a word that you don't know, don't despair; just check out these resources.
Warning: Internet slang reflects all aspects of the Internet. That means you're going to find some definitions that are crude, cruel, not safe for work, and overall distasteful. A couple of the resources I mention here are more likely to have that kind of material; I'll warn you.
Wiktionary
Are you familiar with Wikipedia? It's basically an online encyclopedia that anyone can edit. Wiktionary is an online dictionary that anyone can edit. At this writing the English version of Wiktionary has a little over six million entries. Let's look up that bewildering expression, milkshake duck.
The explanation is simple, but note there are a couple other things here. At the bottom of the page there's a link to a category of English-language slang, if you want to do some browsing. There's also, on the lower right part of the page, a link to the Wikipedia entry for milkshake duck, which provides much more in-depth background, etymology, and what is frankly a rabbit hole of other Internet cultural references (like Chewbacca Mask Lady).
There are over 170 other Wiktionaries in languages from Abkhazian to Zulu. Slang isn't limited to just English!
Urban Dictionary
I'm so ambivalent about Urban Dictionary. On the one hand, it's over 20 years old and an essential resource for keeping up with slang online. On the other hand, it's not moderated strictly and because of that has a lot of crude sexual and violent content. Urban Dictionary also offers you search suggestions as you type (which can be crude and sexual) and also has a list of trending words or words that are close alphabetically to what you're looking up (which can also be crude and sexual). Looking up one single definition without running into any offensive content is not easy on this site. If you're someone who doesn't like to see swear words on the Internet, skip this resource and stick to Wiktionary.
So why am I including it in my column? Because it's extensive and it offers multiple definitions of a term for which people can vote. The one with the best upvote/downvote ratio rises to the top. (Downvoted definitions tend to be just people being silly, political, or — you guessed it — crude and sexual.) The definitions include the date each was added, allowing you to see the evolution of a term. There's also a lot of cross-linking to other terms. I have thrown the weirdest terms at it and it always has some kind of definition.
Word Spy
Word Spy is not as in-depth as the other resources I've covered here, but it's a great browse for a word nerd. The definitions have extensive examples and etymology you won't see as much of at Wiktionary, and won't see much at all in Urban Dictionary. Milkshake Duck isn't on the Word Spy list, but let's try a word provided by Word Spy's random feature, al desko.
Word Spy provides two examples of the use of al desko, some etymology, and related words. You can also share the word on social media or browse other words in the category. I find Word Spy useful when I'm looking for a definition that's not quite slang, but doesn't appear in regular Internet searches or has another meaning that makes Internet searches more difficult. (The word spim is an excellent example of that.)
Urban Thesaurus
Urban Thesaurus isn't intended for you to look up words directly. Instead you enter a non-slang word, and Urban Thesaurus gives you slang terms related to that word. Here's an example for the term angry:
Click a term and you'll get the definition (from Urban Dictionary) and a link to more information. You'll see some terms that are blurred; these are terms that are offensive and viewable only if you specifically request them. This is a less offensive way to get definitions from Urban Dictionary, but I still found plenty of content here that was offensive and not blurred out. Proceed with caution.
Adding Slang to Your Internet Searches
Now, the purpose of this column is to tell you where to get definitions for slang words so you're not all at sea. But by adding slang words to your Internet searches, you can really narrow down your search. Let me give you an example.
If you grew up in the 1970s, maybe you said "dynamite" or "groovy." If you grew up in the 1980s, maybe you said "grody to the max" or "gag me with a spoon." But it's a fair bet you don't say them now. Slang tends to be ephemeral, existing for a little while and then petering out. This makes it an excellent way to delineate time periods in Internet searches; adding a once-popular slang term will definitely slant your results.
Let's try a search for denim fashion.
There's a lot of mentions of 2019, and current fashion. These search results are about denim fashion right now. But let's add an old slang word from the 1960s and 1970s — groovy.
That search has moved us from current fashions into the history of blue jeans, mentions of flares and tube tops, and more of a retro look. But this search works for more current slang as well. I'll remove the word groovy and add the term on fleek — a slang expression from around 2014.
This is more current, but now we're back to skinny jeans and street chic. It's amazing how much one little term can change the slant of your Internet search.
Memes
So far we've talked only about slang, which are words. Now I want to tell you about memes (rhymes with teams), which are for the most part images, and which are kind of become the de facto slang of the Internet.
Maybe you've seen it on social media, or maybe someone sent it to you in a message. It's an animated GIF of a man turning his head and blinking rapidly as he stares at something. There's not usually a caption, but you understand what the GIF means; someone is confused about something. Congratulations, you have interacted with a meme: "blinking white guy."
Memes are visual items — sometimes GIFs, sometimes just static images — that express an emotion, a state of mind, or a situation. GIF memes are sometimes called "reaction GIFs," as they tend to express a feeling about or reaction to something without words. Then there are static images, sometimes called "image macros," that rely on captions to make the meme. For example, a popular meme right now is an image of a woman who appears to be yelling at a white cat.
The woman is very upset, and the cat looks like it's being sarcastic. This meme is usually called "Woman yelling at a cat," but it's not complete until there's a caption. The caption for this is the woman asserting something and the cat refuting it. For example, this meme shows the woman insisting that pizza leftovers are called "pizza crusts," while the cat calls them "pizza bones."
Another meme is actually a stock photo of a man and woman walking together. The man is distracted by another woman, while the woman he's with gets upset. I'm sure you've seen this meme many times; it's called "distracted boyfriend."
This picture is funny, but like the lady yelling at the cat, it doesn't make much sense until you see a caption. And speaking of the lady yelling at the cat meme…
So some memes must be customized to make sense, and some of them are standalone. I'm going to show you how to learn about memes you may come across on social media, and also how to make your own.
Do a Quick Google
Memes tend to spontaneously generate from various parts of the Internet, or when social media appropriates something from popular culture. And when this happens with any prominence, a small raft of articles are written about the new meme. That's why a Google search works. Describe the image generally and then add the words meme explainer. Often that's enough to point you to some information about a meme.
For example, there's a meme that's floating around on social media featuring what looks like a screenshot from an animated series. It's a man and a butterfly. Just glancing at it will not help you; it's bewildering without context.
Simply describing it, I'll search for man butterfly meme explainer.
Google includes image results in the search, so you'll immediately know you're on the right track. Multiple articles on the front page offer to explain the meme to you. But sometimes this doesn't work, maybe because you can't describe the meme. In that case check out Know Your Meme.
Know Your Meme
Know Your Meme is if anything too exhaustive when it comes to memes. In addition to memes you might see on social media all the time, it lets people submit memes, so when you search for memes you'll see that some are labeled "Confirmed" while others are labeled "Submission." Memes that are NSFW (Not Safe for Work) get an additional label.
When I did a search for butterfly I got plenty of results, with the man and butterfly meme showing up in the middle. Clicking on that result brought me to an extensive explainer complete with examples, context, and variants.
If you're looking for a meme you've seen on social media, it's probably in here, but this site can be overwhelming. I like to try a simple Google search first, and then refer to this site if I can't easily find what I'm looking for.
Meme Generators
As I've noted already, there are some memes that stand alone, while others require captions to make sense. And where do you think those captions come from? People all over the Internet. That's why there are meme generators — sites that give you images from memes and let you put your own captions on them.
Imgflip
You may have noticed that memes tend to be sort of standard. Often they use the same font for captions (Impact, but memes sometimes use other fonts as well.) The captions tend to be in the same place. That's because the placement and font helps us recognize a meme, and because of sites like Imgflip. Search for a meme and you'll get a template for placing captions and even drawing or adding little graphic stickers to the meme. Once you've customized it, you can download it or share it to social media.
Meme Better Meme Generator
Still not 100% on how to make a meme? Try the Meme Better meme generator.
Meme Better is much smaller than Imgflip — I can't find the distracted boyfriend meme, for example — but it's simpler to use and has what I think of as meme "training wheels." When you visit the site you'll be greeted with a list of memes. Click one and the meme will appear at the top of the page for you to customize. If the meme is known for a particular tagline, that will appear on the meme automatically. Once you've made your meme, clicking Save Image downloads it automatically. If you want to play with making memes, this is a good option for exploring some older ones and getting your feet wet.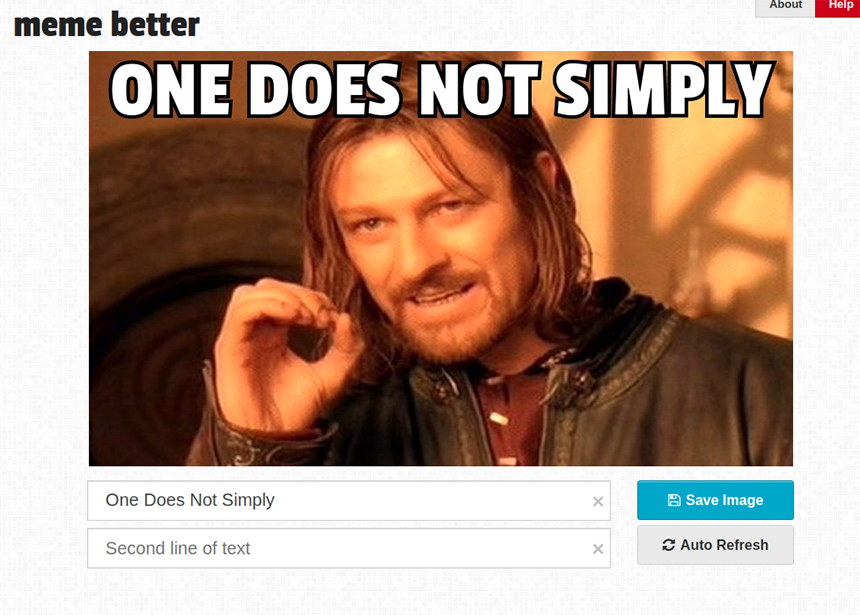 Be Kind
Some parting advice: I have noticed that sometimes people will turn into memes things that they wouldn't say out loud. In other words, they might have a meme express a viewpoint they might not express directly because of the reaction. Don't do that. No matter where the viewpoint goes, the person expressing it is responsible, not the meme. Memes can be funny, thought-provoking, informative, snarky, sarcastic, and sometimes a little shady. They should not be unkind.
Featured image: imgflip