Treat yourself to a "10-cent dessert" from author Mary Harrod Northend, 20th-century New England's precursor to Martha Stewart. Even in 2018, Northend's recipes are easy on the mobile wallet. A hundred and five years later, one serving of any pudding, custard, or fruity delight will set you back between 20 and 205 cents.
—
Good Ten-Cent Desserts
Originally published in The Country Gentleman, March 29, 1913
To prepare dishes which are palatable and yet are not too expensive is sometimes a difficult task. There are many good and nourishing dishes which, when prepared with care, need not add materially to the cost of the dinner — that is, if careful thought is given to making just enough and allowing for no leftovers.
Often in preparing a dessert for, say, four people, a recipe is followed which will serve twice that number. This is both thoughtless and costly. The following recipes are made out and carefully tested for a family of four people. An approximate estimate is given, eggs being purchased at the rate of 25 cents a dozen and butter at 30 cents a pound. The cost of each dessert is 10 cents.
(21st-century note: We roughed out the cost per serving of each dessert for 2018 — shown in parentheses below. For 2018 estimates, eggs = $2.50/dozen; butter = $3.25/lb.)
FRENCH BREAD PUDDING ($1.17/serving)
Butter lightly slices of stale bread, allowing two slices to each person. Dip in milk and brown on each side in a frying pan. Serve the separate slices with a sauce made from one beaten egg, half a cupful of sugar, flavored with vanilla.
COTTAGE PUDDING ($0.24/serving)
One egg, one tablespoonful of beef dripping, a scant cupful of flour, a third of a cupful of milk, one teaspoonful of baking powder, and a little nutmeg. Bake and serve with a sauce made as follows: Brown about half a cupful of sugar, add half a cupful of water and one teaspoonful of cornstarch dissolved in a little milk with a small piece of butter. This makes a delicious caramel sauce.
INDIAN PUDDING ($0.97/serving)
Mix two cupfuls of milk, scalded; one cupful of water, three teaspoonfuls of tapioca, two tablespoonfuls of Indian meal, a pinch of salt, and three-fourths of a cupful of molasses. Bake slowly one hour, and serve with a sirup made from prune juice.
COFFEE JELLY ($2.05/serving)
A fourth of a box or package of phosphated gelatin soaked fifteen minutes in a fourth of a cupful of cold water. Pour over this one cupful of boiling coffee and about two tablespoonfuls of sugar. Strain and cool in four small molds. When partially cold add about four nuts, finely chopped. Serve with whipped cream — a third or half a cupful would be sufficient.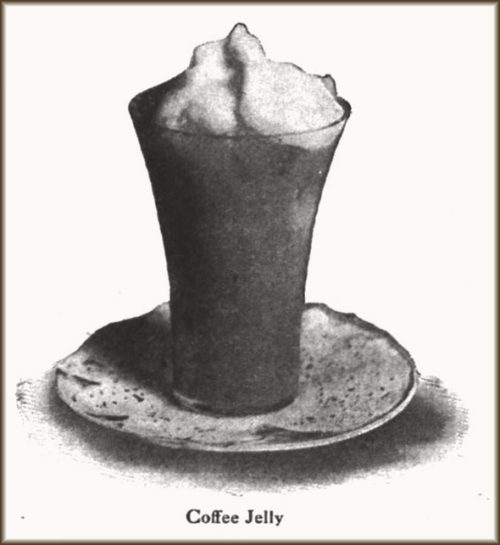 CHOCOLATE CUSTARD ($0.23/serving)
One pint of milk, one egg, one tablespoonful of cornstarch, one tablespoonful of chocolate or cocoa, a third of a cupful of sugar. Scald the milk in a double boiler, beat the yolk of the egg with sugar and cornstarch, the latter being dissolved in a little of the cold milk. Pour the hot milk on this and cook like a soft custard, adding a tablespoonful of cocoanut [i.e., coconut] before it has fully thickened. Beat the white of the egg to a stiff froth and add two teaspoonfuls of powdered sugar. Heap this meringue on top of each serving.
LEMON RICE PUDDING ($0.31/serving)
Wash the rice and cook it in a sirup made as follows: Peel a lemon and slice the pulp, putting it in a saucepan with a third of a cupful of sugar and a little water. When boiling add the rice, about a third of a cupful. When soft put it in a baking dish with three cupfuls of milk, a little more sugar if necessary, and half a teaspoonful of salt. Bake about two hours, allowing it to brown slightly at the last. The pulp of the lemon should be removed from the sirup before the rice is added. Serve hot or cold.
BAKED APPLES WITH DATES ($0.86/serving)
Wash and core four small apples. Fill the centers with sugar and two dates. Bake and serve with half a cupful of thin cream, whipped and sweetened with a little sugar.
RICED APPLES ($1.08/serving)
Boil half a cupful of rice fifteen minutes. Then pare and core four apples, cooking them until rather tender in hot water and then putting them into a sirup made of half a cupful of sugar and two cupfuls of water. The rice may be cooked in this sirup if preferred, as it gives it a better flavor. The apples are filled with the rice and served cold with little bits of jelly on top.
APPLE SNOW ($0.86/serving)
Steam three large tart apples and rub them through a sieve. Beat the whites of three eggs stiff, add half a cupful of sugar and beat again. To this meringue add the apple pulp and beat lightly.
WHOLE-WHEAT PUDDING ($0.74/serving)
Two cupfuls of whole-wheat flour, half a cupful of molasses, one chopped apple, half a teaspoonful of salt, half a teaspoonful of soda; steam two hours and a half. Serve with a plain sauce made with two cupfuls of hot water, one cupful of sugar, two tablespoonfuls of cornstarch, a small piece of butter, and half a teaspoonful of lemon extract or a teaspoonful of fresh lemon juice.
QUINCE TAPIOCA ($0.70/serving)
This requires three-fourths of a cupful of tapioca cooked, until clear in four cupfuls of boiling water. Add half a teaspoonful of salt and half a teaspoonful of cinnamon. Fill a round baking dish with pared and quartered quinces, or the preserved fruit will answer if the uncooked is not obtainable. Pour the tapioca over them and bake until soft. Serve with milk and sugar. Peaches are also delicious served this way.
DATE PUDDING ($1.99/serving)
Stone and chop half a pound of dates. Put them on the back of the stove with two cupfuls of water. When boiled down to the thickness of a cornstarch pudding, set away until cold. Serve with whipped cream, about a third of a cupful being sufficient, sweetened with powdered sugar.
COCOANUT PUDDING ($0.20/serving)
Place a teaspoonful of cocoanut in the bottom of individual glasses and make a custard out of two cupfuls of milk, the yolk of one egg, half a tablespoonful of cornstarch, and three teaspoonfuls of sugar. Pour the custard over the cocoanut and allow it to stand for an hour or so before serving. The whites of the egg is beaten and used for a meringue on top.
CRACKER PUDDING ($0.38/serving)
To about four soda or butter crackers rolled finely, add two cupfuls of milk, a quarter of a cupful of sugar, the yolks of two eggs, beaten lightly, and a pinch of salt. Bake in a well-buttered baking dish in a moderate oven. When the custard is firm, cover the top with a meringue made of the whites of the eggs and half a cupful of powdered sugar; flavor with vanilla. Set in the oven until the meringue is a delicate brown.
Life in America lost some of its sweetness in May of 1942. Not only was the country facing war with powerful enemies, but Americans had to cut their sugar consumption in half.
The U.S. no longer had access to the countries that had provided most of our sugar. Much of the remaining supply of sweetener was requisitioned by the War Department to ensure that America's military personnel were well supplied. The U.S. Army, for example, provided its soldiers with more than twice the amount of sugar they had consumed as civilians. And still G.I.s craved more. A Navy study reported that when servicemen bought food to supplement their rations, 40% of their purchases were for candy.
Normally, shortages drive up retail prices until only the well-off can afford the in-demand item. To ensure Americans' sacrifice was evenly distributed, the Office of Price Administration limited all consumer purchases of sugar.
Before rationing, Americans consumed on average about one pound of sugar every week. When homemakers were asked, pre-rationing, what was the least amount of sugar they would need to get by, their answers averaged to around 0.6 pounds a week. As it turned out, this was still more than what would become their wartime ration of a half-pound.
On April 27, 1942, all sales of sugar were halted. Grocers began selling sugar again on May 5, but only to customers who presented their new war-ration books. Provided the grocer even had sugar to sell, he would tear out the coupon valid for the current two-week period. The shopper would pay about 8¢ and receive one pound of sugar, his or her allotment for that 14-day period.
Every American — adults as well as children — received a ration book, so parents didn't have to take from their rations to feed their children.
Not only did Americans learn to get by on less sugar, they endured the shortage for five years, including 22 months after the war ended.
Could Americans today cut their sugar intake in half? And just what is their annual consumption?  It's not easy to determine. Many of the sugars we consume occur naturally in our foods. So researchers tend to focus on added sweeteners refined from sugar cane, beets, and corn.
But even the added sweetener numbers vary. Estimates of annual consumption range from 70 pounds to 150 pounds a year.
Even going by more conservative numbers means Americans eat, on average, 22 teaspoons of added sugar every day. About 20% of Americans eat 48 teaspoons, or one cup, of sugar every day.
Promoting the benefits of better health has done little to reverse the consumption rate. According to Stephan Guyenet, even with our awareness of sugar's contribution to obesity, heart disease, and diabetes, our sugar diet is headed in only one direction.
Featured image: U.S. National Archives
Shortening is the ultimate determining factor in gingersnap texture. A stick of nondairy shortening gives them serious snap. The one I use contains no trans-fats or additives; it is a blend of oils. For me, a cookie's crunch matters as much as its flavor. But if chewy cookies are your thing, read on.
Use a nondairy soft spread for a softer result. Cookies come out of the oven crispish, but turn chewy after they sit overnight. If you want softer snaps, know that the batter will be too soft to shape into balls. It needs to be dropped from a spoon onto your baking sheet.
Both shortenings make cookies with the same warm, zingy flavor, so bake them to please your preference. And either way, the cookies keep for a week and are great for sharing at holiday cookie swaps. (To make them look especially festive, sprinkle a pinch of red, green, or multicolor sugar onto the wet frosting.)
Gingersnap with Lemon Icing
(Makes 24 cookies)
Ingredients
¾ cup unbleached all-purpose flour
½ cup whole-wheat pastry flour
½ teaspoon baking soda
1 ¼ teaspoons ground ginger
½ teaspoon ground cinnamon
⅛ teaspoon freshly ground black pepper
¼ teaspoon salt
⅓ cup dairy-free buttery shortening sticks
½ cup sugar, plus 2 tablespoons
2 tablespoons unsulphured molasses
1 large egg white
⅓ cup confectioners' sugar
2 teaspoons fresh lemon juice
Directions
Preheat oven to 350°F.
In mixing bowl, whisk together both flours, baking soda, ginger, cinnamon, pepper, and salt.
In another bowl, use electric mixer on medium-high speed to beat shortening sticks with ½ cup sugar for 2 minutes. Add molasses and egg white and beat for 3 minutes. Set mixer on low speed and mix in dry ingredients just to combine–leaving white streaks is better than overmixing. Batter will form soft ball.
Place remaining 2 tablespoons sugar in wide, shallow bowl. Pinch off about 1 tablespoon batter and roll it between your palms, forming 1″ ball. Place ball in bowl with sugar and roll to coat it, and then place on light-colored, ungreased baking sheet. Discard leftover sugar. Repeat, spacing balls 2″ apart. Using back of glass, press to flatten each ball into 1 ⅓" disk.
Bake cookies for 10 minutes. For glaze: In small bowl, combine confectioners' sugar with lemon juice, mixing until sugar is completely dissolved.
When cookies are done, immediately transfer with spatula to wire cooling racks. Using tip of knife, spread ¼ teaspoon glaze on top of each warm cookie. Cool completely. Store in cookie tin for up to 1 week.
Nutrition Facts
Per Serving (1 cookie)
---
Calories: 75
Total fat: 3 g
Saturated fat: 1 g
Carbohydrate: 12 g
Fiber: <1 g
Protein: 1 g
Sodium: 80 mg