Landing a Saturday Evening Post cover was the pinnacle of success for illustrators in the early to mid-1900s. But scoring a big advertising account was important to illustrators, too. Like most Post cover artists, Norman Rockwell painted a great deal of advertisements.
You know how hard boys are on their stockings. That is, back when they wore stockings. This delightful ad from 1924 with a classroom setting insists that "sturdy boys won't scuff through" these hose. In the '20s, knickers were worn until age 13 or 14, and getting those first long pants was a major rite of passage.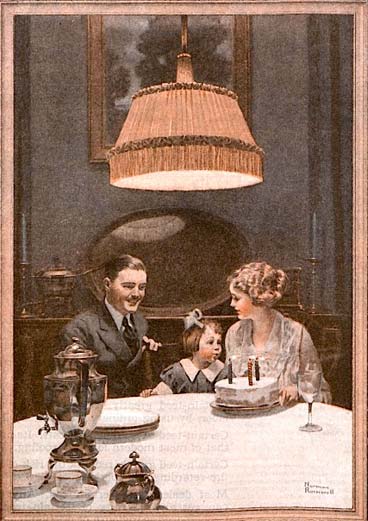 This appealing family scene is from a 1920 ad for Edison Lamp Works. Showing how much electric light adds to our lives, the text waxes poetic: "from the first candle of youth to the twilight of life, the moments that mean most are etched in memory by the glow of a lamp." Advertisements today show the work of some outstanding photographers, but it is difficult to imagine a photo as engaging as a Rockwell painting.

Rockwell's turkey-hunting pilgrim from Thanksgiving 1922 is an ad for, of all things, Interwoven Socks. Our guess is that the pilgrims weren't blessed with this brand of men's hosiery. According to the ad, though, Interwoven Socks were something to be thankful for.

Like The Saturday Evening Post, Jell-O has been around for eons, and this adorable ad by Rockwell is from 1924. A master at depicting boys (see first ad above), Rockwell felt he wasn't very good at painting little girls. We have to disagree: the girl, her dress, her Mary Jane shoes, and the pretty dolly combine to make this one a treasure.

Arrow Shirt ads were normally associated with artist J.C. Leyendecker, who was as famous for his elegant advertisements for the famous shirts as he was for his Post covers. Thus, we were surprised to find this Arrow Shirt ad from 1929 illustrated by Leyendecker's friend, Norman Rockwell. If you think a female pilot is a bit fanciful, think again. There were women pilots as early as 1910.

A tow-headed boy, that faithful dog, and a kindly old doctor — it doesn't get any more Rockwell than this. The artwork is worthy of a Post cover, but it's an ad for Listerine mouthwash from 1931.

Daddy's home! And dad was busy all day showing other dads "how to be certain there will be the money for college when his kids need it" and assisting in retirement planning. At retirement age himself, Norman Rockwell was still painting Post covers and churning out drawings for major advertising clients like Massachusetts Mutual Life Insurance Company.

Become a Saturday Evening Post member and enjoy unlimited access. Subscribe now