Happiest of Thanksgivings, my friends!
Thanksgiving couldn't come at a better time this year. It is the perfect moment to gather round, get together in appreciation — of one another and our lives. No matter what is going on in your life — challenging or glorious — there is so much to be grateful for.
A Pilgrim's Progress is a painting Norman Rockwell did for Life magazine for its November 17, 1921, cover. His first Post cover was in 1916; in just five short years it is remarkable how much my grandfather improved his technique.
To look at his use of light in this image — that powerful, golden, focused light of the setting sun hitting the pilgrim boy's face — creating deep shadows, drama, and movement. Compare this boy's fully realized face to the faces of the three boys in his first Post cover (it was actually only one boy, Billy Payne, who posed for all three).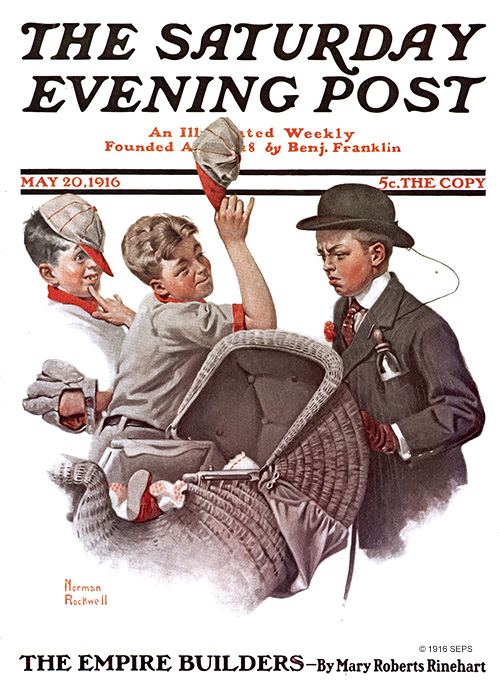 The pilgrim's face is slightly caricatured, but it reveals a marked improvement on his approach to a child's face. You can feel the bone and muscle structure; see the skin texture and the natural blush of youth.
I can only imagine how Pop captured this image realistically — he must have somehow convinced the model to stand with his legs stretched out on blocks. How many quarters must Pop have had to pay that poor boy to get him to stay in that pose long enough? The extreme clarity of the feathers on the arrows following and surrounding the "poaching" pilgrim provides a playful sense of movement and draws your eye into the picture. The arrows are flying toward the light. The dark woods behind him help to emphasize the importance of the light source and the sense of comedic drama.
My grandfather never rested on his laurels, he always kept looking for ways to improve his technique and step out of his comfort zone. It doesn't matter what you do — baking, painting, singing, composing, writing, landscaping — it is the intent and craft behind what you do that make it valuable.
One of the most powerful, inexhaustible fuels in this life is appreciation.
Warmest wishes,
Abigail
Become a Saturday Evening Post member and enjoy unlimited access. Subscribe now