Goodbye "Spring Ahead, Fall Back?"
I like the fact that it gets dark really early now. I find the months that it stays light and warm until 8:30 p.m. depressing. Does that make me weird? Maybe I'm weird.
Apparently there are residents of my state of Massachusetts who hold the opposite view. They want to get rid of Daylight Saving Time for good. A state commission wants to have Massachusetts join the Atlantic time zone, which means the state would be an hour ahead of the Eastern time zone. Farmers say this would help them, but at the same time, it would mess up things like shopping and TV-show watching. Also, it would be weird if not impossible for Massachusetts to do it alone, with the other New England states and New York staying on Eastern time.
One of the other reasons the commission wants to change the time is to attract millennials to Massachusetts, and supposedly millennials hate the dark and cold weather.
Yes, that reason is exactly as stupid as it sounds.
Rockwell Paintings Can Be Sold After All
A judge has ruled that a museum can sell iconic Norman Rockwell paintings, against the wishes of Rockwell's family.
Rockwell had donated the two works, including his famous Shuffleton's Barbershop painting, to the Berkshire Museum in Pittsfield, Massachusetts. The museum says that they are having financial troubles and want to sell the two paintings to raise money. They're looking to get around $50 million.
The Rockwell family, including Rockwell's grandson Tom, say that Rockwell donated the two paintings to the museum so the public could continue to see them forever. The family sued to stop the sale, but in a 25-page decision, Judge John Agostini ruled in favor of the museum.
YOU Get an Electric Toothbrush, and YOU Get an Electric Toothbrush!
It's November, and that means Oprah Winfrey has once again chosen her Favorite Things, those must-have items for Christmas. For the past few years she has teamed up with Amazon, which helpfully provides links to each of the items Oprah puts on her list. This year, Oprah appears at Amazon in a flowing blue–and-white dress, delivering beautifully wrapped gifts with the help of her sled dogs.
The items range in price from under $50 (notepads, hand cream, and jammies) to a lot more than that (a Samsung TV in a picture frame). In between, you'll find books, dog biscuits, a pizza oven, an electric toothbrush, puzzles, even a Greenberg smoked turkey.
You'll also find something called "Smooshpants." I don't know what Smooshpants are.
If It's Sunday, It's Meet the Press
Meet the Press is the longest-running TV show in history, having debuted on November 6, 1947 (CBS Evening News is second, having started six months later). NBC has set up a special web page that includes a history of the show as well as several clips from its most important interviews. The show's first moderator was a pioneering woman named Martha Rountree, and one of the early panelists was Edgar Allen Poe.
No, not that Edgar Allan Poe, this Edgar Allen Poe. The show's not that old.
The Return of Harold the Baseball Player
Something else celebrating 70 years is the classic Christmas film Miracle on 34th Street, which just so happens to be my second-favorite film of all time, after It's a Wonderful Life. Miracle is set at Macy's department store and a major part of the plot revolves around the Macy's Thanksgiving Day Parade. One of the parade balloons seen in the film, Harold the Baseball Player, is making a comeback in this year's parade. To honor his appearance in the film, Harold is being repainted black and white so he looks like he did in the black–and-white film.
You can watch the parade on NBC Thanksgiving morning (November 23) at 9 a.m. To really celebrate the 70th anniversary of Miracle on 34th Street and Harold, you should turn off the color on your television.
RIP John Hillerman
John Hillerman is probably best known for his role as Jonathan Higgins, the ex–British military man who took care of the Robin Masters estate on Magnum, P.I. Hillerman also had regular roles on Valerie, One Day at a Time, and The Betty White Show and appeared in movies like Blazing Saddles, The Last Picture Show, Chinatown, and Paper Moon. He died yesterday at the age of 84.
And no, for the last time, there's no way Higgins could really be Robin Masters.
This Week in History
Will Rogers Born (November 4, 1879)
The death of the American humorist, in a 1935 plane crash in Alaska, paved the way for another writer to take over his weekly syndicated column, even if she didn't particularly like to write.
"You Won't Have Nixon to Kick Around" Speech (November 7, 1962)
This was supposedly Richard Nixon's last press conference. He was angry at the media after losing the 1962 California gubernatorial race to Pat Brown. But if you recall, we did indeed hear from Nixon again.
This Week in Saturday Evening Post History: Cafeteria Dieter (November 10, 1956)
Sometimes I like to look at a Post cover without knowing the title, to see if I can figure out what the cover is supposed to be about. I knew the title of this Constantin Alájalov cover, but if I hadn't, I could have guessed "Nosy Lady" or "Gossip Girls" or maybe "Older Lady Wishes She Could Eat Like All of These Younger Girls, Oh My God There's Even Dessert on the Chair." That last one isn't far off from the actual title.
Veterans Day
The day is officially tomorrow, November 11, but because that's a Saturday, it is observed nationally today (if Veterans Day falls on a Sunday, it is observed on Monday). Here's a quick history of the day, and here's a piece by Post Archive Director Jeff Nilsson on America's early efforts to honor our veterans.
Monday Is National Indian Pudding Day
This is a New England favorite I don't think I've had in three decades. It's comfort food in a bowl, with its warm molasses, brown sugar, and cinnamon. Here's a classic recipe from Yankee magazine, another New England favorite. Takes about two hours or so.
It's often served with vanilla ice cream or whipped cream, but you can probably skip that if you're a dieter, cafeteria or otherwise.
Next Week's Holidays and Events
National Clean Out Your Refrigerator Day (November 15)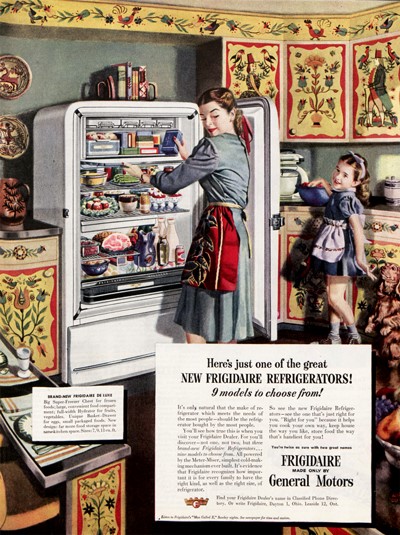 I truly hope that you don't clean out your refrigerator only once a year, but if that's the case, the week before Thanksgiving is probably a good time to do it.
National Fast Food Day (November 16)
I know several people who celebrate National Fast Food Day every day. They call it "breakfast" or "lunch."
Become a Saturday Evening Post member and enjoy unlimited access. Subscribe now