And the Oscar Goes to … Well, Go Online to Find Out
I know everyone is waiting for an update on what has become my weekly we-haven't-gotten-enough-snow-this-season complaint. And I feel kind of bad wanting more snow (yes, I do want more snow) when a lot of places in the country have been hit hard. Seattle has had the most snow in years, schools in many areas around the country are closed, and people caught in the polar vortex are getting burned by a viral stunt involving the throwing of boiling water into the wind. Here in New England, it's been underwhelming, unless you live way up north in ski country, perhaps. We're in the middle of winter and this week we had what is considered a "major" storm for the 2018-19 season. The official total in Boston the other night was 2.4 inches (I got a few more inches where I am, but most of that was gone the next day thanks to warm rain), bringing the season total to a whopping, dramatic … 4.7 inches.
We're in the middle of another season too: awards season. It began in November with the Hollywood Film Awards and ends this month with the Academy Awards, which will be televised on ABC Sunday, February 24. The Academy is always looking for ways to make the show shorter, buzzier, and hipper. And what's the best way to do that? Apparently it's to not show some of the film awards on TV.
This would be the second mistake the Academy has made recently. First they canned Kevin Hart for old tweets and made the decision not to have any host at all (and when there's no host, that means everyone is the host). Now they're chopping categories to reverse the low ratings last year's show got?
The four award presentations we won't see are: Film Editing, Best Cinematography, Live Action Short, and Makeup and Hairstyling. Yes, the solution to low ratings is to get rid of film categories (you'll still be able to see the entire show, wall to wall, streaming online). It's not even a given that a shorter running time will equal higher ratings.
This would be like Burger King deciding to stop selling burgers because there are too many items on the menu, or Major League Baseball getting rid of innings 3 and 7 and one of the bases because baseball games are just too damn long. It would be one thing if they weren't going to show … actually, I can't even think of a category they shouldn't show, since the night is supposed to be a celebration of the year in film. But the four categories they don't plan on showing are rather important. They're also giving winners 90 seconds to get to the stage and do their thank yous before the music starts to play and the trap door opens. I'm picturing Dame Judi Dench running down the aisle in a frenzy.
The Academy knows what the Academy Awards are about, right?
Want to make the Academy Awards shorter? Fine (though I believe the Oscars are like baseball — they're supposed to be long). Start by cutting the unnecessary dance numbers, the number of commercials, and one of the long comedy bits. There are ways to chop an hour off the telecast without irritating the very people who want to watch it. If you don't do that, you'll have to take Steven Soderbergh's advice and not even televise it. Party like it's 1939 and just make it a private shindig at the Roosevelt Hotel, attended by just the nominees and their dates.
Don't Forget to Floss!
I'm really bad at flossing. I'm talking about the dental activity. I know it's something I should do, and I even buy floss and resolve that I'm going to do it regularly from now on. I do it a couple of times and then I forget and I go to the dentist and the hygienist yells at me and the whole process repeats for another six months.
I'm also bad at flossing. This time I'm talking about the dance that everyone seems to be doing lately, on TV shows, on YouTube, at schools, maybe even in your living room. But maybe everyone shouldn't be doing it. Kids? Sure, that's fine, but adults who do it just end up looking goofy. I tried to do it the other day and I accidentally punched myself in the stomach. Twice.
Only time will tell if flossing has the staying power of rock 'n' roll, or if it will be thrown into the dustbin of history as quickly as the fidget spinner.
Diet Coke Wants You to Flirt
Maybe I'm in the minority about this (I haven't been on a plane in years), but I don't see anything wrong with flirting with someone on a flight, even if I'm being prodded to do so by an international beverage conglomerate.
But a lot of people are upset that napkins sponsored by Diet Coke are trying to get people to flirt with each other on Delta flights. People are saying things like "it's creepy" and "it's inappropriate" and "do you have Diet Pepsi?" Delta has apologized for the promotion and have taken the napkins off of their flights.
It seems cute and harmless to me. Creepy guys are going to be creepy regardless of what a napkin has written on it. Flirting — and the writing of your phone number on napkins or a piece of paper or these days via your smartphone — has always been done, but I guess in this day and age you have to be careful where you're doing it. Especially when you're trapped in a metal tube 30,000 feet in the air.
Typewriter Repair Is Still Going Strong
Typewriters are on Troy Brownfield's list of ten things with greatly exaggerated demises. And not only are the actual machines still around and gaining popularity even among younger people, the people who repair them are still around too. I'm a regular visitor to the Cambridge Typewriter Company blog — owner Tom Furrier says he's busier than ever with people wanting to buy typewriters and get them repaired — and the Los Angeles Times recently profiled Martin Quezada, who is still repairing your Remingtons and your Smith-Coronas 20 years after he was told that typewriters were on the way out and computers were taking over.
… And So Are Singing Telegrams!
If you're surprised that typewriter repair is still being done, you might also be surprised that singing telegrams are still around too, as this CBS Sunday Morning segment shows.
RIP Albert Finney, Lyndon LaRouche, C.Y. Lee, Joseph Sirola, Carmen Argenziano, and Jan Wahl
Albert Finney had a long acting career on stage and in such movies as Tom Jones, Murder on the Orient Express, Erin Brockovich, The Dresser, Two for the Road, Ocean's 12, the Jason Bourne films, and the James Bond film Skyfall, his last role. He died last week at the age of 82.
Lyndon LaRouche was an unpredictable political figure and conspiracy theorist who ran for president eight times, sometimes as a left-wing candidate and sometimes a right-wing candidate. He ran his 1992 presidential campaign from prison after he was convicted of tax and mail fraud. He died Tuesday at the age of 96.
C.Y. Lee was the author of the popular and influential novel The Flower Drum Song, which was turned into a Broadway musical and a movie starring Nancy Kwan and James Shigeta. He died recently at the age of 102.
If you watched television from the '60s to the '90s — and I'm sure many of you did — then you heard the voice of Joseph Sirola a million times, in commercials for such names as Wendy's, AMC Rambler, Boar's Head, and NyQuil. He was also a veteran character actor, appearing in such films as Hang 'Em High and The Super Cops, as well as TV shows like The Magician, The Andy Griffith Show, Wolf, Hawaii Five-O, and Rescue Me. He died Sunday at the age of 89.
Carmen Argenziano appeared in such TV shows as Stargate SG-1, House, Columbo, Cheers, and ER, as well as movies like The Godfather: Part II and Capone. He died last week at the age of 75.
Jan Wahl was an acclaimed author of children's books that were illustrated by some famous artists, including Maurice Sendak, Edward Gorey, and our own Norman Rockwell. She died in January at the age of 89.
Quote of the Week
Abraham Lincoln would have turned 210 years old today. https://t.co/4kR5r6sOuB

— Twitter Moments (@TwitterMoments) February 12, 2019
The best part of this tweet is that it implies that if it wasn't for that Booth guy, Lincoln would still be alive today, a contributor to CNN, and starting an online petition to save the penny.
This Week in History
President William Henry Harrison Born (February 9, 1773)
Harrison is best known for having the shortest presidency, at only 30 days, and the longest inauguration speech, at almost two hours. He became ill three weeks after the speech (an illness often blamed on Harrison not wearing a hat and coat that cold and rainy day, but it wasn't that) and died on April 4, 1841.
Rhapsody in Blue Premieres (February 12, 1924)
This is one of those pieces where you say to yourself, "That title sounds familiar, but I'm not sure I know it …" and then you hear it and realize you've heard it 10,000 times.
Here's Post Archive Director Jeff Nilsson on how George Gershwin's masterpiece came to be.
This Week in Saturday Evening Post History: Party after Snowfall (February 12, 1955)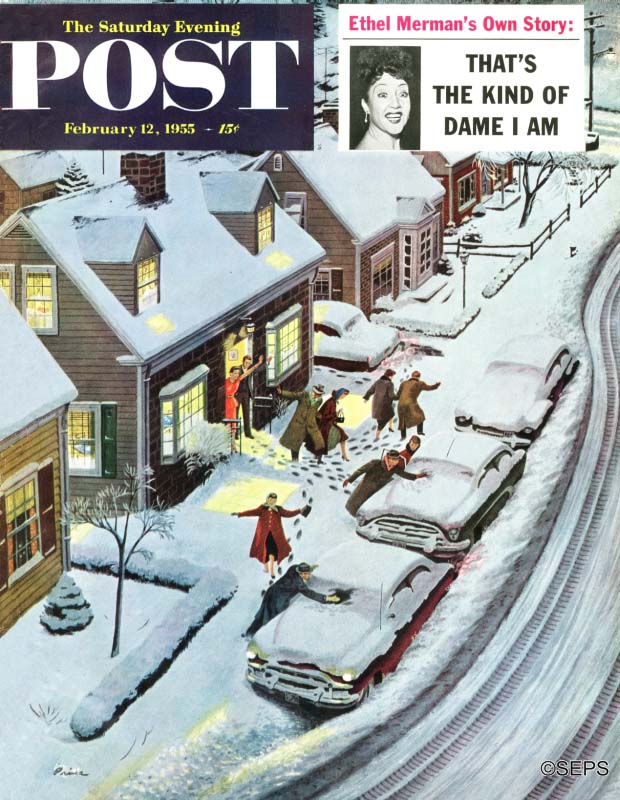 I love this Ben Kimberly Prins cover. I'm a sucker for the mid-century modern style, and I love how he renders the people, the homes, the snow. I also love the fact that Ethel Merman called herself a "dame."
National Fondue Month
I don't think I've ever had fondue. Not an official fondue, anyway. I've had bread and cheese at the same time, sometimes even melted, just not bread in cubes placed on sticks and then dunked into that melted cheese. But it was very popular in the '60s and '70s, even making a bit of a comeback several years ago, and seems like something that should make another one.
Since February is National Fondue Month, I decided to look through some back issues of the Post to see if we had any fondue recipes. I couldn't find the exact issues the recipes were in, but I did find three in a great compilation from 1976 titled The Saturday Evening Post All-American Cookbook, available at Amazon or for free at the Internet Archive. The recipes include Brillat-Savarin's Boston Fondue, a Cheddar Fondue, and this one for American Fondue.
1 loaf unsliced white bread
1 ½ to 2 cups Chablis
2 to 2 ½ pounds Swiss cheese, cubed
4 tablespoons rum
¼ teaspoon black pepper
Cut the bread into ¾-inch slices. Trim the crusts. Toast and slice into 1 ½-inch cubes. Heat the wine and cheese in the top part of a double boiler, stirring frequently. When melted, add the rum and stir well. Add the black pepper and then pour into a fondue pot or chafing dish. Get out the long forks or sticks and dunk away. Caution: cheese will be hot. Throwing-hot-water-into-the-wind hot.
Before you go to bed, don't forget to floss.
Next Week's Holidays and Events
National Engineers Week (February 17-23)
You probably haven't heard of this celebration week before, but it has actually been around since 1951.
Presidents Day (February 18)
This is the perfect day to honor William Henry Harrison.
Become a Saturday Evening Post member and enjoy unlimited access. Subscribe now