People talk about the special bond between mothers and sons, but some of these '40s and '50s moms don't look so sure.
Any mother can relate to the problem of the growth spurt, as painted by Frances Tipton Hunter, who created 18 covers for The Saturday Evening Post. Hunter was particularly interested in drawing children and animals. She also illustrated a series of paper dolls in the 1920s for the Ladies' Home Journal, which proved to be extremely popular.
[From the editors of the April 17, 1948, issue of the Post] The old, old losing fight to keep a boy in clean clothes, when in five minutes he can get dirtier than a grease monkey, is noted here by an artist taking his first crack at a cover. He is George Hughes, one of the country's best-known illustrators, whose work in that field is highly familiar to Post readers.
[From the editors of the June 5, 1948, issue of the Post] Stevan Dohanos' two sons, Peter and Paul, were in an Eastern boys' school and about this time last year, getting-out time, he took the family car up to help them move home. A passenger car, he learned, is no proper vehicle for such a job. It calls for a light truck or van. Brooding about this, and what it meant for the future, Dohanos mentioned his trip to a friend with a son or sons in college. They told him his real moving jobs are still ahead, when he tries to load the contents of one college room. The artist made his sketches on the Yale campus, but rearranged things to suit his purposes. The boy is George Ritter, of Westport, Connecticut, no Yale man. The artist didn't use a Yale man, on the remarkable theory that none would like to cut class.
[From the editors of the October 16, 1948, issue of the Post] It's that suspenseful occasion when a young man puts on his first tuxedo to go out to a formal party—or more commonly, first puts on his father's tuxedo or one borrowed from an older brother. Looking around for models, it occurred to artist George Hughes that some of his neighbors would serve excellently. The boy getting ready to dazzle them at the dinner dance, if he doesn't forget and wear moccasins, is Tommy Rockwell, son of artist Norman Rockwell. The woman essaying the puzzling job of tying somebody else's tie is Tommy's mother. That is Tommy's room, in Arlington, Vermont, and Hughes was much impressed—he thought it remarkably tidy, as boys' rooms go. Temporarily tidy, at least, and you can't ask more than that.
[From the editors of the February 25, 1950, issue of the Post] "Outfitters to Young Gentlemen," proclaims the suit box, in a blundering effort to make the victim of its contents feel as swell as he looks. The young character does not wish to look like a young gentleman. What, he wonders in horror, will the gang down the street think when he bursts upon their gaze and is recognized as the guy they had always thought of as a normal, gun-toting cowboy? Will they clasp their hands as mother is doing, only with a less complimentary ecstasy? One ray of hope plays on the dark scene. In the next few weeks other misguided mothers will get this same new-suit fever, and on Easter Sunday many young cowpokes, in similar outrageous disguises, will be comforted by their companionship in misery.
[From the editors of the September 8, 1951, issue of the Post] This mother's face is charming upside-down, but if you will also stand on your head, you will find that she wears a choleric expression. She is mad at her son, which is unreasonable, for she herself has lost his shoe. He took it off last June, and is it not a woman's duty to take care of her men's clothing? We know where the shoe is: it is either in the Apache hide-out under the forsythia bush, in the cowpoke's corral in the vacant lot down the street, or Fido is preserving it in his kennel as an objet d'art. Junior will go to school in sneakers, and nobody will care except his mother, who doesn't go to school. Next week she very likely will think all this is funny, and what the moral of Jack Welch's theme is, we don't know.
[From the editors of the September 20, 1952, issue of the Post] Inventors are so smart at dreaming up new types of cloth, why doesn't some bright fellow concoct a rubber-base fabric, so that the suit of an expanding boy can occasionally be put on a stretcher and thus increase in pace with its master? When this idea goes into production, we get a 10 per cent cut or somebody gets sued. Meanwhile, Dick Sargent's distraught homemaker can take a few gussets in that stationary suit and hang it on Son #2, but then the boy will promptly outgrow it. Oh, for the deflated old days when it wasn't necessary to stop eating for a while to finance a new suit or stop buying suits to eat. Well, better times ahead, mother! Soon the lads will be big enough to hand down their clothes to their father.
[From the editors of the November 8, 1952, issue of the Post] Little Johnny Tomorrow has just walked past young Mr. Today, making the latter look aged and out of date. It reminds us of a sad occasion when an airliner captain asked a little passenger if this was his first time up. "Fourteenth," said the lad. 'Can't ever get up higher 'n five, ten thousand feet in these old planes, though. How's the United States ever going to build a space platform if you fellas can't make altitude?" The captain, epitome of modernism, turned green and crept away to rev up his creaky old engines; and the boy should have been spanked for insolence, except that actually he had his feet on the ground. When artist Sewell's youngster gets tired of wearing that helmet, the hostess could put it on somebody who is snoring.
[From the editors of the December 20, 1952, issue of the Post] What is lovelier than the glow of care-free joy in the faces of happy children? Will the lady on the cover have the time to defend her food and change those expressions to the pinched melancholy of starvation? She will if she can make it across the room in time.  It will be fairly cruel if she imprisons the lads in the kitchen with nice, healthy, disillusioning peanut-butter sandwiches, but not as cruel as the time Dick Sargent set up that enchanting pastry in his dining room to paint. He has sons. The mouths of the sons began to water. They watered for a week. Two weeks. Three. Then the sons were released at the pastry. They ate it so fast they apparently did not notice it was petrified, claims the fiendish father.
[From the editors of the October 22, 1955, issue of the Post] Mother is making rapid progress at teaching the boys to maintain a tidy room; if George Hughes had painted this the day school opened, the detail would have given him a lame arm. Now, here is portrayed an intelligent female who in her delicate way molds the character of men; so, when her boys are seniors in college, they will be 27 per cent tidier than now. Then they will get married and never leave so much as a pipe cleaner lying about—for six weeks. After that they will revert to human beings, and what they don't chuck around will be what they haven't got. A woman's picking-up-stuff is never done. Why doesn't this mother shock the boys into tidy conduct by simply leaving their shambles untouched? Because they like it this way. She'd better go buy herself a new hat.
[From the editors of the May 11, 1957, issue of the Post] Johnny's happy shout of "Mother, I've brought something for you!" is an understatement. Dick Sargent certainly can paint the most delicious-looking mud; did he use maple fudge for a model? Now then, when mother regards her ex-clean carpet and the adoration in the eyes of her seldom-so-soiled son, what type of emotion will possess her? Although a mother's ups and downs often come simultaneously, and situations like this are all in the day's work and love, the temperature of her reaction will depend partly on whether she's a phlegmatic soul or pop-offy soul. Yet it's a good bet that before she undertakes to make things come clean, she will administer to her son, fudge and all, a good, sound—kissing. Afterthought: if Fido decides to shake himself, all bets are off.
[From the editors of the February 15, 1958, issue of the Post] It's typical of the male sex that Johnny is realizing how much his favorite lady means to him only when she is about to go away—and that's enough psychology for this week. So John wants to cling to her, which will overlay a stunning new chocolate pattern on her dress, a chic addition to what seems to be a golden-fingerprint motif already put there by designer Amos Sewell. Without meaning to be unreasonable about this, is Miss Sitter going to come to the rescue or wait until the television program ends? Johnny's situation is a bit pathetic as mamma delivers what football fans will recognize as a beautiful straight-arm; yet he does have loving parents, a swell home, luscious food, brisk entertainment and a pretty girl to dine with—what more can a young fellow ask?
[From the editors of the November 29, 1958, issue of the Post] It looks as if artist Amos Sewell's cover urchin is entering a bathtub of his own free will, and is therefore outwitting himself. Johnny's decision to try out his diving gear has made him forget to remember that using water for the purpose of getting clean is bitterly repugnant to him. Mother could remind him of this, but why burden his little mind with confusing thoughts? So down Johnny will dive into the mysterious depths, seeking treasure on the floor of the sea, and down there he may well find a bar of soap. Then if mother and son excitedly agree that Johnny has found a rare specimen of submarine life worth maybe a trillion dollars or more, they will be sharing just a little white lie from which, as mother makes with the soap, great good will come.
It's the season of empty classrooms, sleepy afternoons, and mercury rising up the meter. These covers offer a glance at the happy-go-lucky methods of sun-baked escapism for adults and kids alike.


Sliding into Water – Lawrence Toney
Sand between your toes and surf lapping at the shore is fine and good, but the neighborhood waterslide can serve just as well. For some, a pair of trunks and the rush of gravity are more than enough to beat the heat.
Water Fight – Thornton Utz
Providing the water supply holds out, a little mirth and mayhem can turn a suburban lawn into an amphibious battleground. Thorton Utz's work is a giddy cautionary tale for everyone walking by to hike up their socks.
Croquet Game – John Falter
The family tournament portrayed in John Falter's Croquet Game makes for a fitting post-Sunday dinner capper as the sunlight steadily trickles away.
No Girls Allowed – Stevan Dohanos
A ramshackle paradise tucked into the trees makes the perfect lazy afternoon retreat for the adolescent crowd still harboring fears of a cootie outbreak. With trumpet, pooch, and crossbones all aloft, they can't want for much.
Feeding the Elephants – John Clymer
Getting up close and personal with a pair of curious pachyderms may be the thrill of the afternoon, but that motley bouquet of balloons just beyond the elephant habitat is sure to draw some new customers in the immediate future.
Town Green – John Clymer
A tot jamboree, future hall-of-fame hopefuls, and lounging bookworms round out the cast of John Clymer's sprawling Town Green, where all can bask in the stippled shade around the gazebo.
Backyard Campers – Amos Sewell
A bump in the night is never welcome when all you have are tent flaps for defense. And a few ghost stories too many can render the most innocuous cicada chirp into a sinister bogey-beast on the prowl.
Lemonade for the Lawnboy – George Hughes
A shiny quarter would be welcome, but when trimming the lawn in the sticky heat of early summer, payment in icy fresh-squeezed lemonade is just as appreciated.
Wading Pool – Amos Sewell
Even if one size doesn't fit all, when the kiddie pool is the only escape from August heat, most are willing to make due. You snooze, you lose.
Swing-set – Amos Sewell
With shoddy materials and blueprints more complex than the Manhattan Project's, dad may end up getting better exercise than the kids. Luckily for his patient audience, this dance more than makes up for the lack of functioning swings.
Billboard Painters – Stevan Dohanos
In mid-July swelter on the cusp of a scorching third digit, these workingmen are wise to take the advice of their arctic billboard. Unfortunately, no amount of wishful thinking can convince their fictional polar pals to share the snow.
Where the Girls Are – Thornton Utz
As shown in Thorton Utz's Where the Girls Are, the discerning college boy always has one eye open for opportunity, even in excess of the speed limit.
Moments with mom have taken center stage on The Saturday Evening Post cover throughout the 20th century. Norman Rockwell, Richard Sargent, George Hughes, Amos Sewell, and others have shown the special, sometimes challenging, and often humorous roles that moms play. As a salute to mothers everywhere, we present this look at moms on the covers of The Saturday Evening Post.
Celebrating Mom on the covers of The Saturday Evening Post (click on the covers to see larger image):
A born Californian from San Francisco, Amos Sewell enjoyed the sun and all the activities warm weather had to offer. In his youth, Sewell was a ranked amateur tennis player (15th in Singles and 9th in Doubles). He was a banker during the day who took art classes for fun. After repeated losses to his champion tennis rival, Donald Budge, he decided to quit the sport. A tennis star throughout the 1920s, Sewell had moved into the world of professional illustration by The Great Depression era of the 1930s.
He began his art education taking eight years worth of night classes at The California School of Fine Arts while working as a banker at Wells Fargo. Sewell worked at the bank from 1916-1930. He always enjoyed art, and often took vacation time to drive up the California coast to paint. It was on one of these trips that Sewell decided to make a career out of his art by moving to New York City.
In 1930, Sewell made the move. To pay his way, he worked a lumber-boat from California to New York down the coast and through the Panama Canal.
Once in New York City, Sewell took more classes at The Art Students League and the Grand Central School of Art. In art school, Amos studied under famed instructors Guy Pene Du Bois and Harvey Dunn. Each of whom became the artist's entre into the New York City art scene. He also studied privately with Julian Levi at his studio in Easthampton, Long Island after having completed his formal schooling.
In 1932, he married his sweetheart, Ruth Allen. The two never had any children. Though a talented artist, Sewell complained that work was hard to find in the worst years of the Great Depression, specifically 1933 and 1934. He spent his days practicing illustration when there was no work to be done. Soon that period ended, however, and the experience of practice had prepared him to shine as a masterful illustrator.
One of the few financially stable working artists of the early to mid-twentieth century, Sewell kept up his passion for tennis as a hobby. His last documented tournament victory was the 1934 Cup for Westchester County, New York.
Quickly, Sewell began receiving regular work from advertising agencies and magazines around the city. All the incoming work provided a better quality of life. Eventually, he and his wife chose to move from the East Village of Manhattan to the artist's colony in Westport, Connecticut. During World War II, he won an art award for creating the nation's best war bond illustrations.
Amos Sewell's successful career led him to produce covers and illustrations for The Saturday Evening Post, Woman's Day, Good Housekeeping, Redbook, True, Today's Woman, Coronet, Liberty, and Country Gentleman. He illustrated for Street & Smith detective "pulp" stories, and a novel, MacKinley Kantor's "Valedictory." He was privately contracted to illustrate for large national advertising accounts, but admitted that he had to give those up to focus on his added workload from The Post.
Though Sewell had no children of his own, the artist idealized childhood. He often chose to depict its innocence with empathic images of children playing or unknowingly making mistakes.
Amos and Ruth lived out a quiet life in Westport, Connecticut until Amos's death in October of 1983 at the age of 82. Today, Sewell is remembered as one of The Saturday Evening Post's best artist-illustrators.
Covers by Amos Sewell
By Harold Von Schmidt
"The word that she was to have a new boss—name of Bullwinkle—almost drove Tugboat Annie crazy. And as someone said: 'When Annie acts crazy, somebody'd better start ducking!'" Yes, that unsinkable character Tugboat Annie began in The Saturday Evening Post. This illustration by Harold Von Schmidt leads to the question: whatever happened to these great paintings? But that's another story. The caption reads: "'Hey, Bullwinkle, ye wind-geared jackass!' was Annie's unladylike greeting. 'Whyn't ye get out an' push?'" Gotta love her.
By Sam Bates
I wish I could count all the western stories that appeared in the Post over the years. This was "Gunslick" by Richard Wormser from 1954. The caption to artist Sam Bates' illustration reads "Jack Gannon brought his hand too close to his gun, and Mel's own iron was out and pointing. 'You were saying, Mr. Gannon?'"
By Bob Hilbert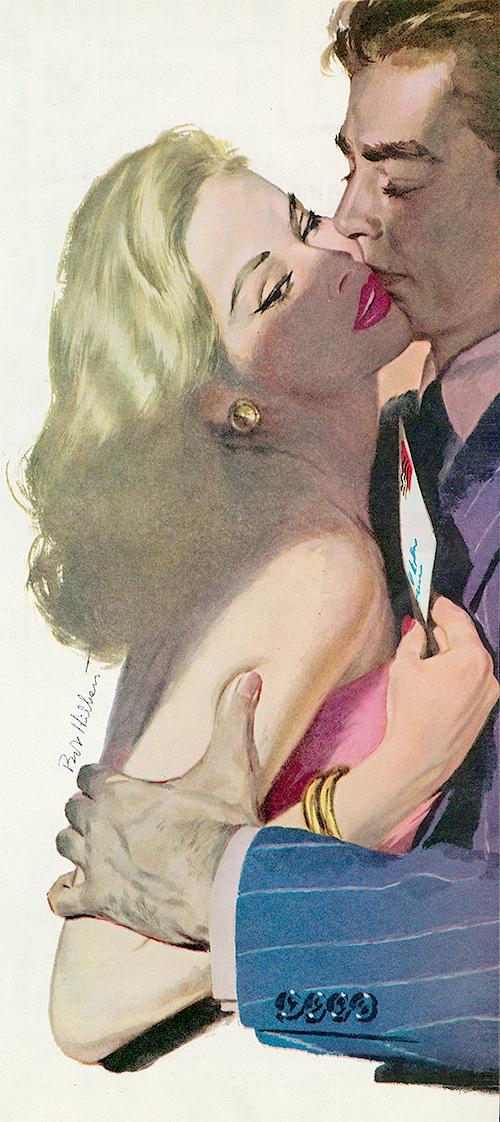 Sometimes I don't know if it's the artwork or the captions that grab me. The story is "Larcenous Lady" by William Fay from 1953 and the caption to the sexy illustration by artist Bob Hilbert says, "When he kissed her gently, she clung to him, murmured his name. He didn't know she was also picking his pocket." For more steamy images from romance fiction, see our Featured Artist piece on "Leading Ladies." I'll do more of these in the future.
By Amos Sewell
I have to show two illustrations from the 1953 story "The Dangerous Angel" by Clarence Budington Kelland. This lovely illustration has the caption: "'Madam,' said the young man, 'nothing could make you more conspicuous than God and nature already have done.'" Oh, brother. As pick-up lines go, that one stinks. And… did he throw his jacket down for her?
By Amos Sewell
The artwork here and above from "The Dangerous Angel" was by Post cover artist Amos Sewell. His covers tended to be a bit more wholesome. This caption reports, "Hephzibah said, 'A woman that's built like you be is sure to come to a bad end.'"
By James Bingham
Yes, boys and girls, the decades of the 1940s through '60s brought many a Perry Mason story to Saturday Evening Post readers. This 1959 Erle Stanley Gardner serial was "The Case of The Waylaid Wolf." Perry, at least according to the caption, is losing patience: "Mason came bolt upright. 'Wait a minute!' he snapped. 'Try and remember just what he said about O.K.'"
More story illustrations coming up soon.
Father's Day might be a good time to remember: You weren't always an easy kid to deal with.
"Early Morning Feeding" by Howard Scott
Sydney Field, copywriter for an ad agency and a short story writer, was having lunch with Post artist Howard Scott one day. It struck the artist that his friend would make a great befuddled dad on a Post cover. As his soup grew cold, he studied and sketched his lunch companion, and the next thing we knew, the writer was on the cover of our favorite magazine in January 1945 having a bad "heir" day.
"Swing Set" by Amos Sewell
Another Post cover artist, Amos Sewell, saw a father struggling to put together a swing set—and another Saturday Evening Post cover was born. We can understand the impatience of the kids, but for safety's sake and the sake of their innocent little ears, perhaps they should stand farther back. This is from 1956.
"Sleepy Inning" by Earl Mayan
I love this cover from 1955. It's tied up at the top of the ninth, but the game is called for Dad on account of a conked-out kid. Well, pops, there's always the radio. Artist Earl Mayan did ten Post covers depicting life in the suburban 1950s, including the next one.
"Amusement Park Carousel" by Earl Mayan
In an amusement park in 1958, Dad is anything but amused. That string of tickets he's wearing declares this is only the beginning. As he risks whiplash on the Whip or tries not to toss his cookies on the Screamer, he dreams of what a great day this would be on the golf course. Face it; you owe him for this one.
"First Prom Dress" by Kurt Ard
Speaking of owe… is that the going price for a prom dress these days? Poor pops—he not only has to foot the bill, he probably had to sit through the modeling of sixteen frocks… before mother and daughter decided on the first one after all.
"Fathers' Homework" by John Falter
"If one furrow-browed parent spends x hours failing to solve the quadratic equations of one boy," asked the editors of the Post in 1960, "how long would it take two furrow-browed fathers to fail to solve the quadratic equation of two boys?" Hey, you, kid in the red sweater—the smirk is not helping. Artist John Falter admitted to being hopeless at algebra. No matter. He solved the problem of what to do for a Saturday Evening Post cover 129 times.
"Brushing Their Teeth" by Amos Sewell
Dad seems to be waiting patiently in this 1955 cover—but if he doesn't get in to shave soon so he can get to work, there will be no toothpaste for anybody. So, dads, for your patience, attempts at homework, baseball games, and prom dresses… we humbly thank you and wish you the best ever Father's Day!
Pop psychologists these days talk about key changes in life; an "aha moment". Post cover artists, however, are fond of "uh oh" moments.
Worried Rental Agent by Richard Sargent
While potential renters are checking out the closet space, the rental agent is checking out the child. A little boy with a big slingshot is scoping out possible new targets. Did we mention lots of nice windows? Definitely bears watching. This is from 1953.
Public Aquarium by George Hughes
Okay, which little boy came up with this bright idea? "Swimming with the fishes" does not normally have a good connotation, but it sounds cool to these kids. Maybe they're thinking of diving for buried treasure. The security guard is having one of those "uh oh" moments. This is from 1954 by artist George Hughes.
Dr. and the Dog by Richard Sargent
Talk about a guard! Little Billy is tensed up for a shot and the dog isn't sure the doctor should proceed. Maybe. We can't exactly tell the dog's mood because we can't see his eyes. But the prognosis for the doctor doesn't look good. Like the cover with the worried real estate agent above, this cover was by Richard Sargent.
Automobile Showroom by Amos Sewell
Wow! A cool new 1957 something-or-other! Teen One is dying to drive this baby to see how fast she can go. Teen Two is daydreaming about how hot Mary Ellen would look in the seat next to him. And Teen Three is underneath the car soon to emerge with a mechanical question that will stump the watchful dealer. Artist Amos Sewell painted this cover, so the editors dubbed the vehicle the Amos Sewell Super-whiz. That's the cool thing about being an artist; if you want a hot new car you can just manufacture it yourself.
Saturday Rain by Earl Mayan
The raindrops bear watching, but it looks like the happy gardener is going to win this round. Artist Earl Mayan painted himself as the chagrined golfer, and a friend of his posed for the role of happy flower guy. But will the clouds pass and produce fine golfing weather after all? Well, there's always next weekend.
Kittens in the Basement by John Falter
When Harry the Cat turns out to be Harriett, it is definitely an uh-oh moment. Let's hope the kids don't get too attached to the little cuties because while they're thinking up names for them, Mom and Pop are trying to figure out ways to get rid of them. That will make the dog happy, because right now he looks like he's lost his best friends.
Saturday Evening Post covers through the decades have creeped us out with witches, goblins, and even a scary neighbor or two. They're all in good fun, but you might want to keep the lights on as you observe the talents of some of our favorites.
A parade of trick-or-treaters is walking by on artist John Falter's 1958 cover with even Mom wearing a scary mask. Or, as the Post editors put it at the time: "Mrs. Oldwitch and five little creeps are out on a shakedown cruise." Editors are nice people. Really.
There's one of these guys in every neighborhood: Artist Amos Sewell shows a homeowner who decided to don a creepy mask to freak out the neighborhood kiddies. (Maybe he's an editor.) The flashlight focused on the mask provides early special effects, and it works on the neighborhood goblins who flee in terror. We secretly hope the old guy gets his windows soaped. But on the other hand, being scary is what Halloween is all about.
Talk about scary! Artist Edgar Franklin Wittmack (Halloween 1926) shows us a dapper young man on his way to a Halloween party. But he's terrified of a very large, very sinister shadow, and we don't blame him! Just what is that creepy shadow, anyway? Perhaps it's the deliciously creepy witch from famous cover artist J.C. Lyendecker's October 1923 cover. But wait—there are more witches! It's Witches Night Out on artist Eugene Iverd's 1927 cover—they're flying everywhere! Trick-or-treaters: beware!