2018 Rock & Roll Hall of Fame Inductees
Of course, I mean the year 2018. It would be really weird if the Rock & Roll Hall of Fame inducted that many musicians in a single year.
The inductees this time around are Dire Straits, The Moody Blues, The Cars, Bon Jovi, Nina Simone, and Sister Rosetta Tharpe. All fine choices, I guess (don't get me started on Bon Jovi), but it means that a lot of people didn't make it again this year (musicians are eligible 25 years after the release of their first commercial recording), including Depeche Mode, Judas Priest, Eurythmics, the Zombies, Janet Jackson, Devo, New Order, Iron Maiden, Roxy Music, the Cure, Tina Turner, and the Smiths.
I would also add Marshall Crenshaw to that list. I don't know if he'll ever be nominated but he deserves to be there.
Stink, Stank, Stunk!
This is a great story. It involves a five-year-old boy from Jackson, Mississippi, who called 911. Why did he call? Because he was upset that the Grinch was going to steal Christmas.
The father got on the phone to assure the 911 operator that there was no problem. The police went to the house to check on things anyway, and the boy showed them a YouTube clip of the Grinch and what he had planned. The police assured him that they weren't going to let the green guy steal anything, and to prove it, they invited the boy to the police station two nights later so he could actually lock up the Grinch in a cell.
Of course, now the family has to make sure the boy doesn't watch The Grinch Who Stole Christmas again, or he may think the Grinch escaped. Or at least let him watch it until the end, when his heart grows bigger as he learns the true meaning of the holiday and gives all the gifts back.
It's the Most Wonderful, Annoying Words of the Year
Every December, magazines, newspapers, and websites release their best-and-worst lists for the year. The best and worst movies, the best and worst albums, the best and worst political stories of the year. It's a year-end tradition we look forward to as much as stuffing and the first snow.
I don't know if this counts as a "best" or a "worst" — maybe it's the best of the worst — but the list of the most annoying words of 2017 has been released by Marist College. For the ninth year in a row, Americans have declared the word whatever the "winner."
Other annoying words and phrases of the year include fake news; literally; you know what I mean; ya know, right; and huge. Actually, I would add the words actually, like, irregardless, basically, selfie, hashtag, and viral.
Maybe Marist should declare that whatever can no longer be named an annoying word of the year. It's won way too many years. It's the Modern Family of annoying words and should take itself out of consideration.
New Raymond Chandler
Raymond Chandler is one of my favorite writers, so when I heard that there was a newly discovered short story about to be published, I was more excited than a salad in a paper towel factory (I have no idea what that even means, that's how excited I am). The story is in the current issue of The Strand, and it's titled "It's All Right — He Only Died."
From that title, you might be expecting a two-fisted Philip Marlowe detective tale, but it's actually about … the U.S. healthcare system? That's right, Chandler was thinking about that way back in the 1950s (he died in 1959). Luckily, in the six decades since the story was written, we've completely solved any problems we may have had with healthcare.
Last-Minute Gift Idea
Did you know that Christmas is this Monday? That means you only have this weekend to buy the rest of your gifts, unless you're one of those people who goes to CVS on Christmas morning and grabs a box of chocolate or whatever perfume is on sale.
May I suggest something that can be enjoyed the entire year, something that's like getting a new Christmas gift every other month? A subscription to The Saturday Evening Post! Right now you can get an entire year (six issues) for a savings of up to 49 percent. With that subscription, you also get discounts on car rentals, travel, entertainment, even insurance! It's a great deal and a great magazine (and I'd say that even if I didn't work here).
RIP Keely Smith
Keely Smith was an acclaimed singer known for her partnership with husband and bandleader Louis Prima. She is remembered for such songs as "I Wish You Love," "That Old Black Magic," and "I've Got You Under My Skin." She died Saturday at the age of 89.
Here's her version of "I'll Be Home for Christmas."
The Best and the Worst
Best: My favorite things this week haven't even happened yet. They're on TV tonight. CBS is continuing its annual tradition of showing back-to-back classic episodes of I Love Lucy and The Dick Van Dyke Show. It all starts at 8 p.m.
Worst: This also involves CBS's airing of I Love Lucy and The Dick Van Dyke Show. As I mentioned just four seconds ago, it's great that they air these episodes every Christmas. But do they have to be colorized? And do they have to be the edited versions of the episodes? That's a travesty (the latter more than the former). These shows were both originally on CBS, so I don't know why they have to show edited versions. And as for colorizing them, that was interesting the first time as a little historical pop culture curio, but colorizing TV shows and movies rarely works (the colorized Miracle on 34th Street I watched the other night looked awful). Really, viewers can handle black and white.
This Week in History
Wright Brothers Take Off (December 17, 1903)
Here's an interview the Post did with Orville Wright in 1928 on the 25th anniversary of the historic flight.
A Christmas Carol Published (December 19, 1843)
The classic Charles Dickens novella has been filmed a gazillion times and the basic plot has been used in countless stories and TV shows. The first film made from the story was a 1901 short silent film titled Scrooge, or, Marley's Ghost.
If you really enjoy the story, you could start a collection of various editions. This guy did, and he's up to 1,000 of them.
This Week in Saturday Evening Post History: Centering the Christmas Tree (December 22, 1951)
Remember I told you a couple of weeks ago that I like artificial Christmas trees because they don't shed like real trees? Look at this cover by Stevan Dohanos. Just look at it! Pine needles all over the place.
Christmas Recipes
I was listening to "The Christmas Song" the other day — I've already heard it 100 times this month — and realized that it's been 30 years since I've had chestnuts roasting on an open fire. Actually, I've never had chestnuts roasting on an open fire. My mom used to boil them.
But it did get me thinking about the foods that are mentioned in Christmas songs, so I thought I'd list some recipes for you to make this holiday season. Here are five vintage and delicious recipes for chestnuts, and if you enjoy "We Wish You a Merry Christmas," here's a recipe for figgy pudding. Brenda Lee sang about pumpkin pie in "Rockin' Around the Christmas Tree," and if you're a "Grandma Got Run Over by a Reindeer" fan, here's an eggnog recipe from Alton Brown (please note that it includes bourbon). And don't forget, it's a marshmallow world that we live in.
Merry Christmas!
Next Week's Holidays and Events
Boxing Day (December 26)
The holiday started in Britain in the 1830s as a day to honor "post-men, errand-boys, and servants of various kinds."
National Fruitcake Day (December 27)
Also known as "The Day Everyone Throws Away the Fruitcake They Got for Christmas" Day.
At Some Stores, It Actually Started Last Night
I don't believe in Black Friday. I mean, I believe it exists. I'm not crazy, and I've seen all of the "pre-Black Friday sale" commercials. I just don't think anyone should participate. Why stand in line with 1,000 other people just to save 40 percent on a toaster? You can always wait to buy the items (or buy them earlier than today), and there's this thing called the internet where you can get all of the things you're going to buy today (like, ahem, a new subscription to the Post), often at the same discount or even more.
If you do feel like shopping today, here are some tips for getting the best deals with the least amount of hassle. And don't forget that this Monday is Cyber Monday, the day when many sites have big deals. By the way, when did the word cyber come back in vogue? I thought that went out with information superhighway.
If you're feeling like a rebel, please note that today is also Buy Nothing Day. But I'd bet few people are going to celebrate it.
Christmas TV
Christmas season has begun, which means that Christmas TV season has also begun.
This amazing site has a really great list of all the Christmas specials and holiday movies that are coming up from now until New Year's Day. So if you're into movies like White Christmas and It's a Wonderful Life or animated specials like Rudolph, the Red-Nosed Reindeer and A Charlie Brown Christmas, you'll find it on the list. It even lists Christmas-themed episodes of TV shows, everything from ER and Friends to Father Knows Best and The Equalizer. You can even find out where you can watch classic Christmas specials from Bing Crosby, Perry Como, and Judy Garland.
I've looked at the schedule, and I've also done a search on some TV listing sites, and I don't see Miracle on 34th Street at all. Seriously? I guess that's why God invented DVDs.
Superman for Sale
I wasn't a big comic book collector when I was a kid. I had some — I was into Superman, Batman, and Spider-Man — but I never thought about them enough to actually "collect" them. I had some in my attic, and once in a while I wonder if I ever owned anything that would go for a lot of money today. I never had the one where Superman made his first appearance though. I'd remember that.
That's Action Comics #1, and it's a rare, expensive thing, especially if it's in fine to mint condition. One of them is going up for auction at Profiles in History in Los Angeles. It sold for 10 cents in 1938 and it could go for up to $1.2 million. It would make a great Christmas gift for the superhero fan in your family.
Maybe I should go back to my old house and check the attic. I'm sure the current occupants won't mind.
Your NPR Name
There's another meme (pronounced "meem") going around the web — one of those things that passes from one person to another that everyone contributes to. This one is your National Public Radio name. Here's how you do it: it's a name that was popular in the 1880s–90s plus something that is being made obsolete by either global warming or the internet.
Mine is Clarence Brick and Mortar Stores.
RIP David Cassidy, Malcolm Young, Della Reese, and Mel Tillis
Four stars of the music world died this week.
David Cassidy was the lead singer of the Partridge Family on the 70s sitcom of the same name. He had one of the great voices in pop history, on songs like "I Think I Love You," "Echo Valley 2-6809," "I'll Meet You Halfway," and "Point Me In The Direction of Albuquerque," and the group of studio musicians that played on the songs were first-rate. Cassidy died Tuesday at the age of 67.
Malcolm Young was a guitarist and founding member of the rock group AC/DC, known for such songs as "Highway to Hell," "You Shook Me All Night Long," and "Back in Black." He died Saturday at the age of 64.
Della Reese started as a singer in churches and later with Nat King Cole, Ella Fitzgerald, Miles Davis, and many others. She then became an actress and appeared in many movies and TV shows, including a starring role on Touched by an Angel. Reese died Sunday at the age of 86.
Mel Tillis was known for his stutter, which didn't affect his singing of country songs like "Southern Rain" and "Good Woman Blues." He was also a songwriter, penning songs for Kenny Rogers, George Strait, and many others. He died Sunday at the age of 85.
The Best and Worst of the Week
A new feature of Week in Review, where I pick two things that particularly stood out the past week, one good and one bad.
The Best: I have a confession to make. I haven't watched 60 Minutes that much in the past several years. Not that it isn't a great show — it's still the best newsmagazine on television — but the main reason I tuned in, the main reason a lot of people tuned in, was for Andy Rooney's essay at the end. The show isn't the same without him. So imagine the happy surprise fans had when they tuned into last Sunday's episode and saw Rooney at the end of the show again! They replayed his essay on Thanksgiving, and I really hope it's just the first of many returns that Rooney will make to the show.
The Worst: This also involves Rooney. Charlie Rose had Jeff Fager, longtime producer of 60 Minutes, on his PBS show. He was on for the entire hour, plus 15 minutes of the next episode, and they talked about every single contributor to 60 Minutes over the past 50 years. They talked about Mike Wallace and Morley Safer and Lesley Stahl, even Anderson Cooper and Oprah Winfrey and David Martin. Guess who they didn't mention at all, not even in a quick, passing reference?
Andy Rooney.
Can you believe that? I was stunned. It was like watching a documentary on the Boston Red Sox and they mention all the players except Ted Williams. Rooney was arguably the most beloved person on the show for many decades, and he doesn't get a mention? Very odd.
To make up for it, here's an interview we did with Rooney in 1984.
This Week in History
First Appearance of Tweety Bird (November 21, 1942)
No, not that tweety bird, I'm talking about the little yellow bird from Warner Brothers cartoons. He (and yes, it is a he) made his first appearance in 1942's "A Tale of Two Kitties."
President Kennedy Assassinated (November 22, 1963)
This week, more of the previously unreleased files on the assassination were made public by the National Archives. The director of our own archive, Jeff Nilsson, has a nice retrospective on the many articles we've had on Kennedy over the years.
This Week in Saturday Evening Post History: Eavesdropping on Sis (November 19, 1949)
This scene by George Hughes is probably alien to many young people. Just one phone in the house, and it's attached to the wall by a wire? That's barbaric! But older people remember. I recall fondly the big, heavy black rotary phone we had in the corner of the kitchen. If you wanted to talk to your friends (or that girl you liked from school) on the phone, you had to do it there, in a high-traffic area. Now kids have their own phones and parents don't know what's going on.
This cover is actually one of three "eavesdropping" covers that Hughes did for the Post.
What to Do with Thanksgiving Leftovers
You probably have turkey and other foods in your fridge right now. My leftovers plan is pretty simple: I make sandwiches. I don't make turkey soup or turkey casserole; I just heat up the turkey and stuffing and make big sandwiches. Also: reheated mashed potatoes taste funny to me.
Beyond sandwiches, here's a recipe for Turkey Pumpkin Chili you might want to try. You get the two big tastes of the season in one bowl. Here's a Next Day Turkey Primavera, and for something a little different, maybe these Thanksgiving Nachos.
Okay, if you're just making sandwiches, let's once again take a cue from one of the shows on that Christmas TV Schedule site: Friends. It's The Moist Maker, the turkey sandwich Monica made for her brother, Ross, who flipped out when someone at work ate it.
The secret is the third piece of gravy-soaked bread in the middle.
Next Week's Holidays and Events
Christmas in Rockefeller Center (November 29)
Last week I told you about the tree being delivered, and now you can see the official lighting and listen to the sounds of Gwen Stefani, Brett Eldredge, Leslie Odom Jr., Jennifer Nettles, The Tenors, and Pentatonix. The shows airs on NBC at 8 p.m. Eastern and is hosted by Matt Lauer, Savannah Guthrie, Hoda Kotb, and Al Roker.
Write a Friend Month Begins (December 1)
Personally, I think we should celebrate Write a Friend Month every month of the year. Here's what you do: Get out some nice stationery — or go out and buy some if you don't have any already — grab a pen, and take the time to write an actual letter. Not a quick note, but a real, long letter, the kind people used to write P.T. (pre-texting). Don't use any smiley faces or web abbreviations like LOL. Put it in an envelope, seal it, place a stamp in the corner, and take it to a mailbox.
Oh, and don't email or text the person to tell them that you're mailing it to them. Let it be a surprise.
The commercialization of Christmas is not a modern phenomenon. Holiday shopping can be a joy, but it often veers toward comedy. In the hands of Post cover artists, the mundane experience of making lists, checking them twice, and finally scavenging neighborhood stores to gather up holiday bounty is presented as equal parts delight, misery, and just plain silliness.
Under the humorous guise of this painting's subject matter, Norman Rockwell makes use of snow as white space to break the image of an overloaded grandfather into completely disjointed components. It's not quite a human being we are looking at, but pieces of one—a subtle nod to cubism, perhaps?
Incidentally, "Pops" Fredericks, the model for this illustration, was an actor who never quite succeeded on the stage or the screen, but who achieved immortality on Rockwell covers as a cello player, a seasick cruise passenger, a hobo, Ben Franklin, Santa Claus, and a beloved doctor patiently examining a little girl's doll.
This stunning self-portrait by one of the Post's more popular female artists makes use of winter's white in an unexpected way. Not only is the background washed out—evoking a sense of snow—but the gifts  are a stunning white against the stark black of the subject's mink. The multi-talented McMein, a Midwestern girl  from Quincy, Illinois, and star pupil  of the Chicago Art Institute, moved  to New York City with dreams of  succeeding as an artist, poet, or musician. The year before painting this cover, she traveled to war-torn Europe as a correspondent for McClure's Magazine.  In the mid-1930s she would make an indelible stamp on the marketing world by creating the face of Betty Crocker.
The rocking horse was not new in 1909. It had been popularized in England during the 1800s, then galloped from small workshops into factory production. By the early 20th century, it was a staple toy in America and made frequent appearances on The Saturday Evening Post's covers, especially around Christmas. Notice the detail in the harried commuter's overcoat and pants. Leyendecker, whose roots were in fashion advertising, always gave close attention to the clothing of his models. A mentor to Rockwell, Leyendecker was also a darling of the public. At one point his fan mail eclipsed that of legendary film actor Rudolph Valentino.
The clerk's face, almost floating in a sea of returned gifts, says all that needs to be said about the post-Christmas letdown. With its emphasis on the commonplace, the Post (and much of America) was willfully ignoring the global crisis brewing across the oceans. (The attack on Pearl Harbor that galvanized our engagement in World War II was still 11 months away.) Notice the signature, bottom right. Crockwell, who illustrated 18 covers for the Post, took to signing his illustrations "Douglass," "DC," or simply "D" to avoid being confused with another Post cover artist with a very similar last name.
Leyendecker was one of the longest running  of the Post cover artists and certainly one of the most versatile. While best known for his stylish illustrations of fashionable people, he occasionally produced comic numbers, such as this colorful depiction of frantic, last-minute shopping. While many playful elements are at work, notice  the visual pun of the bulky mom who bears  an uncanny resemblance to St. Nick.
For this painting, Dohanos asked a man at a local nursery to
"saw me down a small Christmas tree to take out." The little tree made this quirky cover in which all the players — duck included — seem remarkably complacent considering the circumstances. Post writer Rufus Jarman, a neighbor of Dohanos, makes a cameo appearance as the determined-looking man to the left of the tree.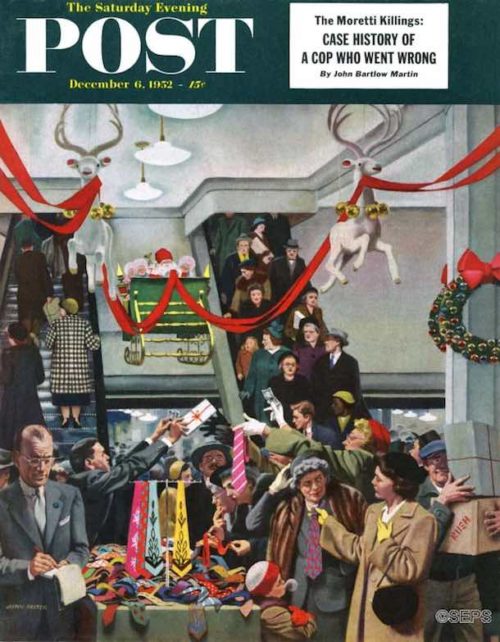 Even 65 years ago, the ugly tie was universally recognized as the least desirable Christmas gift one could receive. But sometimes, well, that's the best a person can do. For this hectic scene, Falter relied on his background working at his father's clothing store in Falls City, Nebraska. By the late 1930s, Falter had moved to New York and was painting shirts and ties for Arrow Shirt ads before being discovered by the Post.
At the center of the image, a child at the Information booth will soon be reunited with misplaced parents. Meanwhile, countless other dramas are being played in Utz's shopping pandemonium. Utz began drawing cartoons at 12 and knew he wanted to be an artist by the time he graduated from high school. But later he would say that he and a like-minded friend "could probably have been talked out of the whole idea if we'd been offered a good job driving a laundry truck." With his knack for capturing humor in everyday situations, Utz became one of the most successful cover artists of the 1950s.
While drawing plans for a new home near Arlington, Vermont, Hughes decided to designate a room for his model trains. Months later, when breaking ground for his new home, his responsible side won out: He abandoned plans for the train room. But did he abandon his wish? One can almost feel the artist's yearning for the magic of toy trains in this captivating holiday window display.
Christmas commercialization is no modern phenomenon. Put the Post cover artists in charge and the mundane experience of making lists, checking them twice, and scavenging stores to gather holiday bounty becomes a delightful, miserable, and just plain silly occasion.
Christmas Shopper


How we envision ourselves while Christmas shopping — calm and fabulous. This stunning self-portrait by Neysa Mc Mein, one of the Post's more popular female artists, makes the whole event appear effortless. But we know it's not as simple as waltzing into the nearest department store adorned in your favorite black mink.

Department Store at Christmas


Even 63 years ago the ugly tie was universally recognized as the least desirable Christmas gift. But sometimes, well, that's the best a person can do.

Lost Child Department


Black Friday may not have existed back in 1958, but Christmas gifts were still serious business. Shoppers flooded malls from gift finding through gift wrapping stages.

'Twas the Night Before Christmas


Probably not a coincidence, this mom bears an uncanny resemblance to St. Nick. Although J.C. Leyendecker was best known for his stylish illustrations of fashionable people, he occasionally produced comic numbers, such as this colorful depiction of the frantic, last-minute shopper.

White Christmas


"Pops" Fredericks, the model for this illustration, never achieved fame on the stage or big screen. From a hobo, to Santa Claus, his many appearances on Rockwell covers have turned Pops into a crowd favorite here at the Post.

Father Rushing Home with Gifts


The crazy was felt even in 1909. Take notice of the rocking horse. After being popularized in England during the 1800s, it galloped into factory production. By the time this father ran home with the toy, it had become a staple present in America.

Hiding the Presents


After the shopping is all said and done, we recommend being extra sneaky about where and when you decide to hide the presents. Kids have a knack for watching their parents with hawk-like eyes during the month of December.

Because the décor of Christmas doesn't change, one Christmas looks pretty much like any other. The only things that seems to change much are the gifts. And the advertisements.
The ads in this gallery show how much Christmas gifts, and advertising, have changed over the past century. Some gifts, such as warm socks or jewelry, have remained constant. Other gift ideas, such as giving your wife leisure or freedom in the form of a vacuum cleaner, show just how much Americans have changed in the past 100 years.
Get your boy a rifle–What could go wrong?
Oh goody! Santa brought us hand-shoes!
A timeless Christmas gift.
"The gift that insures shapely feet." It's too bad about his face, though.
This guy's looking pretty stylish in 1923.
What says leisure like a vacuum cleaner?
Santa has a daughter?
This 1926 ad stresses utility over all else.
Silverware is a recurring gift idea for women in the early 20th century.
Nothing warms a girl's heart like a good refrigerator.
Take a look at this colorful perfume ad from 1933.
"Let Frigidaire glorify her Christmas–and your judgment!"
This ad continues the trope of vacuums as leisure devices.
Give him some dignity!
What's more timeless than warm socks?
Check out these men's jackets from 1948.
Well, at least dad and the kids are having fun here.
Schick patented the first electric razor in 1928. This one's from 1952.
Make no mistake: This dream pipe is no pipe dream.
Sears and Roy Rogers: Welcome to 1956.
Electric razors are a common gift idea for men. But what about women?
Nothing says 1958 like an appliance ad featuring Lucy and Desi.