For years, The Criterion Collection — a vast trove of historic and important world cinema — has searched for a streaming home for its film offerings. Once on Hulu, then Filmstruck, it seems the collection has found a permanent place on The Criterion Channel. As a streaming service, it isn't the simplest platform (launching it with some devices can be tricky or outright incompatible). But if you can manage to set it up, you'll gain access to a treasure chest of culture. Flipping through the more than 2,000 movies might be a daunting task, so I'm pleased to report that I've spent much of the last 10 years bingeing Criterion films to offer a list of good starters and standouts.
In the Mood for Love (2000)
Guru of kaleidoscopic cinema Wong Kar-Wai's intimate masterpiece builds romantic suspense through an unlikely bond between two neighboring professionals in 1960s Hong Kong. With elegant, heartbreaking performances and a sensory feast of sight and sound, Wong Kar-Wai has created a tense and sympathetic story that must be experienced.
The Player (1992)
After making his reputation with some big ensemble movies like M*A*S*H and Nashville, Robert Altman made his triumphant return to Hollywood success with this quick-witted satire of the vacuousness of Hollywood itself. It's devastatingly sharp and funny, and everyone is in it: Burt Reynolds, Whoopi Goldberg, Bruce Willis, James Coburn, Sydney Pollack, Jack Lemmon, Cher. Criterion provides ample extras, like deleted scenes and commentary from Altman himself. By the end, you'll be working on your elevator pitch for your own screenplay.
La strada (1954)
Italian cinema dynamo Federico Fellini directs his wife Giulietta Masina in a whimsical and tragic tale of a traveling sideshow performer and his endearing assistant. La strada, or The Road, won the Oscar for Best Foreign Language Film and marked the start of Fellini's signature poetic style. Watch Juliet of the Spirits for a more surreal team-up of Fellini and Masina.
Grey Gardens (1976)
A cult classic documentary on Jackie O.'s reclusive, cat-loving cousins, this portrait of a mother and daughter living in a deteriorating East Hampton mansion offers a rich — and often hilarious — contemplation of the American dream for eccentrics and misfits.
Tie Me Up! Tie Me Down! (1990)
For an evening of bonkers, sexy fun, stream a film by Spain's own Pedro Almodóvar. Antonio Banderas plays a released psychiatric patient who kidnaps a porn star to make her fall in love with him. With a vivid, economical approach to storytelling, the campy auteur inhabits a world of his own, where romance and danger are often puzzlingly intertwined.
White Material (2009)
A white woman in a former French colony in Africa insists on staying with her coffee plantation even as a civil war rages around her in Claire Denis's unflinching look at colonialism and family bonds. Isabelle Huppert gives an all-in performance, depicting the crazed desperation of a woman fighting for her legacy against forces she can't understand.
Monsieur Verdoux (1947)
If you've never heard Charlie Chaplin's voice, this uproarious black comedy is the perfect opportunity to witness the Little Tramp in a completely different light: he plays a modern bluebeard, scamming and murdering old women to get by.
Smiles of a Summer Night (1955)
Whether or not he was the greatest filmmaker to have ever lived, Swede Ingmar Bergman was capable of more than heady, molasses-paced existential dramas, as evidenced by this mid-career witty sex comedy. Smiles proved to be Bergman's first global success and remains the most accessible of his films.
Daughters of the Dust (1991)
Julie Dash made history when she wrote, directed, and produced this fictionalized portrayal of her Gullah heritage. The film was the first from an African-American woman to have theatrical release in the United States. Her raw, intimate portrait of Gullah women at the turn of the century chronicles a transformative time: a group has decided to leave their island home off the coast of South Carolina to live on the mainland, risking the preservation of their culture in search of opportunity.
God's Country (1985)
French director Louis Malle traveled to the American Midwest in 1979 to document the lives of several inhabitants of Glencoe, Minnesota, and, when he returned, in 1985, economic frustrations and cultural changes had rocked the farming town. The resulting documentary is a candid and honest look at the American "heartland" and its people through the eyes of a foreigner.
Leviathan (2012)
Created by the Sensory Ethnography Lab at Harvard, this experimental documentary — perhaps more-so than any other — makes the viewer feel as though they are actually in it. "It" is a fishing boat off New Bedford, Massachusetts. The extreme closeups and roaming shots are accompanied by hauntingly comprehensive sound engineering that dives underwater and into the daily lives of working men at sea.
Elevator to the Gallows (1958)
A jazzy, twisting thriller, it's the stunning debut of director Louis Malle and the breakout performance of Jeanne Moreau, who would go on to an unbelievably illustrious career. Elevator set the stage for a new level of expressive film storytelling in France — and elsewhere — depicting two lovers' unraveling desperation as their murderous plot goes haywire. And they got Miles Davis to improvise the score.
The Exterminating Angel (1962)
Rumor has it that Stephen Sondheim's next Broadway musical will be a sort of adaptation of Luis Buñuel's 1962 surrealist dinner party farce. Buñuel, the same director who shocked viewers at the dawn of cinema with his iconic eye-slicing short film Un Chien Andalou, went on to pioneer absurdist filmmaking throughout the 20th century. In Angel, a neverending bourgeois dinner party exposes the inanity and fragility of the upper class.
Foreign Correspondent (1940)
Hitchcock's second American film, Foreign Correspondent, lost the Best Picture Oscar to Hitchcock's first American film, Rebecca. The former is a lesser-known rollercoaster of a masterpiece from the master of suspense, following a reporter (Joel McCrea) who stumbles onto an enormous espionage story and finds danger at every turn. Rebecca is also a must-see, but unfortunately it isn't streaming anywhere currently.
Vivre sa vie (1962)
Most critics would cite Breathless and The 400 Blows as unmissable films of the French New Wave movement (and they're right), but to take in a unique and utterly watchable expression of the era, go with Godard's benchmark flick about the tragicomic arc of an aspiring Parisian actress. There's striking black-and-white cinematography, rock and roll, and a whole lot of smoking.
Claire's Knee (1970)
The stunning color photography of the French Alps is only the first thing to notice about this deviant and sensual "moral tale." With its casual, meandering plot of problematic seduction, Claire's Knee is not for everyone, but smart dialogue and nuanced performances keep it in the French canon.
Walkabout (1971)
Two young British siblings are stranded in the Australian outback and befriend an Aboriginal boy undergoing his traditional rite of passage. This thought-provoking and disorienting film (from the director of the cult family fantasy The Witches) explores adolescence and the brutality of colonialism in Australia.
Anatomy of a Murder (1959)
Jimmy Stewart. Otto Preminger. George C. Scott. Duke Ellington. This racy courtroom drama holds up in every way, from its complicated treatment of morality and justice to Preminger's sophisticated, masterful camerawork.
Throne of Blood (1957)
You could spend hours watching Akira Kurosawa's films on the Criterion Channel, and there wouldn't be a second wasted. The Japanese director cemented his status as a visual storytelling icon with films such as Rashomon and Seven Samurai, influencing American westerns, thrillers, and virtually every major director across the globe. In Throne of Blood, Kurosawa tells the story of Macbeth with samurais in feudal Japan, mixing traditional Japanese theatre with a Western classic.
An Elephant Sitting Still (2018)
A sweeping, four-hour journey through the lives of various characters crushed by the weight of life's disappointments, Hu Bo's only film was released a few years ago to resounding praise for its brutal honesty and stark realism in depicting working-class Chinese. A difficult, but rewarding, viewing experience, Elephant is a unique, roving ride through people and their problems, offering no easy solutions.
Featured image: Les Films du Losange and The Criterion Collection
Every generation has its own slang. When I was growing up, we went from hippie slang like groovy to disco slang like boogie and then everything went pastel in the '80s and we were constantly getting grossed out the door. Like, bag your face.
The generation of the Internet also has its own slang, and it seems like there's more of it every day. Some of it you can infer ("realness," "basic,") some of it is still getting argued over ("woke") and some of it will be completely bewildering without help ("milkshake duck").
Offering a column that guarantees you'll understand your kids or grandkids is probably a reach. But I will provide some resources for learning more about current slang — and how it can help you in your web search! We'll also take a look at memes, little slices of culture or responses to current events that are often image-based.
Slang / Language
Let me offer some comforting bad news: you can't keep up. There's too much Internet culture erupting from all corners of the web to keep a handle on it. Someone might invent a new word in a Twitch stream. Someone else might create a song on Twitter that suddenly everyone is using. The comforting part is that we're all in the same boat. So if you come across a word that you don't know, don't despair; just check out these resources.
Warning: Internet slang reflects all aspects of the Internet. That means you're going to find some definitions that are crude, cruel, not safe for work, and overall distasteful. A couple of the resources I mention here are more likely to have that kind of material; I'll warn you.
Wiktionary
Are you familiar with Wikipedia? It's basically an online encyclopedia that anyone can edit. Wiktionary is an online dictionary that anyone can edit. At this writing the English version of Wiktionary has a little over six million entries. Let's look up that bewildering expression, milkshake duck.
The explanation is simple, but note there are a couple other things here. At the bottom of the page there's a link to a category of English-language slang, if you want to do some browsing. There's also, on the lower right part of the page, a link to the Wikipedia entry for milkshake duck, which provides much more in-depth background, etymology, and what is frankly a rabbit hole of other Internet cultural references (like Chewbacca Mask Lady).
There are over 170 other Wiktionaries in languages from Abkhazian to Zulu. Slang isn't limited to just English!
Urban Dictionary
I'm so ambivalent about Urban Dictionary. On the one hand, it's over 20 years old and an essential resource for keeping up with slang online. On the other hand, it's not moderated strictly and because of that has a lot of crude sexual and violent content. Urban Dictionary also offers you search suggestions as you type (which can be crude and sexual) and also has a list of trending words or words that are close alphabetically to what you're looking up (which can also be crude and sexual). Looking up one single definition without running into any offensive content is not easy on this site. If you're someone who doesn't like to see swear words on the Internet, skip this resource and stick to Wiktionary.
So why am I including it in my column? Because it's extensive and it offers multiple definitions of a term for which people can vote. The one with the best upvote/downvote ratio rises to the top. (Downvoted definitions tend to be just people being silly, political, or — you guessed it — crude and sexual.) The definitions include the date each was added, allowing you to see the evolution of a term. There's also a lot of cross-linking to other terms. I have thrown the weirdest terms at it and it always has some kind of definition.
Word Spy
Word Spy is not as in-depth as the other resources I've covered here, but it's a great browse for a word nerd. The definitions have extensive examples and etymology you won't see as much of at Wiktionary, and won't see much at all in Urban Dictionary. Milkshake Duck isn't on the Word Spy list, but let's try a word provided by Word Spy's random feature, al desko.
Word Spy provides two examples of the use of al desko, some etymology, and related words. You can also share the word on social media or browse other words in the category. I find Word Spy useful when I'm looking for a definition that's not quite slang, but doesn't appear in regular Internet searches or has another meaning that makes Internet searches more difficult. (The word spim is an excellent example of that.)
Urban Thesaurus
Urban Thesaurus isn't intended for you to look up words directly. Instead you enter a non-slang word, and Urban Thesaurus gives you slang terms related to that word. Here's an example for the term angry:
Click a term and you'll get the definition (from Urban Dictionary) and a link to more information. You'll see some terms that are blurred; these are terms that are offensive and viewable only if you specifically request them. This is a less offensive way to get definitions from Urban Dictionary, but I still found plenty of content here that was offensive and not blurred out. Proceed with caution.
Adding Slang to Your Internet Searches
Now, the purpose of this column is to tell you where to get definitions for slang words so you're not all at sea. But by adding slang words to your Internet searches, you can really narrow down your search. Let me give you an example.
If you grew up in the 1970s, maybe you said "dynamite" or "groovy." If you grew up in the 1980s, maybe you said "grody to the max" or "gag me with a spoon." But it's a fair bet you don't say them now. Slang tends to be ephemeral, existing for a little while and then petering out. This makes it an excellent way to delineate time periods in Internet searches; adding a once-popular slang term will definitely slant your results.
Let's try a search for denim fashion.
There's a lot of mentions of 2019, and current fashion. These search results are about denim fashion right now. But let's add an old slang word from the 1960s and 1970s — groovy.
That search has moved us from current fashions into the history of blue jeans, mentions of flares and tube tops, and more of a retro look. But this search works for more current slang as well. I'll remove the word groovy and add the term on fleek — a slang expression from around 2014.
This is more current, but now we're back to skinny jeans and street chic. It's amazing how much one little term can change the slant of your Internet search.
Memes
So far we've talked only about slang, which are words. Now I want to tell you about memes (rhymes with teams), which are for the most part images, and which are kind of become the de facto slang of the Internet.
Maybe you've seen it on social media, or maybe someone sent it to you in a message. It's an animated GIF of a man turning his head and blinking rapidly as he stares at something. There's not usually a caption, but you understand what the GIF means; someone is confused about something. Congratulations, you have interacted with a meme: "blinking white guy."
Memes are visual items — sometimes GIFs, sometimes just static images — that express an emotion, a state of mind, or a situation. GIF memes are sometimes called "reaction GIFs," as they tend to express a feeling about or reaction to something without words. Then there are static images, sometimes called "image macros," that rely on captions to make the meme. For example, a popular meme right now is an image of a woman who appears to be yelling at a white cat.
The woman is very upset, and the cat looks like it's being sarcastic. This meme is usually called "Woman yelling at a cat," but it's not complete until there's a caption. The caption for this is the woman asserting something and the cat refuting it. For example, this meme shows the woman insisting that pizza leftovers are called "pizza crusts," while the cat calls them "pizza bones."
Another meme is actually a stock photo of a man and woman walking together. The man is distracted by another woman, while the woman he's with gets upset. I'm sure you've seen this meme many times; it's called "distracted boyfriend."
This picture is funny, but like the lady yelling at the cat, it doesn't make much sense until you see a caption. And speaking of the lady yelling at the cat meme…
So some memes must be customized to make sense, and some of them are standalone. I'm going to show you how to learn about memes you may come across on social media, and also how to make your own.
Do a Quick Google
Memes tend to spontaneously generate from various parts of the Internet, or when social media appropriates something from popular culture. And when this happens with any prominence, a small raft of articles are written about the new meme. That's why a Google search works. Describe the image generally and then add the words meme explainer. Often that's enough to point you to some information about a meme.
For example, there's a meme that's floating around on social media featuring what looks like a screenshot from an animated series. It's a man and a butterfly. Just glancing at it will not help you; it's bewildering without context.
Simply describing it, I'll search for man butterfly meme explainer.
Google includes image results in the search, so you'll immediately know you're on the right track. Multiple articles on the front page offer to explain the meme to you. But sometimes this doesn't work, maybe because you can't describe the meme. In that case check out Know Your Meme.
Know Your Meme
Know Your Meme is if anything too exhaustive when it comes to memes. In addition to memes you might see on social media all the time, it lets people submit memes, so when you search for memes you'll see that some are labeled "Confirmed" while others are labeled "Submission." Memes that are NSFW (Not Safe for Work) get an additional label.
When I did a search for butterfly I got plenty of results, with the man and butterfly meme showing up in the middle. Clicking on that result brought me to an extensive explainer complete with examples, context, and variants.
If you're looking for a meme you've seen on social media, it's probably in here, but this site can be overwhelming. I like to try a simple Google search first, and then refer to this site if I can't easily find what I'm looking for.
Meme Generators
As I've noted already, there are some memes that stand alone, while others require captions to make sense. And where do you think those captions come from? People all over the Internet. That's why there are meme generators — sites that give you images from memes and let you put your own captions on them.
Imgflip
You may have noticed that memes tend to be sort of standard. Often they use the same font for captions (Impact, but memes sometimes use other fonts as well.) The captions tend to be in the same place. That's because the placement and font helps us recognize a meme, and because of sites like Imgflip. Search for a meme and you'll get a template for placing captions and even drawing or adding little graphic stickers to the meme. Once you've customized it, you can download it or share it to social media.
Meme Better Meme Generator
Still not 100% on how to make a meme? Try the Meme Better meme generator.
Meme Better is much smaller than Imgflip — I can't find the distracted boyfriend meme, for example — but it's simpler to use and has what I think of as meme "training wheels." When you visit the site you'll be greeted with a list of memes. Click one and the meme will appear at the top of the page for you to customize. If the meme is known for a particular tagline, that will appear on the meme automatically. Once you've made your meme, clicking Save Image downloads it automatically. If you want to play with making memes, this is a good option for exploring some older ones and getting your feet wet.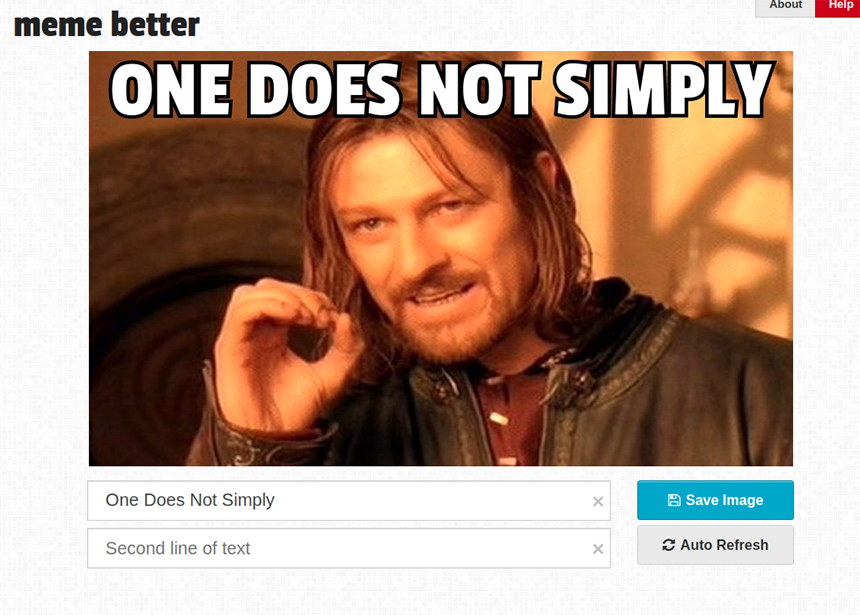 Be Kind
Some parting advice: I have noticed that sometimes people will turn into memes things that they wouldn't say out loud. In other words, they might have a meme express a viewpoint they might not express directly because of the reaction. Don't do that. No matter where the viewpoint goes, the person expressing it is responsible, not the meme. Memes can be funny, thought-provoking, informative, snarky, sarcastic, and sometimes a little shady. They should not be unkind.
Featured image: imgflip
Coupe de Swill
I brought an expensive bottle to a dinner party. The host thanked me, put it away, and opened a bottle of el cheapo chardonnay. What's the best way to hint that you'd like to drink the wine you brought? —Dale, St. Louis
Ah, the old vino switcheroo. If you truly can't stomach a few glasses of the cheap stuff before moving on to your precious petite Syrah, you've got to be bold. Upon setting foot in your host's home, announce your bottle and — in the same breath — ask for a wine key so you can get the party started. If this critical window of time passes you by, scan the appetizers for something that, you will claim, pairs beautifully with your wine offering. You'd better be able to back it up with an explanation of the delicate notes.
Grandpaparazzi
I live in a retirement community, and I'm sick of hearing about everyone's wonderful grandkids. If I see one more "cute" baby picture, I'm going to scream.  —Mandy, Indianapolis
Smartphones are a blessing and a curse. There is seemingly no limit to the amount of banal, out-of-focus snapshots that can fit in those things. There is one magic phrase you can use when you feel the deluge of show-and-tell coming on: "I've seen those," followed up with something like "adorable!" Odds are that they've also shared their pictures on Facebook, and subjecting you to them again would be downright cruel. If they are cruel (or just clueless) and won't back off, whip out your own device and give them a play-by-play of your recent cruise to Cuba. Sometimes you have to play hardball with these people.
The Manners Guy is a former bartender who knows his way around awkward social situations. Send your questions to [email protected].
This article is featured in the September/October 2019 issue of The Saturday Evening Post. Subscribe to the magazine for more art, inspiring stories, fiction, humor, and features from our archives.
Featured image: Shutterstock.