Several years ago, my home state, Indiana, joined 47 other states and went on daylight saving time. Letters flooded our local newspaper predicting the end of the world, which didn't come to pass but nevertheless gave the whole enterprise an edgy, if not apocalyptic, excitement. Instead, we reset our bedside clocks and gained an extra hour of sunlight, allowing more time to sit on our porches and visit with our neighbors in July and August. Now that we are well into the experiment, the letters prophesying doom have dwindled from a torrent to a trickle, written by the same people who believe the Russians are listening to us through the fillings in our teeth.
I am in favor of any manipulation of time that expands my opportunities for leisure and would take up arms against any effort to rob me of my lengthened summer evenings. Metaphorically speaking, that is, since I'm a Quaker pacifist and the only arms I have are the two I was born with.
But back to those summer evenings, which are proof God loves us and wants us to be happy. My wife and I spend ours in one of two places — in the screen house our son Spencer built us when he was 18 and wanted to prove millennials had their uses, and on our 1974 Triumph Bonne­ville motorcycle thumping through the countryside to the Dairy Bar in Lizton. The Dairy Bar and I go way back, some 50 years, when my parents would take us there to celebrate some modest achievement — a raise in pay, perhaps, or a fresh change of bedsheets — any excuse at all for Dad to yell out, "Let's go to the Dairy Bar!"
Hursel's pasture is still the prettiest place in Hendricks County, like something Monet would paint.
We would drive north on Road 0, past the horse-head tree at Hursel Disney's farm. Trimmed by the electric company to avoid the power lines, the tree resembled a horse's head. Dad would stop the car for us to marvel. "Would you look at that," he'd say. "They couldn't have made a more perfect horse's head if they had tried." This was back before cable television, and we were easily impressed.
These many years later, on a summer evening, my wife and I roll past Hursel's farm (he's still at it) and pause to admire his cows feeding in the grove of oak trees slanting down toward the creek. The horse-head tree is gone, but Hursel's pasture is still the prettiest place in Hendricks County, like something Monet would paint. It would be sufficient reward for our efforts all on its own, so the ice cream is a bonus.
I order chocolate, my wife butter pecan. We sit at the picnic table behind the Dairy Bar, underneath the trees, and watch the traffic on Highway 39, which gives us an urge to travel, so we return home the long way around, through North Salem, then past Pruet's house, the highest point in the county.
On the Fourth of July, we pull off the road beside Pruet's; the fireworks from four towns are visible here. With daylight saving time, the sun doesn't set until 9:18, but it takes longer for the sky to lose its glow, so we sit on the grass, impatient for the dazzled glory, and we are children again, awed by this great land.
Philip Gulley is a Quaker pastor and author of 22 books, including the Harmony and Hope series featuring Sam Gardner.
This article is featured in the July/August 2018 issue of The Saturday Evening Post. Subscribe to the magazine for more art, inspiring stories, fiction, humor, and features from our archives.
Goodbye "Spring Ahead, Fall Back?"
I like the fact that it gets dark really early now. I find the months that it stays light and warm until 8:30 p.m. depressing. Does that make me weird? Maybe I'm weird.
Apparently there are residents of my state of Massachusetts who hold the opposite view. They want to get rid of Daylight Saving Time for good. A state commission wants to have Massachusetts join the Atlantic time zone, which means the state would be an hour ahead of the Eastern time zone. Farmers say this would help them, but at the same time, it would mess up things like shopping and TV-show watching. Also, it would be weird if not impossible for Massachusetts to do it alone, with the other New England states and New York staying on Eastern time.
One of the other reasons the commission wants to change the time is to attract millennials to Massachusetts, and supposedly millennials hate the dark and cold weather.
Yes, that reason is exactly as stupid as it sounds.
Rockwell Paintings Can Be Sold After All
A judge has ruled that a museum can sell iconic Norman Rockwell paintings, against the wishes of Rockwell's family.
Rockwell had donated the two works, including his famous Shuffleton's Barbershop painting, to the Berkshire Museum in Pittsfield, Massachusetts. The museum says that they are having financial troubles and want to sell the two paintings to raise money. They're looking to get around $50 million.
The Rockwell family, including Rockwell's grandson Tom, say that Rockwell donated the two paintings to the museum so the public could continue to see them forever. The family sued to stop the sale, but in a 25-page decision, Judge John Agostini ruled in favor of the museum.
YOU Get an Electric Toothbrush, and YOU Get an Electric Toothbrush!
It's November, and that means Oprah Winfrey has once again chosen her Favorite Things, those must-have items for Christmas. For the past few years she has teamed up with Amazon, which helpfully provides links to each of the items Oprah puts on her list. This year, Oprah appears at Amazon in a flowing blue–and-white dress, delivering beautifully wrapped gifts with the help of her sled dogs.
The items range in price from under $50 (notepads, hand cream, and jammies) to a lot more than that (a Samsung TV in a picture frame). In between, you'll find books, dog biscuits, a pizza oven, an electric toothbrush, puzzles, even a Greenberg smoked turkey.
You'll also find something called "Smooshpants." I don't know what Smooshpants are.
If It's Sunday, It's Meet the Press
Meet the Press is the longest-running TV show in history, having debuted on November 6, 1947 (CBS Evening News is second, having started six months later). NBC has set up a special web page that includes a history of the show as well as several clips from its most important interviews. The show's first moderator was a pioneering woman named Martha Rountree, and one of the early panelists was Edgar Allen Poe.
No, not that Edgar Allan Poe, this Edgar Allen Poe. The show's not that old.
The Return of Harold the Baseball Player
Something else celebrating 70 years is the classic Christmas film Miracle on 34th Street, which just so happens to be my second-favorite film of all time, after It's a Wonderful Life. Miracle is set at Macy's department store and a major part of the plot revolves around the Macy's Thanksgiving Day Parade. One of the parade balloons seen in the film, Harold the Baseball Player, is making a comeback in this year's parade. To honor his appearance in the film, Harold is being repainted black and white so he looks like he did in the black–and-white film.
You can watch the parade on NBC Thanksgiving morning (November 23) at 9 a.m. To really celebrate the 70th anniversary of Miracle on 34th Street and Harold, you should turn off the color on your television.
RIP John Hillerman
John Hillerman is probably best known for his role as Jonathan Higgins, the ex–British military man who took care of the Robin Masters estate on Magnum, P.I. Hillerman also had regular roles on Valerie, One Day at a Time, and The Betty White Show and appeared in movies like Blazing Saddles, The Last Picture Show, Chinatown, and Paper Moon. He died yesterday at the age of 84.
And no, for the last time, there's no way Higgins could really be Robin Masters.
This Week in History
Will Rogers Born (November 4, 1879)
The death of the American humorist, in a 1935 plane crash in Alaska, paved the way for another writer to take over his weekly syndicated column, even if she didn't particularly like to write.
"You Won't Have Nixon to Kick Around" Speech (November 7, 1962)
This was supposedly Richard Nixon's last press conference. He was angry at the media after losing the 1962 California gubernatorial race to Pat Brown. But if you recall, we did indeed hear from Nixon again.
This Week in Saturday Evening Post History: Cafeteria Dieter (November 10, 1956)
Sometimes I like to look at a Post cover without knowing the title, to see if I can figure out what the cover is supposed to be about. I knew the title of this Constantin Alájalov cover, but if I hadn't, I could have guessed "Nosy Lady" or "Gossip Girls" or maybe "Older Lady Wishes She Could Eat Like All of These Younger Girls, Oh My God There's Even Dessert on the Chair." That last one isn't far off from the actual title.
Veterans Day
The day is officially tomorrow, November 11, but because that's a Saturday, it is observed nationally today (if Veterans Day falls on a Sunday, it is observed on Monday). Here's a quick history of the day, and here's a piece by Post Archive Director Jeff Nilsson on America's early efforts to honor our veterans.
Monday Is National Indian Pudding Day
This is a New England favorite I don't think I've had in three decades. It's comfort food in a bowl, with its warm molasses, brown sugar, and cinnamon. Here's a classic recipe from Yankee magazine, another New England favorite. Takes about two hours or so.
It's often served with vanilla ice cream or whipped cream, but you can probably skip that if you're a dieter, cafeteria or otherwise.
Next Week's Holidays and Events
National Clean Out Your Refrigerator Day (November 15)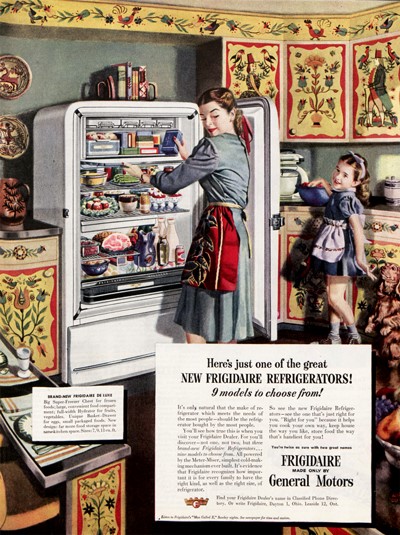 I truly hope that you don't clean out your refrigerator only once a year, but if that's the case, the week before Thanksgiving is probably a good time to do it.
National Fast Food Day (November 16)
I know several people who celebrate National Fast Food Day every day. They call it "breakfast" or "lunch."
This weekend, as we set our clocks back to Daylight Standard Time, many of us may ask ourselves, "Why, exactly, do we do this?"
Or, "Who decides when we change our clocks?"
Or, "Why is it called 'Standard Time' when it's only in effect for four months out of twelve?"
The official reason for setting clocks back one hour is to save energy. By moving our daily activity toward the hours of maximum sunlight, we use less energy for lighting. Or so the argument goes. But one study has found energy savings are far lower than expected. And another found energy consumption actually increased with Daylight Saving Time.
Despite the questionable benefits of Daylight Saving Time (DST), America seems resigned to disrupting its daily schedule twice a year.
Certainly Congress appears to like the idea. Since making DST a permanent, nationwide standard in 1966, legislators have steadily expanded its yearly length from 27 weeks to 34 weeks.
Given Congress' enthusiasm for fiddling with the clock, it's surprising that legislators haven't tried reforming the calendar. Congress has already reassigned two presidential birthdays to a more convenient time. Perhaps they might want to consider bringing order to our 263-year-old Gregorian calendar with the 13-month calendar.
At present, our year is divided into irregular months or 30, 31, and 28 days. In contrast, the international fixed calendar would neatly divide the year into 13 months, all beginning on a Sunday and ending on a Saturday, and all having 28 days. The extra month, called Sol, would be sandwiched between June and July. The only variations would be December 29, a holiday at the end of the year called not, as logic would have it, Sunday, but instead Year Day and a June 29, known as Leap Day, every four years.
Back in the 1920s, the idea drew the support of George Eastman, founder of the Eastman Kodak Company. Having made a fortune in the early photographic industry, Eastman was hardly an impractical dreamer. He strongly supported the 13-month calendar and believed, as he wrote in a 1928 Post article, it would soon become the international standard "because the world moves inevitably toward the practical."
The reformed calendar had several benefits, he claimed:
It would standardize the schedules for debt and interest payments.
It would let business owners accurately compare monthly revenues between years.
Scheduling employees would be easier with the same number of work days and weekends in each month.
Holidays could be moved to Mondays so that workers could enjoy two-day weekends.
This last benefit shows how dated the idea is. Most employees in 1928 worked six-day weeks. The 40-hour workweek only became a standard practice with the passage of the Fair Labor Standards Act of 1938.
Technology has achieved some of the other benefits. Computers enable businesses to set schedules and manipulate data between months of uneven length.
The 13-month calendar was part of a trend toward efficiency that arose in the 1910s, the same trend that brought standardized time to the country. But 20th-century Americans didn't want too much efficiency. They balked at losing variety and spontaneity. Which is probably why they never embraced the highly uniform 13-month calendar. Among other things, it would set their birthday to the same day of the week every year. It was, perhaps, too predictable. We seem to like some variation in out time keeping.
Which, perhaps, is why we willingly change our clocks twice every year.
In 2006, the governor of Indiana, Mitch Daniels, switched our state to daylight saving time, which caused everyone to faint dead away. More than a few Hoosiers predicted the end of the world, which hasn't happened yet, but we are patient, so we are willing to wait.
Spring forward, fall back. We'll move our clocks an hour forward on March 9 at 2a.m., though I will probably hurry things along and move our clocks forward just before I go to bed. This is no small undertaking. We have 13 house clocks, four car clocks, four wristwatches, a stove clock, a microwave clock, a garage clock, and a clock on my motorcycle. Since I only change my car clocks twice a year, I have to look up how to do it each time. Daniels is no longer governor, so he presumably has to change his own clocks now that he doesn't have a butler to do it for him. I find it deeply satisfying when politicians have to live under the same burdens they place on us. I bet two days a year, Daniels rues the day he fiddled with our time.
Despite my twice-yearly struggle, I've become a fan of daylight saving time. In the fall I get an hour's extra sleep the day we change clocks, and then there is a stretch of summer days when the sun doesn't set until well after 9p.m. The parents of small children hate daylight saving time because it's impossible to get a kid to bed when it's still light outside, and then they're up at midnight when the sun rises. The owners of drive-in theaters don't like it either. By the time it's dark enough to show the movies, most people are in bed. It's rumored Arizona rejected daylight saving time because its senate majority leader in 1967 owned a chain of drive-in theaters, though I'm sure that had nothing to do with his decision.
Since I'm a fan of daylight saving time, I was surprised when it repaid my appreciation by giving me cancer. Basal cell carcinoma, to be precise, which is caused by too much sun. It doesn't take a genius to see the connection. For 45 years, I breezed along, healthy as a horse, never sick a day in my life, but then we went on daylight saving time and the next thing you know I had to have a chunk of my right ear lopped off. At this rate, I won't have any body parts left by the time I'm 60.
No matter the sleight-of-hand we perform with clocks, we've been unable to achieve the one thing most of us want, which is more time. When you think how long the 24-hour day has gone without a promotion, it doesn't seem unreasonable to bump it up to 26 hours. In fact, it's way overdue. That would give us one extra month a year. I would like my extra month in the summer, please, right between June and July.
Keeping alive the tradition of naming months after gods, emperors, and obscure foreign words, I would name the extra month Philip, which in Greek means "lover of horses." Horses have done a lot for us, and it's time we named a month after them. It just occurred to me that is my name, but I assure you that had nothing to do with my choice.
New York City adopted daylight saving time in 1918, 88 years before Indiana. Why is it things always start on the coasts and take forever to reach the Midwest? Electrical power began in New York in 1892. Not even our storms had electricity then. It was the same thing with hot dogs. People in New York City were enjoying them in the 1870s, but I didn't even get to taste one until the 1960s.
They now make household clocks that are linked to the cesium fountain clock at the National Institute of Standards and Technology facility in Boulder, Colorado. The clocks automatically adjust to daylight saving time. The cesium fountain clock measures time by the vibration of a cesium atom and is accurate to one second every 100 million years. We don't even have atoms in Indiana, but when we finally get them, I'm going to buy a clock I won't have to adjust twice a year.