We're celebrating dads and everything they teach us.
This father and daughter duo was painted by the Post's most famous artist, Norman Rockwell. With their matching strides, these two are ready for their Spring walk.
This 1933 cover was done by Post artist Douglas Crockwell. If the name didn't confuse readers, this cover certainly did. Many people thought it was a Rockwell because of its close attention to detail, like the mother's patterned dress.
This cover was painted by Eugene Iverd. Iverd typically painted children or boys at play, like this father and son ready to go canoeing. He also painted landscapes, which he signed with his birth name, George Erickson.
These father and son sailors are the subjects of Charles Dye's only cover for the Saturday Evening Post.
These two ranchers fit in perfectly with Fred Ludekens' other Post covers. Horses were typically a major theme in his cover art, as well as people hard at work.
"That your baby you're drawing?" a spectator asked artist Constantin Alajalov. "Yes," said Alajalov, in a nice mixture of pride and modesty. He sketched another. "That one, too?" the onlooker asked in surprise. "Yes," said Alajalov, and sketched in a third. The spectator wouldn't ask about that one, and when the artist began sketching the fourth, the onlooker left.
Amos Sewell has set this theme for his first Post cover at the Shelter, a refuge for homeless dogs conducted in Jamaica. Long Island, by the S.P.C.A. After Sewell had finished sketching and photographing detailshe found himself thinking awfully hard about one particular dog in the "for-adoption" pen. But he resolutely pulled himself together and went back home alone-to the four Sewell cats.
Sewell's theory about this pleasant scene is that Shorty was adopted, not purchased, his previous home probably having been one of the SPCA's shelters for homeless dogs. Shorty will hereafter have two homes, the big house where his favorite human beings live, and his own house, where he can retire when he wishes to be quite alone for unhindered rest or meditation.
While dad bares his lily-white flesh, little does he dream that presently a sun shower will invigorate him.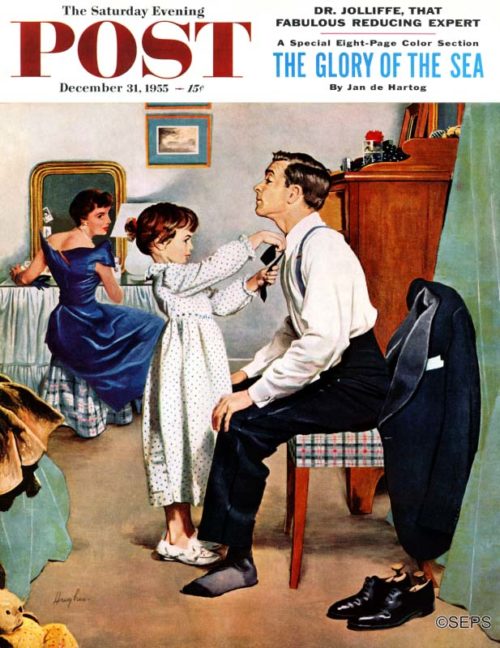 George Hughes painted this pre-New-Year party scene, where even the little one can participate in the celebration.
Long before the Great Pumpkin, Scream Queens, or Marvel Universe costumes, The Saturday Evening Post cover artists were entertaining Americans with the spooky, ghoulish, and adorable tricks and treats of Halloween.
Witches' Night Out—Eugene Iverd
Duck and cover, trick-or-treaters. This coven flies with an arsenal of bats and jack-o'-lantern-bearing ghouls.
Lighting the Pumpkin—Eugene Iverd
This classic cover captures the joy stemming from the first pumpkin lighting. Our only concern? The flammability of his costume.
Witch's Mask—Charles Kaiser
"Boo!" No one would ever guess there's a curly-haired, doe-eyed girl behind the mask.
Witches' Night Out—J.C. Leyendecker
No need to fear this warty witch—looks like the chilly October air may put an end to her Halloween plans.
Jester with Pumpkin—E.M. Jackson
A jack-o'-lantern fit for a king—served only on the finest silver platter, of course.
Pumpkin in Wheelbarrow—J.C. Leyendecker
Bringing home the biggest pumpkin seems like a good idea, but the work of slugging it home might prove too much for this orange-cheeked young man.
Trick-or-Treat—Ellen Pyle
The young lady on this Ellen Pyle cover can't help but wonder why these two are always clownin' around.
Tricking Trick-or-Treat—Amos Sewell
There's always one neighbor who emphasizes the
trick
in trick-or-treating.
Trick-or-Treating in the Burbs—John Falter
Halloween lesson no. 1: A bathrobe, baggy sport coat, or pillowcase is suitable costume wear when coupled with a homemade mask.
The artist born George Melvin Erickson on January 31, 1883, in St. Paul Minnesota to parents John and Matilda Erickson, painted Post covers under the "brush" name Eugene Iverd.
The story goes that George Erickson told his brother, Carl, that he was going to become a famous artist one day, and when this happened he would make the name Eugene Iverd famous. Iverd was Carl's middle name, which Carl disliked. And to make his brother feel better, George would take Carl's middle name and add it to another friend's name, Eugene — another unpopular name according to Carl. George would put them together to create his new alter-ego, Eugene Iverd.
He signed all of his commissioned artwork Eugene Iverd as a kind of pen (or brush) name. But there are several landscape paintings he signed with his own name, George Ericson — he often left out the "k" because he liked the look of that spelling better.
Covers by Eugene Iverd
Purchase prints of Eugene Iverd's work at Art.com.

Unlike most prolific magazine illustrators of his time, George Erickson did not live on the East Coast. He grew up in Minnesota, and at an early age he began to show signs of artistic talent. Although not much of an academic, his art could be found on everything from kindling to hymnals.
His mother supported him, but his father felt that art was a frivolous pursuit that would not take him far. George and his brother came up with creative jobs to support his schooling, such as setting up a concession outside of the local movie theatre. This provided him with the capital to complete his art training.
He enlisted in the Army during World War II, later working at Walter Reed Hospital doing art therapy with shell-shocked veterans. After his war service, George married Lillian Remund and moved to Erie, Pennsylvania, where they built their house which included an art studio.
He was a man of immense personal charm and enormous artistic talent and productivity. In 1926, he submitted his first picture to The Saturday Evening Post. The managing editor paid him a personal visit, telling him that Norman Rockwell was growing older and the magazine was in need of new blood. Iverd submitted four pieces and two were immediately accepted. His first artwork was published on March 13, 1926, a young boy daydreaming while playing the accordion. This began his 10-year run as an artist for The Saturday Evening Post. According to his daughter Jean Ericson Sakumura, he produced 55 magazine covers, some 60 advertisements, 15 published lithographs, 25 story illustrations, and hundreds of portraits or landscapes.
George Erickson became one of the best-known painter/illustrators in the country during the 1920s. Campbell's Soup Company, Monarch Foods, and The Saturday Evening Post were among his high-profile clients.
His sudden death from pneumonia at the age of 43 was a tragedy. He left his widow with three small children in the height of the Depression.
Baseball Fight – James Williamson


We've shown you baseball covers before, but not one as dignified and touching as this one, which depicts a baseball team standing at attention for the national anthem. Francis Scott Key would be proud. At least until he noticed that this is a fold-out cover (see below).
Baseball Fight (PART 2) – James Williamson


Well, as the editors pointed out, Francis Scott Key did say, "Conquer we must, when our cause it is just." However, I suspect Key wasn't thinking of a free-for-all over a questionable call in a baseball game. Artist James Williamson did eight Post covers in the late 1950s and early '60s. Or is that eight-and-a-half?
Watching Baseball Through a Fence – Worth Brehm


This rare 1908 cover shows another sort of baseball free-for-all. Honestly, they should put more knotholes in fences—a guy can barely squeeze in for a look-see. This was by artist Worth Brehm.
Knothole Baseball – Norman Rockwell


Fifty years later, Norman Rockwell shows us the view from the knothole. Most knotholes are nature made, but sometimes a trusty pocketknife or stone would help nature along when no one was looking. Unless some rat caretaker covered it up by nailing a piece of tin over the hole, you had a great viewing spot. Ever realistic, Rockwell's wooden planks are so true to life, you can almost smell the wood. And ever playful, he "carved" his signature into the fence.
Boy's Baseball Team – Eugene Iverd


A boy's baseball team, 1926. We've shown great covers of boys by Post artist Eugene Iverd, and this one is a gem. The artist captures every boy's character, and we see some of the same faces over and over again in covers showing boys rafting or throwing snowballs or whatever groups of lads do. (Search "Art and Literature" for Eugene Iverd for some beautiful covers of kids.)
Fly Ball – E.M. Jackson


It's a high fly ball and it's being caught by… Gramps! This 1923 cover is by E.M. Jackson, one of several Post artists often mistaken for Rockwell. Oh, and guys, love the straw boater hats!
Two Boys Playing Baseball – George Brehm


Seriously, so many baseball covers, so little time. But here's another rare one for you from a 1924 Country Gentleman issue (CG was a sister publication of the Post's). These two farm boys spoiling for a game look completely natural. As an interesting aside, this issue featured "an interview with President Coolidge." Reprints of Country Gentleman and Saturday Evening Post covers are available at curtispublishing.com. Comment on your favorite below!
Artist Eugene Iverd (1893-1936) came to light in the golden age of illustration that embraced the likes of J.C. Leyendecker and Norman Rockwell. He mostly painted children, and his Saturday Evening Post covers are a treat to be savored.
Daydreaming accordionist – March 13, 1926
In 1926 a young Eugene Iverd wrote an ecstatic letter to his mother. "I can't wait another moment. I must tell you the good news." He had sent 4 paintings to The Saturday Evening Post and they were interested! Mr. Martin, a managing editor, even visited the artist personally. This daydreaming young man serenading his movie idols was the first Iverd Post cover.
Boy Botanist – August 27, 1932 – Eugene Iverd
Letter to Mom, continued: "P.S. Oh! Yes! I must tell you this. (Mr. Martin) said Chief Editor Mr. Lorimer said, 'Who is this man Iverd? Why haven't we seen some of his work before?'" This beautiful 1932 cover with wonderful colors is a prime example of what Post editors discovered in this artist. This budding entomologist is collecting, studying and noting every find. In his short life (he died at age 43), Iverd did numerous magazine covers, 29 of them for the Post. The one below has similar pastel tones.
Boy and Dog in Nature – June 11, 1932 – Eugene Iverd
These two covers would go beautifully together, framed and hung in a special place. This one has a timeless Rockwellian feel. Growing up in Waseca, Minnesota, Iverd "showed incredibly early talent and drew constantly and on anything," his granddaughter, Lyn Farquhar, told us in a 2001 e-mail. "He drew many pictures on the blank pages of hymnals n the Lutheran Church attended by the family. Many of these later became treasured keepsakes by town citizens. His artistry was supported by his mother but frowned upon by his father."
Snow Shoveler – January, 3 1931- Eugene Iverd
An industrious young man (and little furry helper) is ringing doorbells to turn a snowfall into a financial opportunity. It's from 1931, but it could be a drawing of last winter. Some things never change.
Lighting the Pumpkin – November 3, 1934 – Eugene Iverd
1934 was a pivotal year for the Great Depression. Unemployment was still high, but we seemed to be turning a corner. FDR was the American president and the political rumblings in Europe were much scarier than a creepy jack-o-lantern. This colorful scene of two trick-or-treaters is a Halloween favorite. I love the use of color against the background of dark houses with twinkling lights.
Children on swing – June 22, 1935 – Eugene Iverd
Iverd was an art teacher in Erie, Pennsylvania, so he knew something about children. This fun cover from 1935 was one of his last. Sadly, he died in 1936 of pneumonia. "Antibiotics, which could easily have saved him," wrote his granddaughter, "were not available until the following year." He was only able to spend three years as a full-time artist, "yet he published over 60 magazine covers, and over 150 advertisements, story illustrations, calendars, lithographs," wrote Ms. Farquhar. "His productivity still astounds me."
It isn't just rough this winter! From dodging a snowy ambush to shoveling sidewalks, the white stuff is a challenge as seen The Saturday Evening Post covers as far back at 1912.
Snowy Ambush – John Falter
Having a hard day at the office isn't bad enough. The man in artist John Falter's January 1959 cover seems to be entering a sort of demilitarized zone. The troops are entrenched (see the little heads behind the snow banks?) and ready to fire. The stash of snowballs shows they have enough ammo to last awhile. You have to wonder how the man gets out of this one.
Snowball Fight – J.F. Kernan
Never mind the neighborhood kids – watch out for the old guys! I love the ornery gleam in grandpa's eyes as he hones in on his target. This cover is from 1930 by artist J.F. Kernan.
Plowed-Over Driveway – Earl Mayen
Okay, stop us if you've heard this before: a man arduously shovels his driveway, then along comes a snowplow… On artist Earl Mayan's December 1954 cover, just such a scene ensues as the motorist attempts to back out, and is he steamed! If only some of that steam could melt snow…
Boy Shoveling Snow – Charles A MacLellen
It's hard enough to shovel a sidewalk without dodging snowballs. In this cover of January 1912, the boy is probably debating dropping the shovel and firing back. Give a hard-working boy a break!
Snow Shoveler Ringing Doorbell – Eugene Iverd
An enterprising young man (and dog) is ringing doorbells on artist Eugene Iverd's January 1931 cover. The snowfall seems to have brought about a budding business enterprise. If you know someone looking for prints of boys doing all their boy things, look up artist Eugene Iverd at curtispublishing.com – great covers!
Shoveling Floral Shop Sidewalk –John Falter
The weather outside is frightful, but inside the flower shop it is spring! Artist John Falter did a beautiful painting of contrasts for the February 28, 1948 cover. Inside are the pinks, yellows and reds of blossoms; outside is dirty old New York snow. The poor policeman on the beat looks miserably frozen, but maybe the shop window is to give us hope. The snow can't last forever, right?
Saturday Evening Post covers through the decades have creeped us out with witches, goblins, and even a scary neighbor or two. They're all in good fun, but you might want to keep the lights on as you observe the talents of some of our favorites.
A parade of trick-or-treaters is walking by on artist John Falter's 1958 cover with even Mom wearing a scary mask. Or, as the Post editors put it at the time: "Mrs. Oldwitch and five little creeps are out on a shakedown cruise." Editors are nice people. Really.
There's one of these guys in every neighborhood: Artist Amos Sewell shows a homeowner who decided to don a creepy mask to freak out the neighborhood kiddies. (Maybe he's an editor.) The flashlight focused on the mask provides early special effects, and it works on the neighborhood goblins who flee in terror. We secretly hope the old guy gets his windows soaped. But on the other hand, being scary is what Halloween is all about.
Talk about scary! Artist Edgar Franklin Wittmack (Halloween 1926) shows us a dapper young man on his way to a Halloween party. But he's terrified of a very large, very sinister shadow, and we don't blame him! Just what is that creepy shadow, anyway? Perhaps it's the deliciously creepy witch from famous cover artist J.C. Lyendecker's October 1923 cover. But wait—there are more witches! It's Witches Night Out on artist Eugene Iverd's 1927 cover—they're flying everywhere! Trick-or-treaters: beware!