Fact Check: Rumor Wins
It seems appropriate that a dog named Rumor won Best in Show at this year's Westminster Kennel Club Dog Show (what, there were no dogs entered in the contest named Fake News?). The German Shepherd was by far the most popular dog at the show, being called "magnificent" by judge Thomas Bradley. She almost won last year but lost to a Shorthaired Pointer named California Journey.
I always get a kick out of how the dog owners/handlers parade the dogs around during these contests. Jimmy Kimmel Live shows us what it would look like if the dogs were magically erased:
I had a German Shepherd/Collie mix when I was a kid. I loved her dearly, even if she did bite my ankles all the time.
Give the Gift of Pepperoni
Never mind nice china or table linens or furniture, what newlyweds really want is a medium deep-dish pizza with extra cheese and a liter of Diet Coke.
Domino's Pizza has started a wedding registry. You can give $25 for the couple to use on their wedding night, $25 for something called a Post-Honeymoon Adjustment to Real Life, and even $60 for bachelor and bachelorette parties. Unfortunately, if you wanted a diamond engagement ring in the shape of a slice of pizza, you're a little late. That contest has already ended.
Your move, Burger King. May I suggest you ordain that creepy king and have him perform weddings at various locations around the country?
RIP Al Jarreau, Bobby Freeman, and Bruce Lansbury
Two singers passed away this week:
Jazz singer Al Jarreau performed for 50 years and earned seven Grammy Awards. He sang such songs as "We're In This Love Together," "We Got By," "Breakin' Away," and "After All." Fans of the '80s TV series Moonlighting will recognize his voice; he sang the theme song.
Jarreau died Sunday at the age of 76.
The name Bobby Freeman might not be known to you, but one of the songs he sang certainly will be.
His song "Do You Want to Dance" was later recorded by everyone from The Beach Boys and Bette Midler to John Lennon and The Ramones.
Freeman passed away on January 23 at the age of 76, though the death is only now being reported.
We also lost Bruce Lansbury, brother of Angela Lansbury and a producer/writer on her hit show Murder, She Wrote. He was also a producer on The Wild Wild West, Mission: Impossible, Knight Rider, Wonder Woman, Buck Rogers in the 25th Century, and several other shows and TV movies. He served as VP of Creative Affairs for Paramount TV, where he oversaw shows like The Odd Couple, The Brady Bunch, and Happy Days. He also created The Magician, the '70s CBS series that I really loved as a kid.
Lansbury died Monday at the age of 87.
What's on Second?
There's an old saying — usually attributed to football coach Barry Switzer — about how some people are born on third base and they go through life thinking they hit a triple. Now Major League Baseball is trying something like that.
In a move that MLB is calling a "testing" but baseball fans will probably call "stupid," at the start of extra innings, a player will automatically be placed on second base. Right now it will be tested only in the minor leagues, and it might be a few years before it takes effect in the majors. The idea is getting a thumbs-up from many baseball executives, including Joe Torre, the former New York Yankees manager and the MLB's current CBO (Chief Baseball Officer, seriously). Say it ain't so, Joe!
This is another ill-advised attempt to "speed up" and "improve" baseball. As I mentioned a while back when MLB wanted to make other changes to the game, baseball doesn't need to be sped up. It's a game for warm summer days and nights, where you sit back and relax and drink cold beverages for a few hours. If I want speed, I'll watch basketball or hockey.
Nudity Is Back!
In an earlier column, I told you that Playboy magazine was getting rid of nude women in its print magazine as of last March, which at the time I said was like McDonald's deciding to stop selling burgers. But just a year later, they've changed their minds. Starting with the March/April issue, the magazine will once again feature females sans clothing. Cooper Hefner, CEO of the company and Hugh Hefner's son, says that they're also bringing back the Party Jokes and the Playboy Philosophy pages but getting rid of the famous cover tagline "Entertainment for Men." They're dropping that because "as gender roles continue to evolve in society, so will we." No, I don't have any idea what that means either.
The issue's cover will say "Naked Is Normal," and while that's a catchy headline, I'd still put on clothes when you go to Domino's if I were you.
This Week in History
Thomas Edison Born (February 11, 1847)
Here's a terrific piece by Saturday Evening Post Archive Director Jeff Nilsson, "Edison and the Pirates: The Inventor's Solution to Copyright Theft."
The St. Valentine's Day Massacre (February 14, 1929)
Seven members of Chicago's North Side Irish gang were gunned down by members of Al Capone's gang.
This Week in Saturday Evening Post History: Billboard Painters in Winter (Feb. 14, 1948)
It has reached that point in the winter when you're starting to think about the spring. You're sick of the icy steps and the snowbanks that have turned black, and you want warmth and color. That's probably what Stevan Dohanos was thinking when he painted this cover for the February 14, 1948, issue of The Saturday Evening Post.
By the way, Dohanos was a fantastic artist. Here's more about his life and work, and here's a gallery of the covers he did for us.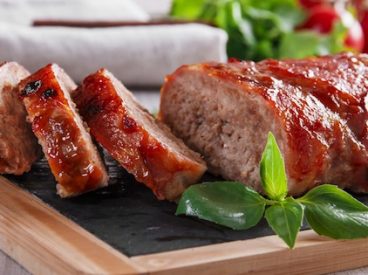 Comfort Food
Vacations and daydreaming aside, we do have a while left in winter, so we need some food to warm our bones and souls. There's a new recipe book out with a couple of interesting twists: Not only are all 50 recipes in the book for meatloaf, they're provided by some well-known figures from politics, journalism, and cooking, including Mario Batali, Speaker Paul Ryan, Senator Chuck Schumer, Congresswoman Nancy Pelosi, and chef Alex Guarnaschelli's mom. It's called A Meatloaf in Every Oven, and it's from Frank Bruni and Jennifer Steinhauer.
Wait, did I say 50? Make that 51 with this Crock Pot Turkey Meatloaf recipe.
Next Week's Holidays and Events
Presidents' Day (February 20)
George Washington's birthday is on the 22nd, but we celebrate it on the 20th, the same day we celebrate the lives of all our presidents, even though this day started out as a celebration of just Washington and Abraham Lincoln, whose birthday is actually on February 12. Got that?
Love Your Pet Day (February 20)​
Sure, they can call this Love Your Pet Day, but we all know that they're talking mostly about dogs.