Christmas is a season outside of time. Each holiday is new and fresh while at the same time connecting u to every other Christmas we've ever known. So each holiday season brings with it not just joyful moments but a generous helping of the past.
Christmas planning can be a joy, but it often veers towards comedy. In the hands of Post cover artists, the experience is presented in equal parts delight, misery, and silliness.
If the windup to Christmas is hectic and exhausting, John Falter's cover reminds us what an amazing spectacle the holiday is to children. In their cautious, pajama'd descent down the staircase at first light, one can almost feel their joy that, after weeks of longing and anticipation, the magical day has finally arrived.
This article is featured in the November/December 2019 issue of The Saturday Evening Post. Subscribe to the magazine for more art, inspiring stories, fiction, humor, and features from our archives.
Featured image and artwork: SEPS.
Pride of country
Holidays were always a source of inspiration for Post illustrators, and no day could be more inspiring than the glorious Fourth of July. Here, a variety of Post illustrators give their tributes to the day, the country, and the American people.
Ka-Boom!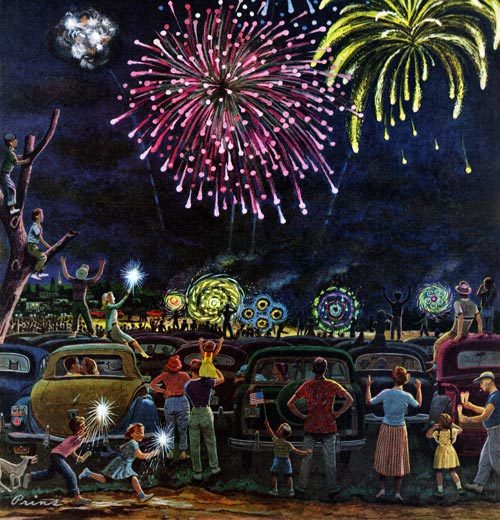 Rockets, thunder, and explosions of light were a sign of rejoicing in 1953 America. While such a display would inspire terror in war-torn countries of this time, Post editors noted that for Americans, "the roaring fire in the sky is nothing to be afraid of; it is beautiful."
John Falter, famous for his portrayals of small-town America, captures the atmosphere of the Fourth in Perkasie, Pennsylvania. To GIs still in the Pacific in 1945, the image of this humble celebration must have been a reminder of what they were fighting for.
J.C. Leyendecker has Uncle Sam somnolently posed over a lit firecracker. Was the artist suggesting that the Roaring '20s would soon wake Sam up?
Light of Liberty
In an intriguing interplay between light and shadow, artist Katherine Wireman evokes the delight of a just-lit holiday lantern.
Stevan Dohanos tried to fit the entire Delaware Academy Central School Band on the bandshell in Delhi, New York. But the small stage wouldn't permit it, so he dedicated this cover to the full third of the band members who had to sit this one out.
Leyendecker's Fourth of July cover for 1934 presents an electric figure whose torch shines brightly even at the height of the Great Depression.
This article is featured in the July/August 2018 issue of The Saturday Evening Post. Subscribe to the magazine for more art, inspiring stories, fiction, humor, and features from our archives.
The little girl started to preen.
She wanted by all to be seen.
Said the boy, who was skittish,
"You are not even British
And therefore could never be queen."
Congratulations to Elaine Person of Orlando, Florida! For her limerick describing J.C. Leyendecker's June 11, 1921, cover image, she wins $25 and our gratitude for a job well done.
If you'd like to enter the Limerick Laughs Contest for our upcoming issue, submit your limerick via our online entry form.
Here are some of our other favorites, in no particular order:
Proud Mary has just been selected
As "Queen of the May," as expected.
With her manner quite dour
And a visage so sour,
It's for sure she won't be re-elected!

—Catherine Darling, Sandy Hook, Connecticut
Pretending that she is a bride,
The girl struts with absolute pride.
Meanwhile for the groom,
There's impending doom:
When she said no kissing, she lied!

—Angie Gyetvai, Old Castle, Ontario, Canada
I'm having a very bad day
As escort to Queen of the May,
A terrible mission.
I'd rather be fishin'
Or any place far, far away.

—Gene Newman, Parsippany, New Jersey
Promenading to "Here Comes the Bride,"
The little gent's role wounds his pride.
But to carry her train
Seems a much lesser pain
Than to be the groom trapped by her side.

—Marcia Gunnett Woodard, Swayzee, Indiana
I might as well boldly confess:
I've a frog here to slip down her dress!
Will she be far too proud
To denounce me aloud?
Probably not is my guess.

—Karen Cox, Readyville, Tennessee
In the gown, she will leap off the page.
With her rouge, she disguises her age.
It's a shoot for an ad,
And her brother is mad
Since his pay is the minimum wage.

—Ryan Tilley, Altamonte Springs, Florida
The circle of roses defined her,
While the flowers and flounces remind her:
Though she's serving as Queen
And her realm is serene,
She's ignoring that young lad behind her.

—John & Elsa Morrow, Oakdale, Minnesota
Little "bride," with her cheeks blushing red,
Announced that she's soon to be wed.
Little "groom" just behind her
Is quick to remind her
He'd rather keep dating instead.

—Gay Peterson, Loda, Illinois
He's just a most unhappy fella,
There toting his sister's umbrella.
While she reigns in glee,
It's obvious he
Sings misery's tune a cappella.

—Carolyn Banks, Martinsburg, West Virginia
Read all of art critic David Apatoff's columns here.
The illustrations that appeared in The Saturday Evening Post were intended to last until the next issue came out. The Post was a "periodical," designed only to fill a period of time until it was updated by a newer issue containing more current information, fashion trends, and merchandise for sale.
Generations of illustrators created beautiful pictures to fill the Post and other magazines, but it was always understood that they were creating temporary art; one day that thin magazine paper would turn brittle and yellow with age, and eventually crumble and return to mother nature.
It took a while for experts to recognize that illustrations had enduring value, but once Norman Rockwell's 1951 cover for the Post, "Saying Grace," sold for $46 million, even the most stubborn nay-sayers realized that this "temporary" art form was worth preserving.
Today illustration art is being rescued and conserved by experts, to take its rightful place on museum walls.
During the decades when Rockwell and other illustrators were exiled from "fine" art, thousands of drawings and paintings were saved from the trash heap by a hardy band of collectors and artists who had the courage to ignore the condescension of highbrow art critics. These collectors weren't intimidated by labels. Instead, they collected for the best possible reason: they loved the images. Their love of the pure art made them fearless, and they helped preserve the art form in private collections while the experts slowly had a change of heart.
One such collector was Andrew Sordoni III, who started out as a young boy smitten by the art in Sunday comic strips. He liked Dick Tracy and Krazy Kat and a handful of other strips that were delivered to his house in the funny papers. Fortunately, Sordoni's mother was a fashion illustrator, and she taught him to respect the craft of good drawing. For many years "craftsmanship" was a dirty word in the fine arts community, but it served as a polar star for Sordoni's collecting. Soon Sordoni began collecting unfashionable illustrators such as Maxfield Parrish. Today Parrish paintings have sold for millions of dollars.
A lifetime of collecting has come to fruition in an opening this month of a large exhibition of American illustration art at the Sordoni Art Gallery in Wilkes-Barre, Pennsylvania.
The show, which features one of the great private collections of American illustration, will run from April 7 to May 20, 2018. It was curated by Stanley I. Grand, Ph.D., a professor of art history and expert on the allegorical engravings from Giovanni Battista Ferrari's De Florum Cultura.
The Sordoni show includes 135 works of art, including a number of illustrations that were originally seen in the pages of the Post, but which now can be seen as the artist created them.
The collection reflects the personal taste of Sordoni, who collected what was once ignored as "lowbrow art." As the catalog notes, "Andrew found his own way and collected works that were considered of lesser importance at the time, but are now highly regarded both in market and aesthetic terms."
The art in the exhibit includes work by famed illustrators such as Rockwell, Parrish, and N.C. Wyeth. The substantial catalog accompanying the show is a prime example of how critical attention surrounding the field of illustration art has evolved from initial skepticism to serious study by respected academics and biographers who are devoting years and substantial critical analysis to multiple biographies.
While Rockwell was a groundbreaker in being accepted by the "fine" art community, other illustrators whose work appeared in the Post are hot on Rockwell's heels. Artists such as J.C. Leyendecker, Dean Cornwell, Bernie Fuchs, Robert Fawcett, and others all have their own coffee table art books now, and the value of their original work at auction has increased dramatically. While illustration art was once auctioned in a separate category, much of it is now commingled and sold interchangeably with traditional American "fine" art.
Other magazines are hitting the stands with their annual swimsuit issue, so we thought we'd offer our own take on it with these bathing costumes dating back to 1910.
The model for this cover illustration was likely Edna Hutt, Henry's wife and his favorite model, whom he considered the most beautiful woman in the world. Unfortunately, their union was an unhappy one, with accusations of abuse on both sides, including "use of 'strong liquors,' intimacy with other women, and cruelty."
Artist J.C. Leyendecker was well known for his illustrations of strapping, strong-jawed men, starting with the Arrow Collar Man and continuing throughout his long relationship with The Saturday Evening Post, where he illustrated more covers than any other artist, including Norman Rockwell. The model for this illustration appears to be Leyendecker's partner, Charles Beach.
John LaGatta's illustrations depicting beautiful, sultry women were considered to be some of the most desirable artworks of the 1920s, '30s, and '40s. His style was a favorite of advertisers, including Campbell's, Ivory Soap, Kellogg's, Johnson and Johnson, and—not surprisingly—Laros Lingerie and Spaulding Swimwear.
This is one of six covers that Alex Ross painted for The Saturday Evening Post. All of his covers featured beautiful women, but this beach scene is the only one that doesn't focus on a single person. Anyone who has spent time at the beach knows that a successfully completed game of cards is highly unlikely (unless the cards are made of lead).
De Mers illustrated this short story by Steve McNeil, which posed the question, "He'd quit his job to escape the pressure and confusion of city life. Should he go back now, to please a girl?" From the look on his face, you already know what the answer is.
Snyder illustrated this short story by M.G. Chute called "The Trouble with Love," where we learn than "No man liked a sloppy, forgetful date who came without a bathing cap or didn't have enough bobby pins along."
"Jimmy braced himself for the shock. She was wearing a chartreuse-and-black swimming suit. She was sleek and gently tanned and showed more curves than Warren Spahn. She put on her bathing cap and looked at Jimmy enigmatically.…Clinically, he had to admit that Jill Foley, in a bathing suit, was as tasty as ice-cold watermelon."
Wolfgang Amadeus Mozart, whose likeness is sitting on our young virtuoso's volume of finger exercises, was playing minuets on the family harpsichord at age four— but could he have done so if he had been obliged to play with flippers on both feet and a swimming pool staring him in the face? We wonder. The model used by artist George Hughes is the same youngster who appeared on our January 9, 1960, cover. His mother was standing over him on that occasion, letting him know that he had stalled long enough and that he was not to go outside until he had written a Christmas thank-you note to Uncle Vic.
Most of us have seen swimmers of this ilk before. He was the kid around the corner who spent his vacation periods counting the days until he could return to school. He was the character in your platoon who used to volunteer for guard duty. Dick Sargent's likeness is a realistic one. See that gap between the upper front teeth? Comes from gnawing on tree trunks. You can spot an eager beaver every time.
It looks like the dogs won't be quiet.
They're causing a terrible riot.
They have their own plan
For disturbing this man
Who's attempting to balance his diet.
Congratulations to Neal Levin of Bloomfield Hills, Michigan! For his limerick, Neal wins $25 and our gratitude for his witty and entertaining poem describing Begging for Turkey, J.C. Leyendecker's cover from December 2, 1933.
If you'd like to enter the Limerick Laughs Contest for our next issue of The Saturday Evening Post, submit your limerick through our online entry form.
Our readers sent us a lot of great, funny limericks. Here are some more of our favorites, in no particular order:
To the dining hall Patterson slogs,
As the ambushers nip at his clogs.
He lowers the platter
And says of the matter,
"Thanksgiving can go to the dogs."
—Jeff Foster, San Francisco, California
The plate can go sailing and shatter,
Dogs can grab all the goodies and scatter,
But it's Thanksgiving time,
And that is why I'm
Giving thanks it's not me on the platter.
—Peggy Rodebaugh, Arlington, Texas
The gargantuan turkey was trussed.
At the hounds, he was angry and fussed.
Since the butler turned blue,
His attorney will sue,
For his client was bit and concussed.
—Ryan Tilley, Altamonte Springs, Florida
Our butler avoids danger zones.
Though his life has been fraught with unknowns.
But will he be able
To get to the table
With more than a plateful of bones?
—Robert Bateman, New Carlisle, Ohio
Walking barefoot on coals? That's a breeze.
Scaling Everest? Really? Oh, please.
Just try serving feasts
With ravenous beasts
Begging treats while they nip at your knees.
—Rebekah Hoeft, Redford, Michigan
Those hounds are filled with such moxie,
They thought, "Why chase some poor, little foxy?
When here is a meal
That's quite easy to steal."
They know when opportunity knocks, see?
—Brenda Thompson, Bristol, Pennsylvania
He thought he was set for this feast
And a raise in his paycheck at least.
But because of three friends
His fantasy ends
And a migraine is all that increased.
—Chet Cutshall, Willowick, Ohio
Once the servant walks out of that door,
We should hound him and jump him galore.
If we make his tray fall,
Then it's our Butterball,
Since those humans won't eat off the floor.
—Jennifer Klein, Jericho, New York
Some worry of holiday pounds;
Others, family making their rounds.
Neither cause me to fret.
I've a more certain bet:
One is far more concerned with the hounds!
—Will Davis, Tuscaloosa, Alabama
As Laurel Thatcher Ulrich once said, "Well-behaved women seldom make history." This collection of Saturday Evening Post images is a paean to strong women making a difference.
This cover illustrated a short story called "The Noose." The cowgirl at the center of the story, Fan Blondell, "was already aware of her power, too, and walked among the rough men of her acquaintance with the step of an Amazonian queen, unafraid, unabashed."
In the short story, "The Swastika" by Robert W. Chambers, stenographer Miss Grey turns out to have deeper knowledge and more intrigue than her employer expected. J.C. Leyendecker, one of the Post's most highly regarded artists, created this Egyptian-themed cover to illustrate the story.
Artist Joe De Mers illustrated "Her Big Moment" by Lee McGiffin. In it, four accomplished women return to their college reunion. De Mers captures the sleek glamour of the 1950s.
This illustration accompanies a short story called "Petticoat Empire" by Edith Embury. In the story, Nathalie Wyman is a film producer: "She was the boss, the genius. No one ever disagreed with her — not if he wanted to keep his job."
Artist Coby Whitmore was well known for his illustrations of confident women. This woman looks like she has already picked out her 1952 model, and will be shortly driving it off the showroom floor. It comes as no surprise that Whitmore had a fascination with cars. In the early 1950s, he designed the Fitch-Whitmore Le Mans Special with racecar driver John Fitch.
Boldness comes in all shapes and sizes; sometimes it means doing what you believe even when those around you don't quite understand.
No gallery of bold women would be complete without Norman Rockwell's beloved Rosie the Riveter. The model was Mary Doyle Keefe, a 19-year-old phone operator in Arlington, Vermont. During World War II, Rosie the Riveter toured the country raising money for the war bond drive. "I was very pleased that they could make all this money for the war." Keefe said. "I am proud of this painting. It's a symbol of what the women did for the war, to do their part."
After her husband died, Ellen Pyle turned to painting to support her family. Her sister-in-law sent three of Ellen's illustrations to The Saturday Evening Post in 1922, two of which were immediately selected by The Post's famous editor, George Horace Lorimer. Over the course of the next decade-and-a-half, Pyle completed 40 covers for The Saturday Evening Post, including this archer.
The American Red Cross Motor Corps were a group of women who aided the U.S. military in transporting troops and supplies during World War I. These women did everything from running canteens and military hospitals to caring for patients of the 1918 flu pandemic.
Artist Neysa McMein was involved in the war efforts during World War I, travelling through Europe with Dorothy Parker to entertain the troops. She painted a number of wartime covers, including this pilot.
Trapeze artists, clowns, elephants… the exotic magic of the circus has long been a part of the American tradition. These colorful Saturday Evening Post illustrations capture the spirit of the Big Top.
Charles Bull painted dozens of covers featuring animals — cows and cats, owls and eagles, deer and dogs — for The Saturday Evening Post and its sister publication, Country Gentleman. This was his only cover showing animals at the circus.
Leyendecker painted six circus-themed covers for the Post, most of which featured the majestic elephant. That little black and white dog must have been Leyendecker's muse, appearing on at least 16 of his Post covers.
Our art critic, David Apatoff, notes that the original paintings that were reproduced on the cover of the Post were far larger than the magazine — sometimes four or five times larger. And they were painted with oil paint on canvas, just like fine art in the greatest museums. Often, Post cover artists had been trained in a classical fine art tradition. Leyendecker, for example, trained in Paris at the Académie Julian. For more on this particular painting, read Apatoff's article, The Hidden Talent of Post Cover Artists.
A look behind the scenes at the big top reveals the house of disciplined practice that result in a show that delights the circus-goers in the ring. The pup learns his lesson under the stern eye of the older dog, who manages a degree of dignity despite the absurdity of the costume.
These music-making "steam pianos" were often seen on riverboats and in circuses. Most had 32 whistles. The sound will be forever associated with the circus.
Leyendecker masterfully captures the tension between the muscular strength of the horse and the delicate balancing act of the rider. The horse reflects the astonishing colors of the circus around him.
Maurice Bower offers another view of circus horses and riders. Horses were a favorite subject of Bower's; he painted numerous covers featuring them pulling stagecoaches, sulkies, and firetrucks.
Stevan Dohanos showed that circuses meant palate-tickling excitement to cows too. Poster paste — a succulent mixture of flour and water, and copper sulphate to keep it from souring — seems to be the bovine equivalent of a dry martini. The two Ringling Brothers Barnum and Bailey bill posters, Bill Feigley and Bob Aikens, who consented to pose for Dohanos, kept a wary eye on horned kibitzers while covering previous circus posters with their own particular brand.
Stevan Dohanos painted the big parade down Main Street, once a standard feature of that great summer day, The Day the Circus Came to Town. "Circuses don't parade much anymore," said the artist in 1948, "but I think it's a grand old custom and I wish I could help restore it." The clowns were members of the famous Ringling Brothers-Barnum and Bailey team, with the sad-faced Emmett Kelly pretending to play the clarinet. The clowns posed for Dohanos in the back lot behind Madison Square Garden, between performances in New York.
Famed artist J. C. Leyenedecker always had a unique point of view. Who else would have dared paint a "butcher baby" for Thanksgiving? We've picked some of his most wonderful, winsome, and weird covers for your Thanksgiving enjoyment.
The U.S. had recently entered World War I. The Food Administration had just been established. Farmers were asked to increase food production and citizens tried to be mindful of their food consumption to support their soldiers in Europe. This doughboy is enjoying the efforts of the folks on the home front:  a warm holiday meal, holly included.
Leyendecker was famous for his illustrations of cherubic toddlers. In fact, one was featured on every New Year's cover of the Post between 1909 and 1943. They occasionally showed up at other times of the year, such as this malevolent moppet wielding a cleaver likely meant for the neck of some poor turkey.
Norman Rockwell considered Leyendecker his mentor, and had such admiration for him that he stopped painting Post covers when he reached 321, not wanting to break Leyendecker's record of 322.  In this Thanksgiving picture, one can see Leyendecker's influence on Rockwell, who employed many of the same techniques: a single scene that tells a rich story interwoven with humor.
This painting features many of Leyendecker's favorite themes: dogs, children, and a touch of humor. His mastery of these themes led him to many lucrative commercial commissions, including a series of advertisements featuring "Kellogg's kids" — adorable tykes cheerfully eating their breakfast. The not-so-cheerful boy might have been a model for a Kellogg kid under happier circumstances.
Leyendecker was capable of mastering the most poignant of scenes as well. This old man dreams of happy childhood memories.
Leyendecker honors the 300th anniversary of Thanksgiving by painting our progress from pilgrims to pigskin.
The prolific artist wasn't above depicting the occasional oddity in his paintings. Here we see two sweet children praying over a pie, while above them a not-exactly-stately half-plucked turkey wields knife and fork.
This homey scene shows a little boy watching his mother prepare the Thanksgiving turkey. This was one of the few Post covers from the early twentieth century that featured African-American subjects.
This cover juxtaposes the grand, feathered gobbler in the foreground with the preparations for his ultimate fate in the background. For its ungainly shape, turkeys can fly. Maybe this one escaped the axe.
These Post covers and illustrations honor the land of the free and the home of the brave. Happy Independence Day!
George Gibbs painted over 40 covers for the Post during the first decade of the 20th century. He was a competent illustrator who could depict romanticized historical scenes and subjects to the taste of editor George Horace Lorimer.
Walter H. Everett created covers for the Post during a time when war dominated the magazine. Many of his covers feature soldiers and pirates and occasionally a beautiful woman.
Guernsey Moore illustrated the first colored cover for the Saturday Evening Post. In 1900, he illustrated new lettering for the Post's masthead and in 1904 became the art editor of the magazine.
J.C. Leyendecker was only one of the four major artists from the first decade to continue illustrating Post covers after 1910. Over the course of the next decade, Leyendecker painted well over 100 covers for the magazine, including these patriotic Civil War veterans in 1913.
For several years, war influenced the covers of the Saturday Evening Post, and many were painted by J.C. Leyendecker. This 1918 cover of a colonial drummer was painted by Leyendecker despite his anti-war views, which he got to express with his famous New Year's babies.
J.C. Leyendecker experimented with a variety of subjects and attitudes, but his most noteworthy work marked and celebrated America's holidays. He painted covers for several holidays from 1910-1919 and some, like the Fourth of July and the New Year, belonged to him almost exclusively.
This 1922 cover was created by one of the Post's most well-known female artists, Ellen Pyle. Known for painting children and beautiful young women with a goal of capturing the "unaffected natural American type," Pyle's four children became models in most of her covers.
This Norman Rockwell Statue of Liberty is part of a more detailed illustration with Lady Liberty shooting from the sky like a meteor as onlookers watch from below.
John Clymer created 80 Saturday Evening Post covers from 1942-1962. He often painted patriotic scenes covering vast landscapes, making this close-up of the American flag something unique.
In 1945, Independence Hall was just across the way from the Post offices, and, more than any other structure, it is a symbol of American perseverance and love of liberty. Saalburg's painting is a view of Independence Hall looking west. The building at the left is The American Philosophical Society. The Post's offices were directly behind the trees in the left foreground.
John Falter painted more than 120 covers for the Post. He loved to illustrate Midwestern Americana, which he perfectly captures in this idealized family reunion scene. After the Post started using photographs rather that illustrations on its covers, Falter turned to portrait painting and book illustration. Many of those had a patriotic bent as well: he illustrated a special edition of Carl Sandburg's Abraham Lincoln – The Prairie Years and Houghton-Mifflin's Mark Twain series.
June means the start of wedding season. These Post covers show beautiful brides of the twentieth century.
In this painting by prolific artist J.C. Leyendecker, he shows a solemn couple having their photograph taken. Leyendecker illustrated the nuptial moments of other pairs, including Romeo and Juliet and Henry V and Catherine Valois. It appears this couple has got the "wedded" part down, if not the "bliss."
Catherine of Valois married Henry V in June of 1420 and later gave birth to Henry VI. Henry V died shortly after his son's birth, leaving the young Catherine a widow and her infant son the King of England.
The groom doesn't look too happy about this scenario. Given the line of enthusiastic groomsmen, the bride may not have enough energy for the honeymoon.
LaGatta had an uncanny knack for translating from model to canvas an appreciation and sensual perspective of the female figure. LaGatta began his artistic process by sketching the models in charcoal and pastels and then would almost always refine his interpretation into an oil painting. His subjects were sophisticated, upper-class men and women with long graceful figures and with classic clothing designs. His images  gave the impression that the models didn't have a care in the world, as in this 1939 cover of a couple running off after their wedding ceremony.
This 1940 bridal photograph was Wynn Richards' one and only cover for the Saturday Evening Post. Richards was born "Martha Kinman Wynn" before marrying Dorsey Eugene Richards, according to her biography.. She opened her own photography studio in 1919, but left the business to a friend after a social scandal that involved her taking nude portraits of a local school teacher. Richards divorced her husband and left their son with his grandmother before opening a new portrait studio a few years later. Initially signing her work "Matsy Wynn Richards," she learned that revealing her gender could hinder her career, and changed her signature to "Wynn Richards." Richard's work mostly appeared in Vogue, Harper's Bazaar, and Mademoiselle magazine.
[From the editors of the June 1, 1946 issue of the Post] Just after Constantin Alajalov finished his kid-sister painting, he set out from New York for Florida, to work on other cover assignments. The artist went by automobile, and sent back a short report on his three-day journey. The highways are full of displaced persons at the moment, sorting themselves out after the great disruption of war, and we think Alajalov's account is a thumbnail picture of America in Transition. "The first day," he wrote, "I picked up a corporal just back from Tokyo, hitch-hiking to Alabama to marry a girl there. The second day I picked up a marine hitch-hiking to Jacksonville, Florida, to get his wife. The third day I picked up a sailor who was going to Miami for any girl he could get."
[From the editors of the May 29, 1954 Post] Away go the newly-marrieds into their brave new world and thank heaven it isn't raining. John Clymer is nice about weather; on his covers it hardly ever rains. That church, says Clymer, is located in one state and the landscape in another state, and the honeymoon will take place in the state of bliss always visited on such trips.
[From the editors of the May 17, 1958 Post] Here come the bride and groom to carve the cake. Two-handed carving isn't an efficient way to dismember food, but He and She have just become One and this is the tender symbol of their unity. They probably aren't hungry; in a day or two food will become attractive, but right now they are not of this world, they are up in the clouds, in a state of bliss where folks subsist on love alone. Conversely, those youngsters have their feet on the ground and their eyes on the cake. Oh, the girls may save a few crumbs to put under their pillows to incite romantic dreaming, but the boys will put their cake where it belongs, and let's hope they don't consume enough to turn dreams into nightmares. Well, a toast to artist Ben Prins' newlyweds: bon voyage, all the way through life!
Harrison Fisher (1877 –1934) was an American illustrator. Both his father and his grandfather were artists. As you might be able to tell from this cover, Fisher was considered a successor to Charles Dana Gibson, famous for his Gibson Girls.
Oliver Kemp (1887-1934) painted 11 covers for the Post.  He made yearly trips to the Rocky Mountains and was fond of painting scenes of western America. His Post covers all depicted rugged men hunting, fishing, and canoeing, often with a pipe between their teeth.
Newell Convers Wyeth (1882 –1945), was probably best known for his illustrations of Scribner's classics, particularly Treasure Island. He spent part of his twenties out West, learning about cowboy and Native American culture.  Wyeth painted his first cover for the Post when he was only 20; he was 25 when he completed "Indian Fishing." N.C. Wyeth is the father of painter Andrew Wyeth.
J.C. Leyendecker was the most prolific cover illustrator for the Post, painting 323 covers. (Rockwell stopped at 322 out of respect for Leyendecker.) It was Leyendecker who popularized the images of a fat, jolly Santa and the New Year's baby.  While Leyendecker's depictions of men were usually handsome and strapping, many of his children appeared emaciated and sickly, and often had bodies that were disproportionately smaller than their heads.
[From the editors of the March 31, 1945 issue] Probably no Post cover has ever been more popular than Norman Rockwell's first April Fool cover. In this week's cover, Mr. Rockwell is trying to fool you again, and he probably will succeed. Watch out for the blue lobster. As a matter of fact, we don't think this one is quite fair, and we're going to tell you that there is such a thing as a blue lobster. According to Charles Mohr, of the Academy of Natural Sciences in Philadelphia, the blue lobster is a rarity, but every once in a while one of them turns up in Maine waters, and it is completely blue. John Atherton, whose covers are well known to Post readers and who is a neighbor of Mr. Rockwell's in Arlington, Vermont, once made a peculiar face while he was talking to Mr. Rockwell, and Norman remembered it and used Mr. Atherton with this particular expression as a model for this cover. There are at least fifty mistakes. See how many you can find and compare your findings with those listed on page 80.
[From the editors of the March 31, 1949 issue] On the long fishing pier at Santa Monica, California, tourists from all over the United States stand packed together like sardines while they try to catch fish. They are so grimly intent on their work or play or whatever it is that when a baited minnow smacks the water in all that silence, it makes quite a startling splash. Many of the fishermen go through their routine calmly and expertly; occasionally a greenhorn flies into a tizzy, yelps for the landing net and hauls in a dwarf flounder or something else depressing. The kids have a swell time fussing with starfish or reading a wet comic page which was wrapped around a wad of bait. Artist John Falter was non-committal about whether he caught anything—besides a Post cover.
[From the editors of the May 19, 1951 issue] Those flies driving the man and the fish crazy are a variety known to fishermen as Green Drake. We don't know what the fish call them. Just before this picture was painted, the man was calmly trying to feed the trout another variety of fly and they were calmly ignoring his hospitality. Suddenly, a countless family of Green Drake "nymphs," which previously had risen to the surface of the water to hatch, discovered that they had wings, and decided to zoom into the wild blue yonder. Mead Schaeffer's angler is trying to affix an artificial Green Drake to his line before the trout are so full of real Drakes that they sink to the bottom for a nap. Fishermen who experience such crises say that the general confusion is hard to imagine.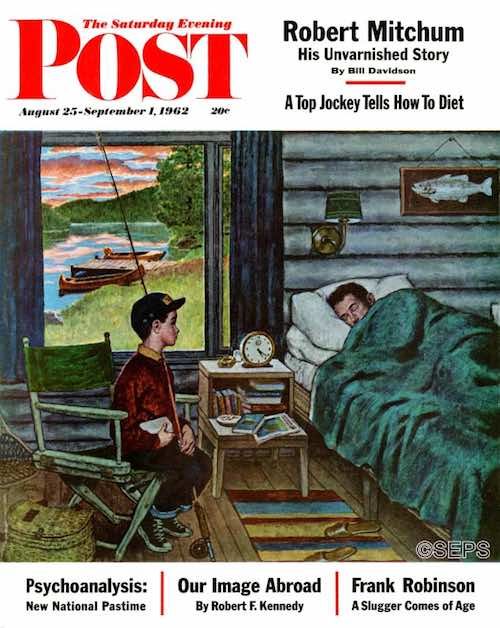 [From the editors of the August 25, 1962 issue] Forty more minutes to go, broods Amos Sewell's thwarted young angler, and then Dad will waste still more time washing up and eating and dawdling over his coffee. From the look of this somnolent scene, it is clear that no fish will be disturbed until at least seven o'clock, and then, as any youngster knows, the fish will be settling for a siesta. Why, wonders the young sprat, can't fathers coordinate their sleeping habits with those of fish?
Sprint, scull, and soar your way to Olympic history with these classic Post covers commemorating Games of the last century.
This Olympic hopeful's number may indeed come in, providing he can heave this hammer far enough afield.
On this August 1932 cover, J.C. Leyendecker accurately predicted the future, placing the U.S. men's eight rowing team on the winner's pedestal a week before the finals. The only bronze they wore that year came from the sun.
A year in advance of the 1936 Berlin Games, these Olympic hopefuls hurtle and hurdle for a chance to compete on the world stage. It might be their last chance: After 1936, World War II pre-empted the Games until 1948.
In J.F. Kernan's last Post cover, an Olympic sprinter channels the strength and speed of the eagle as he prepares to represent America at the 1936 Olympic Games in Berlin.
This Olympic single sculler had best grit his teeth and grind those delts with a tad more gusto if he hopes to reach the podium.
Christmas commercialization is no modern phenomenon. Put the Post cover artists in charge and the mundane experience of making lists, checking them twice, and scavenging stores to gather holiday bounty becomes a delightful, miserable, and just plain silly occasion.
Christmas Shopper


How we envision ourselves while Christmas shopping — calm and fabulous. This stunning self-portrait by Neysa Mc Mein, one of the Post's more popular female artists, makes the whole event appear effortless. But we know it's not as simple as waltzing into the nearest department store adorned in your favorite black mink.

Department Store at Christmas


Even 63 years ago the ugly tie was universally recognized as the least desirable Christmas gift. But sometimes, well, that's the best a person can do.

Lost Child Department


Black Friday may not have existed back in 1958, but Christmas gifts were still serious business. Shoppers flooded malls from gift finding through gift wrapping stages.

'Twas the Night Before Christmas


Probably not a coincidence, this mom bears an uncanny resemblance to St. Nick. Although J.C. Leyendecker was best known for his stylish illustrations of fashionable people, he occasionally produced comic numbers, such as this colorful depiction of the frantic, last-minute shopper.

White Christmas


"Pops" Fredericks, the model for this illustration, never achieved fame on the stage or big screen. From a hobo, to Santa Claus, his many appearances on Rockwell covers have turned Pops into a crowd favorite here at the Post.

Father Rushing Home with Gifts


The crazy was felt even in 1909. Take notice of the rocking horse. After being popularized in England during the 1800s, it galloped into factory production. By the time this father ran home with the toy, it had become a staple present in America.

Hiding the Presents


After the shopping is all said and done, we recommend being extra sneaky about where and when you decide to hide the presents. Kids have a knack for watching their parents with hawk-like eyes during the month of December.

Nestled between a month of shopping for the perfect Halloween costumes and a month of fielding kids' pleas for PS5 Pros, iPhone7s, and personal drones, sits Thanksgiving. These classic covers revolving around food, family, and togetherness illustrate the funny and sweet moments in the middle of America's busiest holiday season.

Turkey Dreams
On the night before Thanksgiving, visions of turkeys danced in their heads. Sugarplums come next month.

Pilgrim Stalking Tom
Ready, steady, aim! This stealthy pilgrim is doing his best to bring home the turkey bacon.

Boy Watching Grandmother Trim Pie
Grandma's hope is to pass down the art of pie making, but her grandson seems to be leaning more toward flavor taster than baker.

Thanksgiving Prayer
It's hard to focus on the Thanksgiving prayer when the food is within an arm's reach.

Thanksgiving Cherub Sharpening Knife
Who gets to carve the still-steaming tom? Apparently this year, the honor goes to whoever looks best in an apron.

Thanksgiving Dinner 1919
This young man's eyes might actually be as big as his stomach.

Pilgrim Boy Carving Turkey
Artist Leyendecker has done it again! Capturing the elation in that first bite of Thanksgiving dinner.

Prayer Before Cake
You can guess what he's thinking: "Didn't the prayer before dinner cover dessert?"

After Turkey Nap
Ahhh, yes. The moment we all look forward to … the nap. This kid's doing it right — tuckering out at the table.

Tributes to the military have long been portrayed on covers of The Saturday Evening Post, from situations serious to humorous. In honor of Veterans Day, we would like to share some of our favorites.

The first Post military cover? An action depiction of U.S. soldiers on horseback in the Philippines.

He's in the Army now. A seldom seen cover from December 1942 by John Atherton shows a faithful dog and a photo. From the uniform, we can guess where its master is. We hope he returns home soon – Spot is itching to go hunting.

The enlisted also included members of the Women's Army Corps (WAC), as shown in the cover from 1942 by an artist named Gilbert Bundy.

A WWI soldier shares a humble Christmas meal in this endearing 1917 cover by the prolific J.C. Leyendecker.

On the May 14, 1927, cover by E.M. Jackson, this sailor accomplishes an important mission overseas — finding a genuine American hot dog!

Celebrating soldiers, sailors, and marines, the 1937 cover by John Sheridan captures all three with a parade below in their honor.

Norman Rockwell honored the military during the WWII years with several covers of the "every soldier" he named Willie Gillis. We've shown Willie's military adventures before, but not this one from 1941. Rockwell's famous private is home on leave, snuggled under the quilts and enjoying the luxury of sleeping late. The sign above the bed echoes our ardent wish for all our military men and women: Home Sweet Home.

After Forest Gump, actor Gary Sinise became an advocate for wounded soldiers. Check out Jeanne Wolf's interview with Sinise from the September/October 2014 issue here.