Other magazines are hitting the stands with their annual swimsuit issue, so we thought we'd offer our own take on it with these bathing costumes dating back to 1910.
The model for this cover illustration was likely Edna Hutt, Henry's wife and his favorite model, whom he considered the most beautiful woman in the world. Unfortunately, their union was an unhappy one, with accusations of abuse on both sides, including "use of 'strong liquors,' intimacy with other women, and cruelty."
Artist J.C. Leyendecker was well known for his illustrations of strapping, strong-jawed men, starting with the Arrow Collar Man and continuing throughout his long relationship with The Saturday Evening Post, where he illustrated more covers than any other artist, including Norman Rockwell. The model for this illustration appears to be Leyendecker's partner, Charles Beach.
John LaGatta's illustrations depicting beautiful, sultry women were considered to be some of the most desirable artworks of the 1920s, '30s, and '40s. His style was a favorite of advertisers, including Campbell's, Ivory Soap, Kellogg's, Johnson and Johnson, and—not surprisingly—Laros Lingerie and Spaulding Swimwear.
This is one of six covers that Alex Ross painted for The Saturday Evening Post. All of his covers featured beautiful women, but this beach scene is the only one that doesn't focus on a single person. Anyone who has spent time at the beach knows that a successfully completed game of cards is highly unlikely (unless the cards are made of lead).
De Mers illustrated this short story by Steve McNeil, which posed the question, "He'd quit his job to escape the pressure and confusion of city life. Should he go back now, to please a girl?" From the look on his face, you already know what the answer is.
Snyder illustrated this short story by M.G. Chute called "The Trouble with Love," where we learn than "No man liked a sloppy, forgetful date who came without a bathing cap or didn't have enough bobby pins along."
"Jimmy braced himself for the shock. She was wearing a chartreuse-and-black swimming suit. She was sleek and gently tanned and showed more curves than Warren Spahn. She put on her bathing cap and looked at Jimmy enigmatically.…Clinically, he had to admit that Jill Foley, in a bathing suit, was as tasty as ice-cold watermelon."
Wolfgang Amadeus Mozart, whose likeness is sitting on our young virtuoso's volume of finger exercises, was playing minuets on the family harpsichord at age four— but could he have done so if he had been obliged to play with flippers on both feet and a swimming pool staring him in the face? We wonder. The model used by artist George Hughes is the same youngster who appeared on our January 9, 1960, cover. His mother was standing over him on that occasion, letting him know that he had stalled long enough and that he was not to go outside until he had written a Christmas thank-you note to Uncle Vic.
Most of us have seen swimmers of this ilk before. He was the kid around the corner who spent his vacation periods counting the days until he could return to school. He was the character in your platoon who used to volunteer for guard duty. Dick Sargent's likeness is a realistic one. See that gap between the upper front teeth? Comes from gnawing on tree trunks. You can spot an eager beaver every time.
Woman at the Shore – Bradshaw Crandall
With floppy sunhat providing shade and shield from harsh rays, this head-turner is free to luxuriate in the beachside aurora of a salty summer's day.
Sunburned Sunbather – Penrhyn Stanlaws
No amount of lathering is going to ease a smolder that red. Though this burned beachgoer can take comfort in the fact that her dual-toned skin and swimsuit form a rather patriotic guise.
Sunbathers – John LaGatta
Stretched out under the lacy shelter of a parasol, these ladies are prepared to transform the lawn into a first-class pinup photo shoot.
Three Bathing Beauties – John LaGatta
Garbed in their complementary aquamarine getups, this trio may just fade into the luster of the ocean blue once they've hit the dunes.
Sitting on the Diving Board – Penrhyn Stanlaws
For those seaside loungers wishing to hold court over the shimmering surface without dampening their locks, perching on a diving board is a suitable compromise.
Woman in Beach Outfit – Charles A. MacLellan
Sporting sandals is just an invitation to trek sand about for weeks afterward. But it's well worth it when the elegantly casual ensemble will draw every eye on the shore.
Ski Boarding Couple – Robert C. Kauffmann
It's surf's up or more appropriately skis up for this golden couple as they crest another foamy wave. And if they should happen to capsize, that striking crimson of hers will make them easily spotted for pickup.
At the Pool – John LaGatta
Whether perfecting a competitive breaststroke or just dipping toes in the drink, poolside is the place to be in summer's steamiest weeks.
Broken Beach Chair – John Hyde Phillips
A smarting smack to the rear wasn't exactly on this perturbed stunner's checklist for beach day. At least she had a sandy landing to cushion the spill.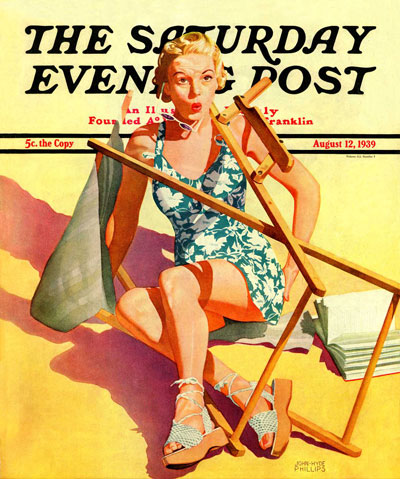 Up on the Roof – Dominice Cammerota
Everyone pines for a tropical escape; but in a pinch, an urban rooftop destination will do, and it's just as toasty. If you can't reach the beaches, you can always climb a little closer to the sun.
Tan Lines – Albert W. Hampson
X marks the spot for tan-line regret as this socialite discovers her sun-cooked body art isn't going to pair well with the plunging backline of that pearly frock.
Card Game at the Beach – Alex Ross
When the hours have worn everyone down, a few bubbly sips and a cool-off card game under the umbrella may be just the right pick-me-up before a final splashdown.
Born in 1894 in Naples, Italy, John LaGatta was an American immigrant who achieved the American dream by cultivating his passion for art. In creating a unique style of his own, LaGatta reshaped advertising and illustration in the early twentieth century. He used depictions of glamorous, elegant women in a romanticized world of "old Hollywood" to provide an escape from the realities of the Great Depression.
Coming to America with nothing, LaGatta eventually become one of the most sought after illustrators in the country, earning as much as $100,000 a year throughout the 1930s and 40s.
LaGatta's family arrived in New York City by way of Brazil, originally from Naples, Italy. Living in Manhattan's Lower East Side, the artist began working in advertising as early as 14 years old in 1908. He began his studies at The New York School of Fine and Applied Art where he studied under famed artists Kenneth Hayes Miller and Frank Alvah Parsons. Even at such a young age, LaGatta was selling sketches to Life magazine to pay for his formal education.
Covers by John LaGatta
Buy prints of John LaGatta's work at Art.com
In 1914, the artist moved to Philadelphia with friend and fellow artist Peter Helck to design film posters for Lubian Film Company. He eventually moved to Cleveland, Ohio to join a burgeoning art studio as an in-house artist. While in Cleveland, LaGatta met his future wife of 58 years, Florence Olds. Together, they had two children, son John Hawley Olds LaGatta, and daughter Jeanne Mehit (ne LaGatta).
Eventually LaGatta moved back to New York to keep up with his growing advertising commissions. He kept a house in Sands Point, Long Island, as well as a studio in Manhattan, a farm in Woodstock, and a forty-five foot yacht between Long Island and Manhattan. When the stock market crash hit in 1929, LaGatta's assets were well protected since he had invested almost entirely in real estate.
His works depicting beautiful, sultry women are considered to be some of the most desirable artwork of the 1920s, 30s, and 40s, making him a "big money" artist. Over the course of his life, his list of consistent advertising clients included Resinol Soap, International Silver Company, Ajax Rubber Company, Laros Lingerie, Hoover Vacuum Cleaners, Paramount Pictures, Campbell's, Ivory Soap, Kellogg's, Johnson and Johnson, Spaulding Swimwear, and Chase and Sanborn Coffee.
His multi-media approach to the creation of illustrations also provided a unique perspective. LaGatta work in chalk, pastel, oils, sometimes mixing them as a style he coined "Chalk-and-wash."
Though LaGatta had become financially successful from his advertising work, he wanted to be in the spotlight on the covers of magazines. He took a six-month hiatus from his advertising commissions and set out for the big leagues to land a cover of The Saturday Evening Post. From his hiatus onward, LaGatta landed covers on the most popular magazines of the era including Ladies' Home Journal, Cosmopolitan, Women's Home Companion, Redbook, McCall's American Magazine, and Harper's Bazaar.
By the end of the Great Depression and World War II, LaGatta's depictions of fanciful parties, extravagance, high-fashion, and an overall idealistic escape to the parties of the 1920s, were no longer in demand.
LaGatta moved his family to Santa Monica, California during World War II where he took up commissions for "potboiler" portraitures and, in 1956, teaching. The artist's old friend, Tink Adams, invited him to join the faculty of The Art Center School in Los Angeles, an offer the artist enthusiastically accepted. LaGatta taught there for 21 years until his death in 1977.
"Beauty today is the world's champion salesman, or rather sales-woman, no matter whether a strikingly short story or a box of talcum powder is the thing to be sold by an illustration." – John LaGatta
"When Beggars Ride" by John LaGatta
In 1930, the Post was chock-full of fiction, illustrated by the finest artists of the period. This sophisticated drawing is from a six-part serial called "When Beggars Ride" by George Agnew Chamberlain.
At a young age, John LaGatta (1894-1977) came to the United States from Naples, Italy. Looking at his slinky ladies, it is difficult to believe his early art (while still a teen) in advertising often depicted working life, such as men in overalls. LaGatta went to Cleveland and joined the art studios there. He soon discovered that his true skill and passion involved painting glamour and beauty.
"Milk and Honey" by John LaGatta
Thomas Beer's fiction piece, "Milk and Honey," ran in March of 1933 and boasted this gorgeous illustration. One is put in mind of F. Scott Fitzgerald characters in LaGatta's illustrations: everyone is stylish and urbane. And sensual. One website describes it well: he had an uncanny ability to make "clothed women look like they were wearing virtually nothing."
"The Wall" by John LaGatta
"Juliette standing there, tall and slim and smiling, inspecting herself. And all the time, as the clock on the mantel ticked on, her span of life growing shorter," reads the caption from the 1938 serial "The Wall." The story was by Mary Roberts Rinehart, a very popular writer of the era.
Just how in demand the artist was is demonstrated by this quote from another big writer of the time, Clarence Budington Kelland: "John LaGatta is a Long Island neighbor of mine who is so busy drawing pictures that I have to break into his studio to see him. He is darn near perfect, or will be as soon as he discovers how dandy it is to waste time." The chances of that happening were slim, as LaGatta's work was found all in or on virtually all major periodicals, such as Life and Cosmopolitan, not to mention his ad work for major clients such as Kellogg's, Ivory Soap and Johnson & Johnson. The artist with a passion for beauty was one busy man.
"Women in Riding Habits" by John LaGatta
This 1934 cover is typical of the over twenty Post covers LaGatta did: long, lean ladies in colorful garb. His art was a window into a world of cool elegance most readers would not otherwise be aware of.
"Ballroom Dancing" by John LaGatta
From 1937, this gorgeous cover fits in with today's resurgence of ballroom dancing.
In a "Keeping Posted" piece in an issue from 1938, author Kelland further dishes about his fellow Post contributor, the artist. "Mr. LaGatta…is addicted to tea and cinnamon toast at about five o'clock, afternoons, and he does not believe authors are good for anything but to furnish raw material for illustrators to illustrate." Post editors mused that if LaGatta wanted to get revenge "for this across-the-fence interview he can draw a picture" of his neighbor "in either a bathing suit or a picture hat. We won't promise to print it."
"Cat Pin" by John LaGatta
Stunning color palette. This 1941 cover is the last one La Gatta did for The Saturday Evening Post. The netting from the lady's hat is entangled with her cat pin.
As the war years came upon America in the 1940s, the need for romantic illustration waned. Tired of the rigors of New York life, LaGatta moved to California. Although he continued his advertising regimen, he began to extend his interest to portrait commissions and teaching. In 1956, LaGatta was invited to join the faculty of the Art Center School. For nearly 21 years, he inspired the next generation of illustrators to hone their talent. He was known as a strict taskmaster from "the old school" but those that put in the effort were not sorry. He taught and worked until his death in 1977.
Here's a Post cover for each decade from 1910 to the 1960s to show that July never changes. You can click on any cover for a close-up.
Sweating Man Reading Thermometer – Robert Robinson – July 9, 1910
A turn-of-the-century artist named Robert Robinson did many Post covers, a number of them featuring delightful old codgers like Mr. Sweltering here. The notice board from the Weather Bureau he's reading says it's going to be a "hot Thursday," and he is a believer. Robinson is one of those artists we are unable to find information on, so if you have info on him, do share!
Swimming in Fountain – E. M. Jackson – July 24, 1926
You probably wouldn't get away with it today, but in the roaring twenties, cooling down in a public fountain was a cover idea for artist E. M. Jackson. It's no swimming pool, but it sure looks refreshing. We're not responsible for those of you who choose this method of seeking relief from the heat (not that we'd blame you).
Three Bathing Beauties – John LaGatta – July 8, 1933
A wonderful artist named John LaGatta did over twenty Saturday Evening Post covers, usually of willowy, elegant ladies. These bathing beauties grace a July 1933 cover. You can view John LaGatta covers (and those of many Post artists) at curtispublishing.com.
Joys of Summer – Norman Rockwell – July 13, 1940
This doesn't strike me as a typical Norman Rockwell cover, but it is a typical July dilemma – how to get the ice cream where it needs to go before it melts! Okay, which umbrella is sis under?
Billboard Painters – Stevan Dohanos – July 13, 1957
The billboard of polar bears and icebergs looks nice and cool, but the temperature is still 95 degrees for these hard-working painters. Too bad the air conditioner is just a painting and they can't turn it on. Dohanos must have loved irony: In February of 1948, he did a Post cover of a billboard painter standing in the snow, trying vainly to warm up over a makeshift fire. The billboard? A tropical vacation advertisement with a lady in a swimsuit.
Unwelcome Pool Guests – Thornton Utz – July 22, 1961
Ah, a nice, peaceful Sunday morning breakfast by the pool with my newspaper. Until Uncle Obnoxious and his station wagon full of kids (I count eight!) invade the scene. Artist Thornton Utz did about forty-five covers for the Post, and this is a prime example of a guy we can identify with. Maybe tomorrow morning at work will be peaceful…