Woman at the Shore – Bradshaw Crandall
With floppy sunhat providing shade and shield from harsh rays, this head-turner is free to luxuriate in the beachside aurora of a salty summer's day.
Sunburned Sunbather – Penrhyn Stanlaws
No amount of lathering is going to ease a smolder that red. Though this burned beachgoer can take comfort in the fact that her dual-toned skin and swimsuit form a rather patriotic guise.
Sunbathers – John LaGatta
Stretched out under the lacy shelter of a parasol, these ladies are prepared to transform the lawn into a first-class pinup photo shoot.
Three Bathing Beauties – John LaGatta
Garbed in their complementary aquamarine getups, this trio may just fade into the luster of the ocean blue once they've hit the dunes.
Sitting on the Diving Board – Penrhyn Stanlaws
For those seaside loungers wishing to hold court over the shimmering surface without dampening their locks, perching on a diving board is a suitable compromise.
Woman in Beach Outfit – Charles A. MacLellan
Sporting sandals is just an invitation to trek sand about for weeks afterward. But it's well worth it when the elegantly casual ensemble will draw every eye on the shore.
Ski Boarding Couple – Robert C. Kauffmann
It's surf's up or more appropriately skis up for this golden couple as they crest another foamy wave. And if they should happen to capsize, that striking crimson of hers will make them easily spotted for pickup.
At the Pool – John LaGatta
Whether perfecting a competitive breaststroke or just dipping toes in the drink, poolside is the place to be in summer's steamiest weeks.
Broken Beach Chair – John Hyde Phillips
A smarting smack to the rear wasn't exactly on this perturbed stunner's checklist for beach day. At least she had a sandy landing to cushion the spill.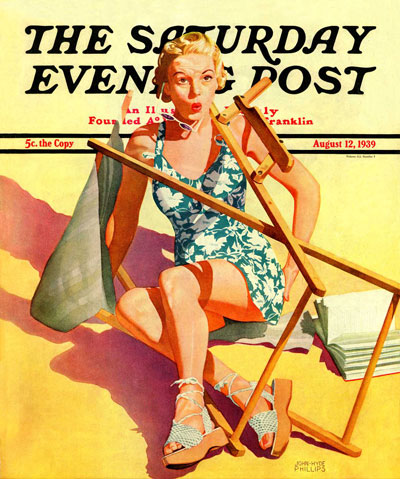 Up on the Roof – Dominice Cammerota
Everyone pines for a tropical escape; but in a pinch, an urban rooftop destination will do, and it's just as toasty. If you can't reach the beaches, you can always climb a little closer to the sun.
Tan Lines – Albert W. Hampson
X marks the spot for tan-line regret as this socialite discovers her sun-cooked body art isn't going to pair well with the plunging backline of that pearly frock.
Card Game at the Beach – Alex Ross
When the hours have worn everyone down, a few bubbly sips and a cool-off card game under the umbrella may be just the right pick-me-up before a final splashdown.
Become a Saturday Evening Post member and enjoy unlimited access. Subscribe now