Most people know Jon Stewart as the former host of The Daily Show, a program that made him the king of news satire. The Daily Show was a cultural phenomenon; at one point, Pew Research reported that 12% of Americans claimed to get their news from Stewart and the The Daily Show.
But Jon Stewart wasn't always the master of late night. Twenty-five years earlier, he was a young comedian who caught a break hosting a talk show on MTV, becoming part of a movement that would shape film and television comedy for the next two decades and beyond.
In the 1980s, Stewart rose through the ranks as a comedian, eventually becoming co-host of Short Attention Span Theater on The Comedy Channel in 1990. While Stewart would co-host SAST with Patty Rosborough until 1993, he also began hosting a show on MTV called You Wrote It, You Watch It. This early stab at crowdsourced comedy featured skits submitted by viewers that would then be performed by the cast. Among the cast were all 11 members of the comedy troupe The State, including comedians Michael Ian Black and Joe Lo Truglio.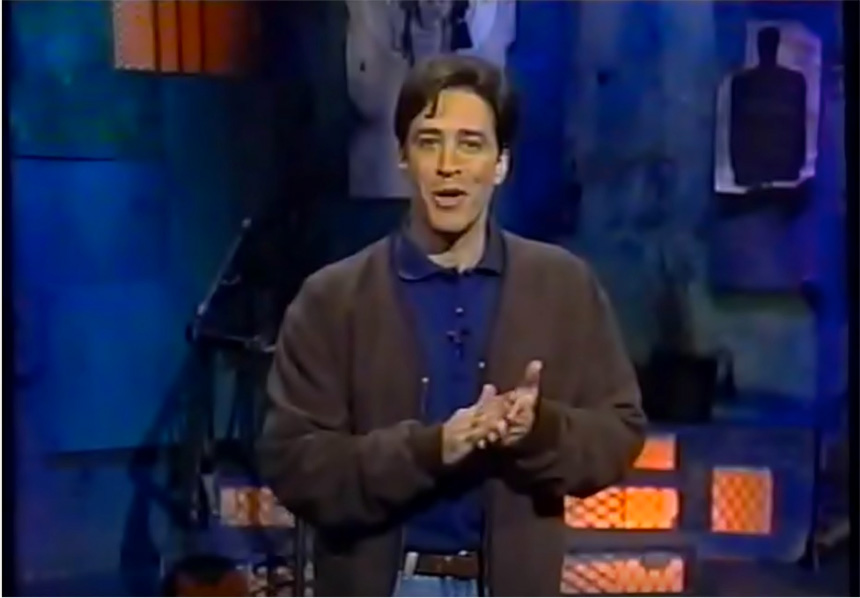 By 1993, MTV began developing its first talk show. Created by Stewart, The Jon Stewart Show arrived when MTV was the dynamic center of youth culture. The network had been instrumental in the spread of hip-hop to white audiences and the subsequent alternative music explosion of 1991 and 1992. According to Forbes, MTV made $400 million in revenue in 1992 alone while reaching more than 112 million homes around the world. A talk show on the network would have a huge reach and provide a playing venue for of-the-moment musical acts that frequently struggled to get booked on more mainstream outlets like The Tonight Show with Jay Leno.
Jon Stewart interviewed Conan O'Brien on the show in 1994.
Stewart's 30-minute daily show followed a fairly traditional talk format. It featured a monologue, interaction with an announcer/sidekick (actor and comedian Howard Feller), skits, interviews with celebrities, and musical performances. The primary difference was Stewart himself; the then-30-year-old had a freewheeling style and readily connected with the teen and college audiences that MTV courted. As a viewer, you could believe that he actually listened to the musicians that appeared on the show, which included Marilyn Manson, Slayer, Guided by Voices, Notorious B.I.G., Body Count, Bad Religion, and Ol' Dirty Bastard. The show quickly became the network's second-highest rated series behind another 1993 debut, Beavis and Butt-Head.
That success led to Paramount Domestic Television, a corporate partner of MTV at the time, converting the show to a full hour and using it to replace the recently cancelled The Arsenio Hall Show in syndication for the 1994-1995 season. For the final half-hour episode on MTV, Stewart's former Wrote/Watch castmates, the entirety of The State, appeared and destroyed the old set. This was in part a stunt to launch The State, a sketch series featuring the troupe that began airing on MTV in 1994.
The State debuted to decent ratings, but MTV saw the ratings increase as reruns of the original six episodes ran. The series capitalized on some initial negative reviews by incorporating them into ads for the show; the ironic approach drove further increases in viewership. By 1995, The State would make a deal to transition their series to CBS late nights.
Great Moments In . . . was a sketch typical of The State's idea of turning a humorous premise on its head.
Unfortunately, neither the one-hour version of The Jon Stewart Show nor the CBS incarnation of The State succeeded. What worked for the ratings needs of a network like MTV did not equate to success in the mainstream broadcast market. On the final episode of Stewart, the guest was Stewart's hero David Letterman, making a rare talk show appearance of his own. Letterman praised Stewart's work and pointed out that being cancelled was not the same thing as failing.
Letterman's appearance on the final episode of The Jon Stewart Show in 1995.
In the aftermath of the cancellations, a funny thing happened. Stewart continued working steadily in comedy and film until he was tapped to replace the departing Craig Kilborn on The Daily Show in 1999. Stewart's arrival sparked a creative rebirth for the show, which is produced by Letterman's Worldwide Pants company. Stewart hosted the show until 2015, after which he stepped down to pursue other projects.
As for The State, their members spread out into a number of television and film projects. Sometimes acting, sometimes writing and directing, and sometimes producing, the members in various combinations have created or contributed to programs and films like Viva Variety, Reno 911!, Wet Hot American Summer, and the Night at the Museum franchise. As actors, the 11 members of The State remain consistent presences in television, film, and voice acting.
Looking back, Stewart and friends captured a moment when the style of television comedy was changing. They proved it could be absurdist and topical at the same time, occasionally taking on serious subjects in the silliest ways. Like Letterman was to Stewart, they've become the mentors of next generation talents like John Oliver, Samantha Bee, and Trevor Noah. Their stories remain a solid reminder that even if one attempt fails, somebody else will probably get the joke.
Goodbye Jon Stewart
Wait, that makes it sound like he died. I just mean that last night's episode of The Daily Show was the last one for host Jon Stewart, after hosting the show for 16 years. Stewart's final guests were Amy Schumer, Denis Leary, and Louis CK, along with some surprise guests to celebrate Stewart's tenure on the show, the show that made Stephen Colbert and Steve Carell household names.
Everyone is celebrating the departing host this week, with retrospectives and best-of lists and essays. Time's James Poniewozik reveals what he'll miss most about Stewart. The Wall Street Journal's Speakeasy blog has a rundown of some of his more odd guests. Newsweek delves into the comic and crusader parts of The Daily Show , and and the show itself showcased some of the craziest interviews earlier this week. Note: some NSFW moments in that last link.
What will Stewart do now? Don't expect him back on television anytime soon. I would think he's going to write more, direct more, and maybe even do more standup. He did a surprise gig at Comedy Cellar in New York City last week with Louis CK. I was just going to call him "CK" but that doesn't sound right.
Trevor Noah takes over as host of The Daily Show on September 28. I think it would have been funny to have Craig Kilborn return as host. He hosted the show before Stewart, and on Stewart's first night he said that Kilborn was on assignment in Kuala Lampur. It would have been great to have Kilborn finally come back from that assignment to resume hosting duties again.

New F. Scott Fitzgerald Story Published
The discovery of new works by writers continues! Now we have a long-lost short story by F. Scott Fitzgerald. It's called "Temperature," and it's about a writer who drinks a lot and then finds out he's sick. And before you even make a joke about how art imitates life, Fitzgerald beat you to it. He says at the beginning of the story, "And as for that current dodge 'no reference to any living character is intended' -no use even trying that." He wrote it in the summer of 1939, when he was hospitalized twice for alcoholism. (According to a letter Fitzgerald wrote his agent, he submitted the story to The Saturday Evening Post, and it was rejected. Sorry, Mr. Fitzgerald!)
The story is in the current issue of the magazine The Strand. The managing editor of the magazine, Andrew Gulli, found the manuscript while he was looking at the Fitzgerald archives at Princeton.
So besides Fitzgerald, we've also had new works from Harper Lee, Dr. Seuss, Sir Arthur Conan Doyle, Raymond Chandler, Orson Welles, and probably a few others I've forgotten about. Quick, someone check Dorothy Parker's attic!

Happy Birthday to You
Have you ever sang "Happy Birthday to You" at a party? Then you probably owe someone some money.
Yup, that's a copyrighted song, even if it is sung 57 bajillion times a day (a conservative estimate). Like every other "cover song," you're supposed to pay to sing it. Warner/Chappell is the publisher and they make around $2 million in royalties from it every year. The song, originally titled "Good Morning to You," was written by two sisters in 1893.
But now there's a lawsuit (there's always a lawsuit) brought by a filmmaker who wanted to use the song in her movie but was told she had to pay $1,500. She wants everyone to be able to use the song free of charge because it's in "the public domain" and everyone sings it. It all comes down to when the "happy birthday" lyrics were added to the song. A federal judge will rule on it later this month.
By the way, even if you're singing the song only in your head right now, you owe some money.

It's Official: Kermit and Miss Piggy Have Broken Up
This has been a big couple of weeks for celebrity breakups. Reba McEntire and her husband are divorcing after 26 years of marriage. Country stars Blake Shelton and Miranda Lambert are also going their separate ways, as are rockstar couple Gwen Stefani and Gavin Rossdale. But the most shocking split comes from two celebrities that aren't even human.
Kermit and Miss Piggy are no longer dating. The frog and pig announced the breakup during a Q&A session at the annual Television Critics Association get-together, where they were promoting ABC's update of The Muppets, which will debut this fall. Kermit said that Miss Piggy made his life "a bacon-wrapped hell on Earth."
If these two can't make it work…

And the Highest Paid Actor in the World Is…
…Ian Ziering, star of the Sharknado movies. I know, I was surprised too!
Okay, that's not true. The highest-paid actor in the world – for the third year in a row – is Robert Downey Jr., according to the annual list compiled by Forbes. Thanks to all of the superhero movies he's doing, he raked in $80 million last year. Second on the list is Jackie Chan, with $50 million, followed by Vin Diesel ($47 million), Bradley Cooper ($41.5 million), and Adam Sandler ($41 million).
Adam Sandler. One of the richest movie stars in the world.

August is National Sandwich Month
I usually provide a few links to recipes in this section, but how do you do that with sandwiches? There are literally thousands, if not millions, of different sandwiches a person can make, depending on the bread you use, the filling, whether you toast it or not, etc. So instead why don't I provide a link to something and you can all get into an argument?
Here's a list from Thrillist that lists the 50 best sandwiches of all-time. Let me just say that number 36 should be a lot higher. And I'm sure that some people are going to question why a hamburger wasn't considered – because it's not a sandwich – but "hamburger sub" is on the list because they took the burgers and shoved them into a sub roll. And peanut butter and jelly, one of the classic sandwiches of all-time, should be in the top 10, not 26.
By the way, as we all know, the sandwich was named after the man who invented it, Alexander Hoagie.

Upcoming Events and Anniversaries
​The Smithsonian Institution established (August 10, 1846)​
A lot of people might think the Smithsonian is just one museum, but it's so much more.
Victory Day (August 10)
Did you know this once federal holiday is now only celebrated in Rhode Island?
Alfred Hitchcock born (August 13, 1899)
The BBC recently released their list of the 100 Greatest American Films and Hitchcock grabbed several of the spots. But come on: everyone knows North By Northwest is better than Psycho.
Berlin Wall construction begins (August 13, 1961)
USA Today has 9 things you might not know about the fall of the wall.
​Steve Martin born (August 14, 1945)
Check out the scary hand on his official site.
Woodstock opens (August 15, 1969)​
The official title for the event was The Woodstock Music & Art Fair, though no one really talks about the art.
Bob Simon: 1941-2015
When the week started we thought the big media news would be what is happening with Brian Williams, but then word came Wednesday night that veteran CBS reporter and 60 Minutes correspondent Bob Simon had died in a car accident in Manhattan. Simon was in a Lincoln Town Car going home from work when it rear-ended a car that was stopped at a stoplight. Police are still investigating the accident.
In his almost 50-year career, Simon won 27 Emmy Awards and several Peabody Awards and covered almost every story imaginable. Beginning as a reporter for CBS in 1967, he covered college campuses and political conventions. As a foreign correspondent, he covered the Vietnam War and political unrest in places like Northern Ireland, Somalia, and Haiti. He became CBS's chief Middle East correspondent in the late '80s and during the Gulf War he was captured and tortured by Iraqi forces. He was held prisoner for 40 days. Simon was 73 and is survived by his wife, Francoise; daughter, Tanya, who is a producer at 60 Minutes and often worked with him on stories; and grandson, Jack.
Brian Williams Benched For Six Months
Though the investigation is still ongoing, NBC has decided to suspend NBC Nightly News anchor and managing editor Brian Williams for six months without pay for not being completely truthful about a 2003 incident in Iraq. Williams said that the chopper he was riding in was hit by enemy fire. But as we all now know it wasn't Williams' chopper that got hit. A different chopper was hit and went down, then Williams' chopper arrived on the scene 30 to 60 minutes later. Call it a lie, call it "misremembering"; either way, Lester Holt is going to be his replacement until the summer.
What makes this a not-so-cut-and-dried decision is that Williams actually did tell the truth about the incident the first handful of times he talked about it on air. Add in that he's a well-liked guy and gets good ratings and those are probably the reasons why NBC seems to be saying that he'll be back at the anchor desk.
But the damage might be too much for Williams and NBC to fix.
I wonder if we'll see a plot twist in six months, a scenario where Williams isn't "fired" but supposedly leaves on his own to do another show on another network. And I don't mean The Daily Show. Sure, Williams would be great on it (he's an extremely funny guy) but I don't think he wants to give up his real news career just yet, and it would seem like he was trivializing all of the serious work he did for years and almost admitting he wasn't a "real" news person and that's why he's now doing a fake-news show.
Jon Stewart Leaving The Daily Show
The day after the Williams news we learned that Jon Stewart will be leaving his show too, after more than 16 years. After he took over for original host Craig Kilborn, Stewart made the show into must-see TV for young viewers, pundits, and media people in general. Actually anyone who liked to see the media and politicians skewered on a nightly basis. No word yet on who will replace him when he leaves, which will be later this year. Comedy Central has been losing a lot of people lately (John Oliver to HBO, then Stephen Colbert to CBS, and now Stewart) but they also have a deep bench. Or maybe they'll be pick someone completely out of left field, like CBS did when they hired James Corden for The Late Late Show.
I was a Kilborn fan. Maybe we can start a letter-writing campaign for Comedy Central to bring him back for a whole new generation, along with Five Questions and maybe even Yambo too. Bring back Yambo!
The Monopoly Game Controversy
So what's the true story about the origins of the classic board game Monopoly? Supposedly it will soon celebrate its 80th anniversary because for years we've been told it was invented during the Depression by a man named Charles Darrow. The story says he created it as something for his family to play during hard times. But according to a new book, that might not be the case. In The Monopolists, Mary Pilon says that the game was actually based on another game created by a feminist activist named Lizze Magie, who was a fan of anti-monopoly economist Henry George and wanted to honor him in some way. Hers was called The Landlord Game and she patented it in 1903. It grew in popularity throughout the 1920s and 30s.
So how did Darrow come into the picture? Read the synopsis of Pilon's book at The Daily Beast and find out for yourself. Or better yet buy the book. I can picture it as a movie actually. Pilon's book, not the game itself, which is already a movie that plans to start filming this summer. Originally it was going to be a satire of the financial and real estate world directed by Ridley Scott but now it's going for more of a Goonies feel.
RIP, RadioShack
I guess I'm one of the reasons why RadioShack has been in trouble that past several years. Sorry! I can't remember the last time I went into one. It must have been over a decade ago. I think I needed some sort of special connector or something. But I never really had a reason to go into one. I wouldn't buy a phone or a computer there, and they're not the only place that sells batteries.
The 95-year-old chain has filed for Chapter 11 bankruptcy and will be closing between 1,600 and 2,500 stores. They're also going to team up with Sprint for the remaining locations, which will sell Sprint products and services but still be co-branded with RadioShack in some way (Sprint/RadioShack? SprintShack?). The Harvard Business Review has a piece on why the two companies are joining forces. Or as the clever title puts it, "shacking up."
Please Be Careful What You Say Around Your TV
All this talk about privacy issues on social media sites and a new "credit card information being hacked" story on the news every week has made us forget another form of danger: our televisions! Seems that some Samsung smart TVs (every piece of tech is now called "smart" if they do things we don't want them to do) not only have a feature where you can control the TVs by using your voice, the sets are actually recording what goes on in the room and can send the info to third parties (but don't worry – they have your best interest at heart). Luckily there's a way to turn it off, but shouldn't it be off in the first place and then we can turn it on if we choose to do so? I think we all know why it's not set up that way.
This is all rather horrifying to me. I have this nightmarish vision of a future world where our appliances tell us how to run our lives. Our TVs will say, "You don't really want to watch another episode of The Bachelor, do you ?" and my toaster will chastise me for putting too much butter on my bread.
If that wasn't enough, Samsung TVs are also inserting Pepsi ads into movies and TV shows as you watch them. All that stuff we read about in science fiction like The Minority Report is actually coming true.
RIP, Lizabeth Scott
Just last week I was watching the 1947 Humphrey Bogart noir Dead Reckoning and couldn't believe that his co-star Lizabeth Scott was still alive. But Scott passed away on January 31 in Los Angeles at the age of 92. Her death was just announced this week.
She was one of the great femme fatales of film noir in the '40s and '50s. Besides Dead Reckoning, she appeared in The Strange Loves of Martha Ivers, Dark City, Pitfall, Too Late For Tears, and I Walk Alone. She also appeared in the Dean Martin/Jerry Lewis comedy Scared Stiff and in several TV shows before retiring in the early '60s.
Friday the 13th
If you're the superstitious sort you're probably FREAKING OUT today because it's Friday the 13th. Don't walk under ladders! Don't get near a black cat! Don't eat cheddar cheese while wearing denim! OK, I made up that last one but it seems to make as much sense as the others. I'm not sure if people agree on how fear of the day got started, but Wikipedia has a fairly detailed explanation.
It's funny how now we can't think of Friday the 13th without also thinking of the horror film franchise.

Valentine's Day
Tomorrow is the big day! For women, that is. The big day for men is probably Super Bowl Sunday or the day a new video game is released or a day we don't have to shave (did I get all of the male clichés in there?). But if you're the type of couple that celebrates on the 14th, here are some great ideas for Valentine's Day dinner from Food Network and several more from Food & Wine.
Either that or just get some pizza delivered. You know your significant other better than I do. But definitely put the video games away for the night (and check out some classic Valentine's Day covers from the Post.

Upcoming Anniversaries
Susan B. Anthony's Birthday (February 15, 1820)
Here's everything you need to know about Anthony at the official site for the Susan B. Anthony Museum & House.
Thomas Jefferson Elected President (February 17, 1801)
Read what Jefferson and other great American thinkers had to say about free speech.
The Adventures of Huckleberry Finn Published (February 18, 1885)
Read The Saturday Evening Post Archive Director Jeff Nilsson's piece about the next Mark Twain (and Twain's connection to the Post).
Pluto Discovered (February 18, 1930)
Is Pluto a planet or not? Here's the official NASA viewpoint.
Astronaut John Glenn Becomes First American to Orbit the Earth (February 20, 1962)