Sunshine, warm water, and a glimpse at the colorful life teeming below the surface of the sea often add up to a vacation highlight. Safety is always at the top of parents' minds, so choosing snorkel spots that are fun and comfortable for kids takes priority. Here are five snorkeling spots where you can make a splash with the kids — and don't forget your underwater camera!
1. Black Rock, (Pu'u Keka'a) Maui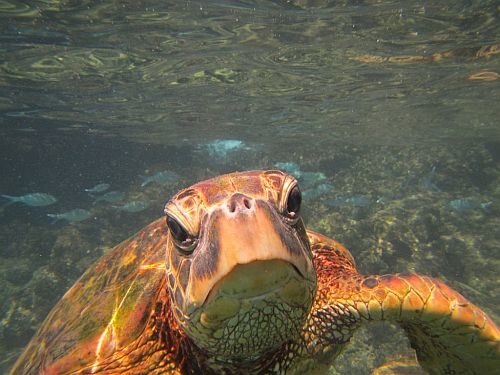 Snorkeling doesn't get much easier than Maui's Black Rock. Green sea turtles, known as Honu in Hawaiian, are regulars off this popular stretch of Ka'anapali Beach. Getting some quality bonding time is as easy as dropping your towel in the white sand, popping on snorkel gear, and walking into the water. Gentle waves make observing turtles easy. When kids (or parents) get tired, a spot to rest and warm up is just a few flutter kicks away on the sand.
2. Kealakekua Bay State Historical Park, Island of Hawaii
Located on the Big Island, Kealakekua Bay State Historical Park is where British explorer Captain James Cook landed in 1779 (and died about a year later; a white obelisk near the shore memorializes his death). Crystal clear water makes it easy to catch sight of multi-colored fish, coral of every shape and size, and spiny sea urchins. It's also not uncommon to see spinner dolphins swimming in the bay. Families will want to make the trip by boat, with a tour provider, as it's a long hike to the water, with a 1300 foot elevation gain on the way back.
3. Stingray City, Grand Cayman
Arguably one of the most popular ways to spend a day in the Cayman Islands, Stingray City is one of those spots you need to see to believe. Along with plenty of boats and people, you'll be able to see numerous stingrays swimming in the sandbars long before you actually make it in the water. Once wet, expect to feel a bit of fear and excitement the first time a stingray bumps up against you. These friendly rays have grown accustomed to their visiting fans, as well as the food that comes with arriving tour boats. Water is typically shallow enough for most school-age kids to stand, and watching stingrays glide through the water with seemingly little effort is a highlight.
4. Gibbs Cay, Grand Turk
Grand Turk has its own version of Stingray City, and it comes with the perk of being along the shoreline of an uninhabited island. Gibbs Cay is located about a mile off the eastern coast of Grand Turk, and is a popular stop for snorkeling tours. Rays, hoping guides come with plenty of fish and squid to share, appear whenever a boat arrives. Because of its beachside location, Gibbs Cay is ideal for kids or parents who might be apprehensive about taking the plunge with a large group of rays. Being steps from soft sand makes it easy to get in and out of the water as comfort allows.
5. King's Bay, Crystal River, Florida
Unlike other snorkel experiences, when you swim with manatees, they seem to be just as taken with you as you are with them. During the winter season, the Crystal River National Wildlife Refuge is believed to be home to North America's largest herd of wild manatees. Located on Florida's Gulf Coast about an hour and a half to the north of Tampa, it's the only spot in the United States where people are allowed to swim with manatees. Unlike traditional snorkeling, you don't wear fins. Manatees aren't known for speed, and sudden movements can scare off even the most curious of the bunch, so the less you move, the more likely you'll make a new friend.
Regardless of where you snorkel with your family, always keep safety in mind, avoid any actions that might disturb animals, and enjoy from a responsible distance.