This is an abridged version of two articles written by Kirk Douglas with Pete Martin, which appeared in the in the June 22 and June 29, 1957, issues of The Saturday Evening Post. You can read the complete original article in the flipbook, below.
This article and other features about the stars of Tinseltown can be found in the Post's Special Collector's Edition, The Golden Age of Hollywood. This edition can be ordered here.
Apparently the public takes it for granted that if you're a successful actor, you must be a schmoe. There's nothing like scoring a hit to make people hunt for new, unpleasant traits in your character. Searching for them, they discover them whether they're there or not. Then they say, "What did I tell you? He's changed."
Usually the change is in other people, not the actor. As a raw newcomer to Hollywood, I had trouble getting a table in the swankier local restaurants. Now I can get a table most of the time, although I don't deserve it any more than I did 10 years ago. What has changed is not me but the attitude of the headwaiters toward me.
The first movie in which I made a splash was Champion. After I appeared in it, I was told by a woman columnist, "You've changed. Now you're sexy."
A writer told me: "Making a hit in Champion changed your personality. I don't like you now."
"I haven't changed," I told him. "I was an s.o.b. before I did Champion and I'm still an s.o.b., only I was too unimportant for you to notice it before."
I think that I'm still the way I was before Champion. I didn't kowtow to producers then; I'm not noted for it now. Even when I was a bum, standing in line on the Bowery to buy a cheap Salvation Army meal, I didn't buddy up to people I thought were jerks, no matter how much good they could do me. This is not always the accepted way to get ahead. Too often in the entertainment field, the idea persists that you can ignore influential creeps only after you have become successful.
Nowadays when I go back to my hometown, Amsterdam, New York, everybody there takes it for granted that I must have an ego the size of a weather balloon. People in Amsterdam ask me, "Do you remember when we did so-and-so?" and when I say, "Sure, I remember," they're amazed.
"What do you know!" they exclaim. "Kirk remembers."
I want to ask them, "If you remember little things that happened around you. How many people are doing what they want to do? Yet no one ever hit an actor over the head to make him become an actor. You're an actor because that's what you want to be, despite all the difficulties.
An actor's need to project his emotions from his insides to his outside sandpapers his nerves. His feelings lie so close to the surface that such terms as "crazy" and "mixed up" are often applied to him.
My friend, producer-director Billy Wilder, gives me the berry for hankering to play every good role Hollywood offers. He says, "Kirk gives you all he's got. His chest begins to heave even before a director snaps his fingers. He doesn't need violins playing in a corner to put him in the right mood." I hope he's right. If he means that I enjoy acting, he is right.
There's another thing about actors — every one of them wants to play each role he's given better than it's humanly possible for him to play it. I not only want to achieve perfection in each role I play, I want to play all the good roles there are to play. It's absurd to feel this way, but it makes me unhappy that I can't be starring in my next picture, The Viking, and playing two other top roles at the same time.
I'll always believe that there's value in being willing to work like a horse to do a better job. Until I played the prize fighter in Champion, I had never boxed at all. When I started work in Champion, I had three left hands, none of which could jab or throw a punch, but I trained in a gym until I became a passable fighter.
It could be that my willingness to work long and hard to master a new skill is just another manifestation of my desire to create a sensation with an unexpected accomplishment; then throw it away by saying, "It's really nothing." But I honestly don't think that's it. It's not so much exhibitionism on my part as a need to believe in those games of "Let's pretend." If I believe in them hard enough, moviegoers may believe in them too.
The Truth
I'm the kind of actor I am because in a few small, important ways I am still the boy named Issur Danielovitch who lived near the carpet mills in Amsterdam, New York. If an actor lets himself become blasé, he can't play the game of let's pretend, which is the essence of being an actor. He's lost if he says to himself, "What am I doing here, a grown man, pretending I'm a cowboy? This is ridiculous."
If you can't pretend without being self-conscious, if you begin to think, Get me, everybody. I'm an actor, and I'm acting the pants off of this role. You'll end up by thinking of yourself as a star with a capital S, and you will be a flop with a capital F.
Perhaps I've dwelt too long on the odd traits of actors; they have virtues too. The most generous people I've ever dealt with are actors and newspapermen. Pass the hat for a needy co-worker in either group and you'd better have a big hat. And no one is willing to work harder than an actor—to the end of his endurance, if need be. This goes for any actor, famous or obscure.
My agent once said of me, "Kirk is always riding me to put out more effort on his behalf. I spend more time on him than I do on any other two stars on my list, so in a way he's more trouble to me than he's worth. But it's only fair to say that the guy drives himself harder than he drives me. 'Hey, Douglas,' he tells himself. 'Do something. Get going! Get off the dime!'"
Whatever drive I have stems from lessons learned a long time ago. When I was working my way through St. Lawrence University, I once lost my small fund of cash in a poker game. Much ashamed, I had to go home to my hard-pressed mother and tell her.
"You are such a fool," she chided me. "You bet money on cards. What do the cards know about you? What do they care?" She gave me a hug and said, "Everyone likes to gamble. There's nothing wrong with gambling. You want to bet? O.K., bet. But gamble on yourself."
I have found that the perfect place to take her advice is in acting. I've never hesitated to gamble for really big stakes—abandoning my contract at Warner's, starting my own independent company, Bryna Productions. I've been lucky enough to make a few good pictures, but I don't assume that I'll never boot one. No one bats a thousand in any league, and a champ is a guy who walks into the ring one day and gets clobbered by a kid no one ever heard of. All I can do is work as hard as I know how, and, when the chips are down, gamble on myself.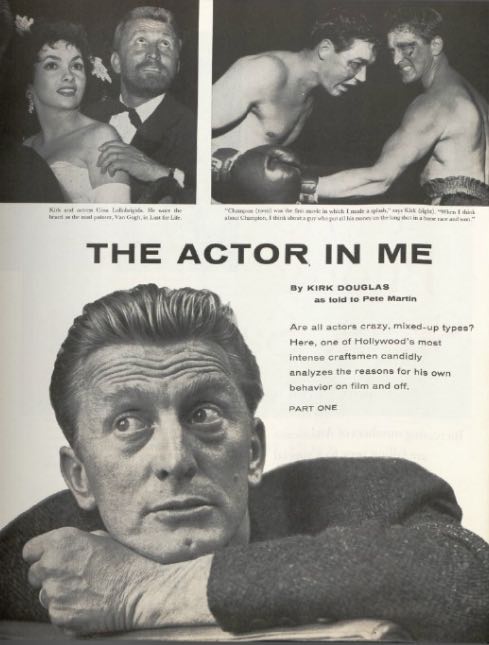 This article and other features about the stars of Tinseltown can be found in the Post's Special Collector's Edition, The Golden Age of Hollywood. This edition can be ordered here.
Maybe I Can Just Get You a Gift Card?
If you were thinking of getting someone two turtle doves for Christmas, they'll cost you $375. That's up from $290 last year.
That's one of the revelations from the 30th annual PNC Christmas Price Index. You probably didn't know that for the past 30 years there has been a PNC Christmas Price Index, but it keeps track of what things cost every holiday season, and that includes the items in the "12 Days of Christmas" song.
Four Calling Birds will run you $599.96, while Six Geese-a-Laying go for $360. Don't even think of getting anyone Seven Swans-a-Singing though; that will cost you $13,125 (I'd stick with the geese). If you have a lot of people on your list, buying or hiring the gift for each day will cost you $34,363.49, with the cumulative total for all 364 gifts, including 12 partridges and 40 golden rings, hitting $156,507.88.
What I want to know is, how do they figure out the price for hiring Ten Lords-a-Leaping?
RIP Van Williams, Billy Chapin, Andrew Sachs, Margaret Whitton, Don Calfa, Alice Drummond, and Milt Moss
Van Williams is most famous for playing Britt Reid — a.k.a. The Green Hornet — on the series of the same name in the '60s. He also starred in Bourbon Street Beat and Surfside 6 (playing the same character, private eye Ken Madison), as well as Westwind and The Tycoon. He also appeared in The Dick Van Dyke Show, How the West Was Won, and The Rockford Files. He passed away last week in Arizona at the age of 82.
Billy Chapin was a child actor who won acclaim opposite Robert Mitchum in 1957's The Night of the Hunter and in the movies The Kid from Left Field and Tension at Table Rock. He also appeared in TV shows like Leave it to Beaver, Fury, and Dragnet. He died at the age of 72. His sister, Lauren Chapin of Father Knows Best, announced the passing on Facebook.
Andrew Sachs also died last week, at the age of 86. He played the waiter Manuel on the classic John Cleese sitcom Fawlty Towers.
Margaret Whitton played the baseball team owner in the Major League films. She also appeared on the stage and in movies like The Secret of My Success, 9 1/2 Weeks, Ironweed, as well as the TV shows A Fine Romance, Cutters, One Life to Live, and Spenser: For Hire. She was 67 when she died on Sunday.
Don Calfa was a veteran character actor who you might remember as the guy who kills Bernie in Weekend at Bernie's. He also appeared in New York, New York; Foul Play; 1941; Bugsy; 10; Running Scared; Cinderella Liberty; and Return of the Living Dead. He also had a recurring role on Doogie Howser, M.D. He died last week at the age of 76.
Alice Drummond was another veteran character actor, appearing in such movies as Ghostbusters, Doubt, Joe Gould's Secret, and Awakenings. A stage actress, she also appeared on TV in Dark Shadows, Lenny, Spin City, Ed, and Kate & Allie. She died at the age of 88.
Milt Moss? He was a comic and actor who couldn't believe he at that whole thing:
Now, if all of these passings depress you, please take note that Kirk Douglas is still with us. Today is his 100th birthday.
Get Your Kicks
Route 66, the iconic American highway that runs from Chicago to Santa Monica, turns 90 years old this year. In this Wall Street Journal video, reporter Jeff Bush explains that even though it's arguably the most famous road in the United States and people want to preserve it, parts of it are in danger of vanishing.
By the way, if you're doing the math, that's right: Kirk Douglas is older than Route 66.
What Are Your Favorite Christmas Songs?
We all have our favorites. My taste is rather old school — Dean Martin, Perry Como, Jo Stafford, the Charlie Brown Christmas soundtrack — but there are some modern holiday songs worth a listen, too (beyond that Mariah Carey song, which I've heard 15 times since I started writing this paragraph), like the several versions of "This Christmas" (Seal's is quite good), Kelly Clarkson's "Underneath the Tree," and anything by Josh Groban.
"Hard Candy Christmas" is a beautiful tune. It's one of those not-really-a-Christmas-song songs that has become a Christmas song. It was performed by Dolly Parton in The Best Little Whorehouse in Texas, and this version by Leigh Nash will really get to you:
Gifts You Never Thought Of: The Phone Bed
You own a cellphone, right? At the end of the day, you probably put it on a table or your nightstand to recharge, not even giving any thought to whether or not the phone is going to be warm and comfortable. No worries, because The Phone Bed solves your problem!
The Phone Bed is a bed. For your phone. It's from ex-Huffington Post chief Arianna Huffington, who has made it her mission to make sure everyone gets enough sleep. I think everyone should get enough sleep too; I just didn't realize that mission included phones.
It costs $100, but your phone will charge on top of a silk-clad mattress, and the frame is made of solid wood and includes velvet-lined compartments for tablets. Hey, it's a neat thing, I'm just not sure it's $100 neat.
Hopefully next year someone will make a gilded, jewel-encrusted altar where I can put my keys.
This Week in History
President Martin Van Buren Born (December 5, 1782)
Our eighth president served one term in office, from 1837 to 1841. His political enemies once tried to smear him by saying he was too close to the Pope.
And remember: if you encounter the notorious Van Buren Boys gang, flash their sign.
Walt Disney Born (December 5, 1901)
Disney's very first TV special, One Hour in Wonderland, aired on Christmas Day in 1950 and was sponsored by Coca-Cola.
13th Amendment Ratified (December 6, 1865)
The Constitutional amendment abolished slavery and involuntary servitude.
Tuesday is National Cocoa Day
As the air gets colder and colder, our desire for hot drinks that include some type of chocolate grows stronger and stronger. There comes a point in the season where you shift into "hot cocoa mode." Before you reach for that hot cocoa or hot chocolate, please note that there are differences between the two, even if a lot of people think they are interchangeable.
As The Nibble explains, hot chocolate is made from actual shaved chocolate, while hot cocoa is made from cocoa powder. Now, you could just go out and buy some Swiss Miss or Carnation packets — both are completely acceptable! — but how about making your own? Here's a classic recipe from Momables, and here's a slightly different take from Alton Brown.
I always add a little French Vanilla Coffeemate to mine. I'm drinking a cup right now.
Next Week's Holidays and Events
Jane Addams Day (December 10)
This memorial to the cofounder of Hull House, the NAACP, and the ACLU doesn't mark her birthday but the day 85 years ago when she became the first American woman to win the Nobel Peace Prize.
Poinsettia Day (December 12)
Did you know that the poinsettia is named after an American botanist named Joel Roberts Poinsett? This day marks his death and also honors Paul Ecke Jr., whose experiments pretty much created the entire poinsettia industry.
The Post interviewed Kirk Douglas at in 1957 and again in 1986. Thirty years later, on the occasion of his 100th birthday on December 9, we share these earlier interviews.
The first time the Post interviewed Douglas, he was 40 years old, and some of his best work still lay ahead of him.
He had yet to star in Gunfight at the O.K. Corral, Paths of Glory, Seven Days in May, or the quintessential Douglas film, Spartacus.
In that 1957 interview, he talked of the hard times he'd known growing up in the 1920s.
"For my lunch at school, ma beat up one egg with water, then she fried the egg and cut it in half to make two sandwiches for me. There was no butter on my sandwich bread. If I had a nickel I bought milk to slosh it down; otherwise I drank water. Whatever we had to eat, whether it was boiled soup bones, stale bread or pumpernickel, we ate every scrap. That habit has lasted all my life. I seldom leave anything on my plate."
He took whatever work he could find. "I've held down more than forty jobs in my life. Among other things, I've been a dishwasher, a punch-press operator, a cashier, a night watchman, a lifeguard." He worked his way through college as a janitor, then talked his way into drama school.
It was while working in summer stock that a director helped him settle on a stage name. He thought his original name, Issur Danielovitch, "sounded like a sneeze reverberating in a bowl of borsch." A "glossier label," he thought, "would raise my audience appeal. I chose the name Douglas— I can't remember why. Perhaps if a psychiatrist drained my mind he would find the name 'Douglas Fairbanks' floating in the sludge. Anyhow, I remember that we decided to put Kirk in front of Douglas because it would sound 'snazzy'."
Thirty years after that interview, the Post interviewed him again as he approached his 70th birthday. He talked about his new movie and his work with co-star Burt Lancaster. He also referred to the acting career of his son, Michael, who'd won an Oscar for producing the movie One Flew Over the Cuckoo's Nest and had already starred in several popular films by that year.
Back in 1986, Douglas had no plans to retire. He continued working in film until 2008.
Now, with another thirty years passed, the Post is happy, again, to wish Kirk Douglas a happy birthday.
 "Tough Guy" Kirk Douglas

By Donald Chase

October 1986

Soon to be 70, with 73 movies behind him, Hollywood's versatile hero is still looking for obstacles to overcome. 

"I'm extremely flexible—very few people can do this," Kirk Douglas says with just a touch of braggadocio. In sneakers and exercise suit, the screen legend bolts from the plush easy chair in his Manhattan hotel suite and goes into a flatfooted squat with his buttocks just inches off the floor. There's no strain in his tanned face. Only the quizzical creases in his brow, the smile lines about his eyes and mouth, and the gray in his thick, sandy hair betray his age, 69. And that number doesn't stop him from sprinting across the top of a moving train with his costar, Burt Lancaster, in the new Disney action comedy Tough Guys.

Douglas has always been tough, but flexible, in more ways than one. He risked going against the prevailing nice-guyism of postwar leading men to play Champion's exploitative boxer, arguably Hollywood's first "antihero." One of the first actors who produced their own films, he created starring roles for himself as well as a platform for important issues. His company, Bryna Productions (named after his mother), made the controversial 1957 antiwar statement Paths of Glory and broke the infamous Hollywood blacklist by hiring Dalton Trumbo to write Spartacus. Last year, Bryna made the TV movie Amos, on the prickly subject of elderly abuse.

"As an actor and a producer," Douglas says reflectively, "I've always been drawn to stories about people overcoming obstacles. I'm sure it must be because I've had to overcome so many myself." Douglas was born Issur Danielovitch in Amsterdam, New York, one of seven children of an impoverished immigrant Russian-Jewish peddler and his wife. "But also," he adds, "I believe that challenge is what keeps you young, strong, and flexible, physically and mentally."

The physical challenges Douglas sets for himself these days may be a tad less strenuous than those of his youth. The former collegiate wrestler prefers a moderate regimen of calisthenics, weight lifting, walking, and tennis, and "though you don't have to be a monk," a low-cholesterol diet and low alcohol consumption. But his mental challenges are as rigorous, now that he's a successful actor and the owner of homes in Beverly Hills and in Palm Springs, as when he was a struggling performer trying to afford Saint Lawrence University and the American Academy of Dramatic Arts. And his skills are as avidly courted.

"That's why," he says, "I don't keep any of my awards around; they're all packed away." They include three Academy Award nominations (for Champion, The Bad and the Beautiful, and Lust for Life) and the Presidential Medal of Freedom, conferred upon him by President Carter for his good-will work worldwide. "They're the past, and I'm looking forward to future challenges. When people want to know when I'm going to stop making movies, I always say, 'When they stop asking me to, and when I no longer find them challenging,' " he says.

"They," the Disney people, asked Douglas and Lancaster to costar in Tough Guys after seeing a film clip, shown on the 1984 Academy Awards telecast, from an Oscarcast of the late 1950s. The two sang a sour-grapes spoof called "It's Great Not to Be Nominated This Year." The duet was a reminder of the rapport the actors had developed in six movies together: Walk Alone, Gunfight at the OK Corral, The Devil's Disciple, Seven Days in May, The List of Adrian Messenger, and the made-for-TV Victory at Entebbe. And in 1981, Lancaster and Douglas played the aging Huck Finn and Tom Sawyer, respectively, in a San Francisco staging of The Boys in Autumn a Broadway hit…

Working again with Lancaster triggered memories of 30 years ago. "When Burt and I were on location in Tucson for Gunfight at the OK Corral in 1956," Douglas recalls, "we used to have dinner together every night and talk until one-thirty or two in the morning." But for all that Douglas and Lancaster did — and do — have to talk about, Douglas says they are "not close, intimate friends. A year might go by when we don't see each other, except at industry functions. And yet I feel that if I needed Burt and called on him, he'd be there. And 1 think he feels the same way about me.

"I'm probably more gregarious," Douglas adds. "But then I'm married" — for 32 years to a Belgian-born former publicist, Anne Buydens — "and now Burt is not, and I think that makes a difference."

One similarity Douglas finds in himself and Lancaster is their determination to give value for money. "We're both hard working; we're always on time — professional. Maybe it's because we're both closer to the hard-work ethic of the immigrant generation than a lot of today's actors, but we couldn't conceive of holding up production. When we were coming up, we used to average three pictures a year—Tough Guys is my 73rd — and to make just one picture a year now, forget about one every three years as Warren Beatty and Dustin Hoffman do, seems like sloughing off," he says.

Douglas didn't know if his four sons would have the incentive to make it in show business. "I always figured that by starting life with nothing, by having nowhere to go but up, I really had all the advantages," he says. "My sons didn't have the same impetus — the old man could take care of them if things didn't work out. And the chances for success in the movie business are so remote, especially for actors, who constantly face rejection and just can't help but take it personally. So 1 advised each of them from entering it — you see, I felt that if you could discourage somebody from going into it, they shouldn't be in it."

None of the boys was discouraged. Michael, now 42, won an Academy Award for producing One Flew over the Cuckoo's Nest —a personal vindication for dad, who had starred, none too successfully, in a Broadway version of the material and failed to get it going as a film. Michael also did double duty as actor and producer in The China Syndrome, Romancing the Stone, and the latter's sequel, Jewel of the Nile.

Douglas says of his sons; "Possibly, in the past, they might have learned something from me, but I now learn a lot more from them. 1 ask more questions than they do; they keep me au courant. And Peter, don't forget, brought the Amos project to me, not the other way around. Working on it with him was so gratifying because it was not the father looking down on the son, but if anything, the son looking after the father." As for Michael, "I said to Burt Lancaster on that Academy Awards show, 'If 1 had known he was going to be so important, I would have been nicer to him when he was young!' "

Yet Michael's professional success is not what makes his father happiest. "It's that he's done so many things to help other people," Douglas says. "It's that he gets involved, that he went to Central America about a year ago and got people from both ends of the political spectrum to come to Los Angeles for a discussion of their differences. He's backing a theater group in Santa Barbara composed only of handicapped kids. Those are the things 1 admire most about Michael. Because that's character. Then, secondly, 1 admire him as an artist."

Michael is, in a way, just a chip off the old block. For 20 years Kirk Douglas has been traveling the globe at his own expense for the United States Information Agency and addressing student groups about America. He also made a TV documentary about the Afghanistan refugees fleeing Soviet domination.

"I use myself as the most immediate example of what America means," Douglas says. He likes to recall taking his immigrant mother in a limousine to see the block-long Times Square billboard announcing "BRYNA PRESENTS SPARTACUS. His mother was not overwhelmed, as he had expected. She simply remarked, as she had so often before: "America is a wonderful land."

"It was as if to say, 'Well, of course, this can happen here,' " Douglas says. "She believed that, and she also instilled in me a sense of paying back. That's why, having benefited from our system and having the opportunity, I try to do something in return from time to time."

Though it was President Carter who awarded Douglas the Medal of Freedom for his unofficial ambassadorial work, the actor's trips have taken place under both Democratic and Republican administrations.

"It's something that I try to divorce from politics," he stresses. "Not that I don't have strong opinions about politics, because I do. In the past I've supported various candidates, [but that can be] difficult and dangerous." It's dangerous, he says, because "people in my position, with access to the media, have an unfair advantage. I also shy away from it now because I feel that sometimes politicians will use an actor like a hunk of meat." And he feels it's difficult because partisanship might diminish his clout as a spokesman on "themes that affect us all in a humanitarian way."

His latest cause is elderly abuse, "which is universal," he says. "Republicans get old; Democrats get old; Communists get old." He has written about the subject in the New York Times and spoken on it at a Congressional hearing; he used the research he did for Amos.

"I was appalled," Douglas says, "at the kind of abuse the elderly suffer."

Douglas refuses to wear blinders against his country's defects. "I think we have the best system," he says, "but it can remain so and become better, stronger, only if we recognize that we have faults and work to correct them, whatever the obstacles." And though we may never reach perfection, he says, either as individuals or collectively, we must never stop striving. "There's a passage in Browning," Douglas says, "that goes: 'A man's reach should far exceed his grasp/Else what's a heaven for?' "
Featured image: Wikimedia Commons / public domain