For decades, fans have flocked to Florida for a pre-season preview of America's favorite pastime: baseball. Boasting more than 74 million citrus trees, Florida's aptly named Grapefruit League squeezes out home runs and plenty of fun from late February through March.
With 15 Major League teams, the Sunshine State is the sweet spot for fans of baseball and saving money. The average cost of a ticket to see the Mets play in New York is $61, but tickets start at $25 to see them play in their spring training facility in Port St. Lucie, 90 minutes south of Cape Canaveral.
East Coast
This spring, West Palm Beach holds the hottest ticket in baseball. That's because the two teams who share West Palm's FITTEAM spring training stadium, the Houston Astros and Washington Nationals, both made it to last year's World Series. The Nationals were last year's winner, while the Astros won in 2017, the opening year for this rookie South Florida sports complex.
Of course there's a lot more than just sports to be enjoyed in Palm Beach. The arts are thriving, and a stop at one of the local museums, like Ann Norton Sculpture Gardens or Flagler Museum, is a must. Or take a stroll to gawk at the price tags at the upscale boutiques (think Lilly Pulitzer, Chanel, Gucci) lining Worth Avenue, Palm Beach's version of Rodeo Drive. Head over to brunch at the grande dame of Palm Beach hotels, The Breakers, for a break from hot dog-and-burgers ballpark fare.
Just 15 minutes north is the northernmost Palm Beach County town of Jupiter, home base for the St. Louis Cardinals and Miami Marlins. Though this sleepy beach town has a population of only 65,000, it's home to the largest number of professional golfers in the country. With perfect weather, quiet beaches, and magnificent golf courses, it's no wonder some 35 PGA Tour pros live there, including Tiger Woods.
Take time to enjoy nature by renting a canoe and paddling through the cypress tree-lined waterways of the Loxahatchee River at Riverbend Park, only 10 minutes from Jupiter's Roger Dean Stadium.
Enjoy the water while dining as well. For a romantic night out, book a waterfront table at the upscale 1000 North. Make sure and ask for a view of Jupiter's iconic red lighthouse. For more laid-back waterfront dining, head over to Guanabanas, a beloved local hangout known for its live music and casual island vibe.
The Jupiter Beach Resort and Spa is the only oceanfront hotel in Jupiter, making it a great lodging choice. Ride one of the hotel's free bicycles 15 minutes south to the Juno Beach Pier. A day-long fishing permit at this classic Florida pier is $4 for adults, $2 for kids. Fishing poles, tackle, and bait can be rented on site.
Gulf Coast
Florida's Atlantic Coast scores with three spring training facilities, but it's the Gulf Coast that sees most of the Big League action, with teams spread from as far south as Fort Myers up to the Clearwater/St. Pete area.
For Boston Red Sox fans, Fort Myers is a fantasy getaway. Daily direct flights from Logan make it easy to enjoy pre-season baseball at JetBlue Park, known as Fenway South. The Minnesota Twins also call Fort Myers home. Should you want to round out your Fort Myers trip with a little more excitement, it's a two-hour drive along Alligator Alley to the Atlantic Coast's Miami or Fort Lauderdale.
An hour north is where the Tampa Bay Rays and Atlanta Braves play. Another 40 minutes north, and you've landed in Florida's "Cultural Coast" of Sarasota, home to a professional ballet, opera, orchestra, ten theaters, and the brand new Sarasota Art Museum. Of course Sarasota's also home base for the Baltimore Orioles and, a half-hour north, to the Pittsburgh Pirates.
Don't let the pristine beaches and vibrant arts scene of the Clearwater/St. Pete region throw you a curve. It's also got a winning sports scene, with three Major League teams playing within an easy drive of swanky Sandpearl Resort, located on a magnificent wide stretch of Clearwater's powdery, white beach. Sandpearl's on the main drag of Clearwater Beach, where you'll find hip restaurants, surf shops and the iconic Pier 60 with its nightly sunset party. The Phillies and Toronto Blue Jays play in stadiums twenty minutes from Clearwater Beach. Tampa's George Steinbrenner Field, 45 minutes away, is home to who else but the New York Yankees.
If you're game for combining spring training baseball with a trip to Disney World, Universal Studios or other theme parks, the Detroit Tigers play a half hour from Orlando.
For baseball lovers, it doesn't get much better than this: sunny weather, affordable tickets and the rare chance to get up close with the best players in the Major League. If you're a baseball fan, you won't strike out with a spring visit to any of these Florida destinations.
Featured image: Hammond Stadium in Ft. Myers Florida, home of the Minnesota Twins (Evan Meyer / Shutterstock)
Fact Check: Rumor Wins
It seems appropriate that a dog named Rumor won Best in Show at this year's Westminster Kennel Club Dog Show (what, there were no dogs entered in the contest named Fake News?). The German Shepherd was by far the most popular dog at the show, being called "magnificent" by judge Thomas Bradley. She almost won last year but lost to a Shorthaired Pointer named California Journey.
I always get a kick out of how the dog owners/handlers parade the dogs around during these contests. Jimmy Kimmel Live shows us what it would look like if the dogs were magically erased:
I had a German Shepherd/Collie mix when I was a kid. I loved her dearly, even if she did bite my ankles all the time.
Give the Gift of Pepperoni
Never mind nice china or table linens or furniture, what newlyweds really want is a medium deep-dish pizza with extra cheese and a liter of Diet Coke.
Domino's Pizza has started a wedding registry. You can give $25 for the couple to use on their wedding night, $25 for something called a Post-Honeymoon Adjustment to Real Life, and even $60 for bachelor and bachelorette parties. Unfortunately, if you wanted a diamond engagement ring in the shape of a slice of pizza, you're a little late. That contest has already ended.
Your move, Burger King. May I suggest you ordain that creepy king and have him perform weddings at various locations around the country?
RIP Al Jarreau, Bobby Freeman, and Bruce Lansbury
Two singers passed away this week:
Jazz singer Al Jarreau performed for 50 years and earned seven Grammy Awards. He sang such songs as "We're In This Love Together," "We Got By," "Breakin' Away," and "After All." Fans of the '80s TV series Moonlighting will recognize his voice; he sang the theme song.
Jarreau died Sunday at the age of 76.
The name Bobby Freeman might not be known to you, but one of the songs he sang certainly will be.
His song "Do You Want to Dance" was later recorded by everyone from The Beach Boys and Bette Midler to John Lennon and The Ramones.
Freeman passed away on January 23 at the age of 76, though the death is only now being reported.
We also lost Bruce Lansbury, brother of Angela Lansbury and a producer/writer on her hit show Murder, She Wrote. He was also a producer on The Wild Wild West, Mission: Impossible, Knight Rider, Wonder Woman, Buck Rogers in the 25th Century, and several other shows and TV movies. He served as VP of Creative Affairs for Paramount TV, where he oversaw shows like The Odd Couple, The Brady Bunch, and Happy Days. He also created The Magician, the '70s CBS series that I really loved as a kid.
Lansbury died Monday at the age of 87.
What's on Second?
There's an old saying — usually attributed to football coach Barry Switzer — about how some people are born on third base and they go through life thinking they hit a triple. Now Major League Baseball is trying something like that.
In a move that MLB is calling a "testing" but baseball fans will probably call "stupid," at the start of extra innings, a player will automatically be placed on second base. Right now it will be tested only in the minor leagues, and it might be a few years before it takes effect in the majors. The idea is getting a thumbs-up from many baseball executives, including Joe Torre, the former New York Yankees manager and the MLB's current CBO (Chief Baseball Officer, seriously). Say it ain't so, Joe!
This is another ill-advised attempt to "speed up" and "improve" baseball. As I mentioned a while back when MLB wanted to make other changes to the game, baseball doesn't need to be sped up. It's a game for warm summer days and nights, where you sit back and relax and drink cold beverages for a few hours. If I want speed, I'll watch basketball or hockey.
Nudity Is Back!
In an earlier column, I told you that Playboy magazine was getting rid of nude women in its print magazine as of last March, which at the time I said was like McDonald's deciding to stop selling burgers. But just a year later, they've changed their minds. Starting with the March/April issue, the magazine will once again feature females sans clothing. Cooper Hefner, CEO of the company and Hugh Hefner's son, says that they're also bringing back the Party Jokes and the Playboy Philosophy pages but getting rid of the famous cover tagline "Entertainment for Men." They're dropping that because "as gender roles continue to evolve in society, so will we." No, I don't have any idea what that means either.
The issue's cover will say "Naked Is Normal," and while that's a catchy headline, I'd still put on clothes when you go to Domino's if I were you.
This Week in History
Thomas Edison Born (February 11, 1847)
Here's a terrific piece by Saturday Evening Post Archive Director Jeff Nilsson, "Edison and the Pirates: The Inventor's Solution to Copyright Theft."
The St. Valentine's Day Massacre (February 14, 1929)
Seven members of Chicago's North Side Irish gang were gunned down by members of Al Capone's gang.
This Week in Saturday Evening Post History: Billboard Painters in Winter (Feb. 14, 1948)
It has reached that point in the winter when you're starting to think about the spring. You're sick of the icy steps and the snowbanks that have turned black, and you want warmth and color. That's probably what Stevan Dohanos was thinking when he painted this cover for the February 14, 1948, issue of The Saturday Evening Post.
By the way, Dohanos was a fantastic artist. Here's more about his life and work, and here's a gallery of the covers he did for us.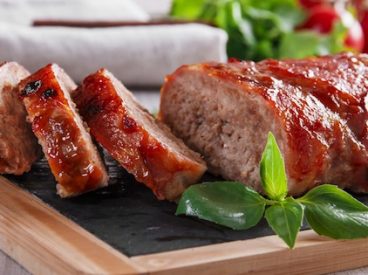 Comfort Food
Vacations and daydreaming aside, we do have a while left in winter, so we need some food to warm our bones and souls. There's a new recipe book out with a couple of interesting twists: Not only are all 50 recipes in the book for meatloaf, they're provided by some well-known figures from politics, journalism, and cooking, including Mario Batali, Speaker Paul Ryan, Senator Chuck Schumer, Congresswoman Nancy Pelosi, and chef Alex Guarnaschelli's mom. It's called A Meatloaf in Every Oven, and it's from Frank Bruni and Jennifer Steinhauer.
Wait, did I say 50? Make that 51 with this Crock Pot Turkey Meatloaf recipe.
Next Week's Holidays and Events
Presidents' Day (February 20)
George Washington's birthday is on the 22nd, but we celebrate it on the 20th, the same day we celebrate the lives of all our presidents, even though this day started out as a celebration of just Washington and Abraham Lincoln, whose birthday is actually on February 12. Got that?
Love Your Pet Day (February 20)​
Sure, they can call this Love Your Pet Day, but we all know that they're talking mostly about dogs.
The New Shows (So Far)
The fall TV season officially launched this week, with new seasons of old shows and new shows debuting. CBS's The Good Place has Kristen Bell dying and going to the afterlife (don't worry, it's a comedy), which happens to be a good place run by Ted Danson. Reviews are pretty good, and the first episode got good ratings. CBS also has Bull, which is about Dr. Phil's early years as a jury consultant, and it was just as exciting as it sounds.
Fox has Lethal Weapon (a very average TV version of the movie), and ABC has the comedy Speechless and the drama Notorious. Designated Survivor, with Kiefer Sutherland as the secretary of Housing and Urban Development who suddenly becomes president when there's a bombing (don't worry, that's the premise of the show, not a spoiler) started on ABC on Wednesday. It's the best new show I've seen this season (so far, there's plenty more to come) — a mix of The West Wing and a spy drama. Hopefully they can maintain the quality of the pilot.
Last night, Pitch premiered on Fox. It's about the first female Major League Baseball pitcher. Tonight, Fox has The Exorcist, a TV version of the 1973 movie, which no one was asking for, and CBS has MacGyver, a new version of the late '80s/early '90s TV show, which no one … actually, this one could work out if they handle it correctly and capture the tone/fun of the original. So far, reviews are mixed. And if they don't get Richard Dean Anderson to guest star, well, that's just silly.
Kevin Can Wait also started this week, but since CBS insists on calling Kevin James "The King of Comedy" in ads, I refuse to watch it. Everyone knows Adam Sandler is the King of Comedy.
Don't Trust the Five-Second Rule
There are several rules we should always try to live by. We should be kind to others, save our money, brush our teeth at least twice a day, and avoid watching reality shows where a woman tries to find a husband after dating a dozen men. Oh, and we should try to not eat food that has fallen on the floor.
You've heard of the Five-Second Rule, right? That's the theory that it's okay to eat food that has fallen to the floor as long as you pick it up within five seconds. Turns out it's not true! I know, I'm shocked too!
I don't understand why this was ever a thing anyway, as if there's a real difference between 10 seconds or 5 seconds or 4 seconds. And wouldn't this theory be confined to a clean kitchen floor? I mean, I'm sure even the hardiest of Five-Second-Rule defenders wouldn't stick to the rule if the food fell in a playground sandbox or on the floor of a public restroom. But really, your default position should always be, "Food that falls on the floor is now garbage." Or maybe, "Here Spot, I have a treat for you!"
RIP Edward Albee and Curtis Hanson
For some reason, my junior high school English teacher showed us the movie version of Who's Afraid of Virginia Woolf? I don't know if I appreciated it then, but I saw it years later and liked it a lot more (though it's still a weird movie and makes me uncomfortable). Playwright Edward Albee was awarded a Pulitzer Prize for the play version … but then the board decided to take back the award, actually deciding to not give an award that year (prompting jury members to resign). He did win three Pulitzers though, for A Delicate Balance, Seascape, and Three Tall Women. He also won several Tony Awards. Other plays Albee wrote include The Zoo Story; The Goat, or Who is Sylvia?; The Lady from Dubuque; The Man Who Had Three Arms; Me Myself and I; The Play about the Baby; and Peter and Jerry.
In 1964, not long after Who's Afraid of Virginia Woolf? did and did not win the Pulitzer Prize, the Post's John Skow wrote about the up-and-coming Albee, calling him "Broadway's Hottest Playwright."
Albee died last Friday at the age of 88.
Curtis Hanson was the director of such films as L.A. Confidential, Wonder Boys, The Hand That Rocks The Cradle, 8 Mile, Bad Influence, and many others. He passed away on Monday at his home in Hollywood. He was 71.
By the way, if you've never seen L.A. Confidential, stream/rent/buy it ASAP. It's that rare thing: a perfect film. It should have won the Best Picture Oscar for 1997, but it lost to Titanic.
What Really Happened to Amelia Earhart?
Every couple of years, we hear about a new theory about what really happened to aviator Amelia Earhart and her navigator Fred Noonan in 1937. This is one of those years.
The theory by the International Group for Historic Aircraft Recovery (TIGHAR) actually isn't new, but it's getting new attention. As the theory goes, her plane crashed near Gardner Island in the Western Pacific, but she and Noonan actually survived (though Noonan may have been severely injured). They even got out several distress calls that people around the country swear they heard. Earhart and Noonan may have spent some time on the island, but they eventually died, and the island might still hold their remains and maybe parts of the aircraft. It's a fascinating theory, and TIGHAR wants to go back to the island to see what else they can find.
Do We Really Need Robot Shopping Carts?
No, but we might get them anyway.
Walmart is experimenting with robot shopping carts that drive themselves around the store while you shop. Because we all know how difficult it has been all these years to shop while also having to push a cart around.
This is a solution to a problem that doesn't exist. Soon, we won't have to do anything. We'll be driven to the supermarket in our driverless cars, robots will grab things off the shelf for us, and when we get home, robot butlers will feed us like babies. Not everything we saw on The Jetsons is worth doing.
Maybe instead of robotizing our shopping carts, scientists can use that money and technology to give us carts with wheels that don't wobble.
Guy Enters 1957 Contest … and Wins!
Just a few weeks ago, I came across a contest in an old magazine. I thought about checking to see if the address for the contest was still valid and wondered what would happen if I actually entered a contest from decades ago. I didn't actually do it, but maybe I should have.
Darwin Day, a 70-year-old who lives in Texas, was recently going through some old baseball cards in his house and came across one from 1957 that had a Bazooka bubble gum contest on the back. There was no deadline for the contest, so he decided to enter to see what would happen. Well, here's what happened.
Note to self: enter more contests from the '50s.
This Week in History: U.S. Air Force Founded (September 18, 1947)
Before becoming independent in 1947, the Air Force was actually part of the U.S. Army.
This Week in History: Richard Nixon's "Checkers" Speech (September 23, 1952)
Richard Nixon was running for vice president when controversy arose regarding a fund that was established to help him with campaign costs. During the televised speech, Nixon said that he was going to keep one important gift that his campaign had received. Here's the speech:
Happy 50th Birthday, Cool Whip
Speaking of Nixon, 2016 is the 50th anniversary of the launch of Cool Whip (stay with me here). To celebrate, why not make a Watergate Salad? No one really knows how it got that name, though Delish cites one theory that it got the name because the Watergate plan was put together the way you put together a dessert salad. It's a mixture of pistachio pudding, crushed pineapple, pecans, and mini-marshmallows, topped with Cool Whip. You can put on All The President's Men and have that for dessert.
Just make sure you don't drop it on the floor.
Next Week's Holidays and Events
Library of Congress National Book Festival (September 24)
Stephen King will open the 16th annual festival at the Washington Convention Center in Washington, D.C.
Charles Osgood's Last CBS Sunday Morning (September 25)
Osgood announced his retirement after 22 years as host of the show and 45 years at CBS. He will still make an appearance on the show now and then, and he'll continue his radio show, The Osgood File. No replacement for CBS Sunday Morning has been announced yet, though Jane Pauley seems to be a good bet.
First Presidential Debate (September 26)
Donald Trump and Hillary Clinton square off at Hofstra University at 9 p.m. in the first of three debates. NBC's Lester Holt will moderate, and it's on a hundred channels (not to mention Facebook and Twitter) so don't even think about not watching it.
Is This What Shakespeare Really Looked Like?
The biggest mystery about William Shakespeare used to be the theory that it was actually Sir Francis Bacon that wrote the plays the Bard is famous for. Now there's another controversy: Has the real face of Shakespeare finally been found?
Honestly, I didn't even know that this was a mystery. I always thought we knew what Shakespeare looked like. Of course, I'm basing this on years and years of TV shows and movies, but I had no reason to think that it wasn't accurate. But now botanist and historian Mark Griffiths says in Country Life that the image found in a 17th-century book on botany is the "first and only known demonstrably accurate portrait" of Shakespeare.
Of course, a lot of other historians aren't convinced. Not only is this not the first time someone has claimed to find the "real" image of Shakespeare, this image was found in a book on botany, and some people don't know why he would have been in such a book.
Can a Machine Replace a Reporter?
One day, everything you read online and maybe even offline (if there is such a thing as offline in the future) will be written by a computer program. Well, okay, maybe not, but it's not like news organizations aren't trying.
There are companies creating programs and apps that actually write some of the news stories you read on Yahoo! and the Associated Press. A reporter for NPR, Scott Horsley, decided to challenge one of these programs — with the friendly, innocuous name WordSmith — to see who could write the story quicker and if anyone could tell the difference. Here are the results.
I find this a scary development. Not just the fact that real reporters could see their jobs taken away some day, but also the fact that people think the style and personality of a writer can be duplicated 100 percent. I guess it's the speed and information they see as the important thing, and it's only being used for certain stories right now. If this does happen, in 50 years we'll just be a race of people that consumes news but doesn't write any of it.
Of course, you have no idea if this very column is being written by … BUFFERING BUFFERING … a computer program. There's really no way you can tell 01010101010101010101010101010 is there?
The 'Mad Men' Finale Explained
It has become commonplace to announce in a review or essay about a TV show that there are spoilers about to be revealed. I've never understood that, because if I'm reading a review of a TV show I'm just going to assume that, you know, what's in the TV show is going to be revealed. Having said that, SPOILERS FOLLOW SO RUN FOR YOUR LIVES IF YOU HAVEN'T SEEN THE MAD MEN FINALE YET.
At the end of the episode, we see Don Draper, who has left everything and everyone behind, meditating on top of a hill in Northern California with several other people in an Esalen-ish retreat. Don has his legs crossed and is in the middle of an "oooooooooommmmm" chant when the camera comes in on his face and he smiles knowingly. We hear a "ding" and immediately the classic "Hilltop" Coca-Cola commercial comes on the screen. End of show.
I think it's pretty clear what happens: Don gets the idea for the commercial, realizes who he is, and goes back to New York City and creates the ad for McCann Erickson. It's a positive, non-cynical ending. But so many people online, both critics and casual fans, are seeing the ending as not only cynical and defeatist but also ambiguous. You mean Don learned nothing and goes back to advertising? Does Don create the ad or is it Peggy? Does Don stay at the retreat and change his life again? Is the ad just thrown on the screen because it was released around this same time and involved a hillside full of people and has nothing to do with Don?
Honestly, I think the ending we see is the ending we got. Shows like Lost have changed the way we watch television and what we expect from a series finale, and not for the better. There's not always a "mystery" to what we see. We have to judge the ending by the information we're given. It's almost as if fans and critics are writing some sort of Mad Men fan fiction to "explain" the ending, envisioning what the scene really means and what happens 30 minutes, 30 hours, 30 days after Don smiles. Sure, a lot of things could have happened, but how are we to know? We have to judge it by what happened in the episode (and in the other episodes this season).
For the record, Mad Men star Jon Hamm agrees with me.
And creator/writer Matthew Weiner clarified the ending in a talk with writer A.M. Homes at the New York Public Library on Wednesday night, saying he's "not for ambiguity for ambiguity's sake" and (talking about Don and the Coke ad) "the idea that someone in an enlightened state and not just co-option might have created something that is very pure."
'Steve Jobs' Teaser Trailer
Another highlight of the Mad Men finale was the debut of the first trailer for Steve Jobs, the biopic of the Apple Computer guru directed by Danny Boyle and written by Aaron Sorkin (The West Wing, The Social Network). Interesting that for the trailer they're showing latter-day Jobs with the lighter hair and not younger Jobs:
National Wine Day
I'm a red wine guy. The few times I've had white I've regretted it and I've run back to my Cabernet Sauvignons. But for this Monday, National Wine Day, I've decided I'm going to try to get into white wine. I want something light, something smooth, something that won't scare me off, something very drinkable. Any suggestions?
And by the way, don't confuse National Wine Day with National Drink Wine Day, which is February 18. I don't know what the difference is (is there something else you can do with wine besides drink it?), but there you go.
Upcoming Anniversaries and Events
The Indianapolis 500 (May 24)
This is the 99th race held at the Indianapolis Motor Speedway.
First Major League Baseball night game (May 24, 1935)
There were baseball games played at night before 1935, but this was the first official Major League Baseball game played under the lights.
Brooklyn Bridge opens (May 24, 1883)
Today is the 131st anniversary of the opening of the iconic New York bridge.
Bram Stoker's Dracula published (May 26, 1897)
You can read the classic horror novel online for free at Project Gutenberg.
Golden Gate Bridge opens (May 27, 1937)
The official site has a complete history of the bridge and information if you're thinking making a visit.
From opening day to the World Series, it's the fans who make the game. Nearly 75 million Americans will buy a ticket to a ball game this season, and millions more will watch baseball on TVs and mobile devices. Monday marked a record-breaking viewership: 60 million fans accessed Major League Baseball apps to watch season openers.
Here's a cover collection for those dedicated fans whose enduring passion for the game has made baseball a national pastime.
More for baseball lovers: Check out our Baseball Special Collector's Edition, which includes the illustrations below and dozens more, plus rare photos and interviews with baseball greats.
A look at Baseball on the covers of The Saturday Evening Post (click on the covers to see larger image):
Leave Baseball Alone!
Several years ago, there was talk about improving baseball and making it enjoyable and accessible to more people. Several ideas were thrown around — some serious, some less so — but I remember two of the suggestions being 1) reduce the number of innings to seven or eight, and 2) have a foul ball count as a third strike. Apparently what is ruining baseball is that it's just too damn long. Starting this year, baseball is going to institute a new series of rules designed to move the game along, including time limits on how long batters take to get into the batter's box and on how long pitchers take to throw their last warm-up pitch and their first pitch to the batter, and a new rule that states the batter has to keep one foot in the batter's box at all times. There's also a new rule involving the use of instant replay: Managers can now demand replay from the dugout, meaning they no longer have to walk up to an umpire to challenge a play. In the past 10 years, the average time for a baseball game has gone up 20 minutes, lasting around 3 hours. The theory is if you speed baseball up more fans (and younger ones, whom I guess Major League Baseball wants to live-tweet games) will like it.
Mother of Honus Wagner, this is a bad idea. OMG, baseball is 20 minutes longer than it used to be! Yeah, well, baseball is supposed to be long and drawn out. You know why? It's the same reason they shouldn't tamper with tennis (another sport where they're trying to speed things up). It's a summer sport! Like tennis and golf, baseball is supposed to be slow and long and relaxing. I don't care if the batters step out of the box or pitchers throw to first base a lot or the relief pitchers get a lot of warm-up throws. Baseball isn't basketball and it's not football and it's not hockey. There are plenty of sports that are faster if you want that sort of thing, and I don't hear any hardcore baseball fans complaining the sport is too slow. Actually, I think football and basketball move too slow, especially the last couple of minutes of a game when there are a gazillion time-outs, stopped clocks, reviews, and commercial breaks.
You know what makes baseball baseball? There is no clock.
Maybe one idea that could work is simply reducing the number of games played during the baseball season. Not counting the playoffs and the All-Star Game and the World Series, every team plays 162 games. Isn't that a lot? Maybe it would be better if baseball wasn't played until late October, when football and basketball and hockey have already started and our kids have already picked out their Halloween costumes.

James Bond Has a New Car
If you remember the ending of the last James Bond movie, Skyfall, you'll recall that 007's classic, beloved Aston Martin DB5 blew up, destroyed in a heap of fire and twisted metal. It was sad, but much like killing off (spoiler alert!) Judi Dench's M character, it gives the filmmakers the opportunity to start things fresh with the next movie, SPECTRE, which will be in theaters this November 6.
Esquire has photos of Bond's new car. It's still an Aston Martin, but it's a modern Aston Martin. The DB10, a two-door with weird side windows, looks like it goes 300 miles per hour. Actually, it looks like it's from the future. The car was made especially for the film.
And it's not the only new car we'll see. Bond has a car chase with someone in a Jaguar C-X75, one of five prototypes Jaguar made before stopping production a few years ago.

Lost Sherlock Holmes Story Found (or Was It?)
2015 seems to be the Year of Finding Lost Things. First we discovered the long-lost Harper Lee novel, Go Set A Watchman . Then came word that a new Dr. Seuss story, What Pet Should I Get?, had turned up. Now there's news that a lost Sherlock Holmes story by Sir Arthur Conan Doyle had been discovered in a pile of books. Doyle wrote the story (with the cumbersome name "Sherlock Holmes: Discover the Border Burghs, and, By Deduction, the Brig Bazaar") for a fundraiser to fix a damaged bridge in Selkirk, Scotland. An 80-year-old historian who lives in the town found the 1,300-word story in an anthology published in December 1903.
But wait! Now comes breaking news that some Sherlock Holmes experts doubt the story was really written by Doyle! Some scholars think the story was actually written by someone else because there is no mention of Doyle in any of the programs of the event or newspaper articles. This sounds like a case for Sherlock Holmes to solve.
Whatever the truth is, you can read the story online for free at The Telegraph .

And The Razzie Goes To…
By now you probably heard who won all the Academy Awards last weekend — and you also know what host Neil Patrick Harris looks like in his underwear — but did you hear who won the night before, during that other awards ceremony? I'm talking about the Razzies, the awards that celebrate, well, the worst in cinema. This year's big winner (ahem) was … Kirk Cameron! The former Growing Pains star and his film Saving Christmas received four Golden Raspberry Awards, including Worst Picture, Worst Screenplay, Worst Actor, and Worst Screen Combo, an award he shared with "his ego," as the award explained it.
Other winners include Worst Supporting Actress Megan Fox for Teenage Ninja Mutant Turtles, and Worst Actress Cameron Diaz, who was lucky enough to be singled out for her performance in two different movies, Sex Tape and The Other Woman. And Worst Supporting Actor Kelsey Grammer was called on for four: The Expendables 3, Legends of Oz, Think Like a Man Too, and Transformers 4: Age of Extinction.
There was one award at the ceremony that was actually worth winning. Ben Affleck won the Redeemer Award for going from Gigli to this year's Gone Girl. He beat out Jennifer Aniston, Mike Myers, Kristen Stewart, and Keanu Reeves. I hope Affleck keeps this award on his mantel, next to his Oscars and Golden Globes and Director's Guild awards.

National Strawberry Day
It seems odd to celebrate strawberries in February, but I'm sure many people are dreaming of them right now as they shovel out their driveways and knock down giant icicles that have formed on the edges of their roofs.
We have a lot of strawberry recipes, including Frozen Strawberry Pie, Curtis Stone's Whole-Wheat Buttermilk Pankcakes with Strawberry-Maple Syrup, and even Strawberry Lassi Ice Pops.
And if you're looking for another way to celebrate National Strawberry Day, well, they're also great for whitening your teeth.

Upcoming Anniversaries
Lindbergh baby kidnapped (March 1, 1932)
Learn about the man who tracked down the kidnapper.
Dr. Seuss born (March 2, 1904)
Here's a detailed biography of the acclaimed author Theodor Geisel.
Michelangelo Buonarroti born (March 6, 1475)
The artist, whose full name was Michelangelo di Lodovico Buonarroti Simoni, has his own web site, and yes it's Michelangelo.com.
Alexander Graham Bell gets patent for telephone (March 7, 1872)
Read why the phone is one of 12 innovations that changed our world.
It was with good reason that newspapers covered the National Football League (NFL) lockout this year in both the sports and finance pages. Professional football is very big business. In 2010, NFL revenues exceeded $9 billion. (In contrast, the revenues for Major League Baseball were $7.2 billion and $4.1 billion for the National Basketball Association.)
Success on this scale would have been unthinkable when the NFL was founded 91 years ago this week. Back then, pro football was struggling for acceptance. Americans loved the game, but only when played by college teams. For years, the NFL struggled to build a following for the professional sport, which was considered inferior to the college version. This misconception led one of its star players to write in its defense for a 1932 issue of the Post.
"Do you believe a great college team could beat one of the good teams in the National Professional league?"

That's a question people ask me frequently. My reply is that I believe the college eleven would have little, if any, chance of winning. I add that the professionals' margin of victory should be more than one touchdown. So saying, I bare my reddish locks to the storms of criticisms that will fall on my head.
Those reddish locks belonged to Harold "Red" Grange, formerly the star halfback at the University of Illinois. At the time of writing, the "Galloping Ghost"played for the Chicago Bears, helping to lure fans of his college performance to the pro games.
My belief in pro superiority … is grounded on the experience of three years of comparative skylarking on college gridirons and six bruising years in professional football.
Professional footballers, Grange says, play a longer season. They don't have many of the advantages college players enjoy, like some of the best coaches in the game. And they are powered by—
The gentleman very much in action is Tennessee's Bad News Cafego.

a pregame emotional frenzy created by publicity, campus tension, the bands, and the fire-eating alumni.

In my own university days, I was convinced that the fate of the nation hinged on whether we defeated Michigan. I believed that my dad … might have a stroke if we lost.

But a fanatical desire to win and the inspiration of a coach won't take a halfback over, around, or through a hard, fast line which averages 220 pounds from end to end. That's what you face when you line up against the Green Bay Packers, for example.
Professional ball players must face tough, hardened veterans who know all the tricks and feints, which are so effective among college players.
The pros work out five days each week; they play on the sixth, and have their day off on Monday, instead of on Sunday, as is the case in college. The three hours of practice are largely devoted to football fundamentals, even though most of the men have played for years.
The professional footballer, Grange adds in those innocent days, had to really like the game to stick with it.
The pay isn't large and there are easier ways to make a living. The average pay for a professional squad is about $125 per player, per game [$1,900 in current dollars]; a team plays from fourteen to eighteen games each season. The highest salary any player in the league receives, I believe, is about $10,000 a season. [$160,000 in today's money.]
[Just as revenues have grown since 1932, so have salaries. The median income for NFL players is over $750,000 a year. The highest annual salary is $18 million.]
In conclusion, there is one thing in which I take plenty of pride. It is not in the fact that I gained more than two miles of ground in my twenty games at Illinois—thanks to superb blocking by the Illini.

I do take pride in the fact that during 1931 I led the Chicago Bears, for the season, in average gains from scrimmage, carrying the ball 605 yards in 114 attempts, an average of 5.3 yards on each try. On many of those yards I carried a 225-pound lineman on my back for company. If ball carrying in pro football gets any harder, I'll simply have to take up bridge.

This action photograph taken during a professional game in Chicago would seem to indicate that the pros leave little, if any, of their boyish enthusiasm behind them when they leave college. Grange is shown carrying the ball. On the left side of the page Grange is shown in a game between the Chicago Bears and Brooklyn.
When Major League Baseball's All Stars take the field in July at Busch Stadium in St. Louis, thousands of fans will be thinking of Mel Ott and Eddie Joost instead of Derek Jeter and Albert Pujols. They're keepers of the flame for teams alive only in sports history books and their own memories.
The New York Giants, Washington Senators, Boston Braves, St. Louis Browns—thousands of diamond enthusiasts still hold allegiance to these bygone teams. They organize fan clubs, celebrate great moments at meetings, and swap items on eBay every day all in the name of honoring the past of America's pastime.
And their own youths.
Ron Gabriel grew up two miles from Ebbets Field, home of the Brooklyn Dodgers, at a time when you could hear radio announcer "Red" Barber's play-by-play "from every open window in Brooklyn," he recalls. These days Gabriel lives in Chevy Chase, Maryland, but Brooklyn never quite left the boy. On October 4, 1975, at 3:44 p.m., he formed the Brooklyn Dodgers Fan Club. It was 20 years to the minute of the team's first and only World Series victory.
"I realized this intensity needed someone to bring [Dodgers fans] all together, to kind of act as a clearinghouse. I was confident I could do that."
Gabriel hosted annual meetings at his home (serving hot dogs and Schaefer Beer, a longtime Dodgers' sponsor). When the 50th anniversary of the team's World Series victory rolled around in 2005, he organized a commemorative dinner and passed out bumper stickers: We Loved the Brooklyn Dodgers — and we still do!!
But for Gabriel and thousands of fans of Dem Bums, the world changed when the team moved to Los Angeles beginning with the 1958 season. "I went into a state of shock,
and I still am, still can't believe it." Diehards were devastated and many, like Gabriel, never transferred their allegiance to another team. "Once a Brooklyn fan, always a Brooklyn fan," he says.
There is a common thread that binds fans of defunct teams, a certain poetry in their recollections that are valentines to the boys of summers past. You can hear it in the way they share stories —always in the present tense. Bobby Thompson hits the "shot heard round the world," Willie Mays makes his magical over-the-shoulder catch. With each retelling, there are new insights, a deeper understanding. The drama of the game continues to unfold. Instant replays, never distant replays.
"We're in the Twilight Zone," says Bill Kent, founder of the New York Baseball Giants Nostalgia Society. "To us, the old Giants are still alive. We relive their exploits."
Kent grew up in the Bronx, a trolley and subway ride away from the old Polo Grounds in upper Manhattan. As a youngster, Kent would sometimes sneak into the ballpark by climbing over the fence before crews arrived and stake out empty seats with his friends. Other times, he'd get picked to turn the turnstiles at the entrance gate, earning spare change and free admission to the game. It was a highly coveted role. "There were always more kids than jobs."
The Giants society is a loosely knit group of baseball fans, lawyers, teachers, sports writers, and even "a lady umpire and a lady baseball player" among them, who participate in an online discussion group and get together three times a year for what Kent calls schmoozing. Three or four people showed up at the first meeting held at a Chinese restaurant. Word spread, and Kent had to find larger quarters at an Italian restaurant. These days, meetings attract upwards of 50 and are often held in a church basement. Ten dollars pays for the pizza. There are even a couple of Dodgers fans and a sprinkling of Mets fans. "We don't care. We have nice people, and if they're not nice, they're out," he says.
The 1950s was a turbulent decade for baseball fans. In 1953, the St. Louis Browns played their last game at Sportsman's Park before moving to Baltimore. Brownies pitcher Ned Garver, who won 20 games for the 1951 team that ended with a 52-102 record, once famously said: "Our fans never booed us. They wouldn't dare. We outnumbered 'em." At least their legacy is alive and well. The St. Louis Browns Historical Society and Fan Club is celebrating its 25th anniversary this year.
In 1954, the Philadelphia Athletics moved to Kansas City; in 1953 the Boston Braves moved to Milwaukee. And, of course, there was the twin sting for New Yorkers in 1958 when both the Dodgers and Giants made their way to California.
When the Philadelphia Athletics moved to Kansas City starting with the 1955 season, it wasn't a surprise. But that didn't make it any easier for fans like Dave Jordan. "For a couple of years it was clear the A's were running out of money," he says. The city couldn't support both the A's and the Philadelphia Phillies. Still, Jordan says when the mayor announced a "Save the A's" committee, "I was one of few people who took him seriously."
Jordan is chairman of the board of the Philadelphia Athletics Historical Society in Hatboro, Pennsylvania, a robust organization of 800 members spread coast to coast. The society puts out a bimonthly newsletter, runs a museum, and holds functions to which original players are invited. There are a few younger members, but Jordan says that for the most part, its ranks are filled with people who were Shibe Park regulars in the days of Lefty Grove, Jimmie Foxx, Eddie Collins, and Mickey Cochrane. One of Jordan's favorite ballpark memories was the 24-inning game against the Detroit Tigers on July 21, 1945, called due to darkness.
"I kept score for 22 innings until I ran out of space." He donated that incomplete scorecard to the Philadelphia A's Society Museum and Library.
When the team moved on to Kansas City, Jordan stayed a fan. "In 1955 and 1956 I went to Yankee Stadium when Kansas City was in town, but it wasn't the same. They changed the numbers of quite a few players, and eventually I had to face the fact that the Phillies were what we had left."
Middle-aged fans are now golden agers and elder statesmen. "That's something we at the society think about," Jordan says. "Until recently, we always had a big breakfast in the fall, selling out with hundreds of fans showing up." But, he says, as volunteers get older, functions are being scaled back.
There are also fewer players alive who wore the uniform.
The repercussions are showing up in the sports memorabilia market. Mike Heffner, president of Lelands.com, the oldest and one of the largest sports memorabilia auction houses, says the 1980s and '90s were the boom days in memorabilia of defunct teams. "In the past few years, we've noticed a slowdown. People who were following teams in the 1940s and '50s are mostly retired, some have passed away, and their collections have been sold."
Some team items are valuable not because of the passion of their fans but because of their scarcity. The Seattle Pilots, for instance, played one year in 1969 before becoming the Milwaukee Brewers. "They didn't have a huge fan base. There aren't a tremendous
amount of them out there. But a uniform patch or a team-signed ball is very rare, so it's tremendously collectible," Heffner says. The Colt .45s (1962-1964), a squad that became the Astros, "were a terrible team, but they had really neat uniforms with a pistol on the front, so they're highly collectible." The latest franchise to join the brotherhood of bygone teams is the Montreal Expos, now the Washington Nationals. But don't look for big returns there. "Canada and baseball don't go together that well," Heffner says.
Of course, for fans it's not about money and not even about memorabilia. Their teams may not be in the box scores, and the ballparks may long be gone, but the boys of summer never grow old.