Fifty years ago, Sara Hervey boiled breakfast down to its essence: Fruit. Main dish. Bread and/or cereal. Beverage.
Below you'll find four takes on Hervey's "hearty breakfast pattern," as well as a few hidden gems: dishes for "party breakfasts" (aka brunch), the art of egg scrambling, and a how-to on "extra-fluffy French toast." Enjoy!
—
Top of the Morning
Originally published in Country Gentleman, January 1, 1948
What a pity it is that so many folks feel they must grab breakfast on the run — a glass of fruit juice (if they're lucky), a slim piece of toast, and a gulp of coffee. Breakfast is my favorite meal of the day, and please give me plenty of time to enjoy it leisurely. There have been a lot of rules made about what makes up a good breakfast, but if it's hot and hearty you'll probably have passed the test with both your family and the nutrition authorities. We had a lot of fun preparing these four traditional breakfasts from different parts of the country. Comments from the photographic crew varied from "Boy, is that a whopper!" to "Oh, I eat that much every morning."
That brought up the question, "Just how big is a good breakfast?" There's no hard-and-fast rule, but if you serve from one-fourth to one-third of the day's food at breakfast, you're apt to end up the day with a pretty good score nutrition-wise.
By following this hearty-breakfast pattern, you can keep the morning meal as varied and full of interest as any of the succeeding meals:
Hearty Breakfast Pattern
fruit starter
main dish
cereal and/or bread
beverage
Traditional Menus
Southern
broiled ham slice with orange
hominy grits
ham gravy
hot biscuits
honey
coffee
New England
New England baked apples
codfish cakes
baked beans
broiled bacon
toasted Boston brown bread
coffee

Pennsylvania Dutch
oatmeal with stewed apricots
scrapple
broiled tomatoes
scrambled eggs
Dutch coffee cake
coffee
All American
broiled grapefruit with jelly
fried eggs
country-fried potatoes
griddlecakes
pork sausage
toast
coffee
Fruit Starter
The day always seems a little more friendly to me after I've put away a glass of orange juice or a half grapefruit. I love the stuff. And if you really want to feel smug about the whole thing, you can always think of the large share of vitamin C you're getting. Don't strain citrus juice if you would get the most vitamins and minerals from it. There are other juices, too, which will add zest to the breakfast meal. Include cranberry, apricot, prune, plum, grape, and tomato juice occasionally for variety.
Spiced, baked winter pears, prepared the day ahead and served cold with cream, make a delightful breakfast treat. Make a sirup of 1/2 cup of brown sugar, 1/2 cup of granulated sugar, 2 cups of water, 6 cloves, and 2 sticks of cinnamon, cooking until the sugars are dissolved. Place 6 pears upright in a baking dish and pour the sirup over. Bake in a slow oven (325° F) 1 1/2 hours.
Baked apples, New England style, are filled with sparkling red cranberry sauce. Wash and core the apples. Pare the skin 1/3 of the way down. For 6 to 8 apples, boil together 1 cup of sugar and 1 cup of water for 5 minutes. Pour the sirup over the apples in a baking dish, and bake uncovered in a moderate oven (375° F) 25 to 30 minutes, basting frequently. Remove from the oven and fill centers with cranberry sauce. Place under the broiler and continue to baste with sirup until the apples are well glazed.
Main Dish
The big attraction of your breakfast meal may be any good protein food, such as meat, eggs or fish. The Pennsylvania Dutch favor scrapple fried crisp and brown and served with sirup, a tart jelly, or fluffy scrambled eggs. You can make a very excellent scrapple by mixing pork sausage with cornmeal mush. To 4 cups of rapidly boiling salted water, slowly add 1 cup of cornmeal, stirring and cooking until the mush is thick, about 15 minutes. Mix in 1 pound of pork-sausage meat. Pack into a loaf pan and chill. To prepare for serving, slice into 1/2-inch slices and pan-fry until well browned.
When it comes to egg cookery, take it slow and easy. Very slow cookery is the first rule for successful cooking of eggs, and all types of protein foods, for that matter. Scrambled eggs, for my money, should be served hot and light and fluffy.
Either cook the beaten eggs in a heavy fry pan over low heat or over boiling water, stirring lightly until just set. And for a slightly different taste treat, try adding a dash of Worcestershire sauce, a little sliced pimiento, and a little finely chopped chives, along with the salt and pepper.
In addition to the popular breakfast meats — bacon, Canadian bacon, pork sausage, and ham — occasionally vary your menu with shredded dried beef, frizzled in butter until crisp. Or perk up family appetites with thin slices of well-browned liver along with the breakfast bacon. For Sunday morning or party breakfasts, pan-broiled thin lamb or pork chops, or cube beef steaks, give the meal a festive air.
One of our favorite party breakfasts includes Canadian bacon served Hawaiian style. Pan-broil thin slices of the bacon until well browned. Place 3 slices on a round of toast, and surround with cubed, canned pineapple which has been browned in butter. Melt a small glass of currant or mint jelly in the pan used for the bacon, and pour about 2 tablespoons over each serving.
Cereal and/or Bread
It's fun to serve the cereal in a big colorful soup tureen. Let the family help themselves, and provide toppings of fruit, chopped nuts, jelly, or butter.
And here's a hint for making extra-fluffy French toast … Separate the egg yolks from the whites; beat the egg yolks well, add seasonings and milk; then fold in stiffly beaten whites. Dip the bread in this mixture and fry as usual.
Beverage
If you like your breakfast coffee as well as I, there's little to say except to remind you to make it fresh, serve it hot, and have plenty. Hot chocolate or milk for the children — and the grown-ups, too, if they like.
Goodbye "Spring Ahead, Fall Back?"
I like the fact that it gets dark really early now. I find the months that it stays light and warm until 8:30 p.m. depressing. Does that make me weird? Maybe I'm weird.
Apparently there are residents of my state of Massachusetts who hold the opposite view. They want to get rid of Daylight Saving Time for good. A state commission wants to have Massachusetts join the Atlantic time zone, which means the state would be an hour ahead of the Eastern time zone. Farmers say this would help them, but at the same time, it would mess up things like shopping and TV-show watching. Also, it would be weird if not impossible for Massachusetts to do it alone, with the other New England states and New York staying on Eastern time.
One of the other reasons the commission wants to change the time is to attract millennials to Massachusetts, and supposedly millennials hate the dark and cold weather.
Yes, that reason is exactly as stupid as it sounds.
Rockwell Paintings Can Be Sold After All
A judge has ruled that a museum can sell iconic Norman Rockwell paintings, against the wishes of Rockwell's family.
Rockwell had donated the two works, including his famous Shuffleton's Barbershop painting, to the Berkshire Museum in Pittsfield, Massachusetts. The museum says that they are having financial troubles and want to sell the two paintings to raise money. They're looking to get around $50 million.
The Rockwell family, including Rockwell's grandson Tom, say that Rockwell donated the two paintings to the museum so the public could continue to see them forever. The family sued to stop the sale, but in a 25-page decision, Judge John Agostini ruled in favor of the museum.
YOU Get an Electric Toothbrush, and YOU Get an Electric Toothbrush!
It's November, and that means Oprah Winfrey has once again chosen her Favorite Things, those must-have items for Christmas. For the past few years she has teamed up with Amazon, which helpfully provides links to each of the items Oprah puts on her list. This year, Oprah appears at Amazon in a flowing blue–and-white dress, delivering beautifully wrapped gifts with the help of her sled dogs.
The items range in price from under $50 (notepads, hand cream, and jammies) to a lot more than that (a Samsung TV in a picture frame). In between, you'll find books, dog biscuits, a pizza oven, an electric toothbrush, puzzles, even a Greenberg smoked turkey.
You'll also find something called "Smooshpants." I don't know what Smooshpants are.
If It's Sunday, It's Meet the Press
Meet the Press is the longest-running TV show in history, having debuted on November 6, 1947 (CBS Evening News is second, having started six months later). NBC has set up a special web page that includes a history of the show as well as several clips from its most important interviews. The show's first moderator was a pioneering woman named Martha Rountree, and one of the early panelists was Edgar Allen Poe.
No, not that Edgar Allan Poe, this Edgar Allen Poe. The show's not that old.
The Return of Harold the Baseball Player
Something else celebrating 70 years is the classic Christmas film Miracle on 34th Street, which just so happens to be my second-favorite film of all time, after It's a Wonderful Life. Miracle is set at Macy's department store and a major part of the plot revolves around the Macy's Thanksgiving Day Parade. One of the parade balloons seen in the film, Harold the Baseball Player, is making a comeback in this year's parade. To honor his appearance in the film, Harold is being repainted black and white so he looks like he did in the black–and-white film.
You can watch the parade on NBC Thanksgiving morning (November 23) at 9 a.m. To really celebrate the 70th anniversary of Miracle on 34th Street and Harold, you should turn off the color on your television.
RIP John Hillerman
John Hillerman is probably best known for his role as Jonathan Higgins, the ex–British military man who took care of the Robin Masters estate on Magnum, P.I. Hillerman also had regular roles on Valerie, One Day at a Time, and The Betty White Show and appeared in movies like Blazing Saddles, The Last Picture Show, Chinatown, and Paper Moon. He died yesterday at the age of 84.
And no, for the last time, there's no way Higgins could really be Robin Masters.
This Week in History
Will Rogers Born (November 4, 1879)
The death of the American humorist, in a 1935 plane crash in Alaska, paved the way for another writer to take over his weekly syndicated column, even if she didn't particularly like to write.
"You Won't Have Nixon to Kick Around" Speech (November 7, 1962)
This was supposedly Richard Nixon's last press conference. He was angry at the media after losing the 1962 California gubernatorial race to Pat Brown. But if you recall, we did indeed hear from Nixon again.
This Week in Saturday Evening Post History: Cafeteria Dieter (November 10, 1956)
Sometimes I like to look at a Post cover without knowing the title, to see if I can figure out what the cover is supposed to be about. I knew the title of this Constantin Alájalov cover, but if I hadn't, I could have guessed "Nosy Lady" or "Gossip Girls" or maybe "Older Lady Wishes She Could Eat Like All of These Younger Girls, Oh My God There's Even Dessert on the Chair." That last one isn't far off from the actual title.
Veterans Day
The day is officially tomorrow, November 11, but because that's a Saturday, it is observed nationally today (if Veterans Day falls on a Sunday, it is observed on Monday). Here's a quick history of the day, and here's a piece by Post Archive Director Jeff Nilsson on America's early efforts to honor our veterans.
Monday Is National Indian Pudding Day
This is a New England favorite I don't think I've had in three decades. It's comfort food in a bowl, with its warm molasses, brown sugar, and cinnamon. Here's a classic recipe from Yankee magazine, another New England favorite. Takes about two hours or so.
It's often served with vanilla ice cream or whipped cream, but you can probably skip that if you're a dieter, cafeteria or otherwise.
Next Week's Holidays and Events
National Clean Out Your Refrigerator Day (November 15)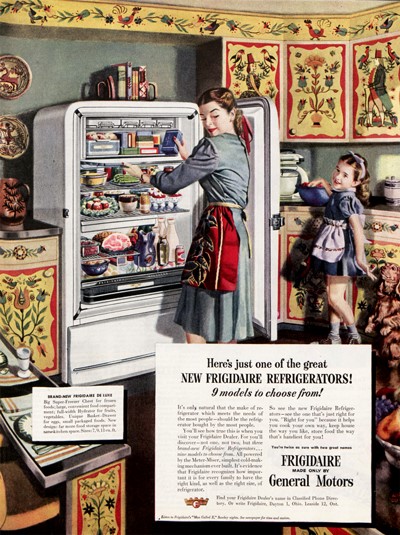 I truly hope that you don't clean out your refrigerator only once a year, but if that's the case, the week before Thanksgiving is probably a good time to do it.
National Fast Food Day (November 16)
I know several people who celebrate National Fast Food Day every day. They call it "breakfast" or "lunch."
This self-guided itinerary spans Kennebunkport to Bar Harbor, touring you through vibrant autumn landscapes and quaint New England towns and ending each day at a luxury inn. The inns featured in this tour are considered some of Maine's finest and are renowned for their lavish accommodations, multi-course gourmet breakfasts, and friendly innkeepers who provide insider tips for the best sightseeing and photo ops. Start with Walker's Point, summer home to President George H.W. Bush; next, it's on to Portland Head Light, one of the first lighthouses in the country; you'll also visit Damariscotta River, Acadia National Forest, and the islands around Penobscot Bay. Along the way are farm markets abounding with seasonal provisions, boutiques selling local handicrafts, and eateries where you can sample lobster and other local fare. Rates for the inns range from $150 to $295 per night, and all include cooked-to-order breakfast (innsalongthecoast.com/7-day-fall-tour).
This article is featured in the September/October 2017 issue of The Saturday Evening Post. Subscribe to the magazine for more art, inspiring stories, fiction, humor, and features from our archives.
A student of mine has PTSD. Pam, 56, is a 31-year veteran of the National Guard who was stationed in Kuwait and is now a virtual shut-in in her rural New England town. Plagued by anxiety and distrust, Pam appeared in one of my online writing classes several months back and has found, to both our amazement, that the chance to explore her feelings on paper is dramatically improving her mental health.
"The paper is such a gift," Pam tells me on the phone. "It does not judge. I can feel my emotions without as much fear rather than just being numb. My anxiety isn't so overwhelming. It helps to have a good cry sometimes." When we began our work together, Pam's writing was flat, distant, and self-mocking. As time went by and she felt more at ease, her assignments opened up as well, revealing her wicked sense of humor ("The truth is, I like doughnuts better than people") and the details of her troubled life, including early childhood sexual trauma. By the end of our third online class, Pam had become a markedly different woman. "I'm ready to take my life back," she says during one of our teleconferences. "All because of writing."
What is it about expressive writing that heals us so dramatically? Why have our ancestors down through the ages turned to diaries, journals, and letter writing as sources of solace and self-understanding? Scientific studies have begun to unravel this mystery, and the results are nothing short of dramatic. Writing for as little as 15 minutes a day can improve physical and mental health in grade-school children, nursing-home residents, arthritis sufferers, medical school students, maximum-security prisoners, new mothers, and rape victims. Writing about our thoughts and feelings strengthens the immune system, lowers stress levels, and decreases time spent in the hospital. According to one  New Zealand study, physical wounds heal more quickly when we do expressive writing. Seriously ill individuals are able to dramatically improve their quality of life by examining their experience in writing and thinking about their disease from a different perspective.
Writing can even help you find a job. In a study conducted at the University of Texas, 50 middle-aged professionals who'd been suddenly terminated from a large Dallas computer company were split into two groups. The first group wrote for 30 minutes a day, five days in a row, about their personal experience of being fired. The second group wrote for the same period of time on an unrelated topic. The contrasting results were startling. Within three months, 27 percent of the expressive writers had landed jobs compared with less than 5 percent of the participants in the other group. After a few more months, 53 percent of those who had written about their thoughts and feelings had jobs, compared with only 18 percent of the others. Dr. James Pennebaker, the author of the study, explains how writing differentiated the two groups. "Those who had explored their thoughts and feelings were more likely to have come to terms with their extreme hostility toward previous employers and present themselves as more promising job candidates," he says. "When our need for self-expression is blocked, it produces tension." This tension can deter us from making positive changes in our lives. Pennebaker is quick to add that, in order for writing to have a healing effect, it must be expressive. It's not enough just to report the facts; we must include how we feel about our experience and what it has taught us.
"Writing practice brings you below the surface to really meet what you see, think, and feel."
E.M. Forster said the same thing in different words a century ago. "How can I know what I think until I see what I say?" mused the British novelist. "Writing helps you meet your true mind," agrees Natalie Goldberg, author of the classic Writing Down the Bones and a dozen other books. Indeed, Goldberg has devoted her entire career to helping people access this "true mind" through writing practice. "We spend most of our lives in discursive thinking," Goldberg tells me from her home in Taos, New Mexico. "I want this. I don't want that. I have to go shopping. Those kinds of things. Writing practice brings you below the surface to really meet what you see, think, and feel. By going to that lower layer," she believes, "we become who we are." Self-discovery is not just for seekers and artists. "I have businessmen reading my books," Goldberg says. "They tell me, 'This is about good business.' In the practice of good business, you have to have integrity. You have to know who you are. You have to know where you stand. You have to know what you want. Writing practice can help all of that."
It's a matter of widening our own perspective. "When we begin to tell the story of our experience, we create a coherent, consistent narrative about it," explains Kathleen Adams, founder of The Center for Journal Therapy in Denver, Colorado, and one of the world's foremost experts in therapeutic writing. "This helps us to discover meaning, the Aesop's fable moral of the story. What is the teaching in this? What is the lesson that I am being asked to learn?" Adams likens this perspicacity to having "a good angel on our shoulder." Caryn Mirriam-Goldberg, a poet, professor, and author of The Sky Begins at Your Feet: A Memoir on Cancer, Community, and Coming Home to the Body and The Divorce Girl, a novel, recalls being saved as a teenager by her good angel. "I was 15 years old," she remembers. "My parents were having a horrendous divorce, a bit like The War of the Roses. I realized that I needed words to survive, to find some ground of hope, a place where I could stand, to begin to believe that my life wouldn't always be like this." Self-expression carried her through this dark time. "Putting words down on the page opened up the tunnel between what was happening on the surface of my life and whatever possibilities there might be for the future."
Writing about unsayable things is what frees us from suffering in silence. "There are things that people don't talk about," agrees Sheila Bender, a poet and essayist best known for her popular books on writing instruction, including Sorrow's Words: Writing Exercises to Heal Grief. "Writing heals us for the same reasons that so many people are afraid of it," Bender says. "It comes from a very vulnerable part of ourselves. We cannot heal from grief and trauma, in my experience, without facing that vulnerability. We must allow it to speak instead of disguising it. The transformation lies in the fact that what was swirling around inside of us now has a name and a shape."
This process is not without pitfalls, however. Writing about traumatic events can sometimes get us into trouble. Dr. Louise DeSalvo, author of Writing as a Way of Healing, advises caution when diving solo into scary waters. "It's a mistake to expect writing to replace therapy," says DeSalvo. My student Pam, for example, has been seeing a therapist while taking my writing courses. "There are things that writing can do that therapy can't and things that therapy can do that writing can't. Together, they're a very nice balance. But when dealing with traumatic experience," DeSalvo stresses, "the simple act of writing isn't going to do anything."
Journaling expert Kathleen Adams (who is also a psychotherapist) agrees. "The first premise of all healing practice is do no harm. If writing is making you feel worse instead of better, that's a signal to stop and take another look." With such clients, Adams recommends using "sentence stems" that prevent them from getting lost in their pain. "I tell them to begin with statements like 'Right now I want,' or 'Today I feel,' or 'What I'm most afraid of is.' This helps them keep it short and simple. Containment gives us the freedom to write about difficult experiences while taking it in small pieces."
Writing about unsayable things is what frees us from suffering in silence. "
Mirriam-Goldberg, a cancer survivor who facilitates workshops for people with serious illness, points out that "writing can heal us without necessarily curing us. When I was living through cancer, I wrote a lot," she says, "but there's a difference between healing and curing. Finding greater meaning and vitality in your life can be a very healing endeavor, but it may not cure the disease."
All agree that both writing and healing share a spiritual component, however. Julia Cameron, whose book The Artist's Way introduced millions of readers to the benefits of what she calls "morning pages" — daily freestyle journaling — believes that writing heals by connecting us to a higher power. "The minute you put pen to page, you start to alter your consciousness," Cameron tells me. "The more writing you do, the more closely connected you are to this higher power. Some people call it the muse. Others describe it as God, the Tao, or simply the universe. Whatever you care to call it, we do morning pages in order to touch base with it, to connect to our own consciousness and to a larger something."
My student Pam agrees with this. "I don't buy the 'higher power' part. But spirituality is part of my healing, for sure. For me, that means working toward real honest connection with people, and becoming a kinder, more genuine person. The god of connection and the god of self-love are a work in progress for me." Encouraged by how much more open she's become since she began writing, Pam is even thinking of tackling a memoir. "I want to write my memoir for justice," she says, "to show myself — and others — that even though I had some really bad luck, I am a whole person. I am not a victim. I am turning my life around.
"I am more powerful than I think."
Mark Matousek is a teacher and speaker whose work focuses on personal awakening and creative excellence through transformational writing. The best-selling author of Sex Death Enlightenment; When You're Falling, Dive; and Ethical Wisdom: What Makes Us Good is working on his next book, Writing to Awaken, due out July 2017.
Ready to get started? Read 9 Tips to Starting Your Journaling Routine.
Today we mark Thesaurus Day, the anniversary of the birth in 1779 of Mark Peter Roget, author of 1852's Thesaurus of English Words and Phrases. Today, the name Roget is synonymous with thesaurus in the same way that Webster means dictionaries. Thesaurus Day isn't so much about a specific book, tome, volume, publication, or compendium, but is instead a time to reflect on and rejoice in the seemingly infinite variety of the English language.
When we have so many words that mean the same thing, why do we always seem to use the same ones? The following essay from English language expert and logodaedalist Richard Lederer illustrates how the synonym you choose, and how you pronounce it, is largely determined by where you're from.
All-American Dialects

By Richard Lederer

Midway through John Steinbeck's epic novel The Grapes of Wrath, young Ivy observes, "Ever'body says words different. Arkansas folks says 'em different, and Oklahomy folks says 'em different. And we seen a lady from Massachusetts, an' she said 'em differentest of all. Couldn't hardly make out what she was sayin'."

One aspect of American rugged individualism is that not all of us say the same word in the same way. Sometimes we don't even use the same name for the same object.

I was born and grew up in Philadelphia a coon's age, a blue moon, and a month of Sundays ago — when Hector was a pup. Phillufia, or Philly, which is what we kids called the city, was where the epicurean delight made with cold cuts, cheese, tomatoes, pickles, and onions stuffed into a long, hard-crusted Italian bread loaf was invented.

The creation of that sandwich took place in the Italian pushcart section of the city, known as Hog Island. Some linguists contend that it was but a short leap from Hog Island to hoagie, while others claim that the label hoagie arose because only a hog had the appetite or the technique to eat one properly.

As a young adult I moved to northern New England (N'Hampsha, to be specific), where the same sandwich designed to be a meal in itself is called a grinder — because you need a good set of grinders to chew them. But my travels around the United States have revealed that the hoagie or grinder is called at least a dozen other names — a bomber, Garibaldi (after the Italian liberator), hero, Italian sandwich, rocket, sub, submarine (which is what they call it in California, where I now live), torpedo, wedge, wedgie, and, in the deep South, a poor-boy (usually pronounced poh-boy).

In Philadelphia, we washed our hoagies down with soda. In New England we did it with tonic, and by that word I don't mean medicine. Soda and tonic in other parts are known as pop, soda pop, a soft drink, Coke, and quinine.

In northern New England, they take the term milk shake quite literally. To many residing in that little corner of the country, a milk shake consists of milk mixed with flavored syrup — and nothing more — shaken up until foamy. If you live in Rhode Island or in southern Massachusetts and you want ice cream in your milk drink, you ask for a cabinet (named after the square wooden cabinet in which the mixer was encased). If you live farther north, you order a velvet or a frappe (from the French frapper, "to ice").

Clear — or is it clean? — or is it plumb? — across the nation, Americans sure do talk "different."

What do you call those flat, doughy things you often eat for breakfast — battercakes, flannel cakes, flapjacks, fritters, griddle cakes, hotcakes, or pancakes?

Is that simple strip of grass between the street and the sidewalk a berm, boulevard, boulevard strip, city strip, devil strip, green belt, the parking, the parking strip, parkway, sidewalk plot, strip, swale, tree bank, or tree lawn?

Is it a cock horse, dandle, hicky horse, horse, horse tilt, ridy horse, seesaw, teeter, teeterboard, teetering board, teetering horse, teeter-totter, tilt, tilting board, tinter, tinter board, or tippity bounce?

Is it a crabfish, clawfish, craw, crawdab, crawdad, crawdaddy, crawfish, crawler, crayfish, creekcrab, crowfish, freshwater lobster, ghost shrimp, mudbug, spiny lobster, or yabby?

Depends where you live and who or whom it is you're talking to.

I figger, figure, guess, imagine, opine, reckon, and suspect that my being bullheaded, contrary, headstrong, muley, mulish, ornery, otsny, pigheaded, set, sot, stubborn, or utsy about this whole matter of dialects makes you sick to, in, or at your stomach.

But I assure you that, when it comes to American dialects, I'm not speaking fahdoodle, flumaddiddle, flummydiddle, or flurriddiddle — translation: nonsense. I'm no all-thumbs-and-no-fingers, all-knees-and-elbows, all-left-feet, antigoddling, bumfuzzled, discombobulated, flusterated, or foozled bumpkin, clodhopper, country jake, hayseed, hick, hillbilly, hoosier, jackpine savage, mossback, mountain-boomer, pumpkin-husker, rail-splitter, rube, sodbuster, stump farmer, swamp angel, yahoo, or yokel.

The biblical book of Judges (12:4-6) tells us how one group of speakers used the word shibboleth, Hebrew for "stream," as a military password. The Gileadites had defeated the Ephraimites in battle and were holding some narrow places on the Jordan River that the fleeing Ephraimites had to cross to get home. In those days it was hard to tell one kind of soldier from another because soldiers didn't wear uniforms.

The Gileadites knew that the Ephraimites spoke a slightly different dialect of Hebrew and could be recognized by their inability to pronounce an initial sh sound. Thus, each time a soldier wanted to cross the river, "the men of Gilead said unto him, Art thou an Ephraimite? If he said, Nay, then they said unto him, Say now Shibboleth: and he said Sibboleth: for he could not frame to pronounce it right. Then they took him and slew him at the passages of Jordan: and there fell at that time of the Ephraimites forty and two thousand."

During World War II, some American officers adapted the strategy of the Old Testament Gileadites. Knowing that many Japanese have difficulty pronouncing the letter l, these officers instructed their sentries to use only passwords that had l's in them, such as lallapalooza. The closest the Japanese got to the sentries was rarraparooza.

These days English speakers don't get slaughtered for pronouncing their words differently from other English speakers, but the way those words sound can be labeled "funny" or "quaint" or "out of touch." In George Bernard Shaw's play Pygmalion, Professor Henry Higgins rails at Liza Doolittle and her cockney accent: "A woman who utters such depressing and disgusting sounds has no right to be anywhere — no right to live. Remember that you are a human being with a soul and the divine gift of articulate speech: that your native language is the language of Shakespeare and Milton and the Bible; and don't sit there crooning like a bilious pigeon!"

Most of us are aware that large numbers of people in the United States speak very differently than we do. Most of us tend to feel that the way "we" talk is right, and the way "they" talk is funny. "They," of course, refers to anyone who differs from "us."

If you ask most adults what a dialect is, they will tell you it is what somebody else in another region passes off as English. These regions tend to be exotic places like Mississippi or Texas — or Brooklyn, where oil is a rank of nobility and earl is a black, sticky substance. Speaking of Brooklyn, Bernie Sanders, who was born in Brooklyn, and Donald Trump, born in Queens, both pronounce the adjective huge as "yuge."

If the truth about dialects be told, we all have accents. Many New Englanders drop the r in cart and farm and say caht and fahm. Thus, the midwesterner's "park the car in Harvard Yard" becomes the New Englander's "pahk the cah in Hahvahd Yahd." But those r's aren't lost. A number of upper northeasterners, including the famous Kennedy family of Massachusetts, add r's to words, such as idear and Cuber, when those words come before a vowel or at the end of a sentence.

Now is the time to face the fact that you speak a dialect. When you learned language, you learned it as a dialect; if you don't speak a dialect, you don't speak. Dialect isn't a label for careless, unlettered, nonstandard speech. A dialect isn't something to be avoided or cured.

Each language is a great pie. Each slice of that pie is a dialect, and no single slice is the language. Don't try to change your language into the kind of English that nobody really speaks. Be proud of your slice of the pie.

In the early 1960s, Steinbeck decided to rediscover America in a camper with his French poodle Charlie. The writer reported his observations in a book called Travels with Charlie and included these thoughts on American dialects:

One of my purposes was to listen, to hear speech, accent, speech rhythms, overtones, and emphasis. For speech is so much more than words and sentences. I did listen everywhere. It seemed to me that regional speech is in the process of disappearing, not gone but going. Forty years of radio and twenty years of television must have this impact. Communications must destroy localness by a slow, inevitable process. 

I can remember a time when I could almost pinpoint a man's place of origin by his speech. That is growing more difficult now and will in some foreseeable future become impossible. It is a rare house or building that is not rigged with spiky combers of the air. Radio and television speech becomes standardized, perhaps better English than we have ever used. Just as our bread, mixed and baked, packaged and sold without benefit of accident or human frailty, is uniformly good and uniformly tasteless, so will our speech become one speech.

More than 50 years have passed since Steinbeck made that observation, and the hum and buzz of electronic voices have since permeated almost every home across our nation. Formerly, the psalmist tells us, "the voice of the turtle was heard in the land," but now it is the voice of the broadcaster, with his or her immaculately groomed diction. I hope that American English does not turn into a bland, homogenized, pasteurized, assembly line product. May our bodacious American English remain tasty and nourishing — full of flavor, variety, and local ingredients.
Excerpted from the book Lederer on Language (Marion Street Press, 2013). Used by permission.