Whether you tee off with millions watching or just practice putting into an orange juice tumbler, these golf covers consecrate the bond of anyone who's ever taken aim at a hole in one.
Golf Trophy – George Brehm
It's not the size of the trophy that counts, but what you do with it. And from the looks of this winner's smirk, his silver trinket is going to be the gem of the mantelpiece.
Woman in Sandtrap – Penrhyn Stanlaws
She may have to work on her precision. But after unearthing the fractured remains of her sandtrap shot, this golfer can feel confident in the power behind her drive.
Golfer Kept Waiting – John E. Sheridan
Five o'clock means five o'clock! Scrutinizing the ticking hands on his wrist probably isn't going to deliver his opponents any quicker, but one can still hope.
Portrait of a Lady Golfer – Penrhyn Stanlaws
Becoming one with the green in more ways than one: With gloves on tight and chin held high, this
Portrait of a Lady Golfer
by Penrhyn Stanlaws inspires the very spirit of the pastime.
Gold Driving Range – John Falter
The moon may be out, but you wouldn't know it from these players determined to improve their swing for tomorrow's game. It doesn't hurt that in the dark, no one can see your worst slice.
This Car Needs Washing – Amos Sewell
Evidently, even some artistically unsubtle smudge craft isn't enough to get the chores done. All play and no work may keep Jack from getting dull, but it won't keep his marriage intact.
Eighteenth Hole – John Falter
Just a blade of grass shy of victory: These weary players on the final hole can study the devastating tally all they want, but it won't give that ball the nudge it needs.
No Playing Through – Constantin Alajalov
Anything worth doing is worth doing well, but the conga line of miffed putters waiting to play through might not take that mantra to heart.
Distracted Pro Golfer – John Falter
With a championship on the line and every fan's eye glued to his stroke, this pro is none too pleased with the smoky flirtation going on behind him. If he can't sink this, there may be cause to call fore over a club instead of a ball.
Putting Around in the Kitchen – Richard Sargent
Everyone needs a hobby. And this 1960s housewife has discovered hers in those gleaming new clubs, even as her hubby looks on in goggle-eyed bewilderment.
Woman at the Shore – Bradshaw Crandall
With floppy sunhat providing shade and shield from harsh rays, this head-turner is free to luxuriate in the beachside aurora of a salty summer's day.
Sunburned Sunbather – Penrhyn Stanlaws
No amount of lathering is going to ease a smolder that red. Though this burned beachgoer can take comfort in the fact that her dual-toned skin and swimsuit form a rather patriotic guise.
Sunbathers – John LaGatta
Stretched out under the lacy shelter of a parasol, these ladies are prepared to transform the lawn into a first-class pinup photo shoot.
Three Bathing Beauties – John LaGatta
Garbed in their complementary aquamarine getups, this trio may just fade into the luster of the ocean blue once they've hit the dunes.
Sitting on the Diving Board – Penrhyn Stanlaws
For those seaside loungers wishing to hold court over the shimmering surface without dampening their locks, perching on a diving board is a suitable compromise.
Woman in Beach Outfit – Charles A. MacLellan
Sporting sandals is just an invitation to trek sand about for weeks afterward. But it's well worth it when the elegantly casual ensemble will draw every eye on the shore.
Ski Boarding Couple – Robert C. Kauffmann
It's surf's up or more appropriately skis up for this golden couple as they crest another foamy wave. And if they should happen to capsize, that striking crimson of hers will make them easily spotted for pickup.
At the Pool – John LaGatta
Whether perfecting a competitive breaststroke or just dipping toes in the drink, poolside is the place to be in summer's steamiest weeks.
Broken Beach Chair – John Hyde Phillips
A smarting smack to the rear wasn't exactly on this perturbed stunner's checklist for beach day. At least she had a sandy landing to cushion the spill.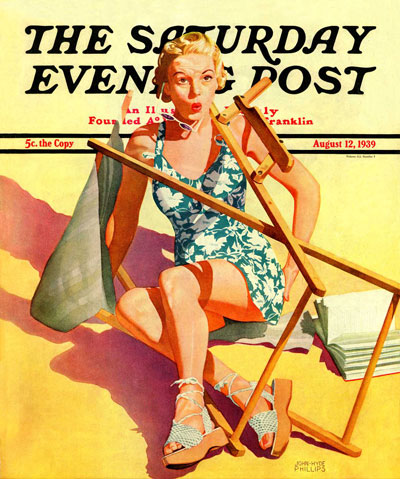 Up on the Roof – Dominice Cammerota
Everyone pines for a tropical escape; but in a pinch, an urban rooftop destination will do, and it's just as toasty. If you can't reach the beaches, you can always climb a little closer to the sun.
Tan Lines – Albert W. Hampson
X marks the spot for tan-line regret as this socialite discovers her sun-cooked body art isn't going to pair well with the plunging backline of that pearly frock.
Card Game at the Beach – Alex Ross
When the hours have worn everyone down, a few bubbly sips and a cool-off card game under the umbrella may be just the right pick-me-up before a final splashdown.
"Woman in Black Hat" by Penrhyn Stanlaws
"Woman in Black Hat"
by Penrhyn Stanlaws
From October 25, 1913
Penrhyn Stanlaws was born in 1877 in Dundee, Scotland. A prominent illustrator of the 1910s through 30s, his ladies would show up everywhere from cigarette ads to the covers of Colliers, The Ladies' Home Journal and The Saturday Evening Post. This 1913 cover was one of his first for the Post, and shows just how sophisticated a doe-eyed young lady could be. As an interesting aside, note where it says at bottom left, "Interview With." Cut off are the words: Theodore Roosevelt.
"Bouquet of Roses" by Penrhyn Stanlaws
"Bouquet of Roses"
by Penrhyn Stanlaws
From May 24, 1924
Typical of the thirty-seven Post covers Stanlaws painted, we have a stylishly dressed, rather haughty lady and a hat to die for. The artist frequently used props (in addition to the dazzling chapeaus) such as bouquets or coffee cups.
About the name: Stanlaws was born Stanley Adamson. His brother, Sydney Adamson, was also an illustrator so Stanley changed his name to avoid confusion. Some might say that it would be difficult to come up with a name as confusing as Penrhyn Stanlaws, however.
"Elegant Lady Drinking Cup of Tea" by Penrhyn Stanlaws
"Elegant Lady Drinking Cup of Tea"
by Penrhyn Stanlaws
From February 20, 1926
The pretty teacup punctuates this 1926 painting. This was the year George Burns married Gracie Allen, the dance craze was the Charleston and Harry Houdini died. And elegant ladies wearing dead animals sipped tea.
"Lady in Wide Brimmed Hat" by Penrhyn Stanlaws
"Lady in Wide Brimmed Hat"
by Penrhyn Stanlaws
From – March 24, 1928
A reprint favorite, this 1928 cover is elegantly chic. Gift idea: Paired with the 1926 cover above, these two framed prints make a gorgeous wall display.
The ever-interesting Mr. Stanlaws dabbled with more than just paint: he played a key role in building the now historic Hotel des Artistes on West 67th Street in New York and even directed some silent Hollywood films in the 20s.
"Billboard Painters" by Penrhyn Stanlaws
"Billboard Painters"
by Penrhyn Stanlaws
From – July 9, 1932
The next time you see a billboard, it might be good to remember the days when they were painstakingly and skillfully hand-painted, a job taking days. The process must have been fascinating to observers. And what a treat to see this chic lady emerge. There is something about the model…could this be the same profile as the lady with the wide-brimmed hat above?
"Woman in Black" by Penrhyn Stanlaws
"Woman in Black"
by Penrhyn Stanlaws
From April 14, 1934
This lady is the very picture of urbanity in black, with white gloves and netted hat. From 1934, this is one of the final covers Stanlaws did for the Post.
The artist passed away in 1957. Note his distinctive signature: the capital "S" is resting in a circle of contrasting color.
For reprint information, contact Janie Mahoney at Curtis Publishing: [email protected] Questions about Post covers or other archive-related issues should be addressed to Diana at [email protected], or simply by leaving a comment below.